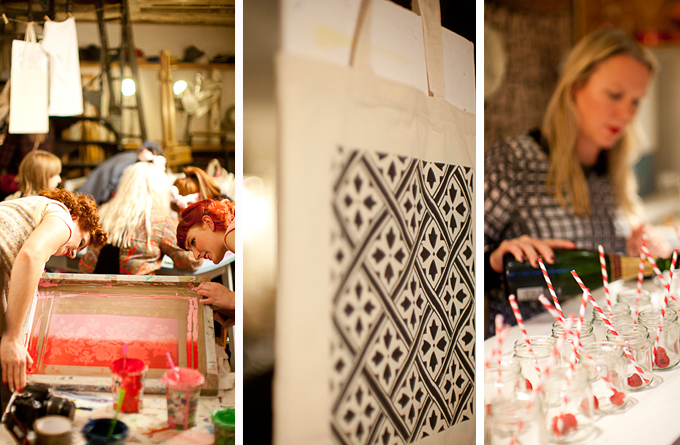 Come and take a look at all the screen printing fun we had at our bloggers workshop... read more
It has been a phenomenal year of 60th Anniversary celebrations here at Laura Ashley and last night was no exception, with our intimate bloggers workshop 'Print Like Laura' at The Papered Parlour in Clapham. Referencing back to our humble beginnings, when Laura and Bernard Ashley first started printing on their kitchen table in Pimlico (1953), we invited a small group of our dearest blogger friends to roll up their sleeves, don their pinnies and try their hand at screen printing, just like Laura would have done 60 years ago. Hence the name 'Print Like Laura'!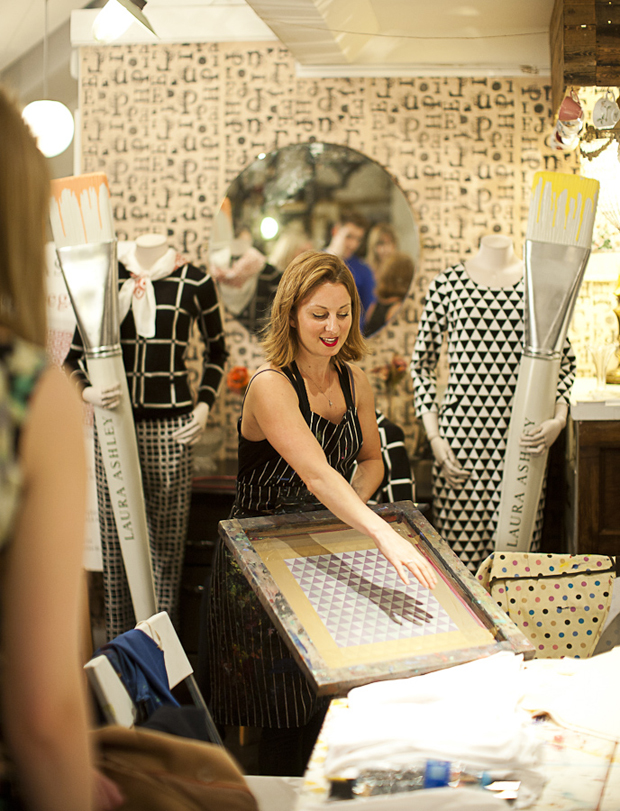 Claire from the Papered Parlour introduces the screen printing workshop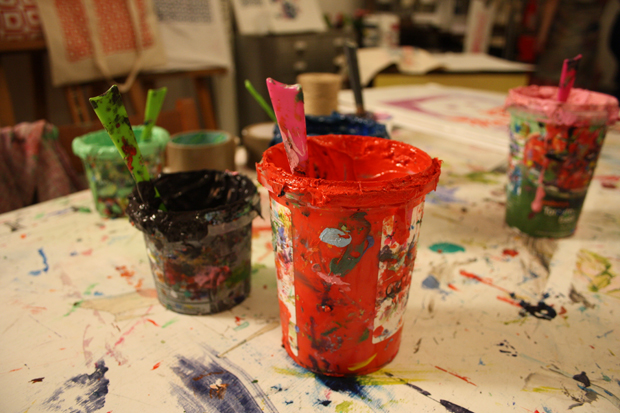 The workshop was also our chance to show off our gorgeous new fashion archive collection, which is due instore and online next week! Inspired by designs held in the Laura Ashley archive, from mid-century bold geometrics to graphic monochromes from the 1960's, the collection is a fine example of the diversity of our early archive prints. As Jo, one of our fashion designers also pointed out to us the other day, now was the perfect time to introduce these prints back into our fashion range, 'with checks and contrasting prints being such a huge trend for AW13'.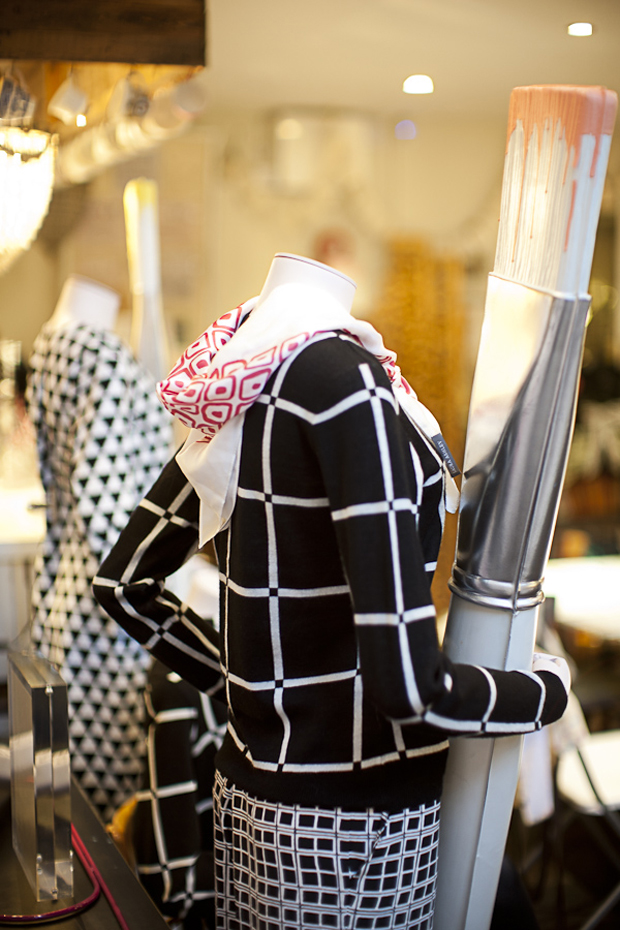 Our archive fashion collections due instore and online next week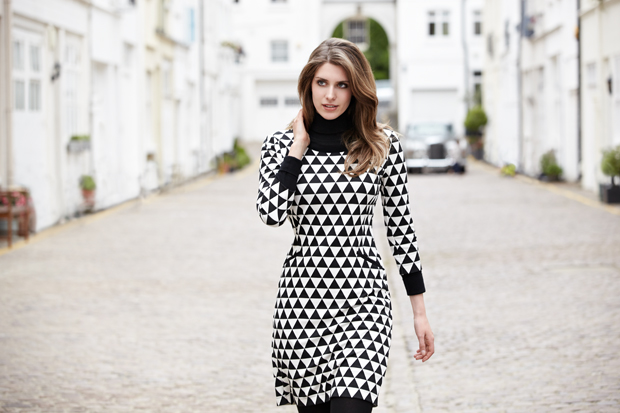 Archive fashion collection
Archive fashion collection
Over on the homeware side, this season we've bought back some of our most famous heritage prints from the past: Mr Jones, Clarissa, Ironwork Scroll, Emma and not to mention our earliest print Pelham (from 1954), which are all available on wallpaper, fabric and an irresistible collection of candles and mugs. Our eager bloggers were all given the chance to screen print their favourite design on to a t-shirt, tote bag or card, with the help of one of our friendly Papered Parlour mentors. We all got stuck in, a kaleidoscope of paint at our finger tips (or should we say all over our hands!)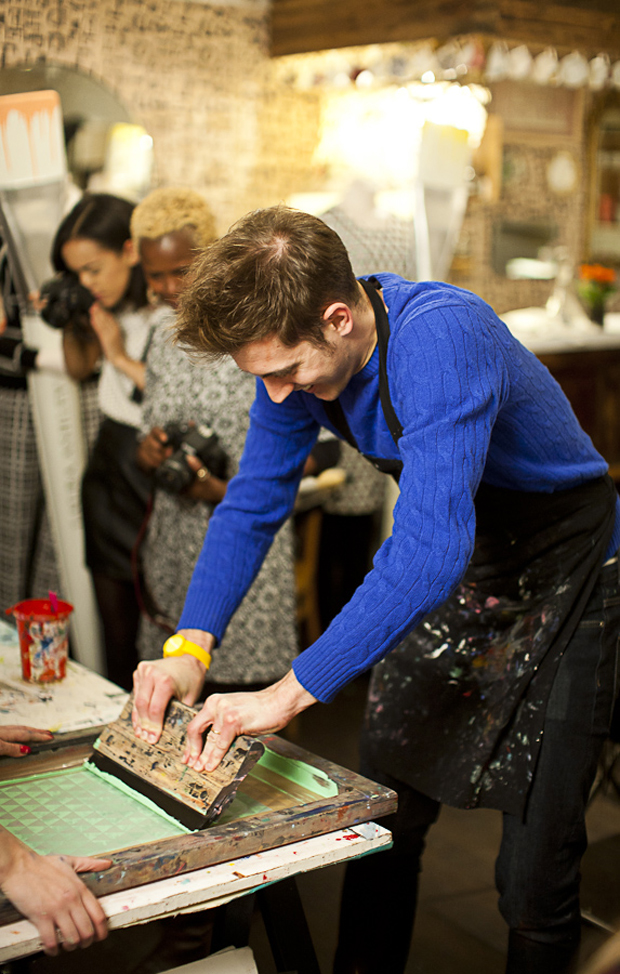 Will from Bright Bazaar prints our triangular fashion print in a minty green shade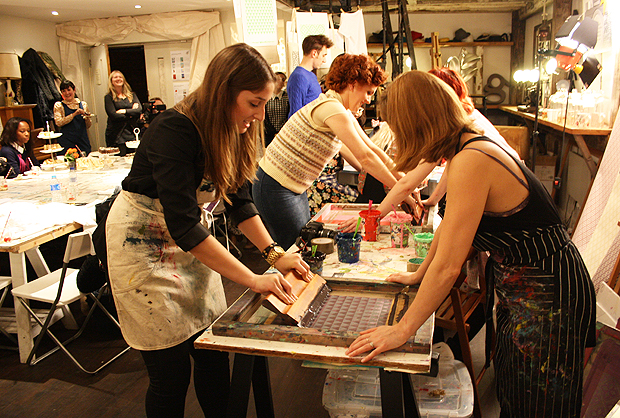 Elodie from Elle Yeah mid print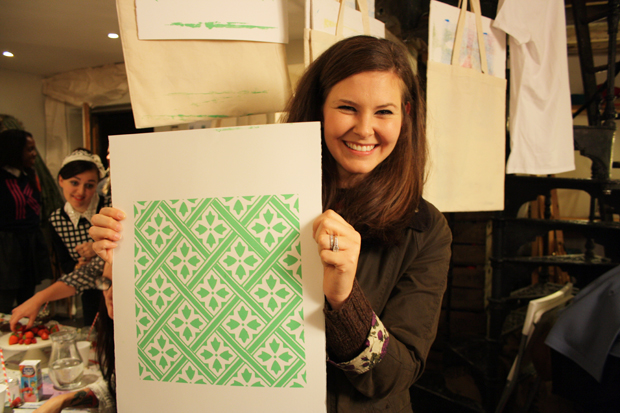 Lauren from Aspiring Kennedy presents her beautiful Mr Jones screen print in green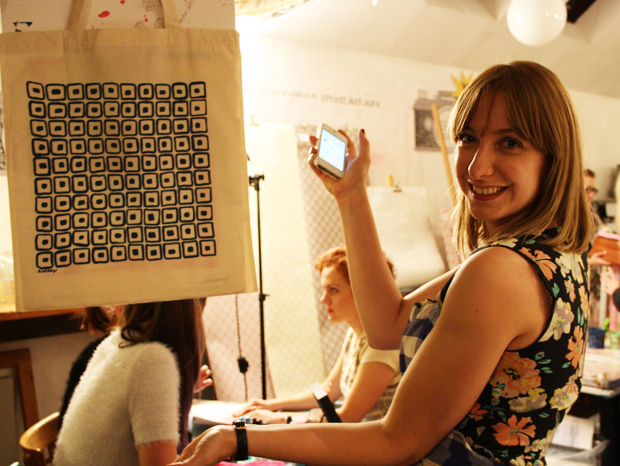 Kate from Fabric of My Life printed our Pelham print on to a tote bag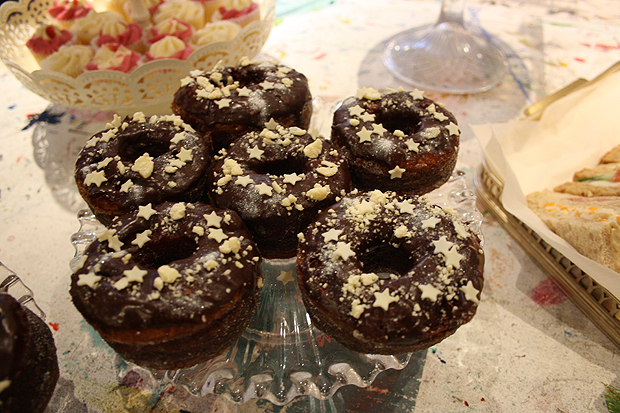 Cocomaya's legendary cronuts- yum.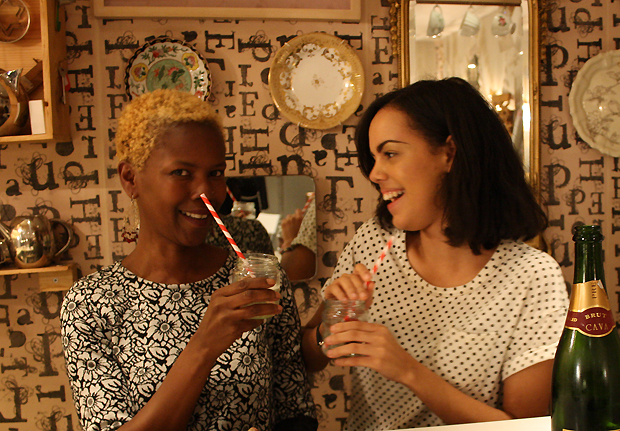 Jazmine and Barri enjoying the evening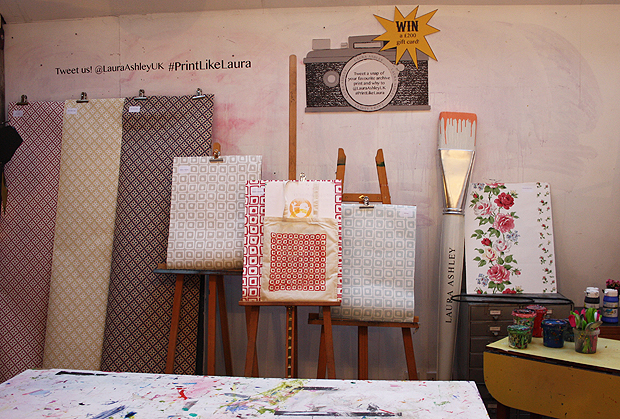 Which print to choose? Our heritage prints on display in the Papered Parlour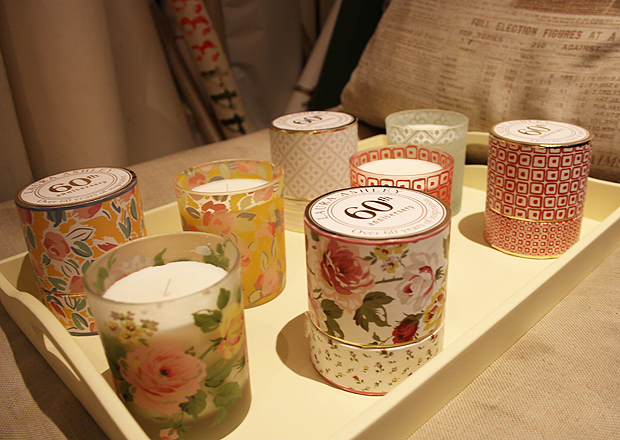 Our range of heritage candles
We welcomed our team of bloggers into the event with a 'feast for the eyes'; a banquet of sandwiches, mini cupcakes and the star of the spread… Cocomaya's famous cronuts (that is a croissant meets a doughnut to me and you!). Whilst enjoying a glass of bubbly, Angela our archivist kicked off the evening with the history of how Laura and Bernard first started printing fabric at home. A £10 investment in wood for a screen, dyes and some linen, along with many trips to libraries to learn everything about fabric printing, kick started their fledgling attempts. It's crazy to think we have now grown to over 200 stores in the UK. What an inspiration they were! To mark their first printing endeavour (scarves) we have also reissued the Pelham print scarf this season, 100% silk and available in red or black instore and online now. We adored how the nail girls (Nancy McNails), Emma (Laura Ashley PR Assistant) and Lauren (Papered Parlour) styled them up for the event…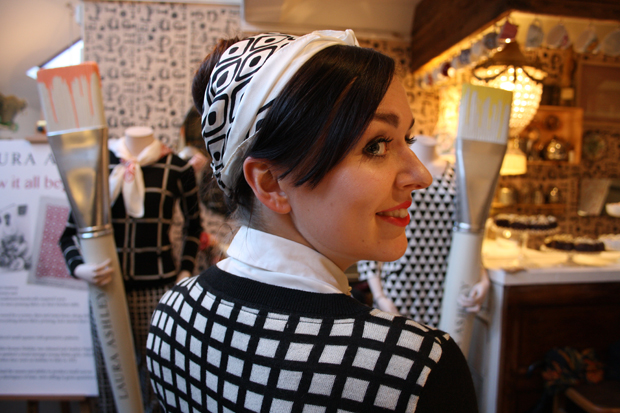 Emma our PR Assistant looking lovely in our black Pelham Print Scarf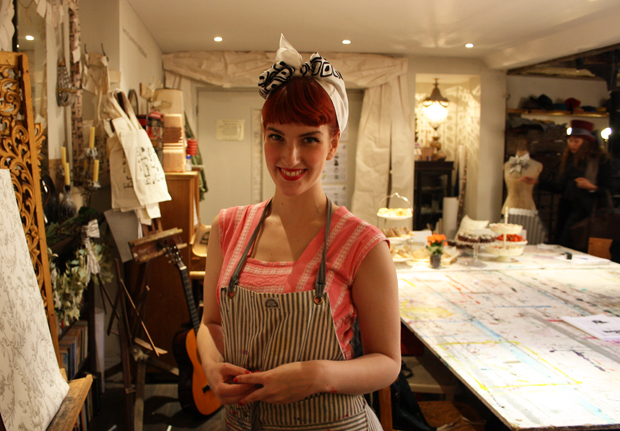 Lauren from the Papered Parlour tied our Pelham Print Scarf on her head like a pro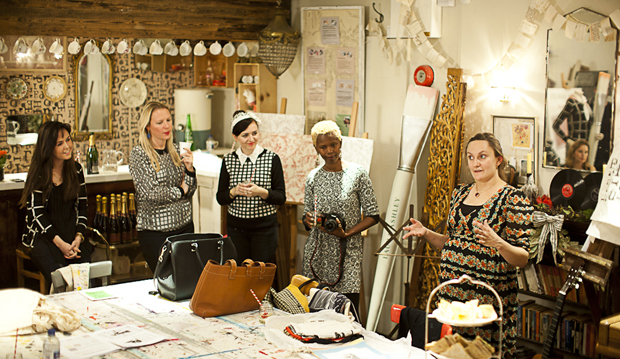 Angela our archivist giving a talk on how Laura Ashley first began
How could we round-up last night's fun without mentioning the amazing Nancy Mc Nails. What a talent! Nancy's nail art was tailored for the occasion with glossy lacquers hand painted in our Pelham or Clarissa print…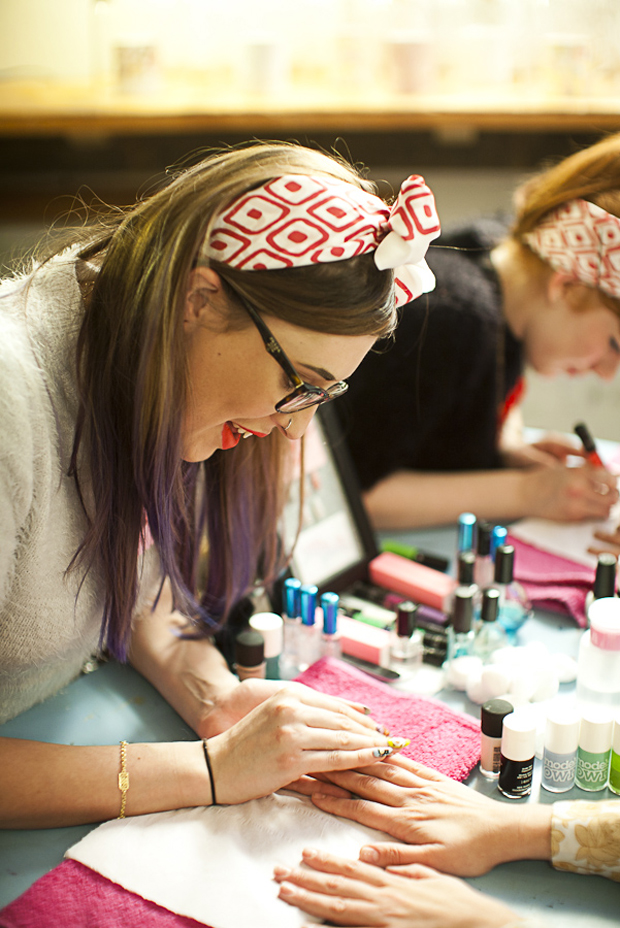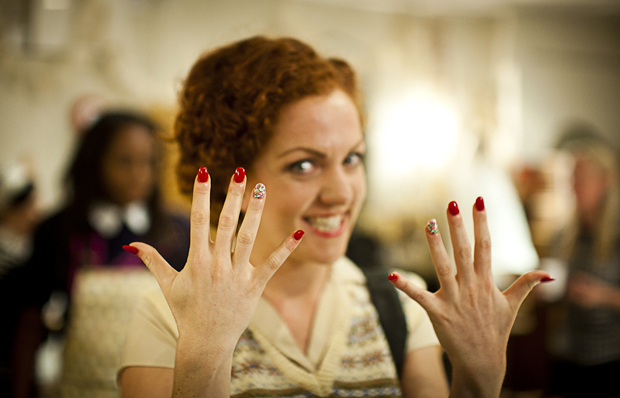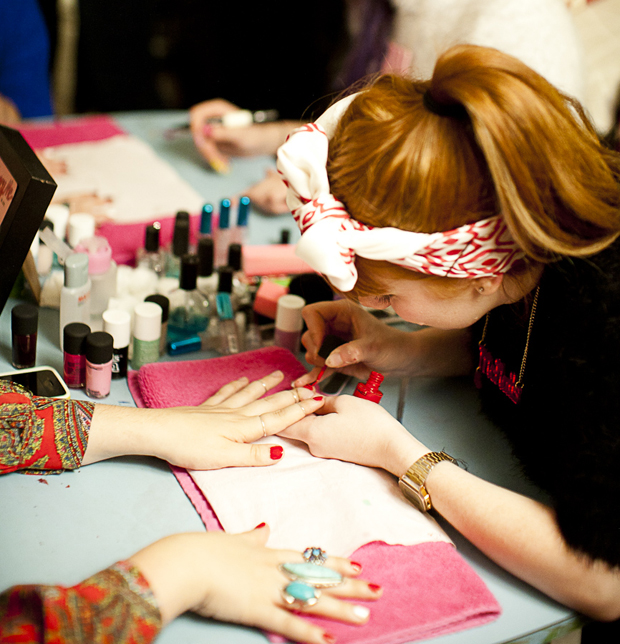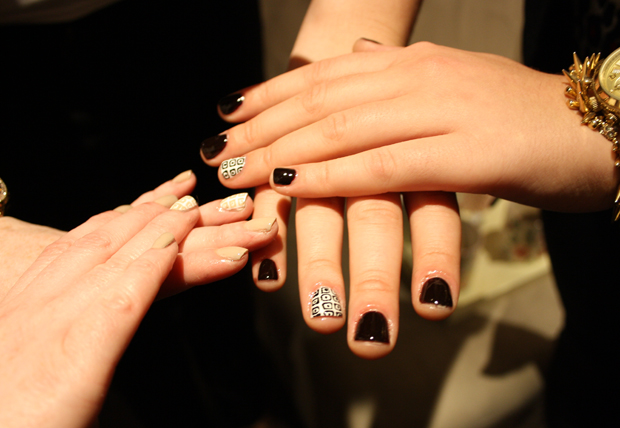 Big thank you to all the bloggers that came along last night, it was so nice chatting to you all; Will (Bright Bazaar), Kate (Fabric of My Life), Jeska (Lobster & Swan), Christine (The Fabulous Times), Torie (Torie Jayne), Frances (Domestic Sluttery), Lauren (Aspiring Kennedy), Jazmine (Jazzabelle's Diary), Barri-Jayne (Barri & Belle), Kristabel (I Want You To Know), Anna (South Molton St Style), Lucy (The Luxe Life), Charlotte (Betty Magazine), Aisling (Fash-ling) and Elodie (Elle Yeah).
And a special thanks to The Papered Parlour (the perfect hostesses), Cocomaya (those cronuts were gooood), Nany Mc Nails (the most rock'n'roll nails in London), our creative VM team (for the beautiful displays) and Pickle Jar Films (such pros – can't wait to see the #PrintLikeLaura film).
Follow us on instagram here for future events here as they happen.
Look out for the full archive fashion range coming instore and online next week.
Shop our heritage prints as follows: Pelham, Clarissa, Emma, Mr Jones and Ironwork Scroll