As we edge closer to Summer, blogger Lara puts together a yummy picnic feast... read more
Picnic weather is (almost!) upon us, so it's about time we dust off the old picnic rug, step away from our computers, and rustle up a delicious spread to enjoy in the warm weather. Blogger Lara of Messyla was keen to do just that, so we invited her to come up with the perfect picnic recipe for a fun day in the sun! With our much-loved lollipop picnic range being put to good use, we catch up with Lara to give us the low-down on her yummy spread…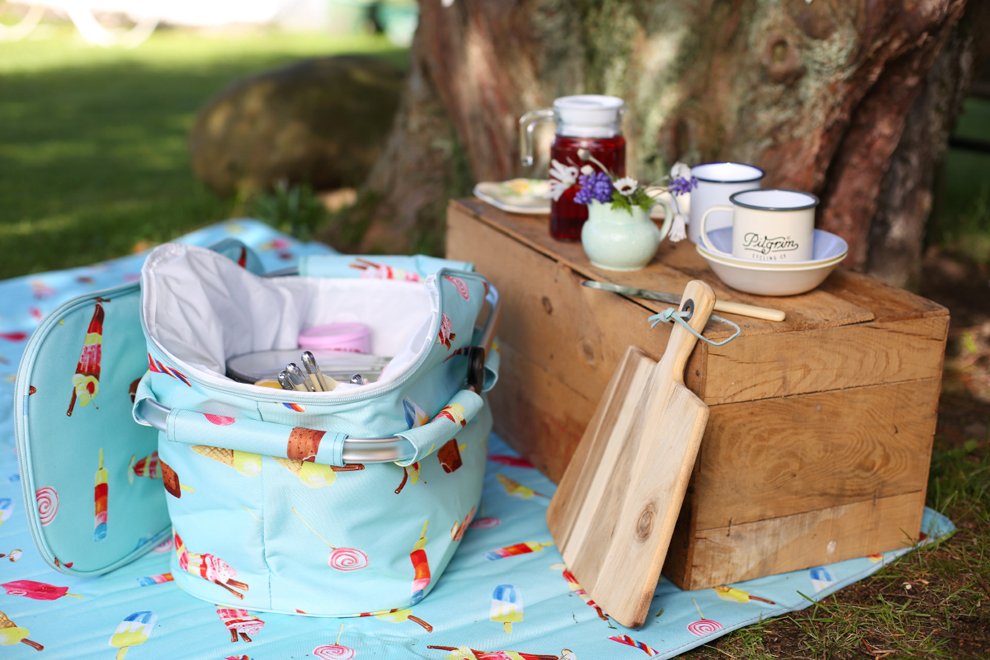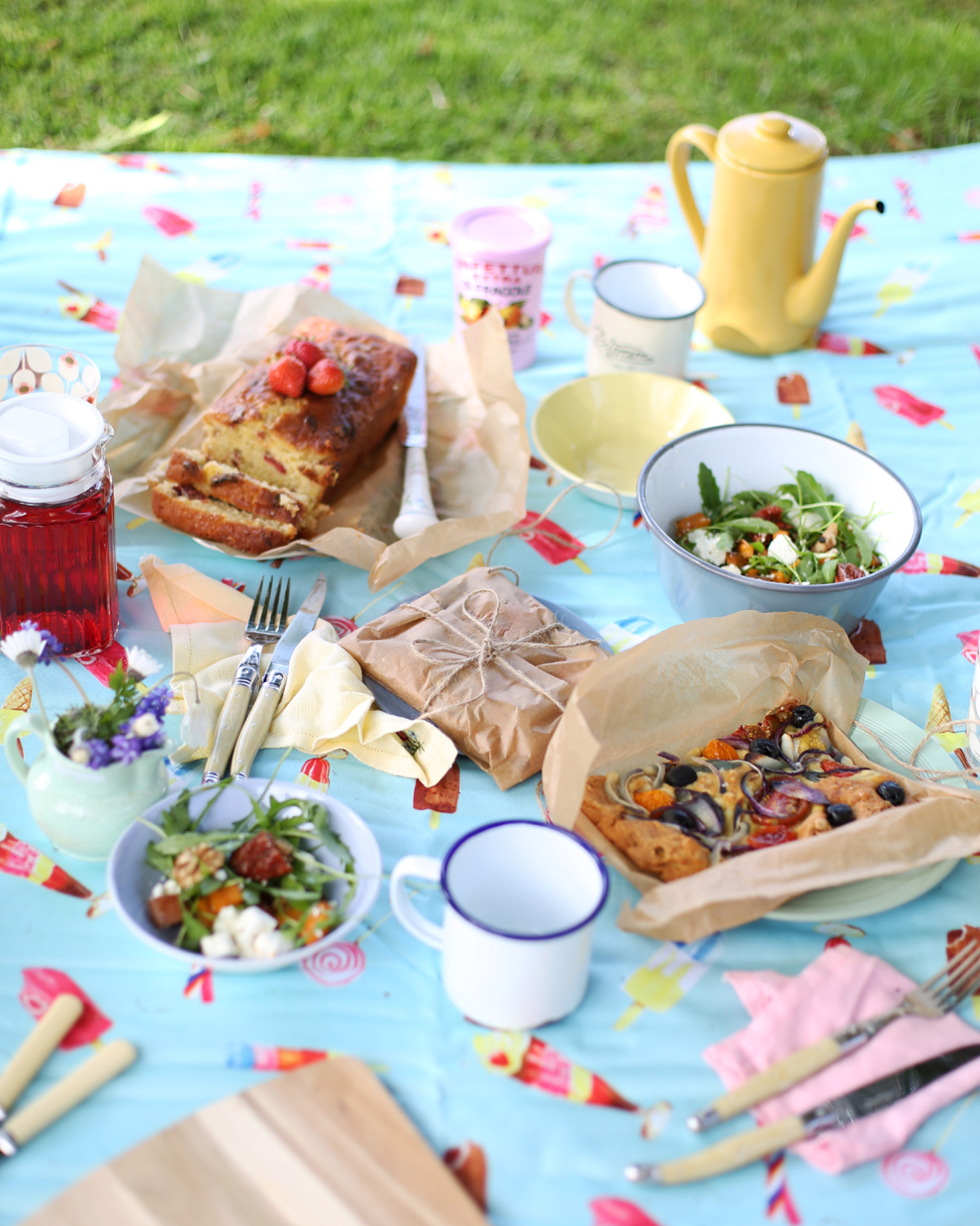 Picnic weather is here!  Well, it's sometimes here. Yesterday I created my perfect picnic for Laura Ashley. When designing a picnic menu, you need to think of things that will travel well, are delicious cold and actually taste better after a few hours.  I've selected an onion, tomato and olive focaccia; sweet potato, feta, walnut, and rocket salad and a strawberry and lemon drizzle cake.
I absolutely love the Laura Ashley ice lolly picnic range. Available in a fold away chair, picnic bag, rug, smaller cool bag and napkins. Keep the rug in the car for impromptu walks and picnics.
Picking your picnic spot is equally as important as the picnic.  I set up camp under our garden tree, so I could hang my PVC waterproof bunting!
Tomato, Onion and Olive Focaccia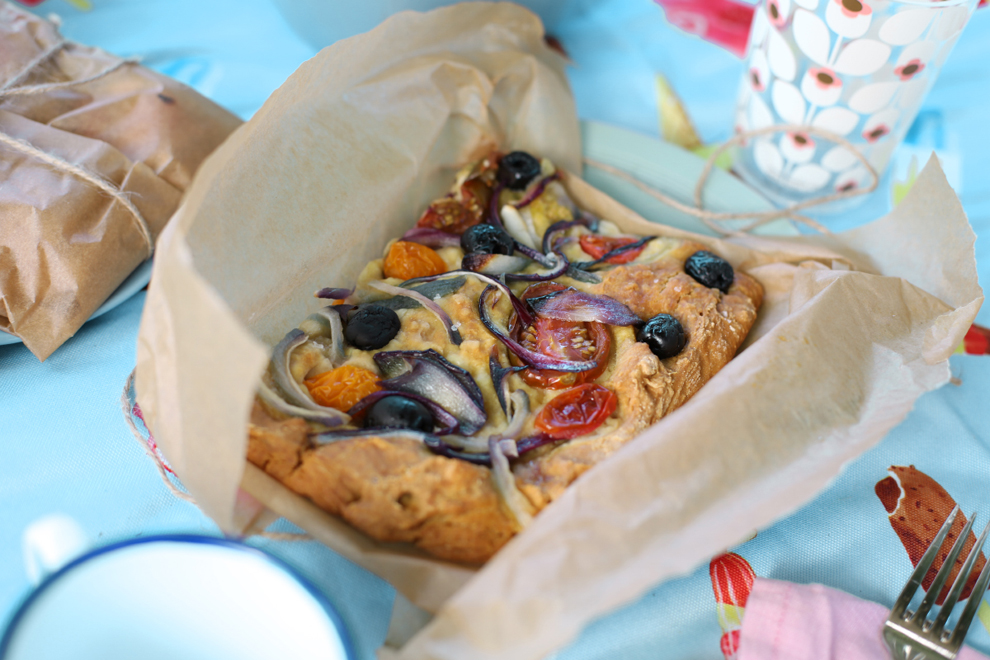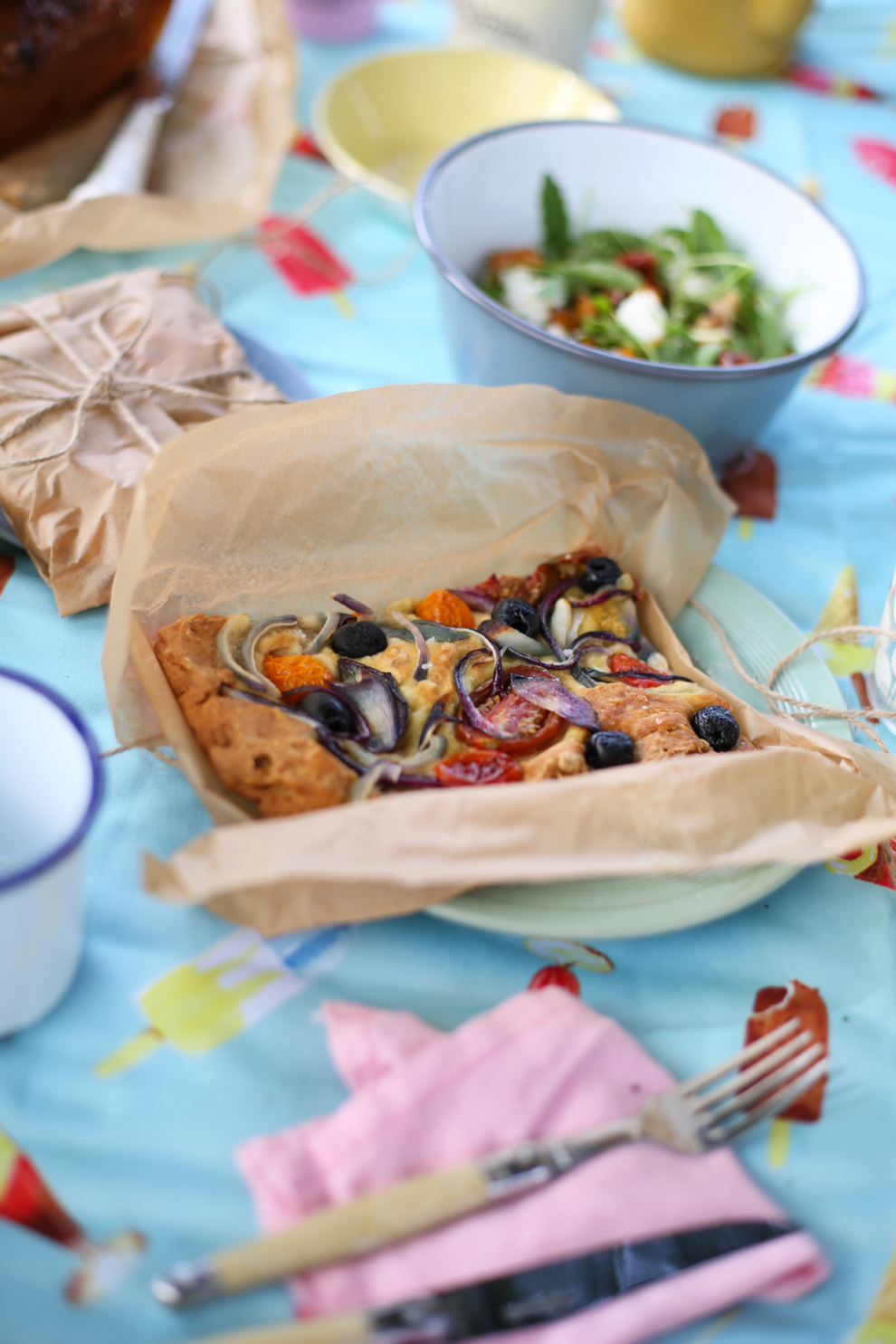 Ingredients:
450g Plain Flour
1 Tsp Bicarbonate of Soda
400ml Buttermilk
Large Pinch of Sea Salt
1 Sliced Red Onion
About 10 (or as many as you like) Tomatoes.  I picked cherry and a big heirloom tom.
Black Pitted Olives
Olive Oil
Method:
Foccacia is my favourite thing to make for a picnic. It has incredible flavours, it's portable, it tastes amazing cold and it's extremely addictive. You can dress it however you wish: cheese, feta cubes, soft goats cheese, rosemary, aubergine. Anything that takes your fancy or is in season.
Buttermilk foccacias are so simple. They take about 10 minutes to prepare. No kneading, no proving. I often wonder why I don't make it more… Then I remember that I will, most definitely, eat the whole thing. It can serve 8 people, but more likely 4 hungry people! I like to make it the pièce de résistance, not just a piece on the side.
Using a shallow baking tin, (a swiss roll tin would be great), drizzle olive oil generously and brush on the sides and base of the tin.  Preheat your oven to 230 degrees. Aga users, I used the bottom of the roasting oven.
In a large bowl, sieve the flour and bicarb and mix well with your hands.  Add the sea salt, then create a well in the centre.  Add in the buttermilk, little by little, and combine with your hands.  The best way to mix the dough is using your hand in a claw-like shape, in a circular motion.  Pulling the flour from the edges and combining it with the buttermilk.
The dough will be extremely sticky and you might panic a little.  But don't worry, the stickiness is perfectly fine.  Transfer to your oiled tray.  Use your hands to gently pull and manipulate the dough into the shape of the tin.
Next, prod in some sliced onion, halved tomatoes and olives.  The more the merrier!  Brush the focaccia with some more olive oil and a sprinkling of salt.  Bake for roughly 30 minutes, maybe more depending on the thickness of the bake and your oven.  You want it to be golden and firm in the centre.  You can also tell if it's completely ready by using two fish slices, and taking a look at the underneath of the foccacia.  If the centre is golden, it's ready.
I like to make mine the night before and serve cold at my picnic.  It would be delicious with hummus and pesto,  or grilled asparagus and feta!
Strawberry and Lemon Drizzle Loaf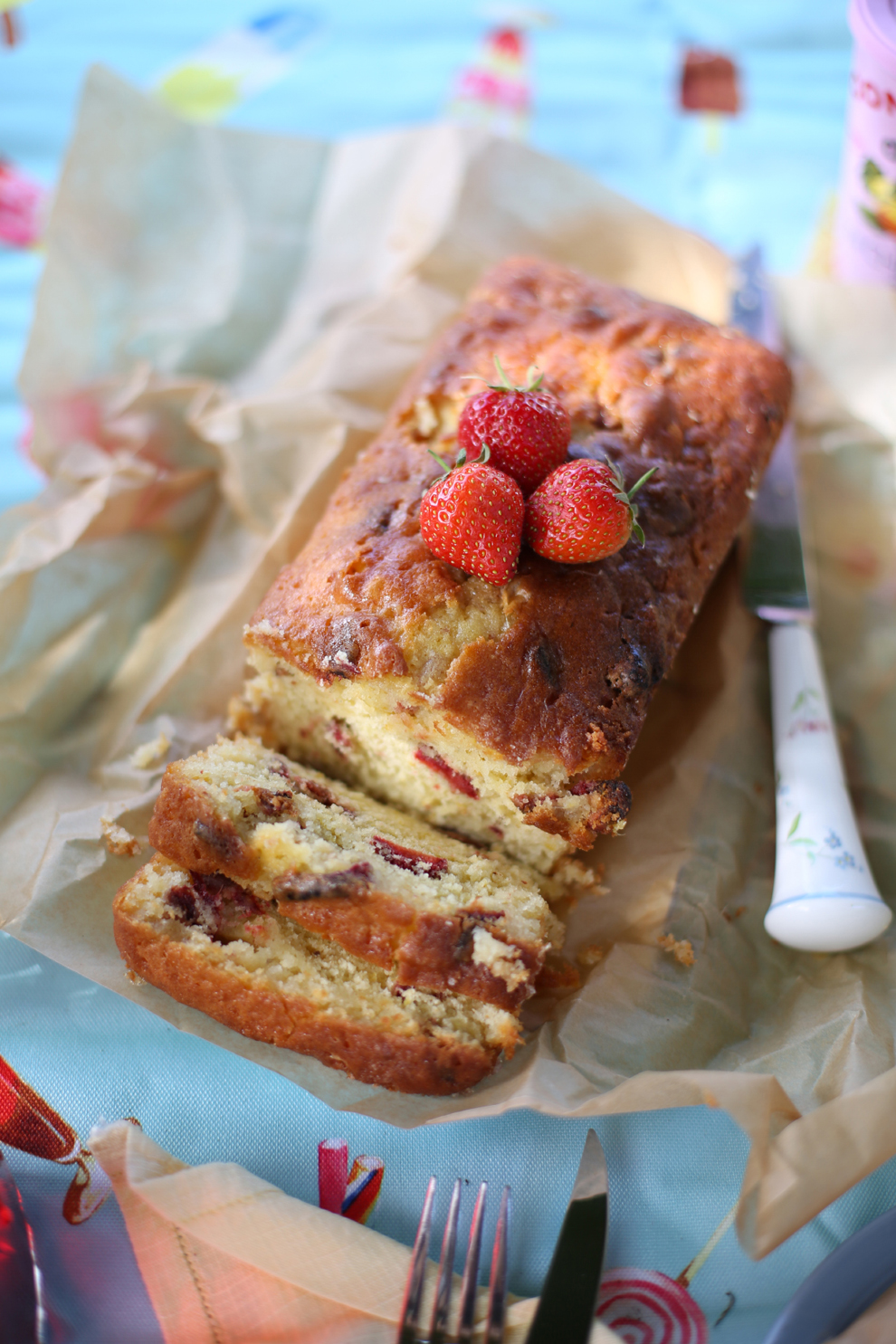 Ingredients:
110g Unsalted Butter, Softened
175g Golden Caster Sugar
2 Large Eggs
175g Self-Raising Flour, Sieved
1 Tsp Baking Powder
1 Tsp Vanilla Bean Paste
2 Lemons (zest in batter, juice in drizzle)
25g Freeze Dried Strawberries*
*Freeze dried strawberries are a new obsession for me.  They are light enough that they won't sink during baking and won't interfere with the mixture as they have no moisture! You can get sliced or diced from amazon – I chose slices so you could really see the pink flecks.
Drizzle:
150g Granulated Sugar (like you'd put in your tea)
Juice of 2 Lemons
Top with Fresh Strawberries
Method:
Preheat the oven to 180 degrees, then prepare a 1lb loaf tin with a liner.  For aga users, I put the cake in the baking oven with the shelf at the top.  Then for the final 10 minutes, I moved it down to the bottom of the oven.
In a large bowl or free-standing mixer, beat the butter on it's own to begin. Then, cream together your butter and sugar until pale and fluffy.
Add in your eggs, one by one, and mix well after each addition.  Add in the vanilla bean paste, then sieve in the flour and baking powder.  Combine, then grate two lemons into the mixture.  Once combined, fold in 25g of freeze dried strawberries.
Pop in the oven and bake for 35-40 minutes.  Perhaps longer depending on your oven.  Or until golden, risen and clean when inserting a skewer.  In the meantime, mix together the sugar and lemon juice to create your drizzle.
Once baked, when the loaf is still warm, prick all over with your skewer and pour your drizzle over the top.  Leave your loaf to cool completely before wrapping it for your picnic.  I like to make this loaf the night before my picnic, for easiness.
 Sweet Potato, Feta and Walnut Rocket Salad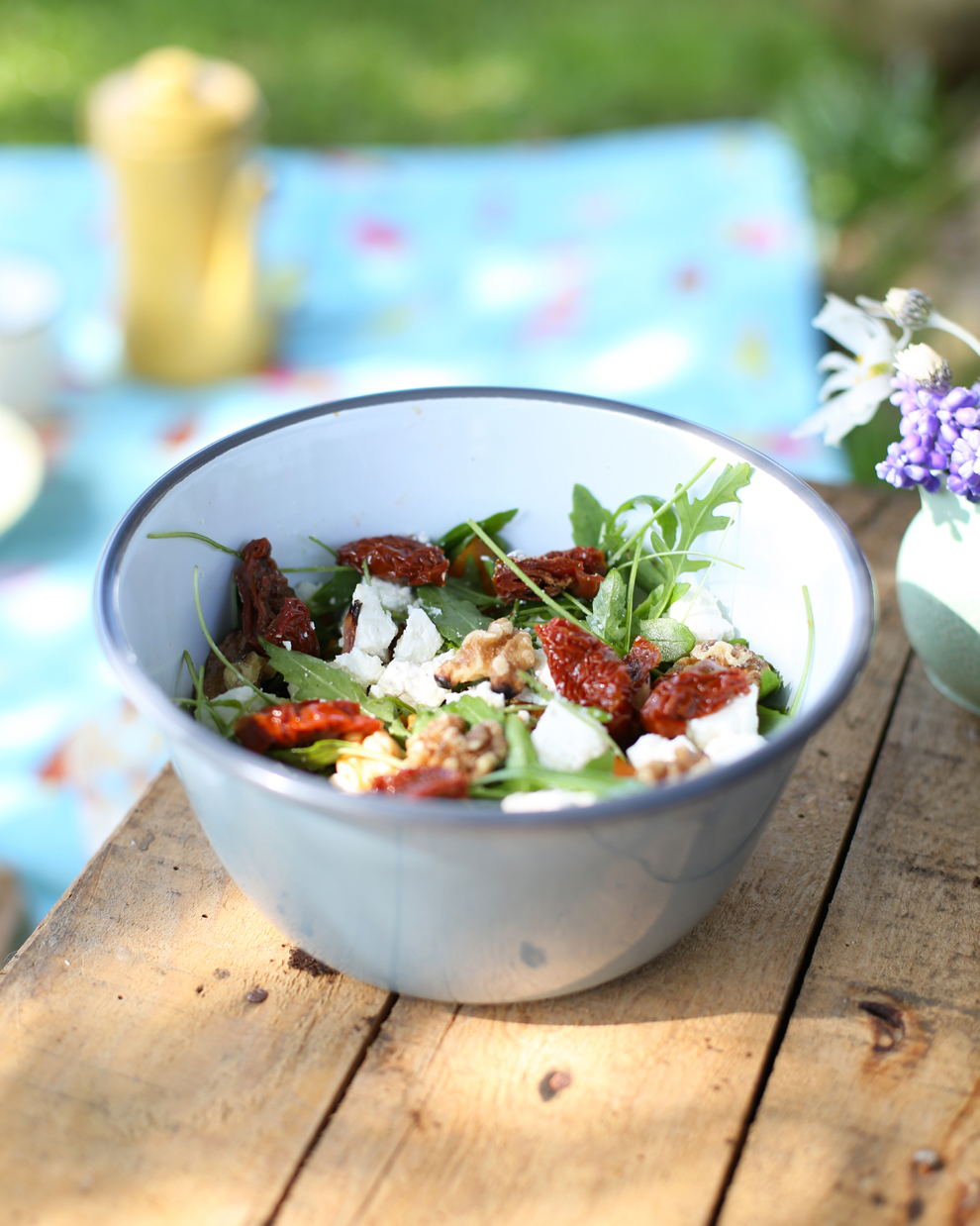 Ingredients:
Rocket Leaves
1 Sweet Potato
3 Garlic Cloves
3 Sprigs of Thyme
1/2 a Packet of Feta Cheese
Sundried Tomatoes
Handful of Walnuts, Lightly Toasted
Olive Oil 

Method:
Chop a sweet potato in half, into strips and then into small cubes.  Lay on a baking tray.  Cover generously with olive oil, salt, 3 sprigs of thyme and pepper, then add three garlic cloves (with their skins on). Bake at 200 degrees for 10-15 minutes, or until soft and slightly crispy.  Once cooked, leave to cool completely.
Take one of the garlic cloves you just baked, and squeeze out the insides into a pestle and mortar.  Drizzle in about 3 tbsp of extra virgin olive oil and season with salt and pepper.  Bash until you create a garlic oil dressing.
Wash some rocket leaves and dry in a spinner or with a tea towel.  I grew my rocket from seed, which I am particularly proud of!  Add to a bowl.
Add a handful of walnuts to a small frying pan and toast lightly for a few minutes. Leave to cool.
Chop half a packet of feta into small cubes and toss through your salad.  Followed by the sweet potato and walnuts.  Next, drizzle over your oil dressing and mix thoroughly.  Add a few chopped sundries tomatoes.  I used my own sundried tomatoes that I made myself.
Sprinkle with sea salt if you feel necessary!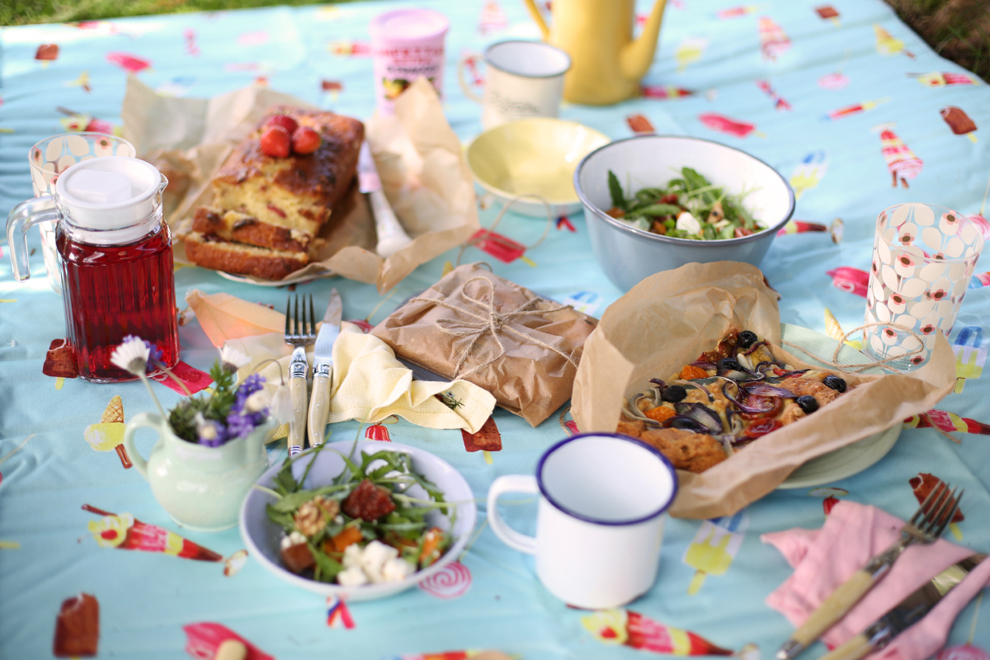 How amazing is Lara's picnic? We can't wait to have a go! Lara recently also took over our Instagram account. You can follow what she did over the weekend by searching #WeekendWithLara…