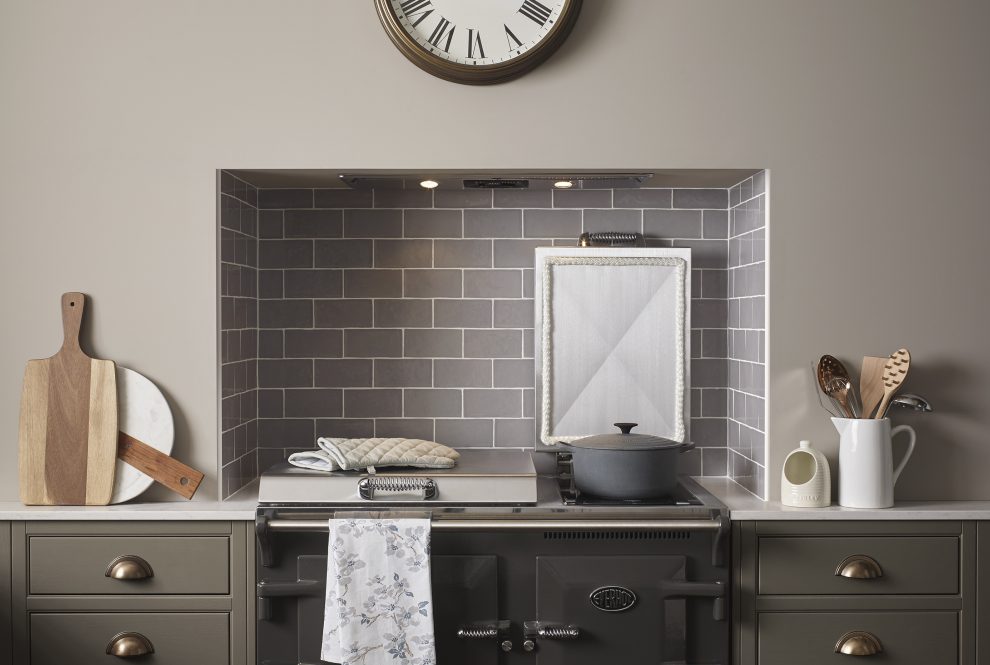 Create the perfect country kitchen with the new Harbury range from the Laura Ashley Kitchen Collection read more
At last! It's time to meet our new Harbury kitchen, courtesy of Symphony. Keep reading to see more. We promise you won't be disappointed.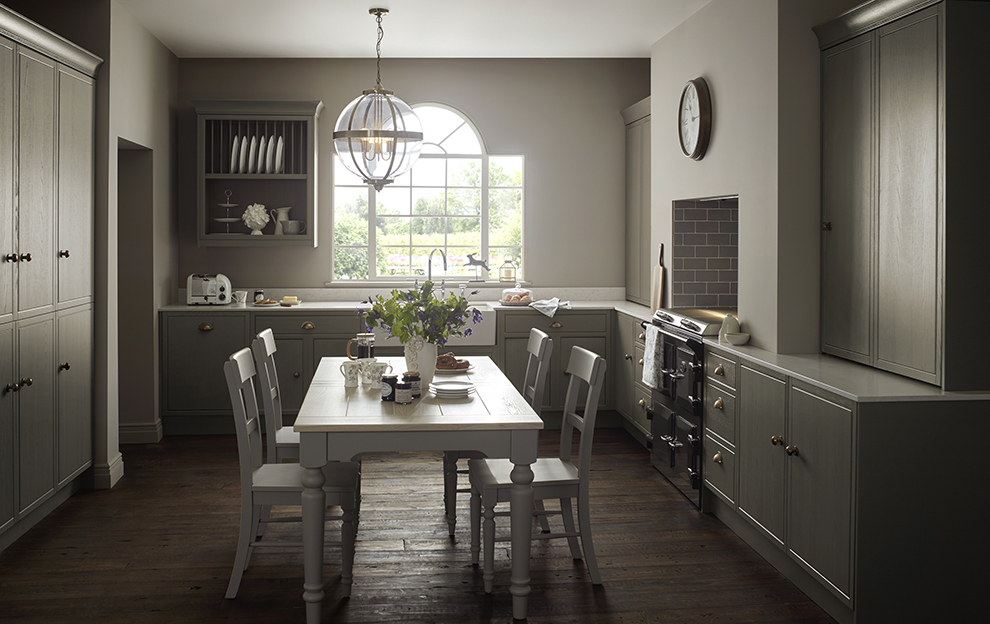 Harbury kitchen crafted for you
We're pleased to introduce the Harbury kitchen as the latest addition to the Laura Ashley Kitchen Collection from Symphony. Shown here in Clay, Harbury's simplicity and attention to detail offers a refined design that allows the quality to shine through, creating a focal point in your home.
Beautifully crafted, Harbury merges traditional and contemporary design to create a modern country kitchen. With in-frame cabinets and feature units, the range will appeal to anyone who values classic cabinetry and understated style. Here are a few of our tips for achieving your country-inspired kitchen.
Embracing personal style
While it can be tempting to go for something neutral like white or ivory as your main colour, if you want to add your own style or personality to your kitchen, don't be afraid to use bolder colours. Shades that are inspired by nature will not only liven up your cabinets, but will give your kitchen a rustic charm.
Liven up your kitchen cabinets with shades inspired by nature, like Clay, Pumice or Sage. Plus, why not choose a complementary worktop in a paler colour or natural wood grain. These will add that final touch of style and character to your kitchen.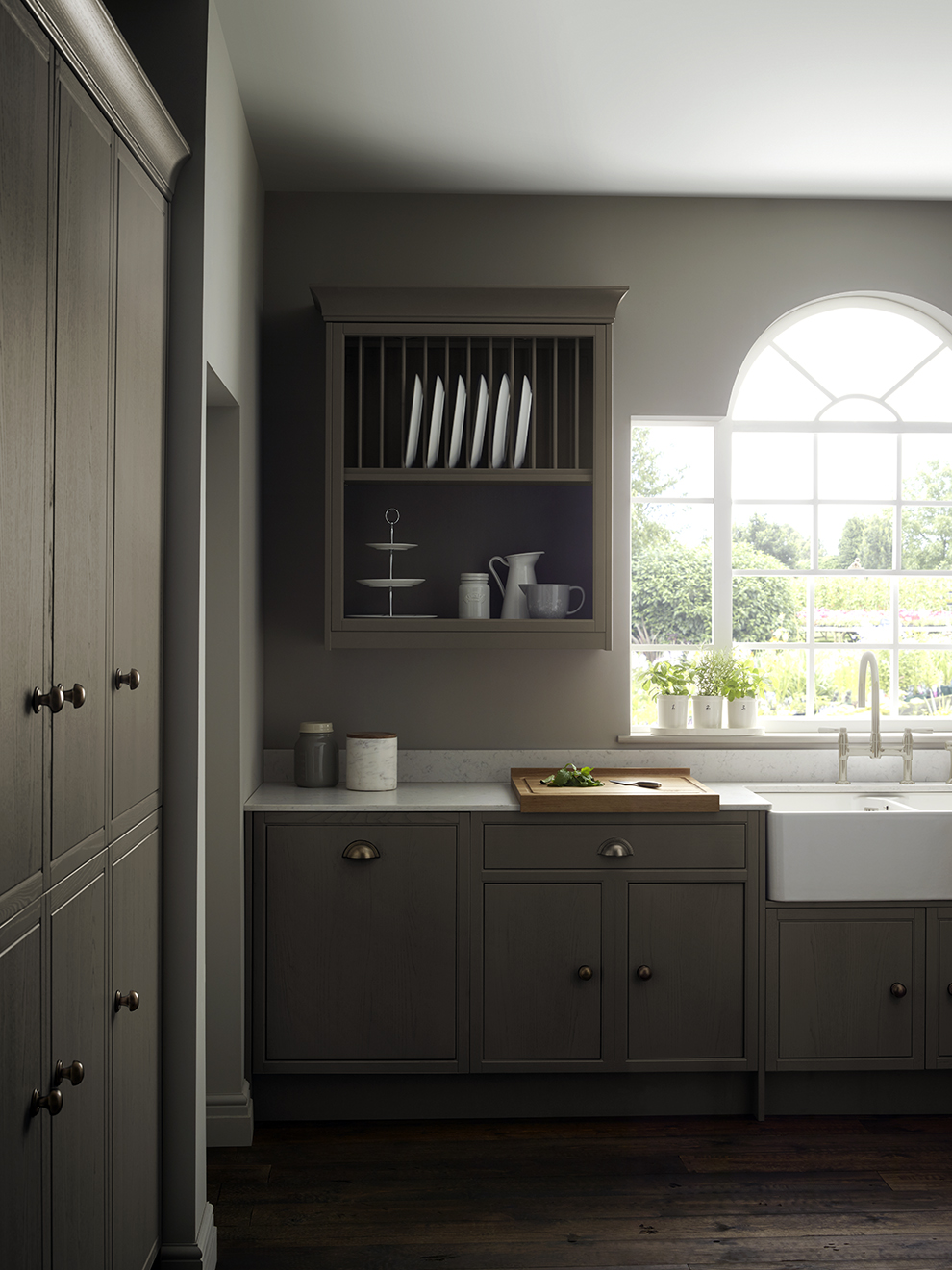 Think carefully about the way you choose to display your favourite kitchenware, especially when Harbury kitchen offers open shelving or glass china cabinet options to put your most prized possessions on display. The Harbury kitchen range provides the perfect storage solutions and there's a place for everything when you blend classic design, like this plate rack cabinet with a new favourite such as a dresser with bi-fold doors.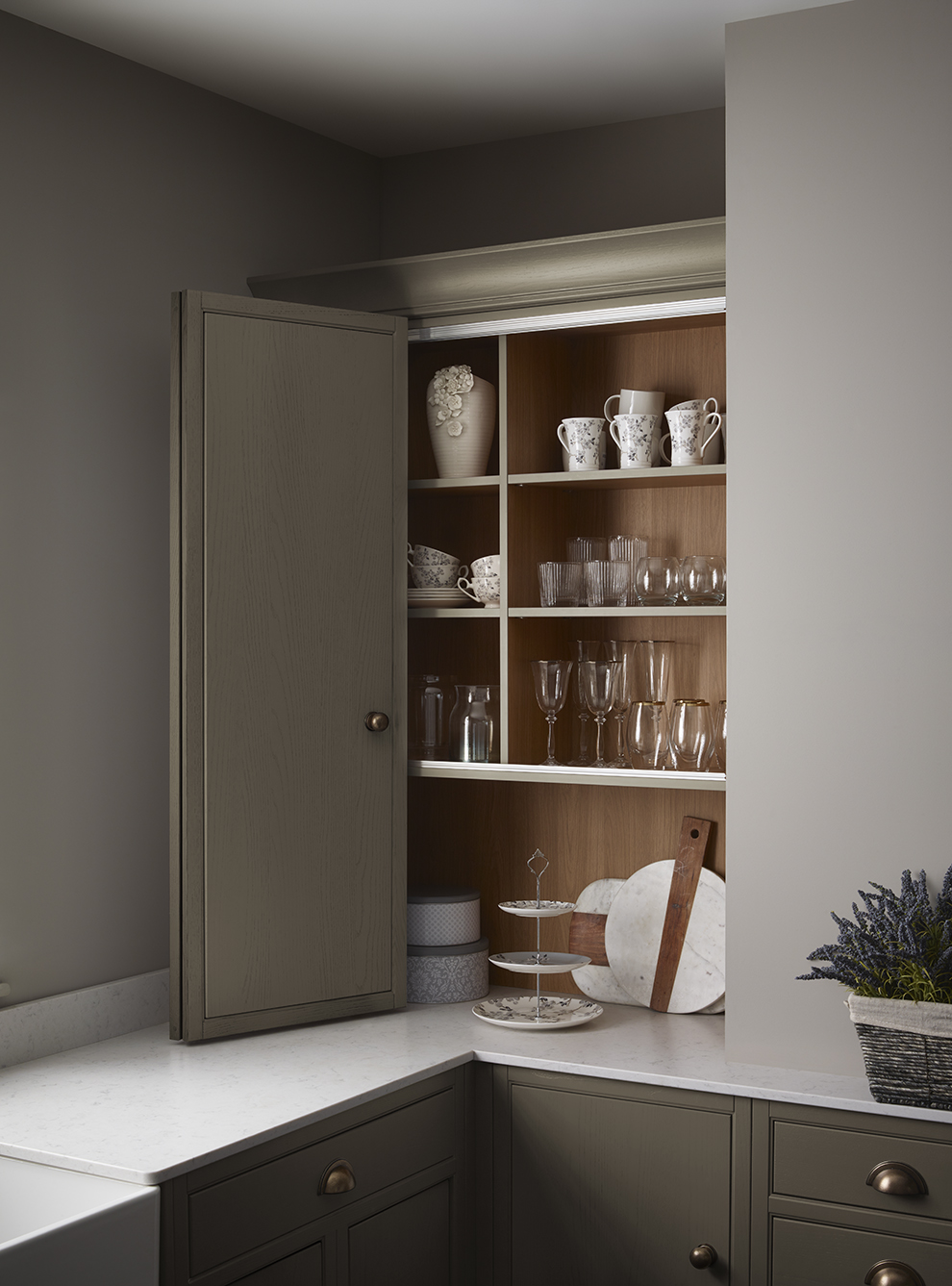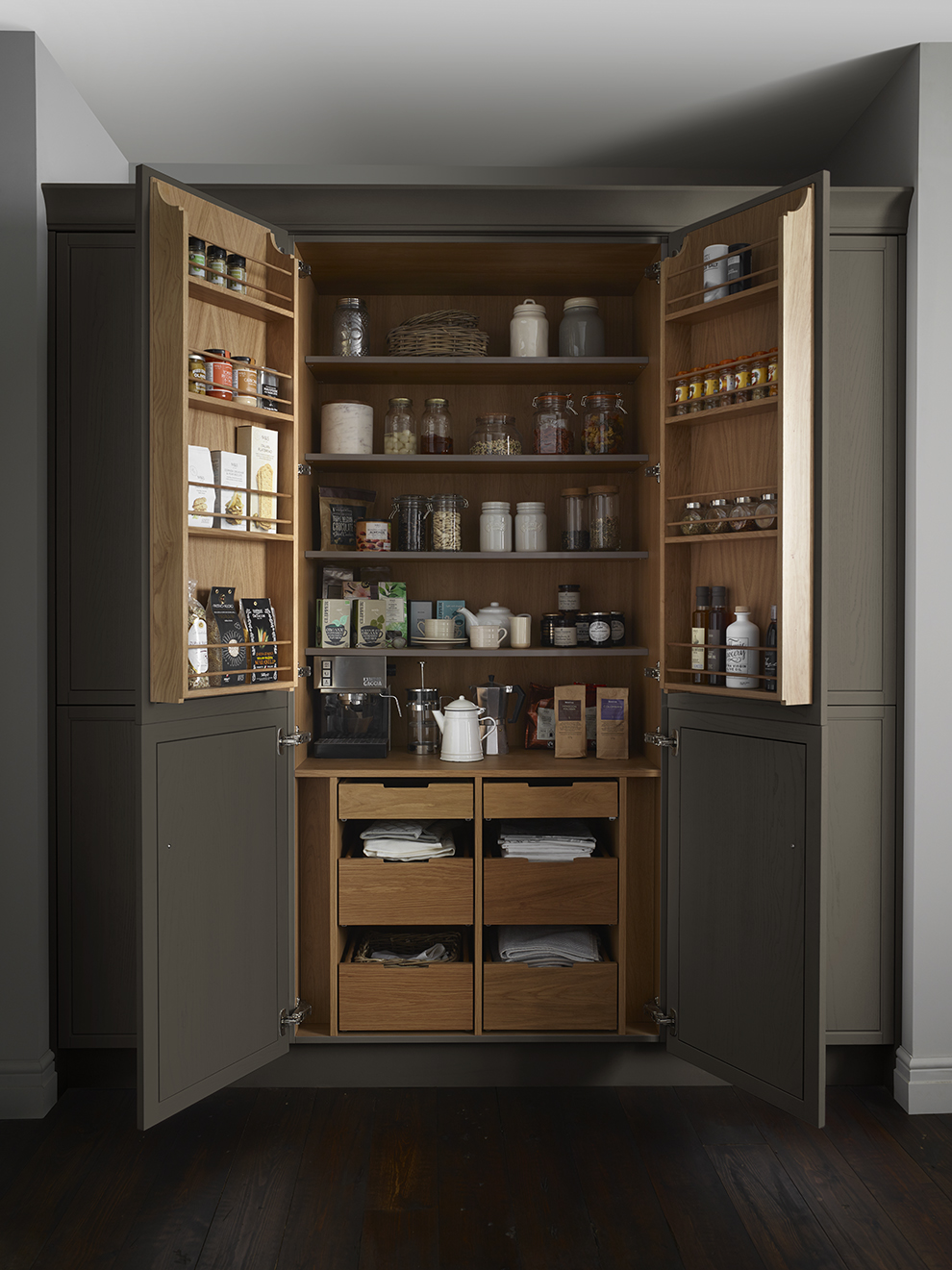 More than just a kitchen, bring the Harbury kitchen look to a hallway, utility room or boot room, with a useful seating area and cabinets that help to organise your home. Hanging space, peg rails and shoe cupboards hide away clutter and provide storage for everyday life.
Whilst plaid and tweed might be the mainstays of country style, subtle patterns can also aid in creating a rustic setting for your home. Here we've used Brampton Stripe wallpaper in dove grey to create a cosy feel. We combined it with textured cushions on the seating area including the Elderwood cushion which features sweet little garden birds, branches and berries.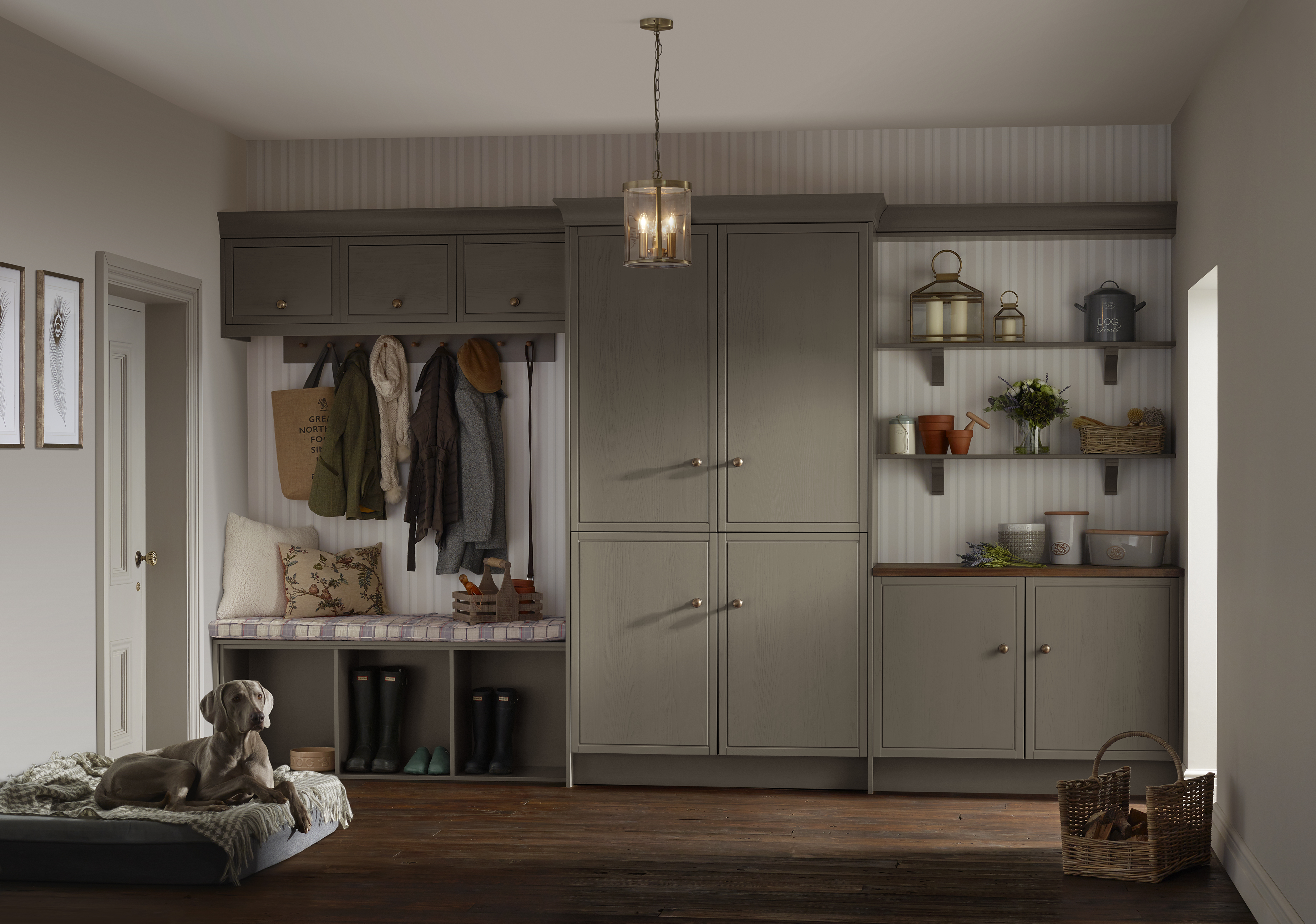 Design your dream kitchen
Our experts will guide you through the design and planning process to bring you a kitchen that works beautifully for you. Visit the Laura Ashley Kitchen Collection website to find your nearest stockist.
Why do you think of our Harbury kitchen? Let us know your thoughts over on our social media accounts @lauraashleyuk or by tagging #lauraashley