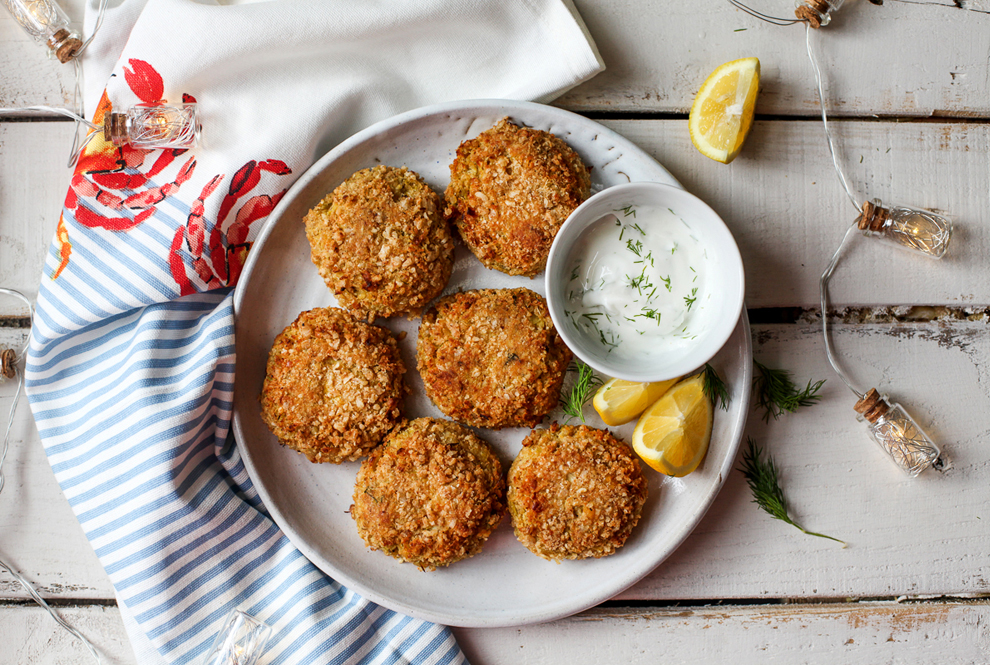 Prepare to feel hungry after seeing these yummy mock crab cakes read more
As we brave the cold and dream of warmer days we feel that now would be the ideal time to show a warmer weather recipe that will get you in the mood for longer days and al fresco dining so see this delicious mock crab recipe from the talented Aimee from Wallflower Kitchen…
Crab cakes made without crab! These delicious savoury cakes are made with plant-based ingredients to create a similar texture and flavour to traditional crab cakes. They're also gluten-free, soy-free and nut-free, making them suitable for allergy sufferers.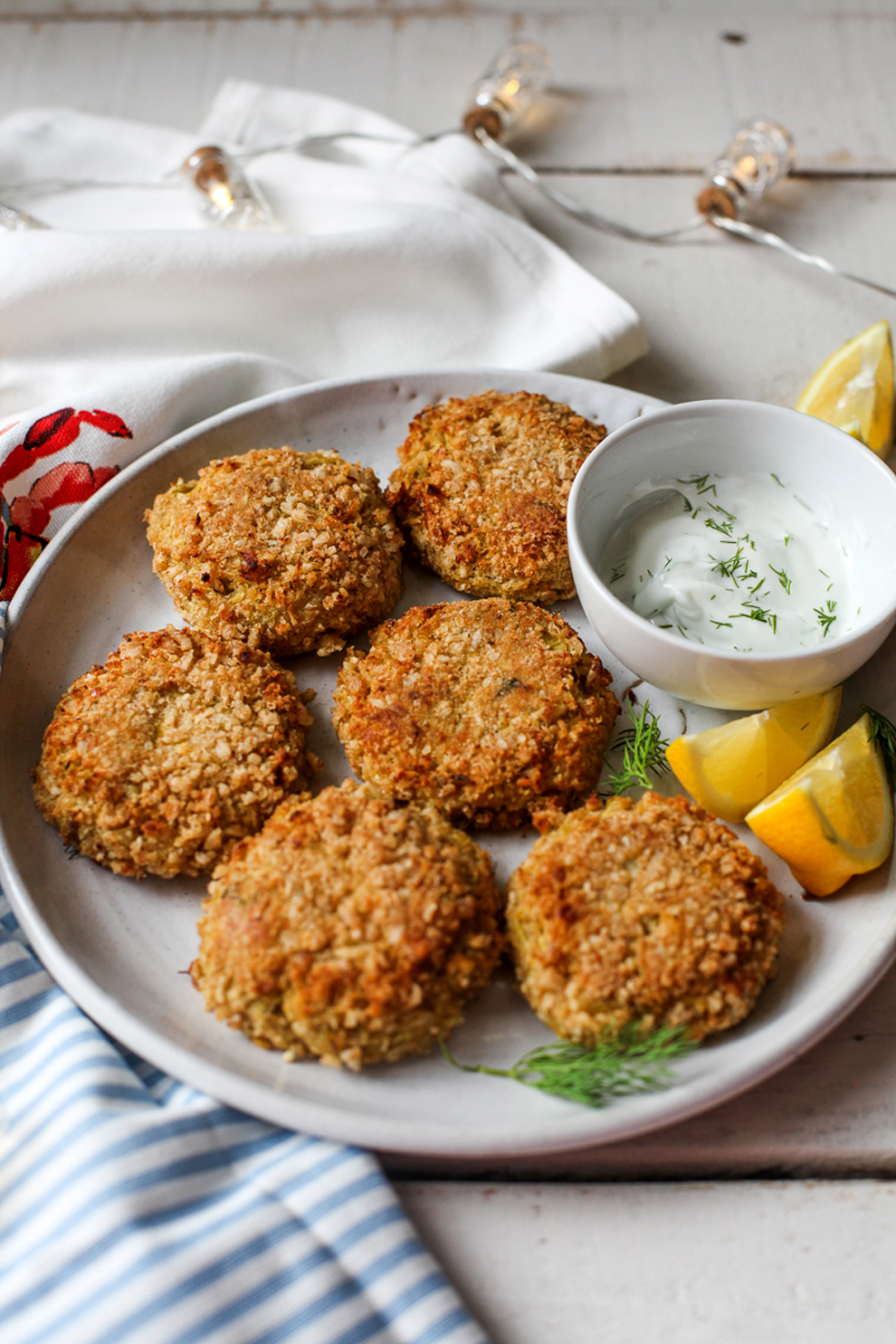 To make this recipe, I teamed up with Laura Ashley to create a seaside themed background, using this Harbour Scene Tea Towel and Bottle Lantern Wire Lights. I also wore this stunning Red Falling Flower Dress which is my new favourite item of clothing! It's comfortable enough to be worn for casual, especially during Spring and Summer but can also work for special occasions when paired with heels.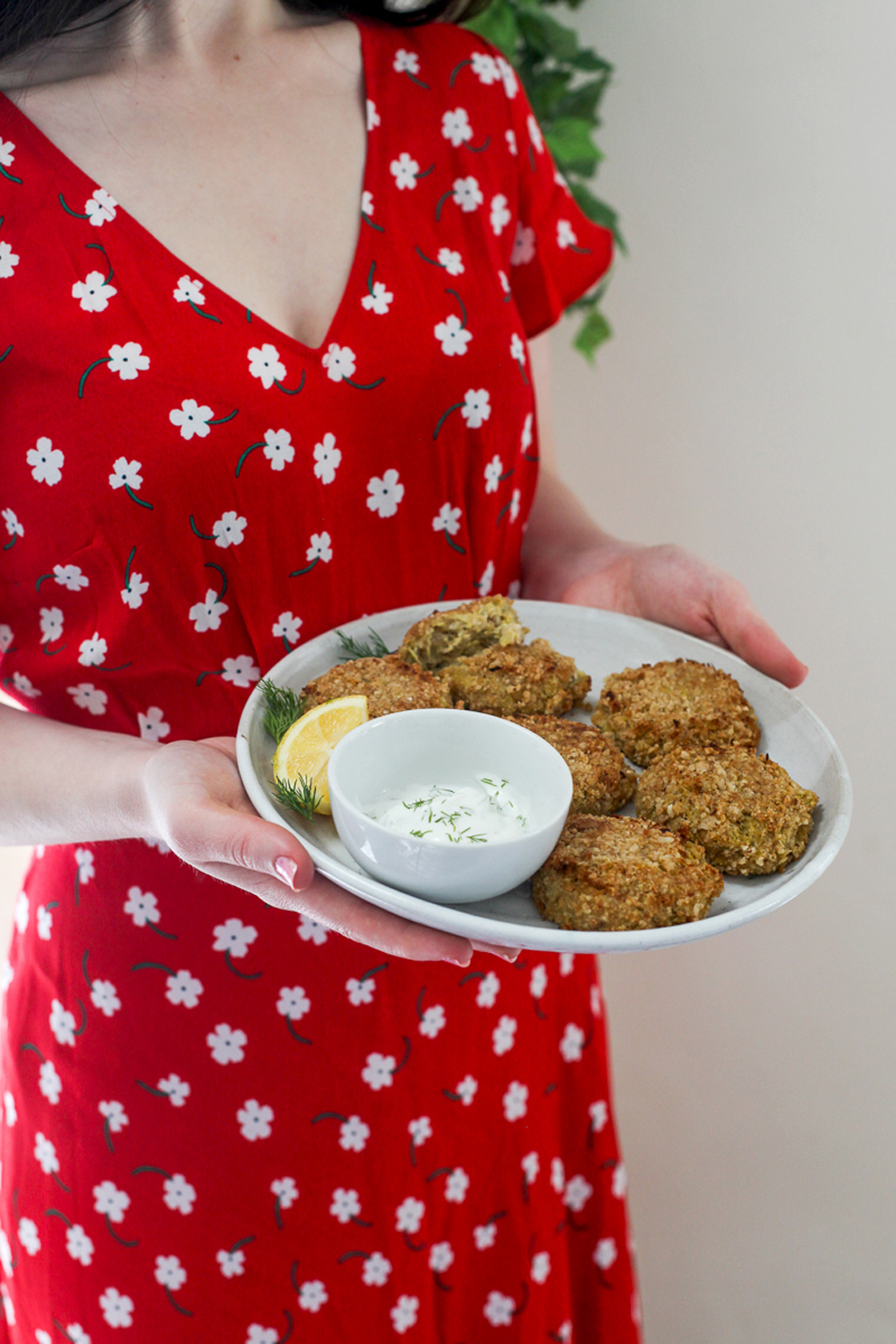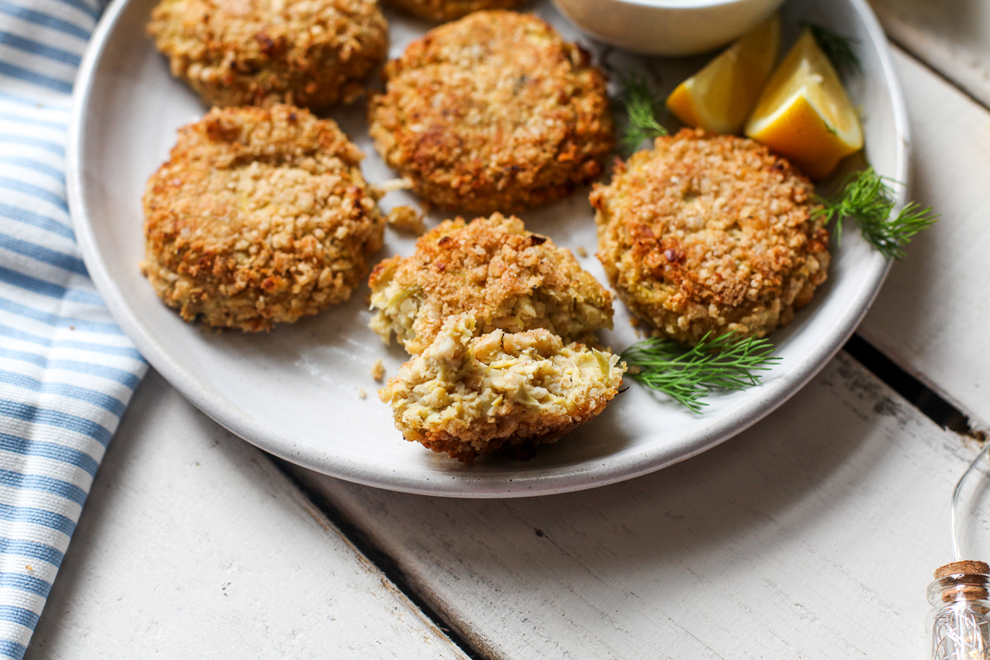 But back to the recipe… If you're looking for a tasty starter or appetiser to serve this Spring, these cakes are perfect for dipping. They can also be eaten as part of a main meal with a salad or some homemade chips! Serve with some vegan mayonnaise and a few sprigs of fresh chopped dill.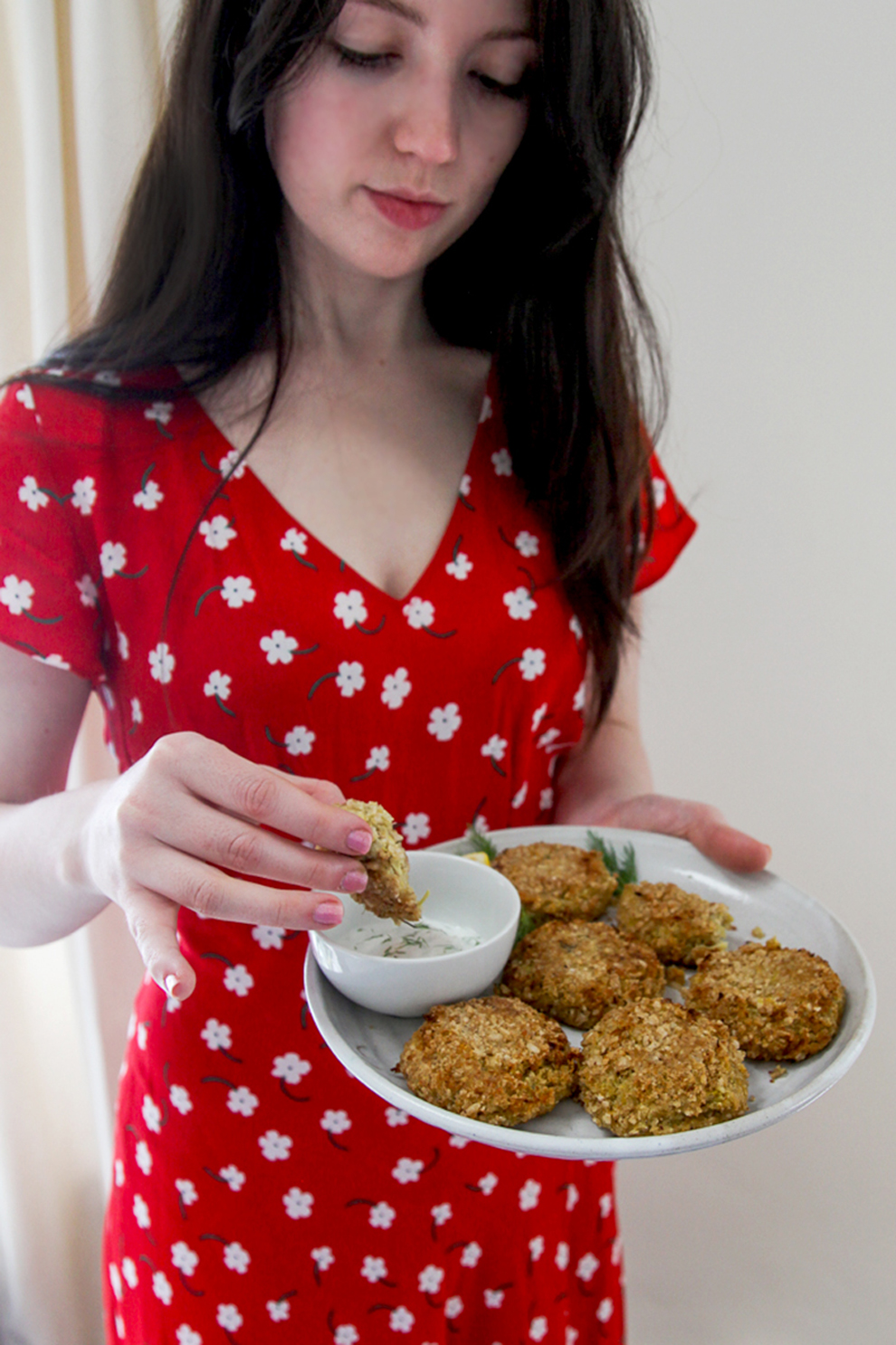 Ingredients
Makes: 12
Cook time: 20 minutes Total time: 35 minutes
1 x 400g tin chickpeas (drain into a bowl, keeping the liquid from the tin for later)
1 x 390g tin artichoke hearts, drained and rinsed
180g gluten-free breadcrumbs (or 6 rice cakes – see notes*)
2 spring onions, roughly chopped
4 tbs vegan mayonnaise
1 tsp mustard
(Optional) 1 tsp dried kelp granules or other seaweed
1 tbsp mixed herbs
A pinch of salt and pepper
Vegetable oil, for frying
To serve:
Fresh dill, chopped
4 tbsp vegan mayonnaise
1 lemon, cut into wedges
*Notes: You can make gluten-free "breadcrumbs" by blitzing rice cakes in a food processor until they resemble breadcrumbs.
Instructions
1. Add the chickpeas, artichoke, 80g of the breadcrumbs, spring onions, mayonnaise, mustard, seaweed, herbs and salt and pepper to a food processor and pulse until everything is chopped and chunky but not smooth. You can also use a potato masher.
2. Shape into 12 medium patties and arrange onto a large plate or baking sheet.
3. Prepare a bowl with the rest of the breadcrumbs and another bowl with the chickpea tin liquid (this will act as an egg substitute).
4. Dip each patty into the chickpea liquid and then place in the breadcrumb bowl and press in the crumbs until well Return to the plate or sheet and continue with all the patties.
5. Meanwhile, cover the base of a large skillet on a high heat with the vegetable After a few minutes, use one of the patties to test if the oil is hot enough. If it sizzles and fries – then it's ready.
6. Add half the cakes into the pan and cook for 4-5 minutes on each side and transfer to a plate with some paper towel, to absorb any excess Then cook the next batch.
7. Serve with a small bowl of the mayonnaise along with some chopped dill and some lemon wedges. Enjoy!
Notes: You can also bake these cakes for a healthier option! Simply preheat the oven to 200C and cook for 20-25 minutes, flipping them onto the other side halfway.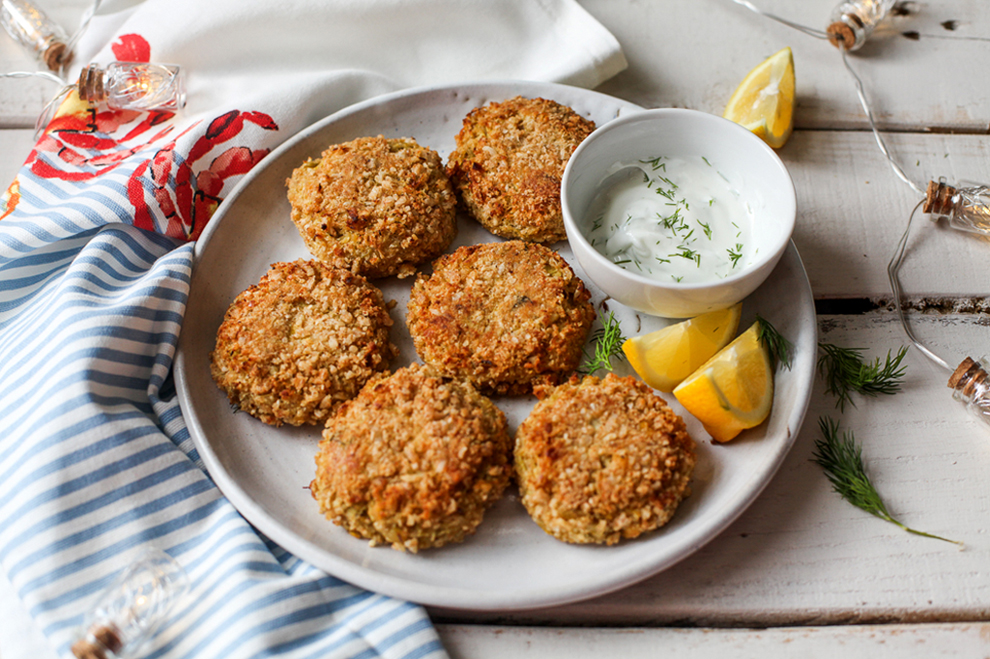 Yummy, how tasty do these mock crab cakes look! Do you have a favourite summery dish? Let us know below or on Twitter @LauraAshleyUK