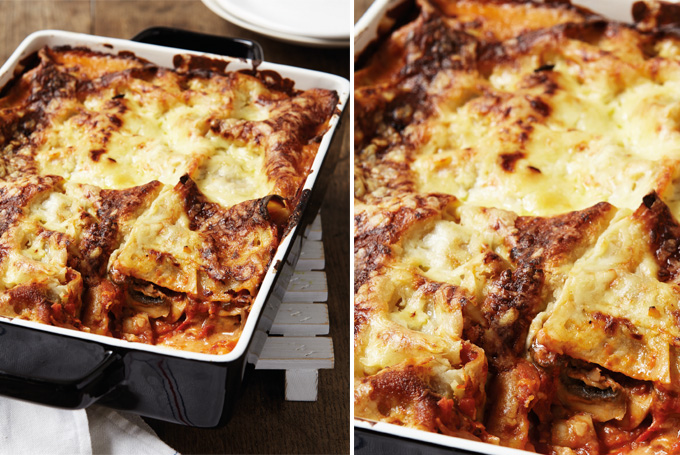 Sharing a delicious recipe from her new book, take a peek at Liberty London Girl's Mushroom Lasagne... read more
Taking her first step into the world of publishing, Sasha Wilkins (otherwise known as Liberty London Girl) has so far taken us on a whirlwind journey of fashion and life as former fashion editor on her blog, but at long-last Sasha shares her love of good food and entertaining in her brand new cookbook. Serving up a host of delicious recipes from Sunday lunches to alfresco dining, we couldn't resist her take on the classic lasagne, ideal for the winter months ahead…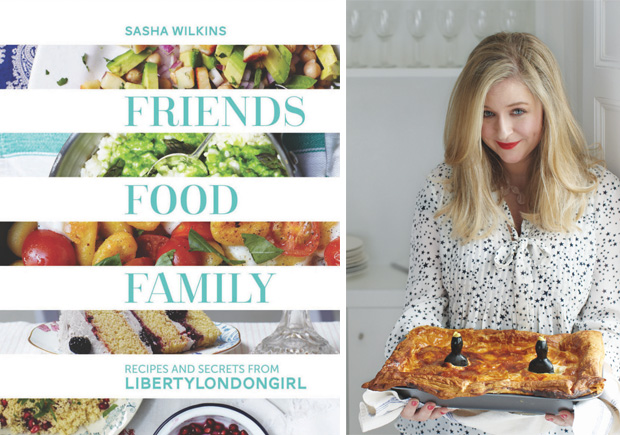 There's very little I dislike more than a parsimonious vegetarian lasagne, redolent of school dinners, filled with lumps of watery vegetables, metallic tomato sauce, a white sauce that has been all but sucked up by the pasta and topped with a few cheese scrapings. If you're going to bother with lasagne, it should be thick, luxurious and wholly satisfying. There are three or four different versions in my arsenal but my absolute favourite is this mushroom one, using lots of different types of mushroom. (There will be no watery courgettes, inappropriate root vegetables, pappy aubergines or insufficiently cooked-down tomatoes on my watch.)
SERVES 8
For the Slow-Cooked Tomato Sauce
– slosh of olive oil
– 1 large onion, chopped
– 2 garlic cloves, crushed (optional)
– 3 x 400g tins tomatoes (my optimal combination is 1 tin of whole tomatoes, 1 of chopped tomatoes and 1 of cherry tomatoes)
– passata (optional)
– large squeeze of tomato puree
– 1 tsp sugar
– sea salt and freshly ground black pepper
Lasagne
– 1.5kg mushrooms (I like mixed flat, white and chestnut)
– 50g butter
– 3 tbsp olive oil
– approx. 10–14 lasagna sheets
For the cheese sauce
– 50g butter
– 50g plain flour, sifted
– 500ml whole milk
– 2 tbsp Dijon mustard
– 250g Cheddar, finely grated
For the topping
– 150g Cheddar, finely grated
– 100g fried breadcrumbs or panko breadcrumbs (optional)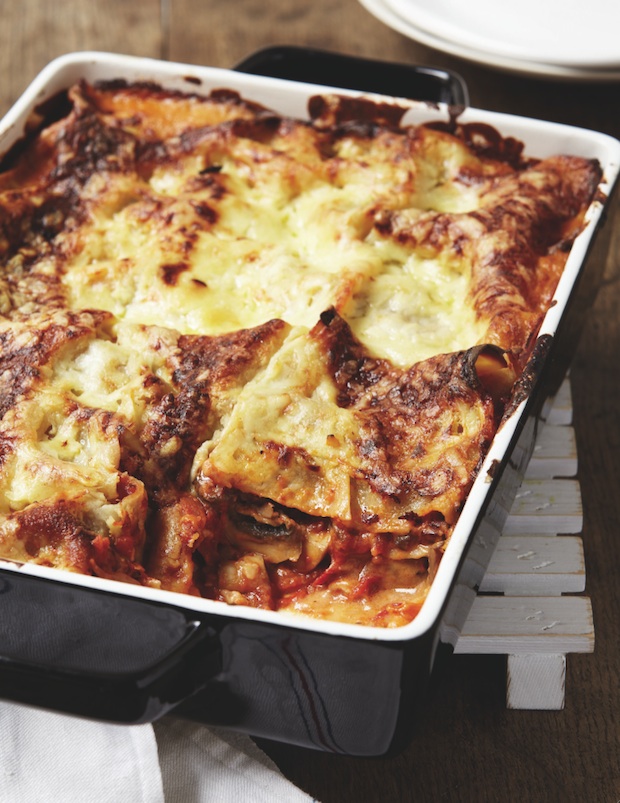 METHOD
1) First make a tomato sauce so that it is happily simmering away (for a minimum of 45 minutes) while you get on with the rest.
2) Put a nice big saucepan (I prefer wider to higher, as it cooks down more quickly) over a medium-high heat and add a generous slosh of basic olive oil. When it's hot, tip in the onion, turn the heat right down, and sweat (i.e. slow-cook in oil) until translucent, pushing it around from time to time. This takes at least 20 minutes. Cook the onion too hot and fast and it will brown and caramelise. You want the onion to be soft and colourless. (You want it nice and soft because once it hits the tomatoes it won't get any softer.) Add the garlic, if using, 5 minutes before the onion is done.
3) Then pour in the tomatoes, add a big slug of passata (if you have it), the tomato purée and sugar. Get it to simmering point (slow bubbling), then turn the heat to low-medium and leave to simmer away, uncovered. Do keep stirring regularly as the sauce has a nasty habit of catching; turn down the heat if you think it is boiling too fast. I also use a splatter guard, as it bubbles away like a tub of volcanic gloop and you will end up with tomato-sauce splodges everywhere, otherwise. After about 20 minutes, break up any whole tomatoes with the back of a spoon and continue to cook. After about 45 minutes, add salt and black pepper, to taste. Check the seasoning and add a wee bit more sugar if you think it needs it. Allow it to cook for a little longer – I reckon it takes a total of 1 hour to reduce properly and become sweet, thick and unctuous.
4) Meanwhile, slice the mushrooms into thirds, then across into cubes. Put a large frying pan over the heat with the butter and oil and, when the butter has melted, tip in the mushrooms. Don't let them cook too quickly: the trick is to soften the mushrooms without them losing their plumpness. When they are cooked, take off the heat and put to one side.
5) For the cheese sauce, melt the butter in a large, heavy-bottomed pan (this is to stop your sauce burning) and beat in the sifted flour. Add a ladleful of milk and whisk in. As it thickens, carefully add in another measure of milk, and so on. Add in the mustard and the Cheddar and beat together with a wooden spoon until the Cheddar melts. When the sauce has thickened enough that it coats the back of a spoon without falling off, take it off the heat.
6) Preheat the oven to 180°C/350°F/gas mark 4. Pour a ladleful of cheese sauce over the entire bottom of a large gratin dish. Then add the first layer of lasagne sheets. (You may need to break some to ensure they fit neatly.) Over this add a thin layer of tomato sauce. Then a layer of mushrooms, followed by a layer of cheese sauce. Next: a layer of lasagne. (Try to keep the layers as thin as possible.) Repeat until the dish is almost, but not quite, full. Make sure that the topmost layer is lasagne sheets spread with a little cheese sauce.
7) For the topping, strew over the Cheddar, then the fried bread crumbs, if using. Bake in the oven for about 35–45 minutes.
Taking pride of place on the Laura Ashley bookshelf, Sasha's book is the ultimate guide for dinner party success. Not only including her tasty collection of tried and tested recipes, Sasha lets us in on a few insider tips, from her favourite places to brunch, her ultimate dinner party playlist (genius) to the best ice-cream sundae shops around the world. What can we say? Sasha is a girl after our own heart.
Friends, Food, Family by Sasha Wilkins (Quadrille, £18.99) Photography: Lisa Linder.
Browse the Laura Ashley tableware range here.