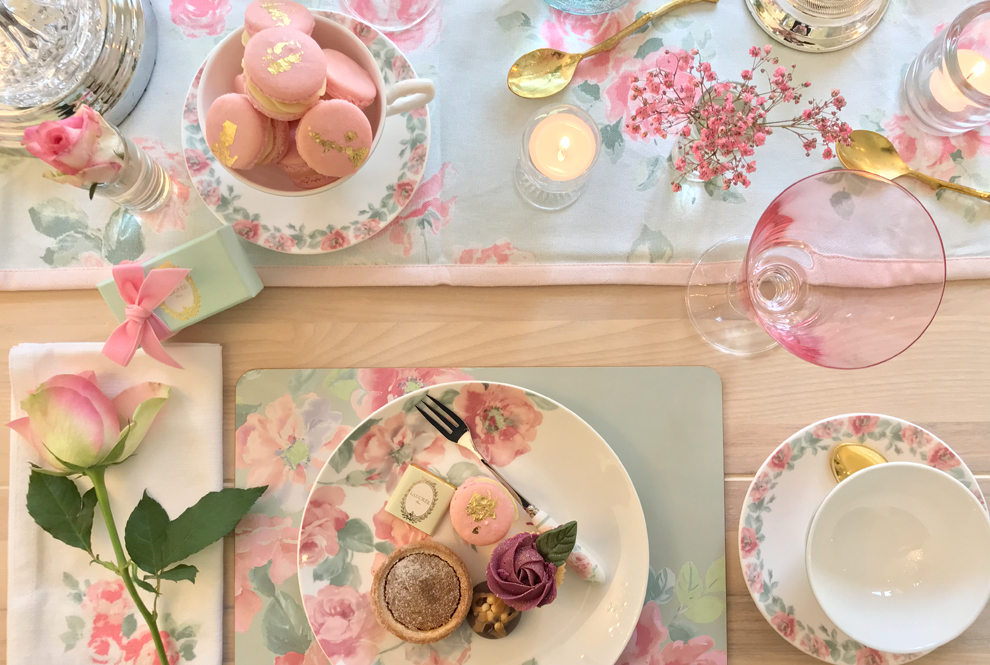 Perfect your macaroons with the lovely Louise who is here to show us how it is done read more
Everyone loves a perfect pink macaroon, so we have the lovely Louise from The Vintage Room here to show us how it is done.
Everyone knows how much I love a tea party with pretty china and florals. I completely fell in love with the new Albertine range from Laura Ashley as soon as I laid eyes on it!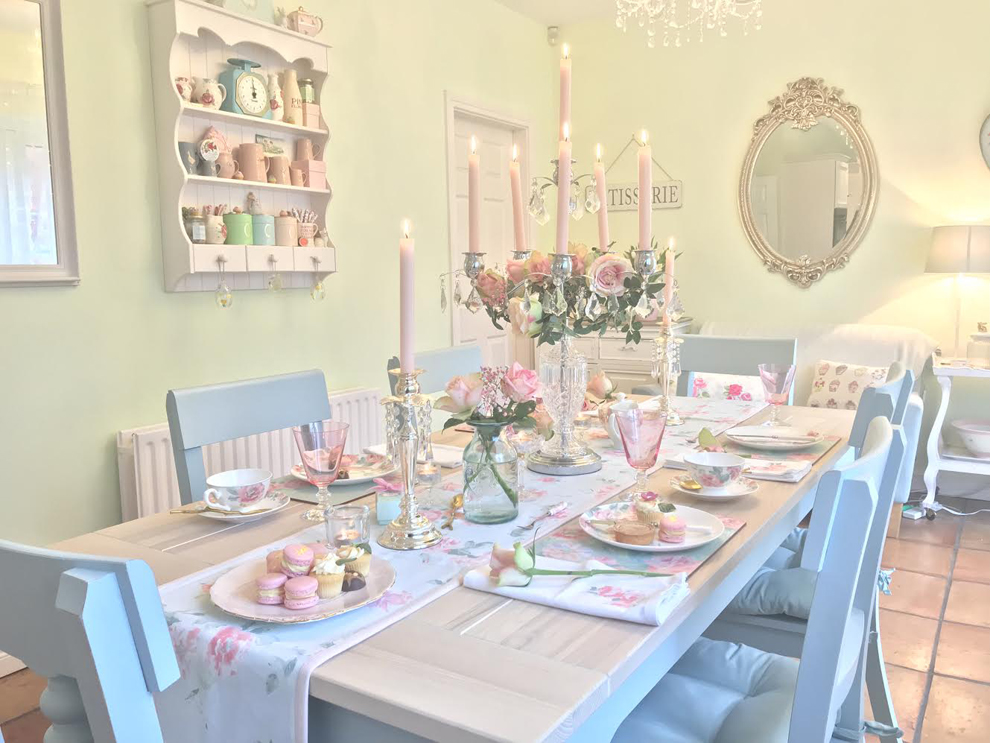 The gorgeous table runner and placemats suit my duck egg LA table to perfection. The vintage style fabric napkins with floral detail are just so pretty.  I set the table with the Albertine plates and cups & saucers with the matching sugar & cream and dessert forks.  Also used were the stunning stemmed pink glasses and pink candles to finish off the look and added some fresh flowers as table decor. This is definitely one of my favourite looks so far with the runner and napkins coordinating beautifully with the china. The Albertine range is the perfect blend of pastels and florals. Now I have my eye on the matching lampshade and cushion!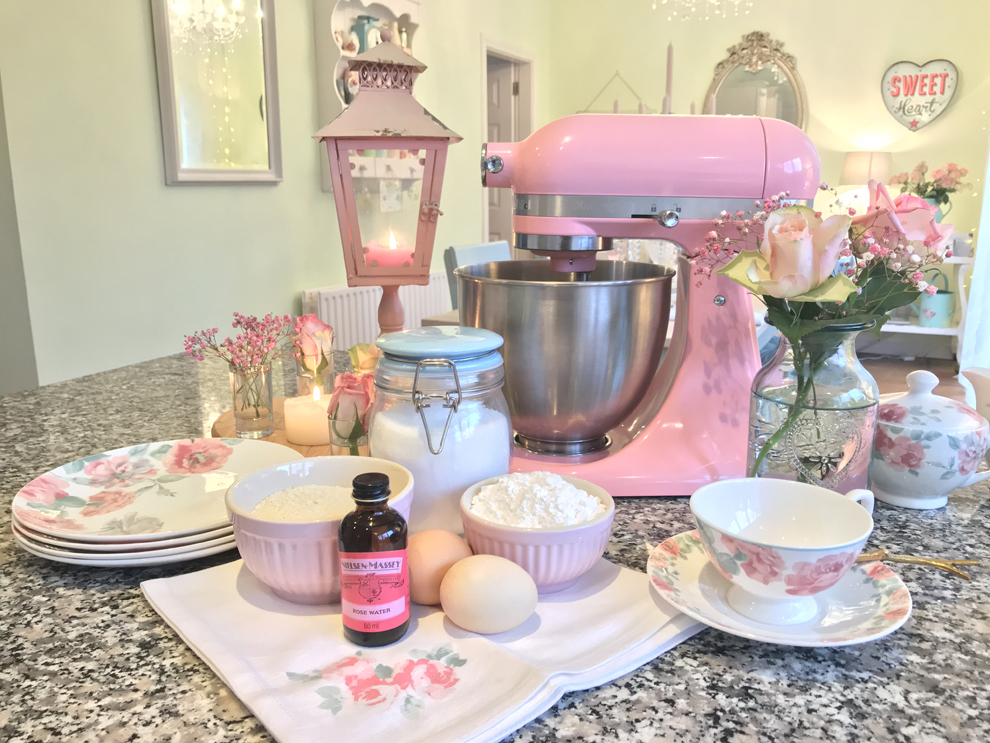 For food, I usually serve scones with jam & clotted cream and little cupcakes & rose water macarons and I'm going to share my Rosewater macaron recipe with you with a few helpful tips how to achieve the perfect macaron. There are lots of different macaron recipes and methods but I use a very straightforward recipe. You just measure ingredients in cups and don't even need the measuring scales out.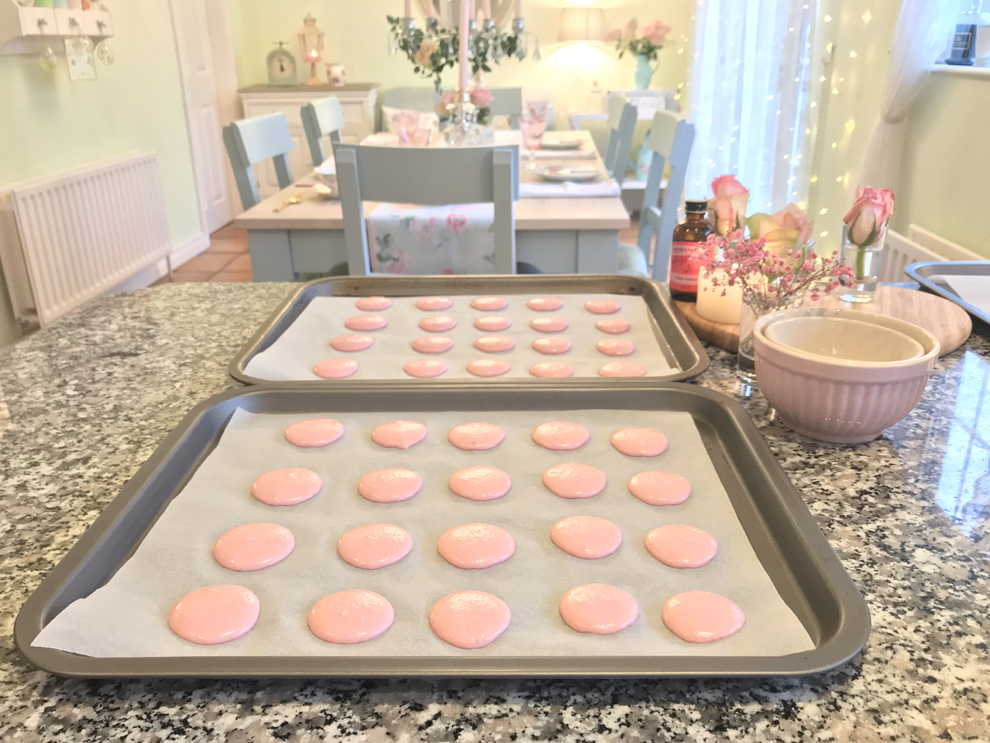 French Macaroons can be notoriously tricky to get right and I'd read so much about how difficult they are to make that I must admit it really put me off attempting to make them for a long time.  I eventually decided to give them a go and watched a few YouTube tutorials. I took careful notes of all the tips before I started but like many recipes, it's really a case of trial and error. It's the best way to perfect a recipe. My first attempt was pretty woeful and they looked like pink blobs so went straight into the bin! The second attempt looked better but they were still a bit rough looking on top but tasted lovely.
So I went back to the drawing board. I watched some more tutorials on YouTube to see how to get the perfect macaron with the smooth top and little ruffle or feet on the bottom.  It took me around 5 attempts to get them looking as they should. I was very pleased to finally get the hang of them! I've made them a lot of times since. They really aren't that difficult once you know what you're doing!
The recipe is as follows…
Ingredients
1 cup ground almonds
1 cup icing sugar
Quarter cup caster sugar
2 medium egg whites (eggs must be at room temp)
pinch salt
Quarter teaspoon baking soda
Food colouring gel
A couple drops rosewater extract
Method
Put egg whites, salt and food colouring & rosewater extract into a clean bowl and whisk with an electric mixer until soft peaks form. Gradually add in caster sugar whisking all the time until glossy peaks form ( you should be able to turn bowl upside without it moving)
Then put the icing sugar & ground almonds into the food processor for a couple minutes before sieving with baking soda into meringue mix. Alternatively, If you don't have a food processor sieve the ground almonds three times to achieve a smooth macaron.
The next step is probably the trickiest part and where it can go wrong. If the mixture is under mixed or over mixed the macarons won't work. I definitely recommend watching some tutorials for this part. First of all fold the mixture together with the spatula. Then, once all mixed together but still slightly frothy looking, you have to mix some more until it falls, ribbon-like,  from the spatula.
You then spoon mixture into a piping bag ( I don't use any nozzle). Pipe little circles onto a baking tray lined with greaseproof paper.  Bang the baking tray onto worktop to get rid of air bubbles. Leave to sit for around 30 minutes to dry out before putting into the oven. It's important to let them sit until they are dry to the touch as this will mean they can withstand being in the oven. This will allow the little feet or ruffle to form on the bottom. Place in the middle of the preheated oven (not fan) at 150 degrees Centigrade for 16 minutes and only bake one tray at a time.
Open oven halfway through the 16 minutes and then close again for the remainder of the time. Remove from oven and leave to cool.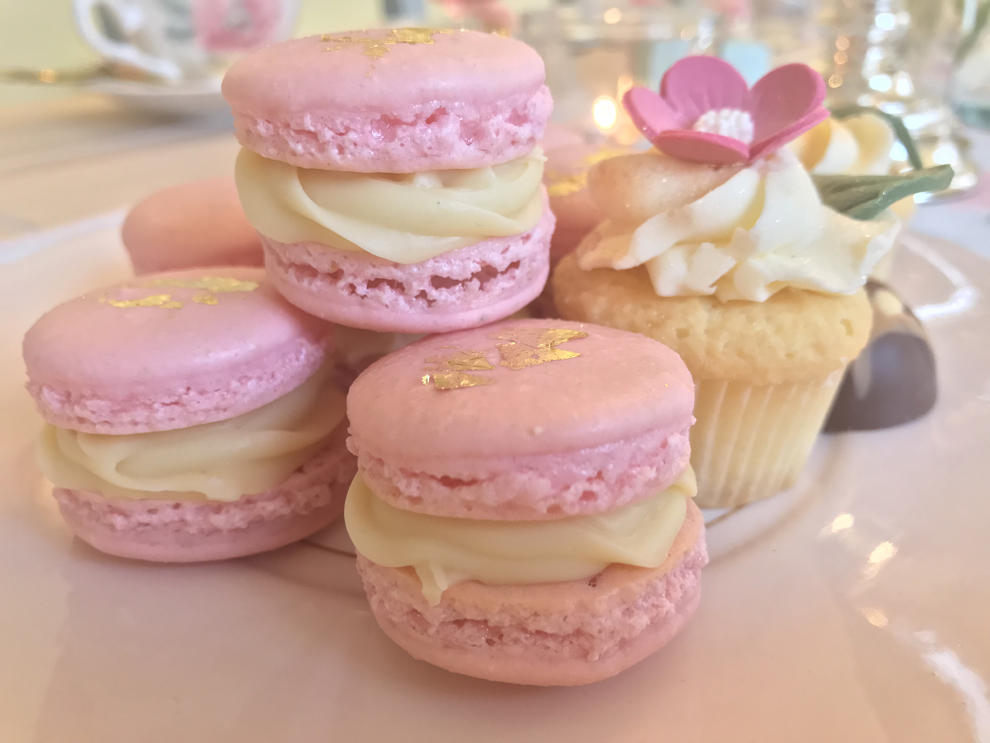 There are lots of different fillings for macar0ons and for the pink ones I would use either raspberry buttercream or white chocolate ganache.  For the ganache, I heat three-quarters of a small tub of double cream in a saucepan. I then remove from heat before pouring over  2 and half large cakes of milky bar chocolate broken into squares and beating until thick and glossy. Pipe ganache onto one macaroon before placing another one on top and pushing together like a sandwich. I then decorated them with edible gold leaf to make them extra pretty. You can also add little sugar flowers or edible flowers for a special occasion.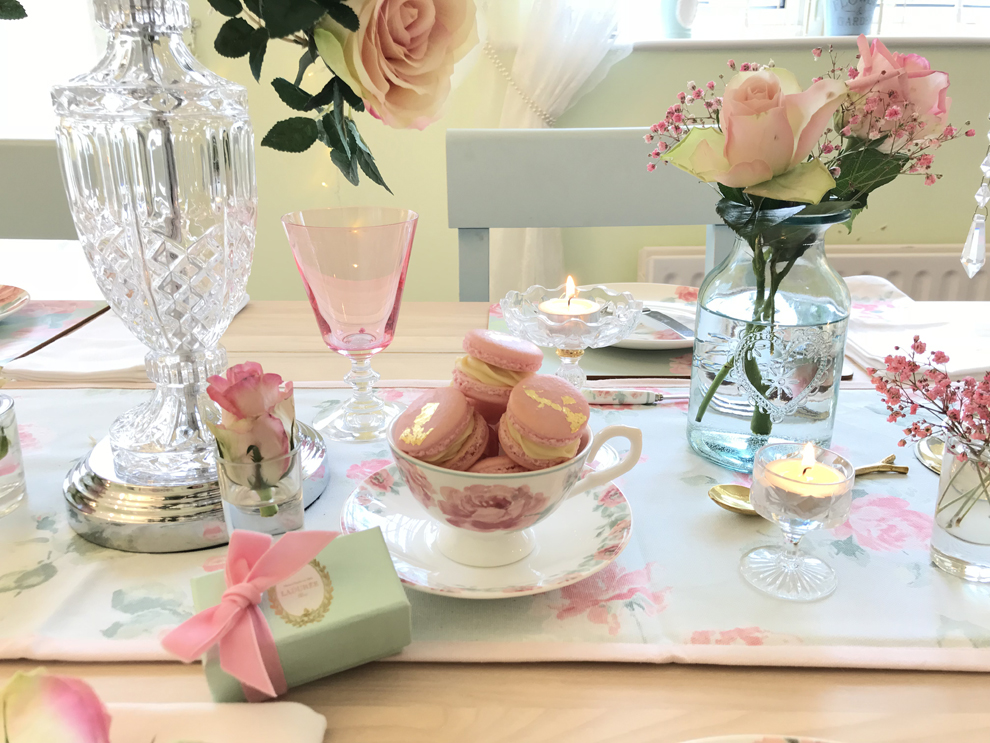 These pink rosewater macaroons are always very popular and are perfect for a girlie afternoon tea or catch up. They also make the perfect gift when packaged prettily in a cellophane bag tied with a ribbon.
Happy baking!
Do you have your own special recipe? Let us know what it is below or @LauraAshleyUK.