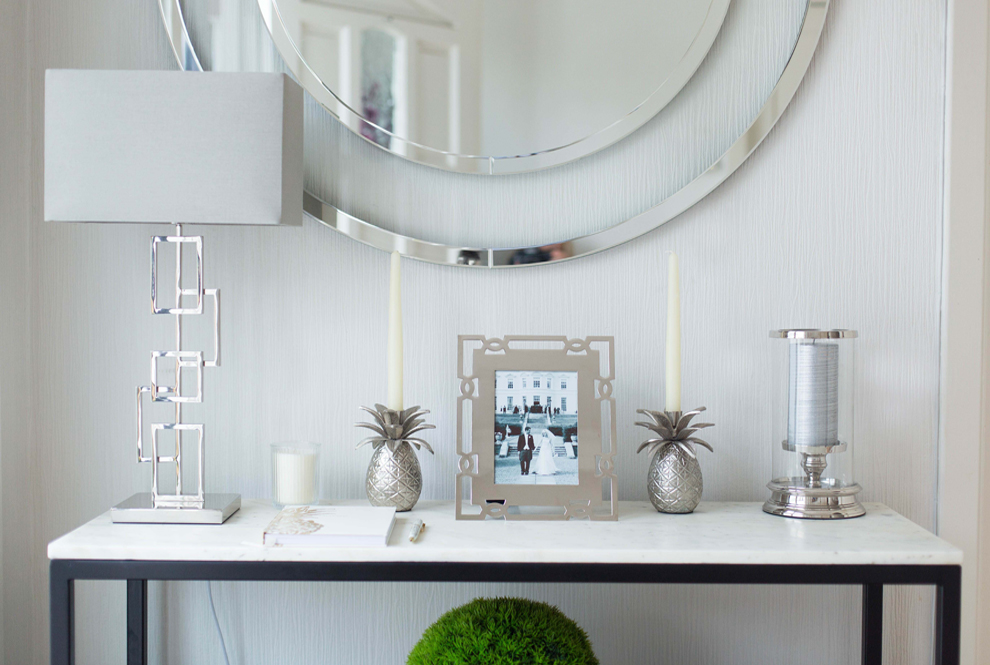 Interior designer Pia knows just how to make a statement in your home... read more
Want to make your home a place that your guests go "wow" when they walk in? It's the little details and accessories that complete a home and we have interior designer Pia from Finnterior Designer giving us the best tips on how to make an entrance with Laura Ashley accessories…
The hall is one room in the house you shouldn't overlook. It's the first thing your guests will notice and we all know just how important first impressions are. I love a hall design that is practical but also easy on the eye. I find that contemporary furniture looks best when it's dressed with chic, glamorous accessories that give a room real wow factor.
A hall make-over has been on my to do list ever since we moved into our house. Like many 1930s houses, our hall is quite small and dark. We haven't done much to it yet and I cannot wait to rip out the old wallpaper and paint the walls as soon as it's in the agenda. Meanwhile, I thought some new Laura Ashley accessories might just be enough to give it a fresh, new look.
Hall tables are great for showcasing your favourite accessories. Make sure that you keep you hall table well organised at all times and coordinated with the rest of the decor. This is your chance to impress people before they get to see the rest of your home. I also feel that you should pick pieces that you truly love because it will make returning home after a long day at work so much more pleasant.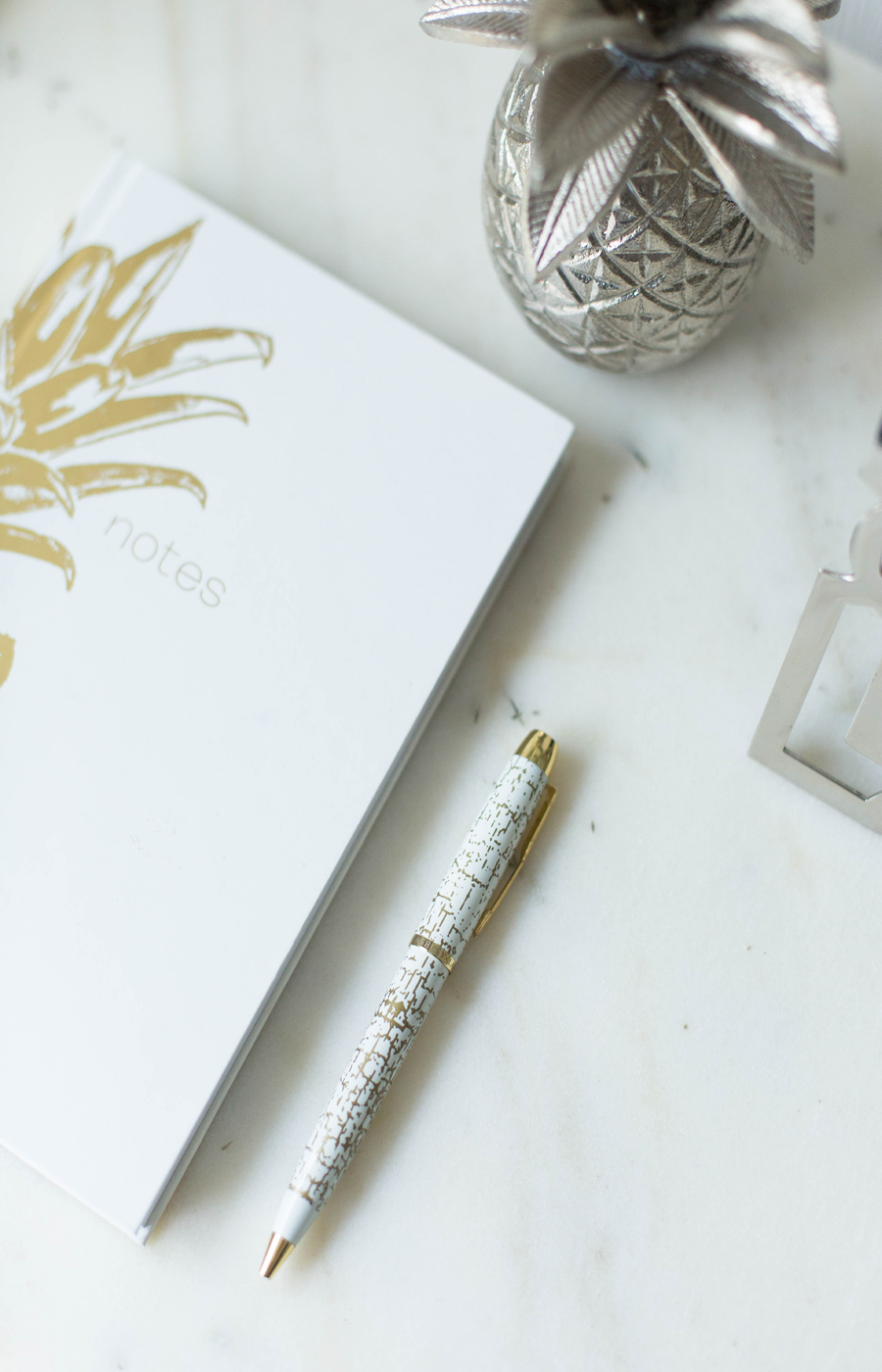 I love pineapples in interior design. From wallpapers to lamps, the pineapple trend seems very popular in households at the moment and it's easy to see why – they are quirky and fun! Laura Ashley have a stunning selection of pineapple accessories to choose from. I've been obsessed with the pineapple candle stick holders for quite a while now. Everyone should have at least one pineapple accessory in their home if you ask me. Laura Ashley also have beautiful stationery and pens to go with the theme which look very smart on a hall table or in a home office. I also love the luxurious silver cutwork photo frame which is a great way to add some personal touch to your decorative display.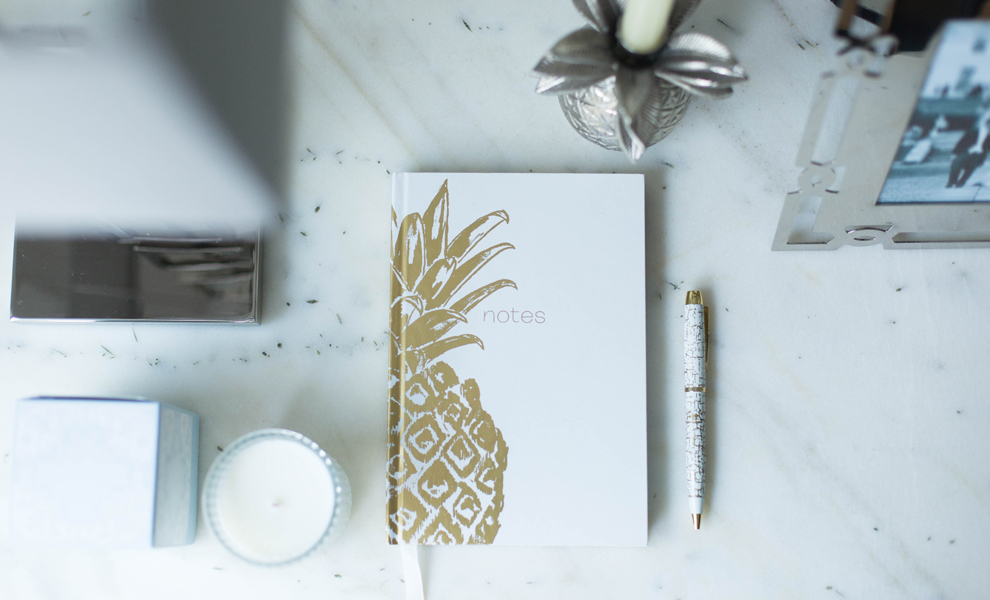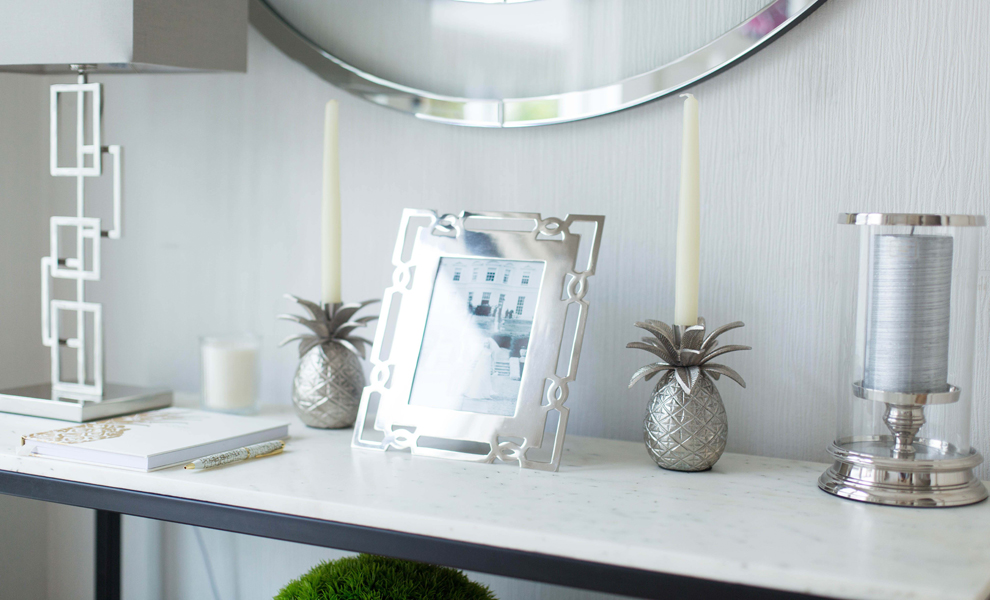 Scented candles are perfect for the hall as they make the room smell gorgeous the minute your guests walk in. Trust me, there is nothing quite as nice as entering a room when there's a beautiful, subtle scent lingering in the air. The Laura Ashley fresh linen and jasmine candle is a very light, fresh scent that is ideal for smaller spaces as it doesn't overpower the room. Because you can never have too many candles, I thought the glass and silver hurricane lamp will add to the ambiance. I love dim candle lighting in the evenings and I tend to use candles a lot more now that the days have gotten shorter.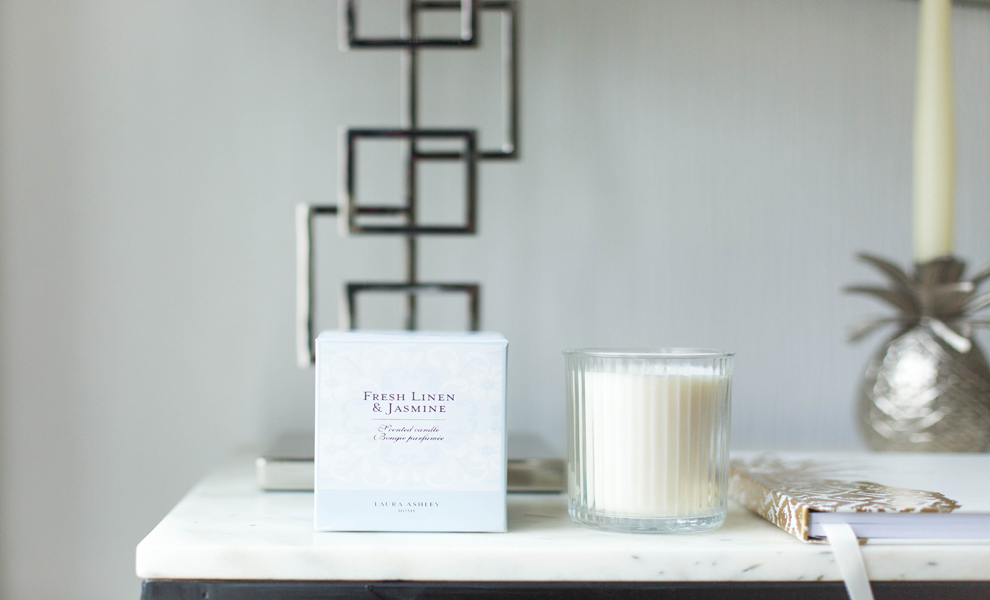 Mirrors are one of the best tools to make your hall appear bigger. They reflect natural and artificial light which is useful in narrow hallways and small spaces. My top tip is to choose an oversized mirror for a small room like this so that it really opens it up. The Evie round mirror looks stunning in our hall and I love the sleek, contemporary look. I remember seeing this mirror at the Laura Ashley Autumn/Winter 16 press show and I couldn't get it out of my head. I admire it every time I walk past our hall which means I guess it was meant to be.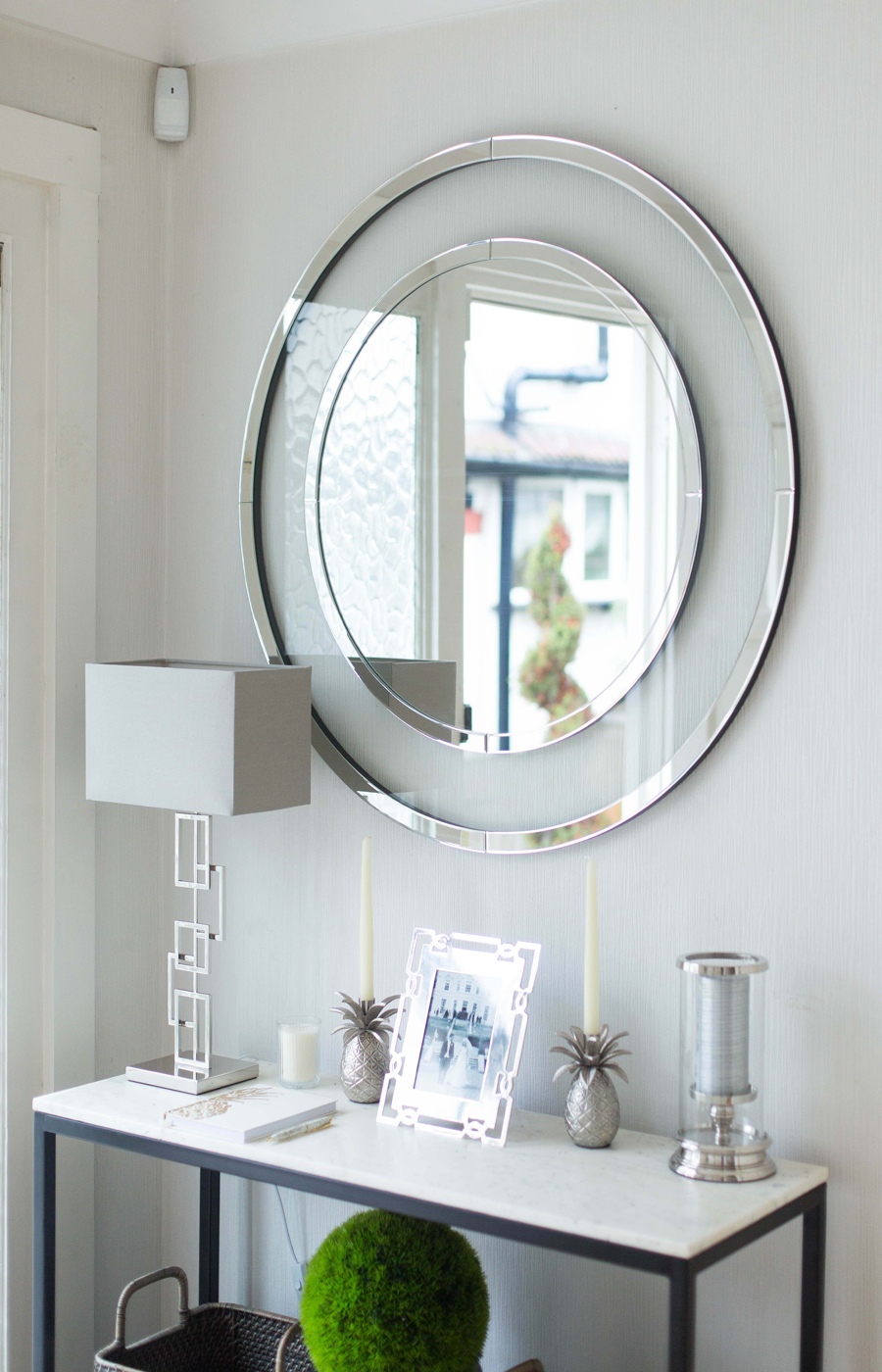 Sometimes you just don't have enough natural light available which means you have to work with artificial light. Table lamps look great on hall tables and I would choose a design that makes a statement rather than something that just blends in. If your hall table is big enough you could even have two lamps on each side. You can never have too much lighting in my opinion!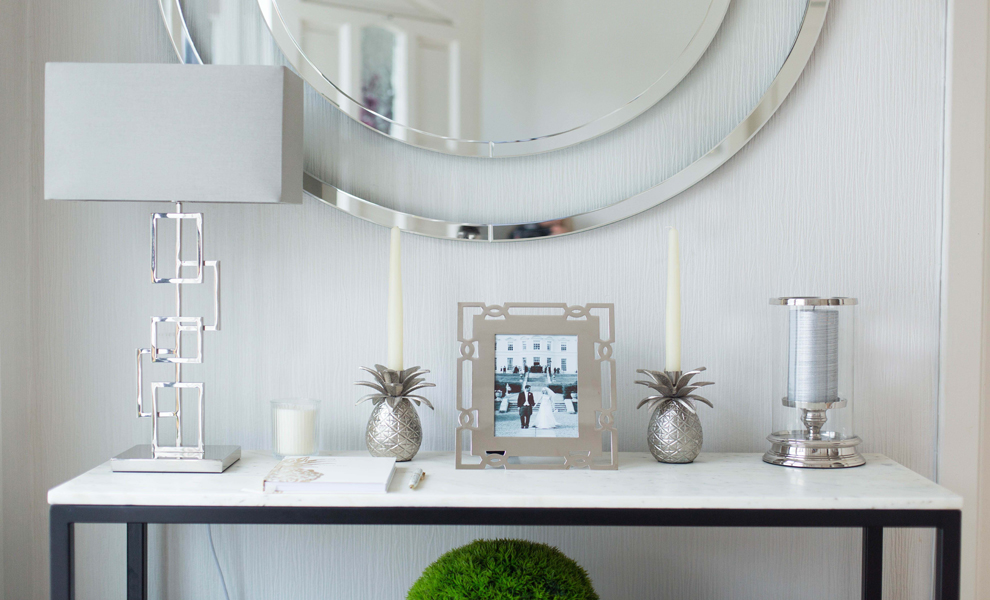 Decorating our hall table has been so much fun with these beautiful Laura Ashley accessories. Although our hall make-over is not finished yet, it's astonishing what a difference a bit of styling and new accessories can make. It has definitely taken our hall from drab to fab!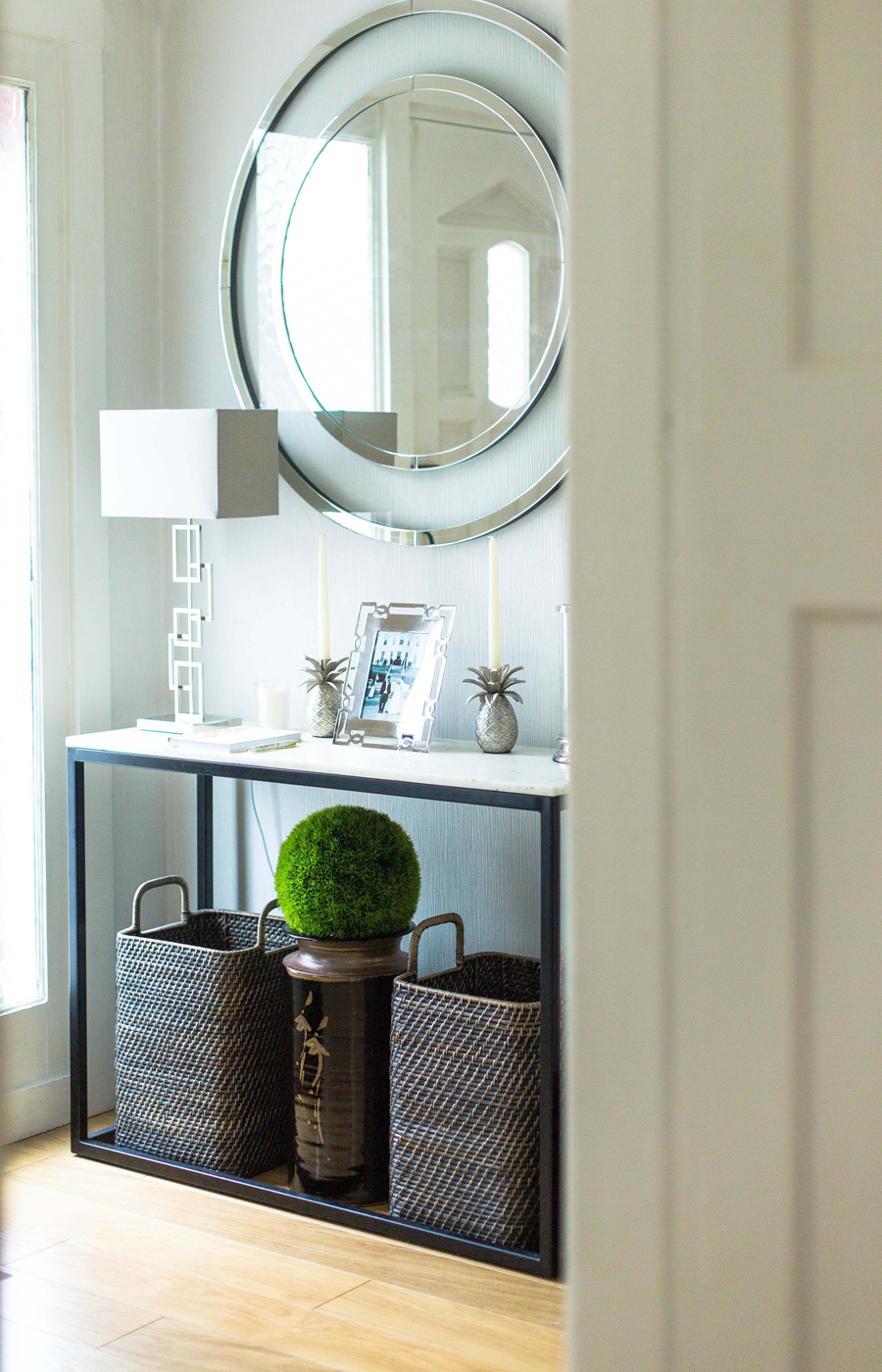 We are seriously impressed with Pia's hallway now she has added some Laura Ashley accessories! How have you made a statement in your home? Let us know below or on Twitter @LauraAshleyUK