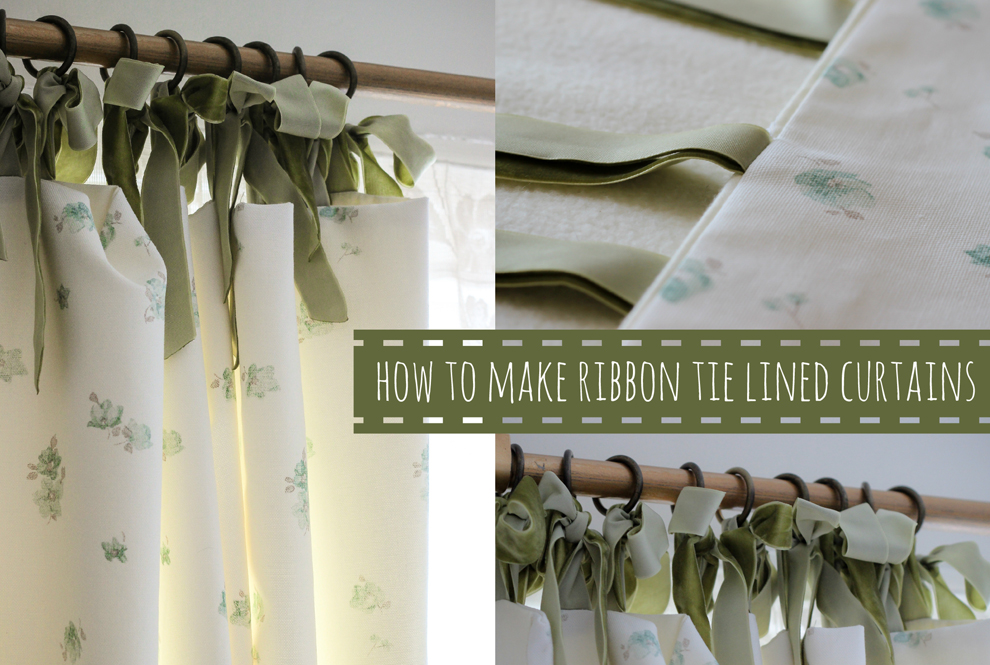 We join Jodie as she makes some beautiful curtains using our Laura Ashley fabric... read more
We're feeling particularly crafty lately, especially as we've seen so many wonderful pictures for our #MakeAndDecorate competition! (Not heard about this yet? Read more here!) Today we've got the fantastic Jodie from A Handmade Cottage making quite possibly the best handmade curtains we have ever seen. Don't believe us? Read on to see for yourself…
I made a curtain this week! I've made little kitchen curtains before, but this was my first big 'grown up' curtain project. I made this for my bedroom window so I've only made one panel as the window isn't very wide, but you can just as easily make two. To make the process quick and simple this curtain has ribbon ties along the top, so there's no fiddly business with pelmets and pleats and such.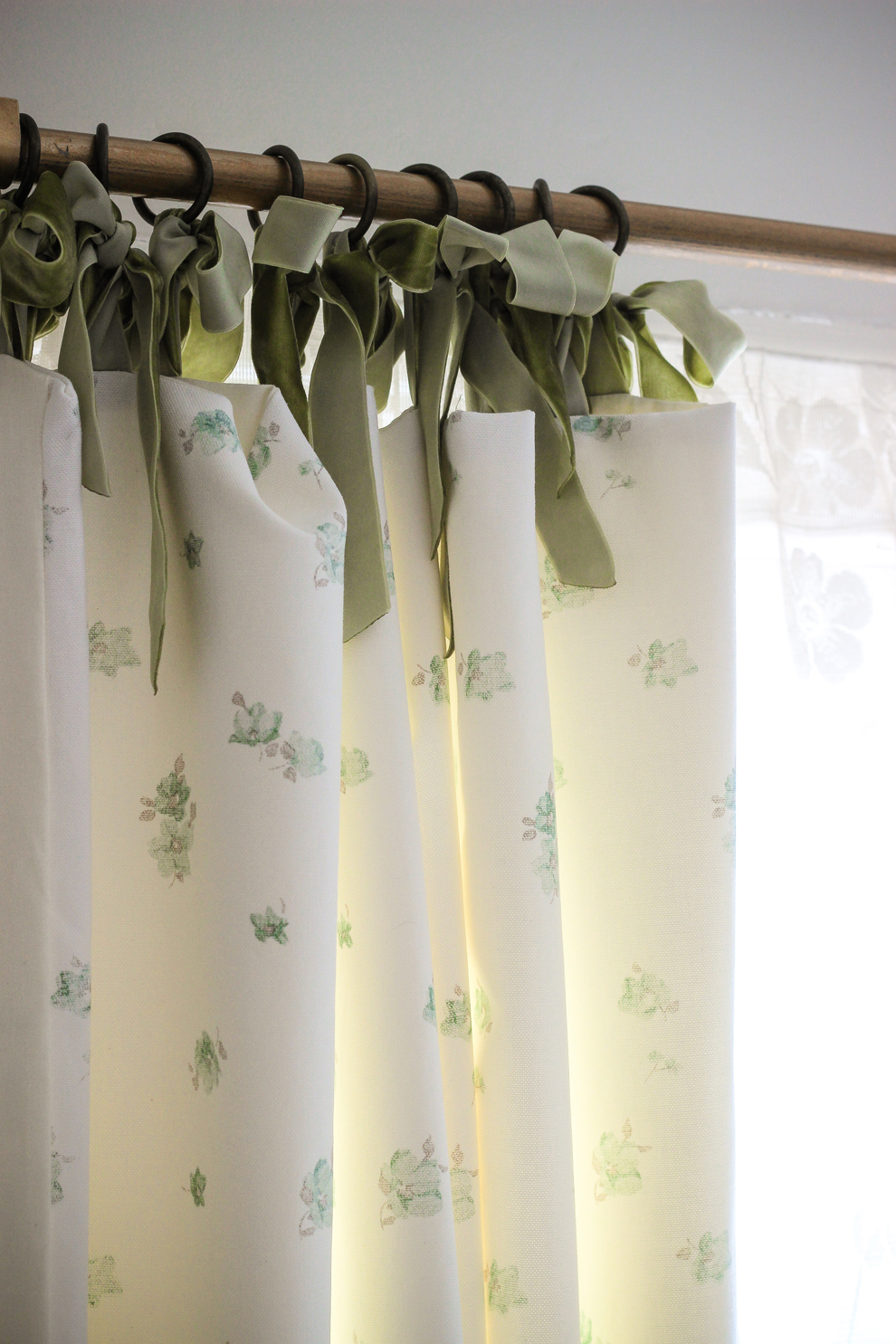 It's surprising how easy it is to put something like this together, and I'm really pleased with how this curtain turned out as I am a beginner when it comes to curtain making. You'll only need basic sewing machine skills for this project so don't think it's just for experienced stitchers! Get your bits together, take your time and if you get flustered 'pull yourself together!' Ka boom! (See what I did there?)
What you need: 
Curtain fabric
I used Laura Ashley Abbeville Eau De Nil floral cotton curtain fabric
Curtain lining
I used Laura Ashley plain cotton fabric in cream
Wide ribbon
I used a wide velvet ribbon – as it has a nice thickness and holds the curtain well
Sewing machine
Needle and thread
Measuring tape
Square angled ruler
Pins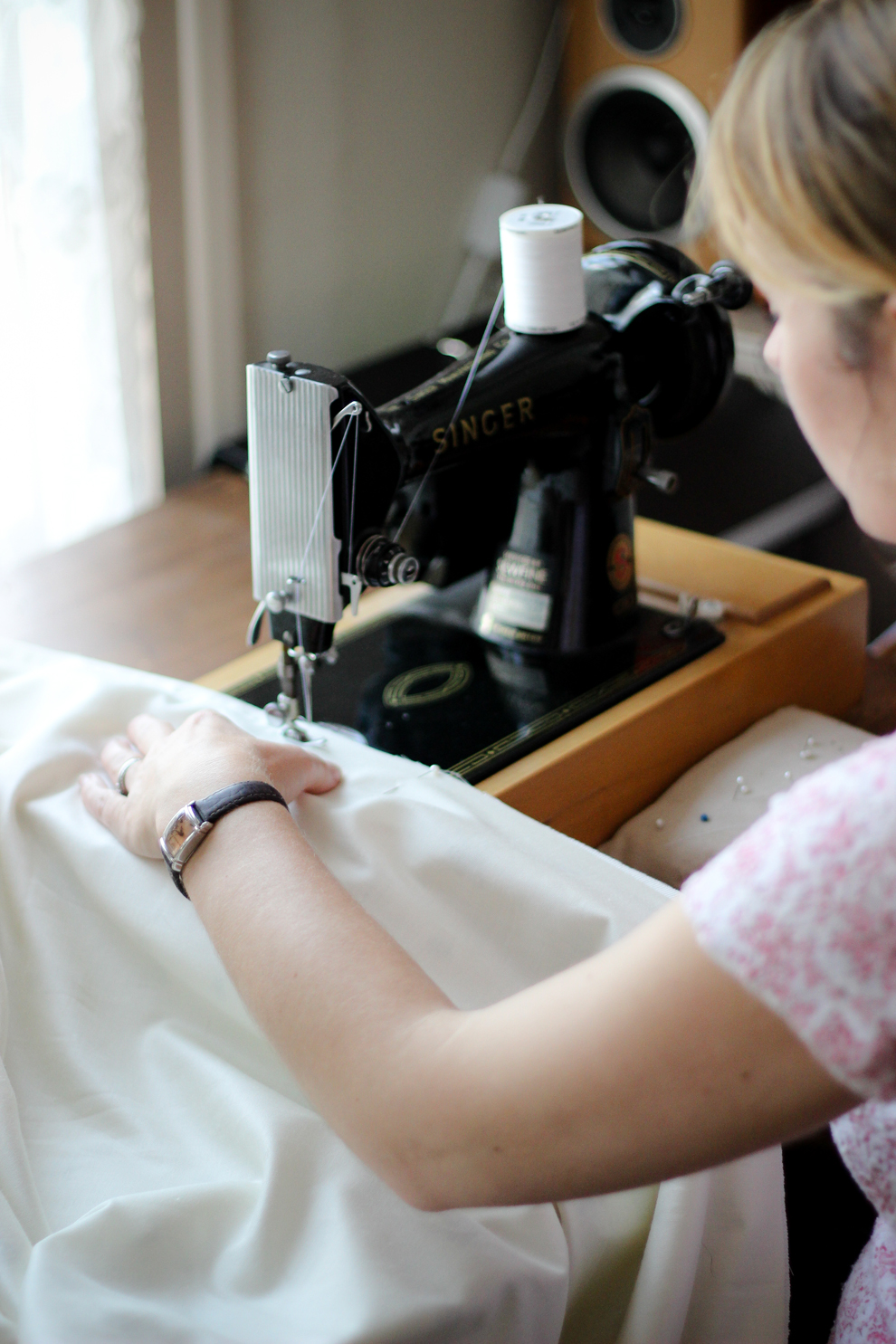 Step 1: Measuring up 
First measure your window (width and height) and decide how long and wide you'd like your curtains to be. Bear in mind they need to be a fair bit wider than the window so they look ample and drape well. When you've decided on your measurements add 4 inches to the height measurement and 7 inches to the width … this allows for hemming and edging. However, bear in mind the curtain lining needs to be 8 inches shorter in width to allow for the 'return' … I'll explain what that is in a moment.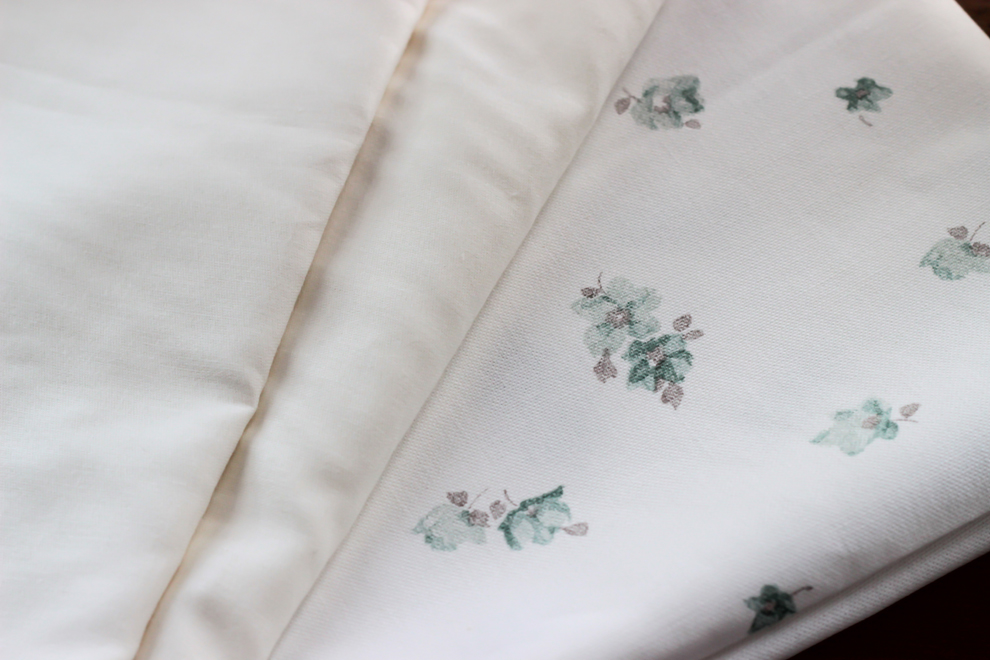 Step 2: 'Squaring up' the fabric
Before we start cutting into our fabrics, we need to make sure we have straight edges on all sides to begin with – because if we start with a wonky edge, we will have a wonky curtain. This process is called 'squaring up.' Do this by folding the curtain material in half lengthwise, bringing the selvage edges of the fabric together. (The selvage edge is the self-finished edge of fabric. which keeps the fabric from unravelling or fraying.) Align them on a large table / surface. Keep the selvage edges carefully together with one hand, but allow them to slide up or down as needed while you smooth the folded fabric with your free hand. When everything is flat and smooth, fasten the selvage edges together with pins to keep them aligned. Lay a carpenter's square / or square ruler on the fabric so that one edge lines up with the selvage edges and the other leg of the square crosses the fabric at a 90-degree angle close to the end. Hold the square firmly and use a rotary cutter to remove the uneven excess from that end of the fabric. Do the same for the other end to get a perfectly squared-up piece of fabric. Repeat for the lining.
Step 3: Measuring & cutting the curtain fabric
Then lay your curtain fabric out and using a long ruler, measure how long you need the curtain to be and mark it with a dot. I did this on both sides, then I drew a line all the way across the fabric joining the two dots using a fabric pen that disappears when ironed – genius! Then cut along that line. I now had the right length but it was still a little too wide, so I repeated this process along one side of the length to get the right width. I repeated this process for the curtain lining except remember to make it 8 inches shorter in width as this creates a 'return' edge – so when finished, on the lining side you'll have a nice edging of curtain fabric running down both sides. See the picture below to see what a return looks like …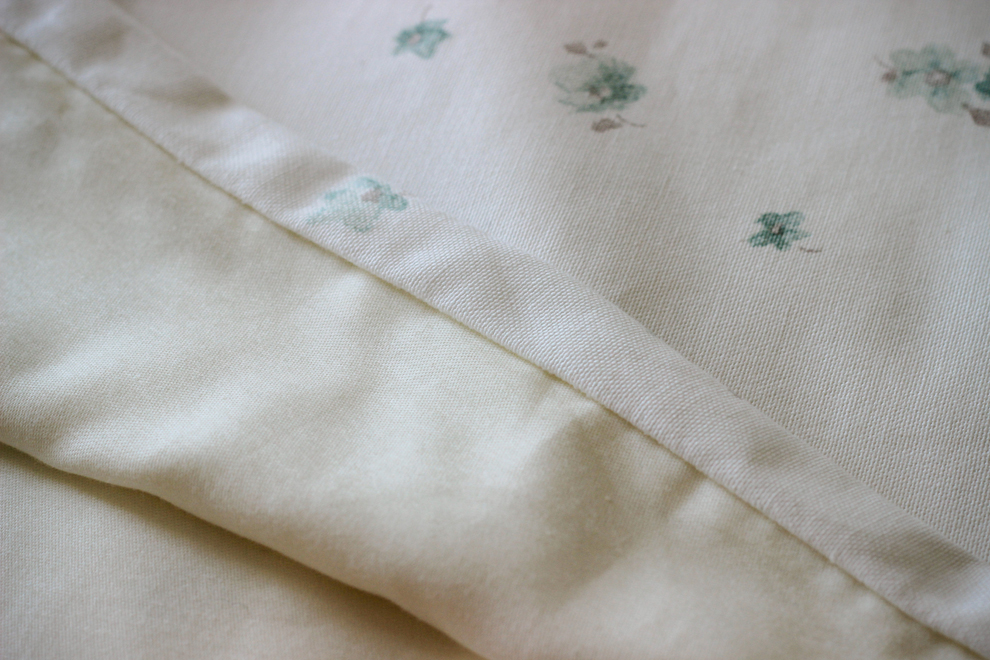 Step 4: Sewing the sides
So now both pieces are ready. Lay your top curtain fabric on a large surface – right side facing up, then lay your lining on top with the correct side facing down. Align one side / edge together and pin all the way along, then repeat on the other side. Then sew both sides on your machine – stopping a few inches from the bottom. Don't worry that the lining is smaller and doesn't lay flat at this point, all will become clear.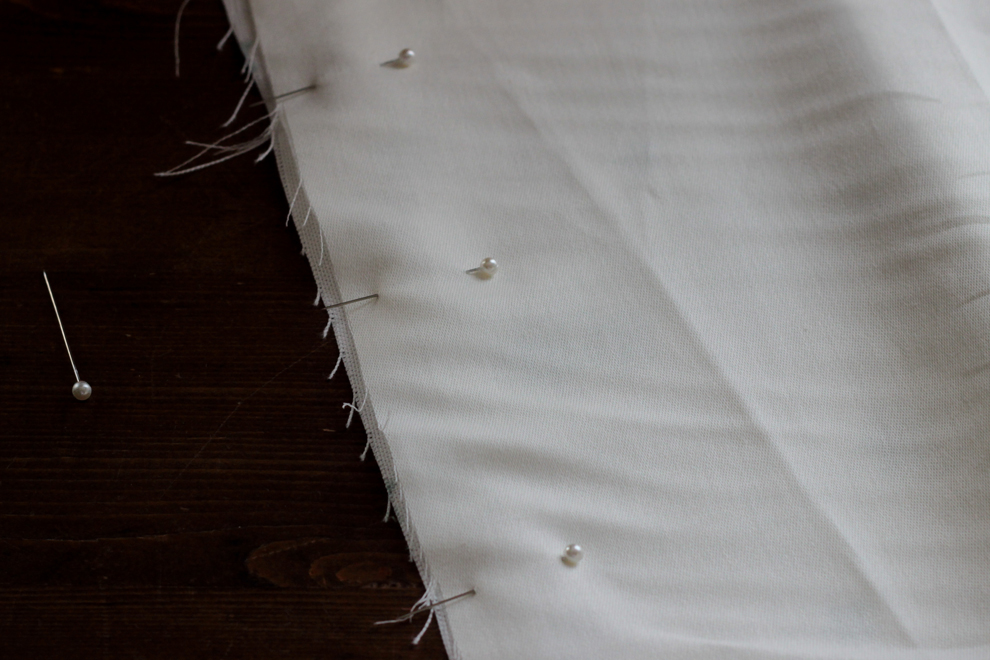 Step 5: Creating the 'return'
Now we want to find the centre of both pieces of fabric (on the top edge). You can do this by taking hold of each corner of the curtain fabric (the top edge) fold it in half and mark the centre point with a dot. Then do the same to the lining fabric. Align those two dots together and pin in place and smooth the curtain out on a large surface. Now press along the top with your iron from the centre outwards and along both sides and you'll see how this create the 'returns' along the sides. In the picture below the dot (and pin) mark the centre of my curtain fabric …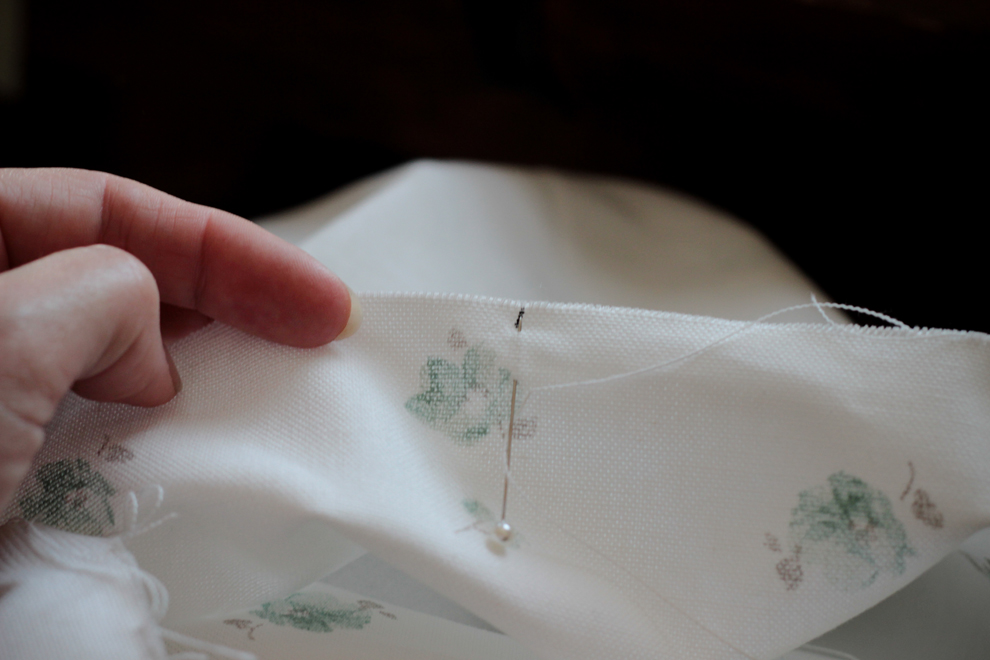 Step 6: Adding the ribbon
Now the sides are sewn together it's time to add the ribbon. I marked where I wanted my ribbon ties to go along the top with a fabric pen, starting from the centre. Make sure they are evenly spaced and that your gaps aren't too big, as the fabric will sag otherwise. It's also vital to have a tie very close to either end of the curtain so it hangs nicely. When you know how many you need, measure and cut your ribbon. I needed 9 ties in total so I cut 18 pieces of ribbon, each measuring approx 14.5 Inches to allow for the bow. Now lay two pieces of ribbon together (right sides facing out) and lay them on the inside of the curtain with the top of the ribbon aligned with the top edge of the curtain – pin in place and sew along the top edge of the curtain.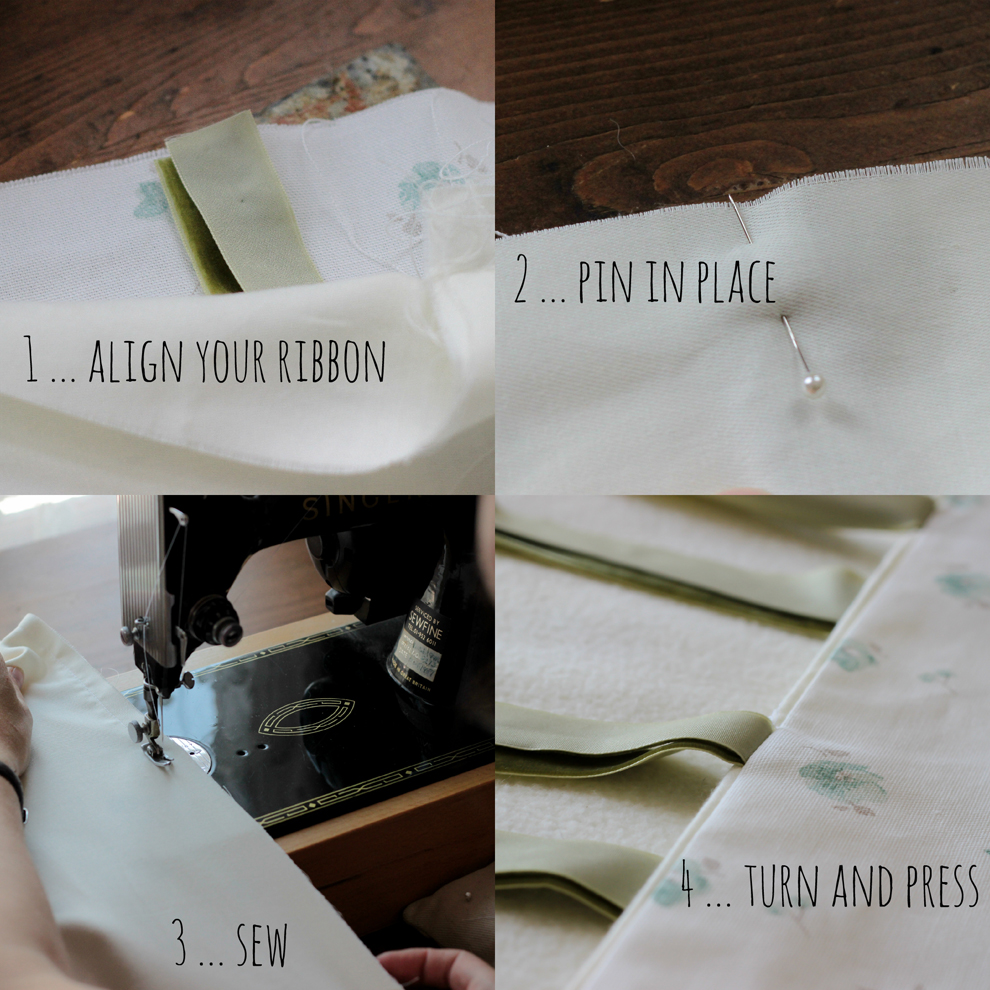 Step 7: Hemming the curtain
You're almost there now! Now turn your curtain inside out so it's the right way up and give it a good press with the iron. Good curtain making is all about measuring and pressing! Once it's all nicely pressed and flat, turn it inside out again and smooth it out flat. Turn up the bottom edge of the curtain fabric an inch and press, then do it again and pin all the way along. Then do the same for the lining except add an extra fold to ensure the lining is hanging an inch or so above that the curtain fabric. If you want to add weights to the bottom you can do so now. I inserted a penny instead when I folded in each corner. Then hand sew both hems separately. Don't be tempted to sew the fabric and lining together, as curtains hang much nicer when the lining and fabric can hang separately.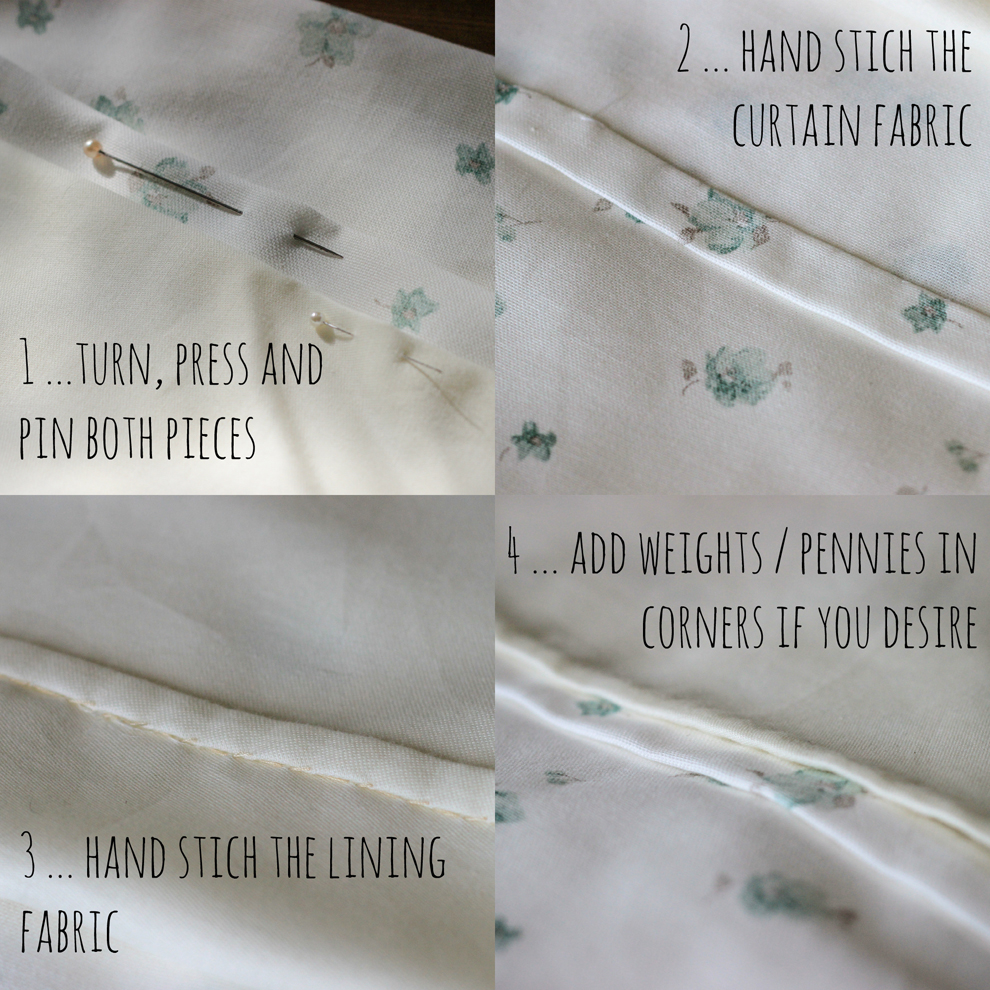 Finally turn out the right way, press and hang.
Tada!!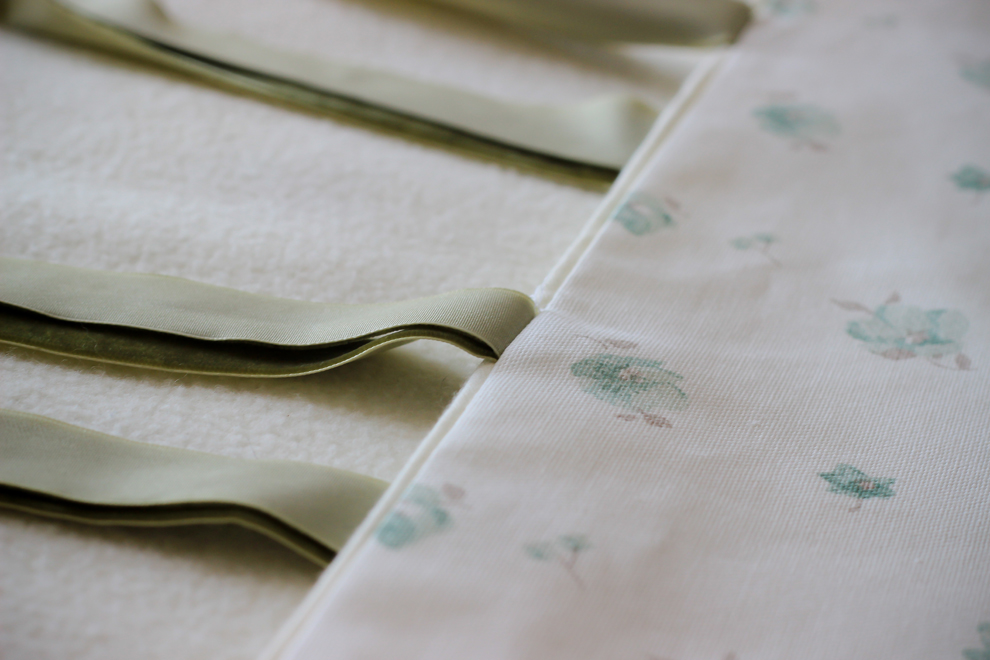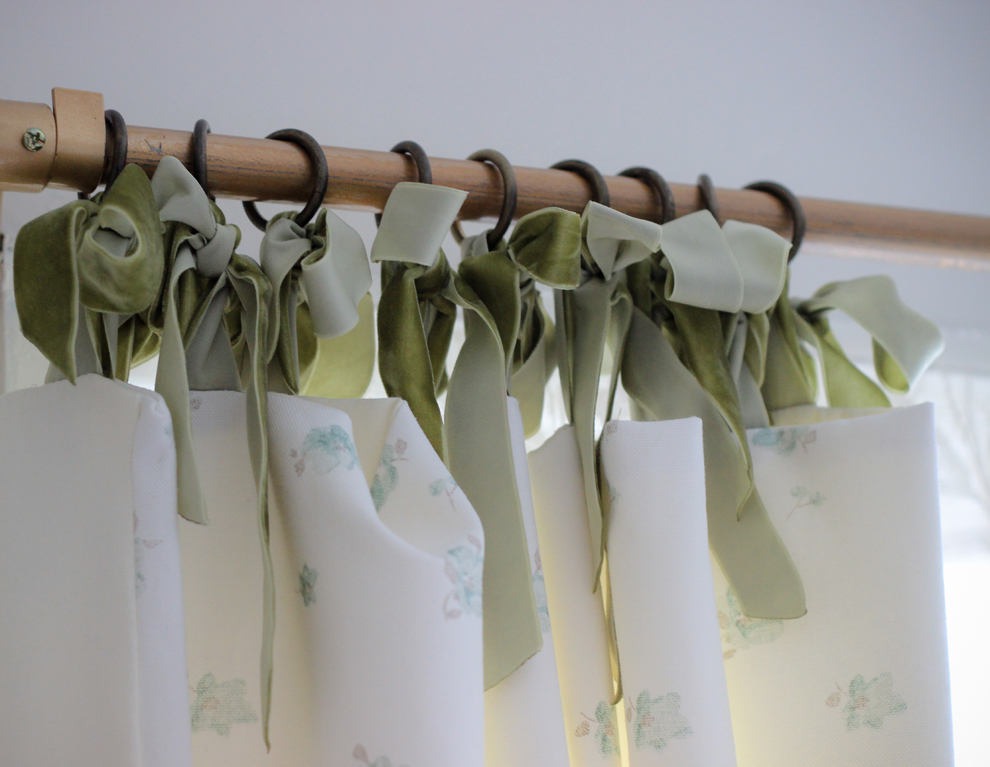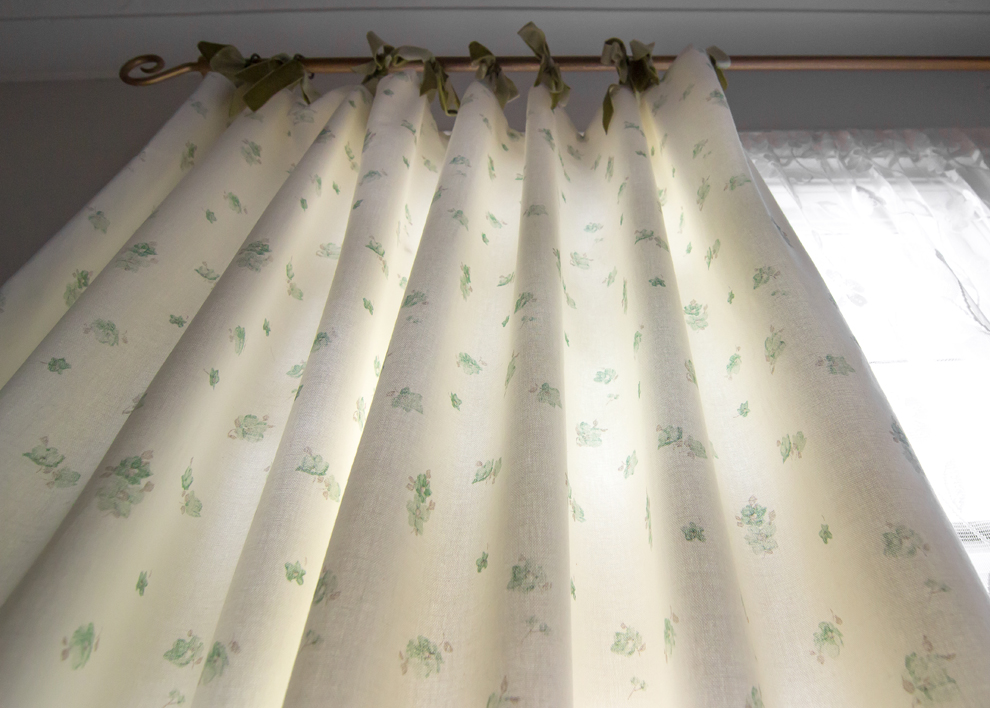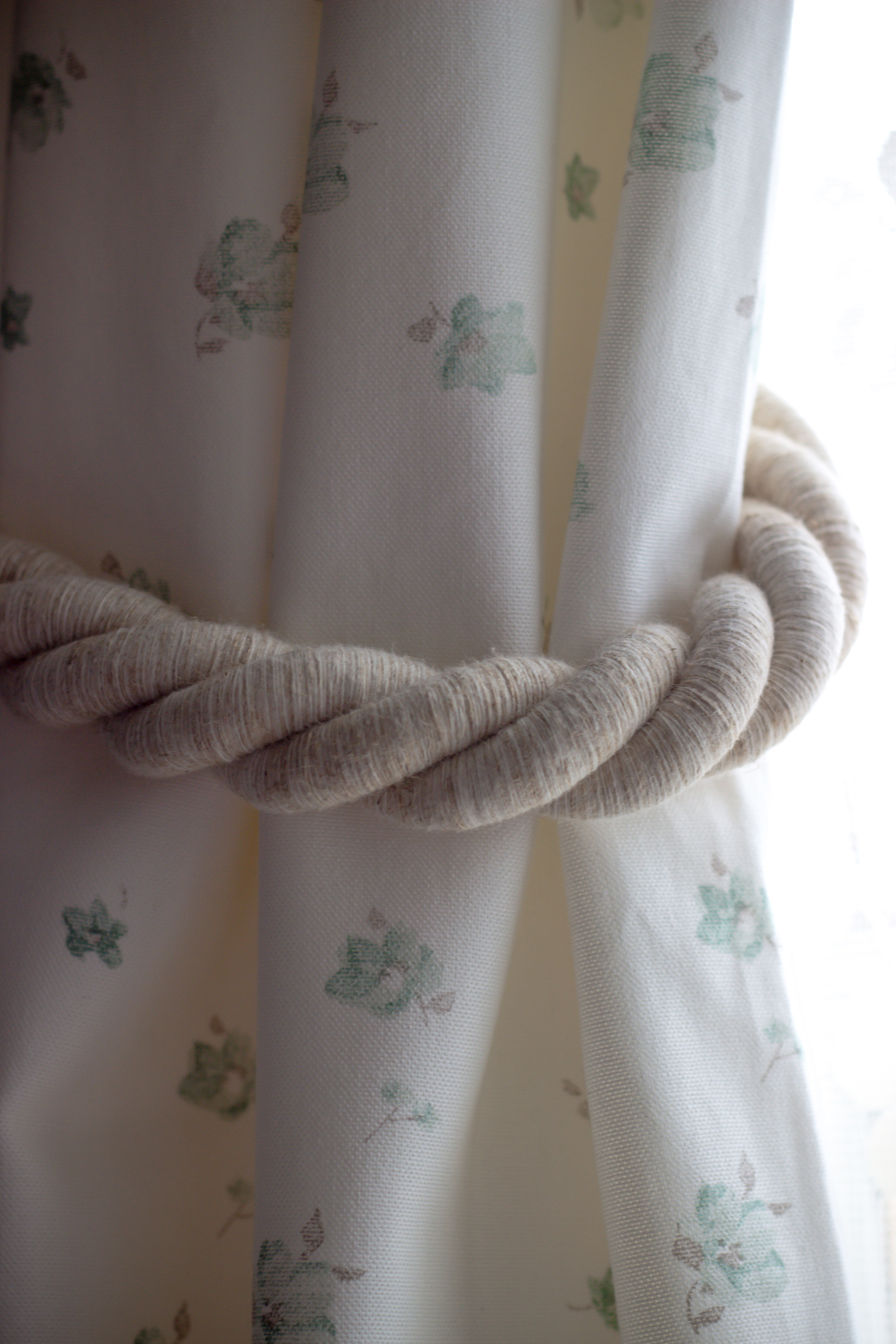 A big thank you to Jodie for taking the time to make such lovely curtains! Feeling inspired by Jodie's creation? Show us what you have made with Laura Ashley paint, fabric and wallpaper for a chance to win a £150 voucher in our #MakeAndDecorate competition! And don't forget to tweet us @LauraAshleyUK if you loved Jodie's curtains!