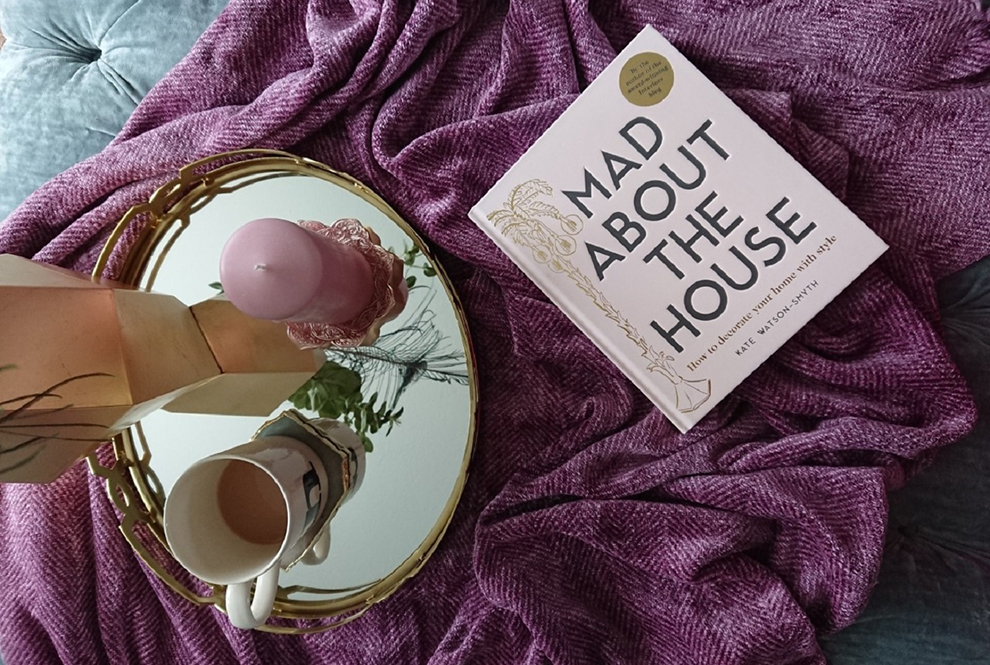 Give your interiors a little update this spring read more
Now that spring has officially sprung it's time to give your interiors a little revamp and breathe some new life into your place. Fancying a little interior revamp herself the lovely Victoria from House With The Yellow Door shows us the finished results…
When Laura Ashley contacted me to see if I would like to be part of a collaboration, I thought about it, for all of two seconds, and said yes.
To me, Laura Ashley is a staple home furnishings company that I spent many years when I was younger trawling through my Mother's catalogues. Taking in all the patterns, designs, bold floral wallpapers with matching borders…circa 1983. I also have many fond memories of visiting the local store and seeing the rolls upon rolls of fabrics feeling as if I was in Aladdin's cave.
This isn't an ad. This is true. My home that I grew up in was a near enough replica of a Laura Ashley Store. Along with some Antiques and Persian/Tunisian rugs thrown in for good measure…. the walls were adorned with Cottage Rose and Sweet Pea papers. Due to my blog's secrecy from the family, I spent an afternoon googling archive old wallpapers to try to find the product names…I couldn't ask the Mother in case my cover was blown. There is where I stumbled across the classic children's bedroom collection. Seaside scene. It was as if I was small again, reminiscing about the never-ending aisles of designs and fabrics I used to run up and down.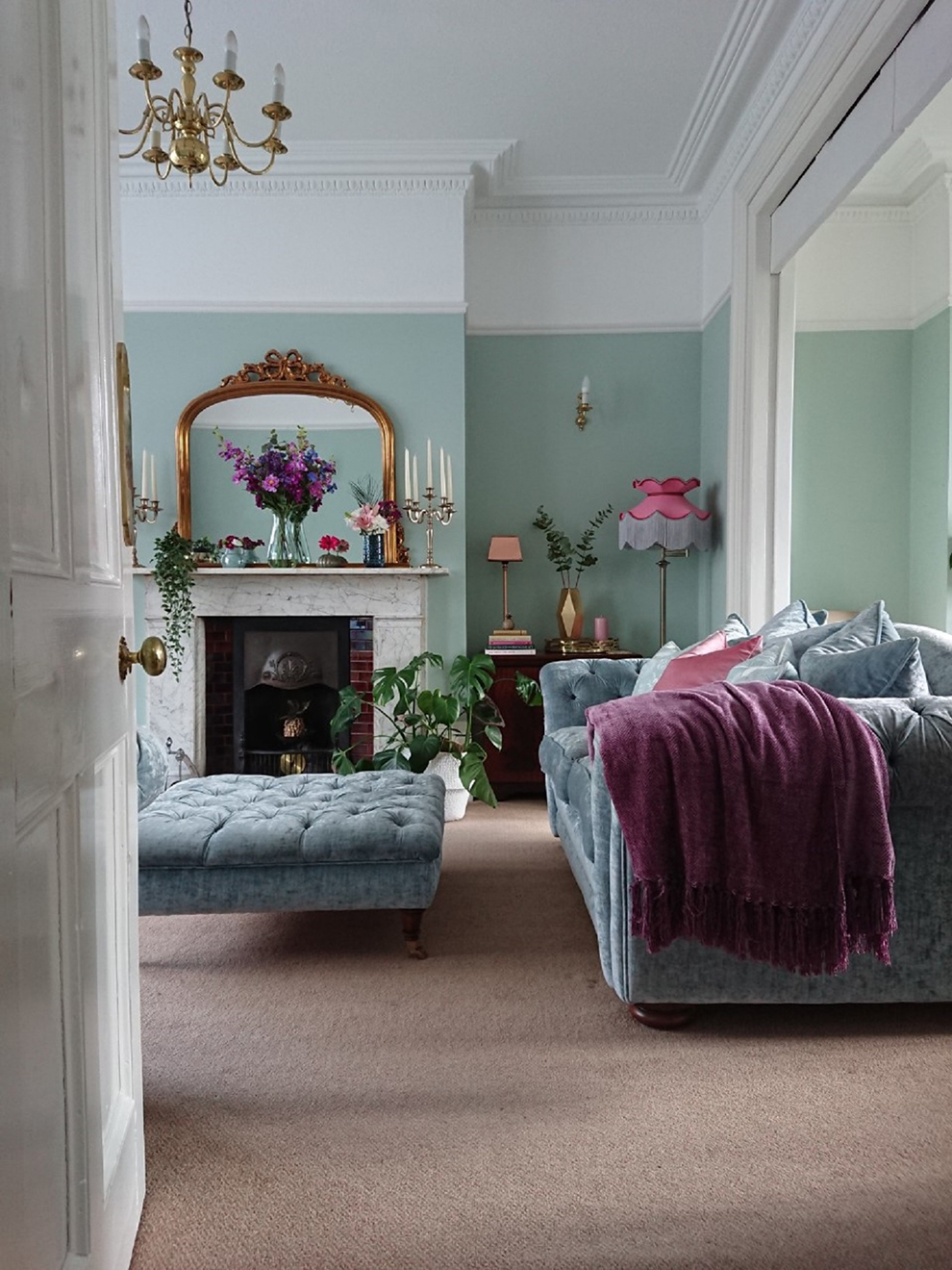 I think that is where my love of Interiors stems. When I look at my home, I adore the modern, contemporary, luxe hints, but there is always a quintessentially English Period home feel. It's something I am naturally drawn too. Obviously, subconsciously inbuilt in me.
I digress. After I said yes, I then spent a few hours looking through the website to get some ideas of which room to give the lucky touch too. Their collections range from French Romantic, In Bloom, Cool grey, Relaxed Country to Deco Glamour. There are even more in between… giving plenty of choices to be made. Hard for me, but I whittled myself down to 'French Romantic' and 'Deco Glamour' with a dash of 'In Bloom'.
The living room was on my hit list. I adore it. It is my favourite room, but it needs a lift. Some colour injection and vibrancy for Spring. So, this is where the Revamp and refresh would happen. Here is a little before and after….to wet your taste buds Before I talk you guys through the gorgeous pieces I chose.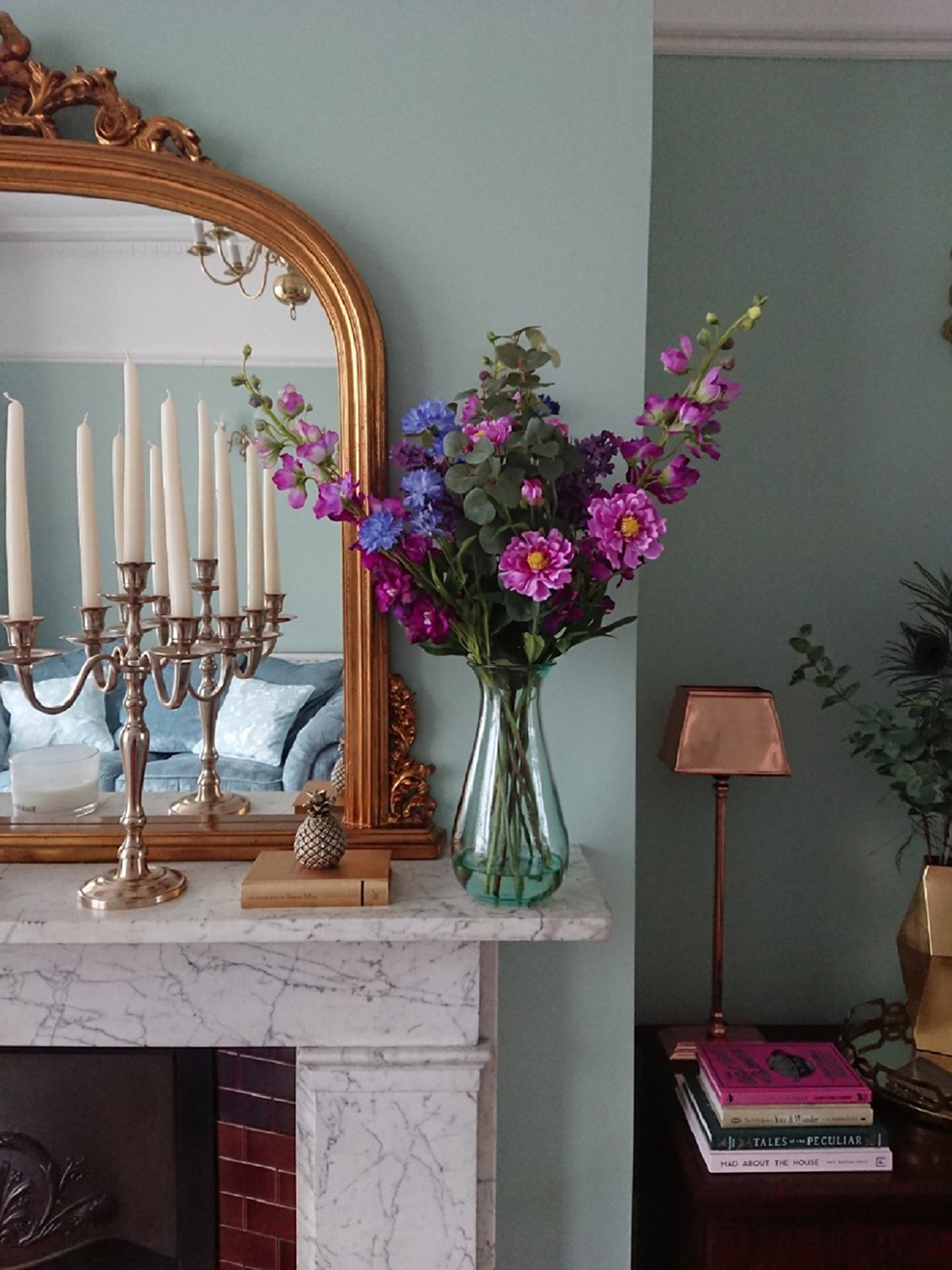 The first product I decided on was the Purple Delphiniums in Vase. They instantly stood out to me. I adore flowers. They were the colour palette I wanted to bring into the room and artificial. So even better! I wanted to inject a little touch of the Pantone colour of the year, in a more muted tone and they do just that. The quality is amazing. They do not look or feel faux. Most importantly, they shout Spring.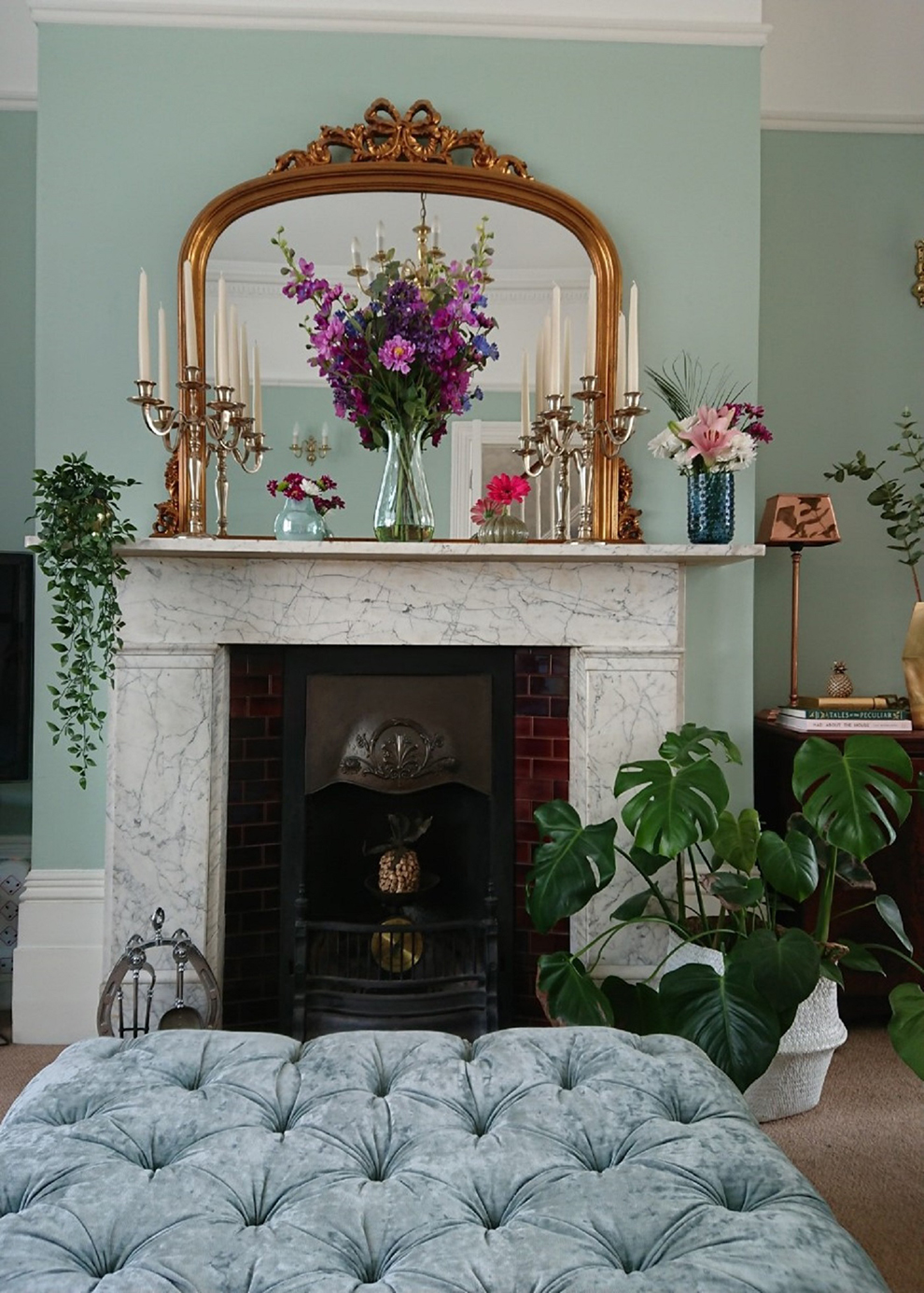 As you guys are aware, I have an unhealthy/healthy obsession with cushions. So of course, I was going to peruse the selection for the perfect punchy plumped addition to add to my already vast array. Which I would like to add, are the Lyla Duck Egg embroidered cushions. As I also have a thing for velvet at the moment, so the Nigella in Cyclamen was the one.  Luxurious velvet and in the most gorgeous hue of pink with matching piping, I knew it would sit perfectly on the sofa.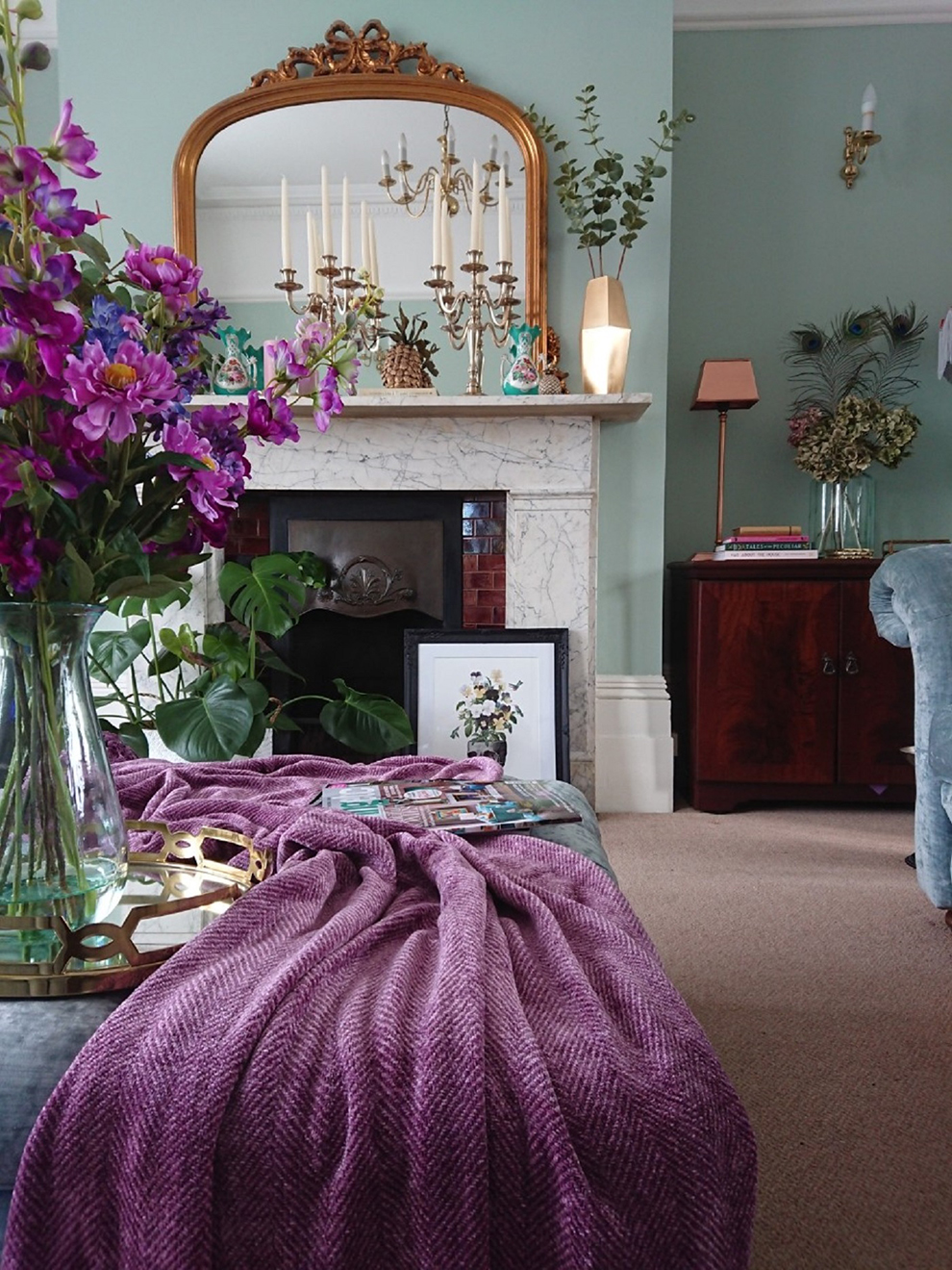 Living in a very old house, of course, drafts are inevitable. So, the need for throws and layers of warmth are always essential.  This is where I knew I could add that touch of purple…and the Hamilton Throw in Grape was the one. This throw is so soft to the touch and warm, it's no wonder its been in demand from all those who reside here. Much to my dismay. This throw is here to sit pretty and bring the purple punch. Not to be used to cocoon oneself/feet or to be used to rest your hot drink and biscuits on…… I jest…It is loved by all….even the small canines.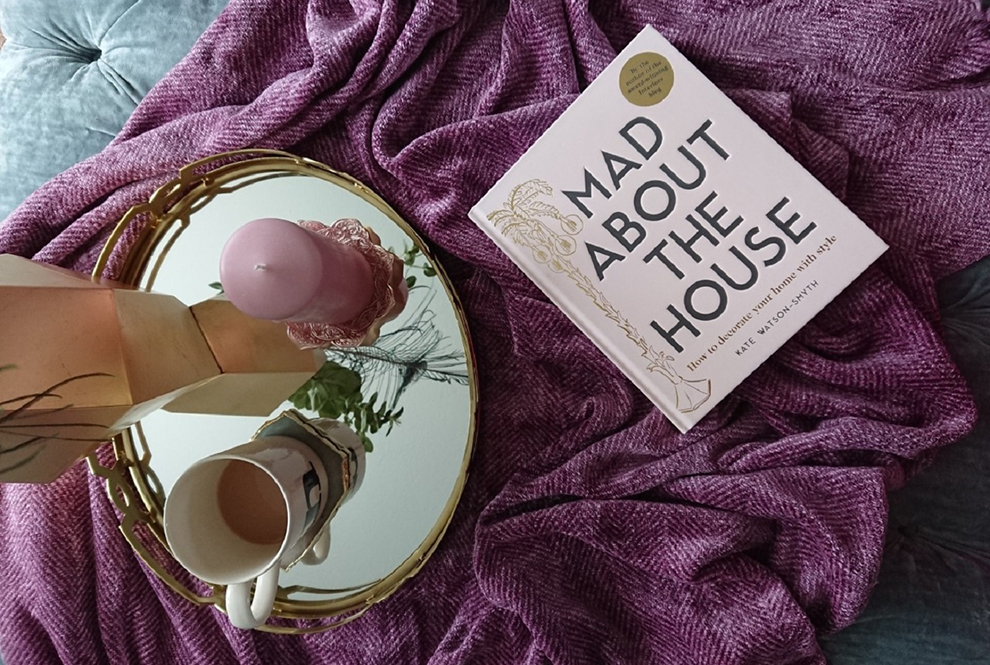 Lastly on my wish list that was so kindly granted… was the Brass and Mirror oval tray.  Since we purchased our sofa and footstool two years ago I have been on the search for the perfect tray to rest our cups of tea and coffee..and of course a plethora of other faffing items. The husband has turned down a fair few options for not being right ..(aesthetically and build est. era appropriate). This one got the approval instantly. Its elegant with a timeless appeal. Its mirrored base and decorative brass edging make it a statement piece. It just does the trick!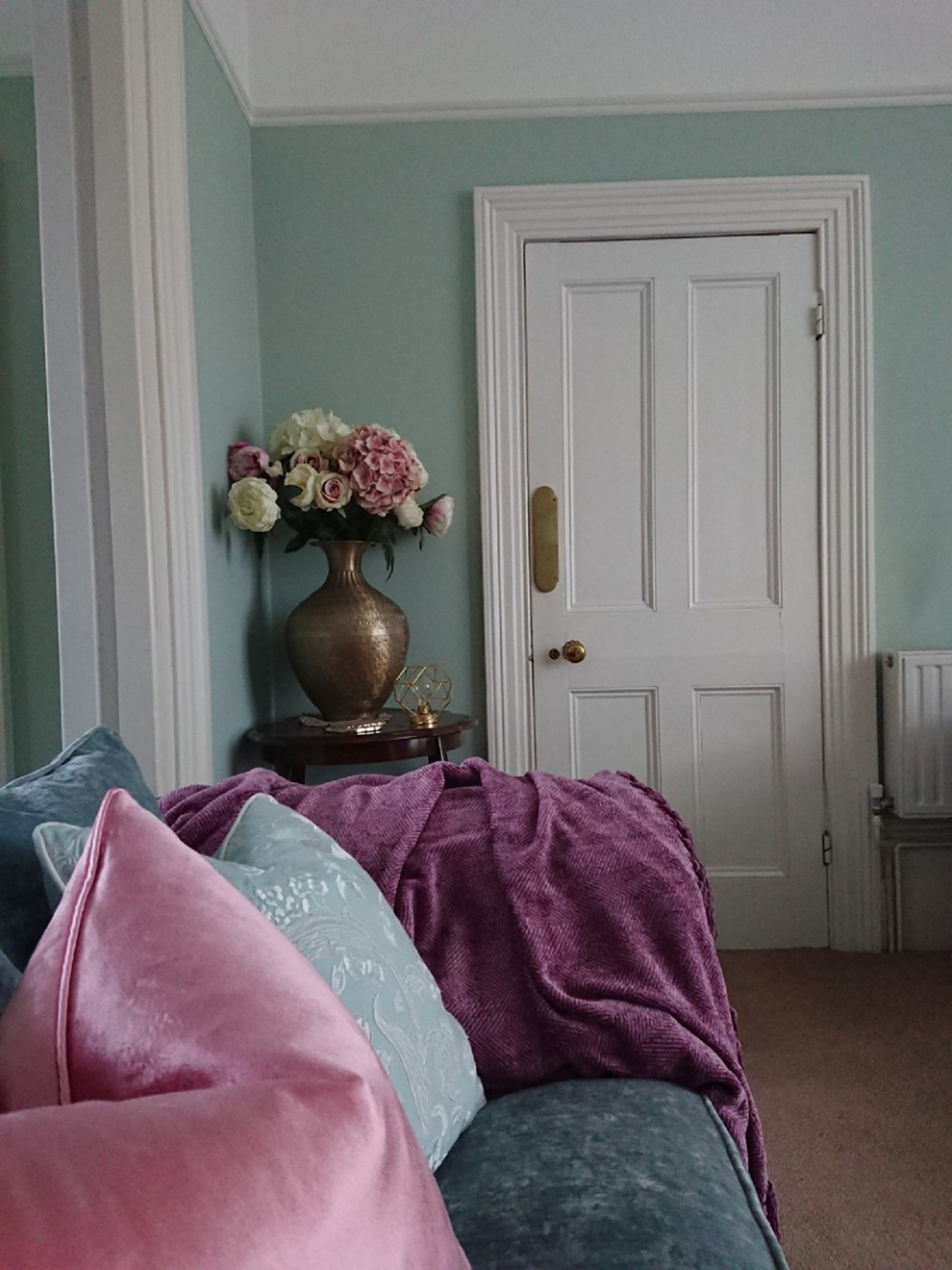 I adore how the room now has a feel of unison. The colours make the room pop. Tying in all the other pieces I had in the room originally, it really has a new Spring feel to it.  Thank you, Laura Ashley, for allowing me to be a part of the Spring collaborations……maybe I did find the lamp in Aladdin's cave after all…metaphorically speaking.
Oh, and for those wondering, my Mother's house is still full of Laura Ashley pieces, paints and wallpapers. I'd say she is more 'Relaxed Country' now…..
How lovely and spring-like does Victoria's home look!? Are you planning a revamp this season? Let us know below or on Twitter @LauraAshleyUK