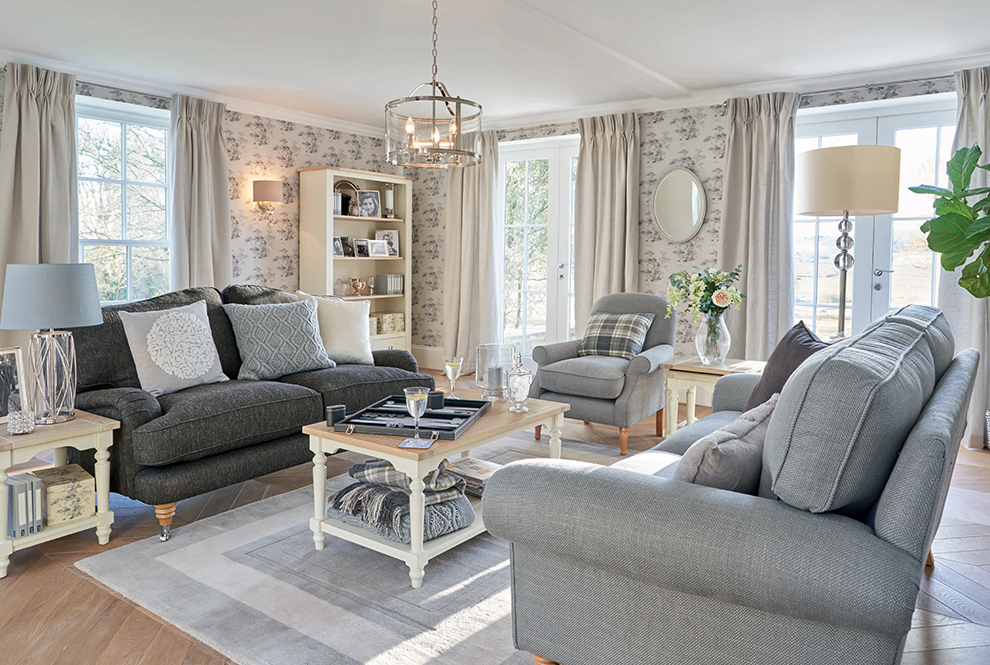 Living room design ideas read more
At the heart of the home, living rooms are where children play, conversations are had, coffee is enjoyed and memories are made. Whatever you use it for, it's considered one of the most important rooms in the house. We've compiled our favourite-ever living rooms for you to fall in love with from the Laura Ashley catalogue archives.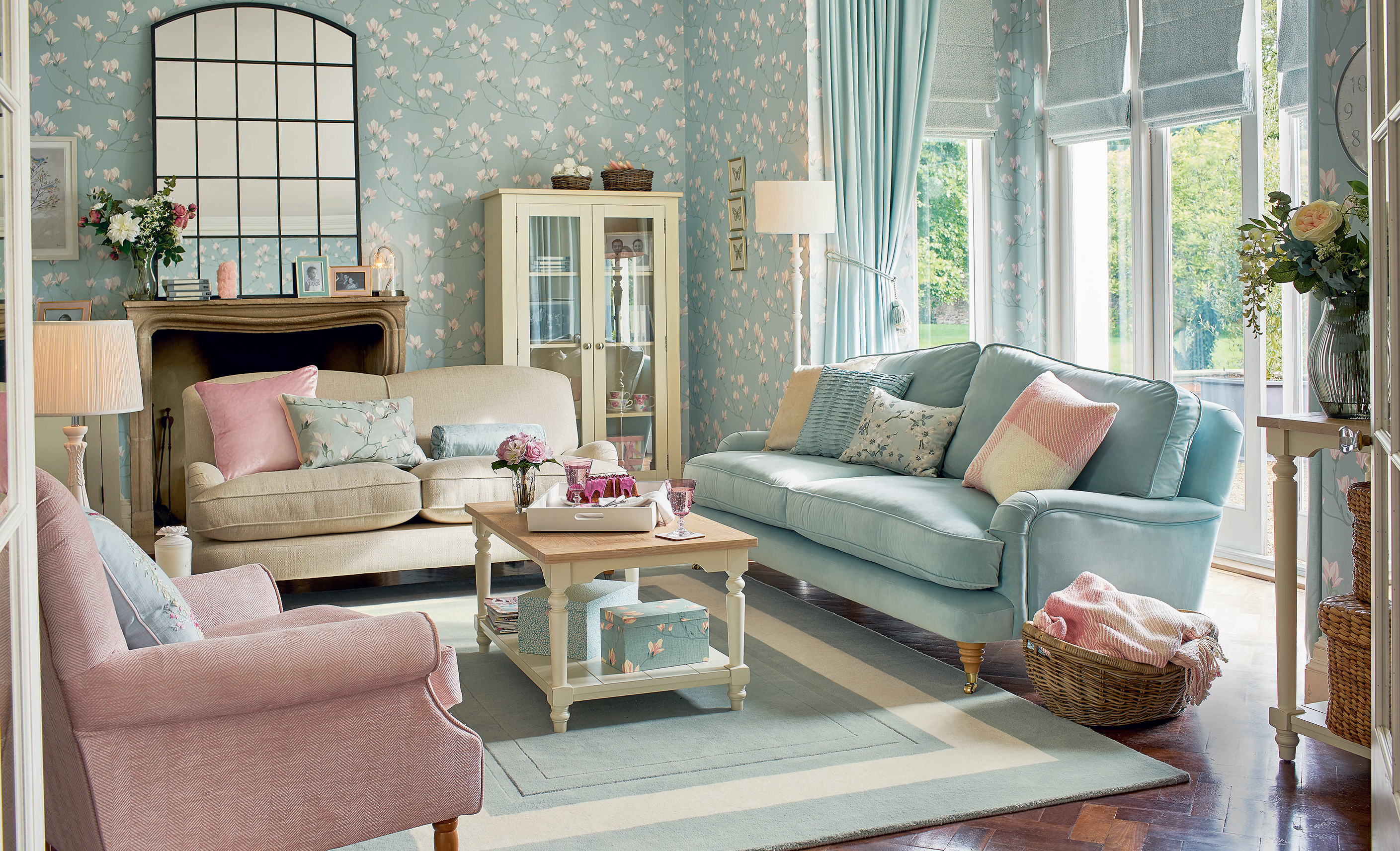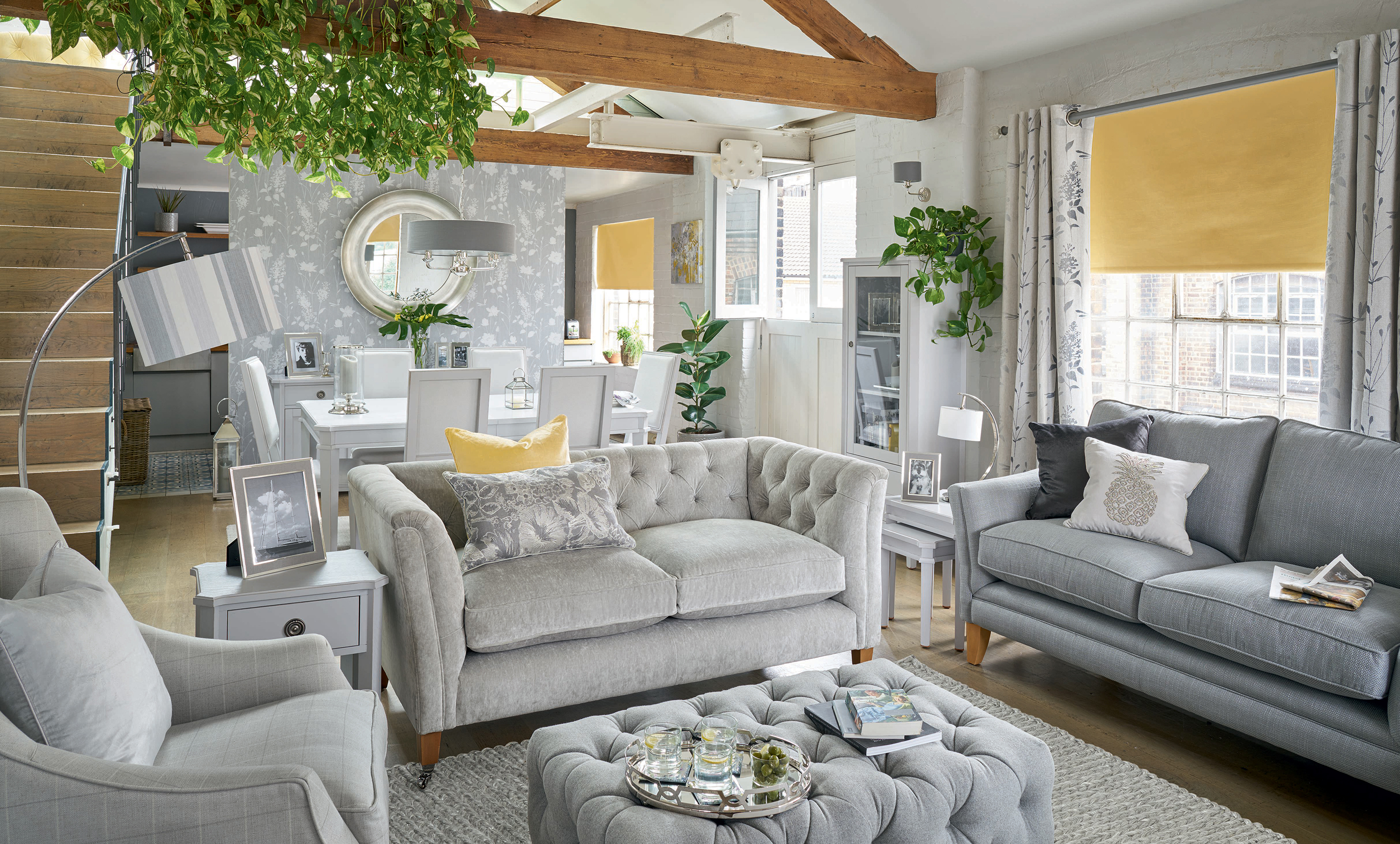 Lounge ideas from Laura Ashley
Whether completely redecorating or bringing some new life to a room, it can be overwhelming choosing living room decor. From contemporary styles to classic country living room ideas, there are so many styles to choose from. Use the following links to find the ideal style for you:
Modern and fresh Laura Ashley living room ideas
Fresh whites, pastel colours and warm greys give a modern feel to the living room. Scatter cushions such as our dark navy peacock one add a sense of serious comfort to the space, keeping it fun with pops of colour. Our tip: don't be afraid to play around with as many scatter cushions as you desire. There are eight on the sofa below, creating the perfect living room space to sink back into after a long day at work.
Smart spaces – small living space ideas
Whether you're renting or have your own house, we all know that spaces in the home can be limited. When it comes to decorating your living room, think about how you can be smart with your space. Over-packing furniture will only make the room appear smaller (and by some extent messier, too). Our range of brilliant sofas come in a variety of shapes to find the one that works for your space. If you have extra room, a matching chair is always a good idea. If you don't, choose just one statement sofa and top with scatter cushions to create that cosy napping spot.
Cosy grey living room ideas
Grey doesn't have to be cold and minimalist. Use plush fabrics such as chenille and tartan to bring real warmth to the room. Consider a depth of colour with different greys – oyster, charcoal and silver will combine to create a cosy living room. Add in pops of warmth with hints of yellow or duck egg and combine with wood tones to bring the whole look to life.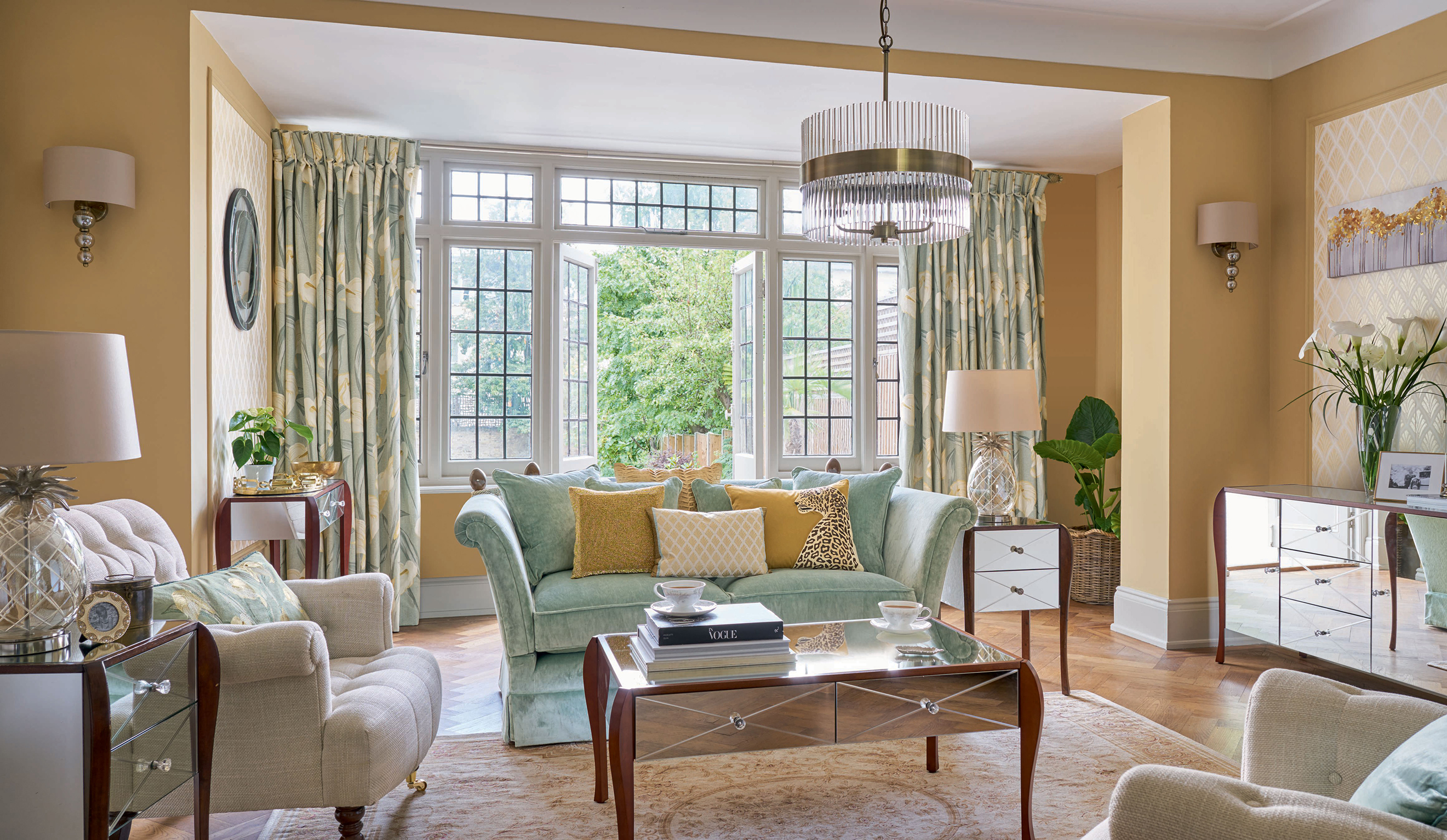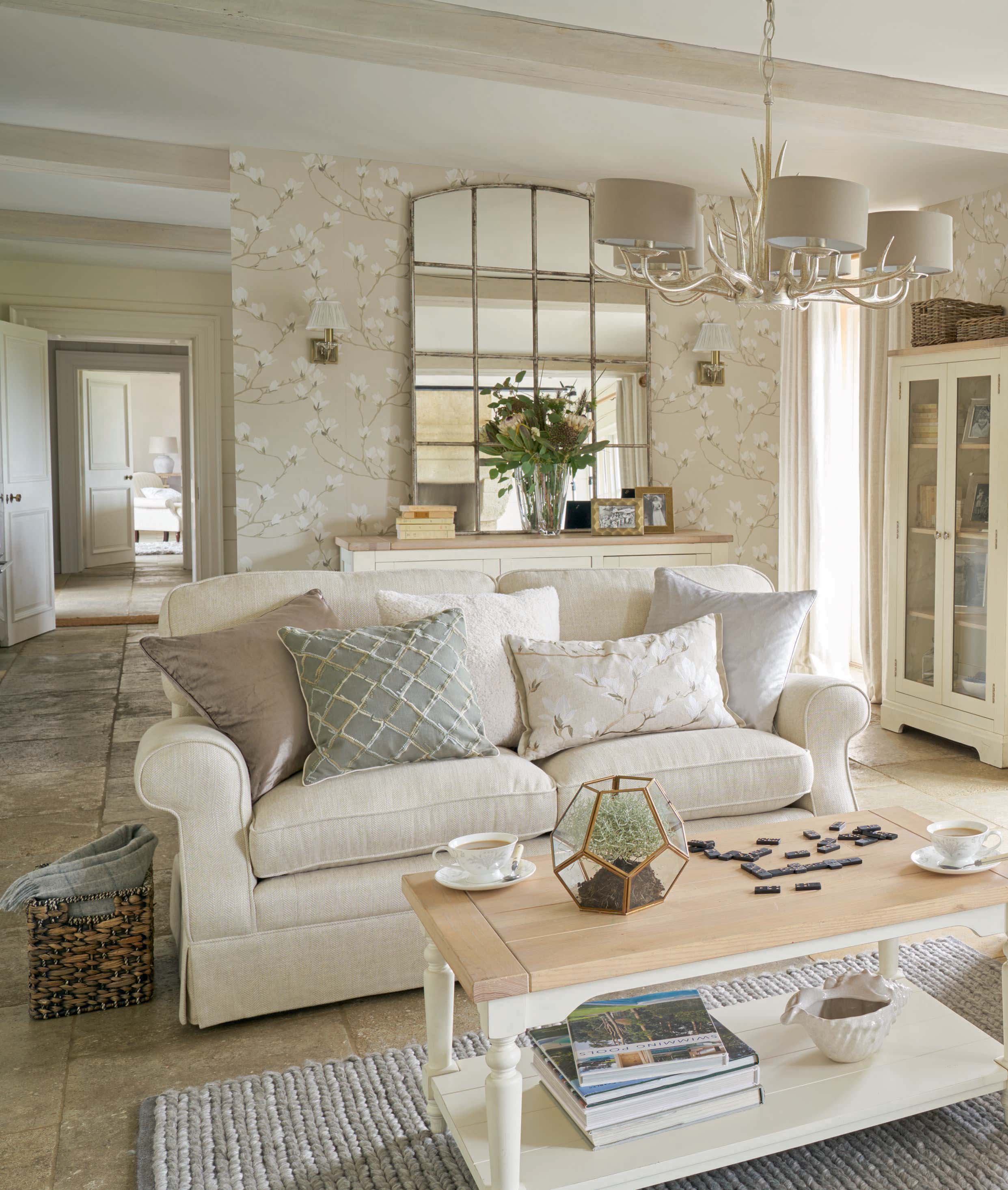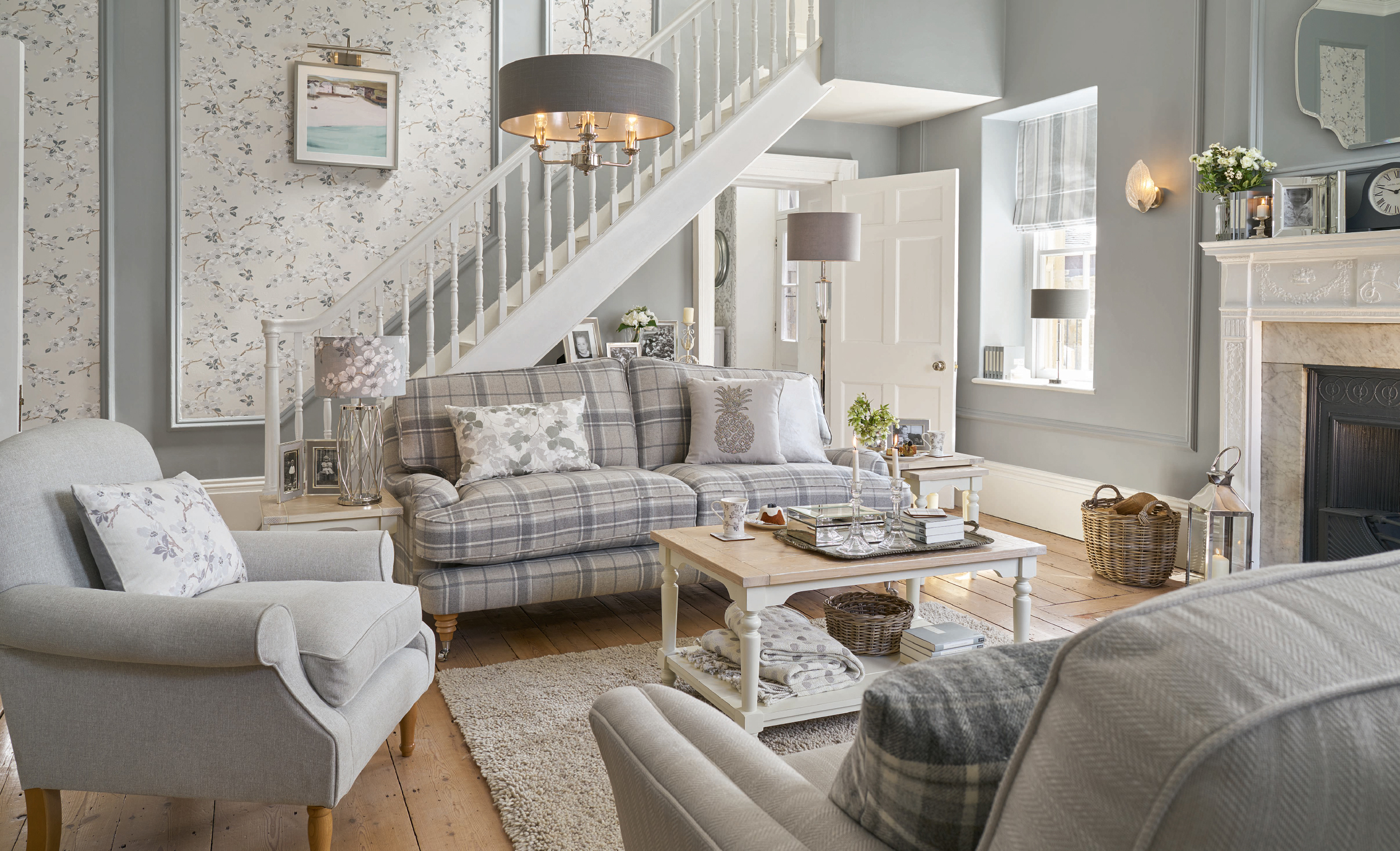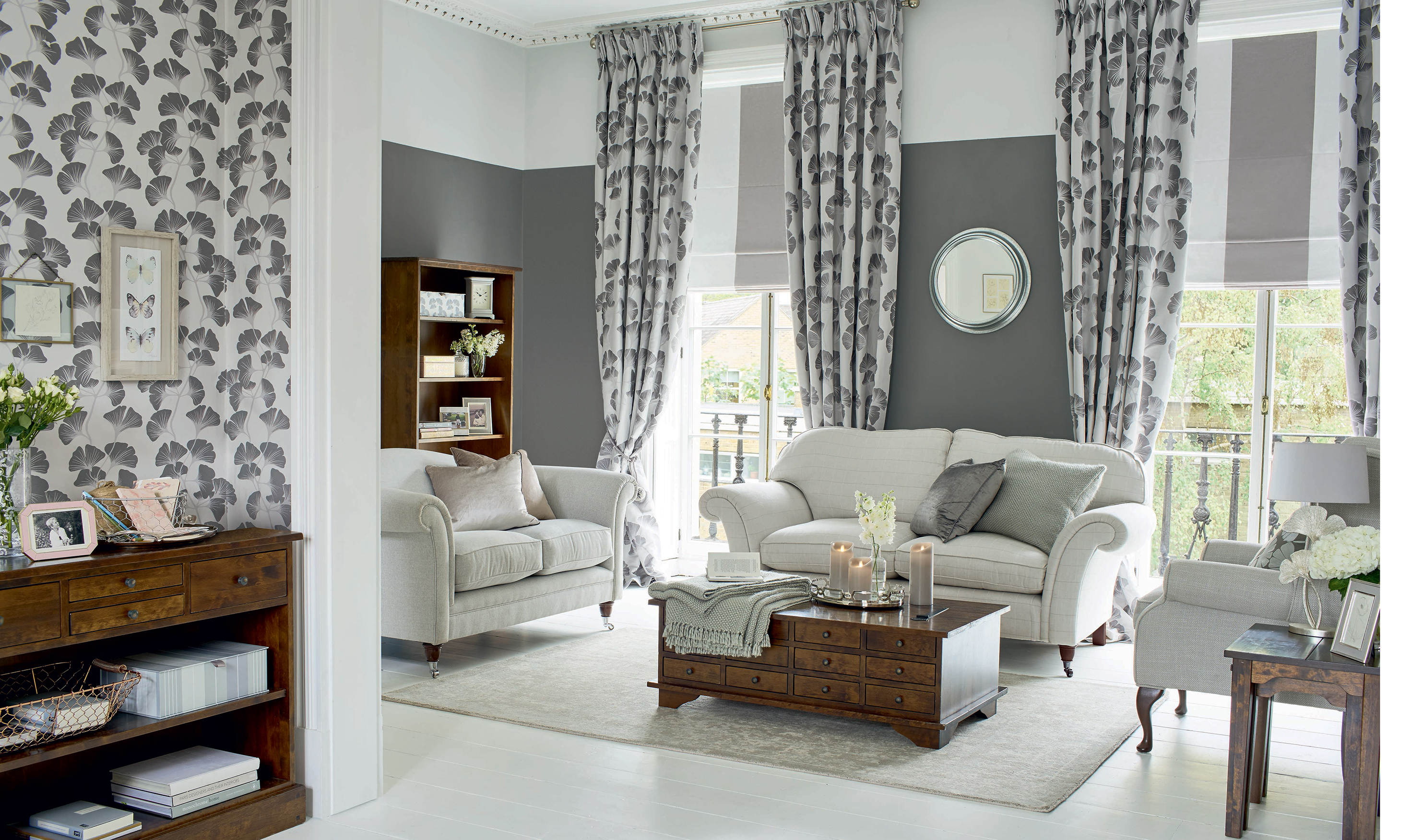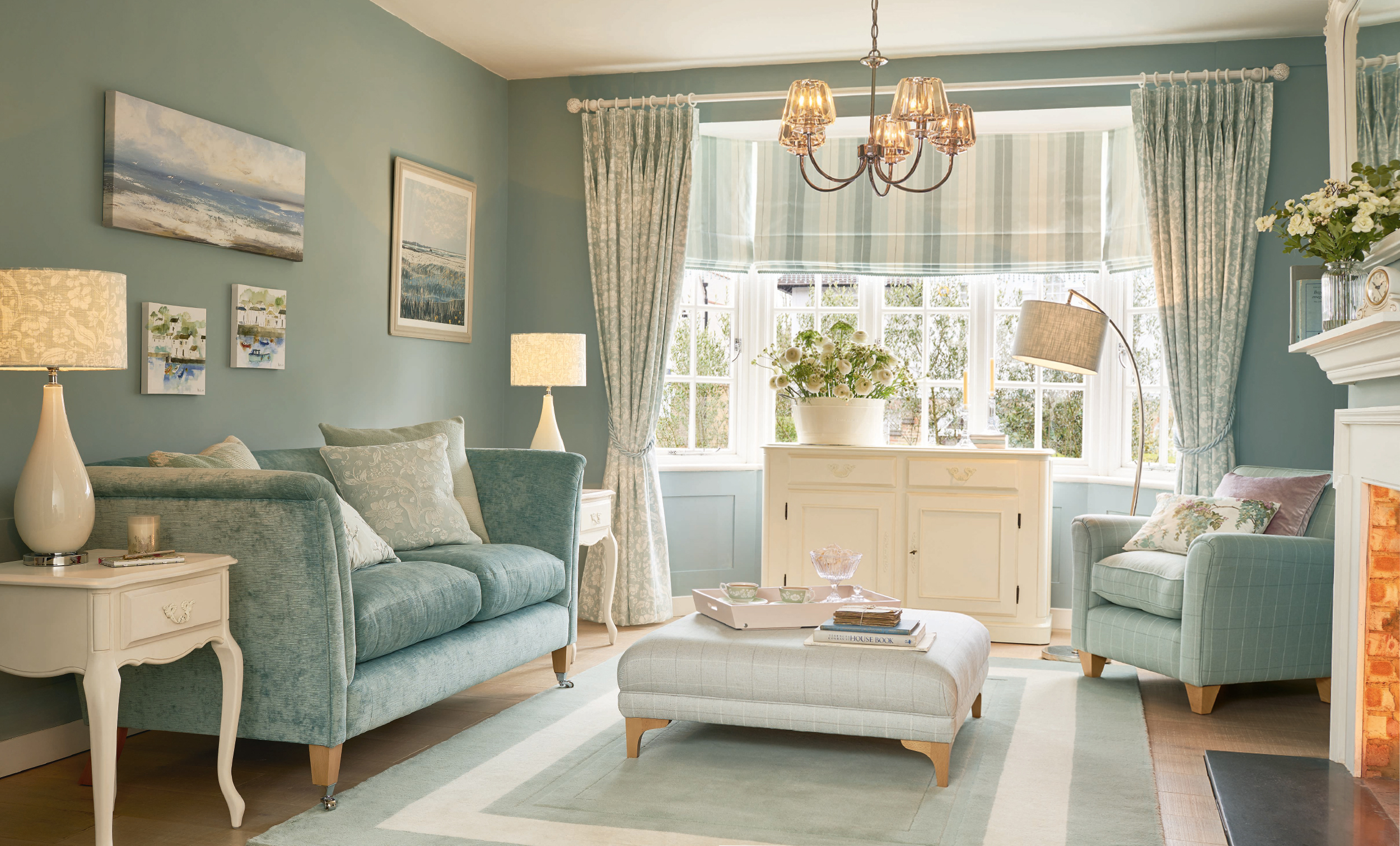 Country style living room
Create your very own farmhouse feel with a colour palette of warm purples, rich reds and dark woods. For that cosy feel, scatter cushions on sofas and fold thick-wool throw blankets for you to snuggle up in on rainy evenings. As we slowly creep towards autumn, now is the perfect time to restyle your home to a country style that works for you. Invite guests, light the fire and wrap your hands around a hot cup of apple cider.
Mirrors decoration ideas for your living room
Mirrors are the answer to maximising a small space. By creating the illusion of a bigger room they brighten and lighten any room regardless of its size. From mirrored cupboards (perfect for clearing away clutter) to smaller wall mirrors, adding them into your living room will enhance small and reflect light. Buy them now and you won't be disappointed. Elsewhere, large ceiling lights make a brilliant centrepiece in the living room. They will brighten your space and look wonderful centred above a coffee table.
Bold prints in your lounge
Don't be afraid when it comes to decorating. Mix-and-match sofas, curtains, throws, rugs and furniture styles to create a room full of character. Our country house inspiration pages are the best places to come when looking at how to recreate your own farmhouse feel. The exposed wooden beams in the room below give off a rustic feel, while the warm purple rug creates a cosy space on the beige stone flooring. How brilliant to spend a winter's evening wrapped up on the sofa in this room warmed by the heat of the fire.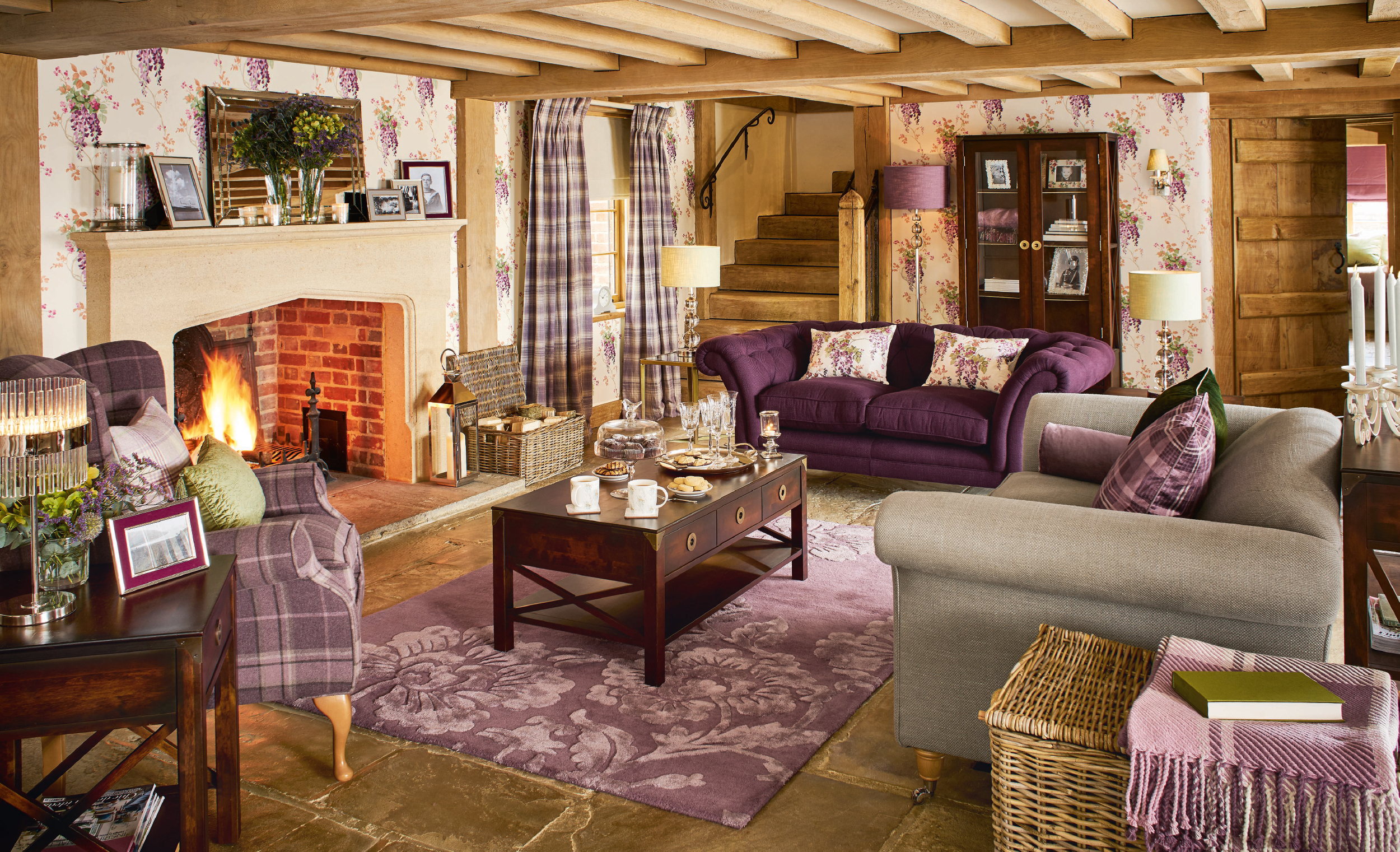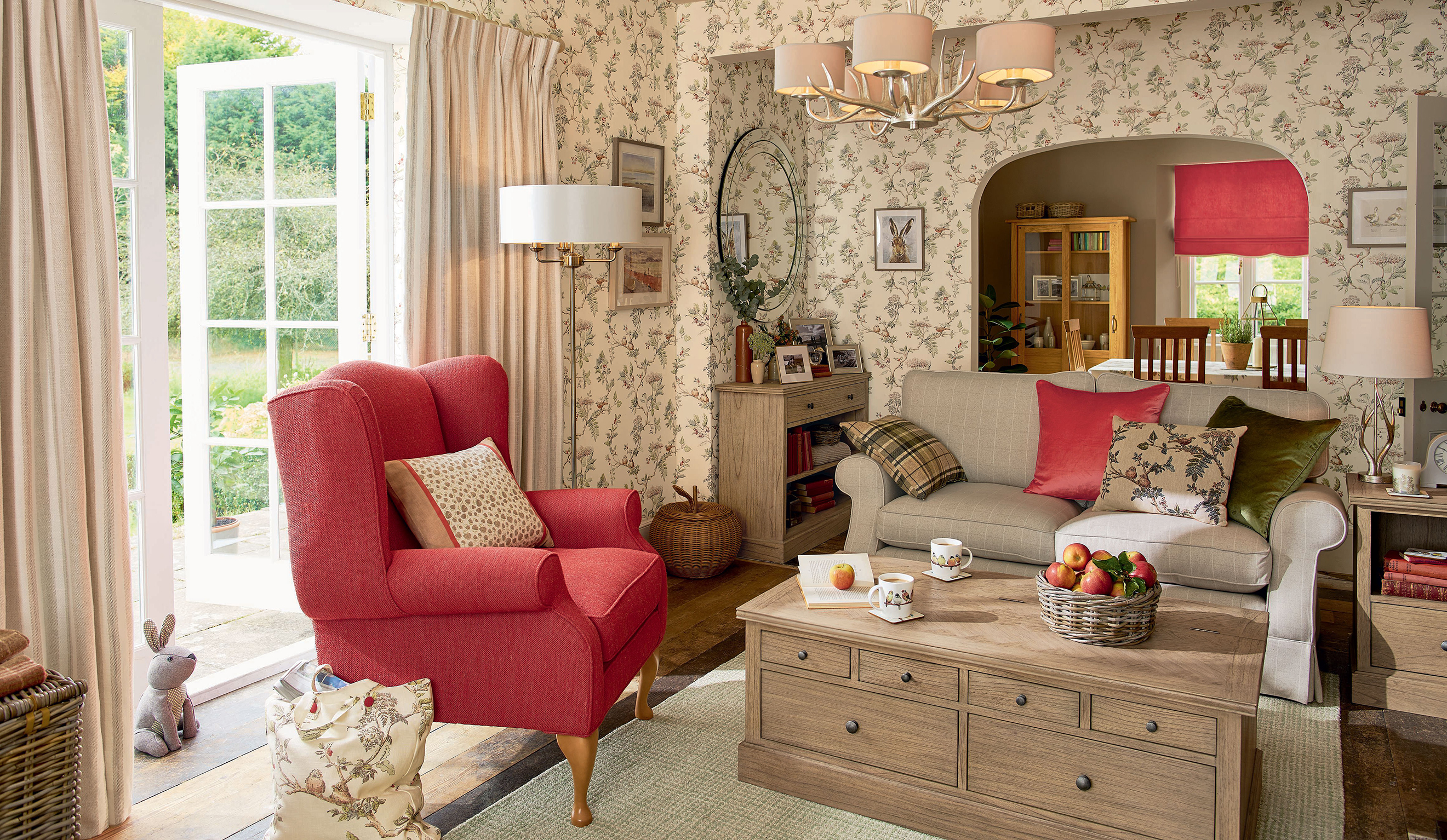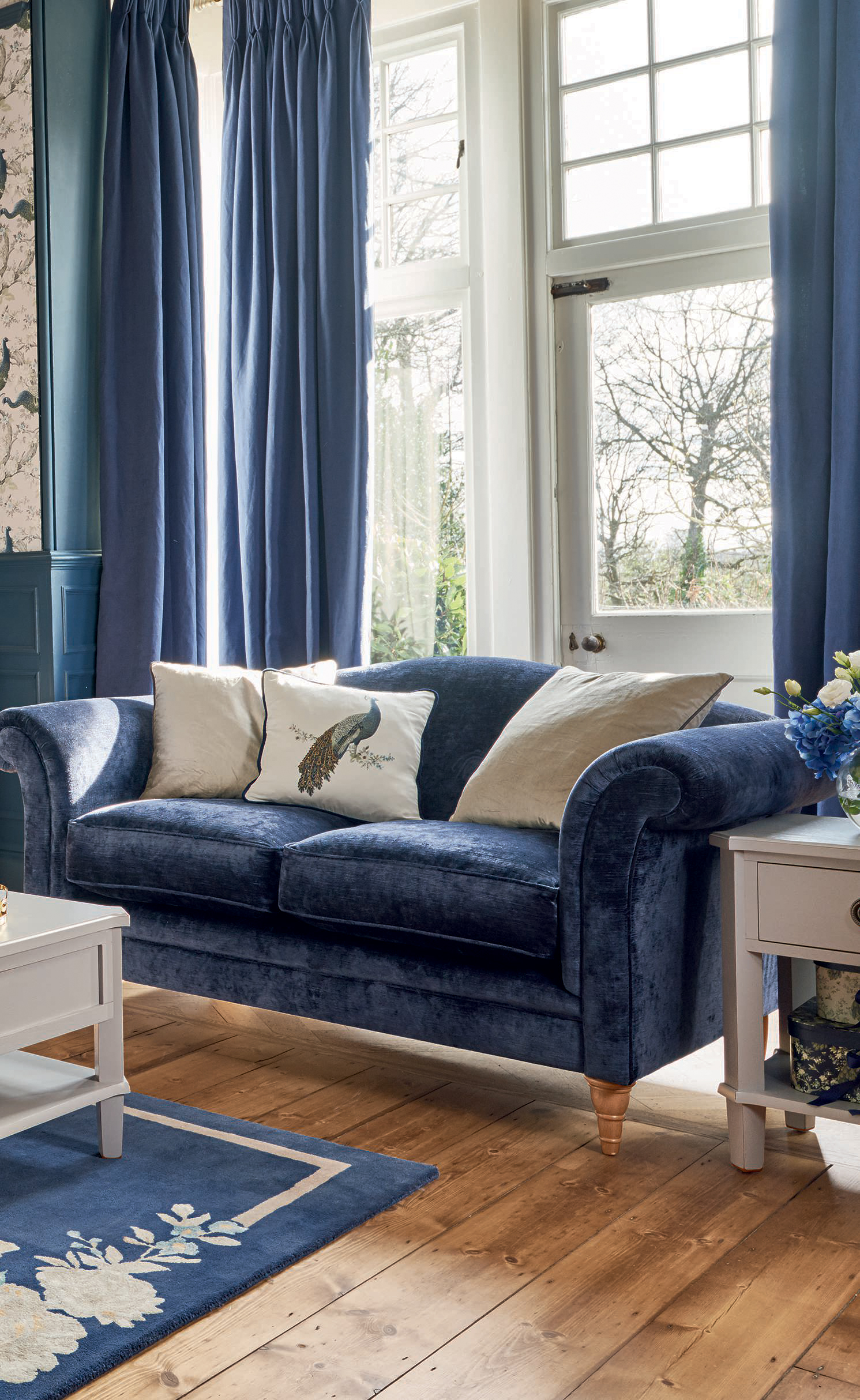 How do you decorate your living room? Let us know your thoughts over on our social media accounts @lauraashleyuk or by tagging #lauraashley Visit our decorating department for further inspiration.