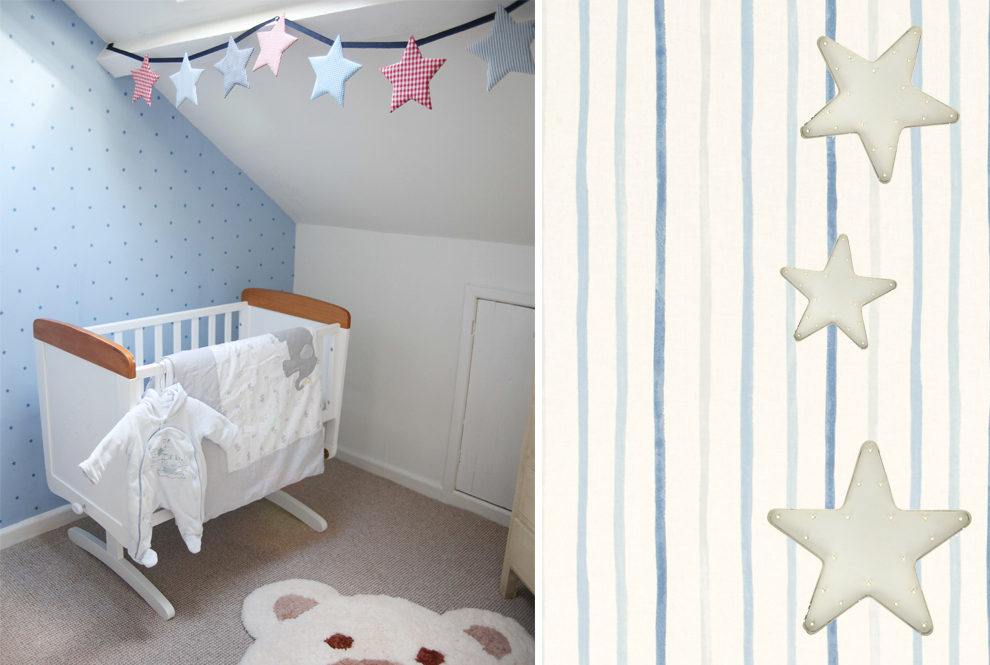 Blogger and Mum to be Laura shares her nursery makeover with us... read more
Now that we're well into the New Year, our newly decorated abodes and DIY's are  finally beginning to take shape. As we count down to Spring (are we there yet?), we're introducing colour and brightness back into our homes with our new SS arrivals. Expecting an almost-Spring baby, Mother and blogger Laura was keen to transform her nursery in time for the imminent arrival, and naturally we obliged! Taking us on a tour of her stunning new nursery, we hand over to Laura of Side Street Style as we tap into our maternal side…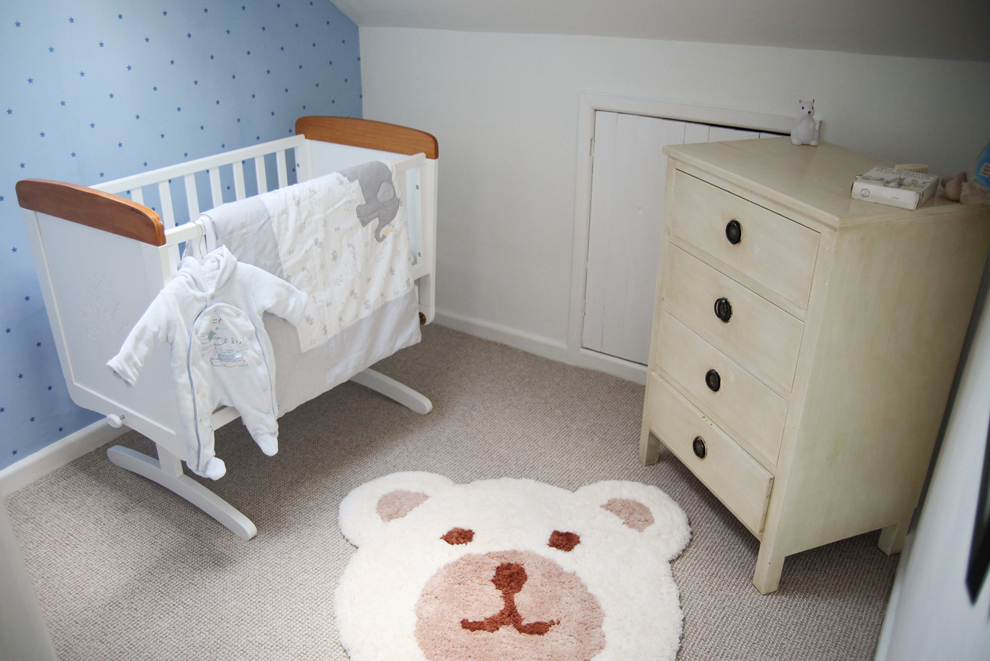 Elephant Bedspread | Star Wallpaper (available in store)
Up until two weeks ago this little room in the eaves was an unorganised office space which had been left to slight neglect, as one of the last rooms in need of redecoration since we moved in at the beginning of last year. Even though it's pretty small in size I knew that it would work perfectly as a cosy nursery for the new arrival and up until this point it had only had a lick of white paint so it was pretty much a blank canvas. It was important to us to keep the space feeling light and airy and make use of the natural light that streams in from the skylight and bring in some little touches of colour. We stripped the room down to nothing and over the course of two weekends we managed to completely change it into welcoming and warm nursery.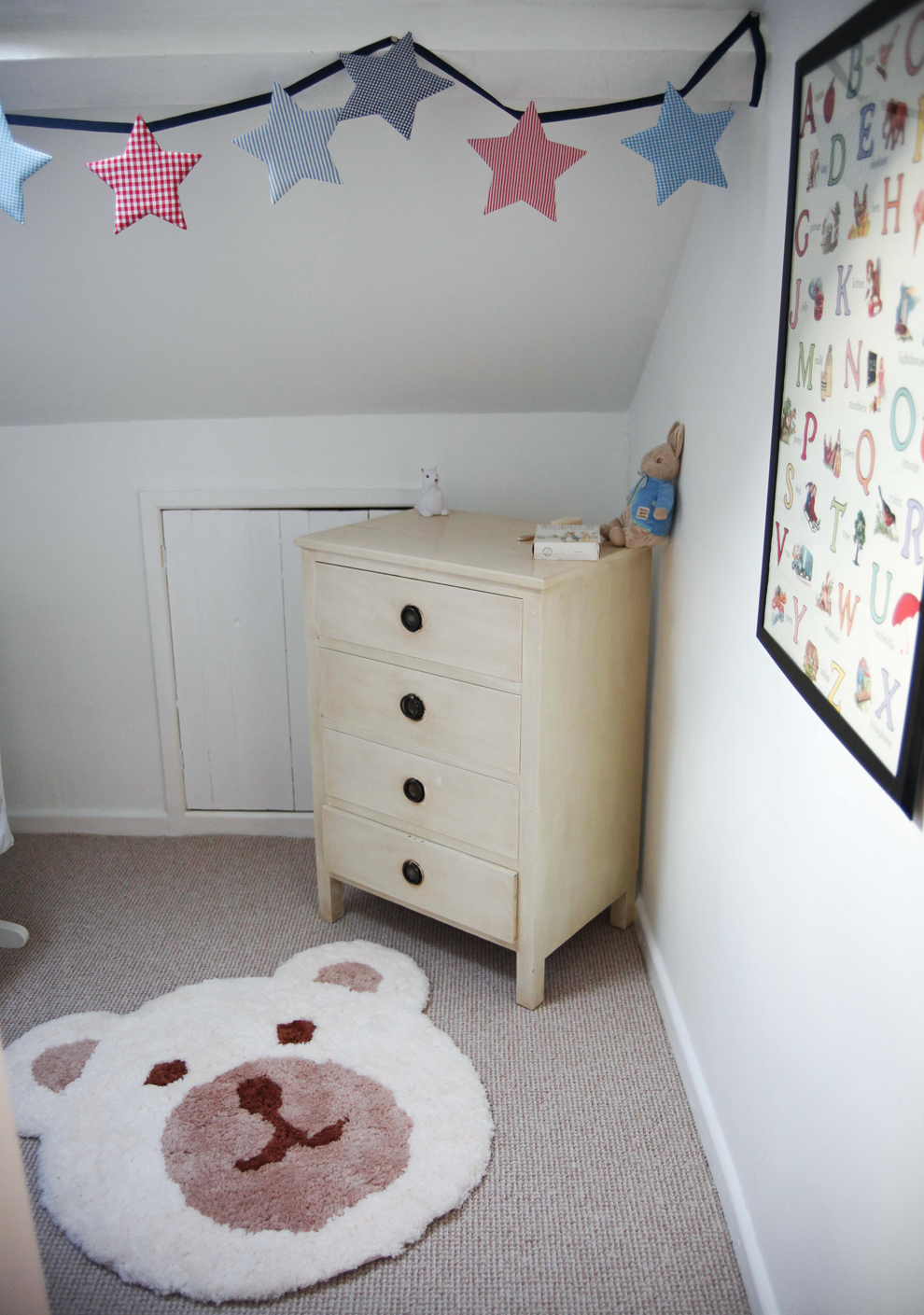 Star Bunting (available in store)
When we decorated our sons nursery in our old house we used a beautiful baby blue paint from Laura Ashley as making some simple blue gingham curtains from their fabric selection, this time however we thought we would try our hand at a bit of wallpapering as they have such a wonderful children's range and we could not be happier with the subtle blue starry paper which pops really well next to the white walls. Knowing we are expecting a boy has of course helped with being able to go with a more clear colour scheme but we have still tried to keep it fairly soft and flowing with shades of white, grey and light blues.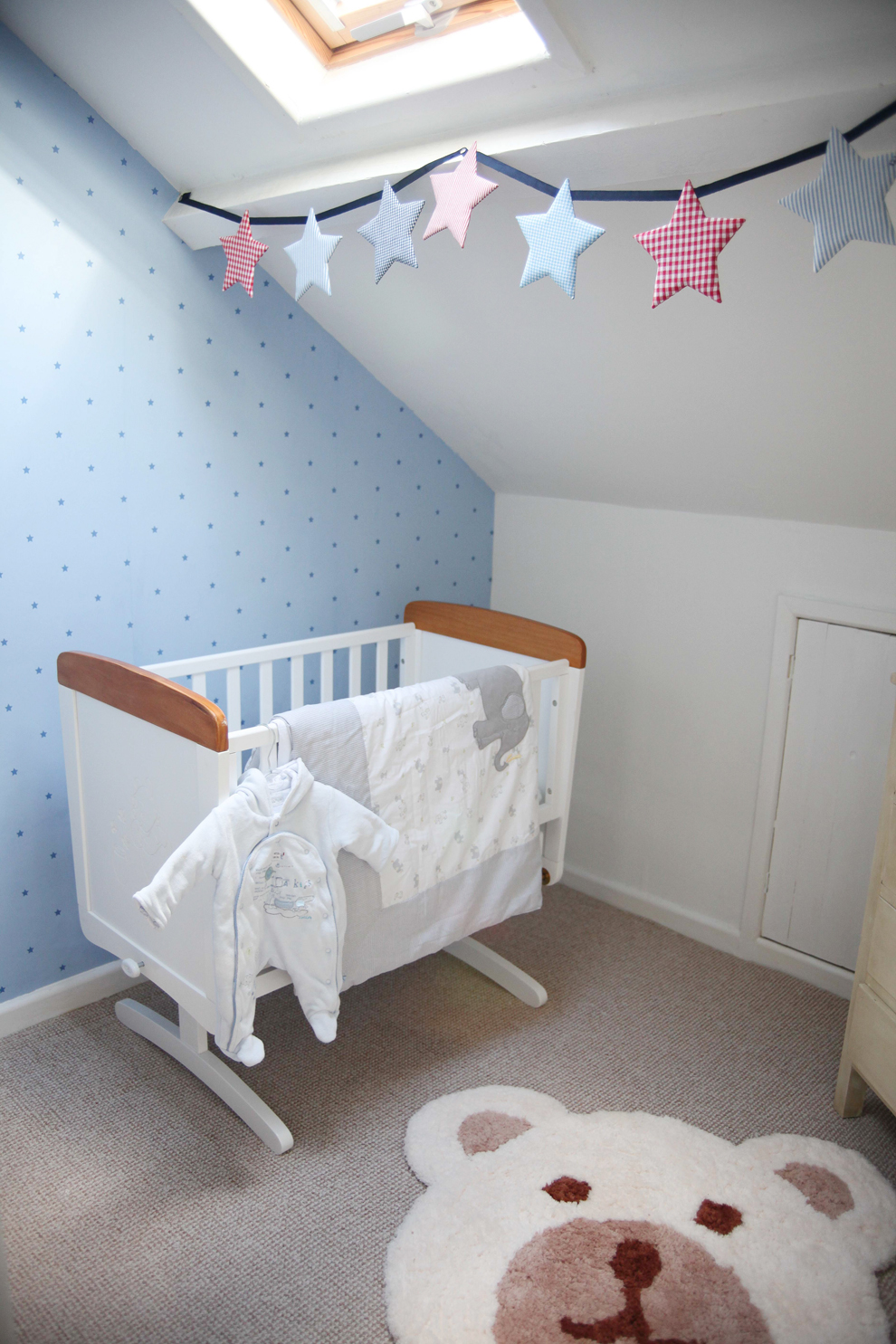 As with everything we always believe less is more and investing in good quality items whether vintage, upcycled or purchased as well as making the most of what you already have. We decided to go with a simple and British inspired traditional theme, bringing in elements of childhood fairytales and stories such as Peter Rabbit and Winnie the Pooh as well as using these lovely fabric star bunting and vintage alphabet print to bring in soft touches of colour and texture.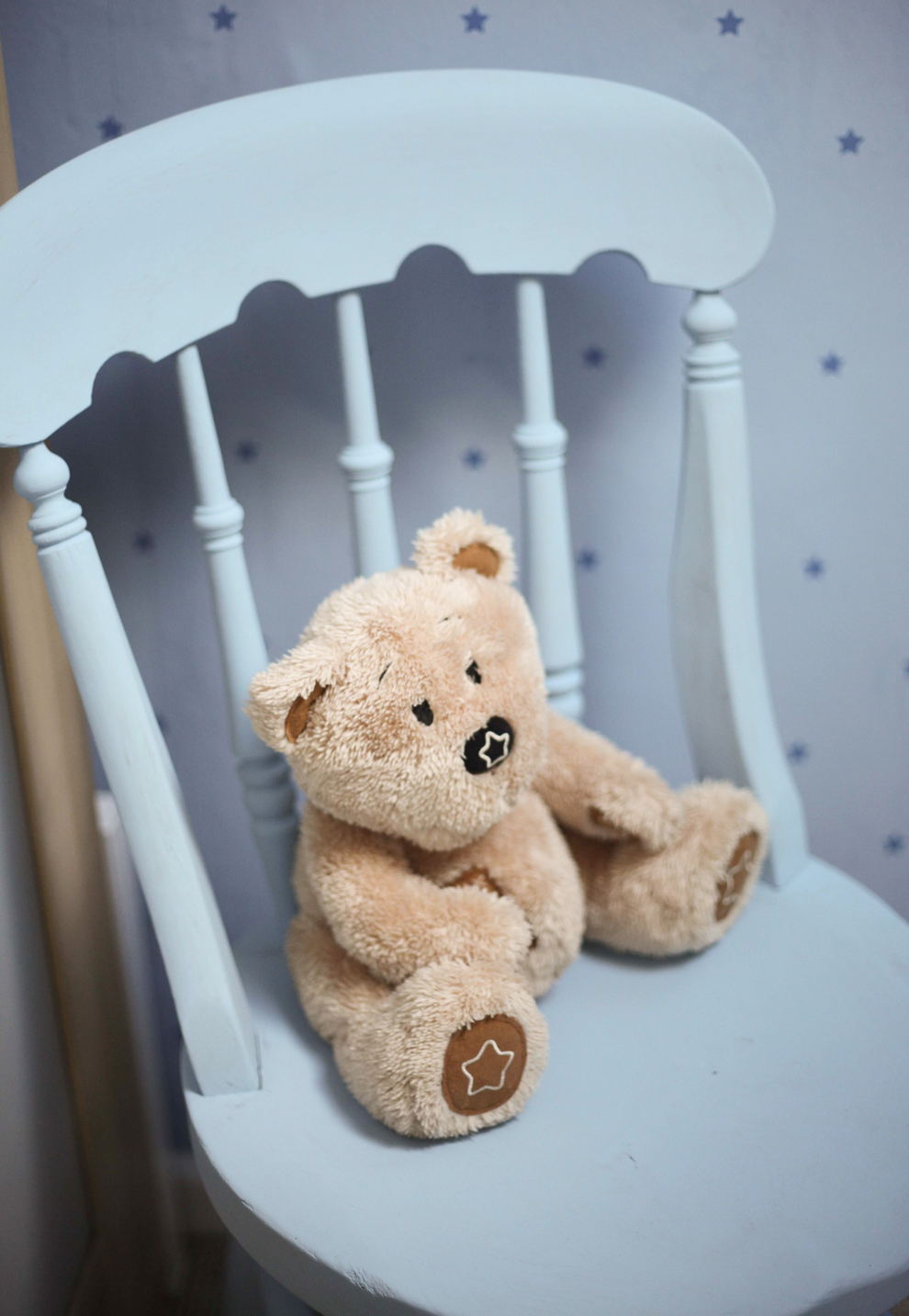 Furniture Paint 
My first son had outgrown the little upcycled chest of drawers which fits perfect in the room and I also got the chalk paint out and sanding paper and repainted the somewhat tired chair which now sits perfectly in the corner and will make a nice little feeding station. With the bedding we have kept things pretty unisex and cannot wait to use this stunning Laura Ashley embroidered elephant bedspread. As this is our second nursery we have re-decorated I feel we have learnt a few key things along the way…
Top Tips:
– Keep things simple as it's very easy for a small space to become cluttered with baby equipment and besides a comfortable crib and space to change nappies plus a small box for toys you really don't need anything else.
– Opt for a soft and subtle colour scheme and be clear about what you want to achieve, at the end of the day you want to create a space that is calm not over stimulating for a baby
– Invest in quality pieces but also don't be nervous about upcycling furniture as it's the perfect way to customise something and bring in that personal touch while keeping within budget.
At the end of the day you want to create a space that feels safe and secure and that will encourage sleep but also play. Make sure you have enough storage so you can keep clutter to a minimum in the early months and enjoy all of those special moments with your newborn.
Feeling inspired by Laura's makeover? Take a peek at our top picks for a newborns room below…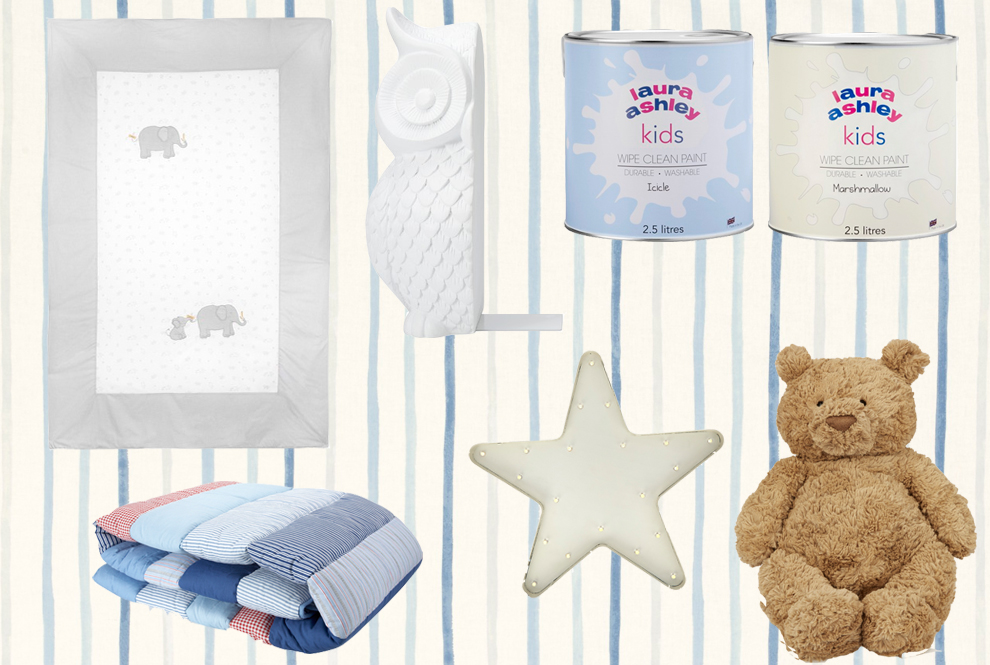 Elephant Bedspread | Owl Book Ends | Kids Paint in Icicle and Marshmallow | Cuddly Bear | Star Light | Stripe Bedspread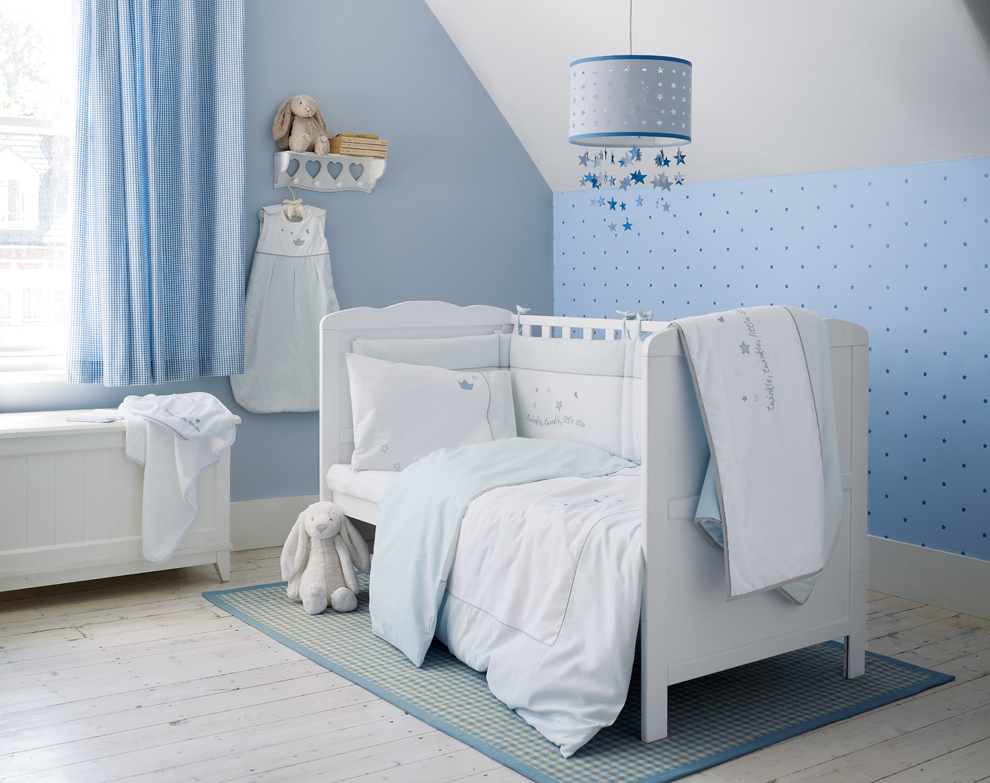 Laura Ashley Nursery
Thanks to Laura for sharing her nursery makeover with us! Are you planning a room renovation of your own? What would you like to see us do with our Children's collection next?