Rhian shows us how Laura Ashley has run through her family and continues to do so through her gorgeous home... read more
The fabulous Rhian from Our growing Story takes us through the years to show us how Laura Ashley has influenced her family and home today.
From childhood to motherhood, Laura Ashley has always featured in my life. As a youngster, I was introduced to the brand by my Mum, who worked as a seamstress for Laura Ashley since leaving school at sixteen. Coming from an area close to the origin of the company, everyone locally either worked at the factories or knew someone who did.
Our childhood home was filled with Laura Ashley curtains, cushions, bedding, and our best party frocks were always the bold, floral ones. Since having my own home, my love for the brand has just grown.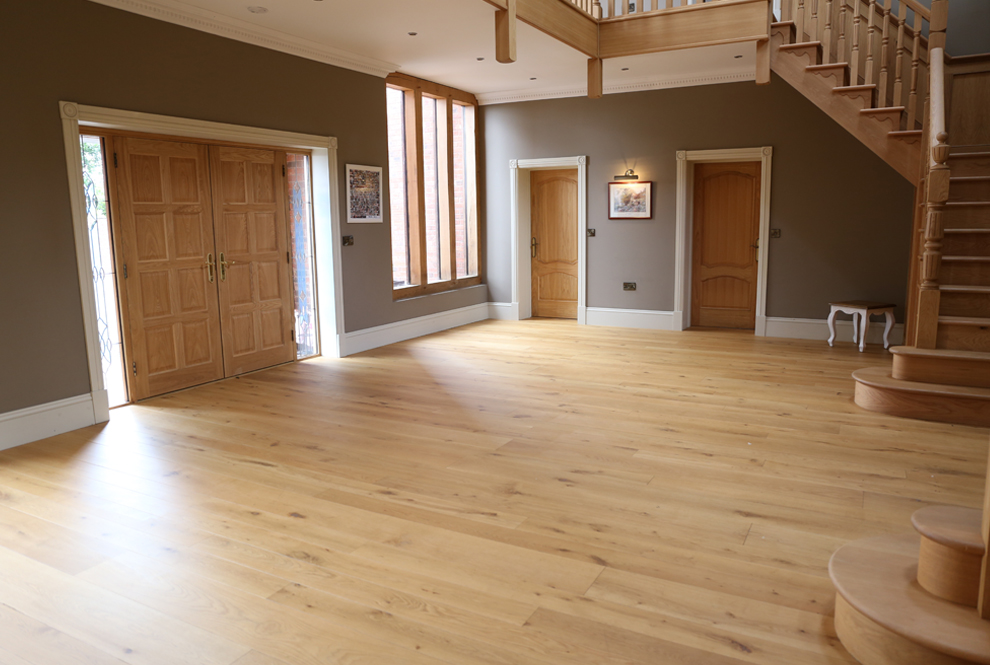 We recently built our own home and although it took a whopping two and a half years to build it, and a whole lot of hard work, it was definitely worth it. While we were building I started buying pieces of Laura Ashley furniture here and there, but with the stress involved with a building project, along with having a 2.5-year-old and being one week overdue with our second, the interior was kind of a last-minute rush in time for the move-in date. Life has been running at 100mph since then, but here I am over three years later, and finally happy with our home interior … I think!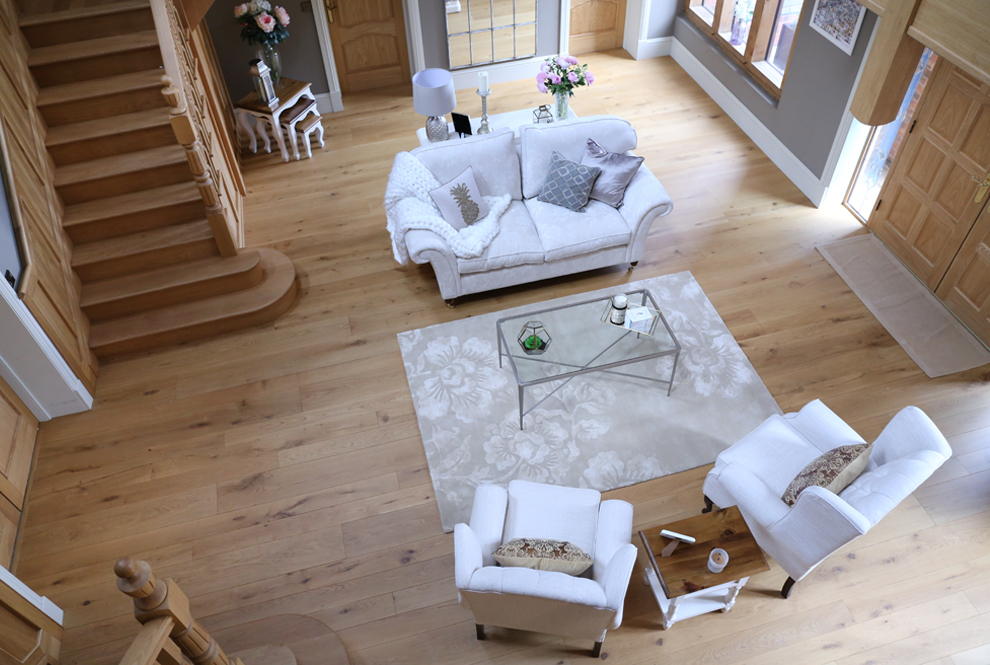 Although it's the greeting area of our home, the large entrance hallway has been empty since we moved in, and it has definitely not had the welcoming vibe I so wanted. I simply couldn't work out what would work here, without the space being overpowering.
The kiddies have loved having the open space as an extended playroom but move aside little ones… I've finally made it into an adult only seating area (let's see how long that last!) I knew I wanted versatile, timeless tones, and looked no further than Laura Ashley to achieve this. I opted for a natural decor with a sofa on one side, and armchairs on the other, with a Claverton rug in the middle.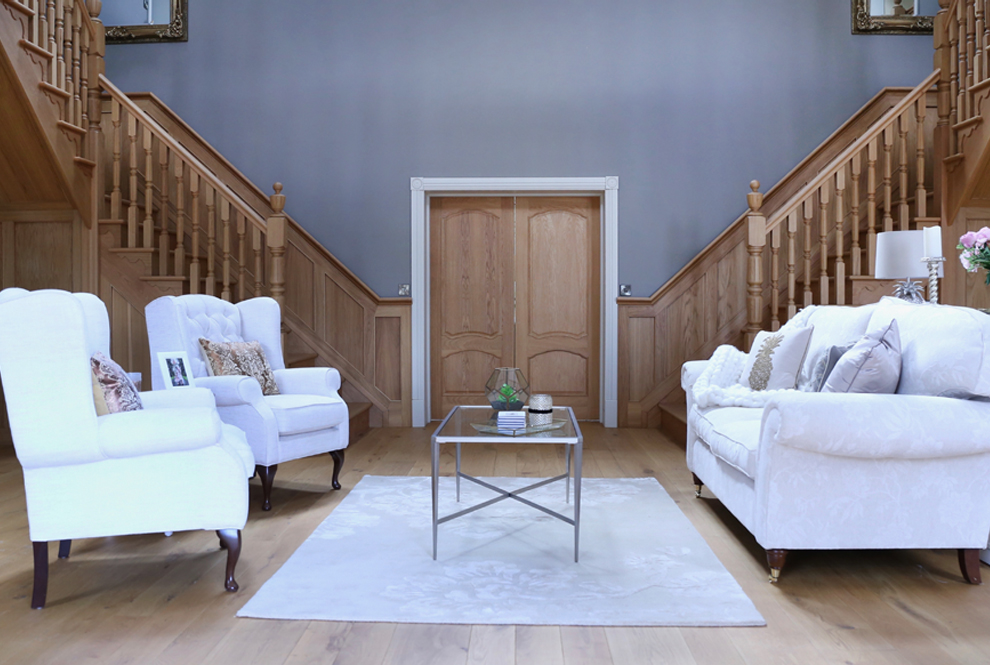 I am really loving the antique gold/silver accents trending this season so it was fun to add some of these to the room. Inspired by the spring/summer 2017 catalogue, I ordered the Venezia chrome coffee table with the brass mirror tray and small hexagonal brass terrarium to sit in the centre of the rug. I couldn't resist the gold pineapple lamp and then just had to buy the pineapple cushion to emphasise the quirky theme.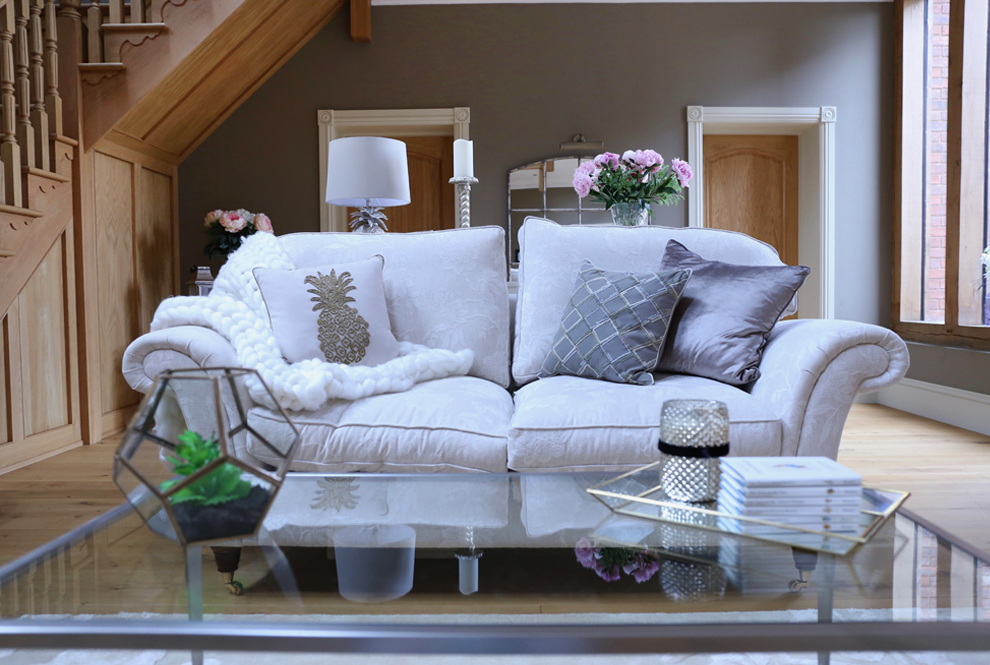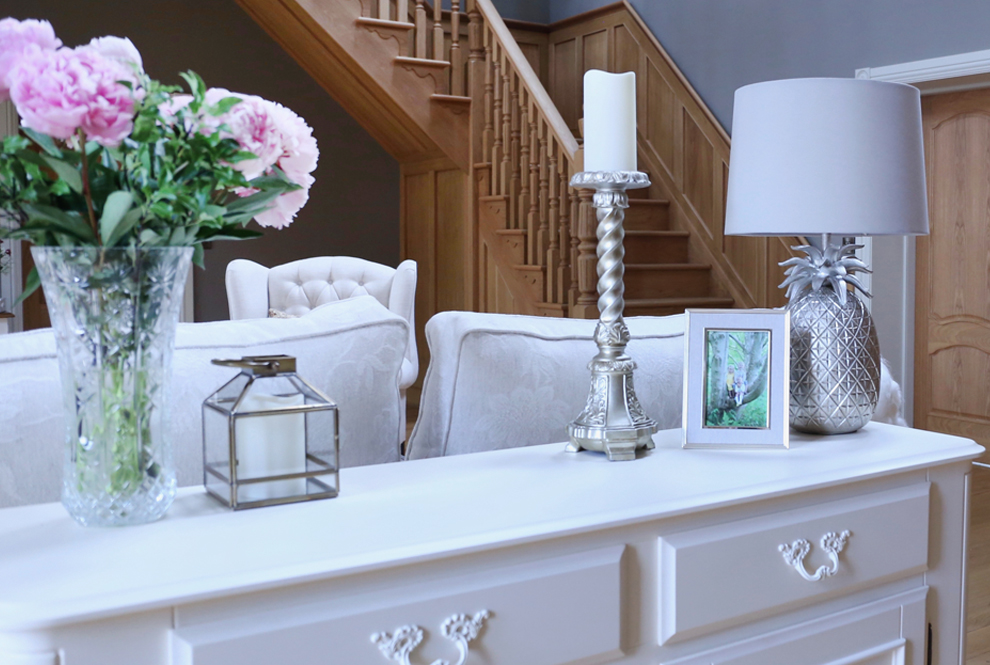 I wanted a statement mirror to add some character to the room and the Tamworth mirror certainly does just that. It also draws attention to the pretty Provencale ivory sideboard hidden behind the sofa.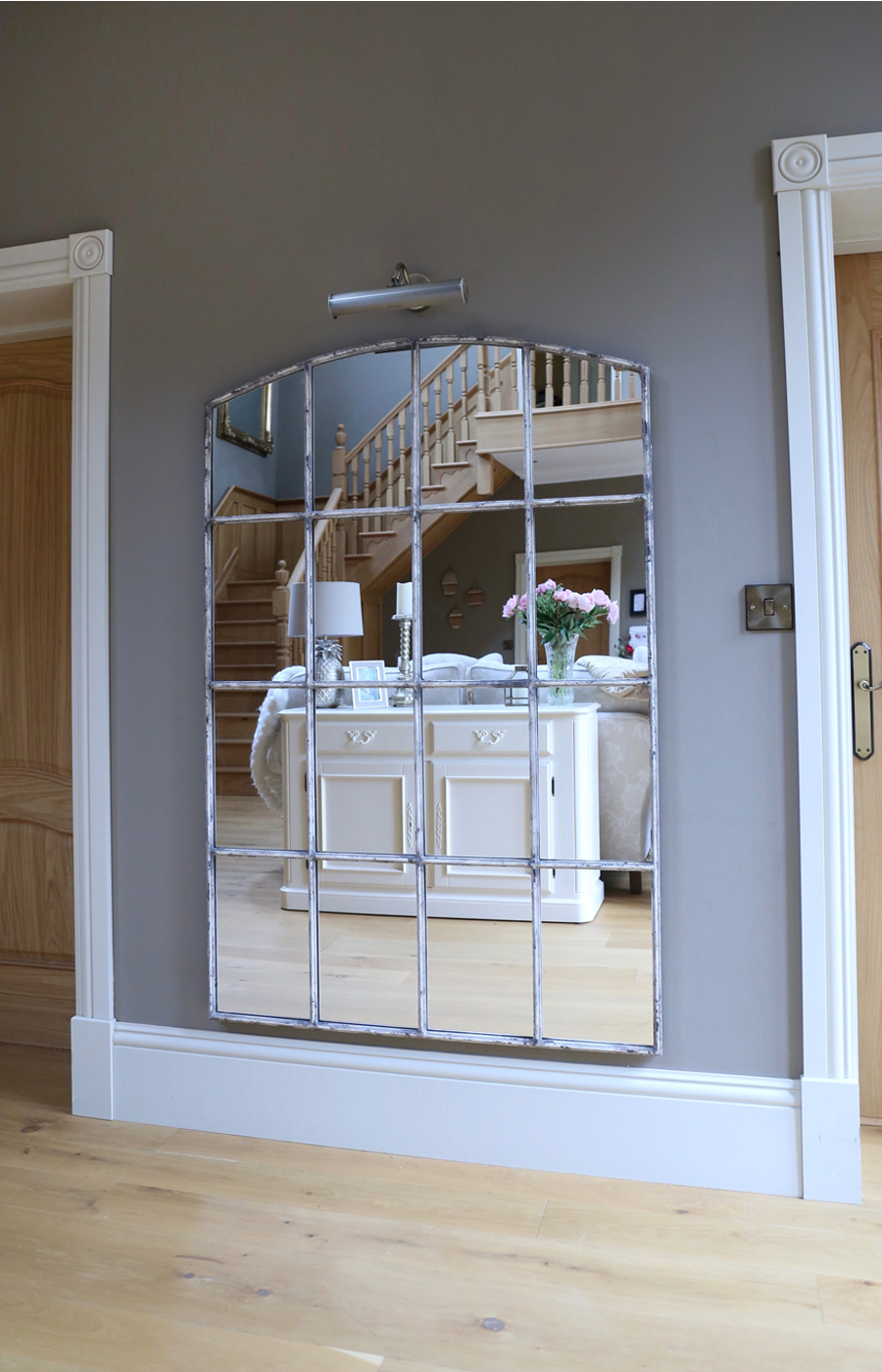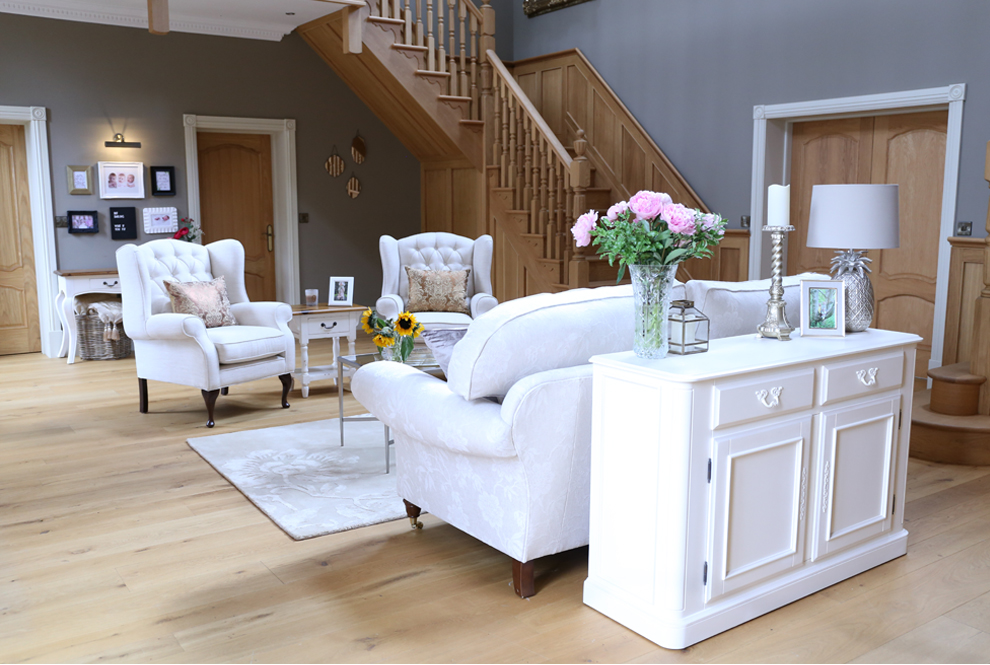 It's no secret that I do love a photo wall! Due to the size of the hallway, it was difficult to achieve that homely feel, but I think the frames and photos really help. Alongside some photos of my children, I love themed prints and quotes. I found the half pineapple print on Instagram to coordinate with the pineapple cushion and lamp.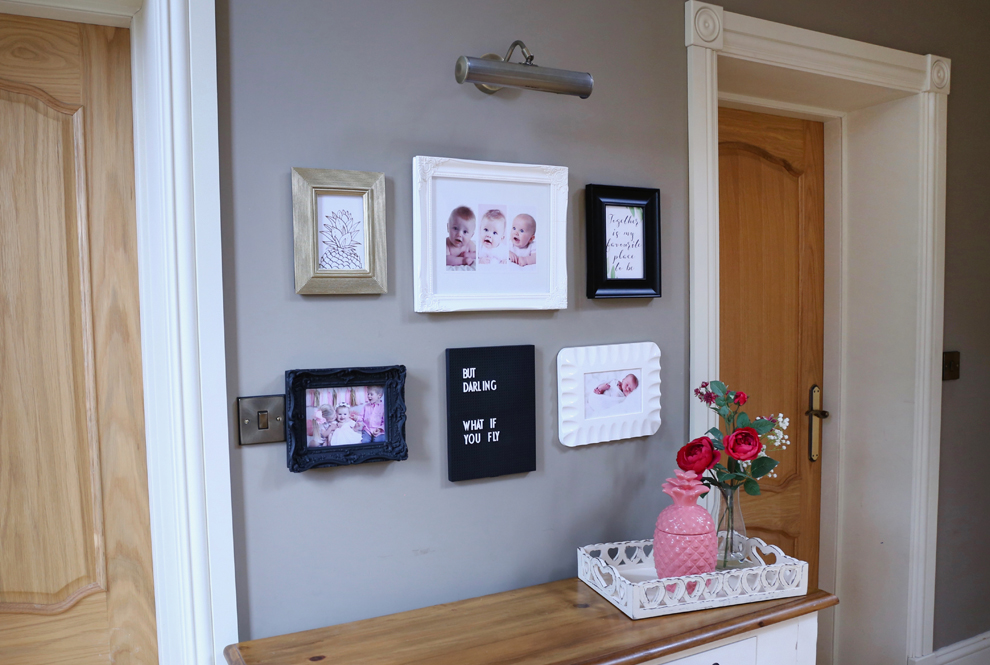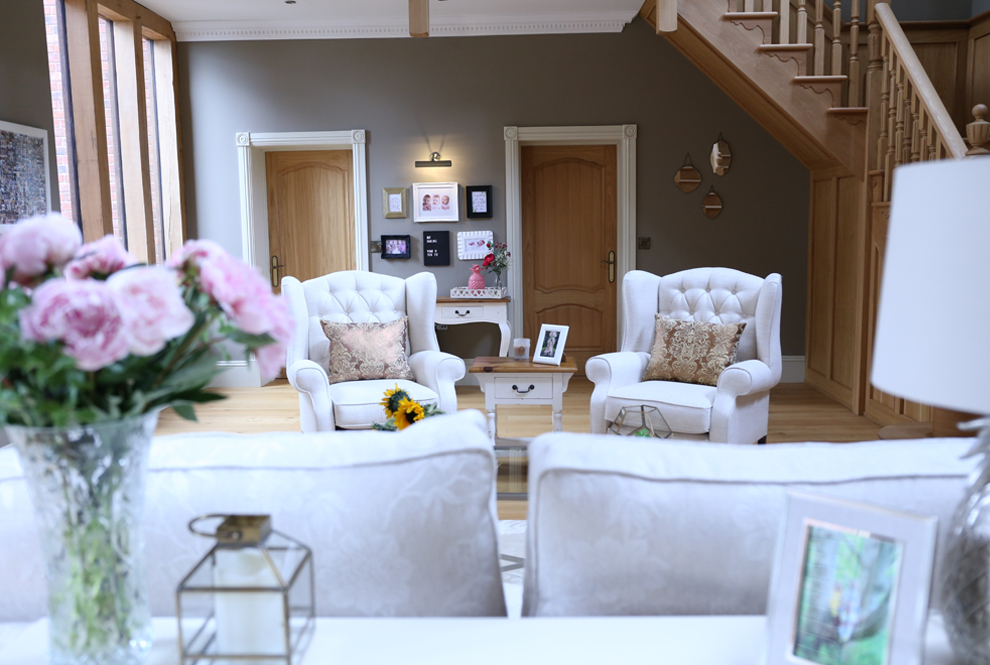 There's no better way to add the final touch than the smell of fresh flowers. I am over the moon with the hallway transformation. I finally have a welcoming space, where I might on the rare occasion sit and escape the chaos that comes with having a young family.
Planning on giving your hallway a makeover? Let us know how you are planing on transforming it below or @LauraAshleyUK