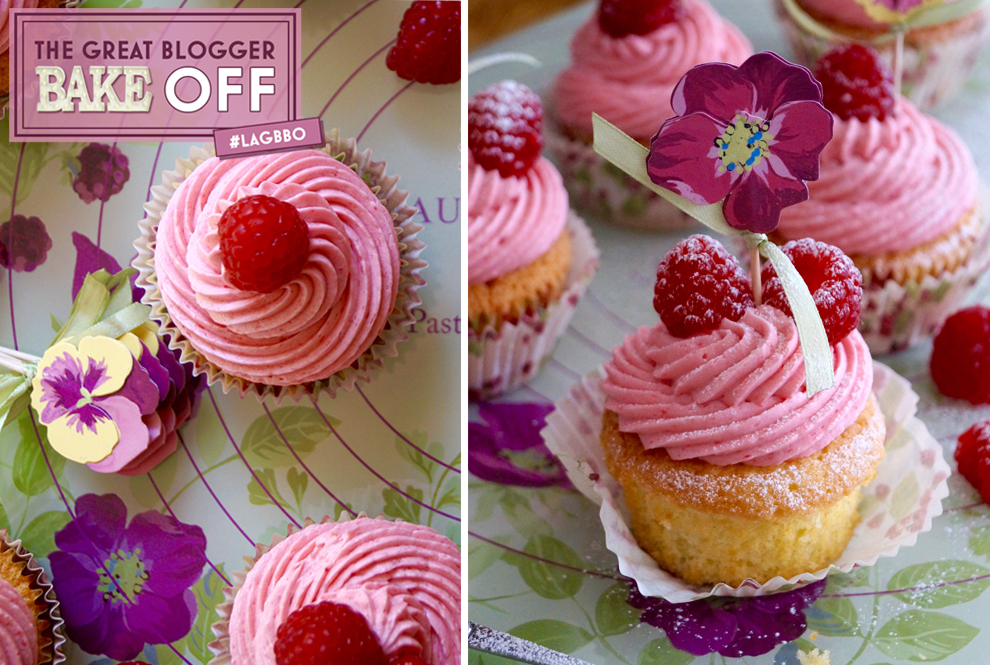 As part of our blogger bake off, we're back again with round two of cake! read more
We're back again with another blogger bake off as we enter week three of the Great British Bake Off! Last week, we saw how the bakers got on with biscuits (how amazing did that giant earl grey biscuit look?), and this week they try their hand at baking bread. Over on the blog however, we're stuck on our favourite baking past-time; cake! This week, the lovely Jessica from What Jessica Baked Next shows us how to make these lemon and raspberry summer cupcakes. Love her bake? Remember you can vote for her at the end of the four weeks. Now, let's see how she got on….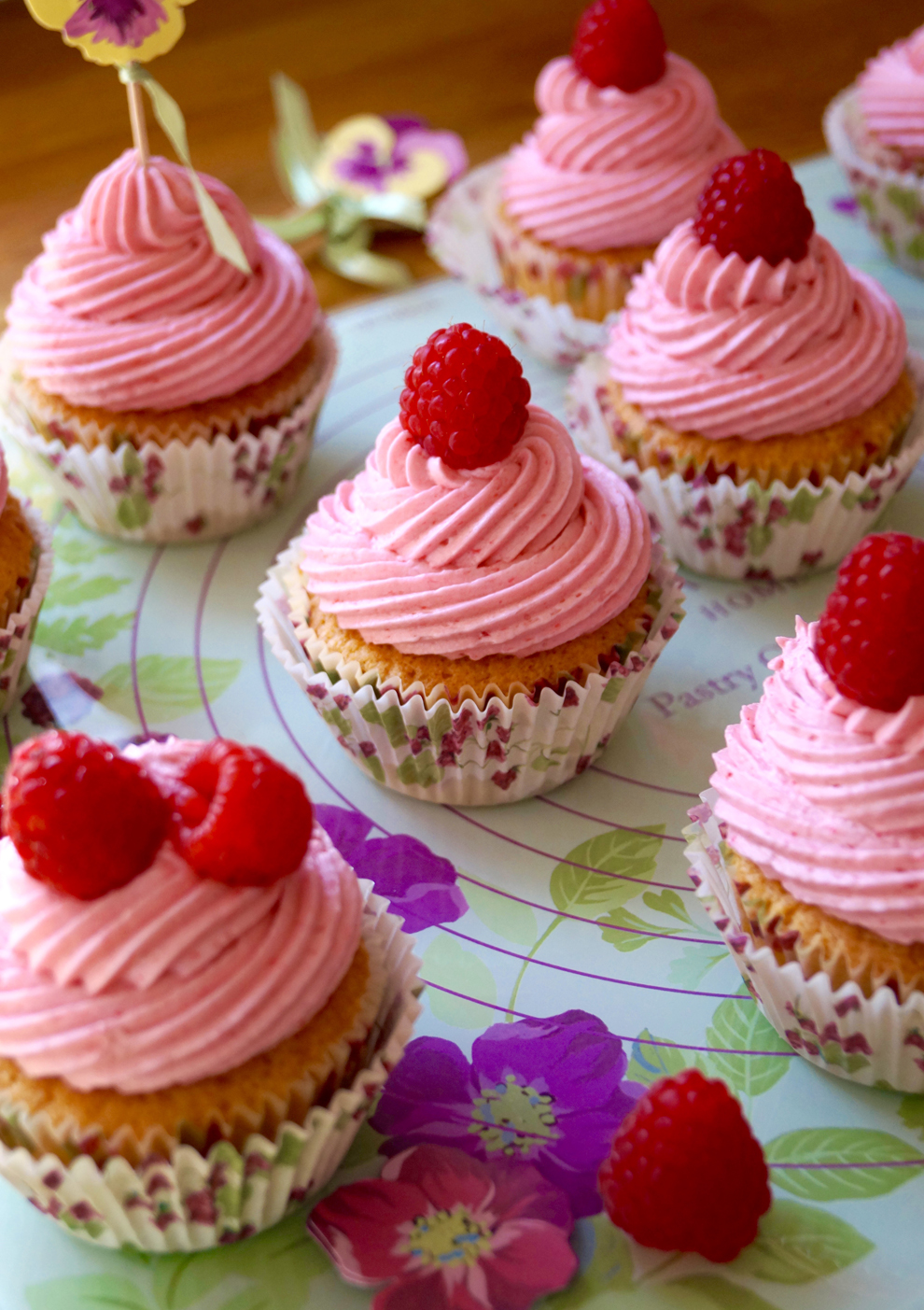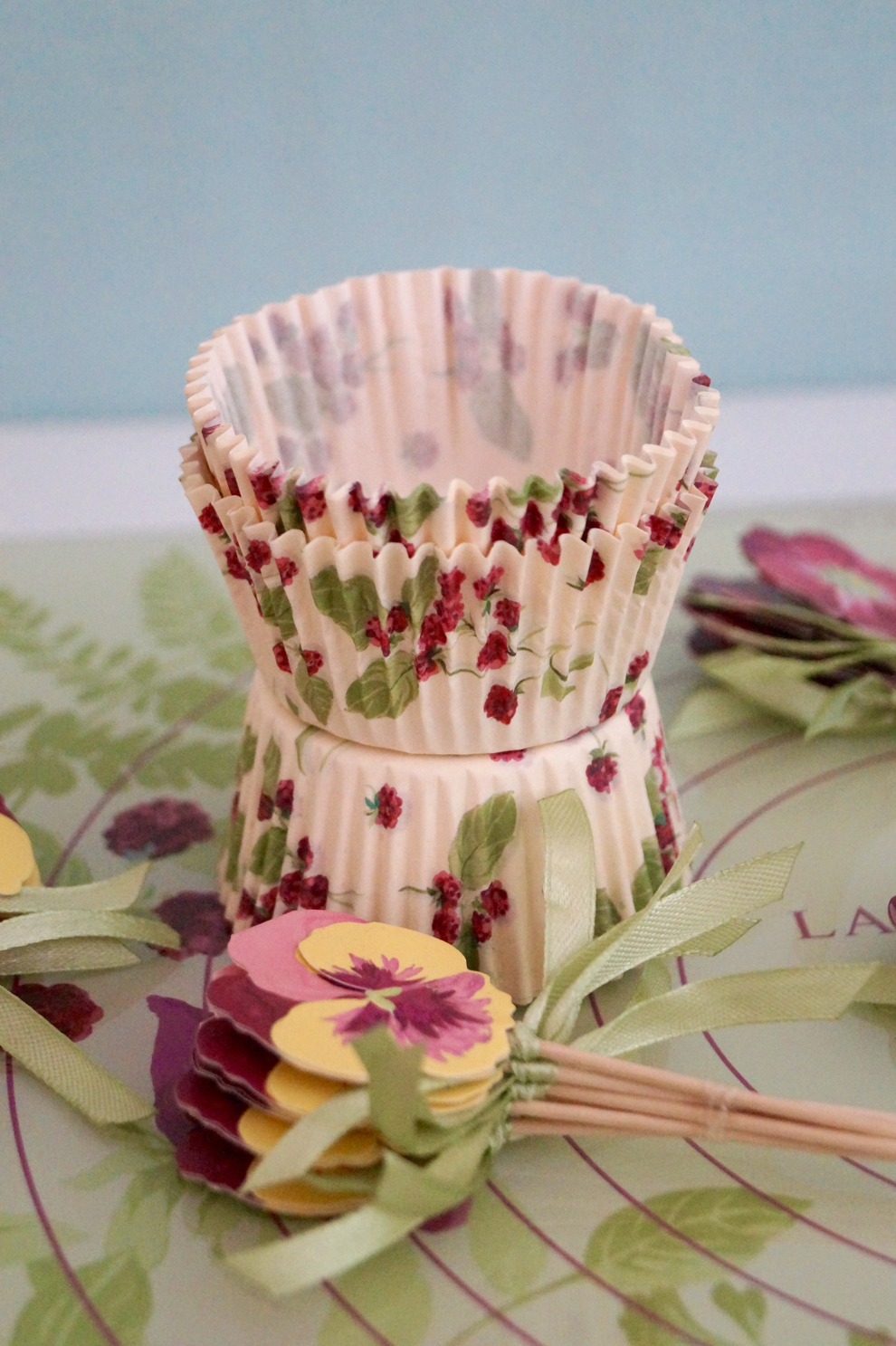 I'm super excited to be sharing my delicious cupcakes over on the Laura Ashley blog today! The Great British Bake Off is currently airing on TV here in the UK, and I think we are all absolutely loving it! There really is nothing more British than tea and cake.
For my recipe, I decided to bake some summer inspired cupcakes. I love cupcakes, so it seemed the obvious choice! Each lemon cake is swirled with fresh raspberry buttercream. The buttercream is seriously addictive, so much so you could probably eat it by the spoonful straight from the mixing bowl – something I'm always guilty of doing.
I use a classic sponge cupcake. It's a brilliant; light, fluffy and buttery, and perfect in so many ways!
I added the zest from one lemon to my cupcake batter, the lemon has a beautiful light flavour and it works amazingly with the tart fresh raspberry buttercream. I use a vanilla buttercream base, but I've added some homemade raspberry puree to the mix. It naturally colours the buttercream, giving it a pretty pink colour!
These cupcakes would make a brilliant addition to an afternoon tea party. They could even be paired with my Easy Homemade Lemonade making it the ultimate summer treat!
I really loved baking and decorating with the cupcake kit, which included this Parma Violets Cupcake Decorating Kit.
I'm also really excited to use my new Parma Violets Floral Guide Worktop Saver, it will be great to make pastry on and it also looks really pretty in my kitchen!
LEMON & RASPBERRY SUMMER CUPCAKES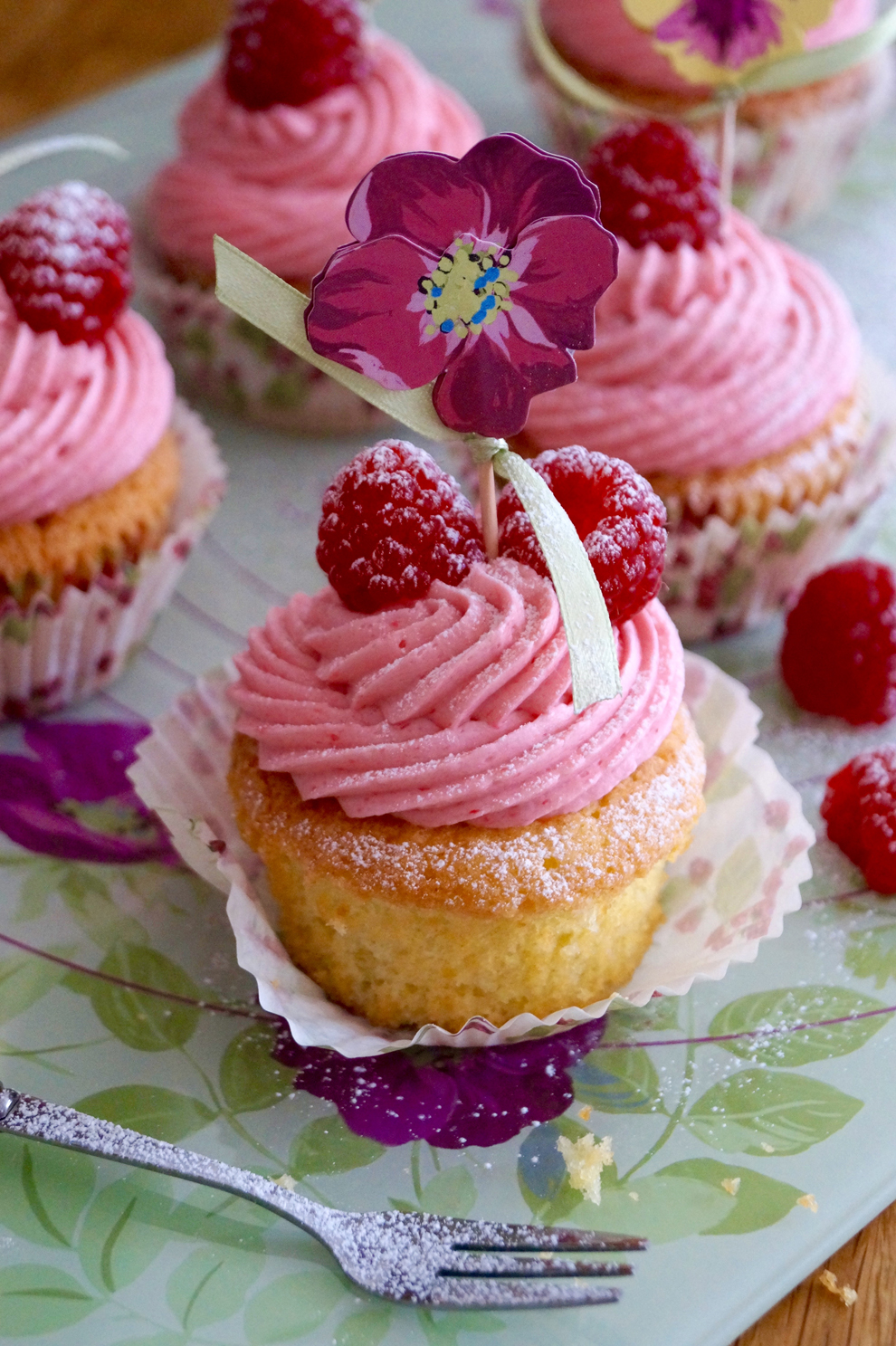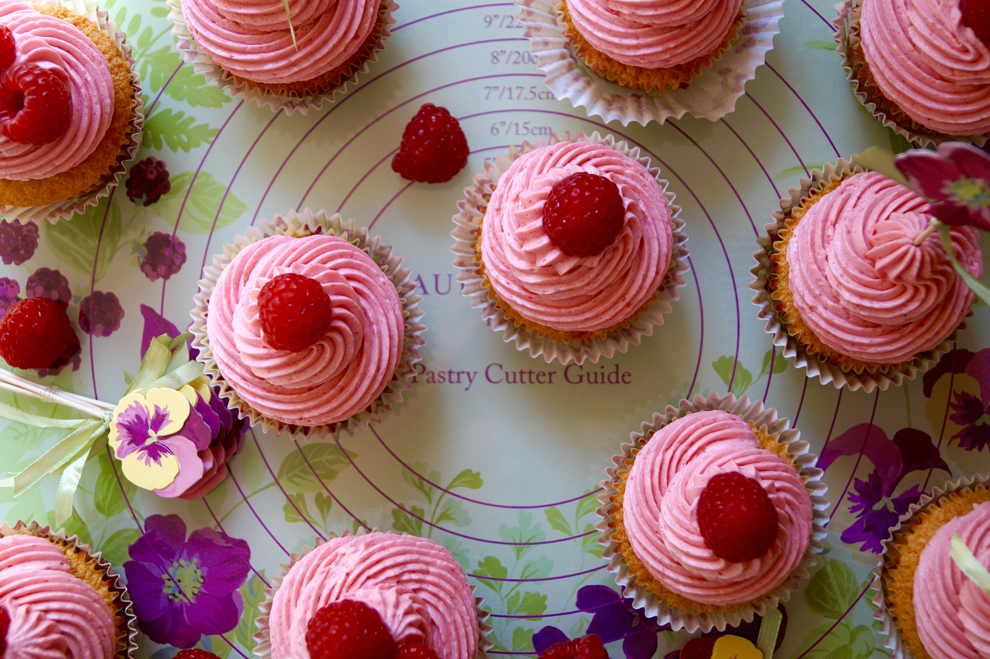 Serves: 12    Prep time: 20 minutes    Cook time: 25 minutes    Total Time: 45 minutes
INGREDIENTS 
For the sponge
– 150g (2/3 cup) unsalted butter, softened
– 150g (3/4 cup) caster sugar (superfine sugar)
– 3 free-range eggs, at room temperature
– 1 lemon, zest only
– 150g (1 + 1/4 cup) self-raising flour, sifted – be careful not to overmeasure – you can sub with 150g plain flour + 2 tsp baking powder
– 2-3 tbsp water or milk – water makes a lighter cake
For the Raspberry Buttercream 
– 1 (heaping) cup (approx. 160g) fresh or frozen raspberries
– 150g (2/3 cup) unsalted butter, softened – make sure it is super soft
– 300g (3 cups) icing sugar (confectioners' sugar), sifted
– 1 tsp vanilla extract (optional)
– 2-3 tbsp milk or cream
INSTRUCTIONS
1. Preheat your oven to 180 degrees C Fan / 200 °C / 400 °F / Gas Mark 6. Line a cupcake tin with 12 cupcake liners and set aside.
2. To make the cupcakes: In a stand mixer fitted with the paddle attachment cream the butter, sugar and vanilla together until light in colour and very fluffy – this will take 5 minutes. Make sure you stop the mixer halfway through creaming and using a rubber spatula scrape down the sides and bottom of the bowl to ensure even mixing.
3. Add eggs, one by one and mix to combine. Now fold in the flour – mix until just combined and no lumps of flour remain. Add the lemon zest along the milk or water to loosen the mixture slightly. Do not over mix!
4. Take an ice cream scoop and evenly distribute the cupcake batter between the cupcake liners. Bake in the preheated oven for 18-20 minutes or until a cake tester comes out completely clean of any uncooked batter. Leave to cool in the tin for 5-10 minutes, then when cool enough to touch remove from the tin and transport to a wire rack to finish cooling completely.
5. To make the buttercream: Blitz the raspberries in a food processor or blender until pureed. Then pass through a fine mesh sieve into a small saucepan. Heat gently and reduce by about half – this will take 3-5 minutes. Pour the thickened raspberry puree into a bowl and chill until cold.
6. Once the cupcakes are fully cooled make the buttercream. Add the softened butter to a stand mixer fitted with the paddle attachment. Cream on a medium speed for about a minute just to soften. Add the sifted icing sugar and the vanilla extract and mix together on a low speed (this is to avoid a sugar cloud!) until the butter and sugar has combined. Now turn up the speed to medium and cream for another 5 minutes – remember to stop the mixer and scrape down the sides and bottom of the mixing bowl. Once the buttercream is fluffy add the double cream and mix on low speed for another minute to combine.
7. To decorate: Fit a large disposable piping bag with your favourite nozzle. Fill the piping bag with the frosting. Pipe even swirls on the top of each cupcake, then finish with a fresh raspberry and the beautiful cake toppers! Enjoy!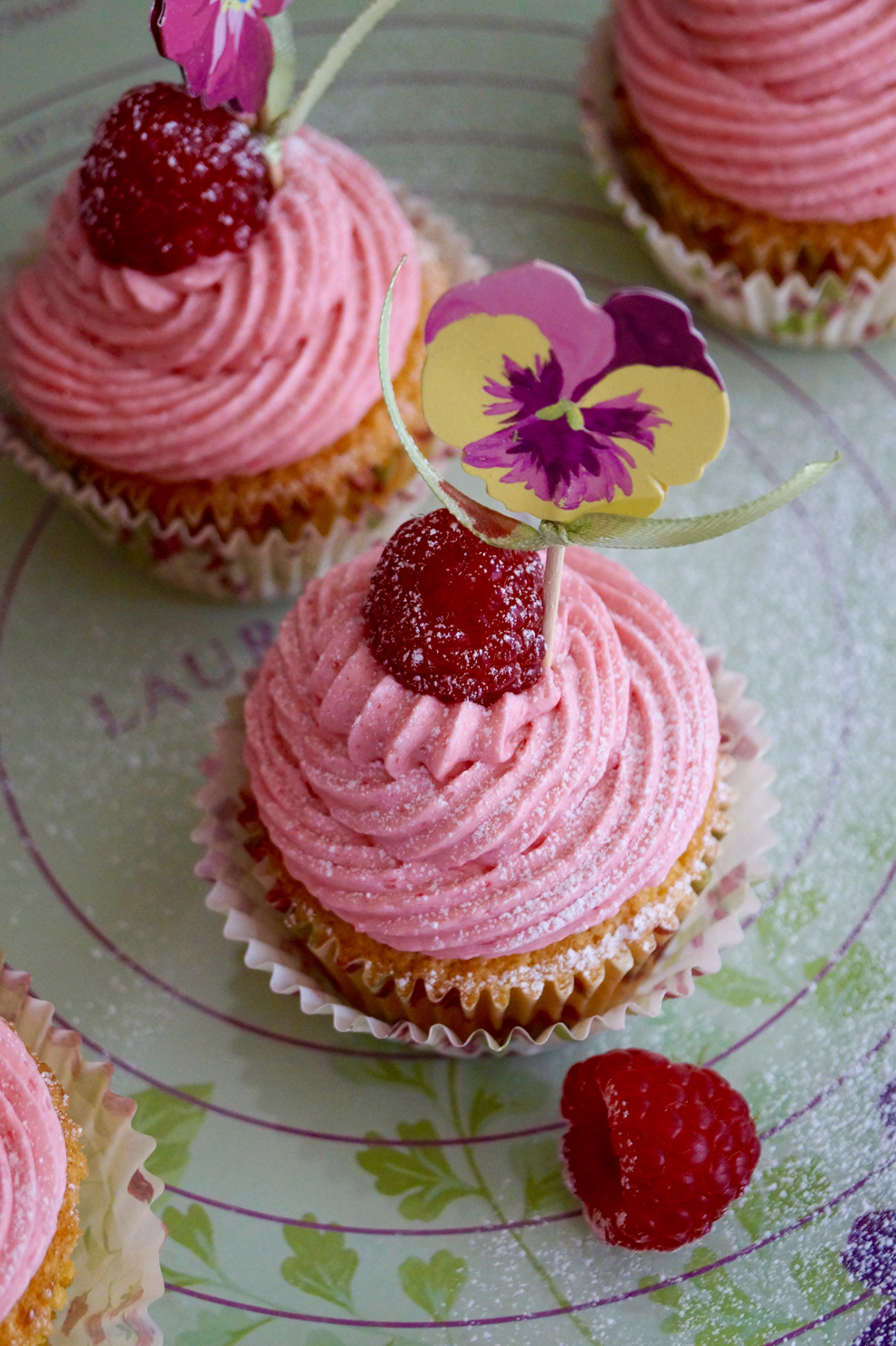 Jessica's cupcakes look oh-so-delicious, don't you think? We'd love to see your bakes, tag them on Instagram with #LAGBBO. Fancy trying your hand at Jessica's cupcakes? Have a browse through our latest cookware featuring the items above here.
We'll be back again next week with Catherine from Borrowed Light (next time not with cake, promise!) Stay tuned.