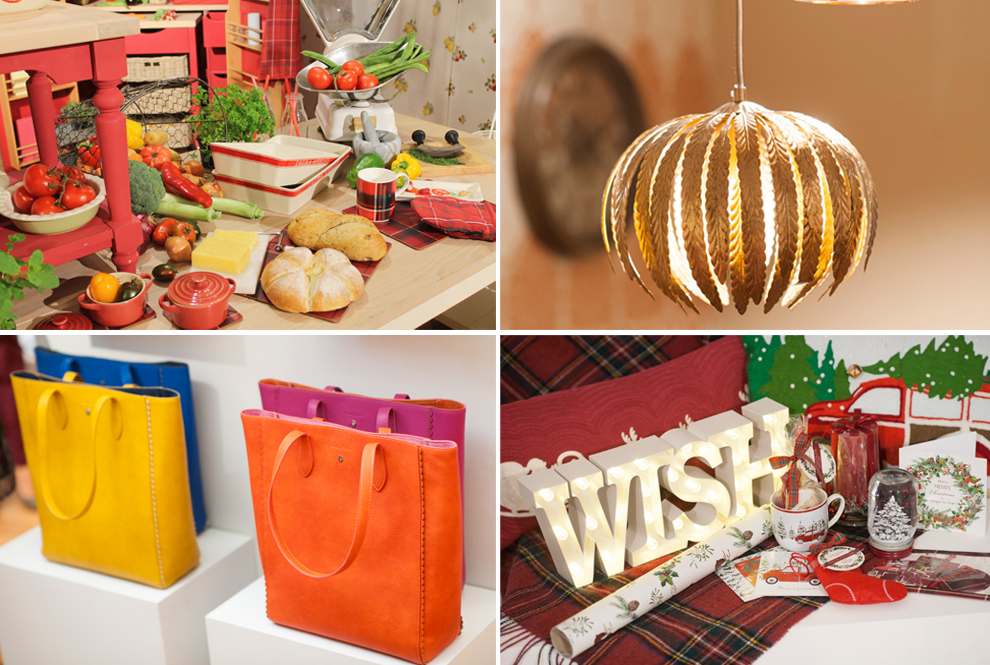 For a sneak peek at our new season collections, read all about our AW15 Press Day... read more
Yesterday was an exciting day for the Press Team! We transformed the Music Rooms in London into a cosy autumn / winter retreat, showcasing our brand new home and fashion collections. Following a huge amount of preparation, we loved welcoming journalists and some of our favourite bloggers into the venue and nattering about our favourite new season bits over iced teacup biscuits and yummy mocktails. Without further ado, read on to discover our new AW15 collections…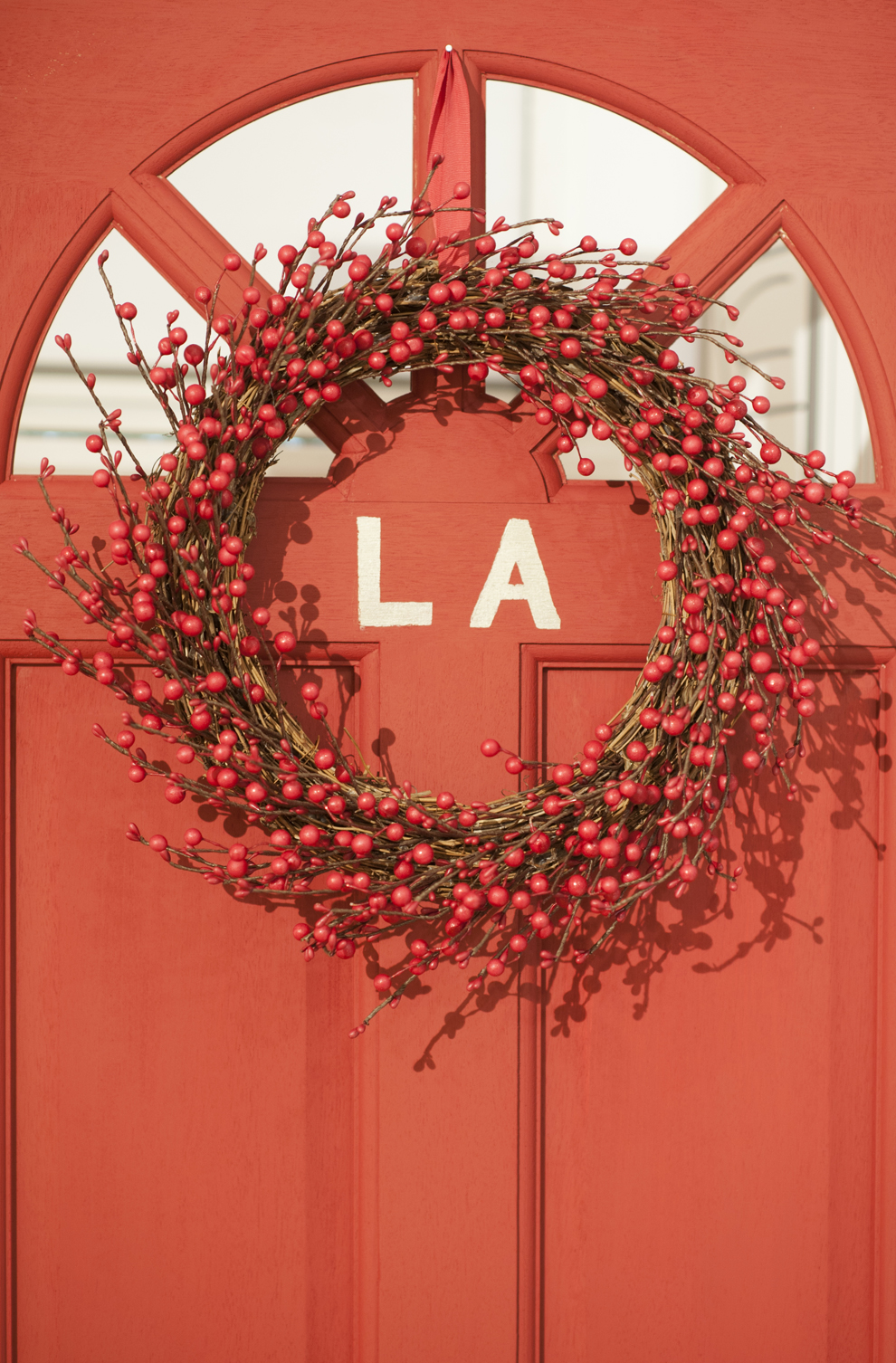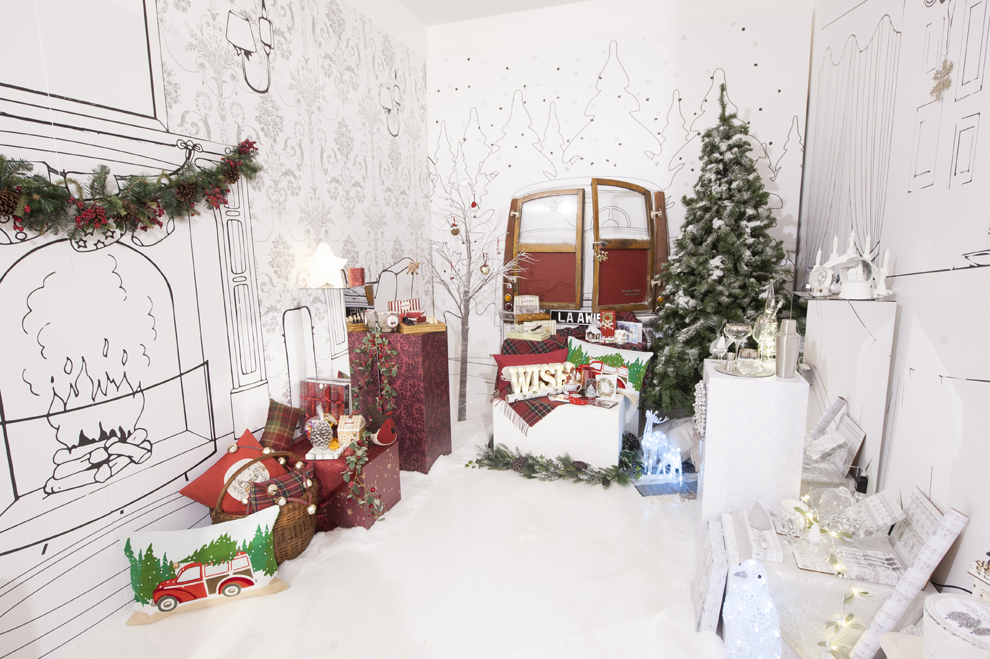 It wouldn't be Winter without Christmas! Although it's only June, we can't help but count down until the most anticipated day of the year (196 to be precise…). This year, we have so many exciting new bits to help you create a cosy, Christmassy abode to welcome your family and friends.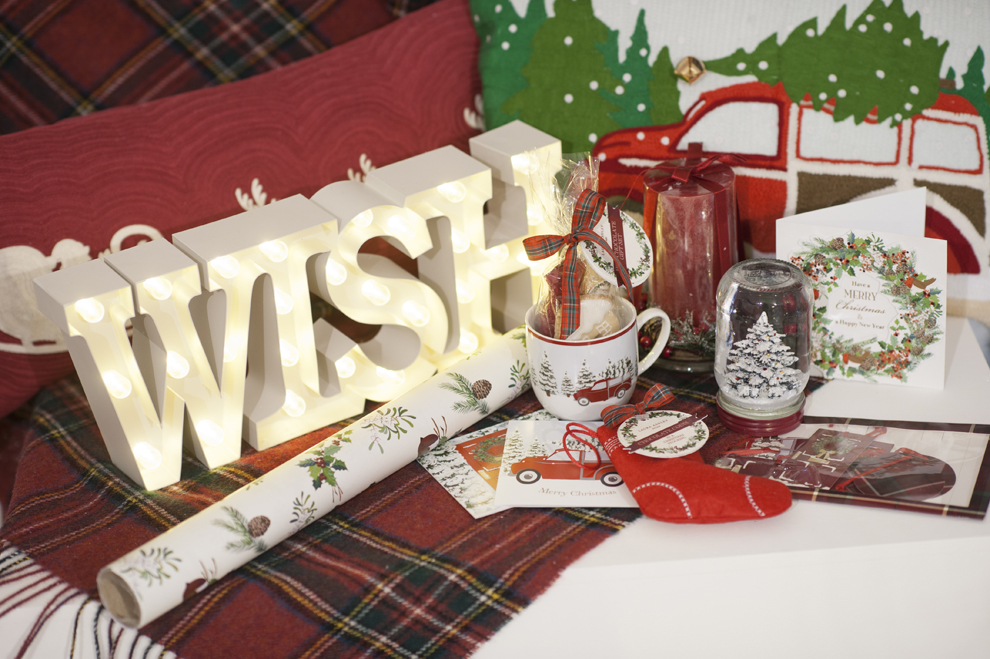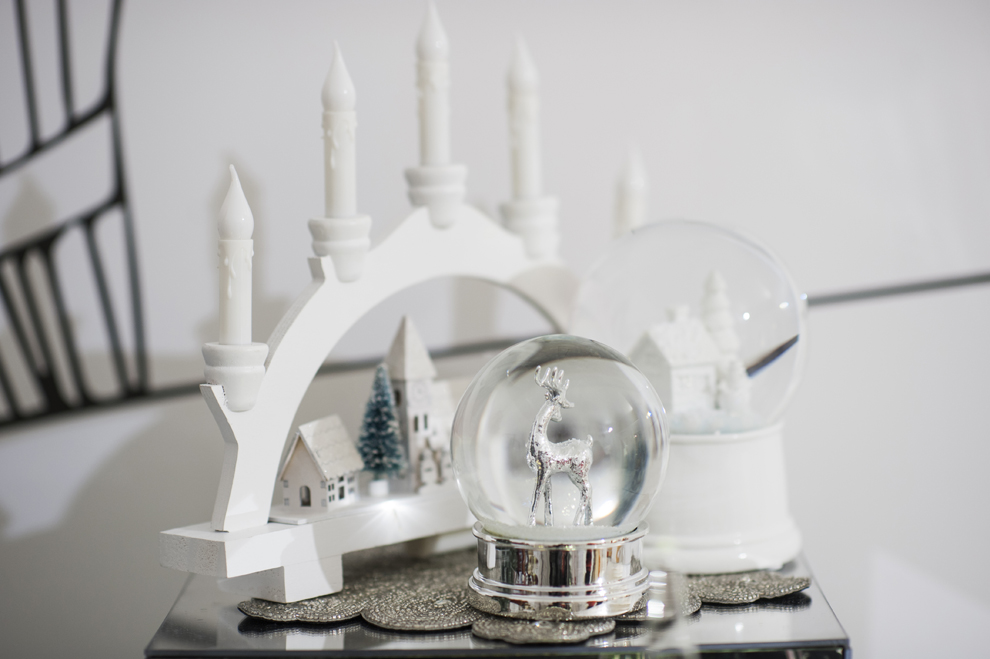 On the top of our Wish list has to be the aptly named WISH light which we'd happily have all year round. We also love the additions of the cute vintage cars making their way onto our cushions, wrapping paper and aprons.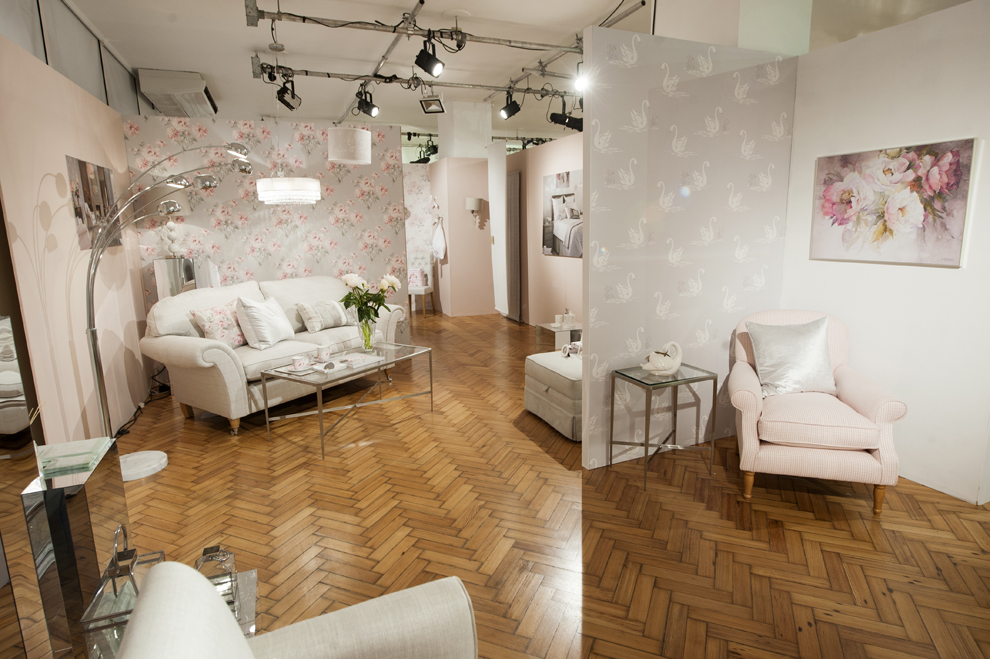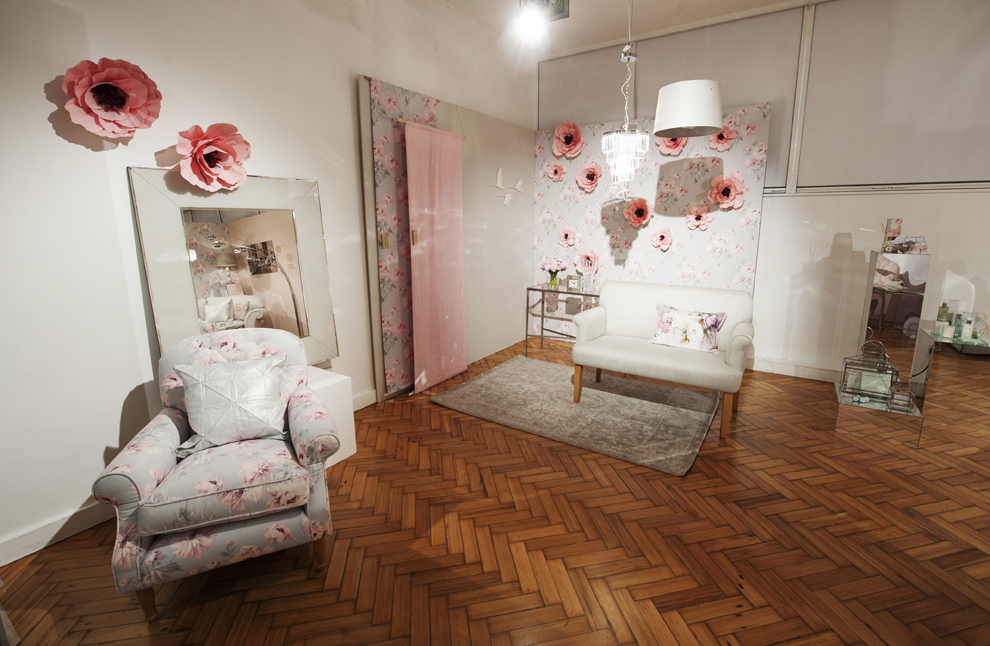 Possibly our favourite home story has to be Silver Serenity featuring a new silver colour way, with pops of pastel pinks. We've also introduced a new pretty floral design named Beatrice which is available throughout the collection. Our personal favourites? It has to be the quirky swan lamp, and quintessentially english cup and saucer.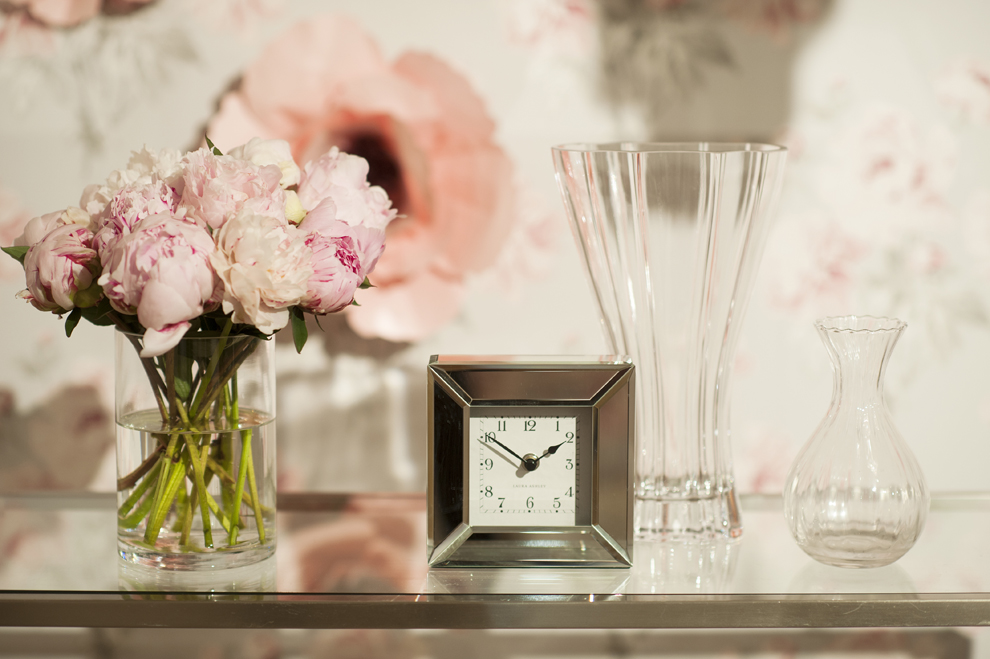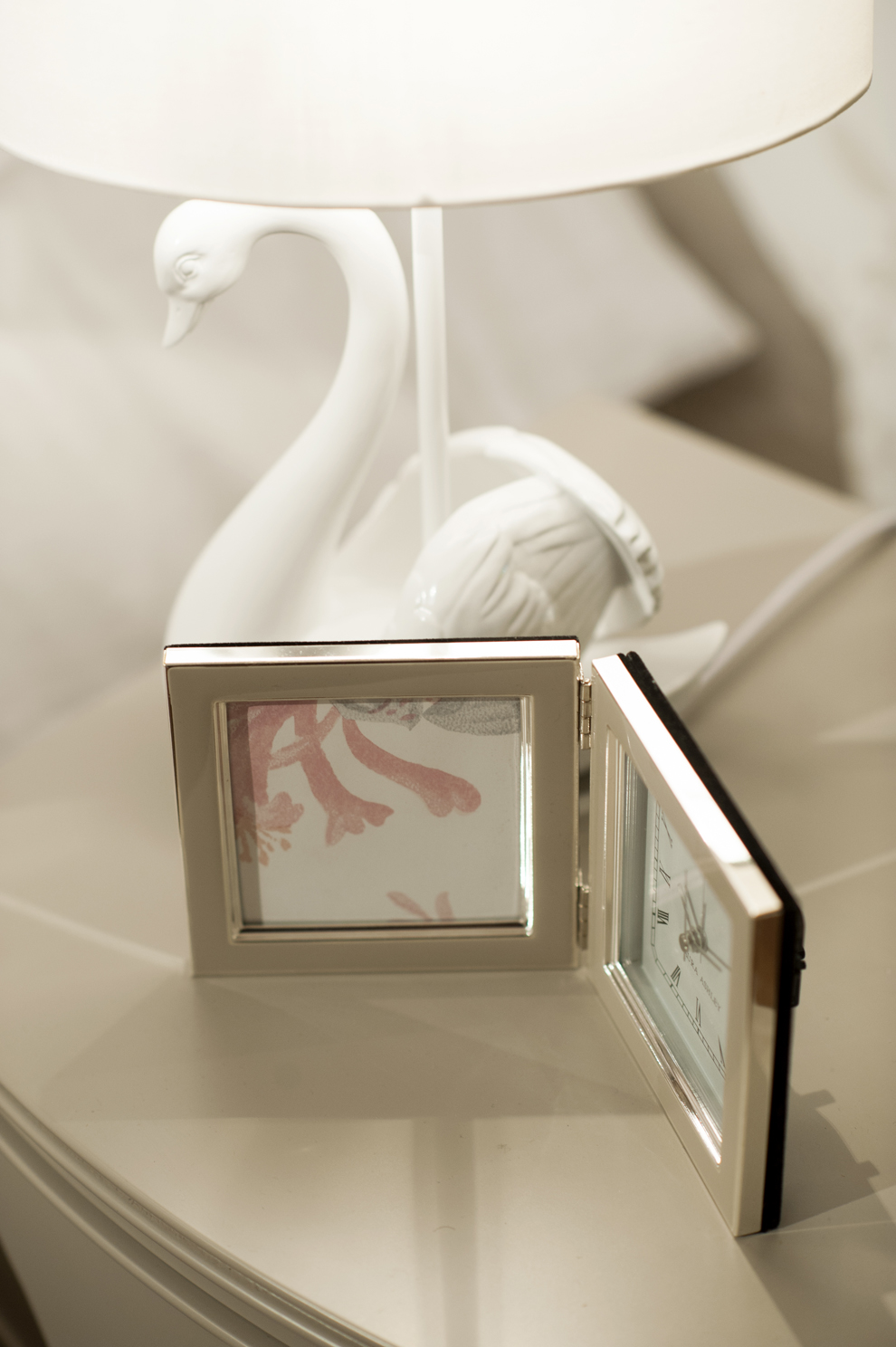 Cooking up a storm, we'd like to warmly introduce you to our new Cook's Kitchen range. One to be very excited about, this collection sees our first pantry launching along with necessary bits and bobs for keen bakers inspired by the prints from our traditional homeware collections. What do you think of our new Tomato serving dish? We reckon it's one to watch!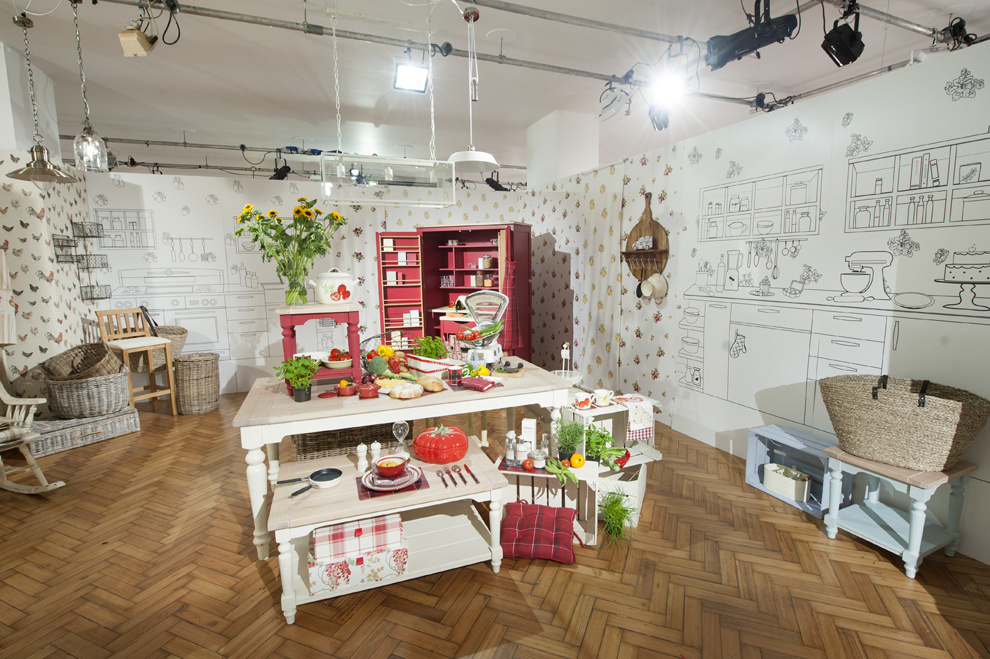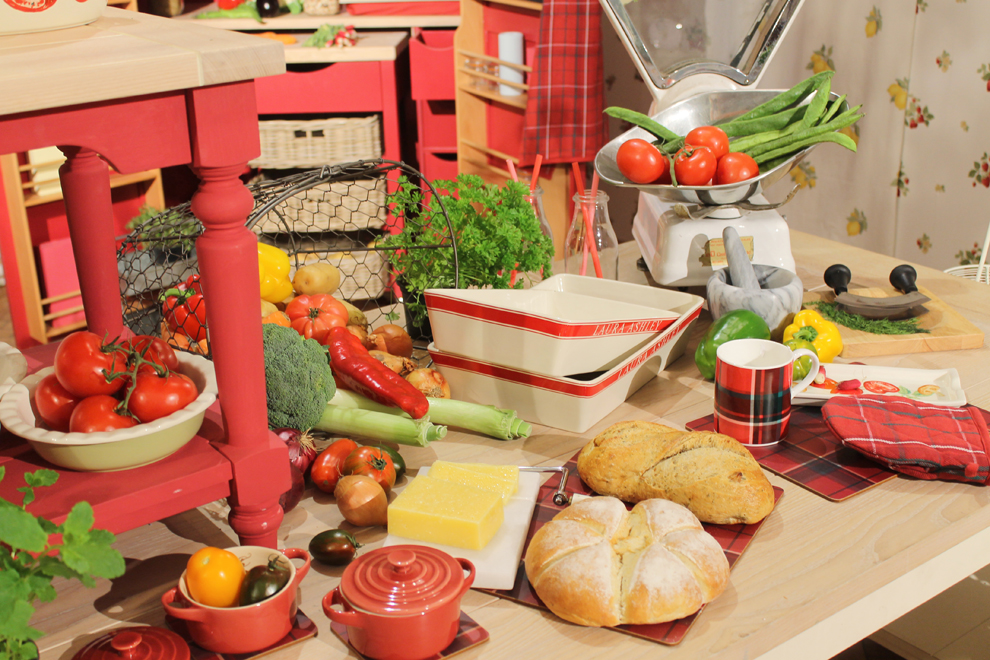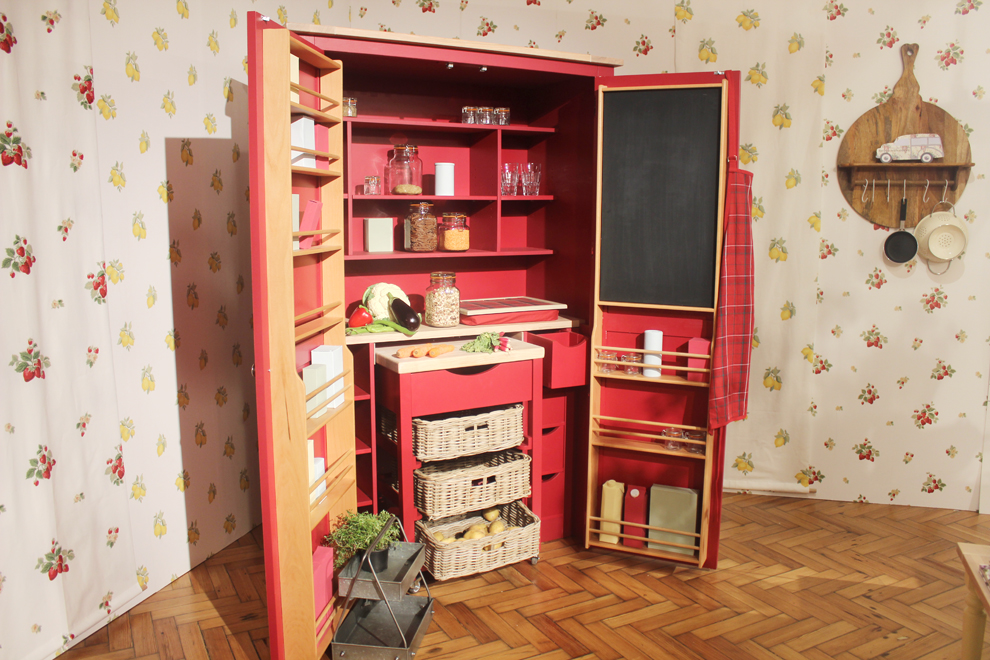 Baking and cooking also comes into play in our Sweet Briar collection. Aptly named, this sweet collection features this lovely parma violets print and pretty accessories in tones of green and purple.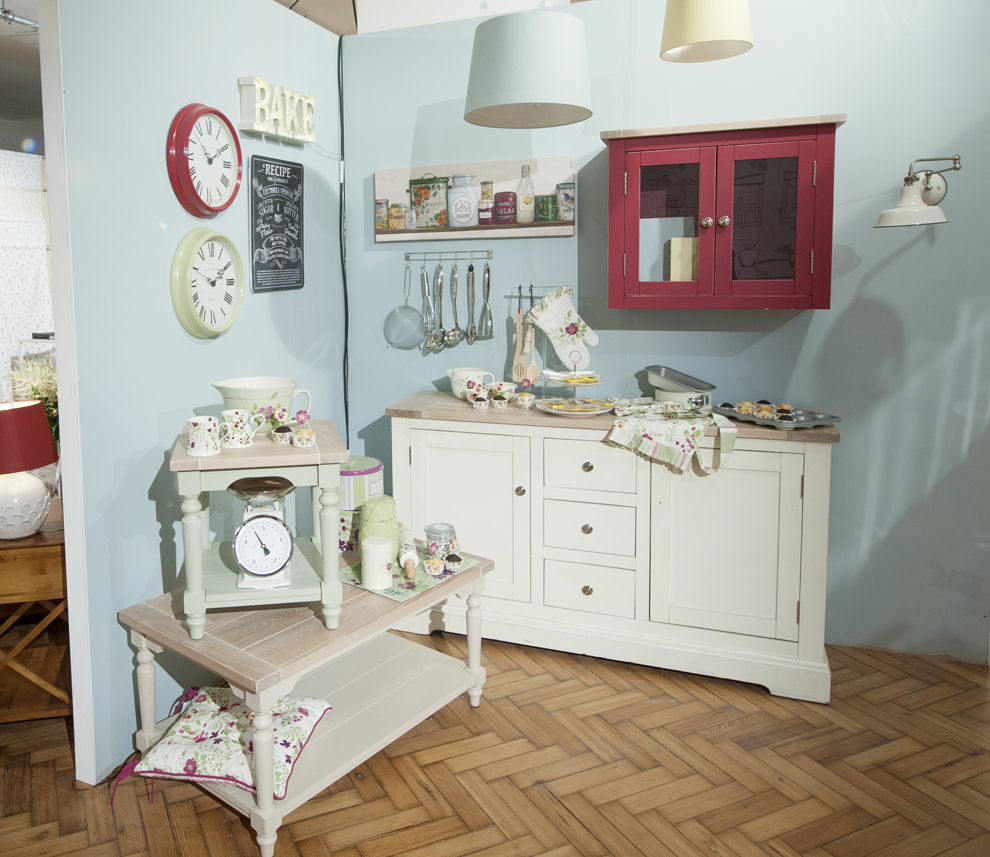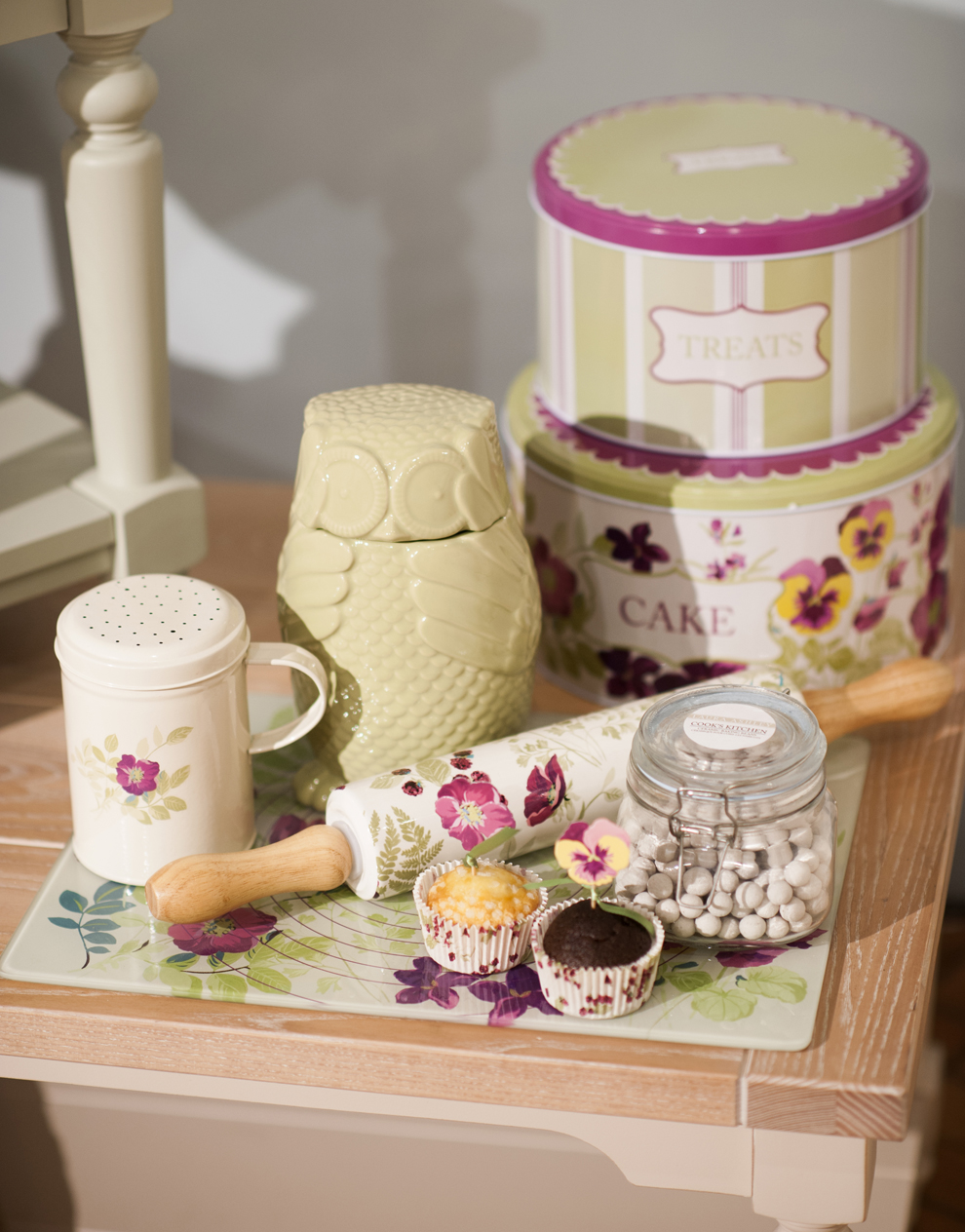 We just love this scatterback deep seated sofa! Titled Isobel, this sofa is a brand new addition for AW15 and looks oh so cosy. Upholstered in our Keynes Berry check fabric, this piece helps add a real feminine feel to your home and sits perfectly in this room set.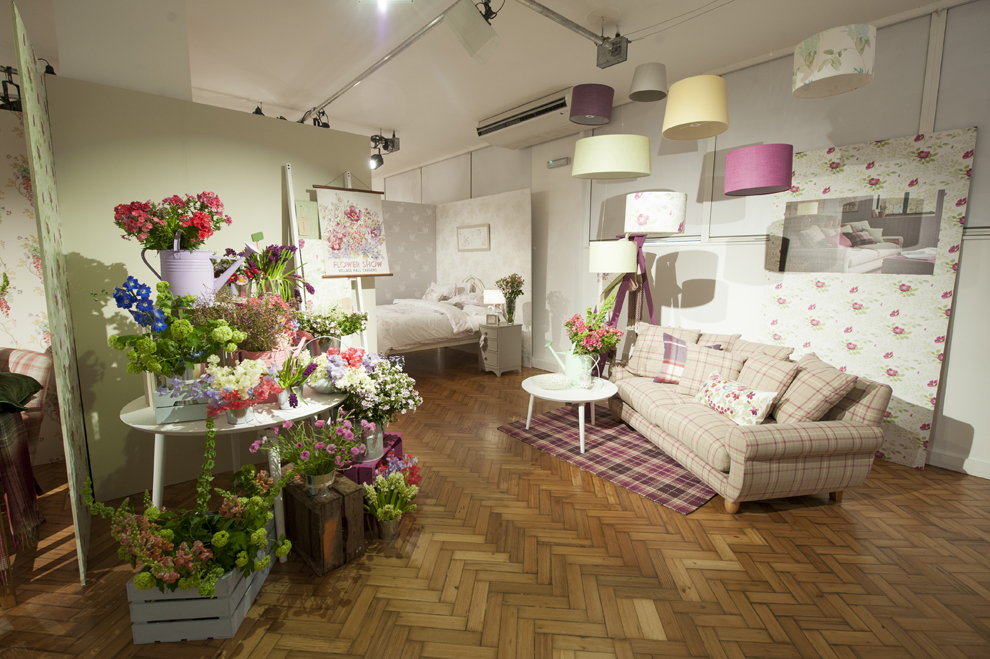 Crafty make and do bloggers will love our new crafting range. Including 12 make your own activity kits and haberdashery essentials, this collection allows you to take part in crafting activities you may have always wanted to try with ease. There's also something for the more qualified customers, and handy accessories such as jars, buttons, needles and threads. We can't wait to try our hand at it!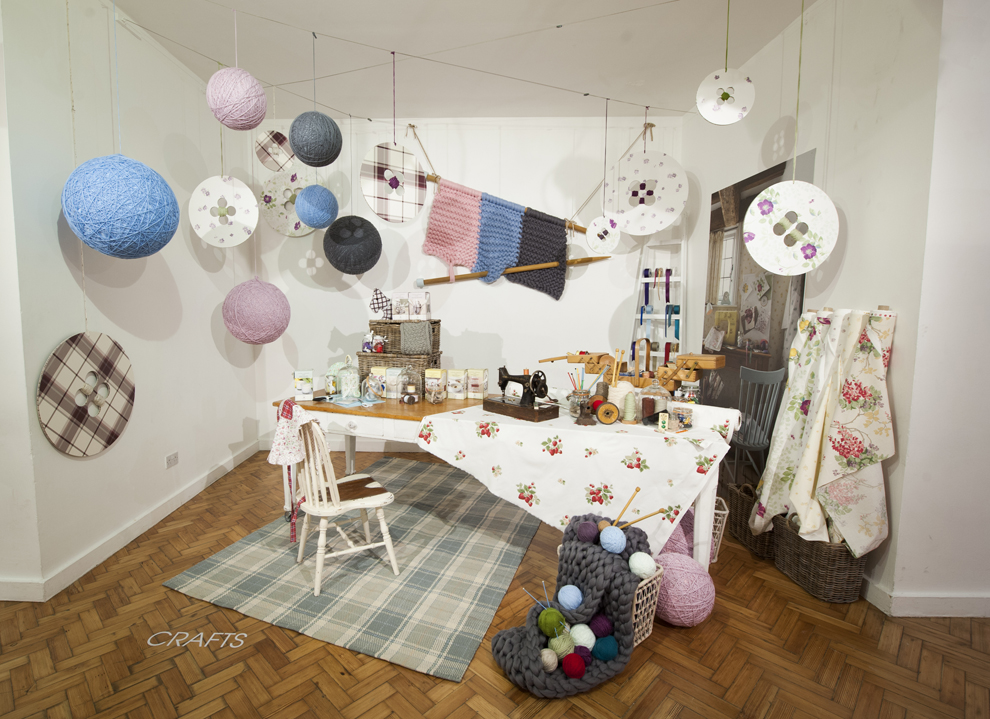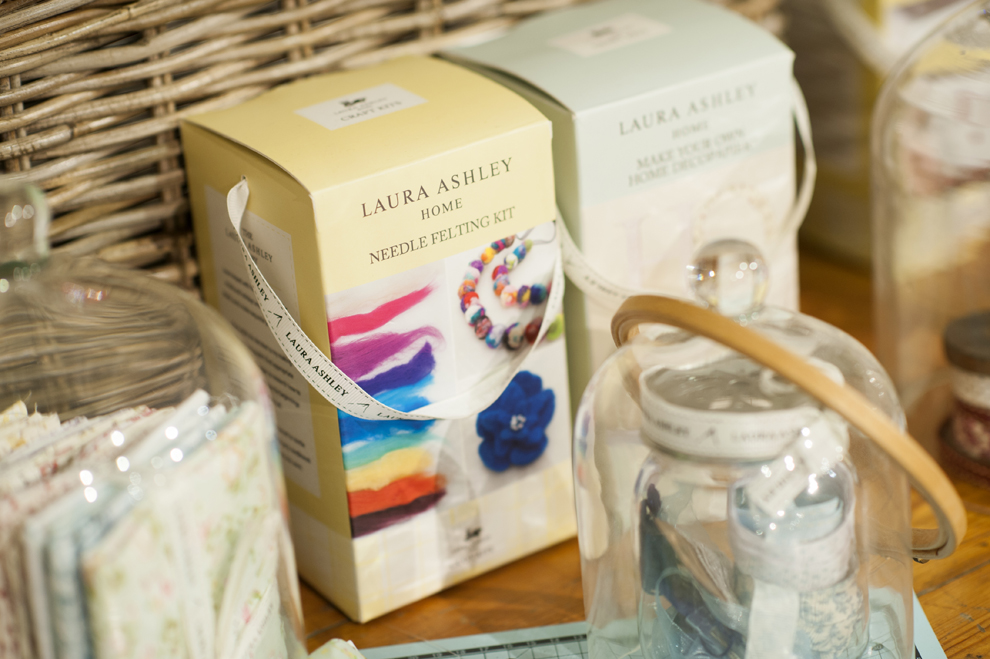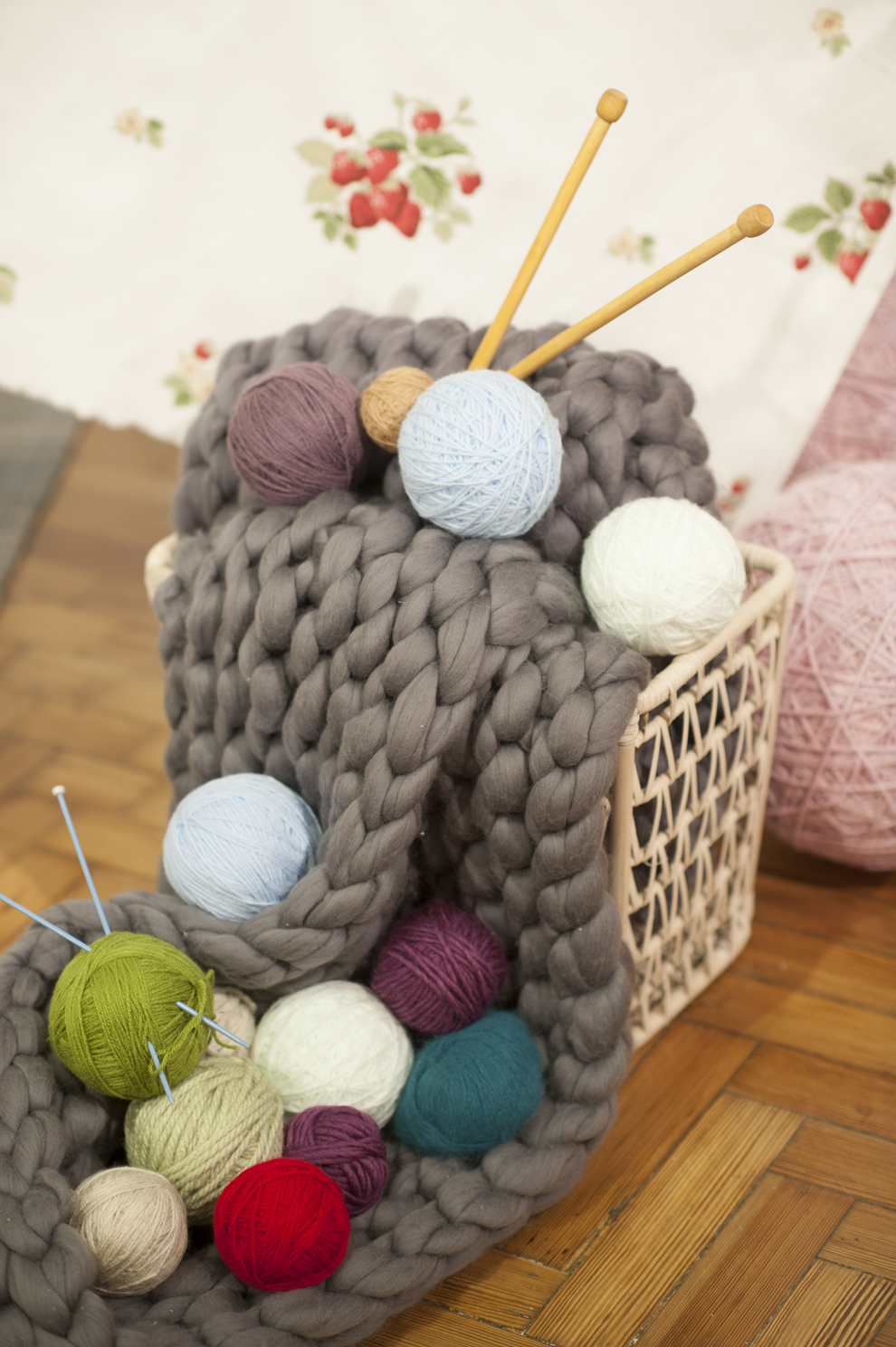 Tap into the industrial trend with our Bronze glamour collection. Lighting the way for the new season are the amazing new copper and gold pendants. We love this gold lisbeth pendant and our ever popular ockley in a new amber colour.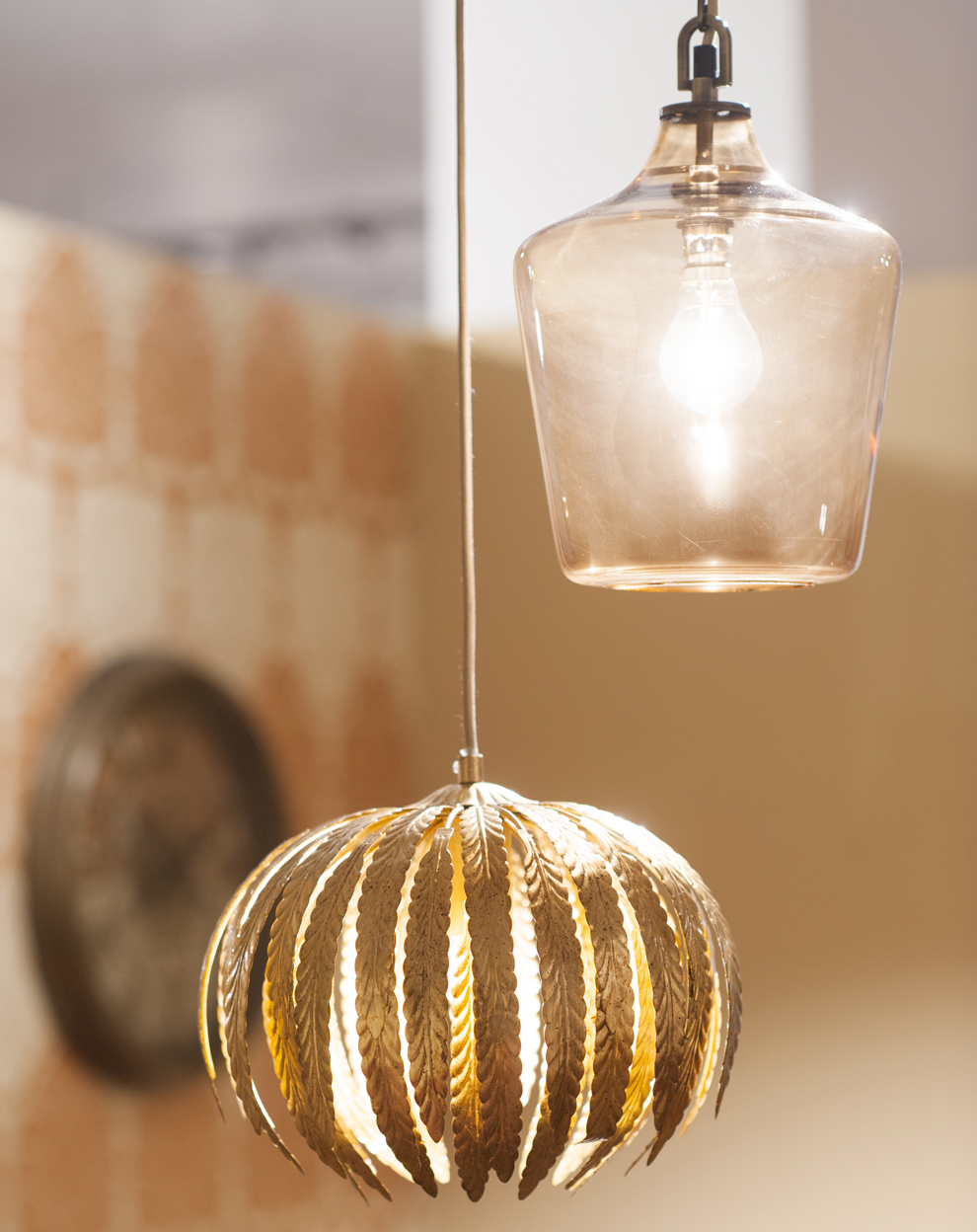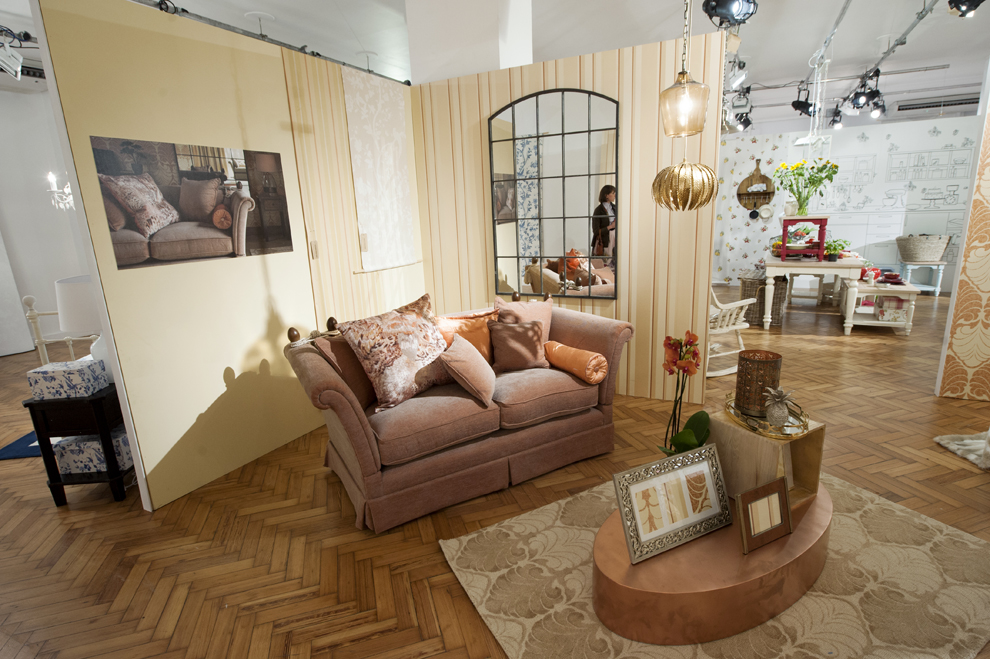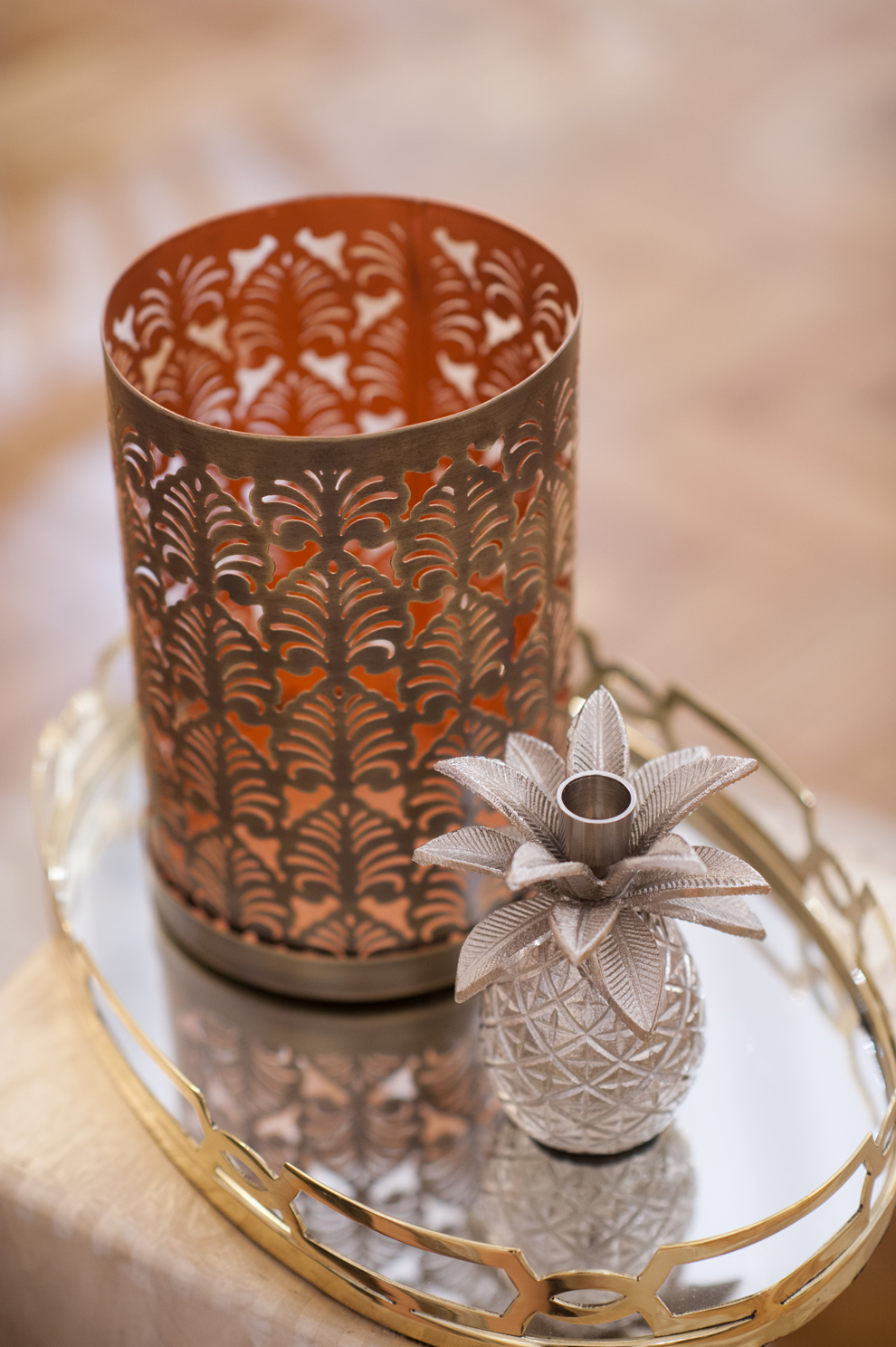 Fans of our ever popular Pineapple lamp will be pleased to know it's back bigger and better for the new season! Plus, we're taking pineapples to the next level and introducing them into candle holders. How's that for a quirky update to your home?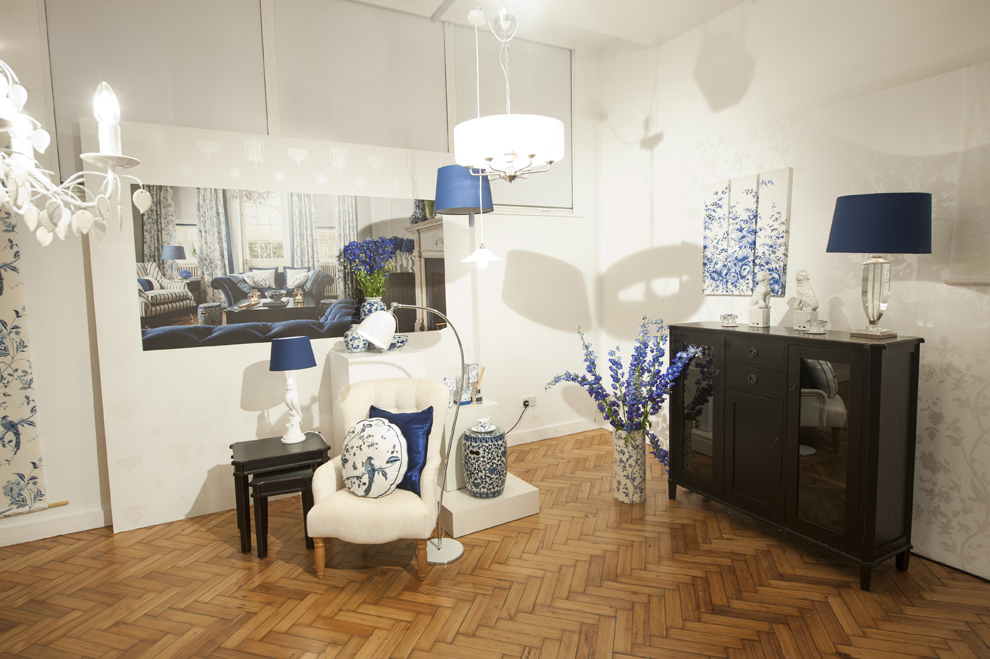 We're channelling royal blue for next season. Smart, confident and classic, this 'China Blue' collection is all about the drama. Fans of our iconic Summer Palace print will love this range, and we can't help but admire how well our dark Henshaw furniture looks against the cream and blue.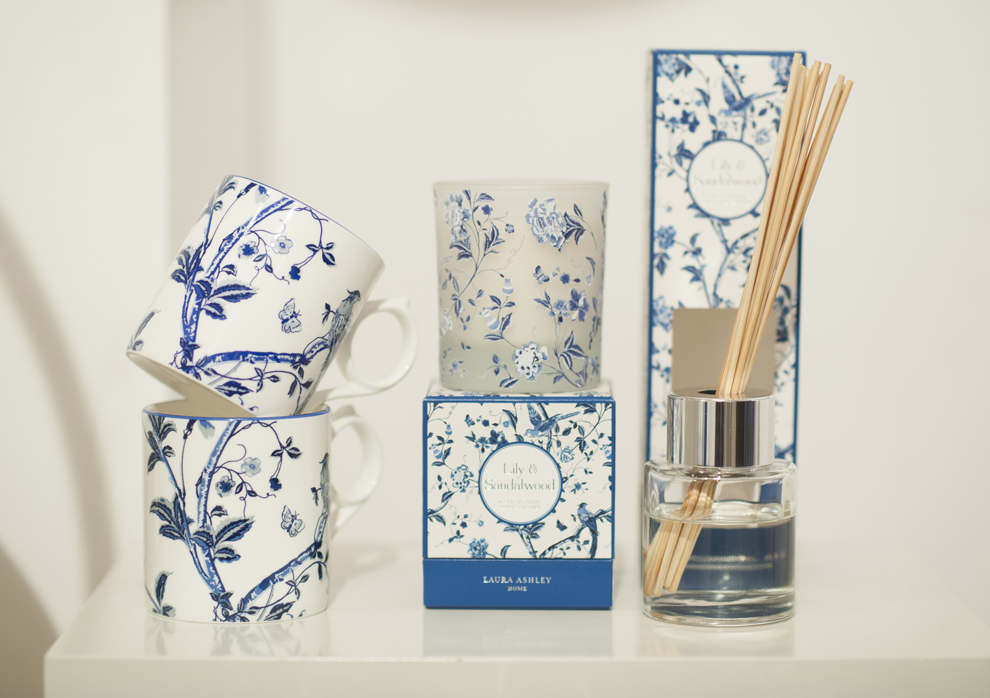 Our Summer Palace also makes for great decorative packaging, don't you think?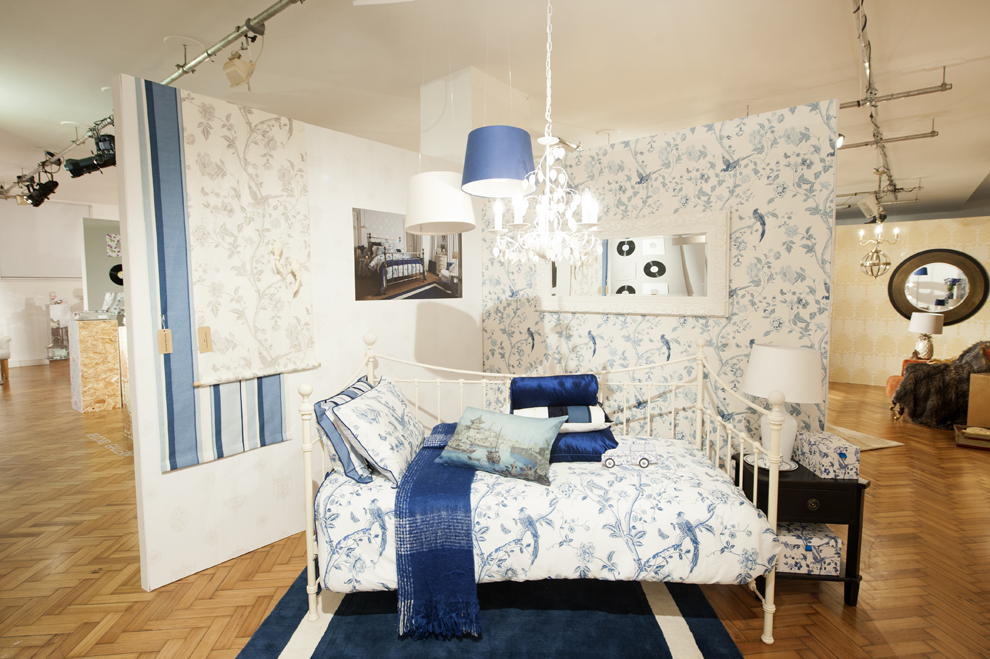 On to top of the wallpaper pops! Our new season wallpaper prints were displayed in a rather special record gallery, These included new prints such as Beatrice, Summer Palace Royal Blue, Alexander Gold, and Ella Berry to name just a few. Which one would you like to be playing a tune in your abode?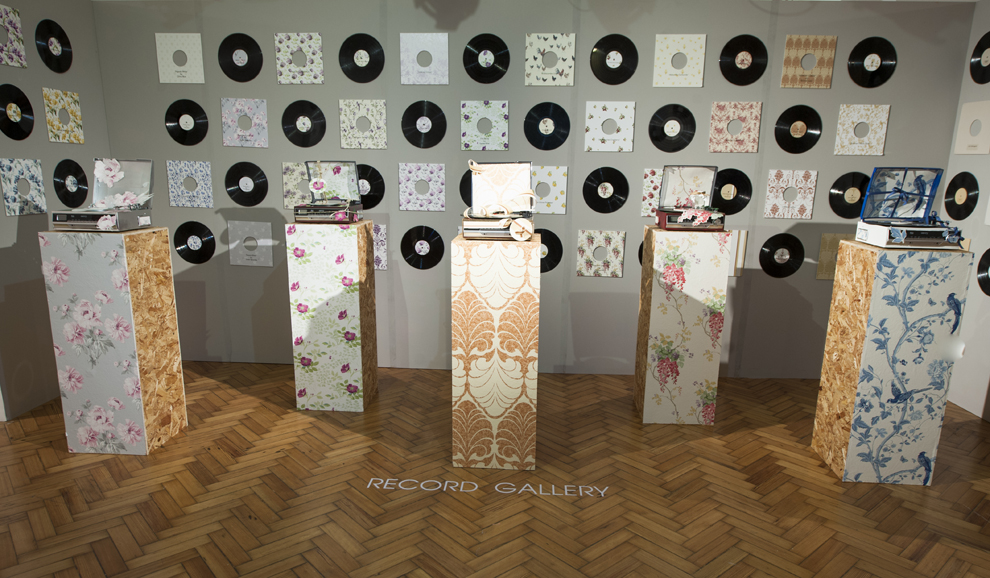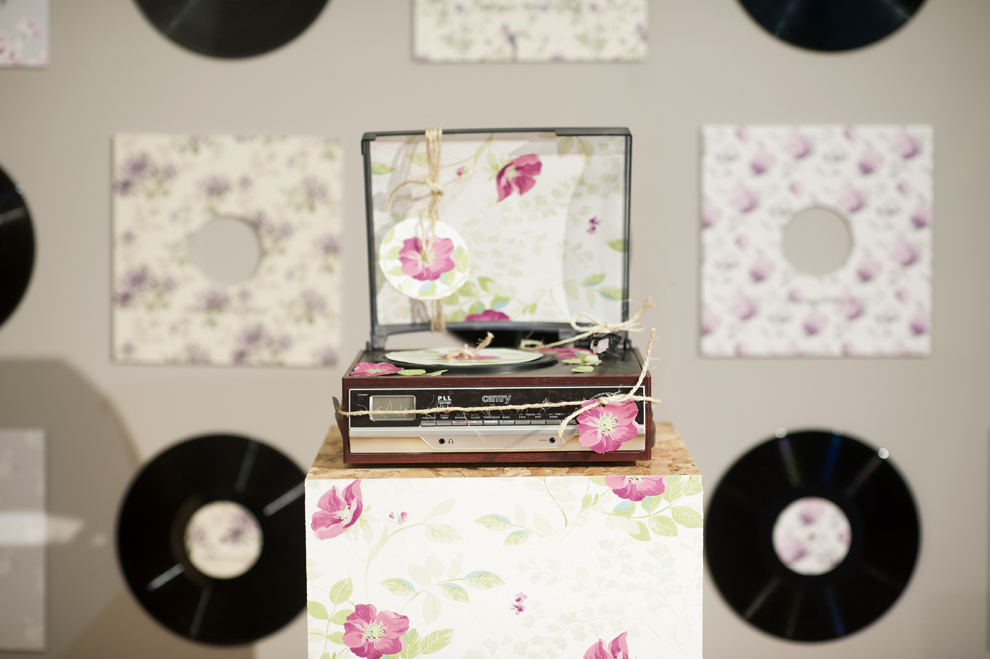 Flattering shapes, easy to wear pieces and confident colours all come into play for the new season in our new fashion collections. We're all about rich hues of teal and beetroot contrasted alongside warm tones of cinnamon, mauve, toffee and chalky pinks for a real statement outfit for Autumn / Winter.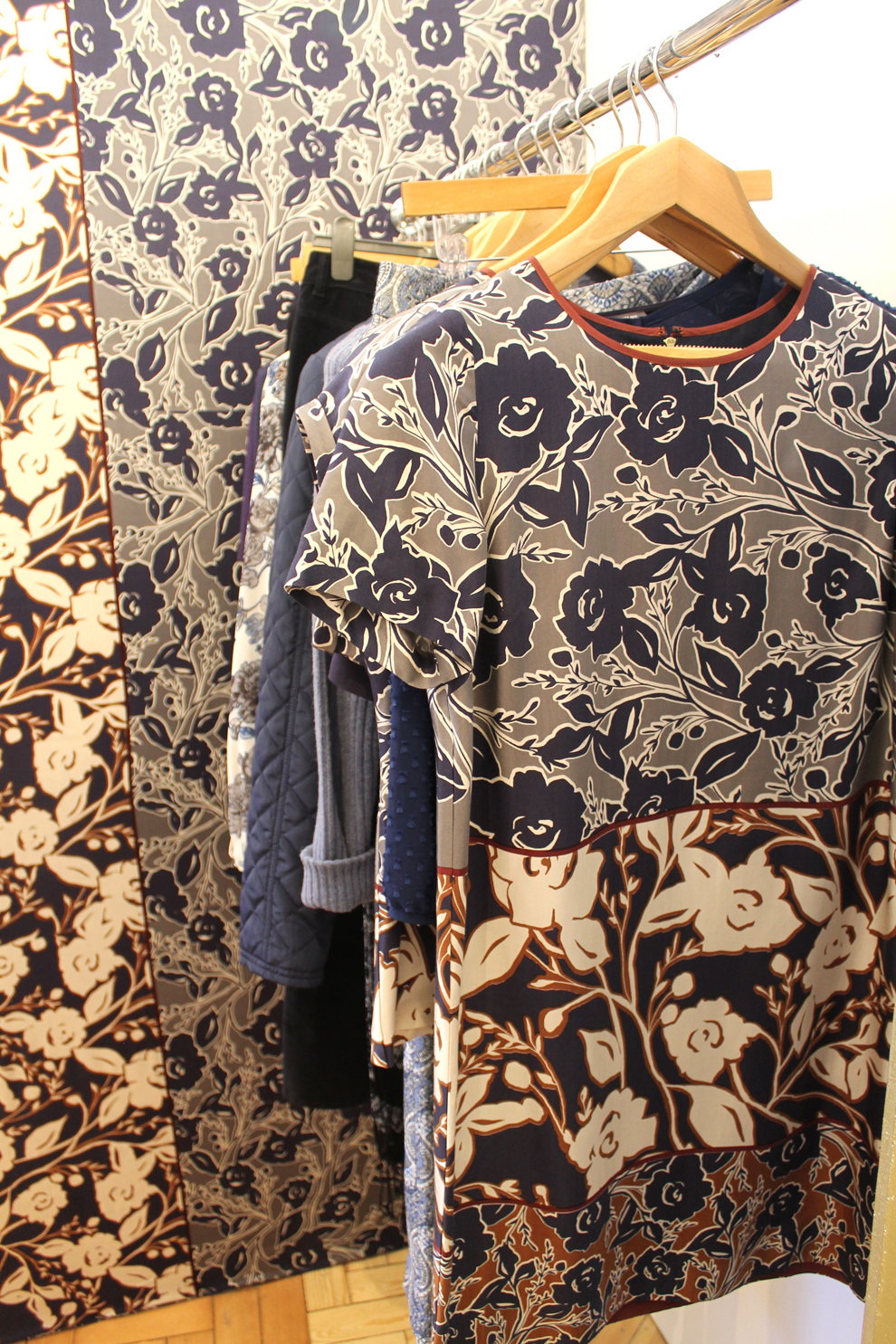 It wouldn't be Laura Ashley without a good floral! Our new collections for AW15, Mineral and Morello, feature oversized designs reworked from our archive in colourways of copper, navy, cherry red and grey. Pair our claret leather jacket with this striking poppy print for an on-trend new season look.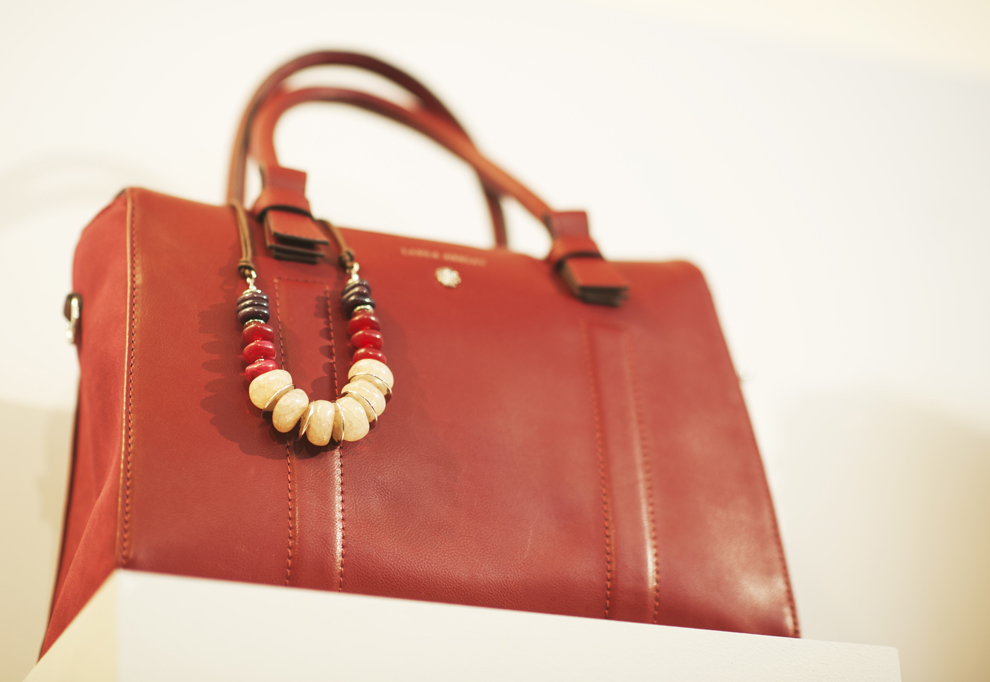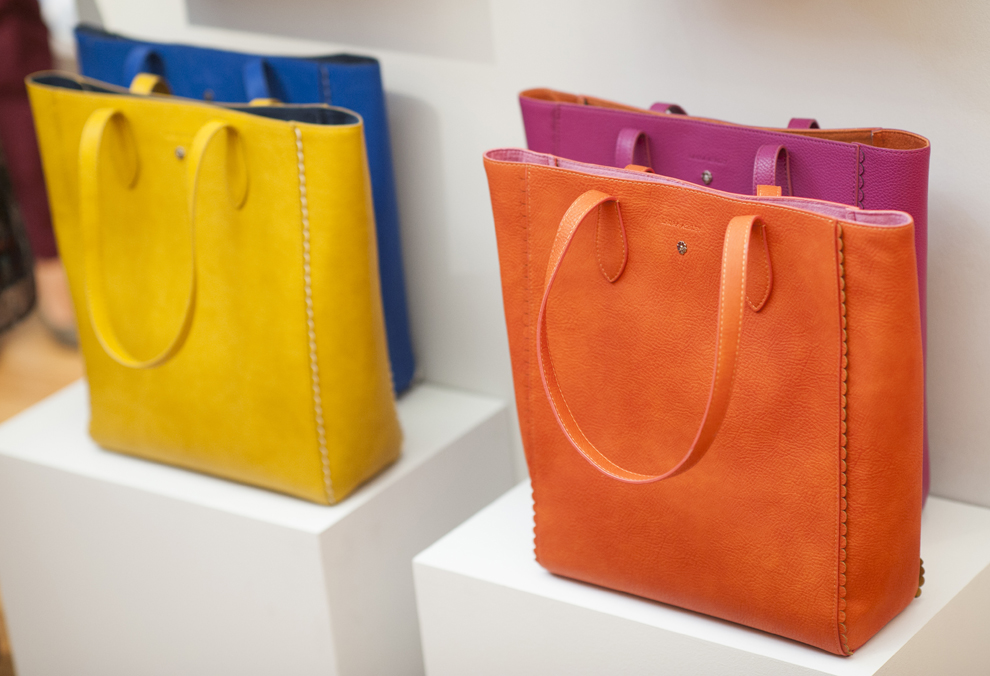 Personally, we were swooning over our brand new accessories for this season. In colour popping brights, these shoppers really caught our eye. That's not to mention the classically shaped handbags in a beautiful pebbled finish.
British tweed is big for us next season. In accessories and clothing, we're very proud of these quintessentially British pieces that give a traditional look and feel to an outfit in checks, reds and copper browns.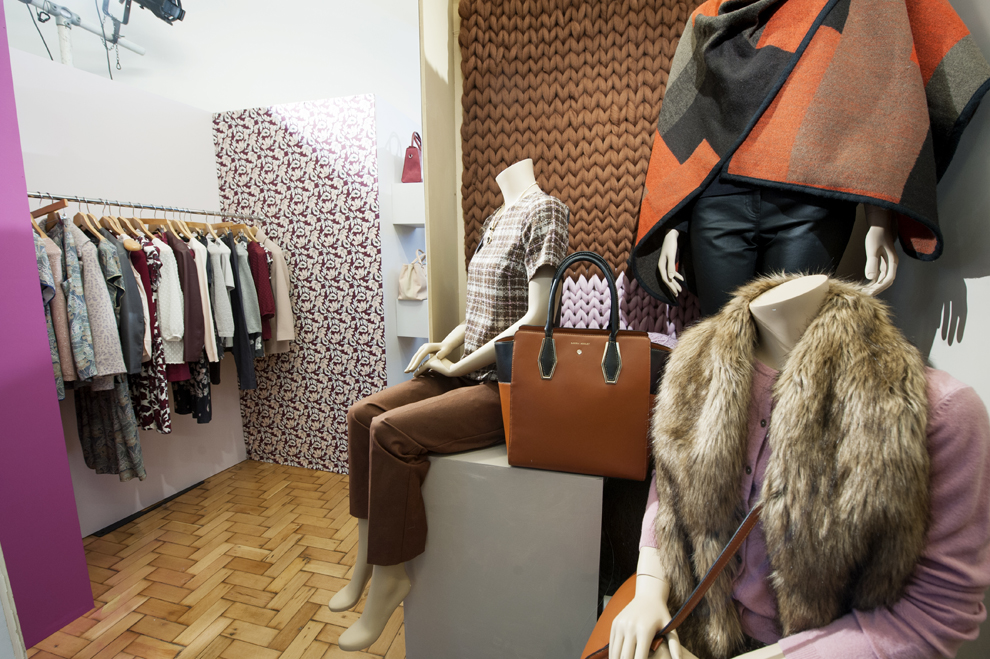 Hero pieces? It's all about the luxe with velvet, faux fur and embellishment, because it wouldn't be a Christmas party without it! Plus, this stand out yellow dress has the real wow-factor.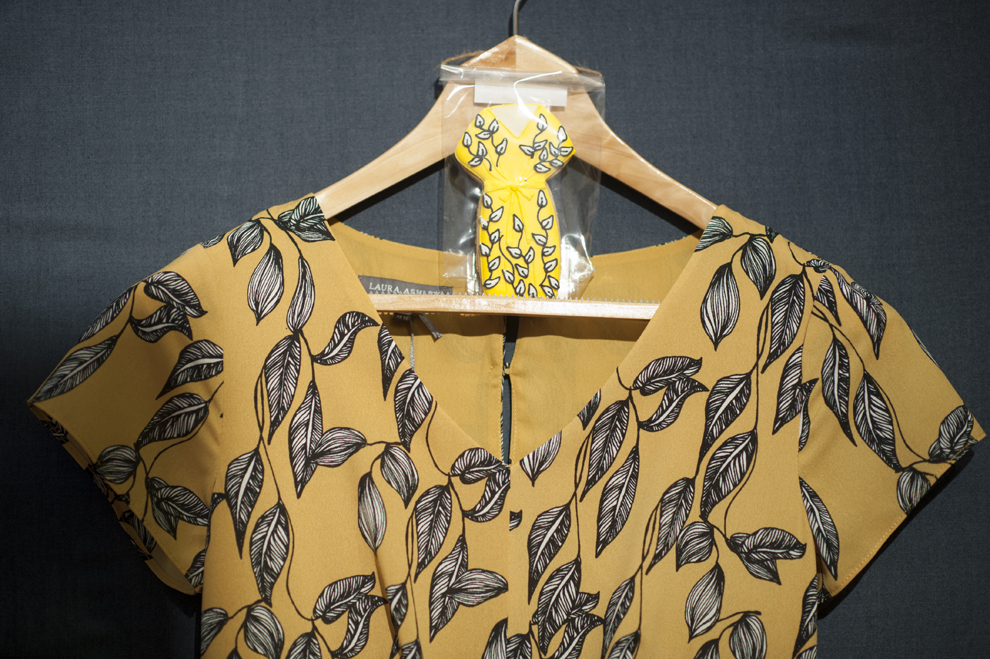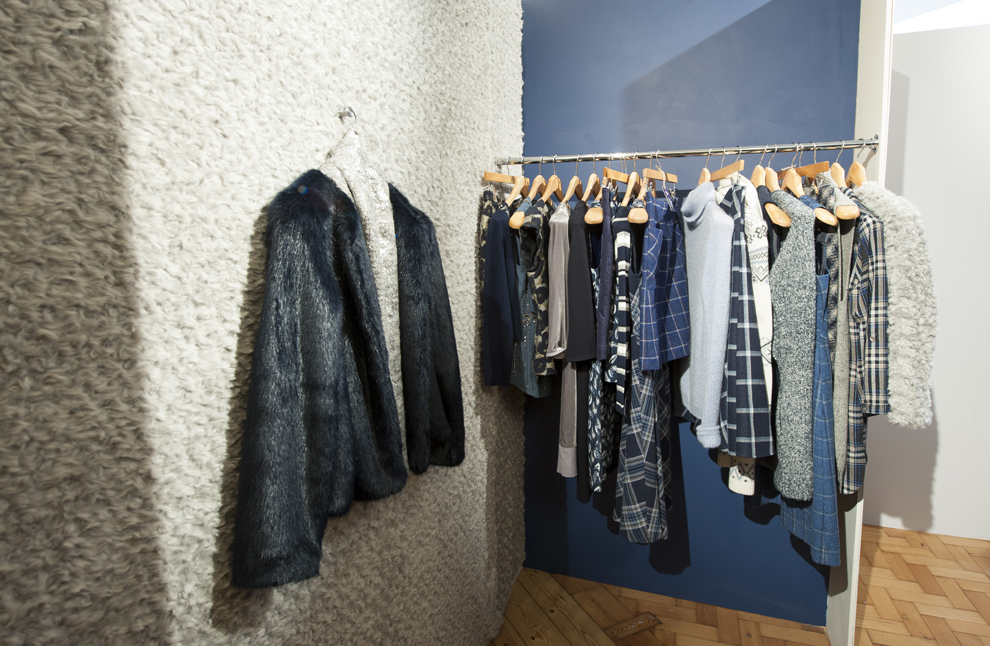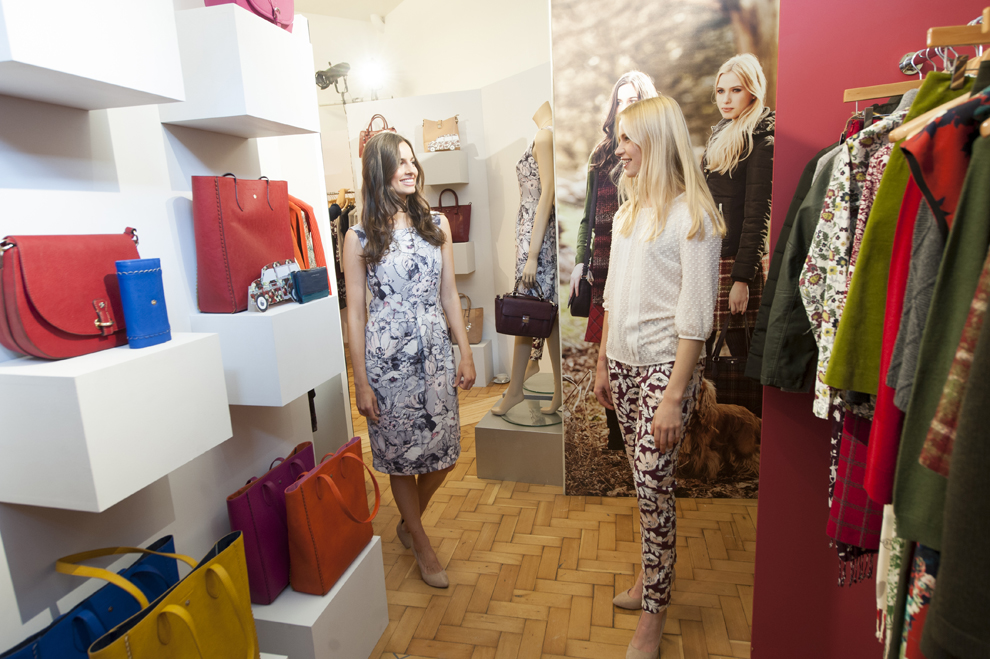 As well as our striking new collections we had plenty to keep everyone entertained on the day. Our classic Josette teacups were made into yummy iced biscuits, as was our stunning yellow dress! We also had an exciting Social Media competition based around finding our hidden vintage cars. Did you spot snaps of them on the day? There are a couple hiding in the photos above, see if you can spot them and take a look at all the entries below…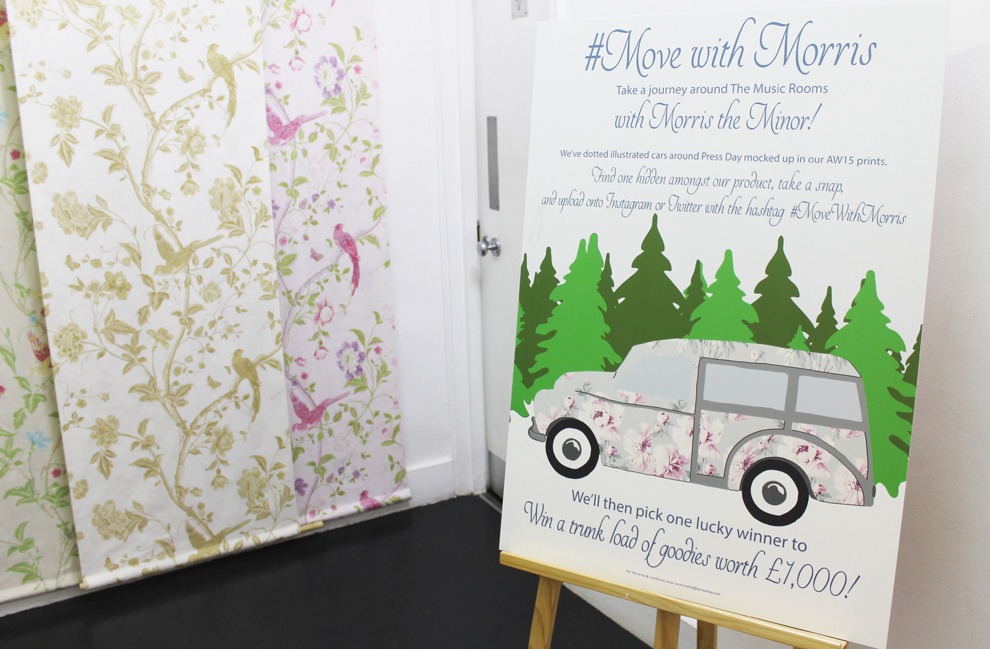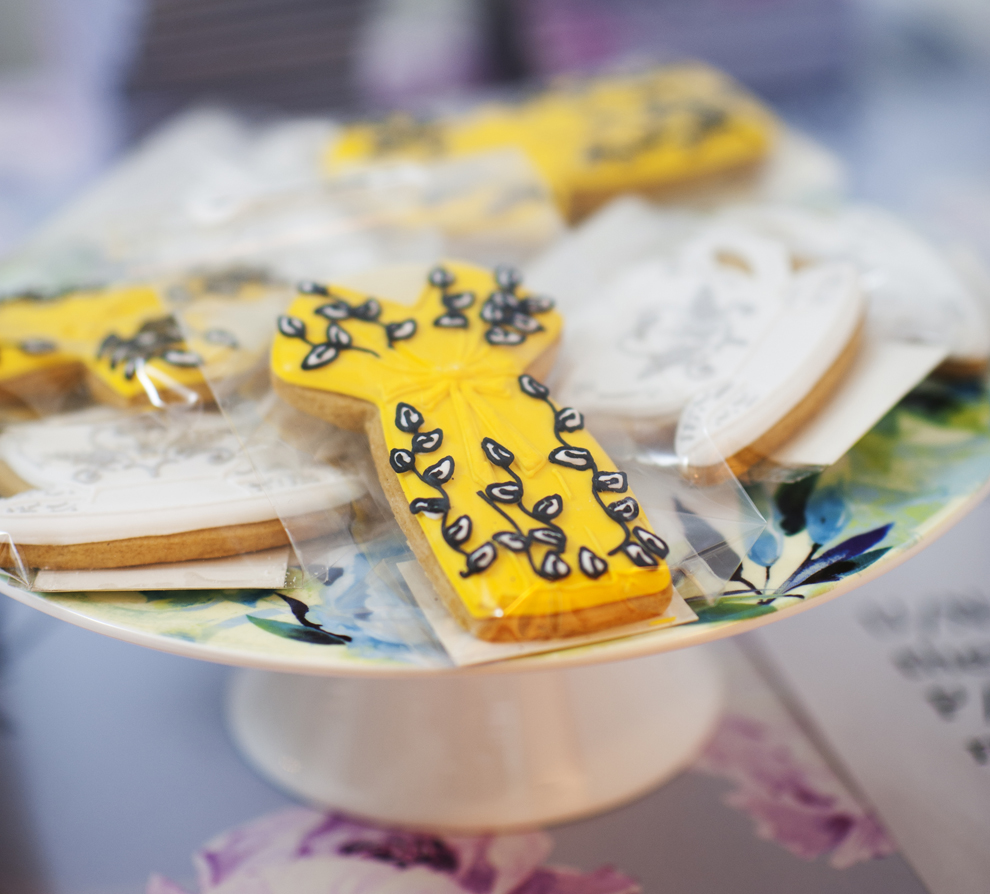 Thanks to everyone who came to our AW15 Press Day and made it so special. Stay tuned to the blog where we will be talking in even more detail about all the exciting things we have coming up. For more behind the scenes snaps, take a look on Twitter and Instagram under the hashtag #LauraAshleyAW15!