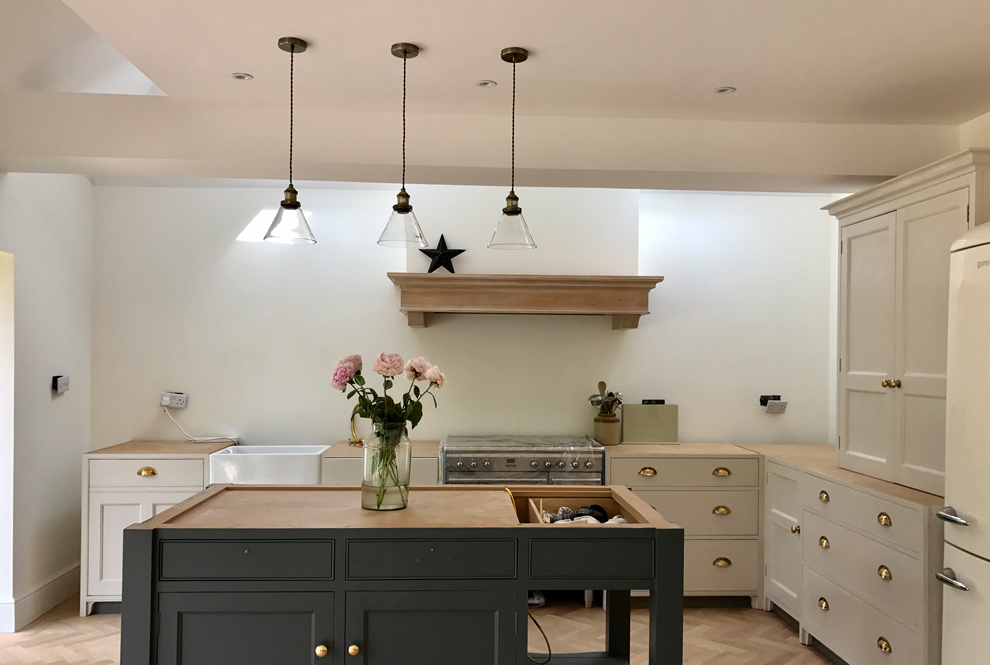 Transform your home with these Laura Ashley industrial lights... read more
Kitchen lighting can often be quite plain and ordinary and not really noticeable to those in the room but we are seeing more and more that people are embracing the value of great lighting in the heart of the home. The wonderful Rebecca from Roses and Rolltops was keen to make more of a statement with her choices and we think you'll agree the results look fab!
We started our kitchen extension at the start of December and after a few very dusty months of chaos later (and a few thoughts in mid-winter without a kitchen thinking what have we done) we're at the finishing off stage at last! There were so many decisions to make, some terribly boring, which gave me a headache trying to figure out. But some were the fun decorative bits, things like pretty lighting and accessories which would let us put our stamp on the whole thing.
We had planned a central island, which would have pendant lights hanging above it, partly to spread a nice diffused light in the kitchen but mostly as a real feature for the room. I love statement lighting so set about trying to find the right option for our kitchen. It can be hard to choose all the different elements when you don't yet have a finished room but sometimes you just see something that you know will work perfectly. That was the case for me with these Laura Ashley Isaac Antique Brass glass pendants; I literally fell in love with them as soon as I set eyes on them!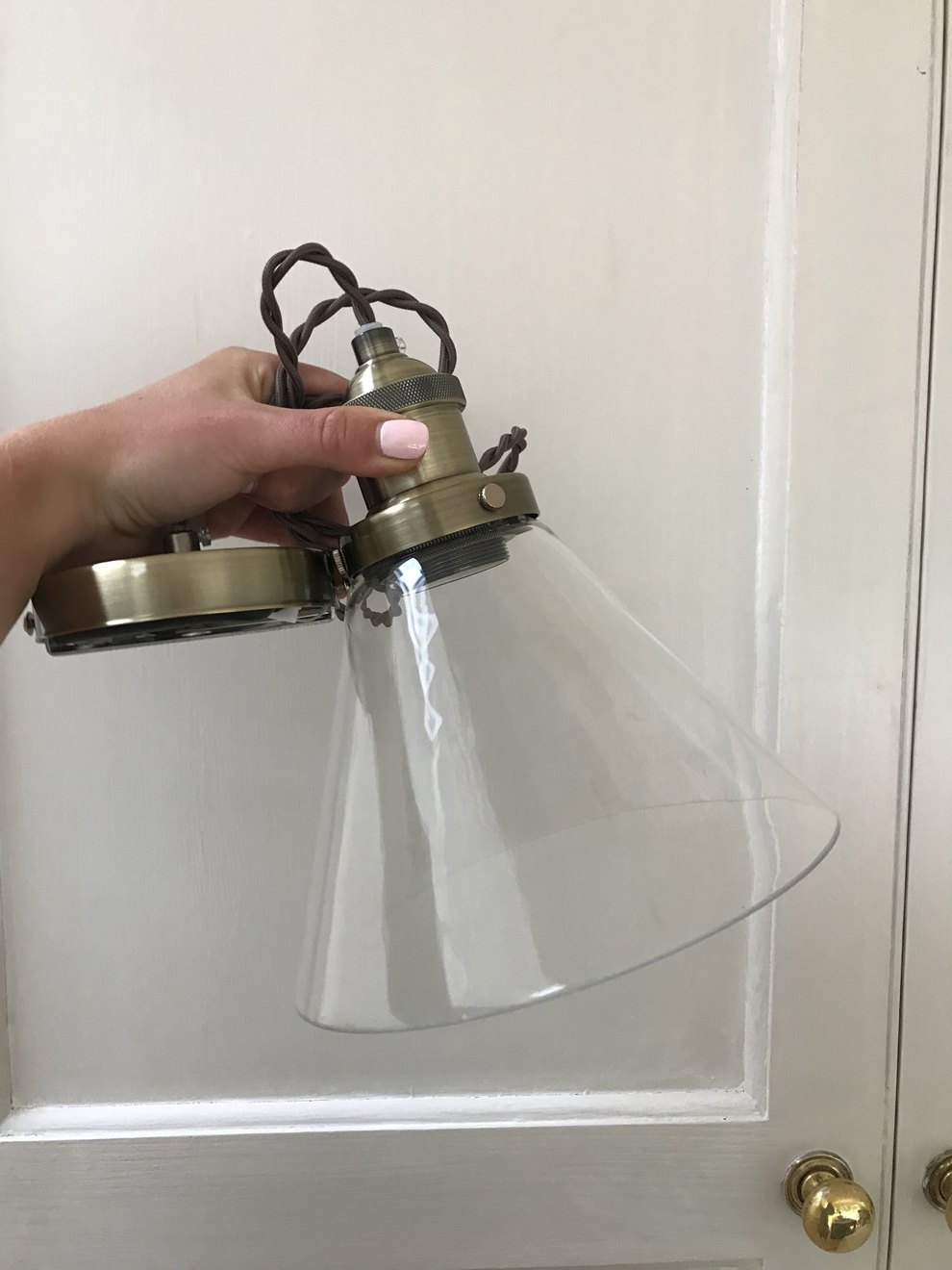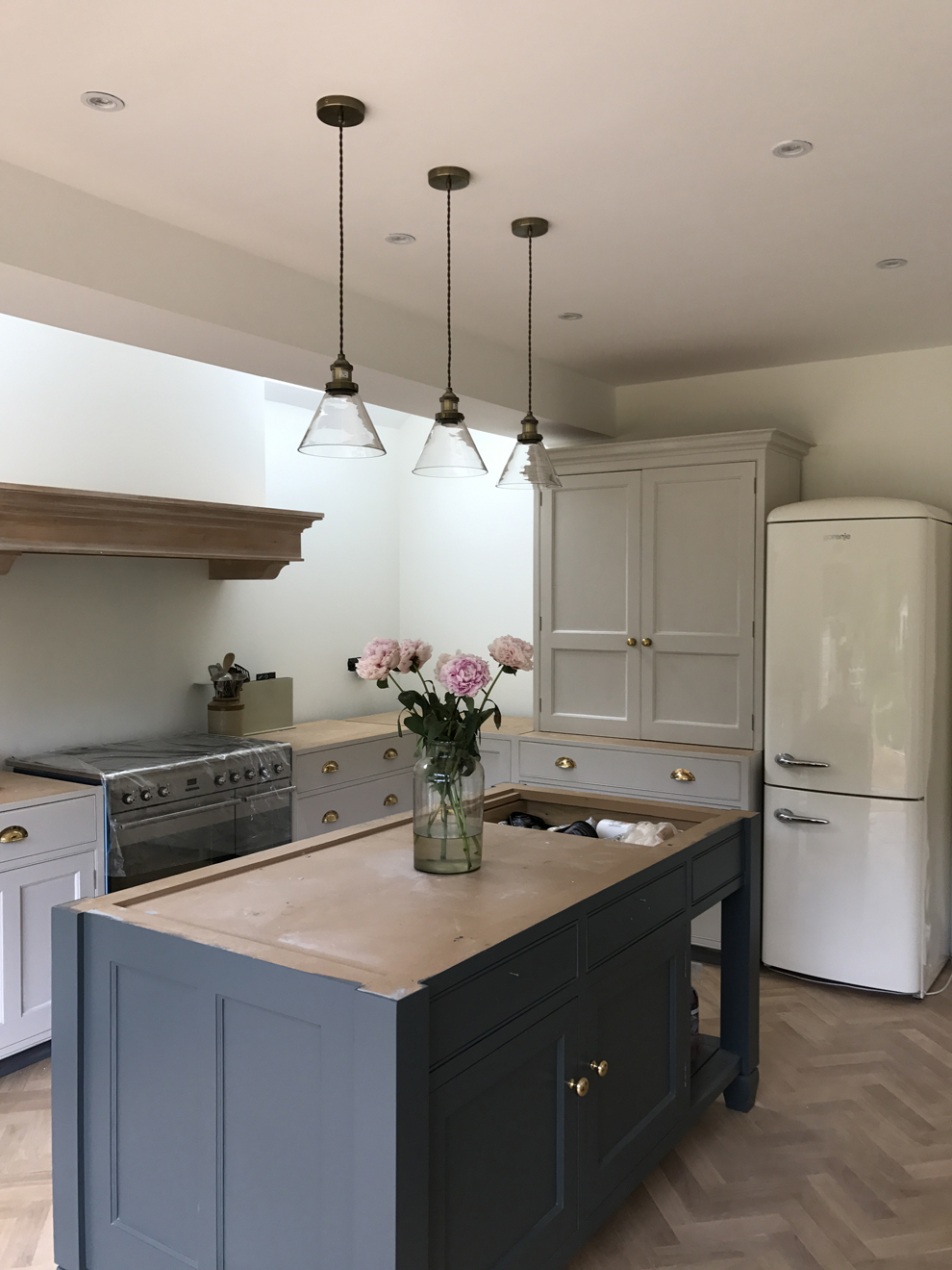 I didn't want anything too bold in here that I'd get sick of too quickly or that would be a solid colour, which might feel too dominating in the kitchen. Instead, because these are glass, they're subtle yet you still notice them enough. Since renovating this house I've been obsessed with using antique brass (and have moved away from chrome and copper), it seems to go so well with so many colours, a nod to the traditional yet with a new twist.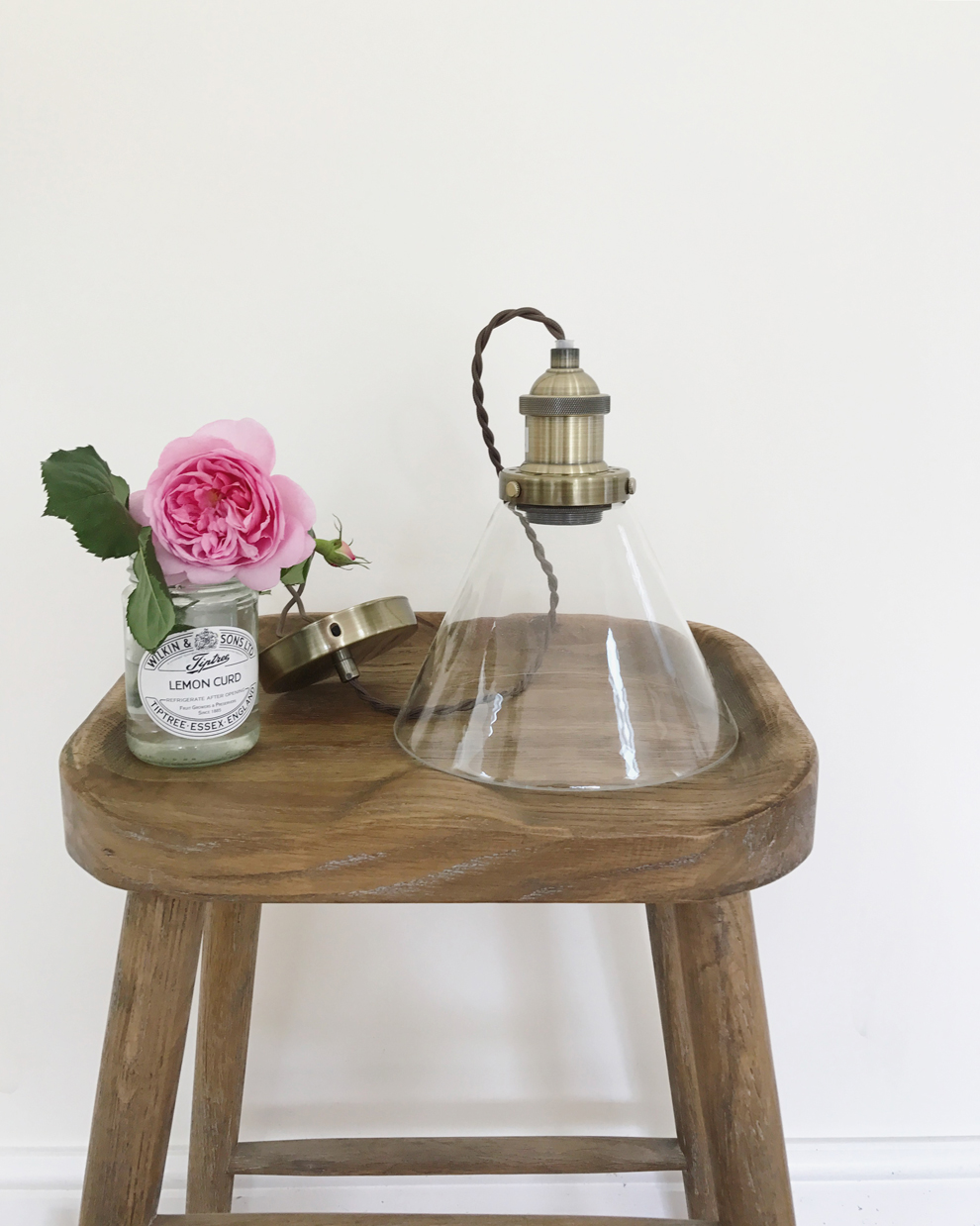 Our kitchen handles and taps are all antique brass so these lights work perfectly with everything else in the kitchen. Being conical in shape they're traditional and remind me of French vintage funnels with a bit of an industrial vibe which continues to be so on trend in the interior world right now. We've also gone for the matching wall light version on an opposite wall either side of our sofa, which ties in well with the pendants.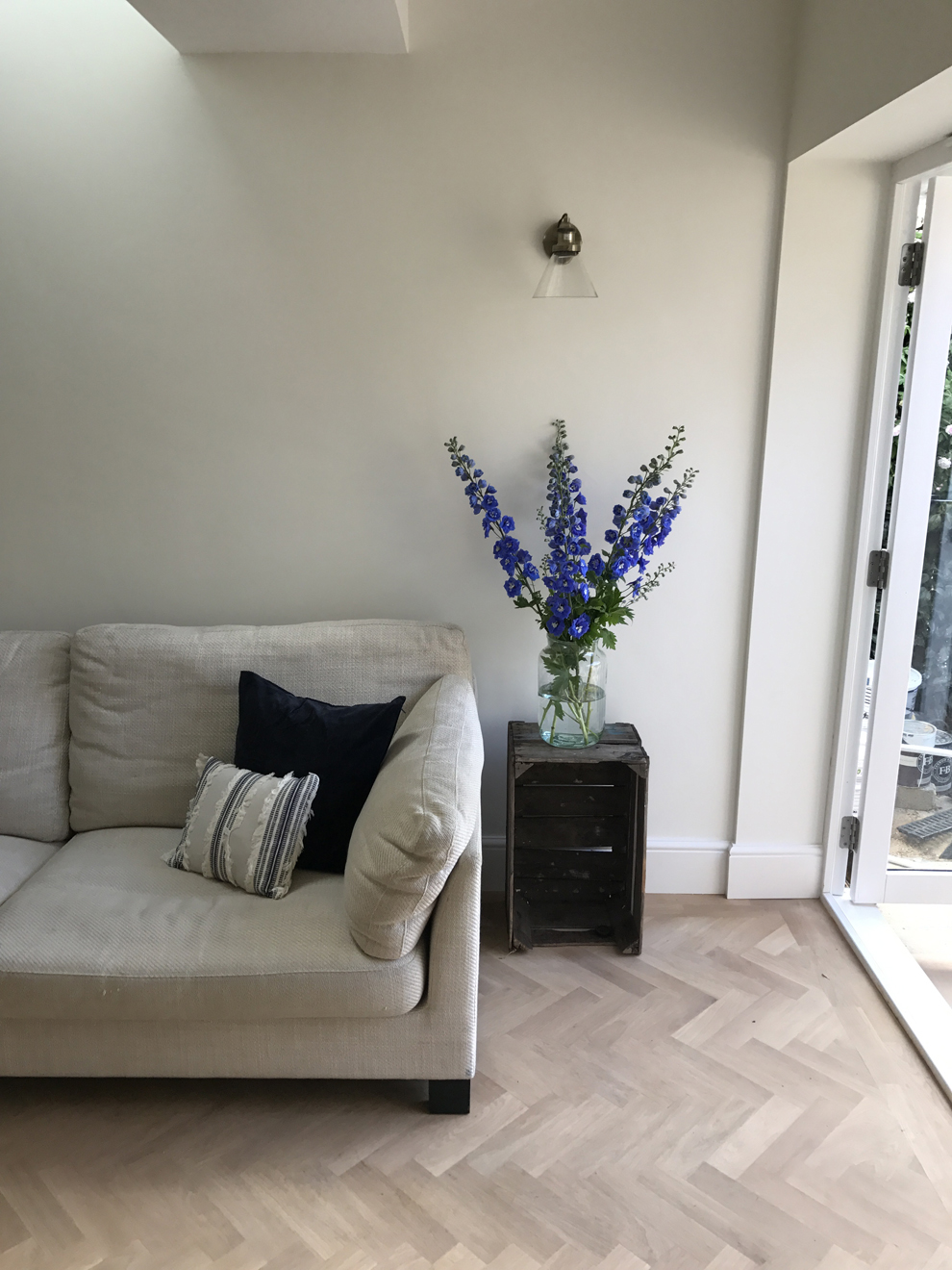 Because the lights are clear glass you'll want to find attractive bulbs to fit inside of them. We've used squirrel cage bulbs where you can see the filaments inside, which look both cool when switched on or off. The fitting was fairly easy with an electrician to do the technical wiring bits but the hardest part was deciding how long we wanted them to hang. There's plenty of hanging cord to play with, we just adjusted them so at eye level they don't block too much of the cooker hood but equally not too high so that they look silly. I'd suggest taking as little off at a time, you can always make them shorter but it's much harder to make them longer once cut! A little tip, I placed my tallest flower vase underneath to make sure that they wouldn't get in the way of future floral displays on the island. You'll also want to make sure that they're spaced evenly both centrally to the island but also with equal spacing in between each light, it's worth taking a bit of extra time to decide on this before fitting. I always think that odd numbers look better together so we went for three although you could just have one hanging by the side of a bed or something.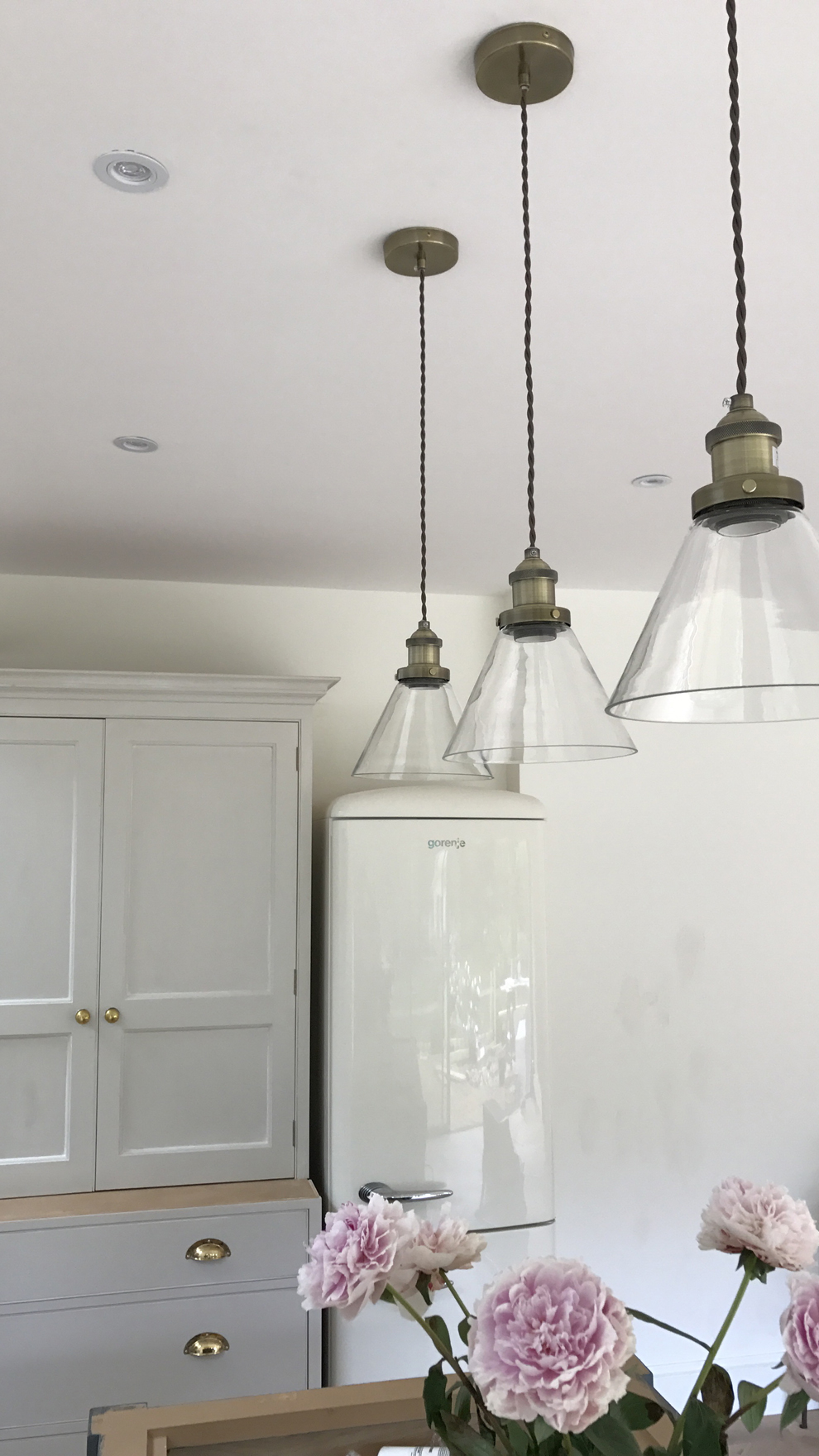 We're still a little way off finishing the kitchen so you'll have to come back and have a look once all the worktops, tiling and taps are in but I'm so happy with how everything is looking at this stage. Thank you, Laura Ashley, for making the lights of my dreams to tie everything together in here.
Rebecca x
You can follow along with my house renovations with the hashtag rvkprojecthouse on Instagram too.
Can we just talk about how amazing Rebecca's kitchen is, we can't wait to see the finished results! Are you a fan of the industrial trend? Let us know below or on Twitter @LauraAshleyUK