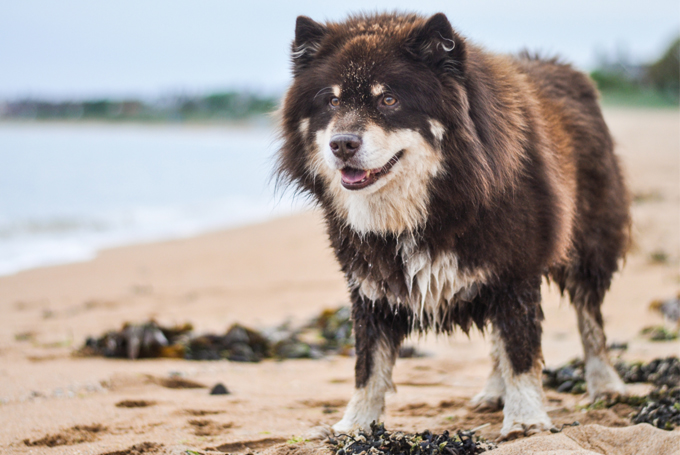 Inspired by our new Hunterhill collection lets take a peek at some of our favourite blogger pooches... read more
Dachshund to dalmatian, beagle to bulldog – there's not a pooch we don't coo over at Laura Ashley H.Q. Inspiring our new Hunterhill collection, dog lovers will fall for our 'man's best friend' range of home accessories. With this in mind we asked some of our favourite bloggers to introduce their furry friends and what they adore about them…
Laura and Willow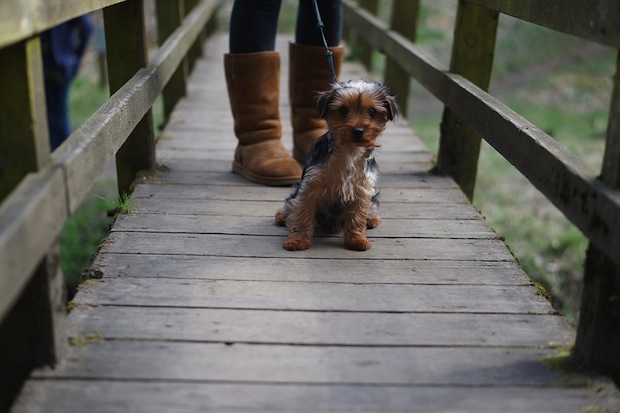 Often making appearance on Laura's blog Elle Aime is her three-year-old yorkie, Willow. Undeniably adorable, she loves nothing more than sitting on your knees for a cuddle and on the hunt for a tasty ice cube!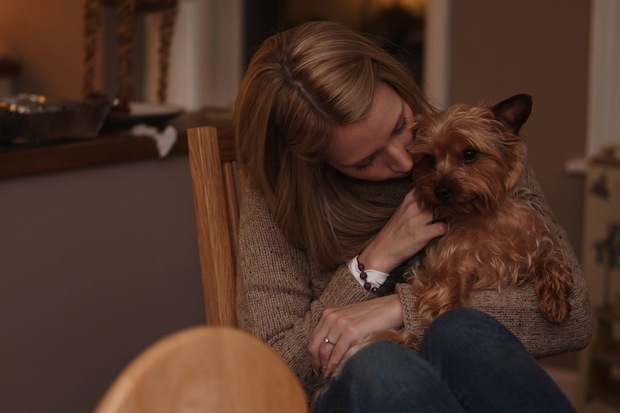 'Willow caught our eye when we very first met her as she was nibbling at a ladies shoes, my husband picked her up thought it looked like she was smiling, so we knew straight away she was ours! She loves be anywhere quiet, she loves to be out in the woods where she can wander around on her own. Willow's naughtiest little quirk is definitely nibbling toes (still!). She'll go under the table and nibble at everyone's feet to get their attention to play.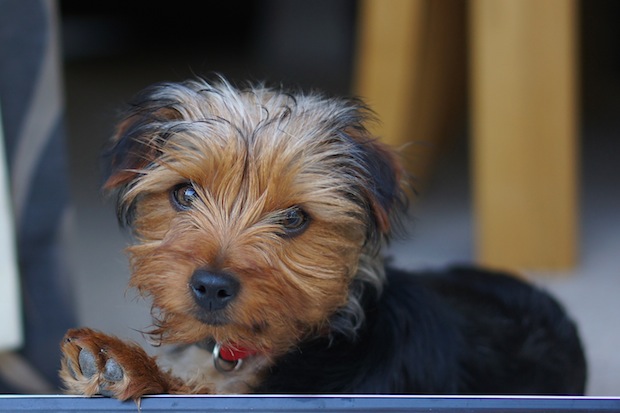 The best thing about having a dog is the endless love. I still look forward to getting up every morning and going downstairs to see her because she loves to be cuddled on a morning and the excitement she shows when you walk through the door is priceless. You can't help but smile when you see her! A must-have place to visit:  Newton by the Sea in Northumberland is a gorgeous beach to walk along followed by lunch in the dog-friendly Joiners Arms.'
Anna and Mr Lopez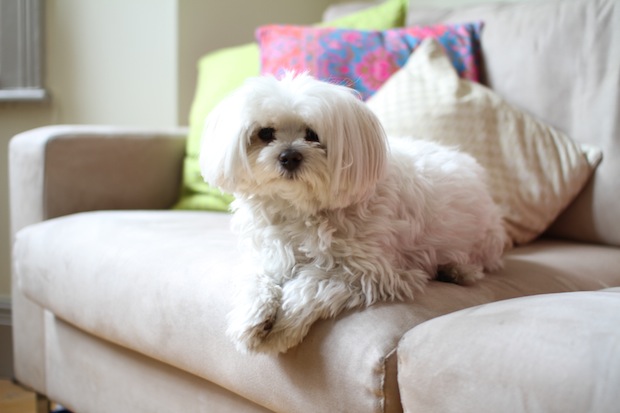 (c) Nancy H Gibbs
If there was ever a doggy sidekick to have, Mr Lopez is your dog. Following his stylish owner Anna (blogger at South Molten St Style) around town, we love to follow their adventures together on instagram – this playful little chap even has his very own hash tag #thelopezdiaries.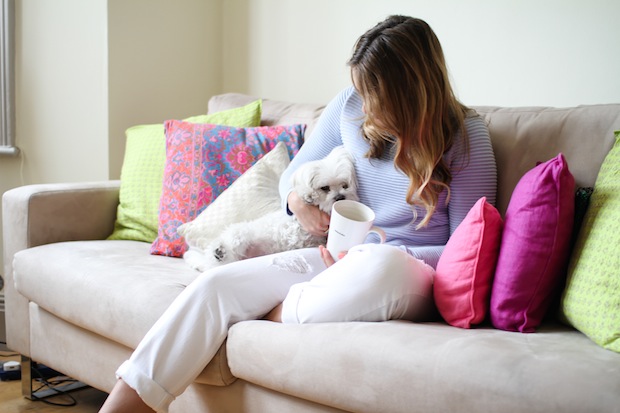 (c) Nancy H Gibbs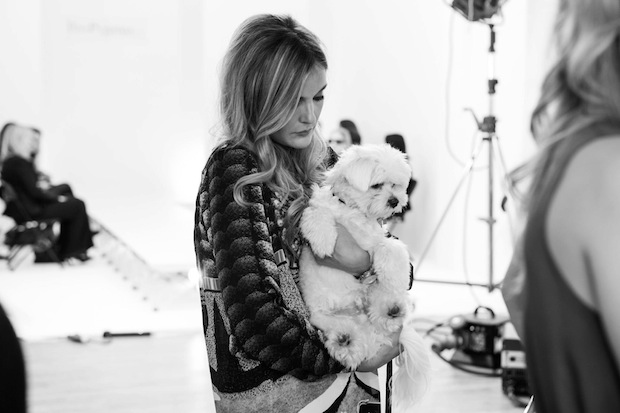 (c) Nancy H Gibbs
'Lopez's perfect day would definitely revolve around running and eating. He's the greediest dog I have ever come across, we thought about renaming him to Dyson as he clears up everything he can get his paws on. His favourite things are apples and popcorn – he does a little dance on his back legs when he sees me eating them in the hope I'll share.
Speaking of which, his favourite trick is probably his dancing. I have no idea where that came from, he just started it one day! Apart from that he won't do anything unless it's worth his while. He knows perfectly well what sit, stay and fetch all mean but unless he can see he's getting a treat out of it he point blank refuses to do it. My favourite thing is the love a dog gives you. Lopez would do anything for me, and I him. He's my little buddy and I love having a night in curled up on the sofa with him – although he takes up more room as he starfishes!'
Wendy and Mr K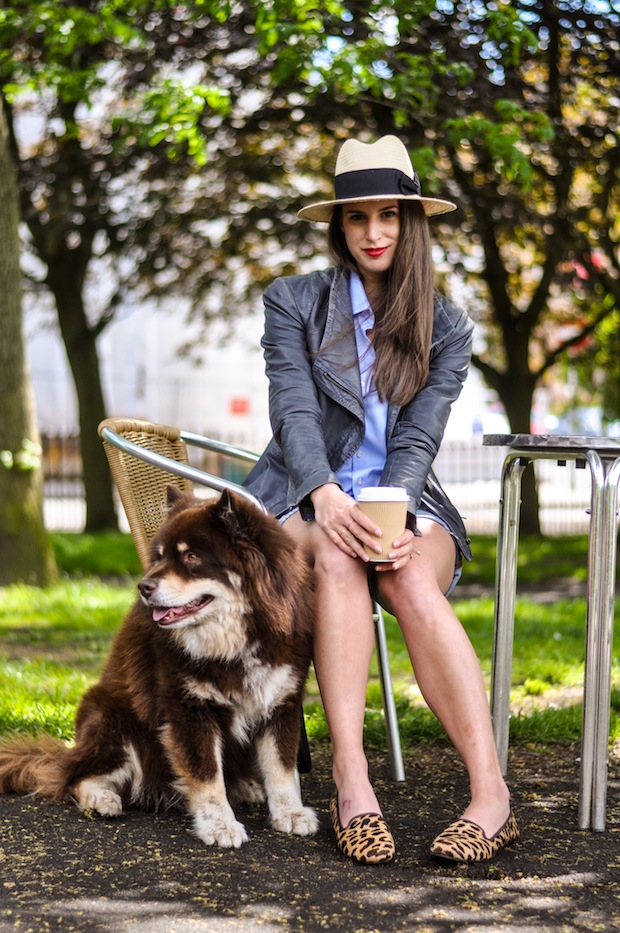 Stealing the spotlight from his rather fabulous owner, Mr K has the fashion blogging business covered. Looking mightily handsome in the majority of Wendy's (blogger at Thank FiFi) posts, dare we say he is the most adorable accessory we have seen to date…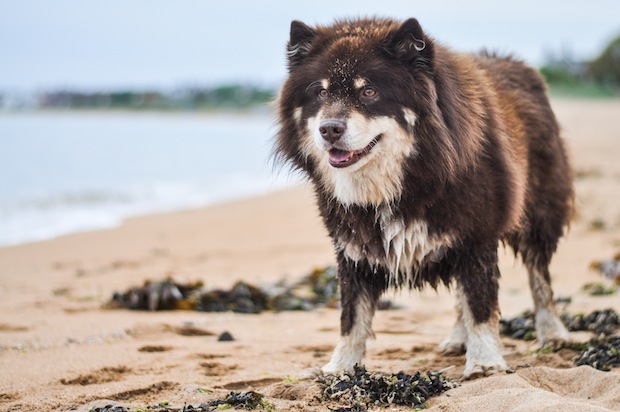 'Mr K lives for the beach. If there's sand and the sea he's a happy boy, if there's a tennis ball he's in heaven. His naughtiest little habit is always has to have the last word, he's so cheeky! Whenever he barks he gets a telling off and it can go on forever – every time I tell him no, he barks back very, very quietly. It goes on and on…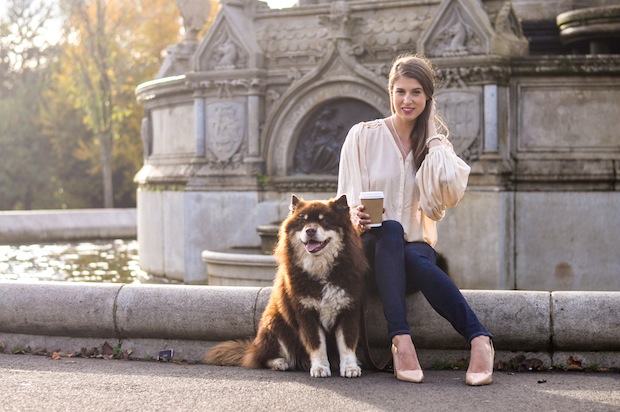 Mr K's impressive trick is his dirty feet on the doormat which is pretty cool… maybe that's my favourite trick. Mind you, his favourite is anything that involves a biscuit at the end. A must-have place to visit: Elie in Fife is our go-to because it's so beautiful and comes with a dog friendly pub, The Ship Inn. We're super lucky to have plenty of dog friendly bars and restaurants nearby but The Finnieston is a fav and we go every year for Mr K's birthday and the chef cooks him a nice piece of fish.
Sarah and Bonnie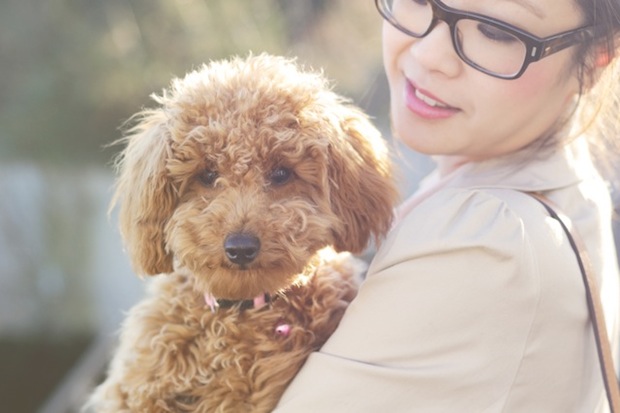 Along with her fabulous style and beauty posts, we can't deny that we don't hope to catch a glimpse of the Bonnie, Sarah (blogger at Temporary Secretary) pawsome friend…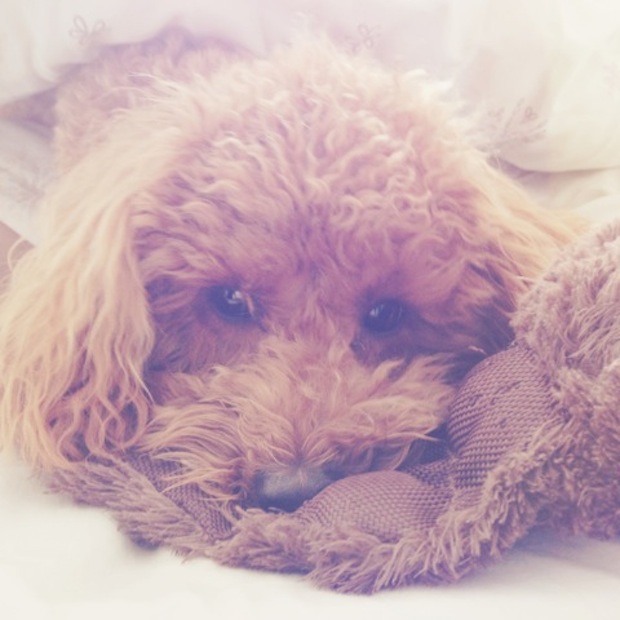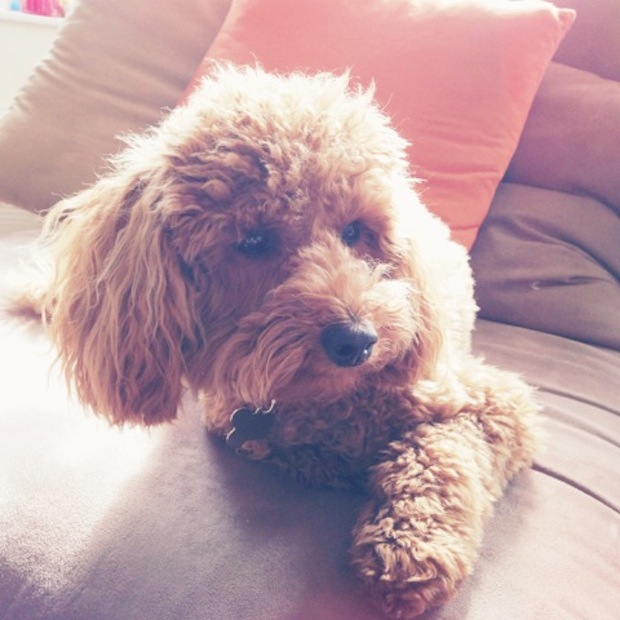 'Bonnie is my mum's dog, but we first met when she was only 8 weeks old! Having only just turned one, she's slowly learning tricks. She can give you her paw, go on her back feet and catch a ball (but hasn't learned to give the ball back yet – she's a little madam!).
She adores going to places where there are lots of people because she absolutely loves the attention! Walking her in town always takes twice as long because we get stopped by every other person but Bonnie's not shy. She's cute and knows it. She's also a cheeky one and has lots of naughty little habits. She bites the ears off ALL of her toys, just the ears!'
Victoria, Lily and Lola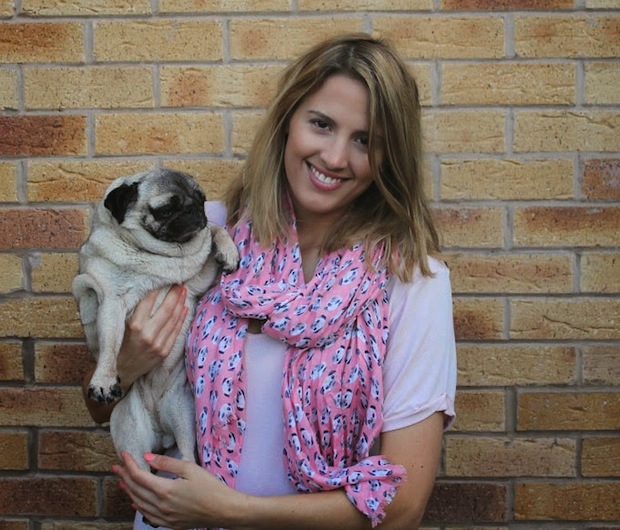 And finally, last but not least are the fabulous pug sisters Lily and Lola, who live with their owner Victoria, blogger at Lily loves Lola.  A cheeky duo indeed, this adorable pair are well and truly part of the family after Victoria rehomed them after a bad start in life…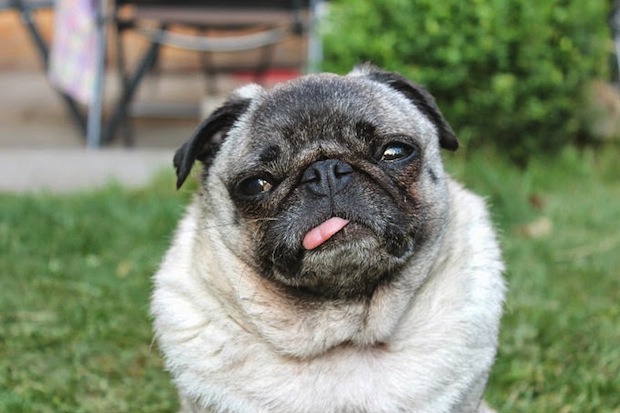 'I visited Lily and Lola at the Dogs Trust in Leeds many years ago when a friend told me about them, knowing my love for Pugs. I remember seeing their sad little faces behind the glass and I knew right then that I wanted to adopt them. I was allowed to "meet" them properly that same day and we had a play together. I loved them instantly!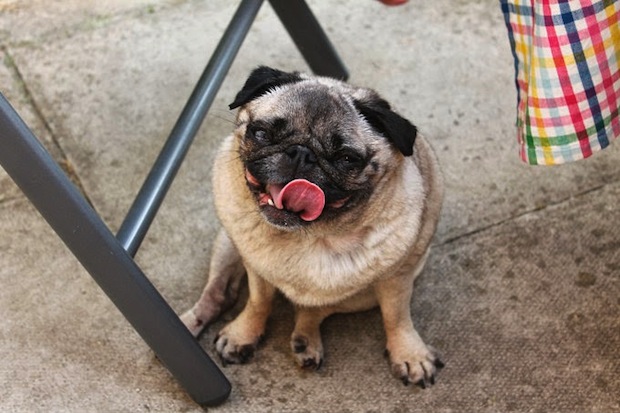 Their ideal day would be in, and not out. They are very lazy. They love to sit in their warm cosy bed or snuggle on the sofa under a blanket with me. It wouldn't be a perfect day without some treats and a belly rub. There are so many great things about having dogs. Lily and Lola are so loving and always happy to see me. They cheer me up when I'm having a bad day and they really make our house feel like a home. It's not the same when they're not here.'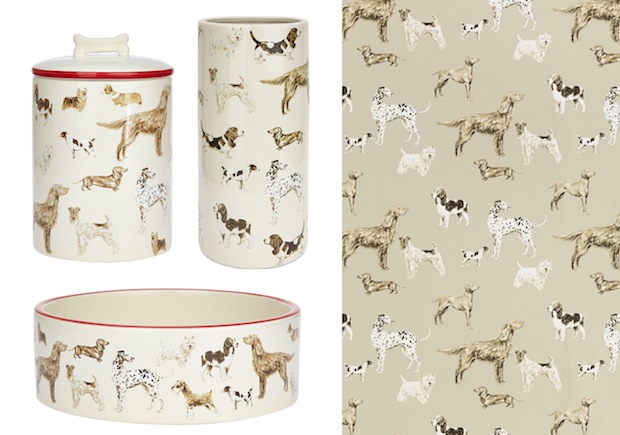 Dog Treats Jar / Hunterhill Dog Umbrella Stand / Dog Bowl / Hunterhill Dark Linen Patterned Wallpaper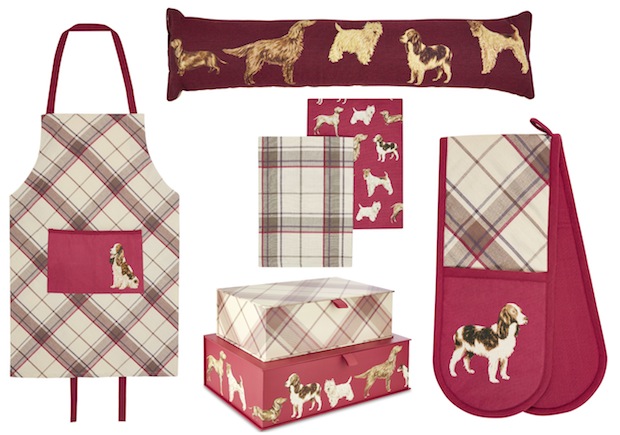 Highland Check Dog Apron / Set of 2 Hunterhill Dog Storage Boxes / Set of 2 Highland Check Dog Tea Towels / Dogs Draught Excluder / Highland Check Dog Double Oven Glove 
If like us you're poochy coo, why not bring a paw or two into your home with our Hunterhill collection? With an array of pedigree motifs mixed with on trend, cosy checks this range is ideal for a dog lover's winter decor.
If you have a top dog, be sure to snap us a photo and let us know your favourite piece from our collection then tweet it to us at @LauraAshleyUK.
Browse the Laura Ashley Hunterhill collection here.