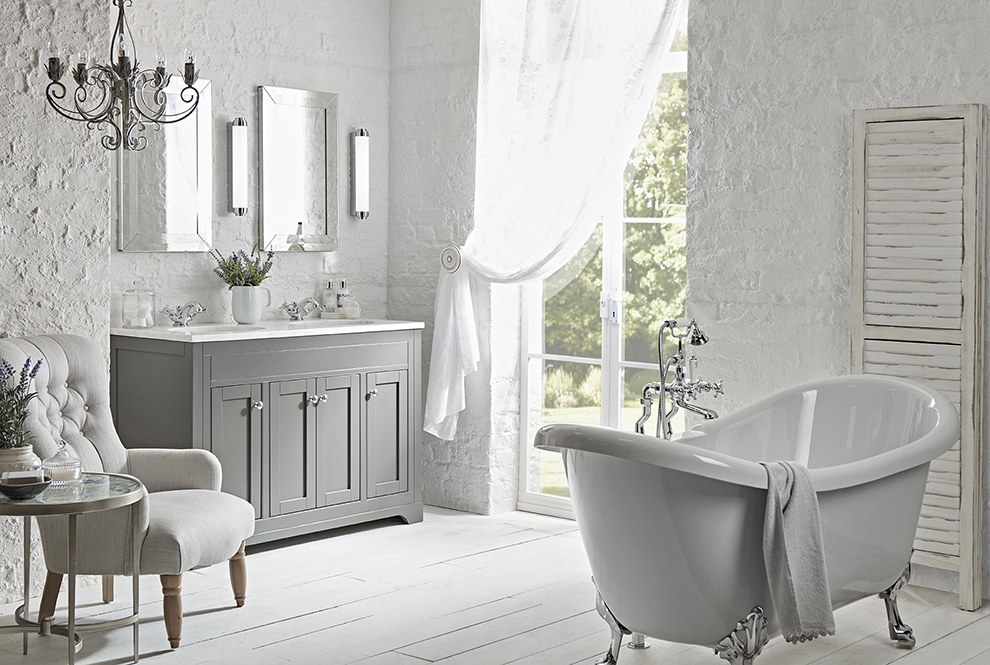 Get the ultimate bathroom with the Laura Ashley Bathroom Collection read more
With spring now here, it's time to get your bathroom into shape. Planning and deciding upon a style and your bathing requirements can be daunting as there is so much choice. Take a look at some of the latest trends from the Laura Ashley Bathroom Collection for some serious bathroom goals, to help you decide…
TIMELESS HERITAGE BATHROOMS
Timeless heritage is a prevailing trend, combining period fixtures and opulent lighting with a dash of glamorous old fashioned charm to create an elegant setting. Think French Chateau for a fresh and romantic look, and inject a luxurious touch with a casually, draped voile to baffle the light and create privacy. Why not try the Josette Voile and drape it to the side with a wooden holdback.
For those seeking a more dramatic heritage style, why not move over to the dark side with strong, reassuring shades such as this deep blue Midnight Seaspray emulsion. It animates the bathroom and instantaneously adds glamour.
STATEMENT FREESTANDING BATHS
Freestanding baths completely embody a timeless heritage style bathroom. As the focal point of the room, they invite you to relax and unwind from the pressures of the day. Ultra luxurious, the freestanding Alveston 1700mm double slipper bath will create a stunning centrepiece in any period bathroom.
If something contemporary is a little more your thing, then the sweeping contoured lines of Stretto provides a modern take on the classic bateau bath.
BOUTIQUE HOTEL STYLING
Luxury, lifestyle bathing space is another key look. Add touches of a boutique hotel to your home and transform your bathroom into a sensual retreat with stunning double basin units, which have been introduced to the Laura Ashley Bathroom Collection's Marlborough range.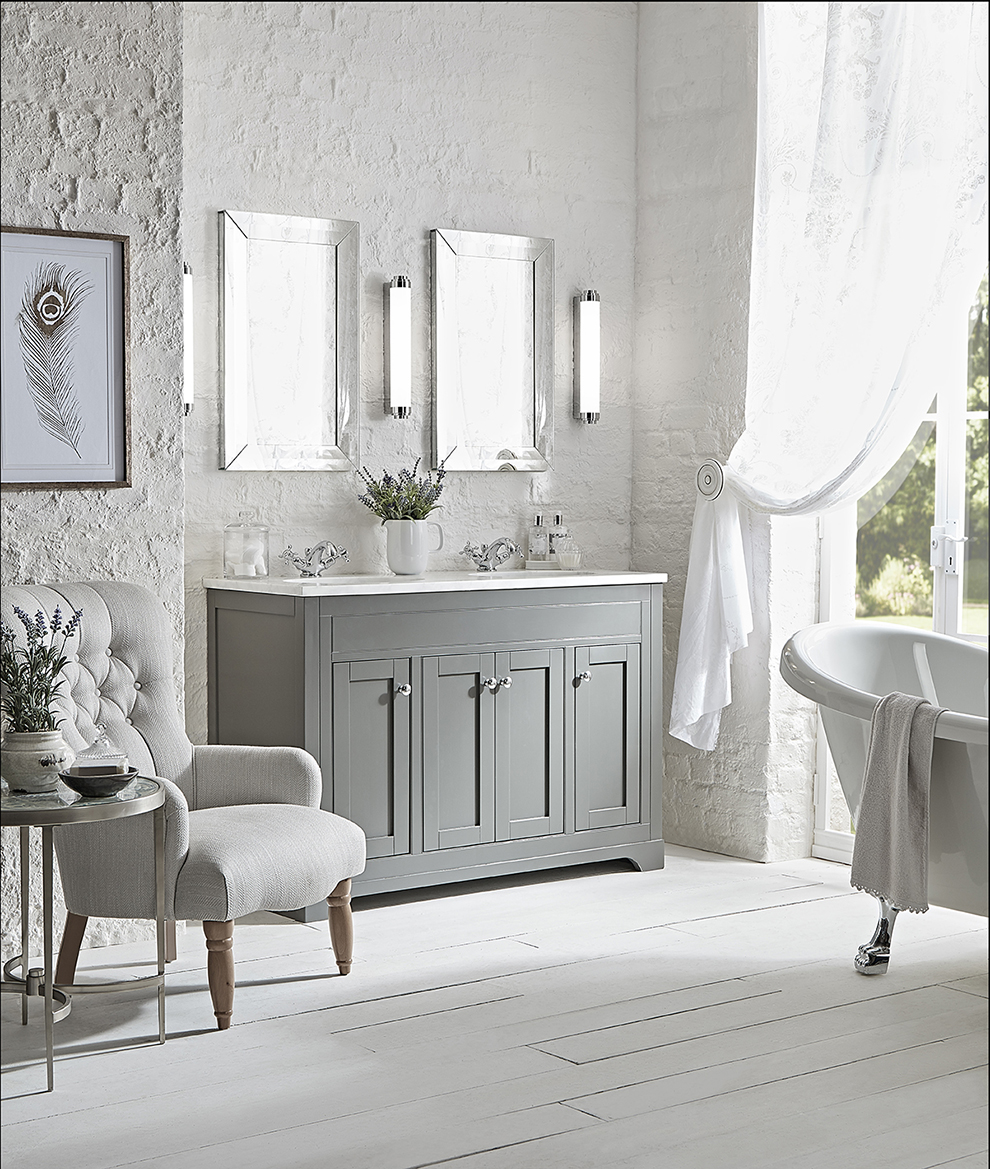 Exuding elegance, these exquisite 1200mm freestanding units are available in a standard or curved design. Choose from three hand painted finishes; cotton white, cobblestone or a cool charcoal, which leads the trend for dark grey finishes in the bathroom.
Taking inspiration from luxury hotels, 'his and hers' basin units have become a key trend in the bathroom. The two underslung ceramic basins provide plenty of wash space and add a very practical touch, enhancing the timeless appeal of the units.
FINISHING TOUCHES
Finishing touches can make or break the look and feel of a bathroom. Mirrors make rooms feel more spacious as well as reflect a lot of light around the room. The traditional mirrors from the Laura Ashley Bathroom Collection include a statement 1200mm size mirror and a 430mm mirror. These are ideal for use in bijoux bathrooms and also add a stylish vintage look and feel to country and period-style interiors. The integrated heated demister pads also mean that steamy mirrors are a distant memory. The 430mm mirrors look particularly striking in the 'his and hers' bathrooms as shown above. Complete the look and add the beautiful wall lights designed specifically for use in bathrooms to provide ambient and task lighting for your wash space.
For those wanting a mirror with timeless appeal, the Langham oval mirror is packed with period charm.
See the full range here
With its shapely form and elegant, hand painted frame available in steel grey and cotton white finishes, this stunning new mirror has been designed to beautifully complement the Langham basin unit and tallboy, which provide generous storage space for all your bathroom essentials.
With some of this spring's key bathroom trends, you won't be able to resist giving your bathroom the ultimate makeover!
Do you have a Laura Ashley bathroom in your home? Let us know below or on Twitter @LauraAshleyUK