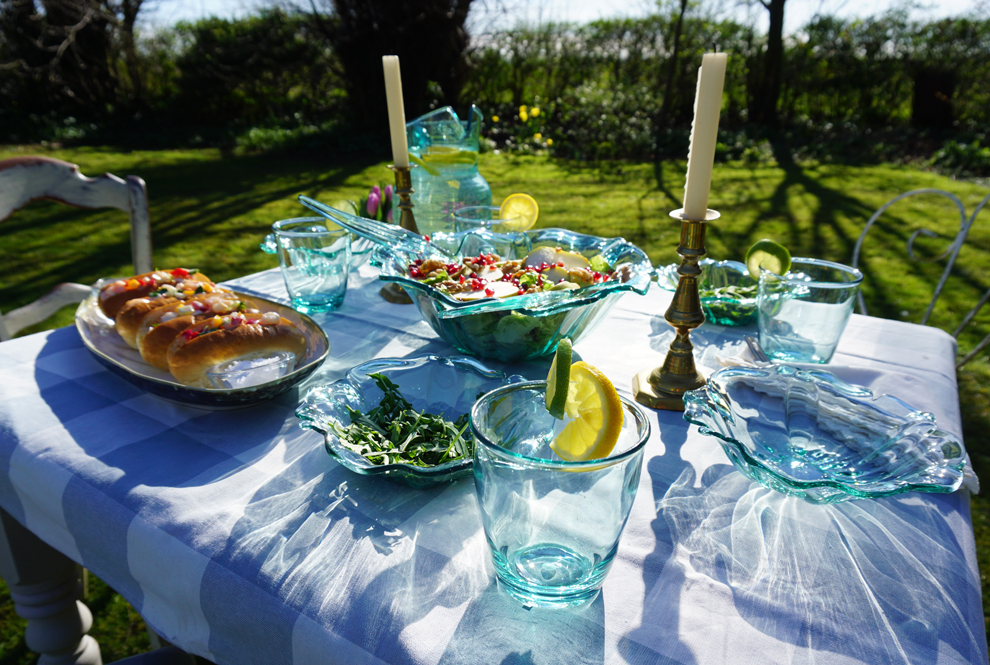 Get into the spirit of the season with a tasty garden lunch... read more
We've seen glimpses of sunshine now, which surely can only mean one thing…Spring is here! And if like us you're super excited we have the perfect blog post to get you in the mood to get out of the house and enjoy the wonders that Spring brings. The lovely Paula from The Hill House Diaries is also making the most of this sunnier weather and creates the perfect garden lunch at her gorgeous house to really embrace the season…
If, like me, you've been chomping at the bit and desperately awaiting the arrival of brighter weather, then you probably shared my delight that the first weekend of Spring brought with it blue skies, and a 'full on' two days of incredible sunshine – Hurrah!  Naturally, it was impossible to resist the temptation to celebrate the sunshine, as well as the start of a new season, without a full on garden lunch – despite the fact that the temperature barely made it into double figures, but hey – this is England after all, and thick jumpers with sunglasses on is the norm for us in early Spring!
Added to the fact that I have been desperate to use my new Laura Ashley floral acrylic serving collection, there was no stopping me. So, after a spot of vigorous bulb planting in the garden, I decided to prepare a quick lunch of prawn salad sandwiches with lime mayonnaise and a pear and walnut salad on the side, followed by a pudding of peaches and crème fraiche, topped with a drizzle of runny honey. See the recipe for the prawn filling below!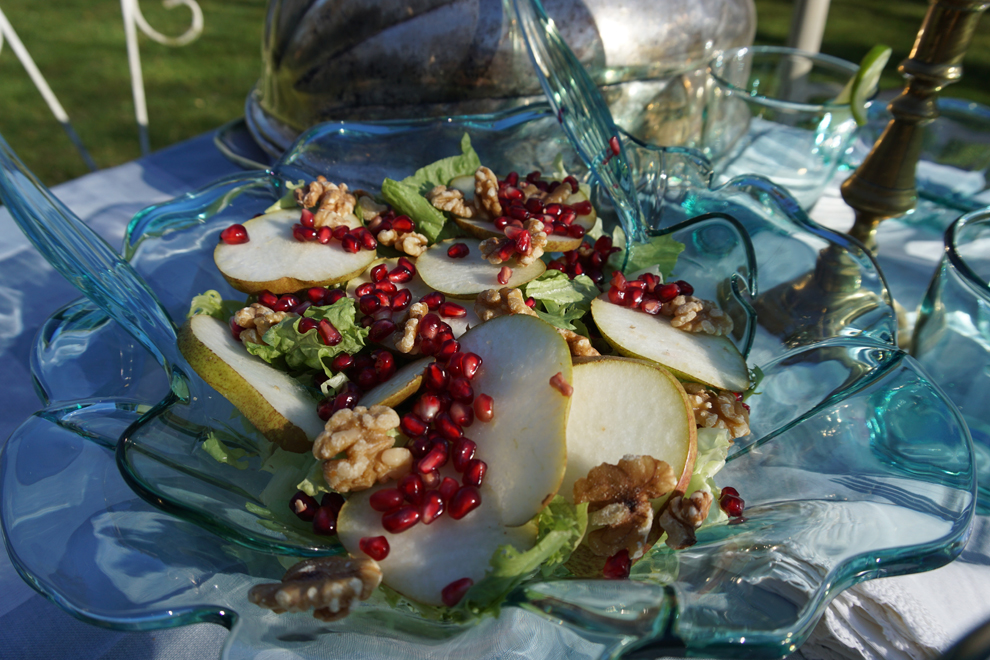 Paula's Easy Prawn & Lime Mayo Sandwiches
150g Jumbo King Prawns, chopped into small chunky pieces
Handful of chopped coriander (or flat leafed Parsley if preferred)
1 half of a chopped sweet red pepper
1 half of a chopped sweet yellow pepper
1 chopped celery stalk
Half chopped small cucumber
Salt and Pepper to taste
4 x Brioche Hotdog buns
For the Lime Mayo sauce:
2 tablespoons Mayonnaise
1 tablespoon Fresh Lime Juice
1 teaspoon runny honey
Pepper and salt to taste
Pinch of paprika if you like a spicy 'kick' to your filling.
Method:
Mix sauce ingredients in a bowl, add chopped prawns and diced vegetables to create a thick and chunky, but not too runny filling and spoon equally into buns. Serve with a leafy salad of your choice – in my case with the addition of sliced pears, walnuts and pomegranate seeds – yum!
Being a huge fan of vintage and decorative antiques, one of the joys of decorating and accessorising for any occasion is mixing up the old and the new to get my own unique eclectic style.  I particularly love things that have an air of nostalgia or a hint of the retro about them, and this particular line of Laura Ashley home accessories has all of that…in spades!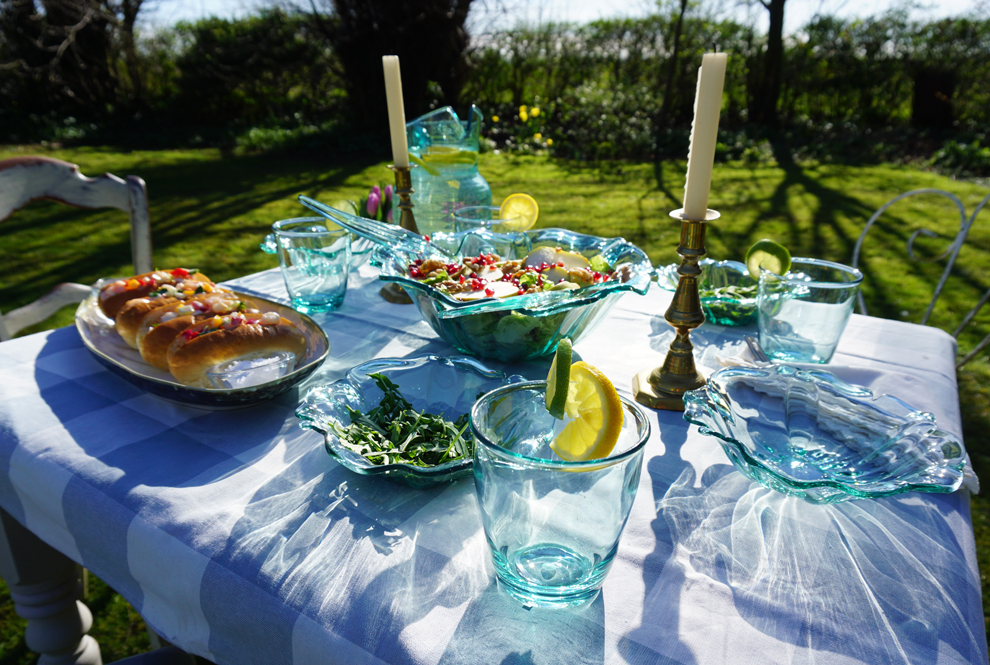 The shape of the serving and  small bowls, in particular, is reminiscent of the fifties rippled edge Murano glass that my aunt used to collect, but it also reminds me of the glass punch bowl that my parents had at their parties in the 1970's when I was little.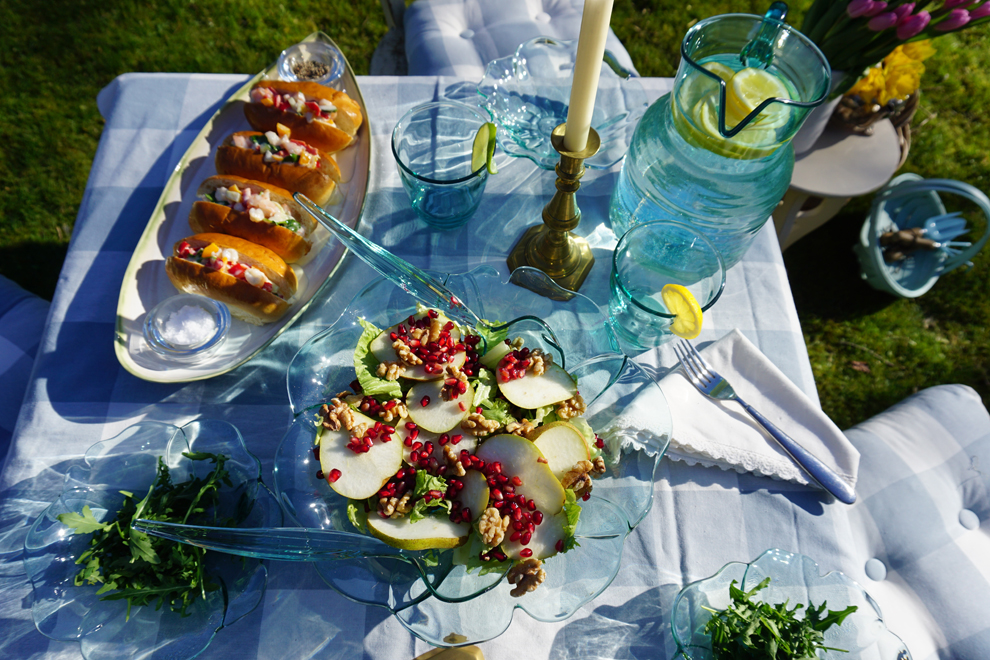 The tropical leaf salad servers are an extra bit of fun, and add a Hawaiian tropic flavour to the table – after all, there's no better way to celebrate the first outdoor meal of the year than to add a hint of Hawaii to the festivities!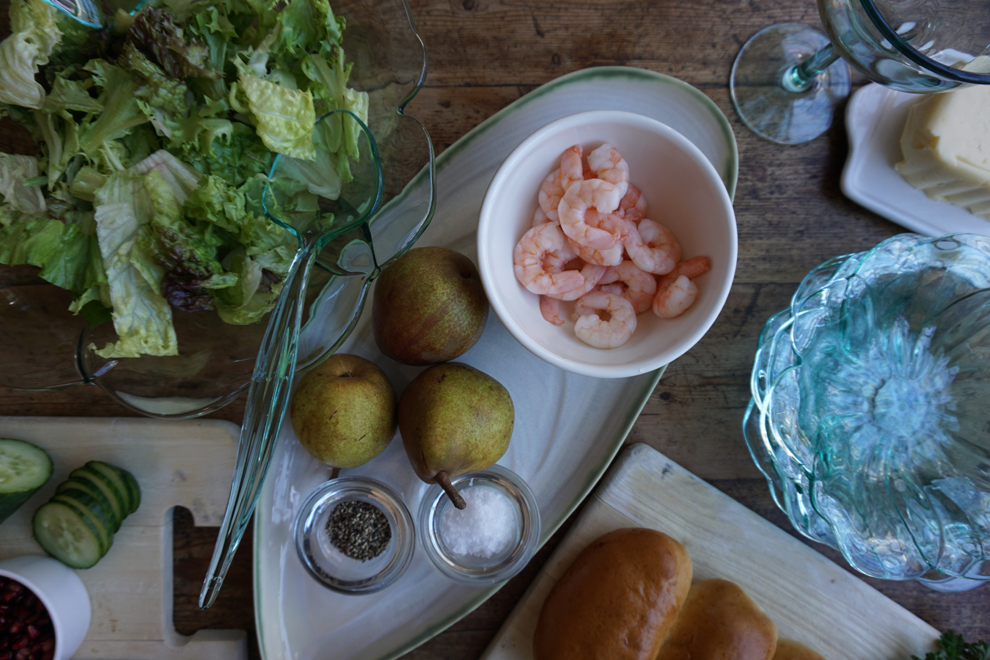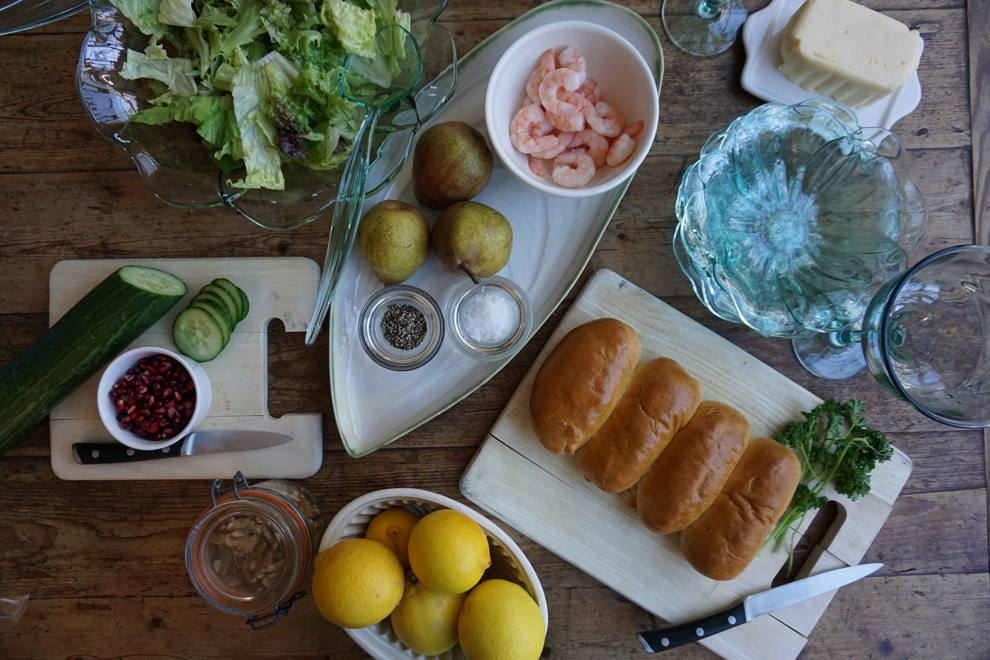 While the large mussel-shaped stoneware platter is perfect for use as a quirky serving dish and fitted in perfectly with my eclectic vibe.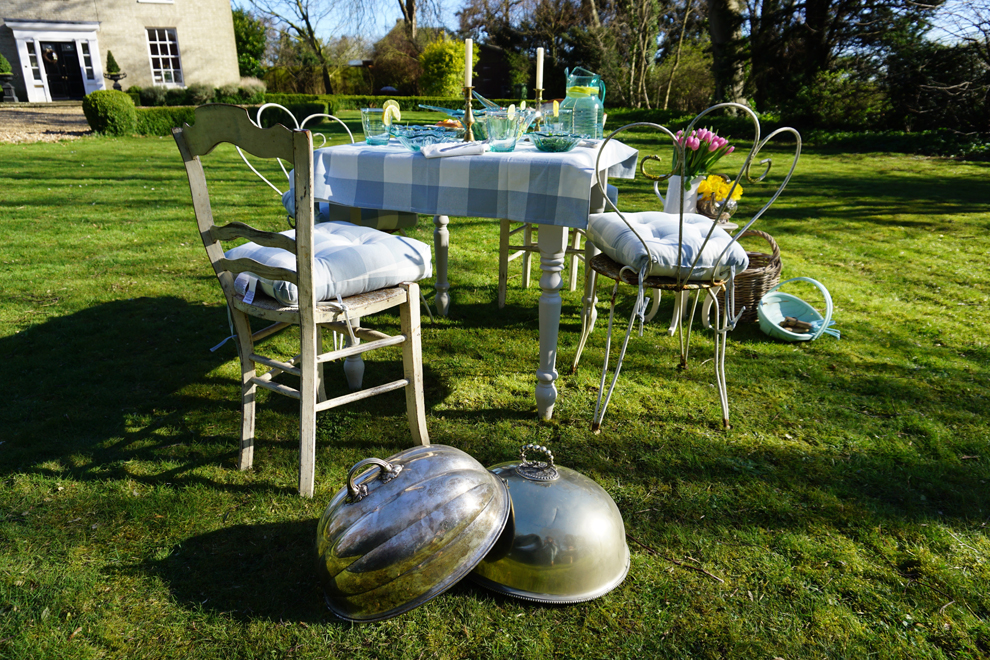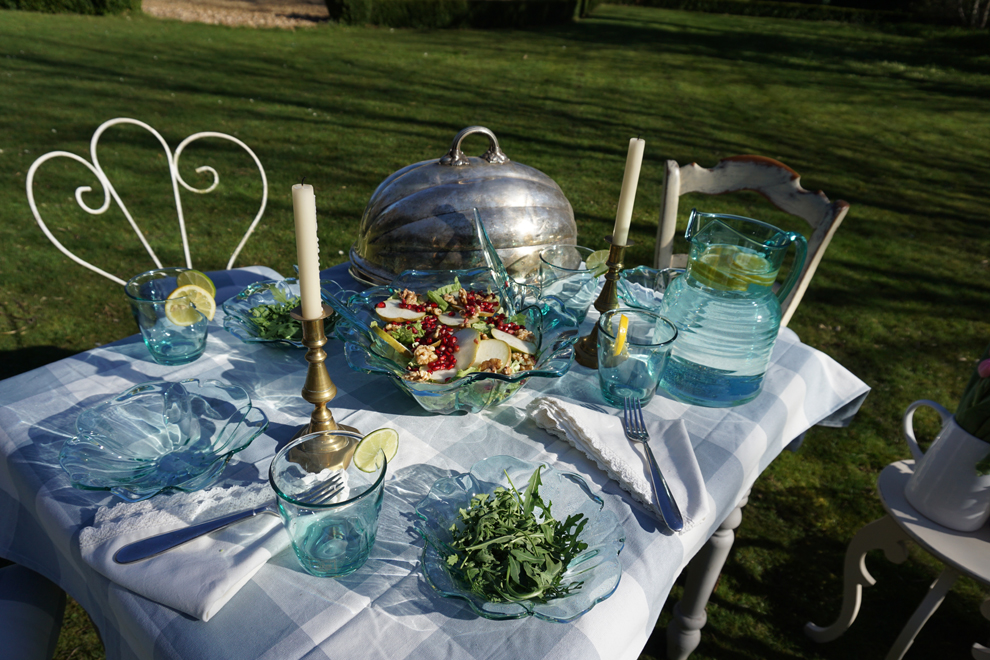 The coupling of a chippy painted farmhouse table and mismatched vintage chairs looked fabulous against the crispness of the Laura Ashley Whitby check tablecloth and matching garden Whitby seat pads in a seaspray grey/green – the perfect mix of shabby and chic!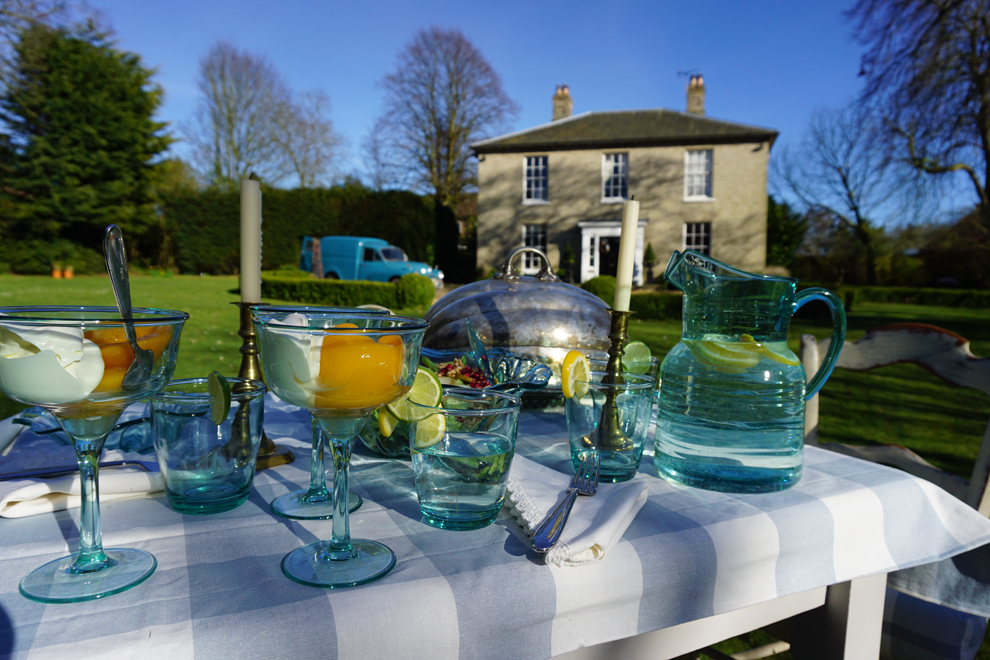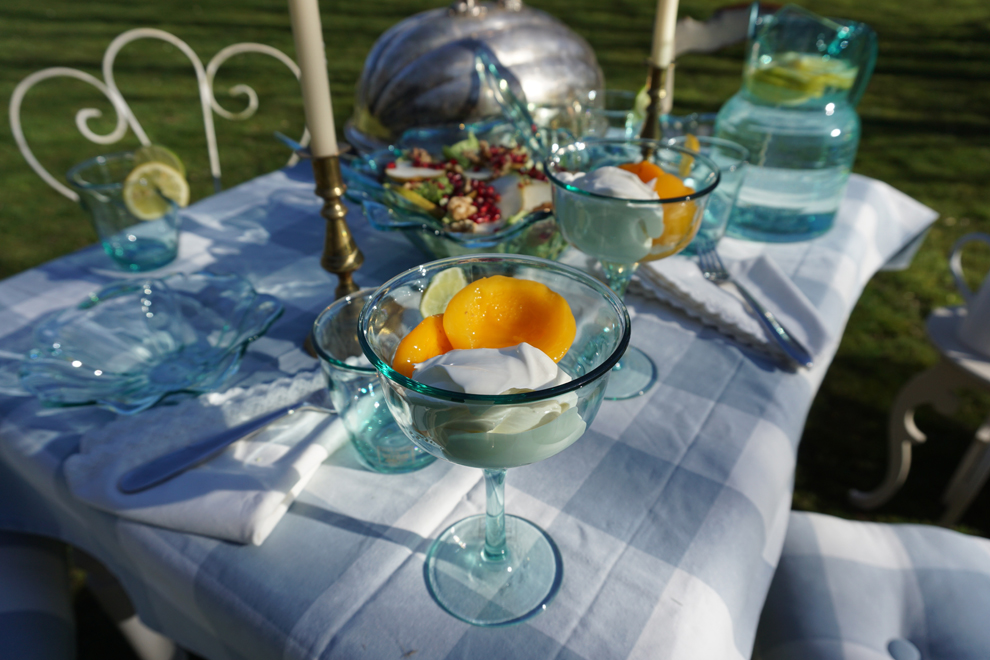 The whole scene was so straightforward and simple to put together, and while the sturdy nature of the acrylic serving collection makes them a practical choice for outside eating – especially if you have young children (or boisterous dogs!), they're also not short on beauty and style, and have the added effect of being able to elevate a simple lunch of sandwiches and salad into a sophisticated feast of garden party proportions! Even the clear acrylic water jug and tumblers managed to look fabulously stylish with their fresh turquoise tint, and my straightforward pudding of halved peaches, smothered in crème fraîche and honey adopted an air of 'haute cuisine' when presented in the tall champagne saucers!
Next stop, Hawaiian Luau inspired evening barbecue and cocktails – those floral bowls are just begging for a pineapple and rum infused summer trifle!!
Best wishes,
Paula x
Isn't Paula's house AMAZING? We would definitely love a spring picnic there ourselves! Do you tend to head outdoors in the sunnier weather? Let us know below or on Twitter @LauraAshleyUK