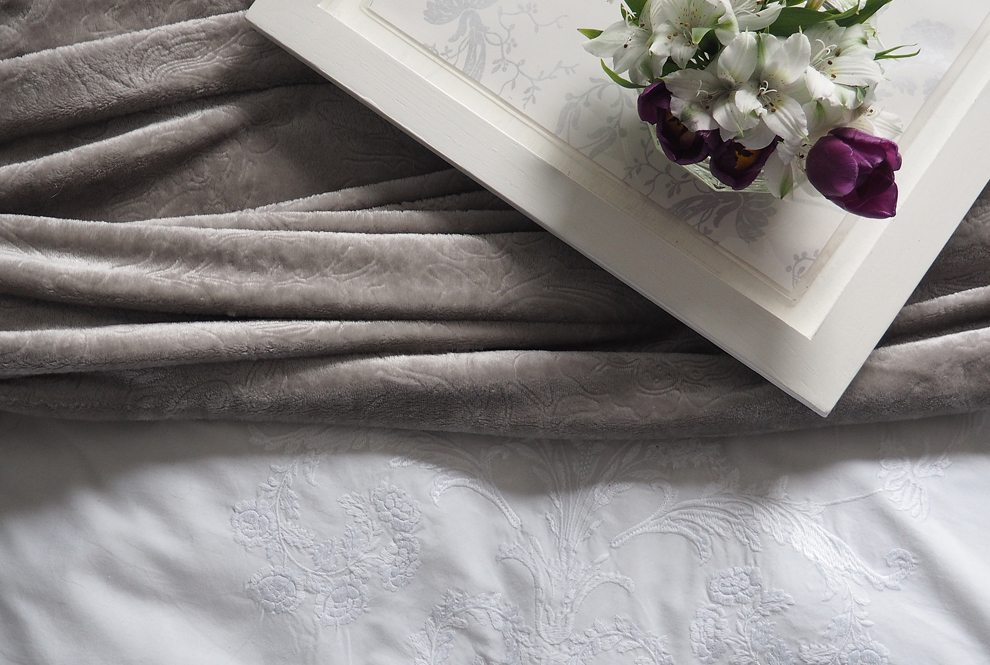 Turn your guest bedroom into a Josette masterpiece... read more
As children we share bedrooms with our siblings whether or not we have a choice at the time. However, once we've all flown the nest it's great to keep those family ties strong and catch up with our siblings even when we have our own families. The lovely Mary from My Model Mummy wanted to ensure that when her family did come to stay there was a welcoming guest bedroom that would make her sisters feel right at home. With a little elbow grease from her sisters and some Josette accessories, she shows us how they worked as a team to create a beautiful haven…
Having three older sisters means that life is always really full and the guest bedroom is rarely vacant. Although our guest bedroom was clean and spacious I decided that I would make the use of my sister's skills to give it a glamorous but subtle makeover and introduce a grey colour palette into my decor.
Last year we lost our lovely Mum to a terminal illness and after spending time at home, nursing her we decided that occupying our minds with a bedroom makeover was a great way to stay positive, be creative and most of all spend some much needed time together having fun!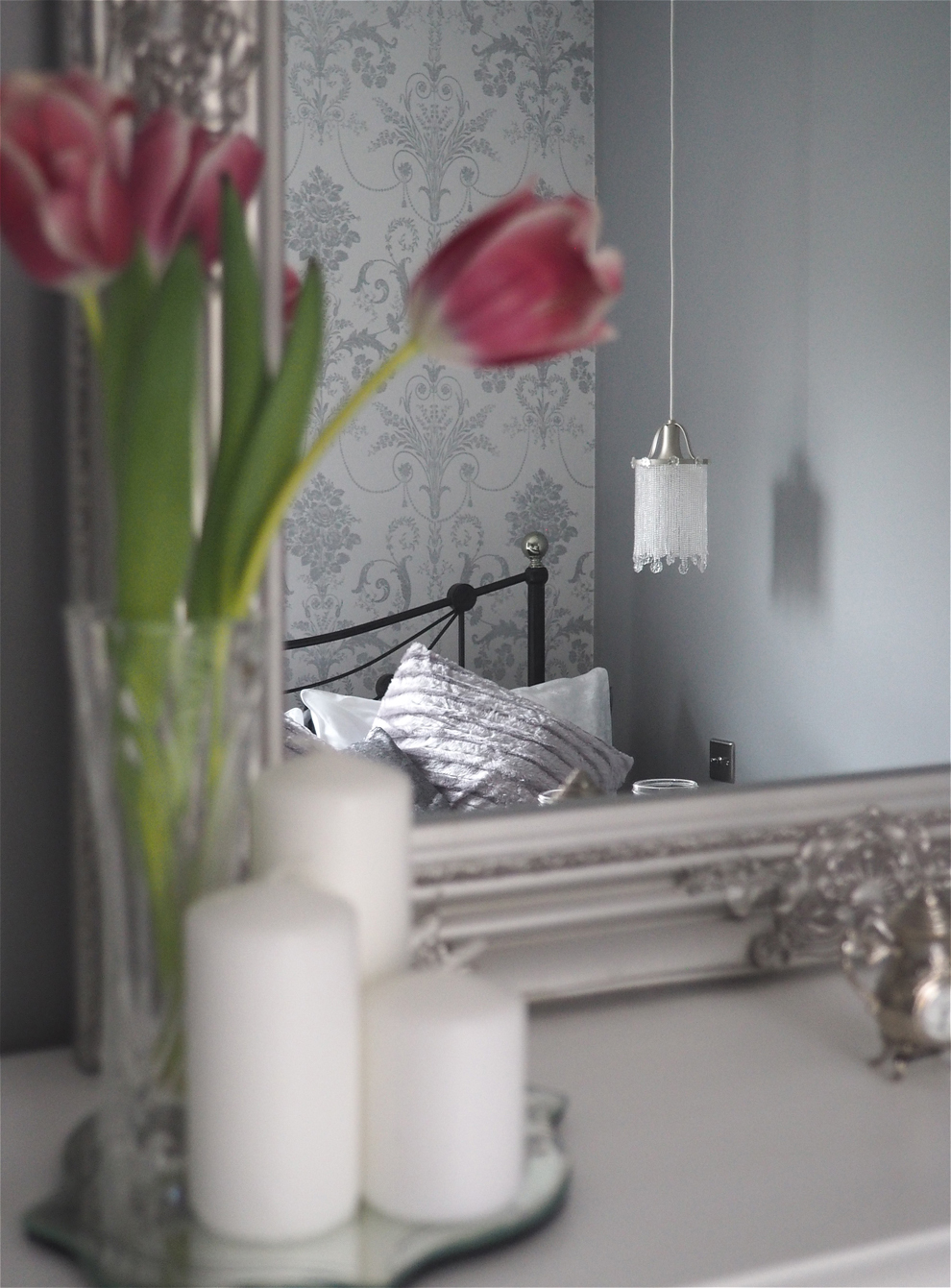 My eldest sister is a dab hand with a roller and after the bedroom was completely re-plastered she briskly rollered the walls with paint whilst the rest of us were distracted by idle sisterly chat. The sun was shining through the window and the base walls were painted in no time at all. A few days later the decorator arrived to wallpaper our feature wall using the Josette white dove grey design. Against the grey walls, I am sure you will agree that the Josette pattern looks really elegant. We had a little paper left over and my second eldest sister Angela really found her creative side.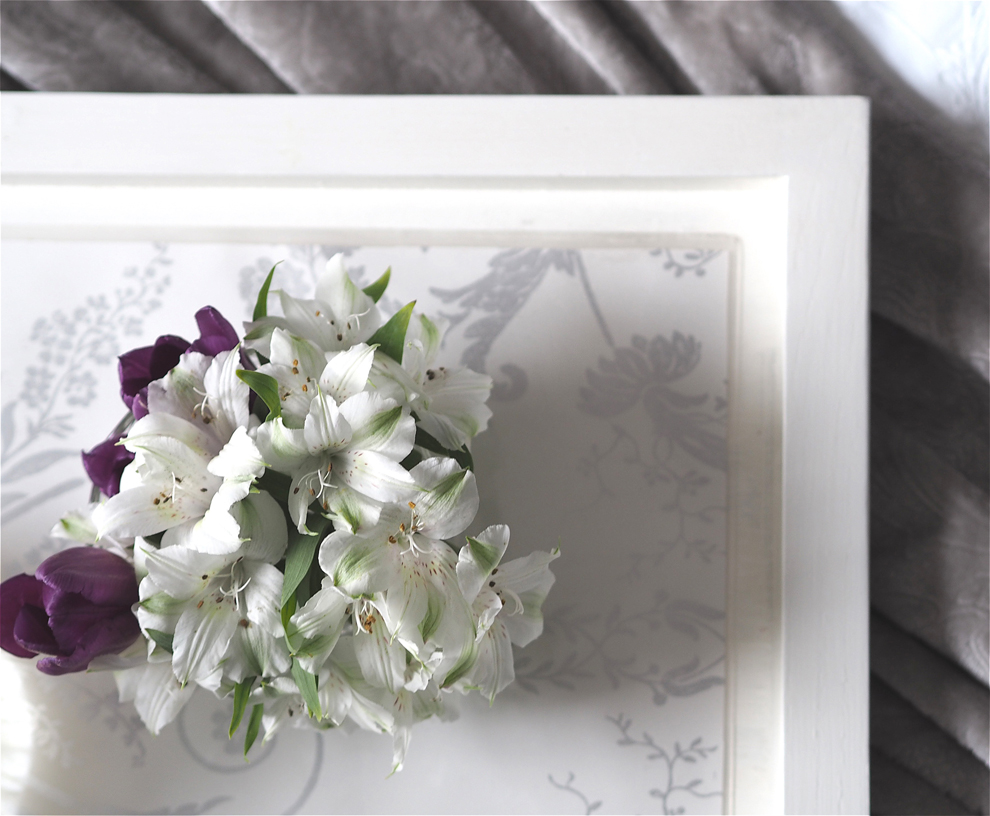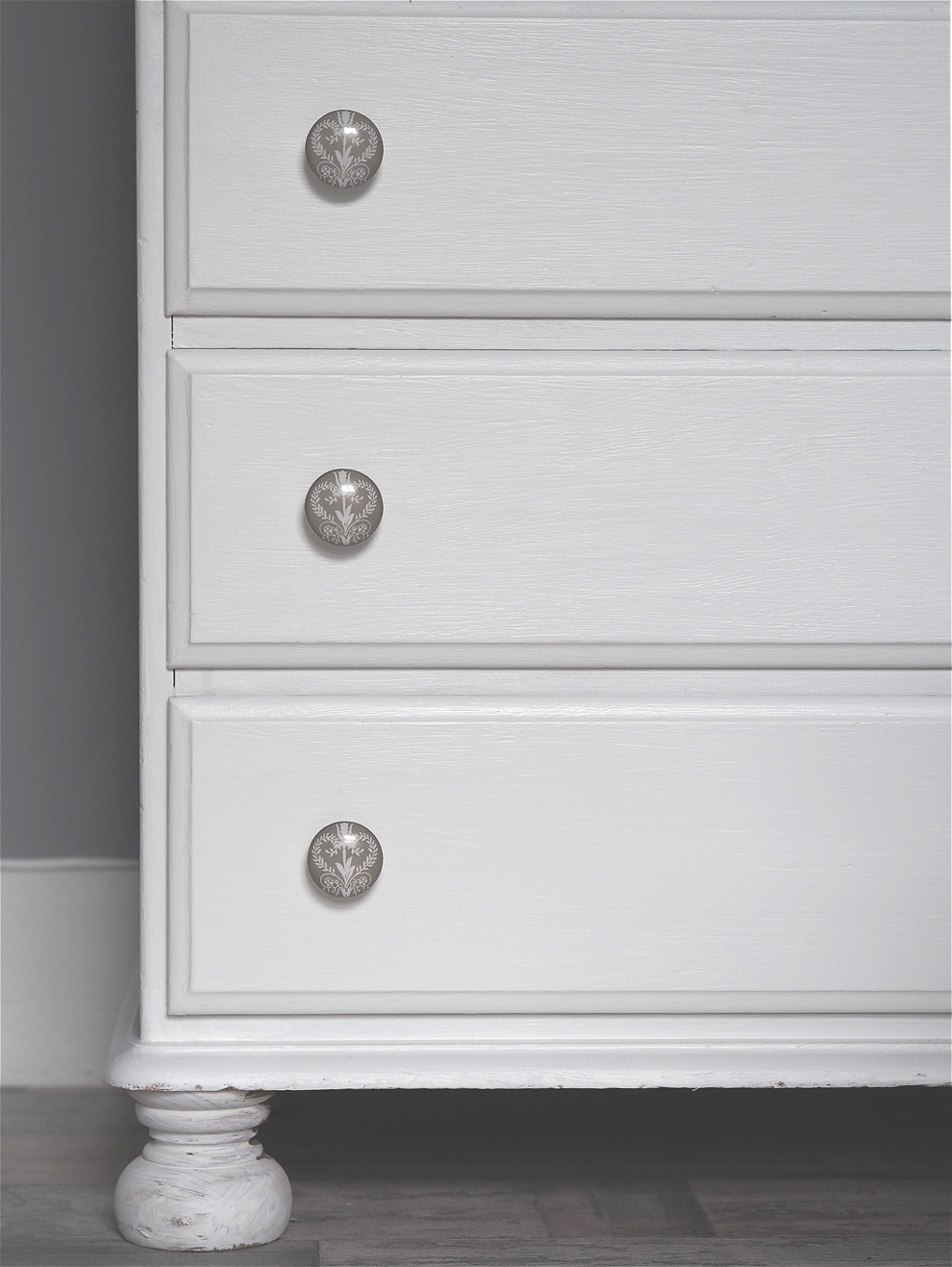 She made a laminated tray liner and then from this new found inspiration she made further liners for the inside of an old bureau that she kindly upcycled and passed down to me. The bureau is tall with drawers and has an opening writing table. I was really impressed with the transformation and when we screwed on the Josette ceramic drawer pulls together, the bureau just came alive! We placed a vase containing some pink tulips on top using a set of three hanging mirrors as place mats.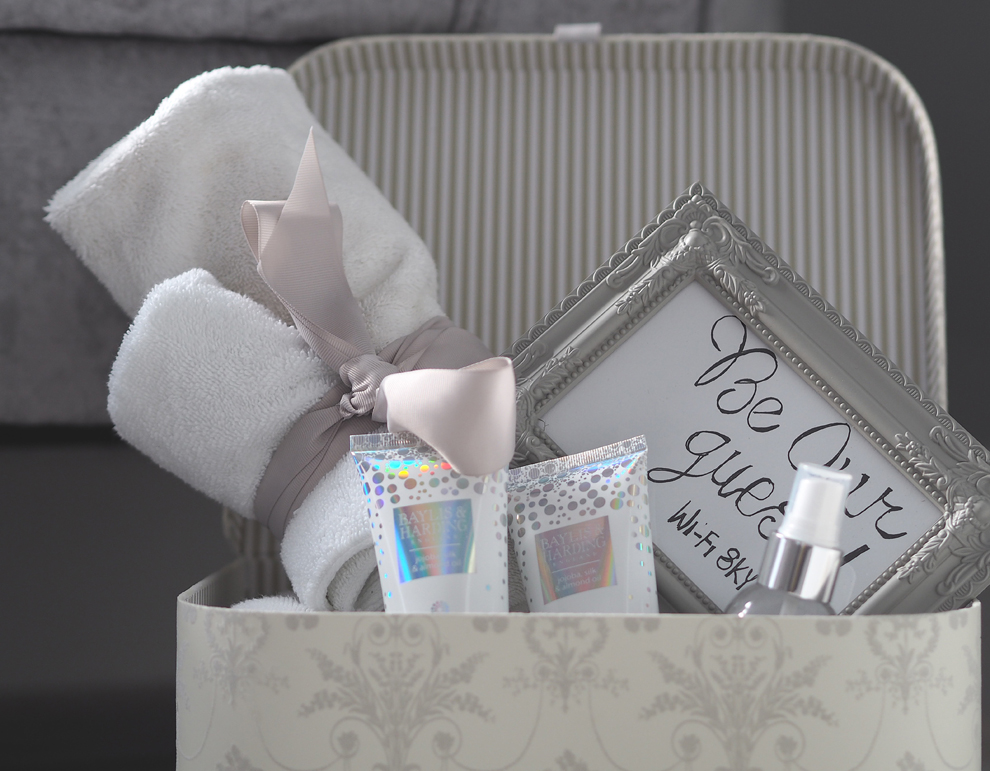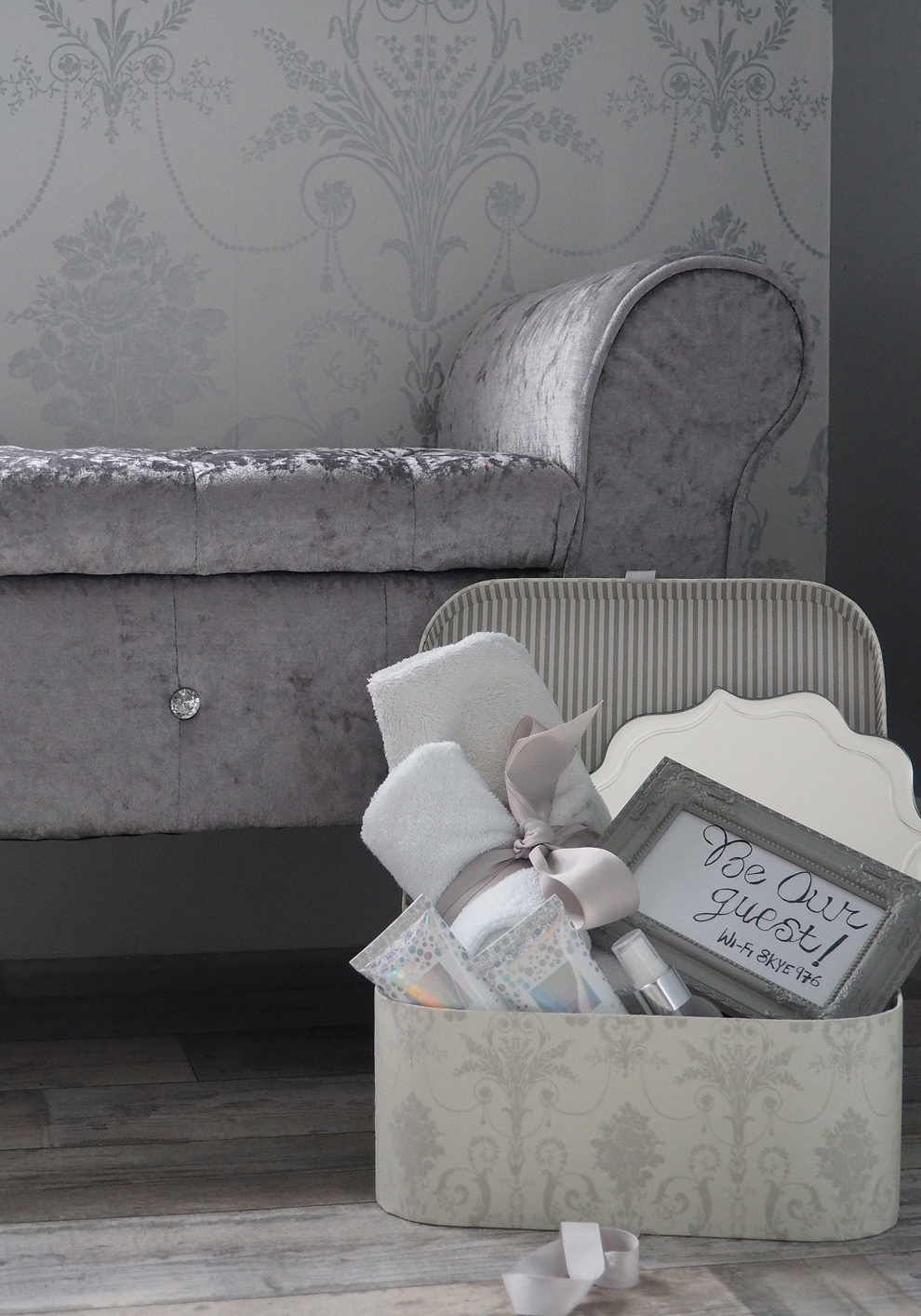 My guest bedroom has lots of little thoughtful touches along with an amenities box containing fresh towels, toiletries and the wifi passcode! The box featured is the larger one of the Josette dove grey set. It has a lined print inside and the overall finish is strong, sturdy and elegant.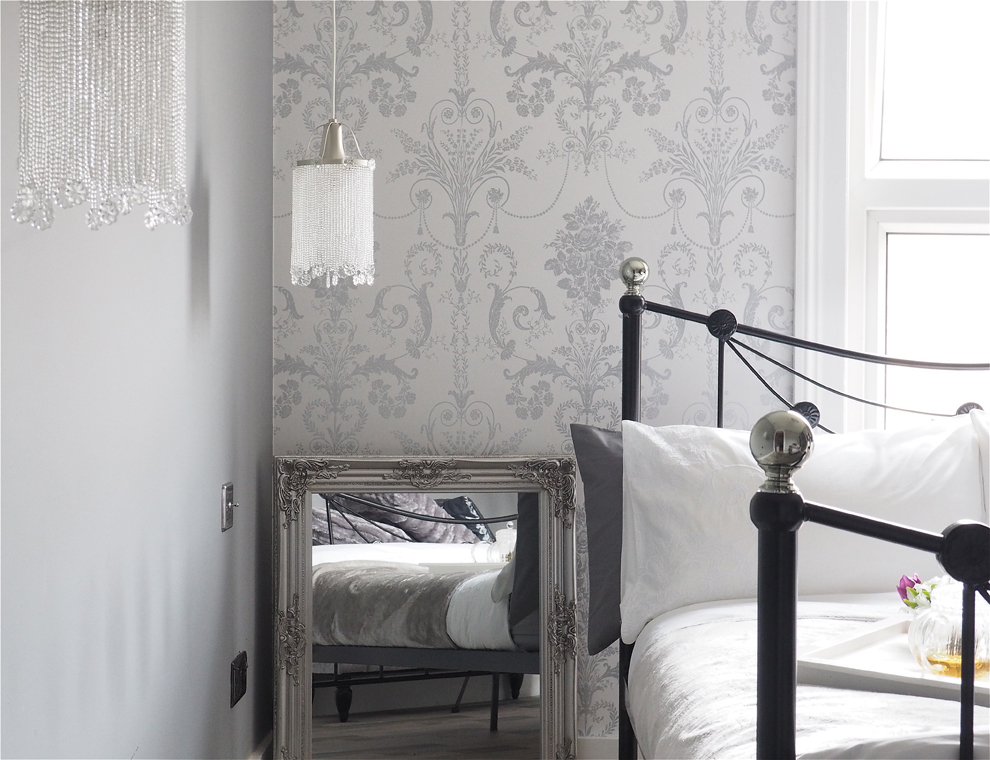 Finally I opted for the Josette embroidered bed cover. I wanted something plain and white goes with anything but also brightens the grey wall. The embroidery on the duvet has a delicate look and is very pretty. I feel that along with the upcycled bureau this guest bedroom makeover has a slight vintage feel.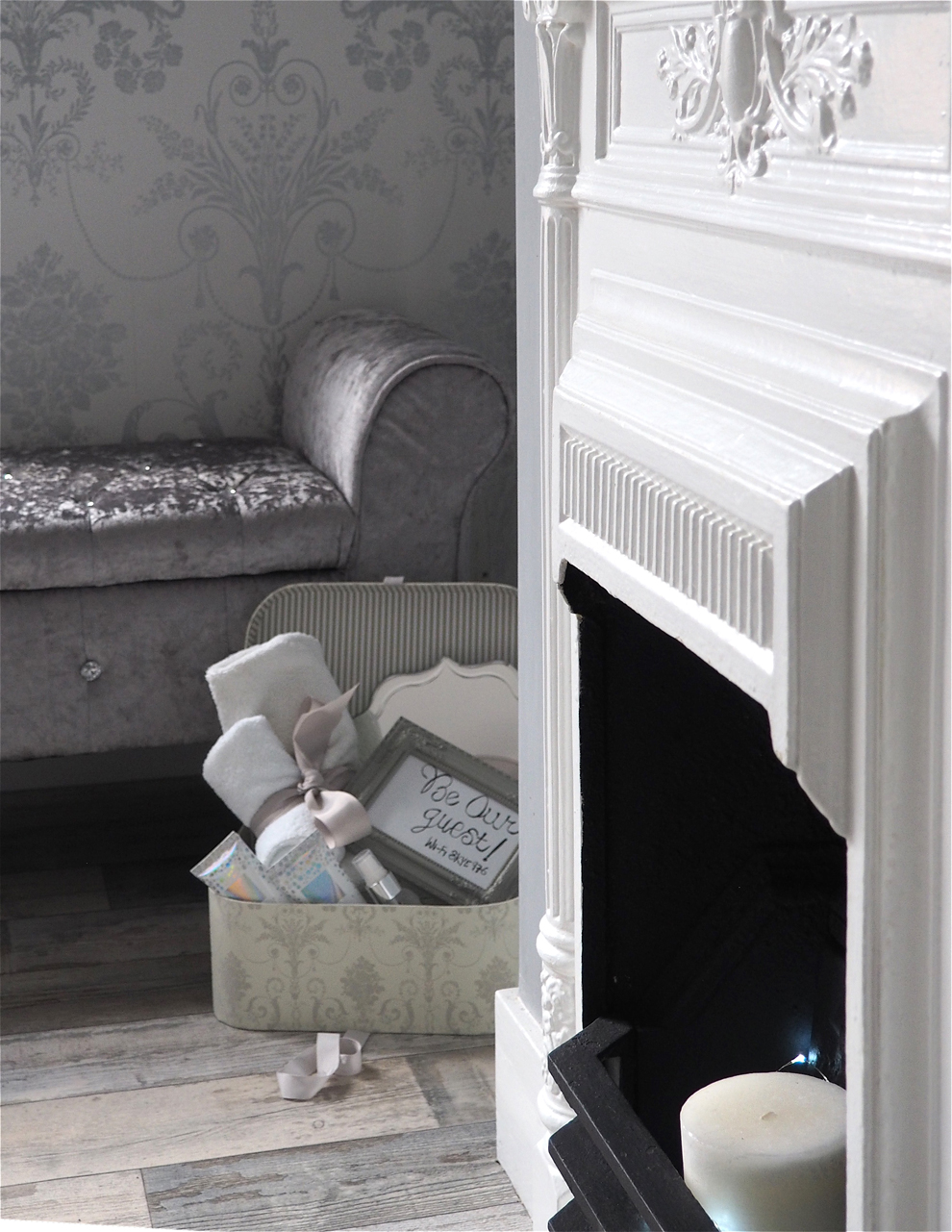 I am delighted with the tone of the room and all the added finishing touches. My talented, Bureau converting sister is also an expert with a camera and we got together to photograph the finished results on our Mums birthday. It was a beautiful day and we filled the room with laughter, drank tea and surrounded ourselves in positive but sophisticated vibes.
This is such a beautiful room and we love hearing how you all worked together to turn it into such a magnificent space. Do you make decorating a family affair? Let us know below or on Twitter @LauraAshleyUK