Personalise your space with wallpaper in these unexpected ways… read more
Whilst interior trends may come and go, decorating your home with wallpaper is a traditional, fail safe option. Coming in a variety of prints, shades and textures – the world of wallpaper can become a playground for adventure! If you fancy pushing the boundaries of wallpaper, then it's time to think outside of the box and look beyond the usual papering ways. Whether you're planning on redecorating a room or have a roll or two spare, get your creative juices flowing and read up on the unexpected ways to use wallpaper in your home…
Create a Focus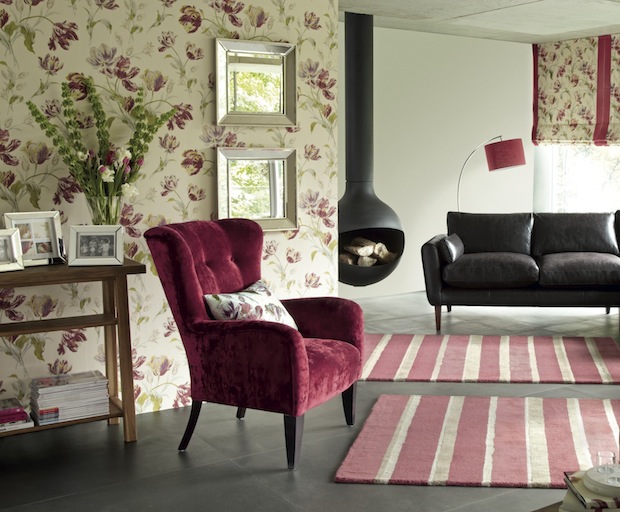 Gosford Meadow Cranberry Print Wallpaper / Hayes Chair / Bexley Stripe Wool Rug / Liberty Square Distressed Mirror
One of the most popular interior trends seen over the past year (or two / three!) is the focal wall. Decorating one feature wall with a standout print creates a bold focus to the room – the perfect way to stamp your personality on your décor. Go big or go home is the rule here! Mixing the cream wash walls with the classic Gosford print above, the room looks modern and fresh, causing the room to feel brighter and bigger.   

Mix and Match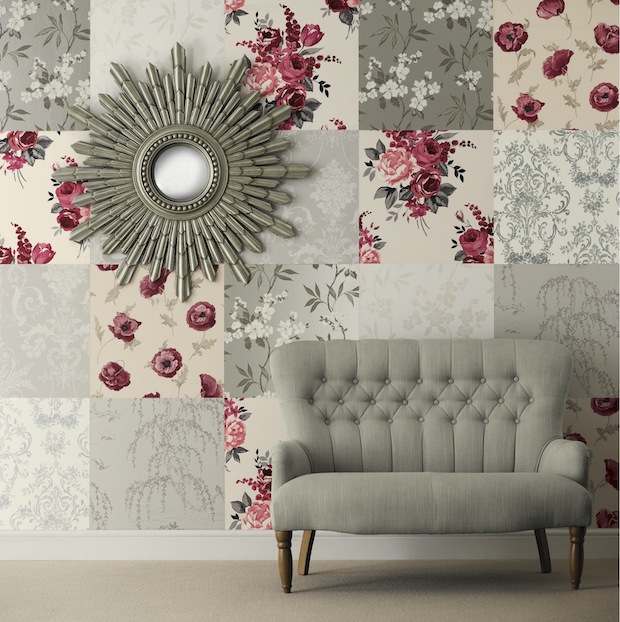 Aston Silver Wallpaper / Chiswick Cranberry Floral Wallpaper / Thalia White Floral Wallpaper / Weeping Willow Marble Wallpaper / Calissa Pewter Floral Wallpaper / Freshford Floral Red Wallpaper / Pemberley Upholstered Seater Sofa / Constellation Champagne Mirror 
If you're torn between prints and patterns, why not push the boat out and go for a mix and match feel? This chequered effect may be for the braver amongst us, but this quirky, creative design would work perfectly in smaller rooms or even closets! Bold and brash, but working seamlessly together – let the walls do the talking and stick to neutral furniture pieces and accessories.
Streamlined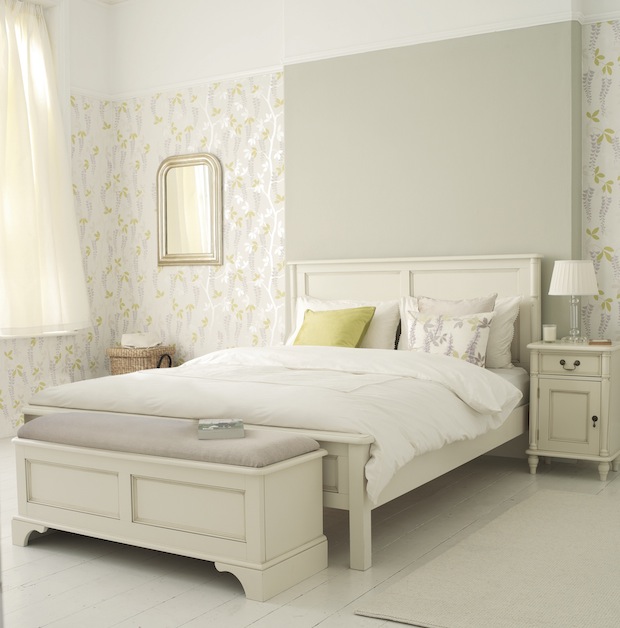 Avebury Amethyst Wallpaper  / Clifton Dove Grey Bed / Clifton Dove Grey Blanket Box 
When it comes to decorating a bedroom, a calming atmosphere is what we long for when winding down. Don't however be afraid to blend textures, mixing neutral shades of paint and subtle wallpaper prints. Complimenting the Avebury wallpaper, the pastel green shade behind the bedstead instantly creates the illusion of the room feeling larger. Such a simple step with noticeable results, both work well to reveal a modern and relaxed setting
Be Creative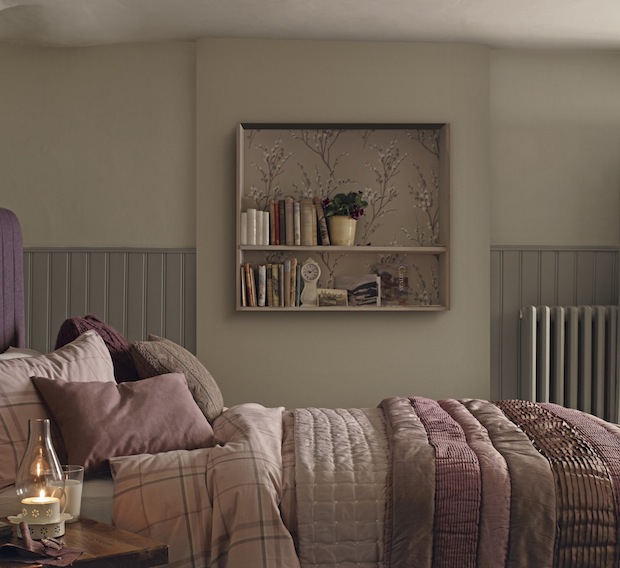 Pussy Willow Natural Floral Wallpaper / Fillmore Check Amethyst Bed Linen
If you have a few spare rolls of leftover wallpaper hanging around put them to good use and get creative. As demonstrated above, the Pussy Willow Grape wallpaper provides the perfect background to the bookcase. Adding a decorative touch, the pattern compliments the muted colour palette.
A few other exciting ideas to try:
– Add splashes of colour or print to the inside of wardrobes and closets to add a playful twist. We love the idea of lining drawers with wallpaper, not only does it look attractive but can be changed to suit whatever your interior mood is of the moment!
– Mix things up and wallpaper your ceiling, there are a number of pastel shades with an embossed texture that would add an interesting feature to any room.
– If you have a blank canvas to work with, whether you don't have the time or haven't decided on a look, frame wallpaper clippings to add a pop of print and interest.
– Go wallpaper crazy and line your staircase! A bold move, but one that will certainly get people talking and put a hop in your step.
– Have a glass-topped coffee table taking pride of place in your living room? Revamp its look by adding a sheet of bold print wallpaper underneath for the wow factor.
We are certainly feeling inspired to up our wallpaper game! Will you be trying any of these looks? Race you to the wallpaper samples…