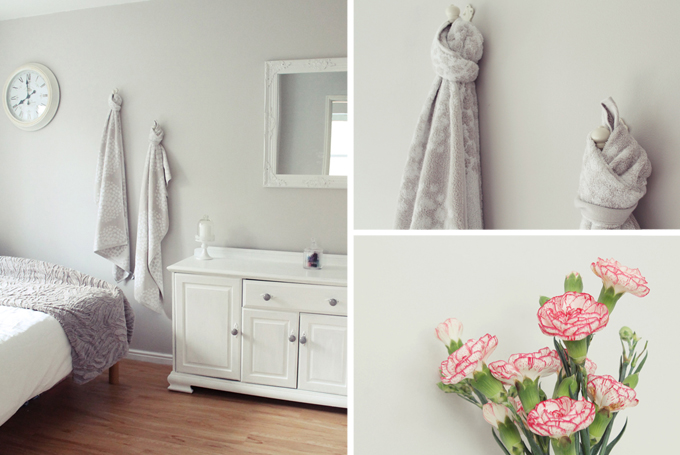 We invited blogger Katy of Little Winter to share with us what she thinks makes an inviting guest room... read more
Creating a cosy and inviting guest room can be a tricky task for any host, especially when every persons opinion on what makes a 'home from home' is different. The art of decorating this space requires keen attention to detail, and of course a good eye for interiors! With this in mind we invited lifestyle blogger and keen decorator, Katy of Little Winter, to create a welcoming space for guests in her new home.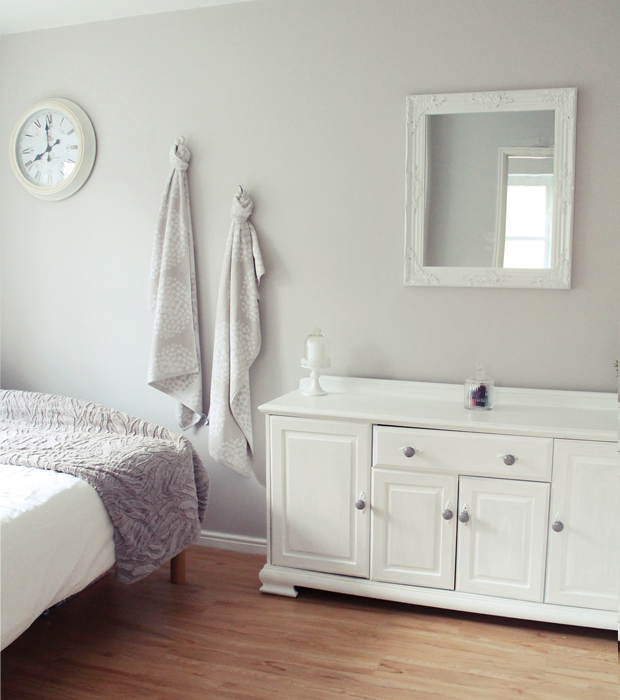 Dove Grey Paint | Pair of cream white hooks | Coco Jaquard Towels
Making the most of your house is sometimes easier said than done even when you upgrade from a two bed to a three bed, your stuff just never seems to quite fit in. Space is always an issue – well that's what we've found recently! With one of our rooms fully converted into a wardrobe room (yes, it's a dream come true!) we pondered over the spare room for quite some time debating whether an office would be ideal (nope, we don't work at home), an indoor gym (nope, this would last five minutes) or the man room (this one went on for some time). Eventually we decided that it was best kept simple yet useful. A chilled room on a weekday evening and the guest room for two by weekend.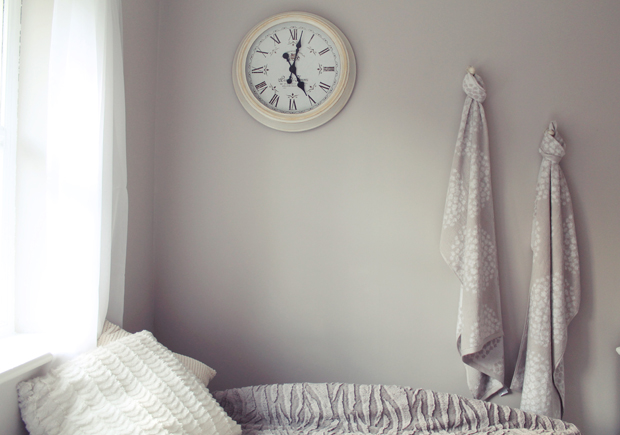 We have a lot of guests over to stay – I love hosting for people (putting out fresh towels, offering some form of breakfast and just enjoying the company), so I felt that we couldn't quite get rid of the spare bed just yet. Instead of  wishing we had a day bed, we attempted to create our own version only bigger, with cushions and throws for that extra cosy feel. We decided to paint the room in the Dove Grey emulsion, which gives a calm and warm ambience for anybody visiting (plus it really was time to step away from our beloved white paint!)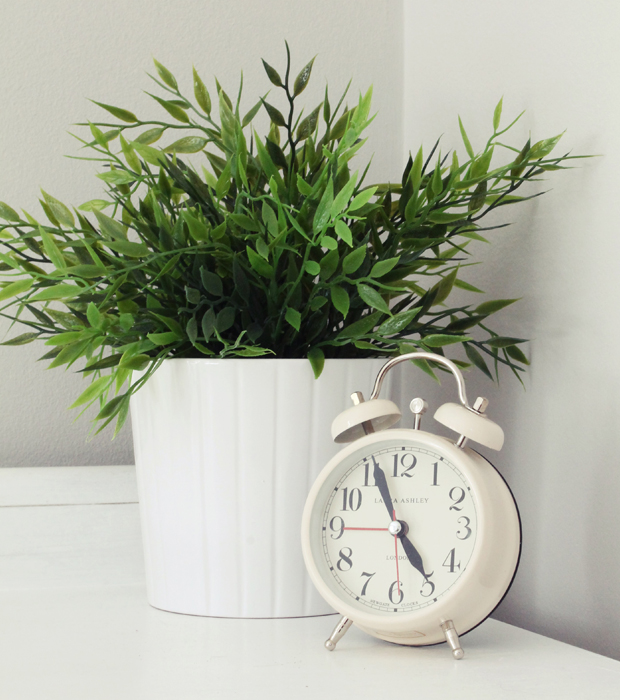 At the moment, we seem to have a new love for clocks. Whether it be a tiny handheld clock or a huge centre piece we want them all and in every single room! This sweet little Laura Ashley alarm clock is the perfect size propped up next to the plant pot on the sideboard and is ideal for when we've found ourselves dozing off for forty winks… It's a good job the alarm is fairly powerful!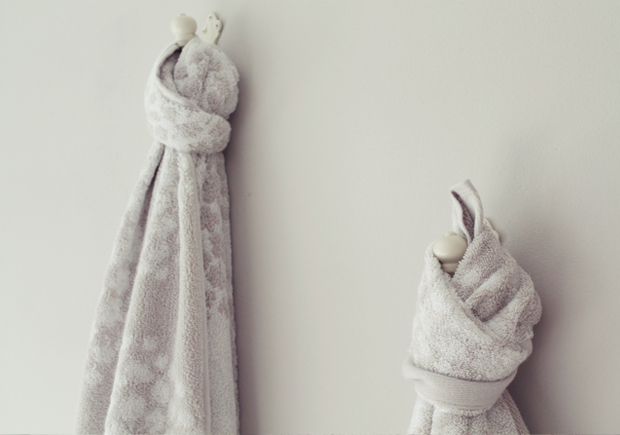 Coco Jaquard Towels | Pair of cream white hooks

I expressed my love for putting out fresh towels for guests, so we couldn't be without these Laura Ashley Jaquard Towels which not only takes away the awkward "do you have a towel we can borrow?" question, but instantly makes them feel like they're at home. Killing two birds with one stone we hung them on these cream hooks and made it a feature against the wall, plus it saves on space. It's so Pinterest, I totally love it!

We wanted to make the most of our space and not just as a guest room, so by putting our own stamp on the room made such a difference. Whenever I'm after an hours peace or some pampering time, I grab a cuppa, turn on some music and paint my nails. This jar is the perfect storage solution for keeping things tidy and organised, and  of course any of our guests are welcome to borrow some varnish.. if they like that kinda thing!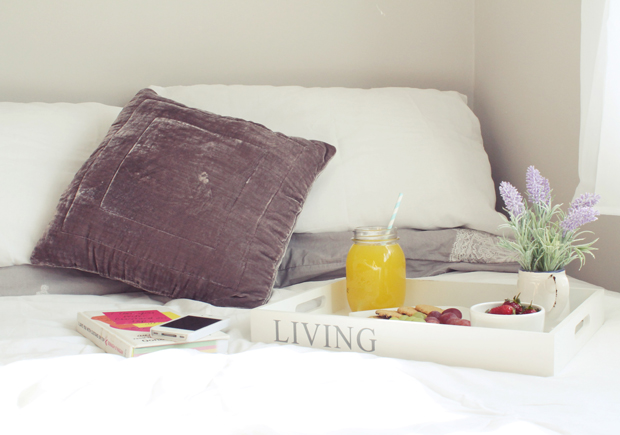 Our cushion collection for the room is slowly growing, and this velvet cushion certainly makes up for what we're lacking. There's been many afternoons where I've laid my head and read a book whilst enjoying a few too many biscuits. Personally I think cushions are what makes a bed so inviting, and if there's one thing that I like to hear, it's that my guests have had a good nights sleep.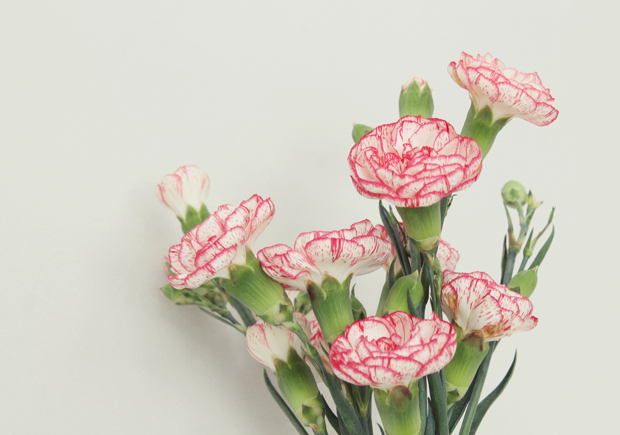 And of course, no room in our house could be complete without a handfull of carnations in a milk bottle placed nicely on the shelf. To me, that's what makes a room inviting and cosy the most.
A big thanks to Katy for her words of advice! What do you think makes a good spare room? What makes you feel at home when you're a guest? We'd love to know…