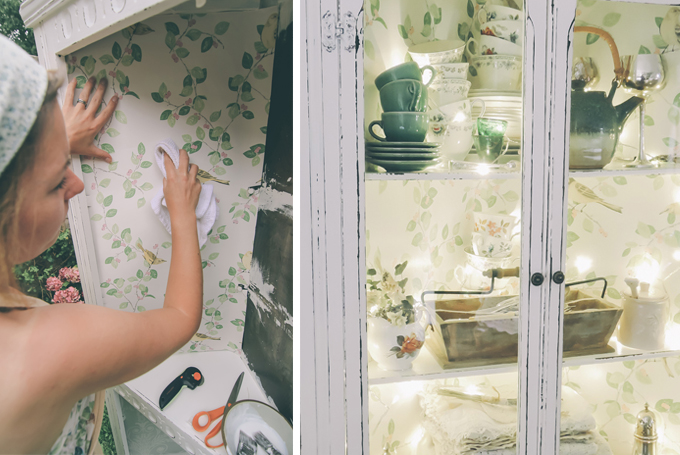 Blogger Jodie gets creative with our wallpaper and paint to create a distressed cabinet... read more
We're forever searching for creative ways to use our wallpaper, from creating a focus wall, to framing a piece, we love thinking of new fun ways to use the material. That being said, there's nothing we like more than a good old fashioned up-cycle, so our thoughts turned to how to incorporate wallpaper in a new DIY project. With our creative hats on, we invited crafty blogger A Handmade Cottage to give us a step-by-step guide on how to create a distressed wallpapered cabinet…
This weekend I took on a rather large up cycling project, with the help of the lovely Laura Ashley. I transformed my very dark corner cabinet into light one, using their pretty paints and wallpapers. My little victorian cottage can be rather dark at times, so transforming dark furniture is a great way brighten and create the illusion of space.
What you will need:
3 contrasting pieces of Laura Ashley wallpaper
Undercoat / primer in white
Laura Ashley Cotton White Paint
Clear Soft Wax
Fine Sandpaper
Masking Tape
PVA glue (in matt)
Paint Brush
Lint‑Free Cloth
Step 1:
Remove hinges and door knobs. (I know, it's time consuming but it's worth it.)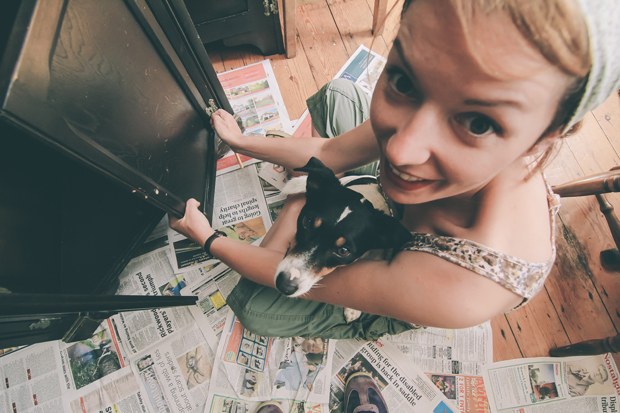 Step 2:
Sand the furniture lightly ‑ don't strip it completely, just give it light sand to help the paint stick.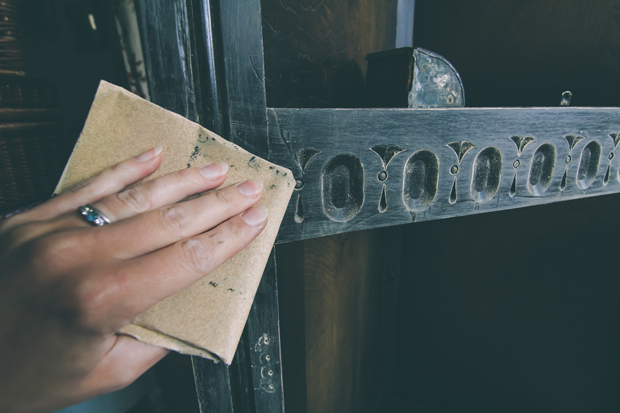 Step 3:
Apply a coat of primer. Once the first coat is completely dry give any lumps and bumps a light sanding. If your furniture is dark you may need to apply another coat.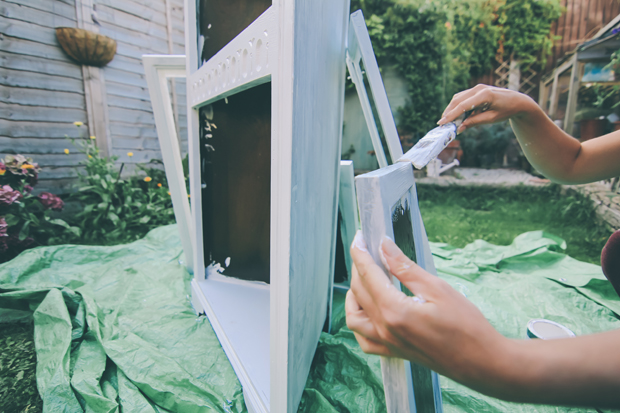 Step 4:
Once the primer is dry, apply your first top coat. Give another light sanding in between to ensure a smooth finish. Then apply the second coat (and a third if necessary).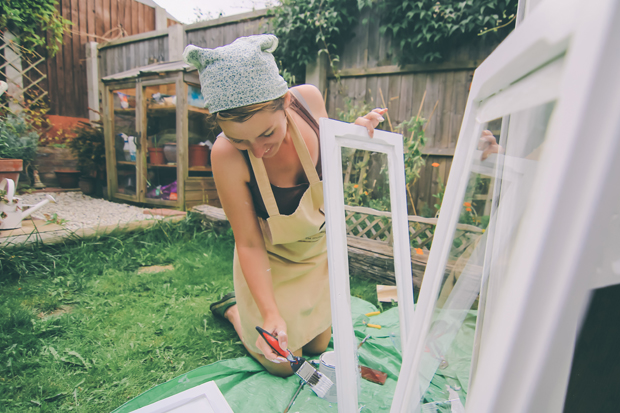 Step 5:
Once the paint is completely dry it's time to distress! You can use sandpaper alone or a blunt knife … there are tools designed especially for this but a knife works perfectly well.
Take hold of both ends and scrap along all the edge until you have the desired effect, then sand. I find the sandpaper alone works better on the smaller / detailed areas, while the knife / sandpaper work better on the edges.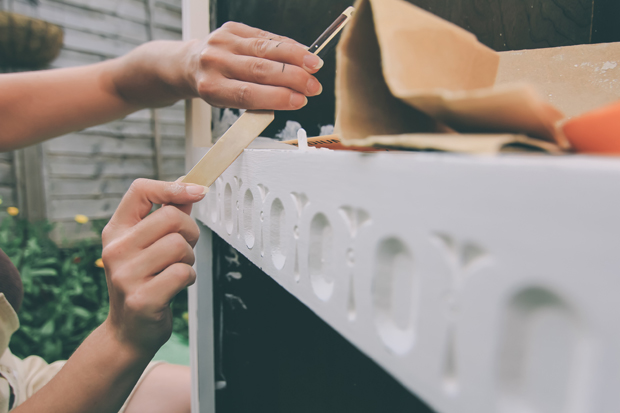 Step 6:
Once you've finished distressing give it a good dust off, and apply your wax with a soft lint free cloth. Rub it into the grain then once dry, give it a good buff.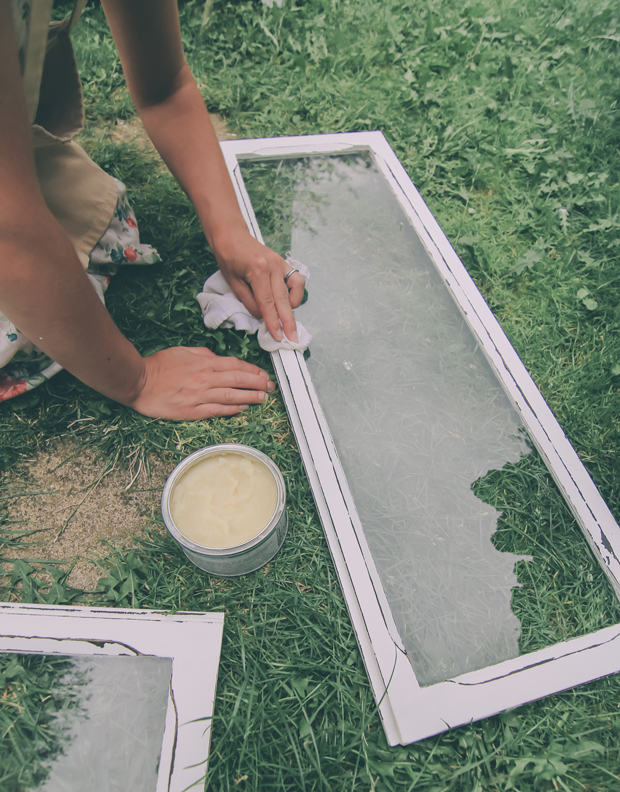 Step 7:
The wallpaper is the tricky part. First measure the width and length you need to cover …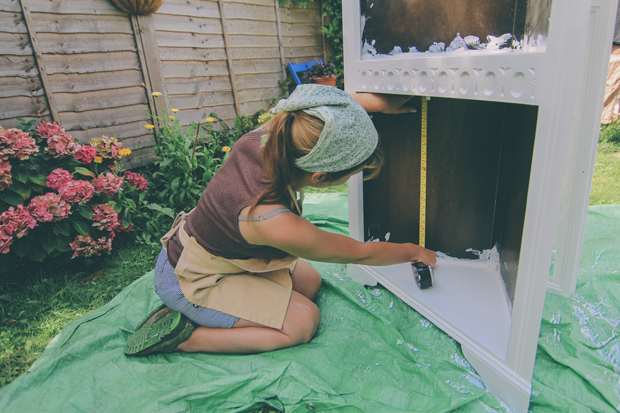 Step 8:
Then ensuring your wallpaper edge is straight to begin with, measure your wallpaper and put a mark on each edge where it needs to be cut, then fold the edge, making sure it's straight and cut to size.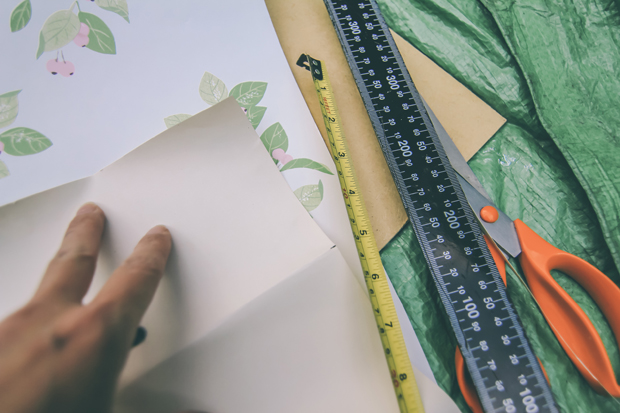 Step 9:
Once you've cut out all your pieces of wallpaper make sure they all fit into the space, and make any nessesary adjustments.
Put to one side and apply your first coat of PVA glue. Having another person on hand at this point will be helpful. My mum and I applied the glue together as it dried quickly. When you're ready to lay the paper ‑ I suggest one person holds one end, while the other person lines up the other end with one edge, then gradually lay it down lightly. Once it's in don't press down…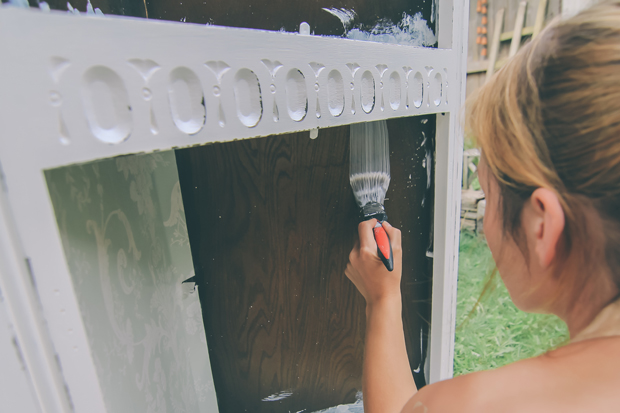 Step 10:
Take a clean, dry cloth or tea towel and smooth out the paper from the CENTRE outwards. Do one side, then the next. If you get creases or bubbles don't panic, you won't even notice them and many bubbles disappear overnight. Once the wallpaper is up, then brush on a thin, even layer of PVA glue on TOP of the wallpaper.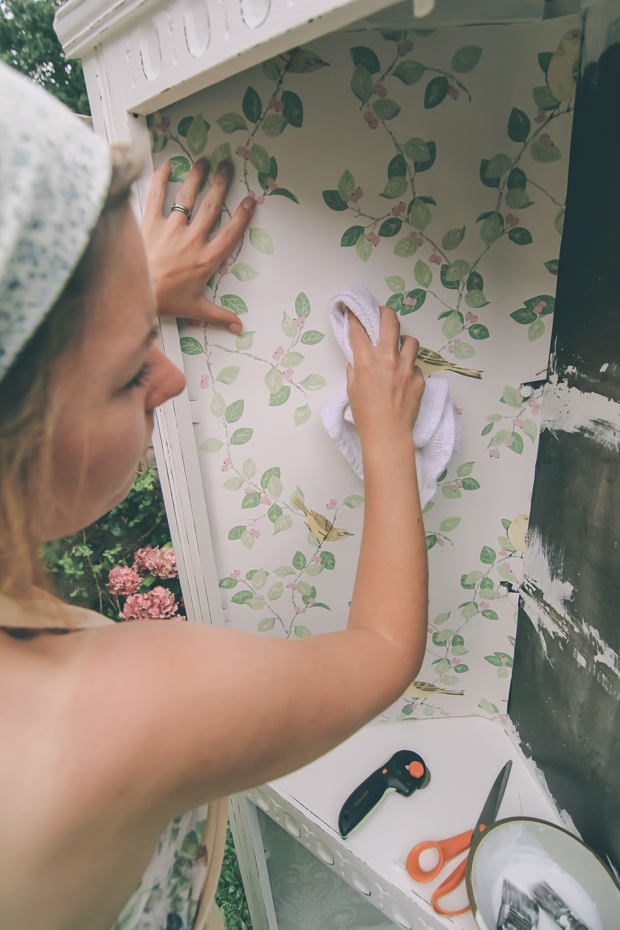 Step 11:
Give the hinges one thick coat of top coat or two thin coats. Once dry, sand‑paper the paint off all of the edges, and gently bring out the detail. I also dabbed a little paint on the top of each screw, making sure I could still get the screwdriver in.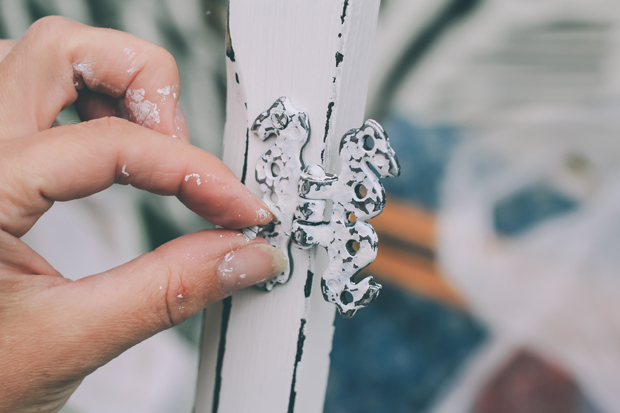 Step 12:
Once completely dry screw all hinges back in place.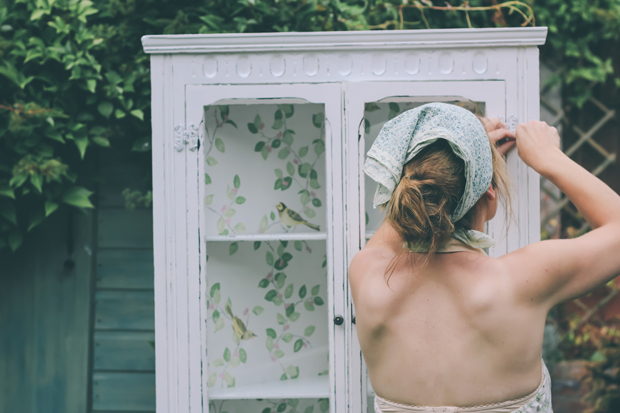 Finally:
Stand back and admire your hard work! Adding fairy lights inside gives the whole cabinet a sparkle. These are micro LED lights in warm white. Tada!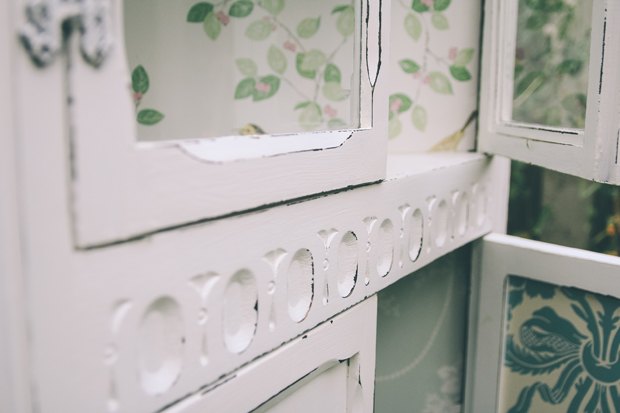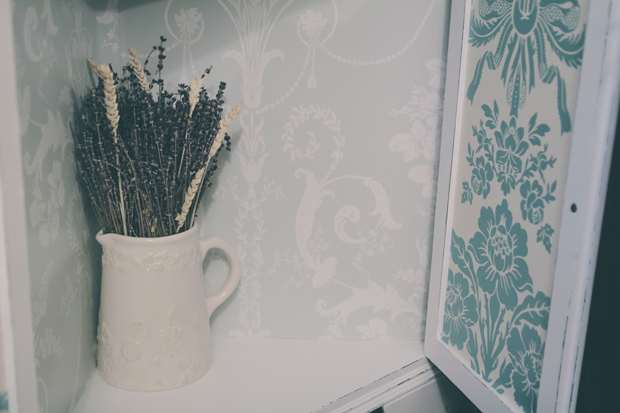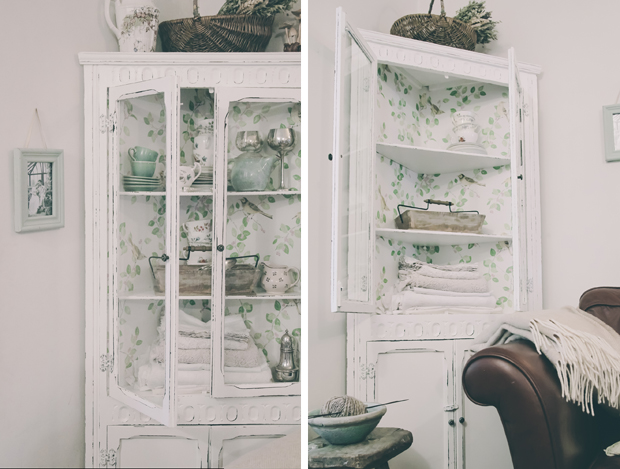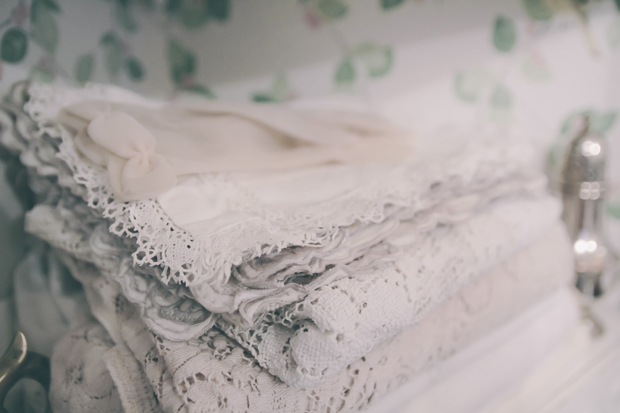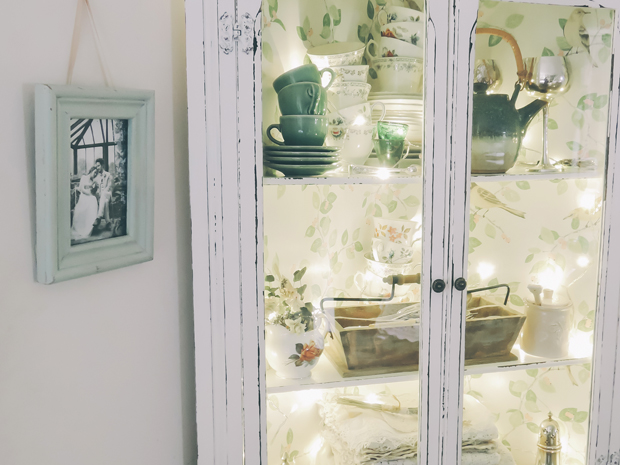 We love this creative way to use wallpaper, especially with the finishing touch of LED lights! Can you think of any creative ways to use the material? Do let us know…