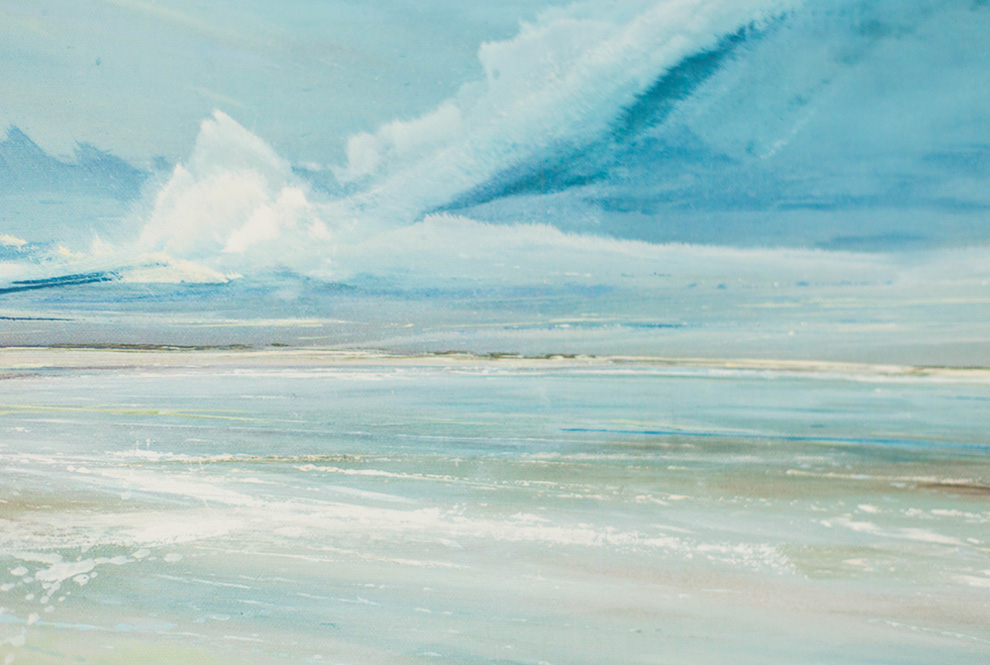 Take a look at how Pia is transforming her landing with only a few coastal inspired accessories for a lighter and brighter feel... read more
As it is the season of change and things being to transition, our interiors are also changing as many of us decide it's time for a revamp before spring arrives. This is why we have the lovely Pia from Finnterior Designer here to show us how she is transforming her landing.
The stairs landing is often overlooked. It always seems to be the last room you end up decorating. This has certainly been the case with us. The landing was not on top of my to-do list when we bought the house six years ago and it's not until recently we decided to do something about it.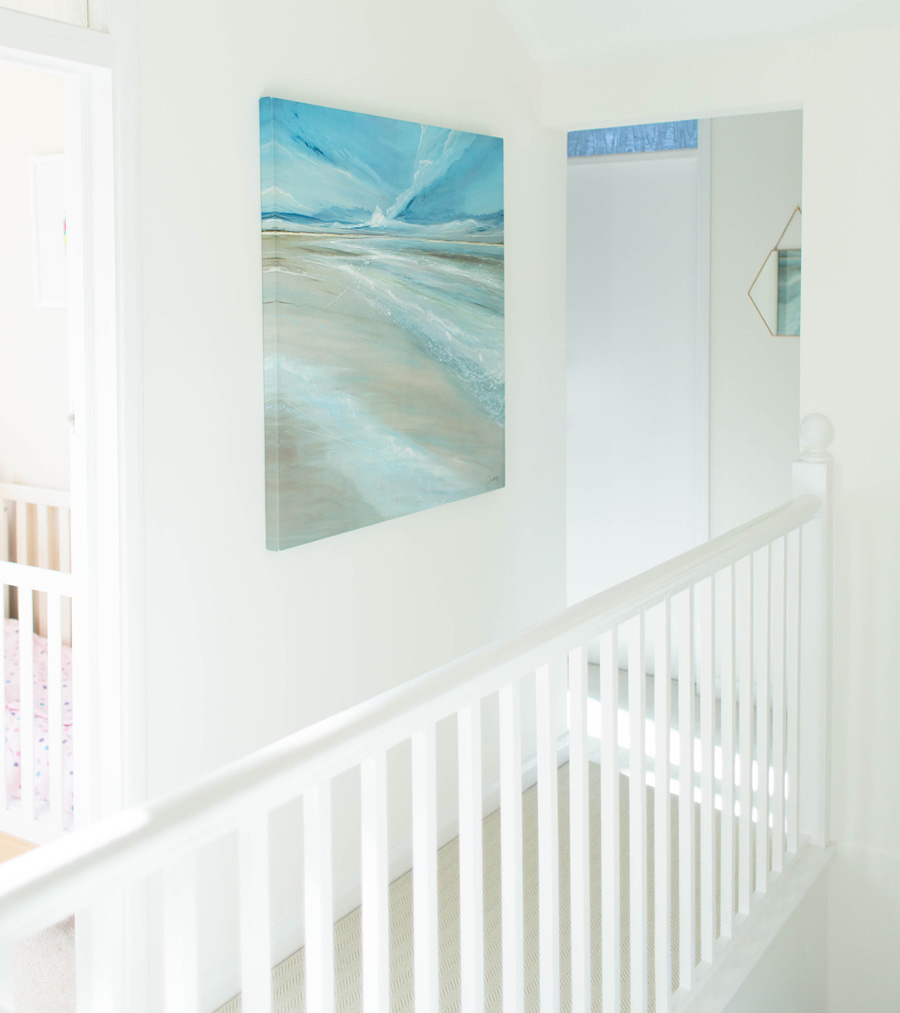 Finally a few months ago we installed a brand new carpet and got rid of the old wallpaper. It made the landing look totally different but I felt like something was missing. Since we decided to paint the walls white, it was pretty clear that we needed some statement wall art to soften things up a bit. I had been looking for the perfect coastal art piece when I spotted the bay canvas.
Once it arrived, I knew I had made the right decision. It looked even better than I had hoped and it's such a statement piece thanks to its huge size (100 cm x 100 cm). I find the seascape so relaxing to look at. Also, I love the depth of the canvas. I could stare at this canvas for ages and forget about everything else around me. The soft and calm colours complement our almost all white landing incredibly well.
Although I love all things coastal, I didn't want to add too many coastal prints to the space to distract from the large bay canvas. Also, I wanted to mix different textures and styles together in order to create more interest. The trickiest part to decorate was the long wall above our staircase. Since it's such a long space, I I was thinking it would be best to group three single items vertically together. I remembered seeing these Rattan Wall Art Baskets at a Laura Ashley press show a while ago and thought they would look great grouped together on a long wall. I guess I was right because I absolutely love them! We used adhesive hooks to hang them up which made the whole process hassle free and quick.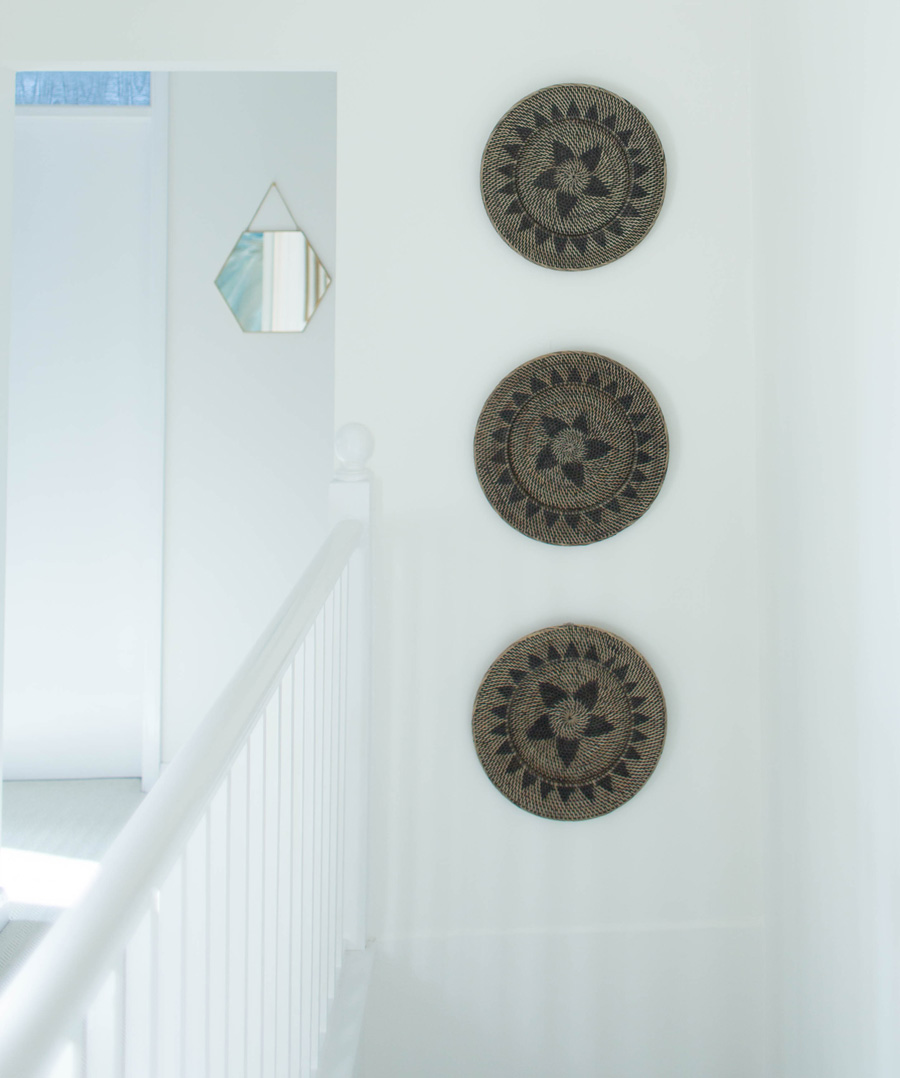 I also placed the small hexagonal mirror at the end of our landing to open up space a little bit. You can never have too many mirrors in the house, can you? Decorative mirrors are great in small, narrow spaces like the hall or landing. They reflect light around the room making it appear even bigger. You could also group multiple mirrors together to make a statement or use them as part of a bigger gallery wall.
The peacock gold effect prints add a touch of glamour to the room. I turned one of the prints upside down so they would look like a set of two. These prints are so versatile. They can be used separately or together to make a real statement.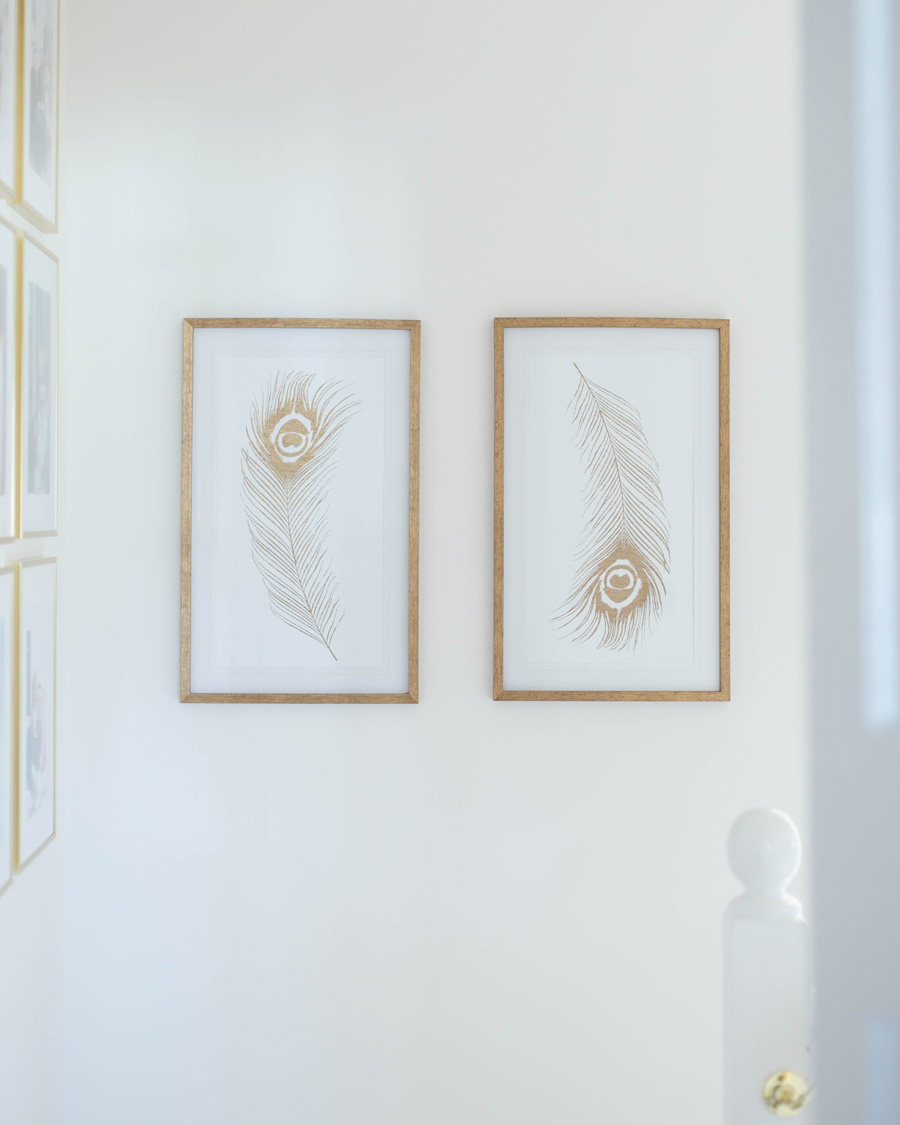 Decorating our landing was so much fun, but also a little challenging at times. I just love the way these coastal accessories bring a sense of space and tranquillity to our home. Few statement pieces are often the only thing you'll need. You'll want to create a visual space with beautiful artwork and different textures that makes the upstairs worth exploring. Obviously, I'm thrilled with our landing makeover. I never thought I'd be saying this, but it is now one of my favourite rooms in the house.
Have you given your landing a makeover recently? Let us know what changes you have made below or @LauraAshleyUK.