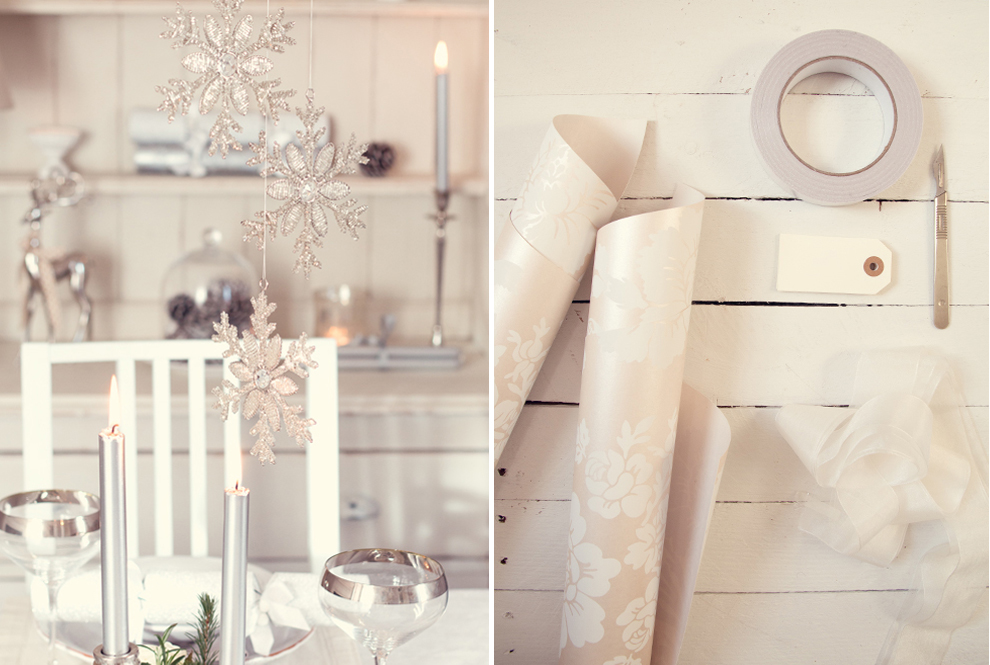 With two more sleeps to go, Laura puts her gift wrapping and table dressing skills to the test... read more
With two days left until Christmas (eeeek!) it's time for those last minute festive arrangements. The traditions high on our priorities now that we're edging ever so closer is table decorating and gift wrap. Getting ourselves ready for the big day, it's time to pull out the wrapping paper and get creative with our presents around the tree.
Each year we're on a mission to make this years wrapping even more beautiful than ever, so we've enlisted the help of one of our favourite bloggers, Laura from We Made This Home, to show us how it's done. If that wasn't enough, she's also created the most oh-so-stunning tablescape to have your Christmas guests swooning with delight!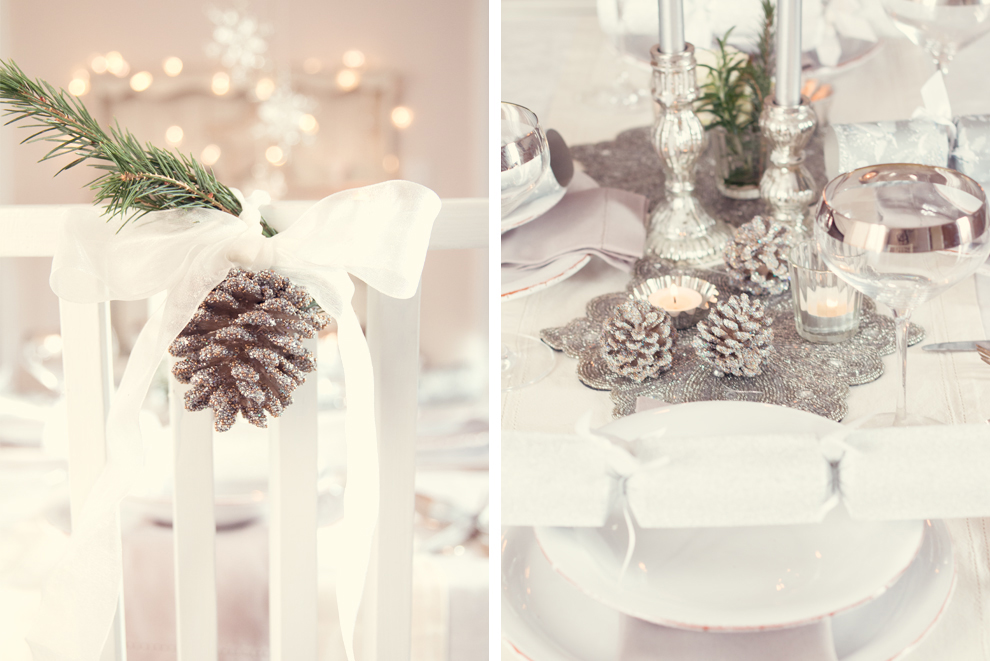 The festivities are in full swing here, I love the house at Christmas time, it has such a wonderfully cosy feeling, and now that we are in the last few days of the big countdown the house has taken on a whole new feeling of magic as the presents are wrapped and popped under the tree and the table gets set ready for a family dinner.
I was thrilled when Laura Ashley asked me if I would like to collaborate with them on a festive post to share my Christmas table and gift wrapping inspiration with you. They have a wonderful range of Christmas decorations and festive homeware pieces that will add to the magic of any home this Christmas.
The Christmas Table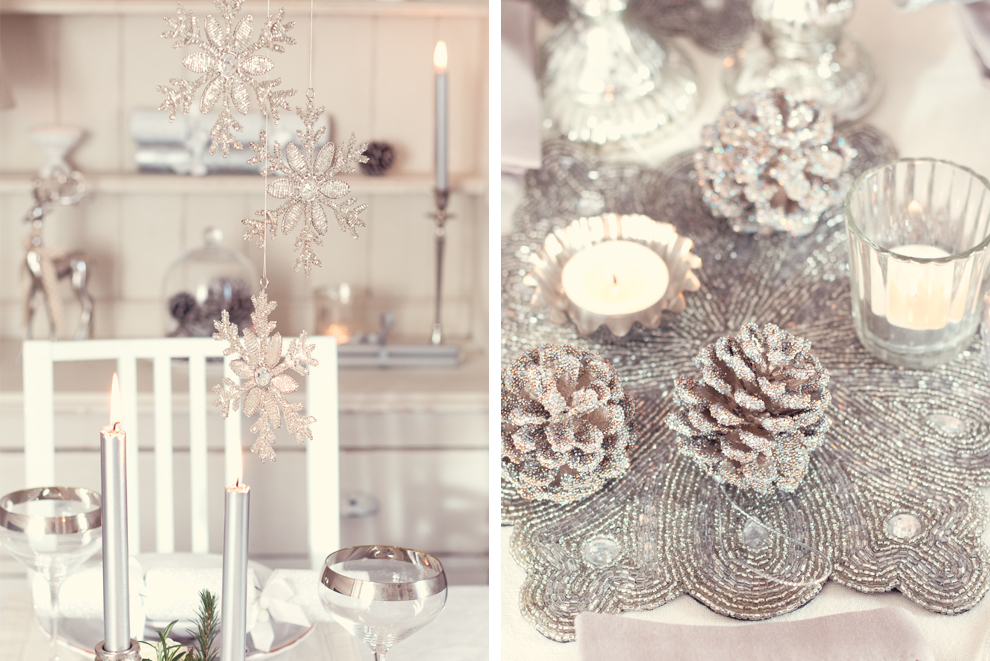 Beaded Snowflake Decoration | Glitter Pinecone Decoration | Snowflake Placemats (available in store)  Pack of 6 Dinner Candles | Silver Rim Saucer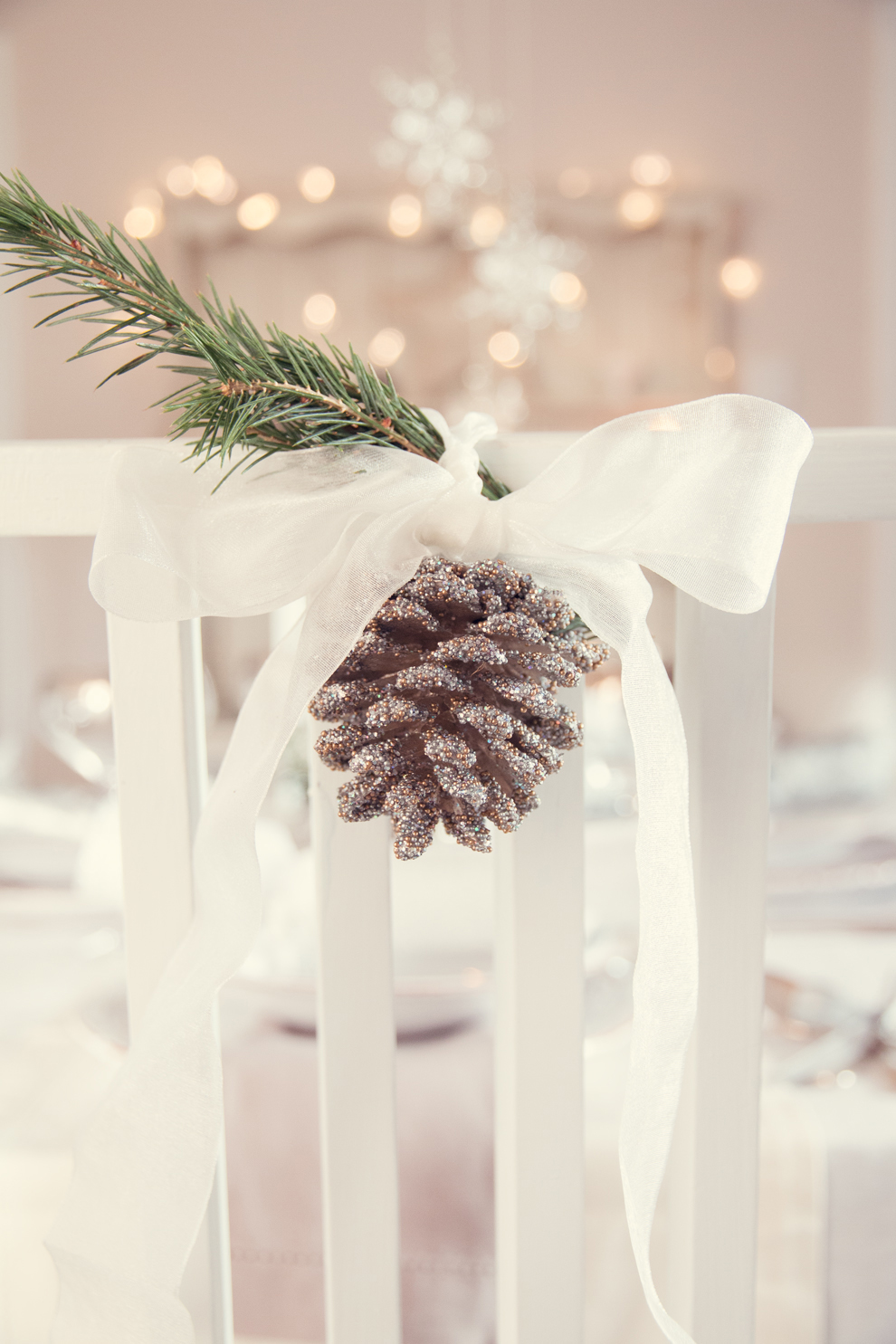 This year I have chosen to give my Christmas table an injection of sparkle and a little glamour by pairing our rustic plates and linen napkins with elegant silver rimmed glasses, silver beaded placemats, gorgeous glittery pinecones and plenty of candles. I absolutely adore this winter wonderland look, silver and white makes such a bright and fresh colour combination for Christmas.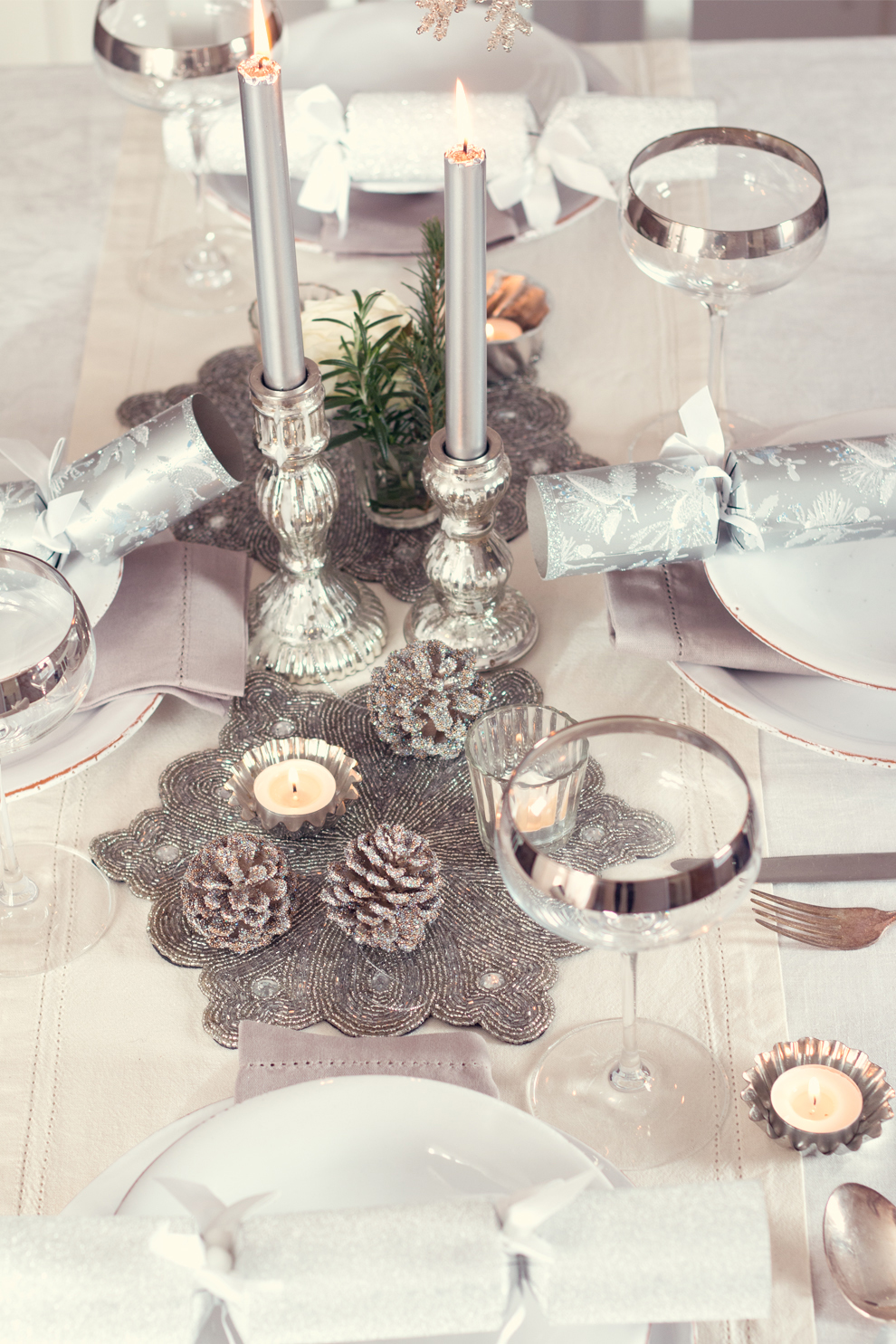 Silver Frost and Ice Christmas Crackers (available in store)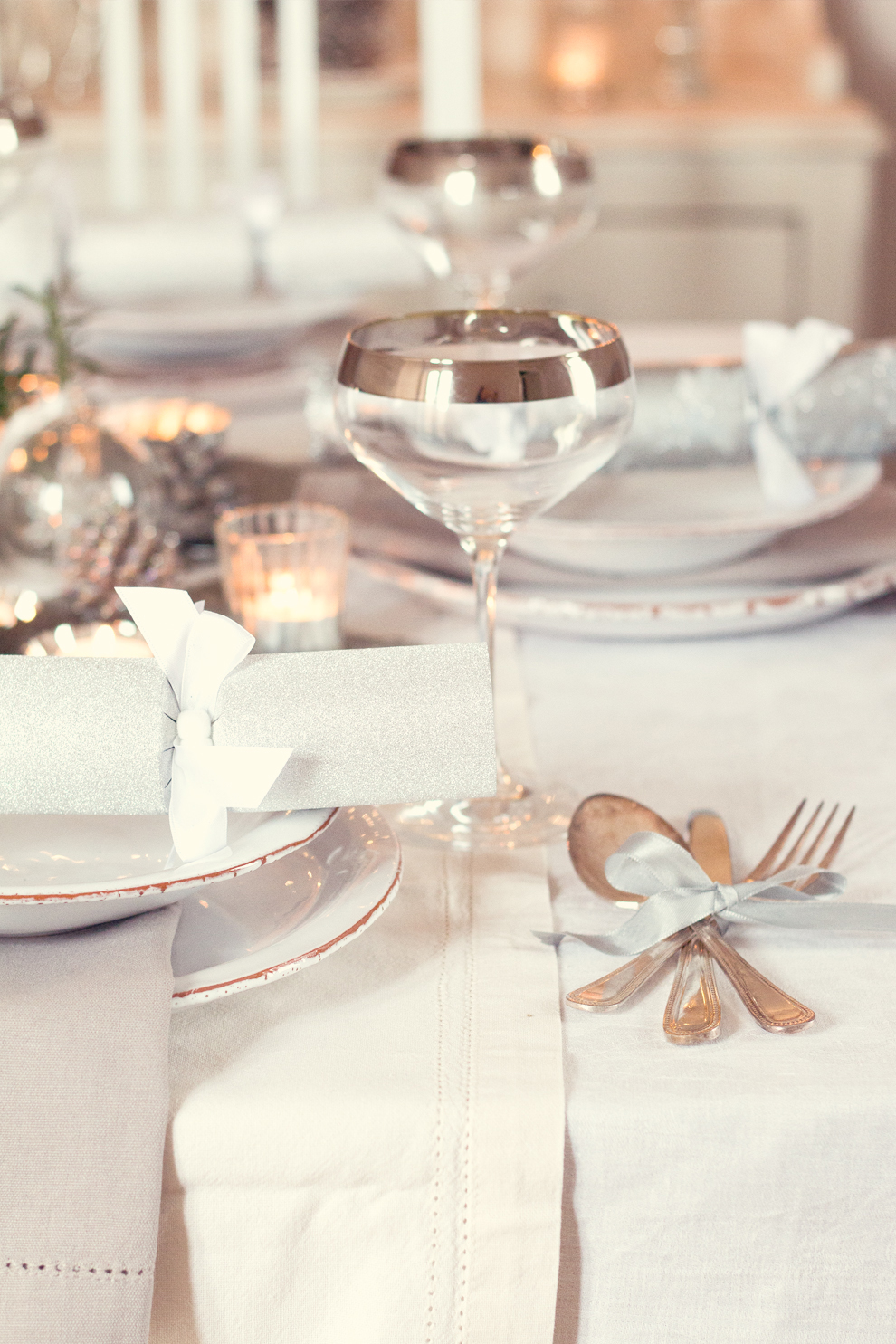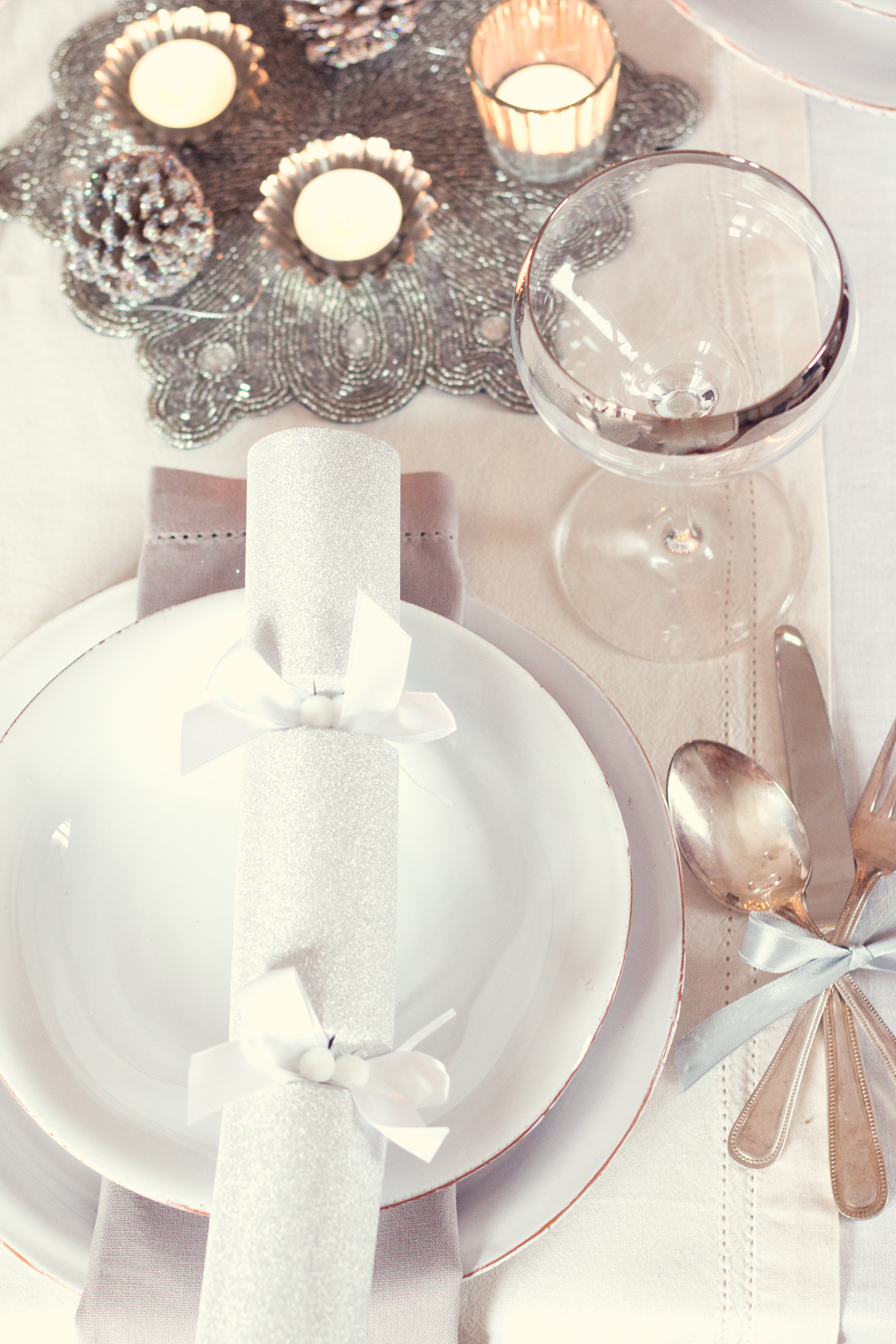 For the pièce de résistance, the table was completed with three silver beaded snowflakes hanging from above, creating a central focal point. As the snowflake rotate on the string, light from the dinner candles reflects off them adding quite a magical touch and a warm glow to the room. I have also used the glittery pinecones with sprigs of pine needles tied to the back of the chairs with shimmery organza to add an extra special detail.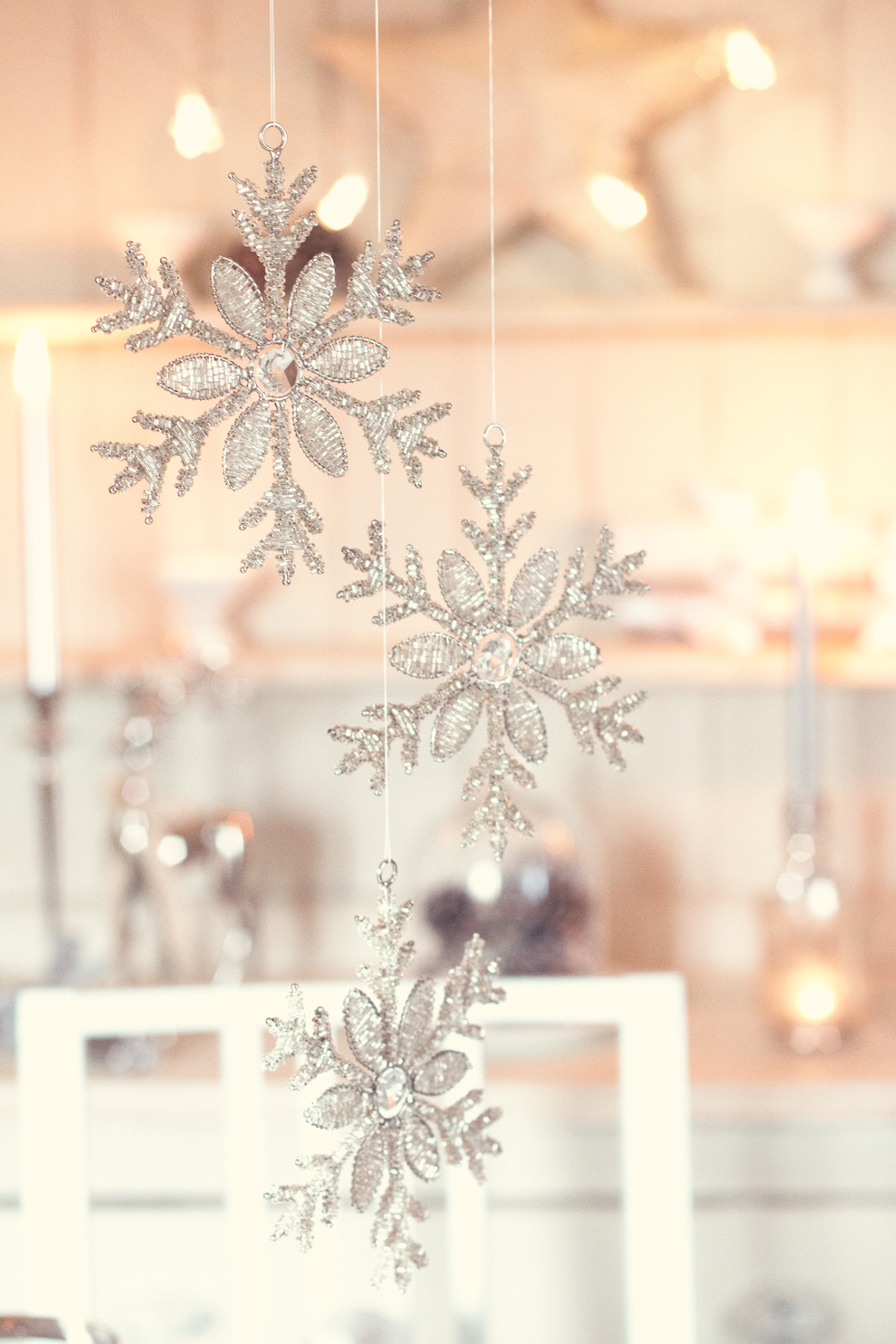 Gift Wrapping Inspiration
When it comes to giving a gift I always love to make the gift wrapping extra special, its always nice to receive something that has been lovingly wrapped with bows and all the trimmings isn't it? Each Christmas I like to try something a little different, and this year I've tried out three different looks which I'm excited to share with you.
Look 1: Silver Frost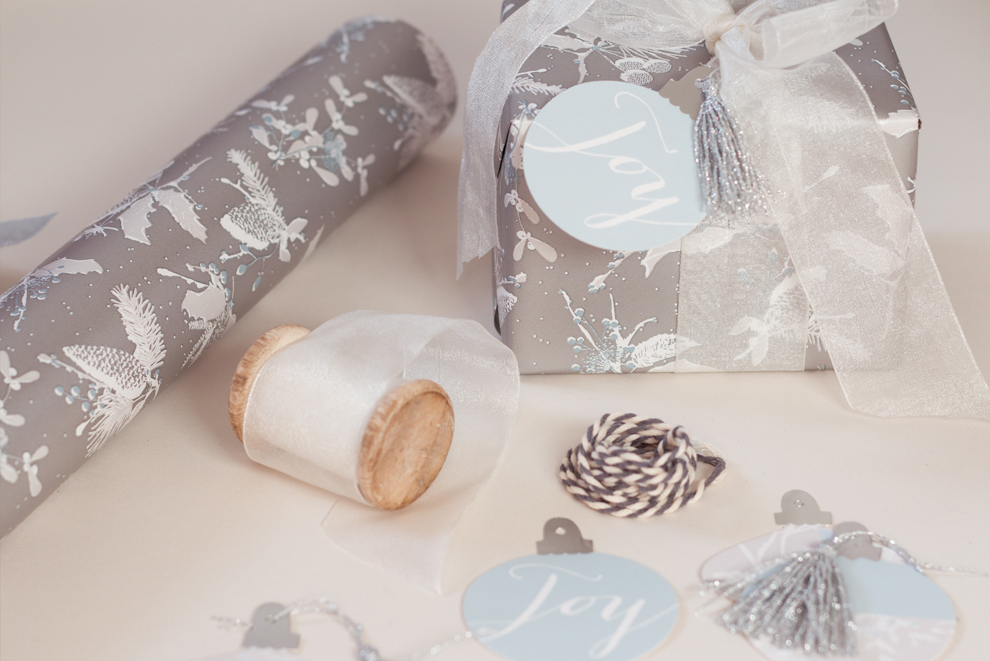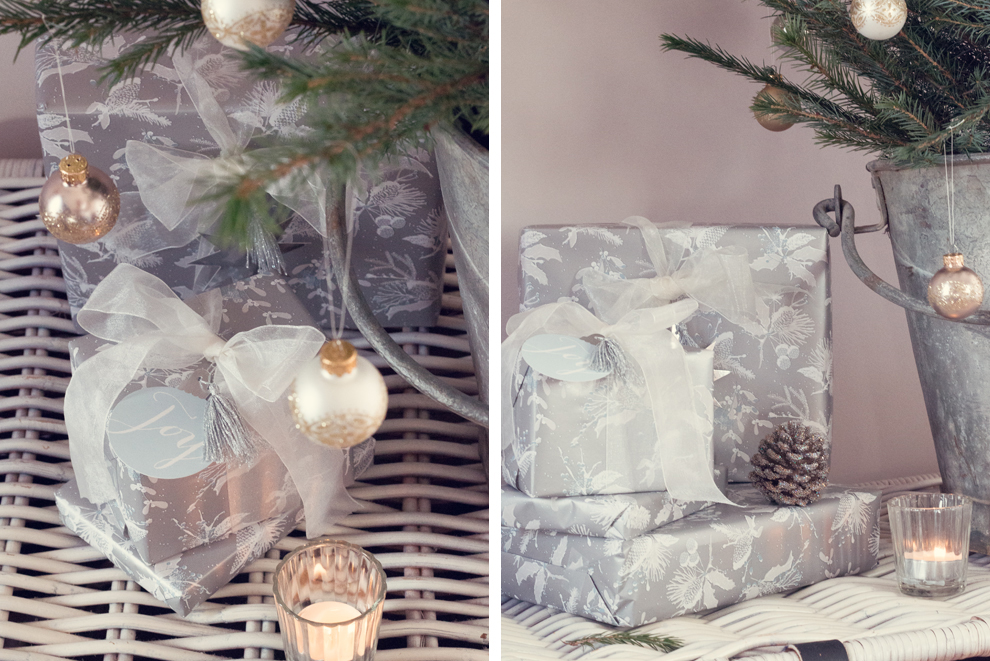 Silver Frost and Ice Wrapping Paper (available in store)
I have chosen to wrap a few gifts in silver and white to go under the small tree in our dining room which fits in perfectly with our colour scheme this year. I absolutely love this range of paper and tags from Laura Ashley, the silver paper is printed with frosted mistletoe and reflects the twinkly lights from the Christmas tree. To complete this look I have used white organza ribbon and some beautiful bauble gift tags, which come with sparkly pompoms.
Look 2: Rustic Charm
I recently took advantage of Laura Ashley's three for two on Christmas gifts and brought them home in the most beautifully printed carrier bag I have seen in ages. Paired with brown paper and red ribbon, this makes the perfect little wrap for a rustic inspired look.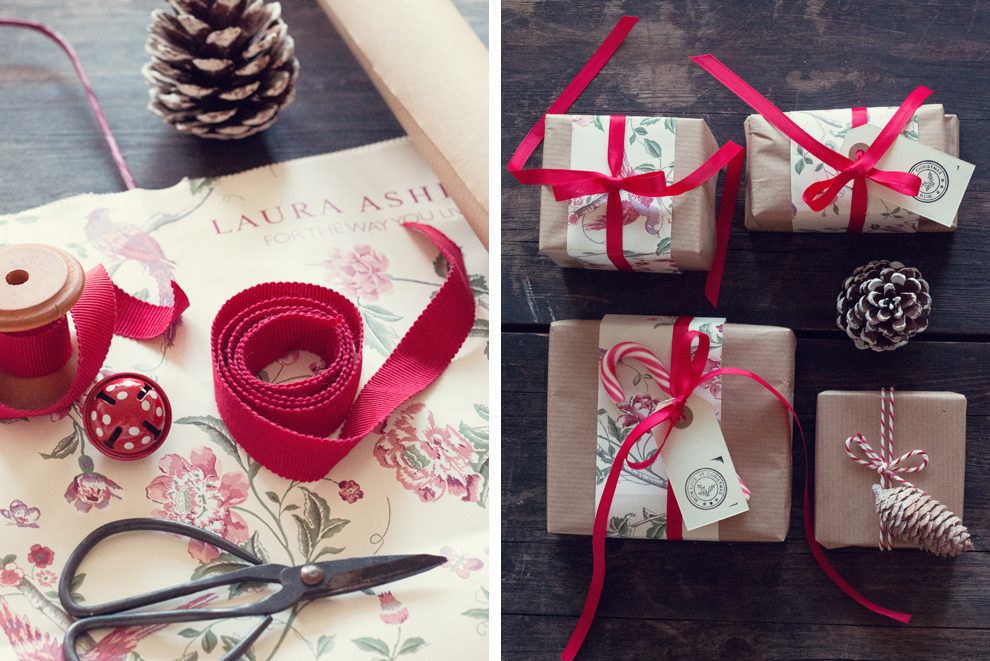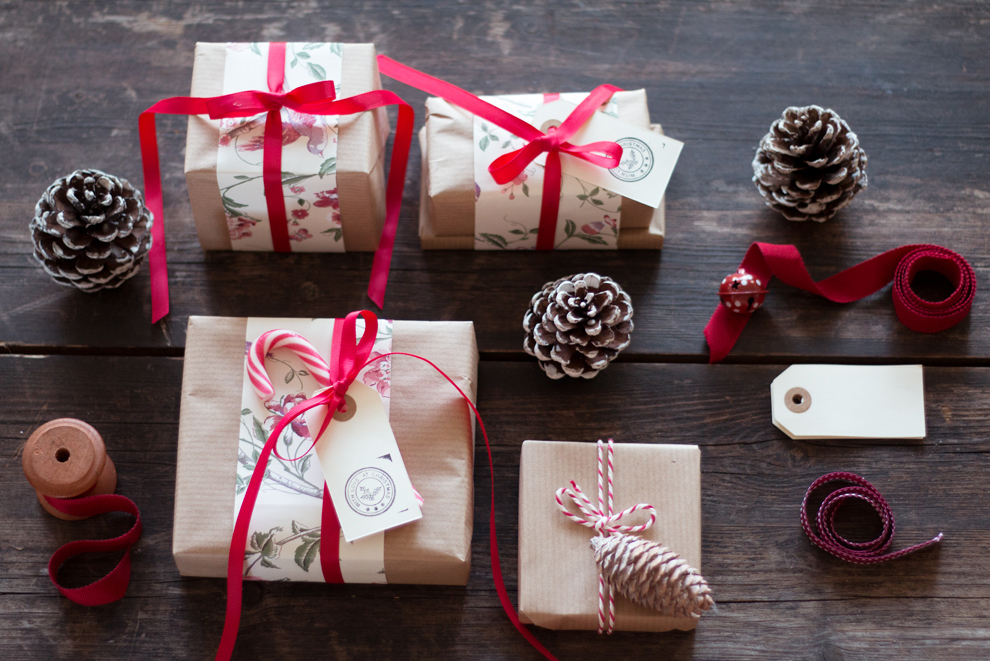 Look 3: DIY Wallpaper Gift Bag
Why not make your own gift bags to fill with presents? Wallpaper makes a fantastic material and with just a few simple folds you have a perfectly handmade bag ready to fill with gifts. Here I have used off cuts of the beautiful Tatton Damask in pale gold and decorated it with white ribbon and a sparkly pinecone, you can find the tutorial to make your own gift bags here.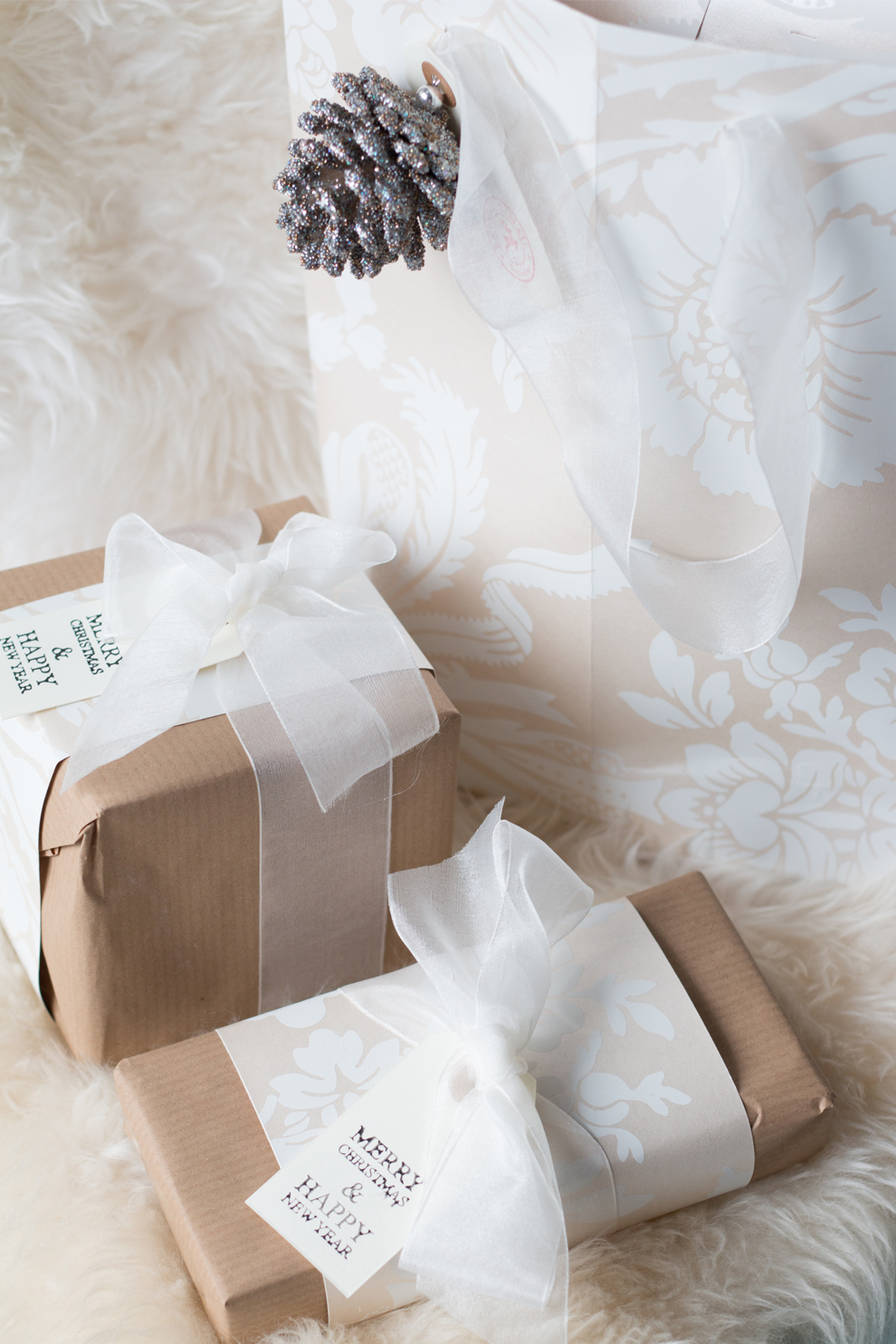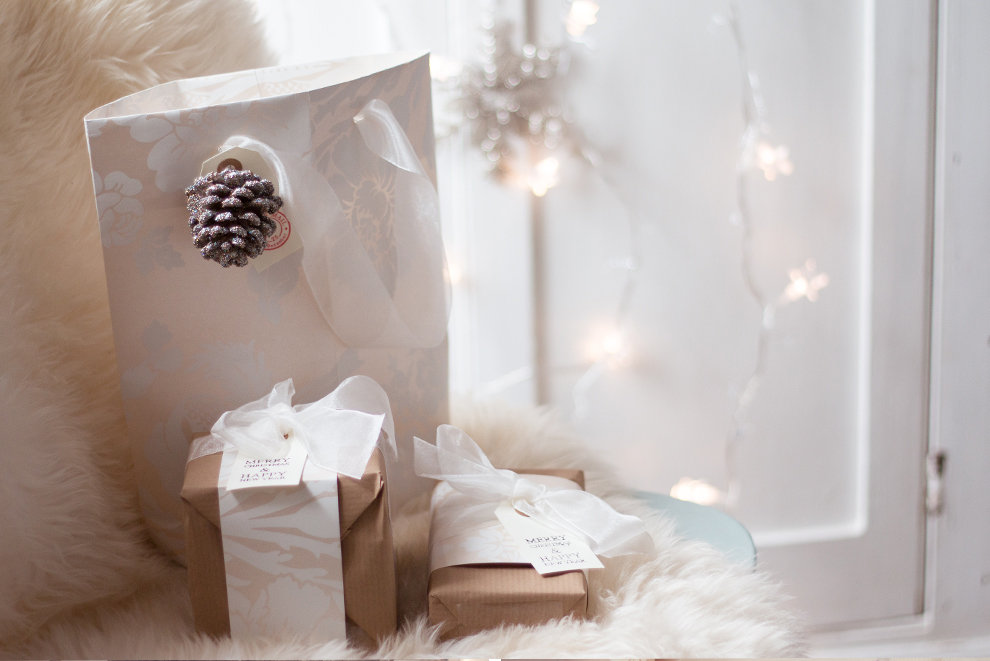 Oriental Garden Floral Linen Wallpaper
Thanks so much to Laura for sharing her elegant tablescape and providing us with some much needed gift wrapping inspiration! You can find everything included in Laura's post in store now, with up to 50%* off! How will you be spending your final nights before Christmas? Tag your Christmas traditions with #LAChristmas countdown on Twitter or Instagram, we'd love to see!