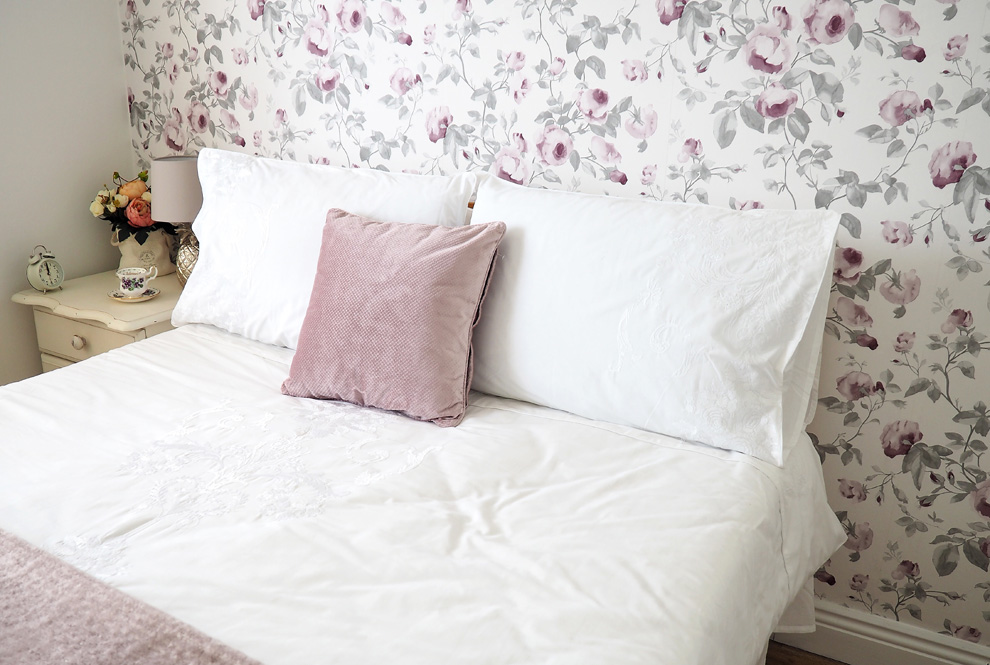 Make over your guest bedroom with these perfect tips from Dainty Dress Diaries... read more
It's important that you have a beautiful room in your home for when guests come to stay, to make them feel welcome and ensure they return again. The fantastic Catherine from Dainty Dress Diaries gives us her tips on how to turn that spare room into a gorgeous haven for any visitors and we think you'll agree the results are stunning…
Hiya, I'm Catherine from Dainty Dress Diaries and today I am so excited to share with you my guest bedroom makeover.
My guest bedroom was slowly becoming a dumping ground for clutter. I live in a bungalow so people can see the room as it is near the kitchen, so I wanted it to look pretty and inviting and fit in with the style of my home. I didn't want to be closing the door and hiding the clutter when people came around, I wanted a pretty room for all to see.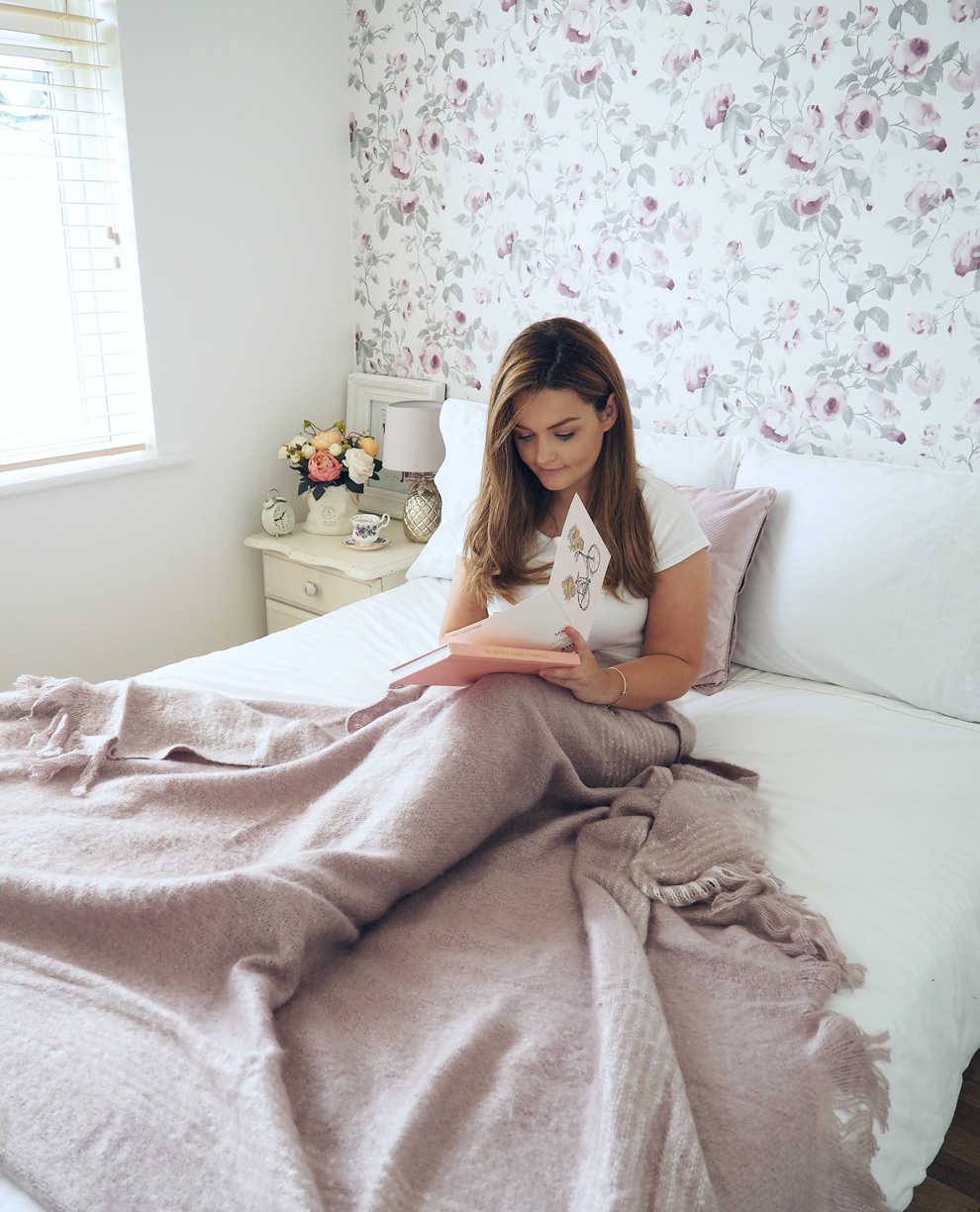 I fell in love with the Grace floral wallpaper in pale grape. I just love wallpaper, I am a little addicted to feature walls, I have wallpaper in almost every room. Some people are a bit scared of wallpaper and messing it up but my top tip is to be patient and get a pasting table in your local hardware shop. You don't want to be pasting off your kitchen table.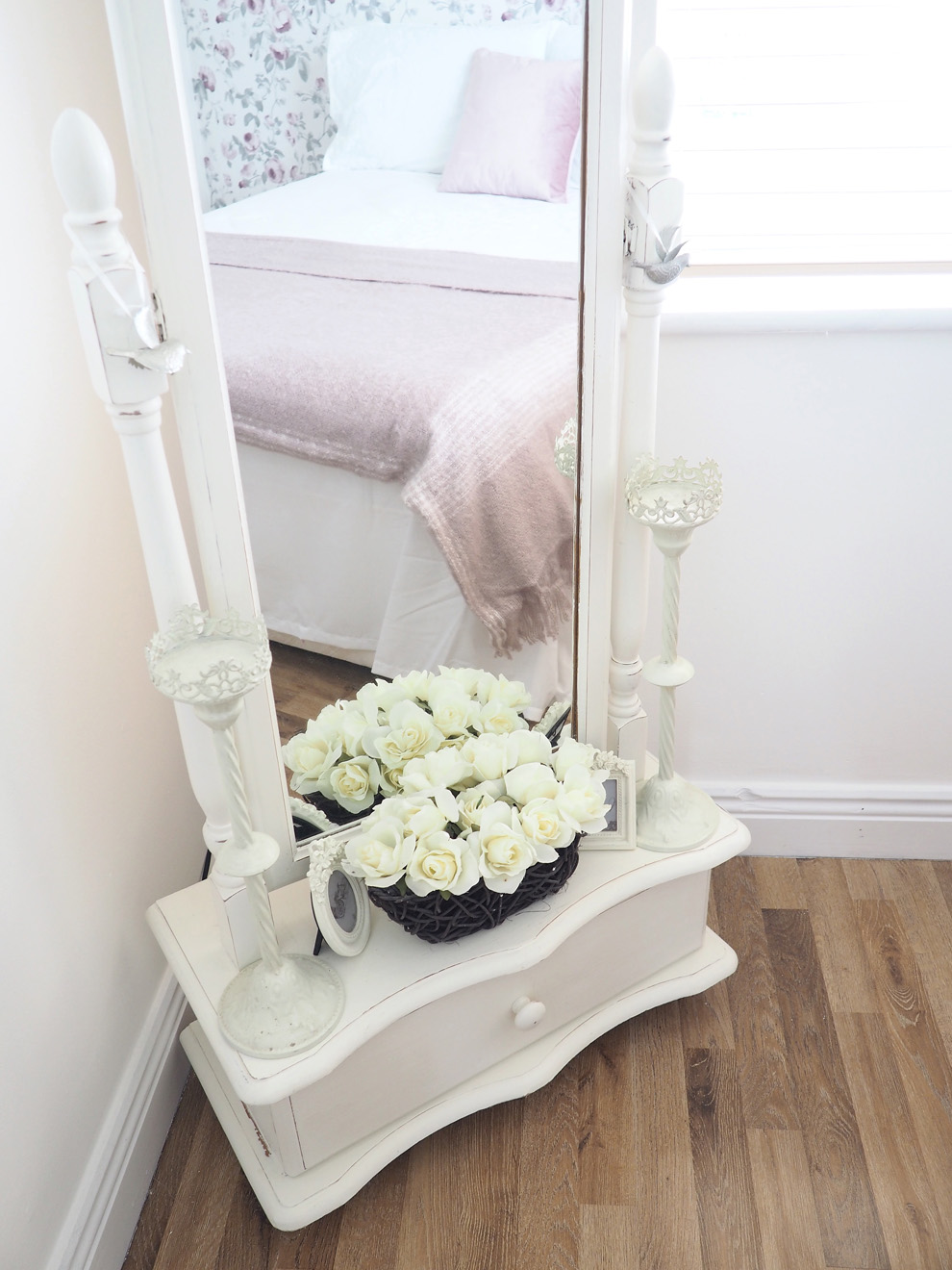 I used the Laura Ashley paint in shade cotton. I just love this shade, I also have this shade in my master bedroom and it is so fresh, it is not as harsh as a brilliant white but still bright.
I use a lot of lighter colours in my home as my home isn't that big and it lacks natural light so all these brighter shades make my home look bigger.
Once I got the wallpapering and painting done it was now on to the fun stuff! The styling!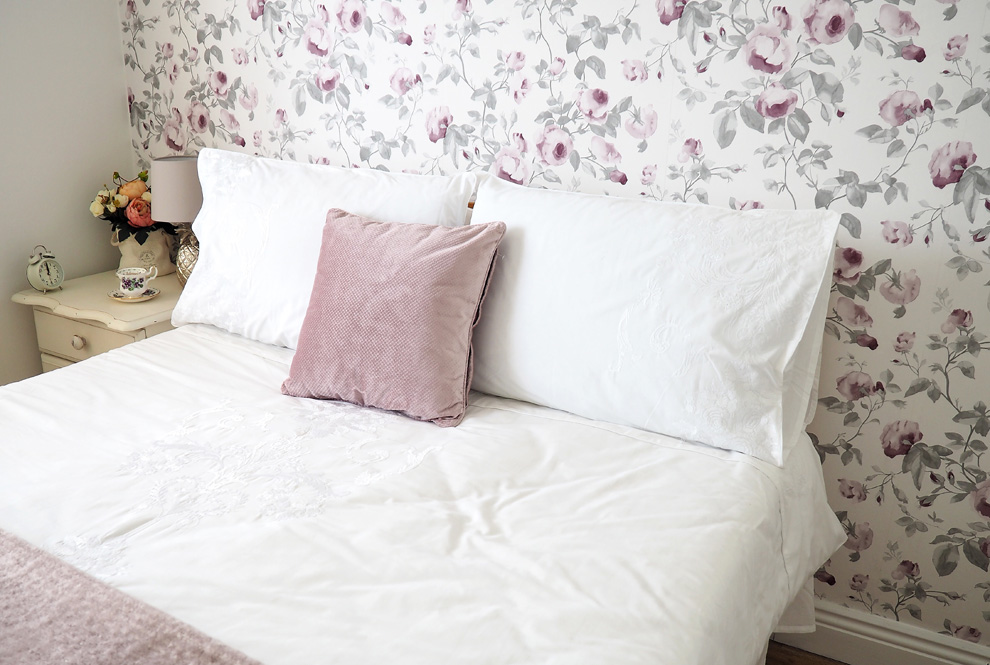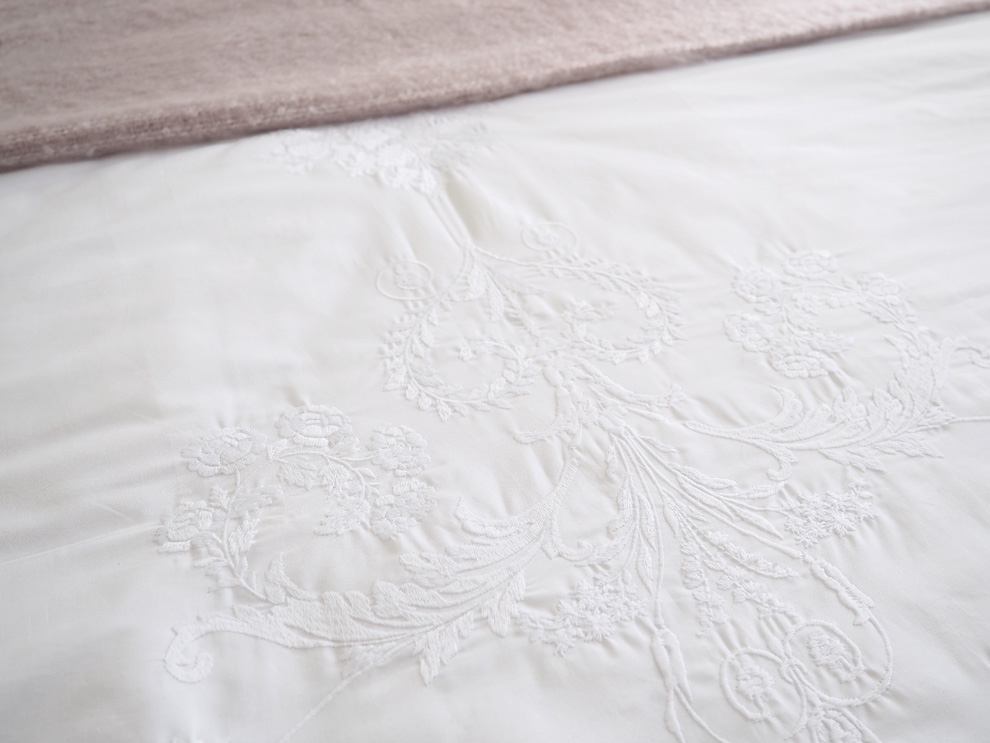 I went with the gorgeous Josette embroidered duvet and pillows. The detail in this duvet set is stunning. The embroidery is so pretty and feminine. I love a fresh crisp white sheet, I didn't want to add any more print to the room as I didn't want to take away from the wallpaper so I went with a nice block colour duvet. I love the contrast of the white duvet next to the floral wallpaper.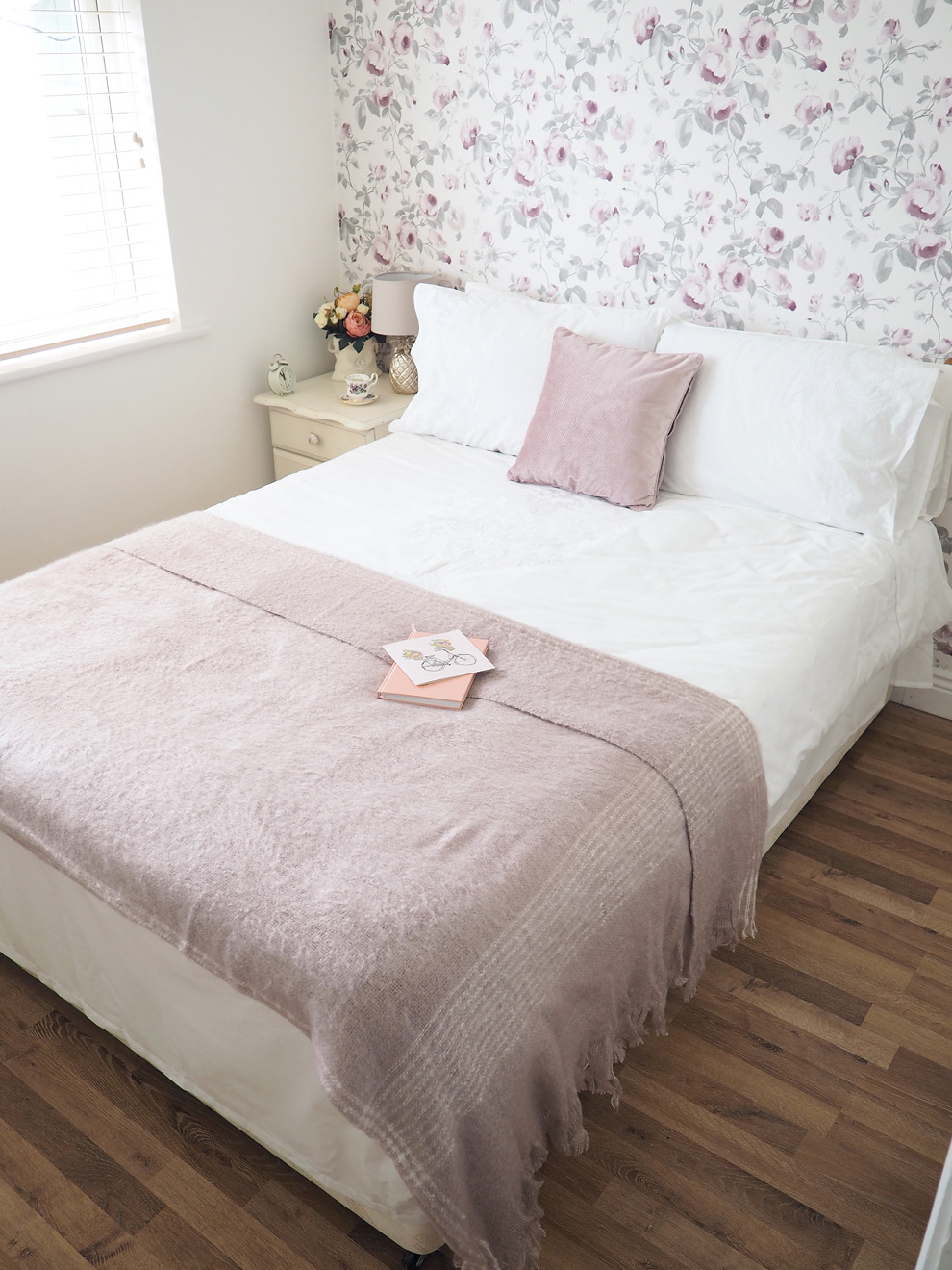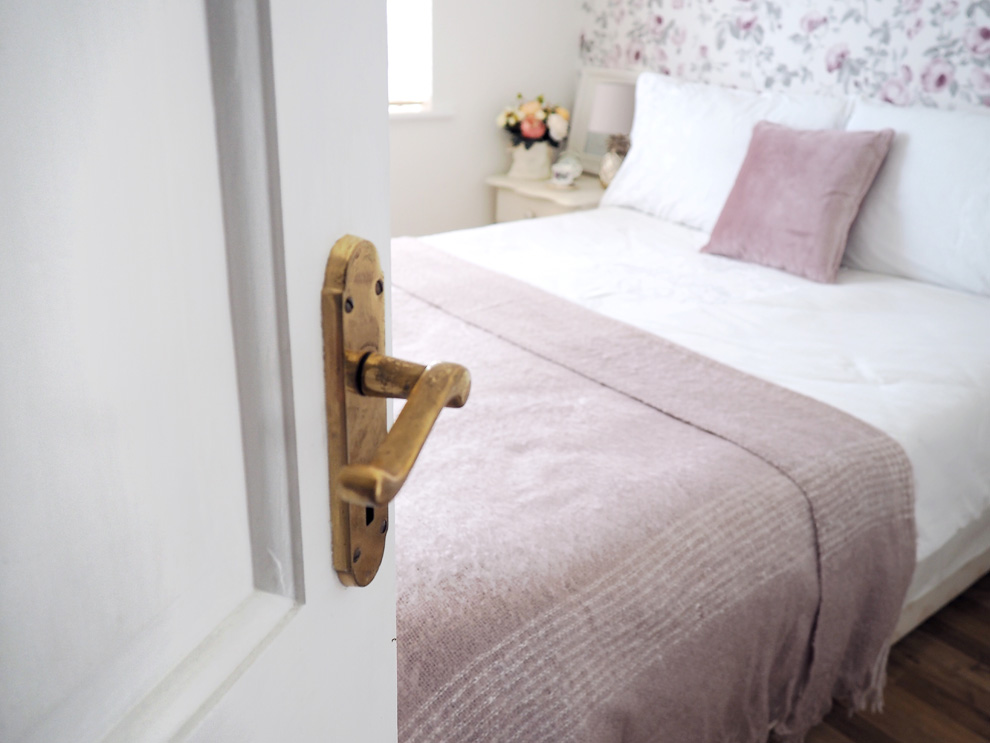 Just like my love of wallpaper I also have a love of throws, I have throws everywhere in the home as I just think they make a more homely cosy feel to the room. I adore this Anastasia amethyst blanket, it picks up on the lighter purples in the wallpaper and it feels amazing.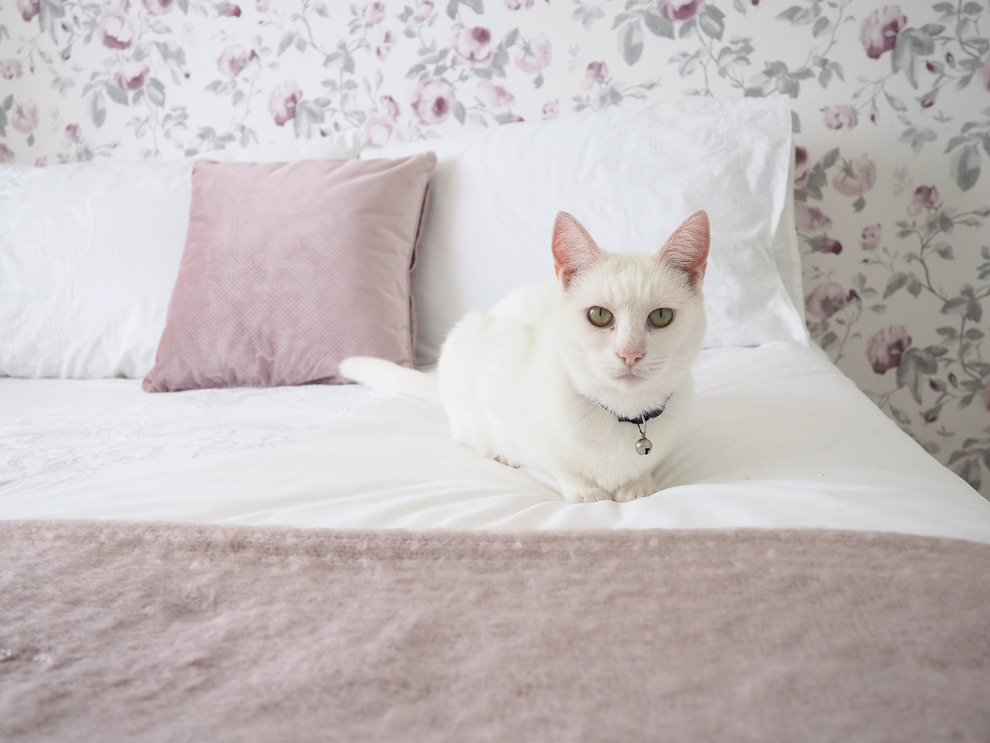 Even Blondie my cat is loving her new throw, it has a gorgeous subtle check print on it and fringing on the edges to add some texture.
If any of your rooms feel a bit cold and uninviting then add in some throws, I also love coming home from work and having a cup of tea and throwing a blanket over my feet, especially coming into Autumn, nothing beats curling up in bed with a book.
I absolutely love the pineapple lamp, I love pieces of random quirky items in the home that make people stop and go "is that a pineapple lamp?" I love the contrast of a pretty floral cup and flowers and then the quirky pineapple lamp. The gorgeous champagne colour of this lamp fits in perfectly with the colours in this room.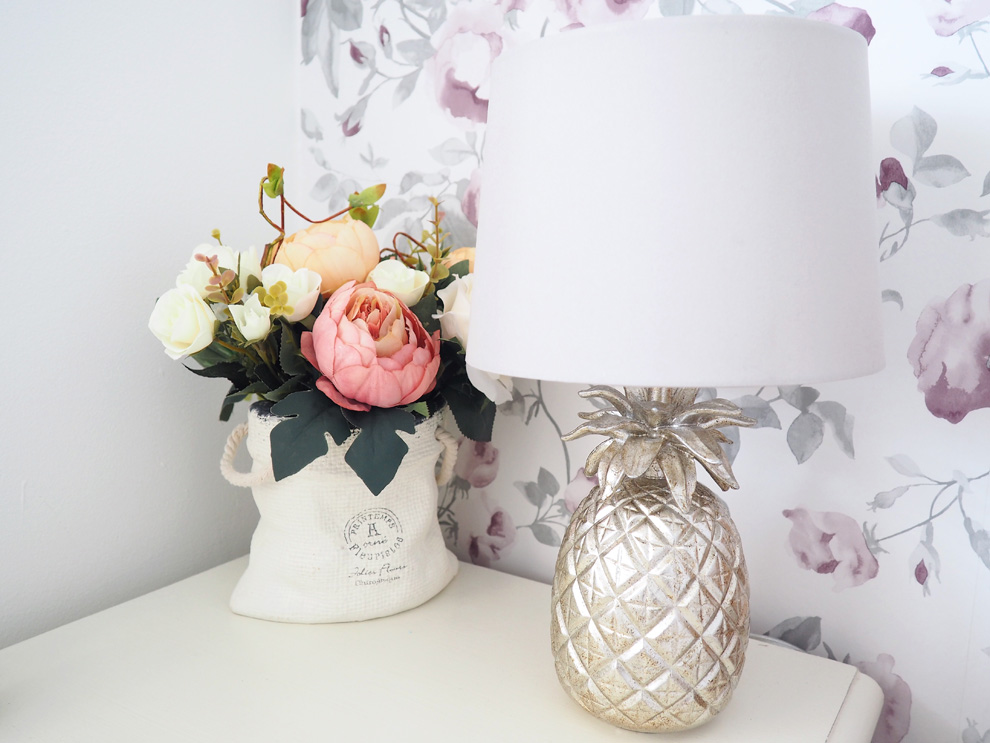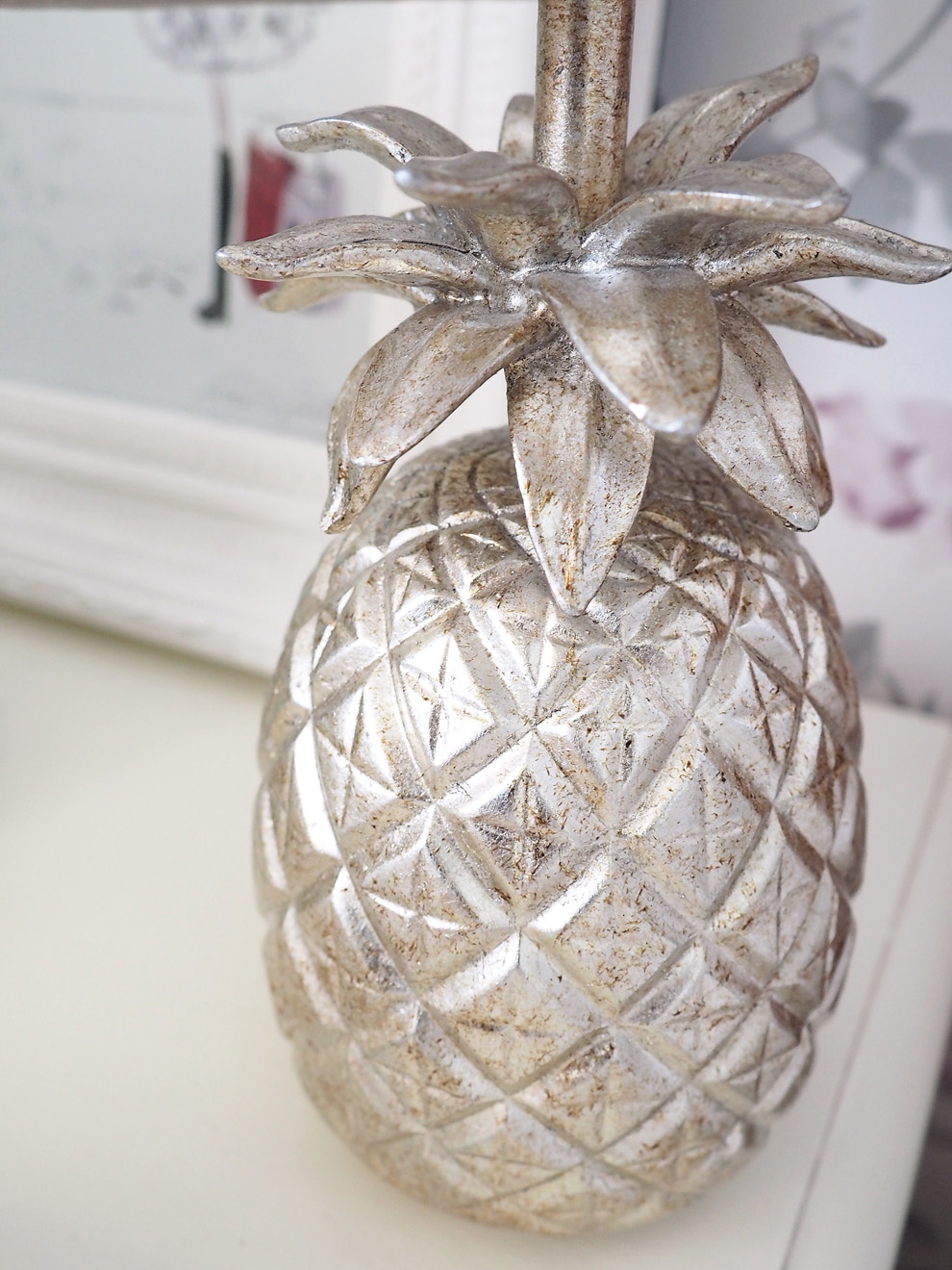 I mix and match my rooms with old pieces of furniture that I find and then I paint and upcycle them, the pieces of furniture in the room were originally pine and I painted them to give them a shabby chic cottage look. You could try this yourself by using the Laura Ashley decorative furniture paint.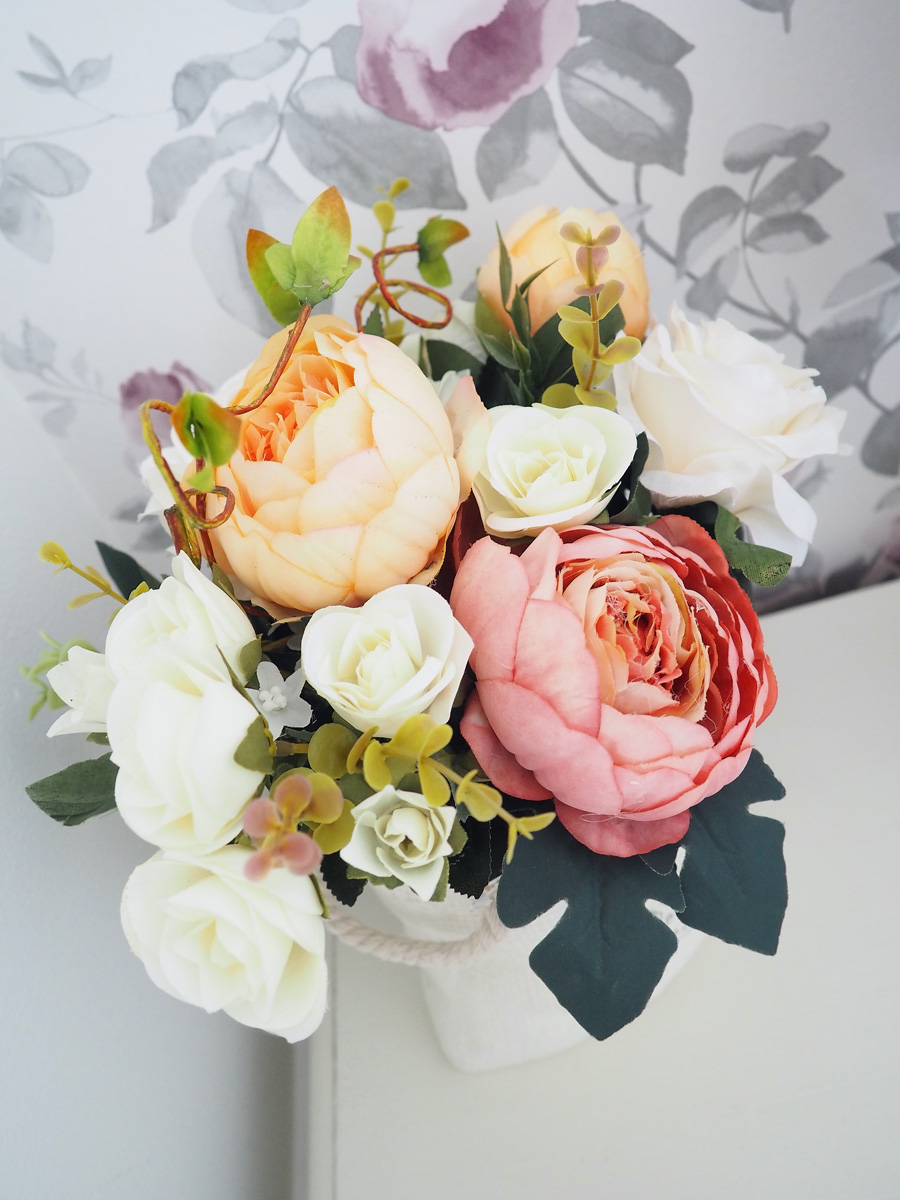 I hope you all enjoyed reading this post, also hands up who sat down with the new autumn winter book and now wants to re decorate the whole house.
Chat soon,
Catherine.
Can we stay over soon Catherine? How fabulous does this guest room look? How will you be decorating your spare room? Let us know below or on Twitter @LauraAshleyUK