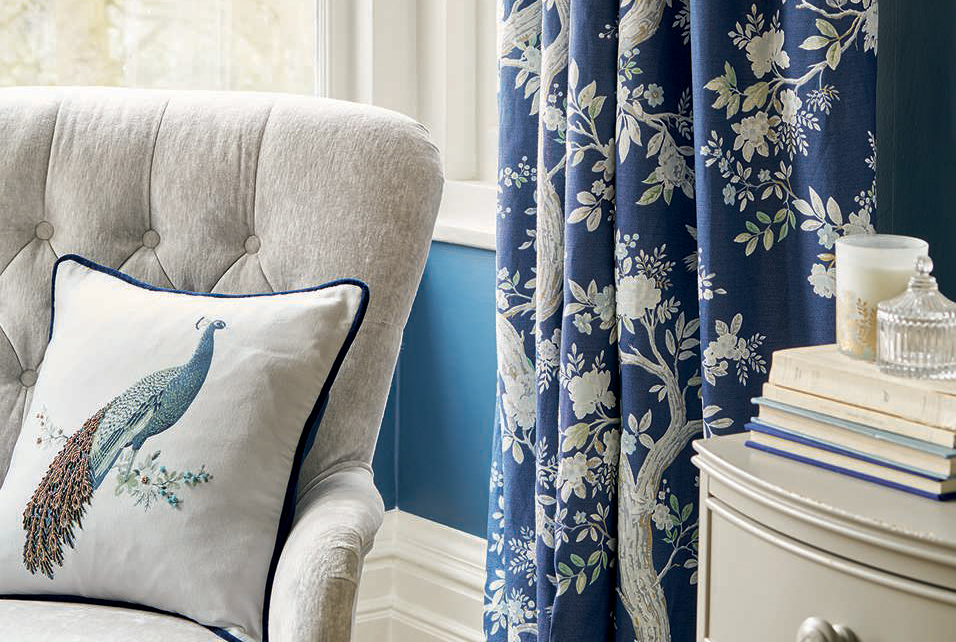 Master the art of using blue hues in your home. read more
Our Midnight Blue collection has been one of our most popular collections since its release in our Autumn/Winter catalogue in 2018. It dark blue hues, metallic accents and the popular Belvedere print make it a unique and elegant interior collection that is bold but still classic enough to give any room a look of timeless beauty.
Using darker colours like the Midnight Seaspray paint used in the Midnight Blue room-sets can sometimes be a difficult task. A lot of interior design advice is aimed toward lightening and opening up your interior space and the principles and recommendations that work for a lighter room are vastly different for a room using a darker colour. While there is a risk that a room with a darker colour may make a space feel smaller, there are plenty of design hacks to avoid this.
A dark blue, despite being a bold colour is extremely versatile; pairing with both silver and gold metallic accents. Dressed up with luxurious fabrics and bold furniture choices, a dark blue can give a room a royal or opulent look. Paired with neutral hues, dark blue can be used to create a modern, minimalist space straight from the pages of a magazine.

Use warm lighting
The first thing to consider when using midnight blue in your interior is the warmness or coolness of your lighting. As a general rule a warmer tone will give your room a more glamorous feel than a cooler light would. Golden tones look stunning against a royal blue backdrop, also working particularly well when paired with gold, brass or copper-toned furnishings. For a lighter look, a cooler white can be used, but would look best in a room with lots of natural light.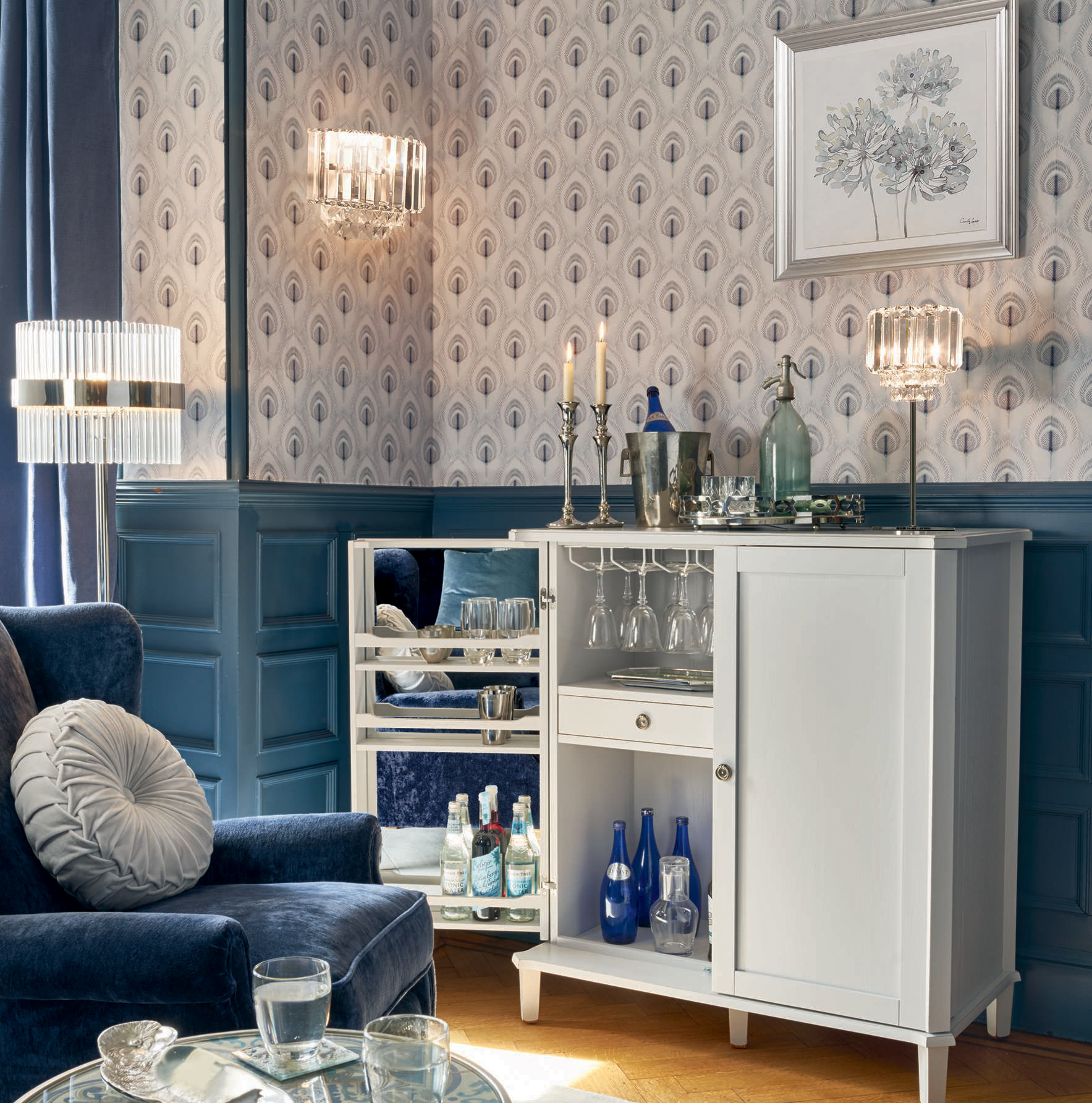 Silver for sophistication
Dark blue is a colour that can match in seamlessly with all metallic accents, but each accent will have a different effect on the look of your interior. Pairing dark blue with silver is the perfect way to give your room a lighter feel. Depending on your own personal style you can use geometric/sleek silver accessories for a more minimalist look or you can opt for a look of classic elegance with intricate candlesticks, glass chandeliers and other decorative silver accessories.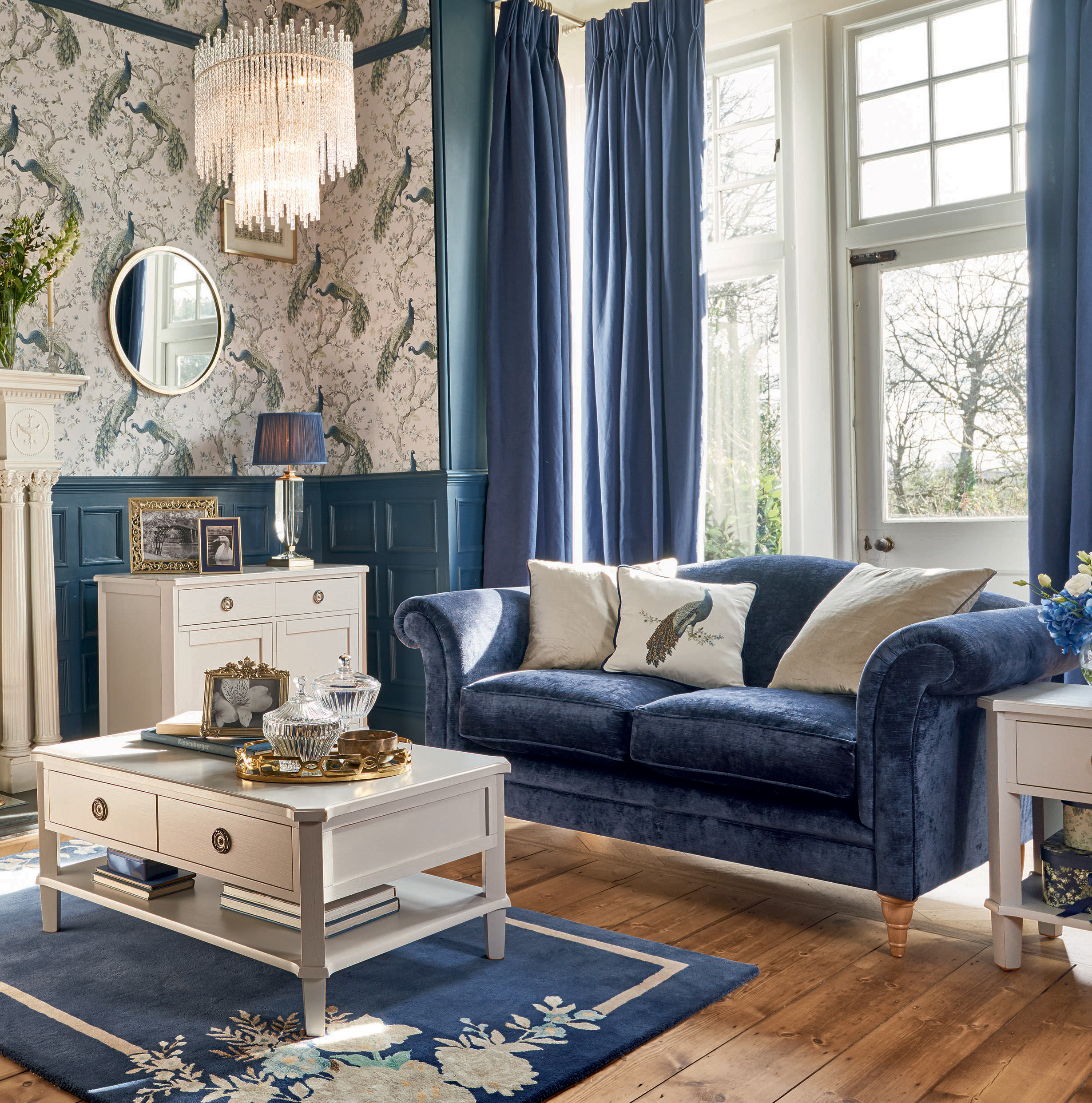 Gold for grand
Gold and brass accessories are great for styling a room using a dark blue. Not only does the gold provide a striking contrast, but it also gives the space a grand look, reminiscent of the palaces of old. Gold light fittings are perfect for giving your room a cozy atmosphere, looking especially pretty at night as the reflections on the gold can mimic the warmness of a flickering candle light—bringing a romantic atmosphere to your space. To further exude this effect, gold velvet cushions, silken throws and items with gold fixtures can be used to give the room an opulent feel.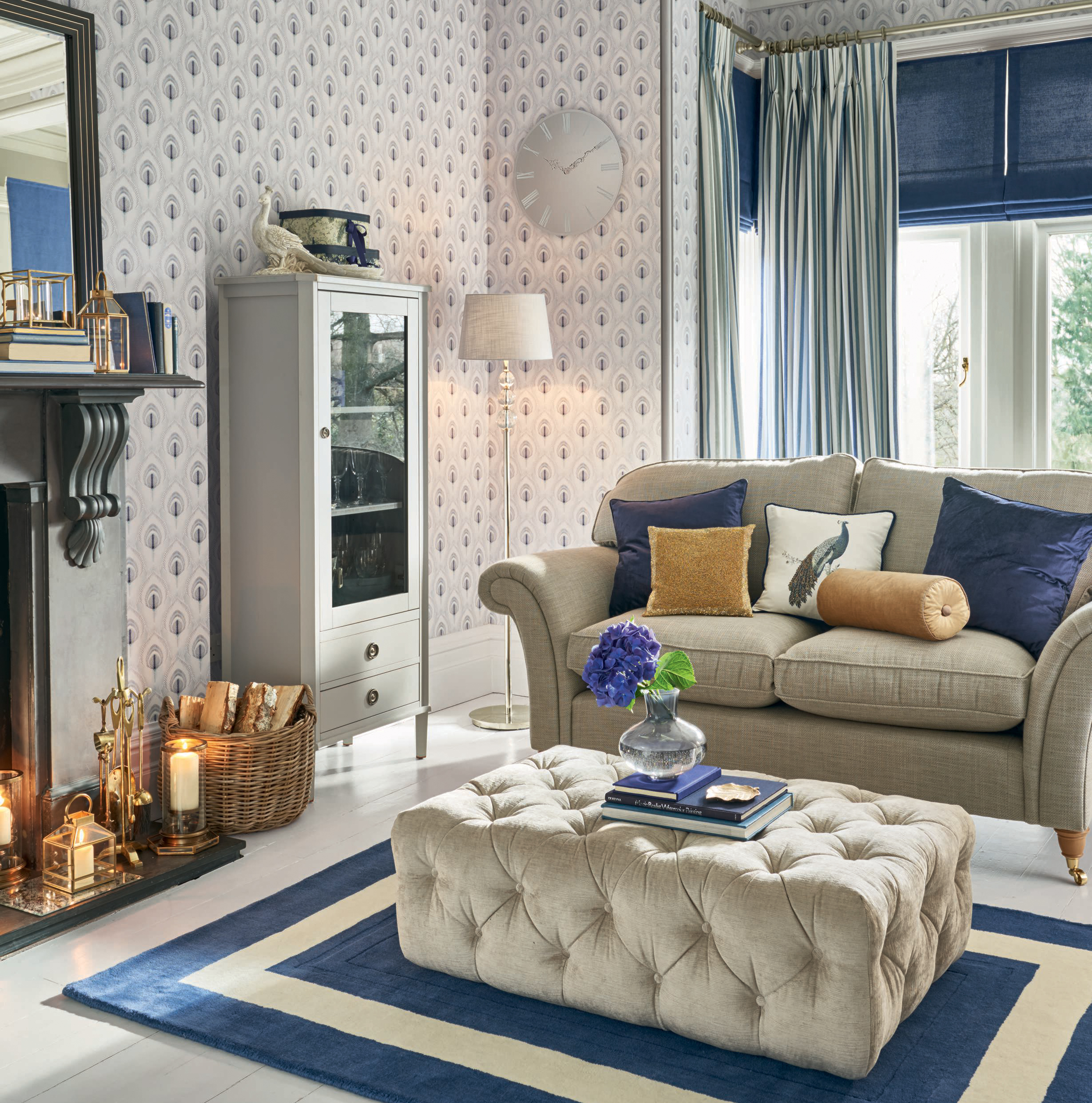 Play with texture
Dark hues set the stage for texture, so it is important to pair the colour with accents that will add dimension to the room and make it appear larger. Silks, velvets and reflective materials will give your room an elegant, romantic look and neutral natural-fibre materials will give it a touch of the modern.  Wood tones and cane baskets can also produce an interesting effect giving an inerior a more homely, country-manor feel.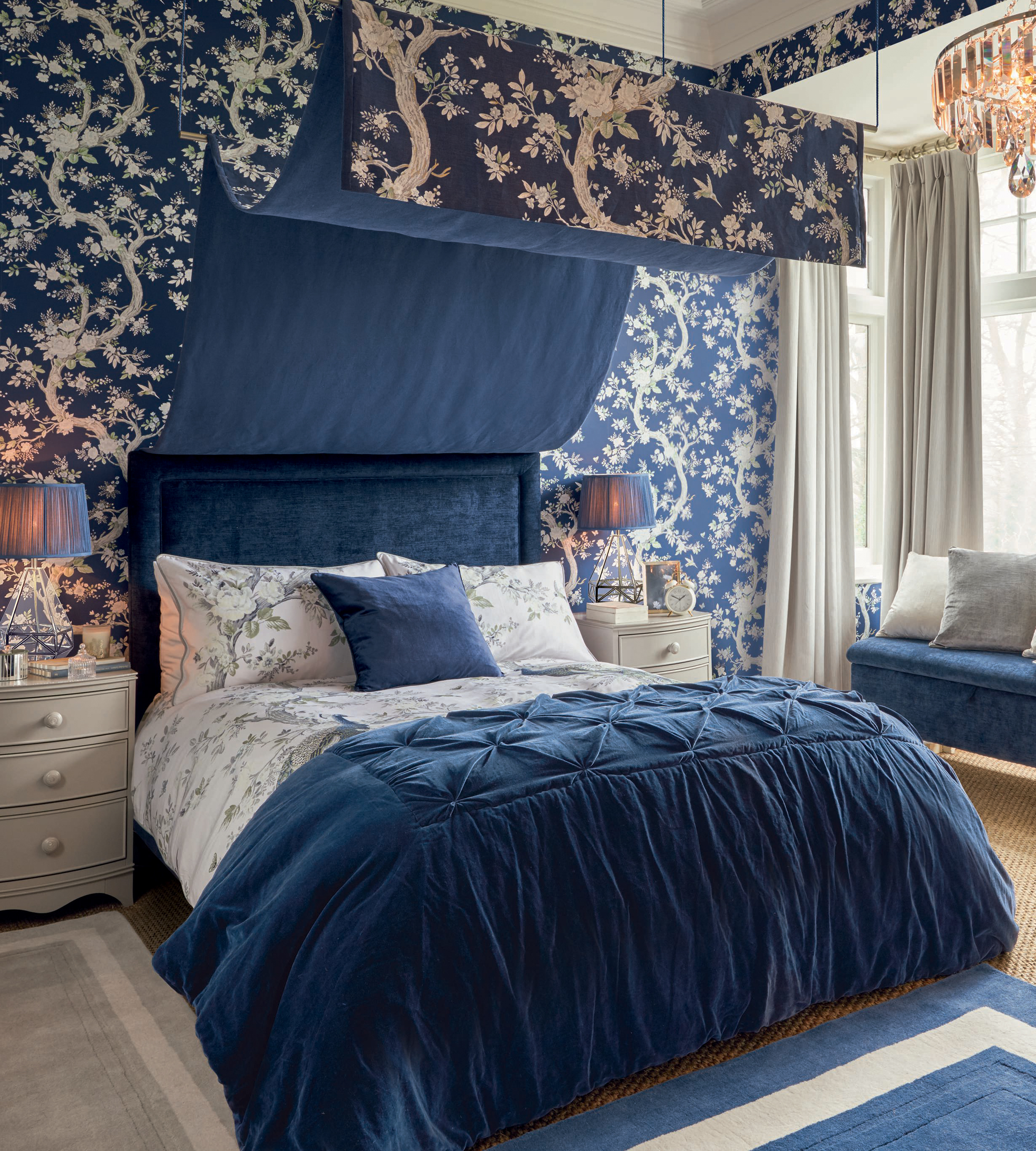 Balance out dark blue with neutrals for a larger look
When working with darker hues it important to frame your colour with a natural hue. This is essential for creating a sense of space within your interior and setting the proportions of your space. Dark colours, by their nature, are experts at making things look smaller which sometimes makes it difficult when you love dark paint colours but still want to maximise your space. Luckily there are optical illusions which can still give your room a feeling of largeness. Using a white or cream colour on your skirting boards and ceiling is the perfect way to frame your darker colour—creating lines that the eye can follow. Bordering your blue walls with cornices, skirting boards and even borders frame your darker paint without taking away from it's overall effect.
If using a wallpaper featuring dark blue, neutral colours can provide a stunning contrast against the base colour. For maximum effect it is best to choose accessories that use the same base neutral as featured in the wallpaper to avoid and a clashing of neutrals.
Have you used blue in your home? Let us know in the comments below.