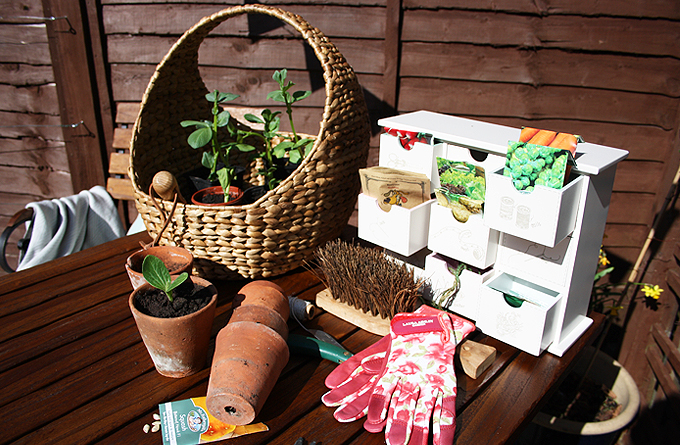 p.s.gardens founder Paul Southern and his team show you how it's done… read more
The clocks have sprung forward, Easter is upon us, so come out of hibernation and get those green fingers going!  Now is the time to get your secateurs sharpened, your gloves on, and start work on your patch, whether you have a country estate, a small urban courtyard or a sunny balcony.  Don't panic, you're not on your own; p.s.gardens, based in London, with 30 years combined experience, will offer timely tips and seasonal advice in this, the first of our guest blogs.
Paul Southern, owner and founder of p.s.gardens, James Stimpson and Deborah Rookes can help with your design, landscaping and planting needs.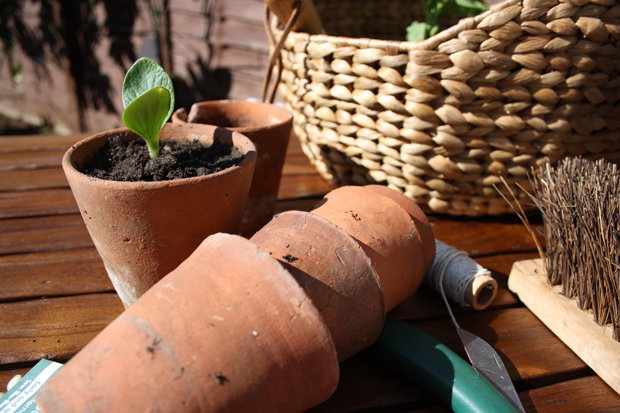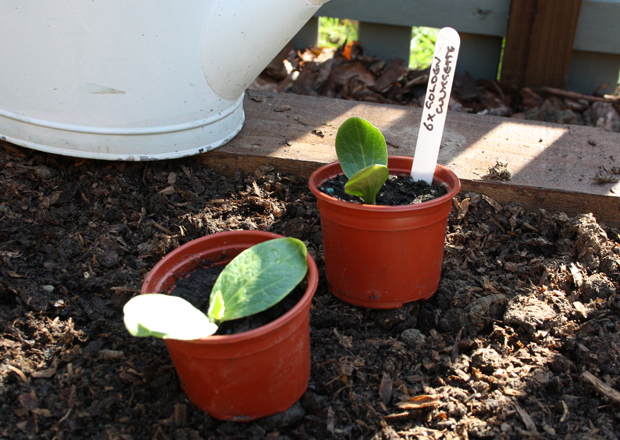 In this year of pageantry, commemoration and sporting excellence, even if you have just a few pots on the patio, let's 'Dig for Victory' and get growing our very own fruit and veg.  Why not replace some of your seasonal bedding with juicy red tomatoes, frilly green lettuce or rainbow-stemmed chard.  Consider a new planting area by adding a raised bed; constructing this is a reasonably straightforward task – a beautiful and bountiful potager can be created in just a small space with just a few hours of your time.
As with all successful projects, good planning and preparation are essential.  First, select an area of ground or position on the patio where there is plenty of sun and some shelter.  Here, we have created an attractive feature in our client's back garden – a series of raised beds for vegetable growing and sectioned off decking (creating an added table and seating area)…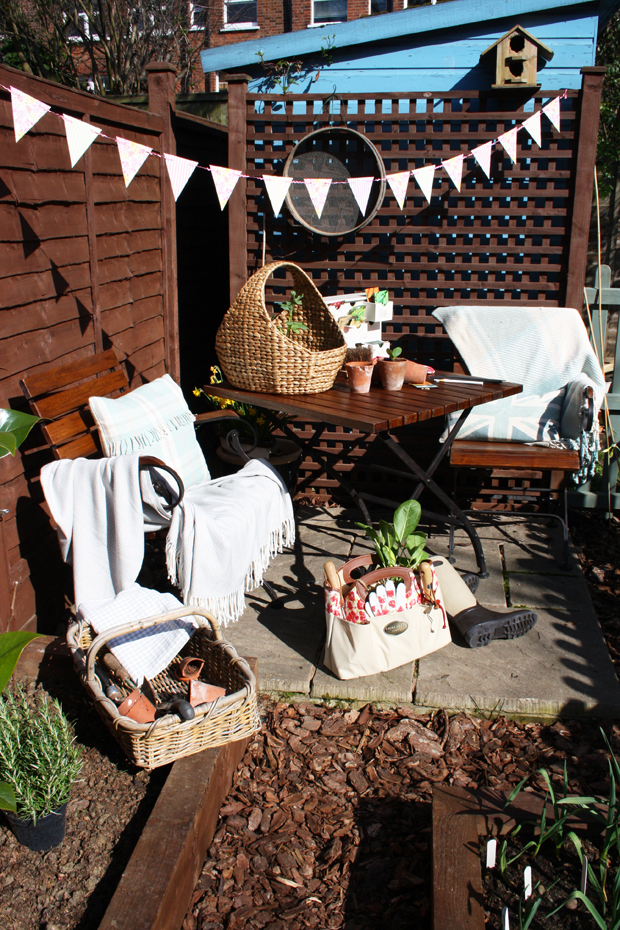 Laura Ashley products: Cardboard Bunting, Water Hyacinth Basket, Wooden Needlework Storage Box, Britannia Union Jack Cushion, Dylan Duck Egg Check Cotton Throw. Laura Ashley wellingtons, gardening tool bag and gloves available from Tenax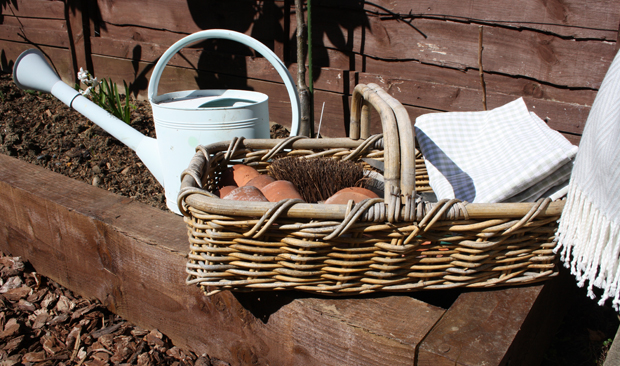 The beds here have been created with new railway sleepers, but you could also use decking offcuts, edging tiles and many garden centres are now stocking attractive self-assembly kits.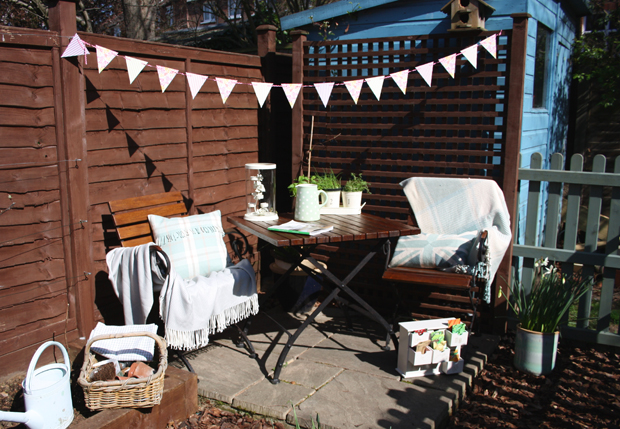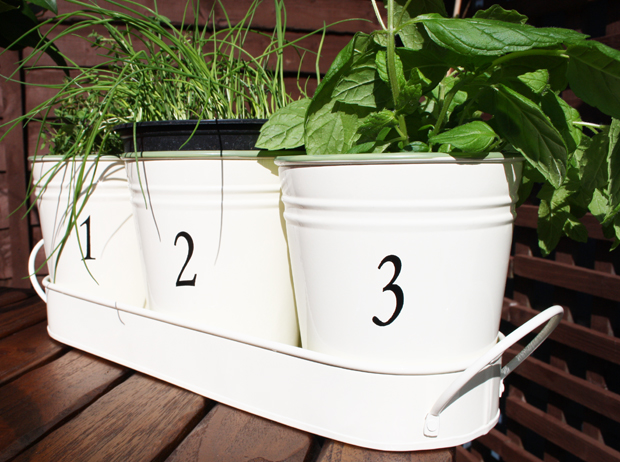 Set of 3 Metal Herb Pots On Tray
Once assembled, the beds can be filled with a mix of multi-compost or well rotted manure and top soil, to produce a balanced planting medium.  The addition of fish, blood and bone, gently forked in, will give suitable nutrients for strong, healthy plants.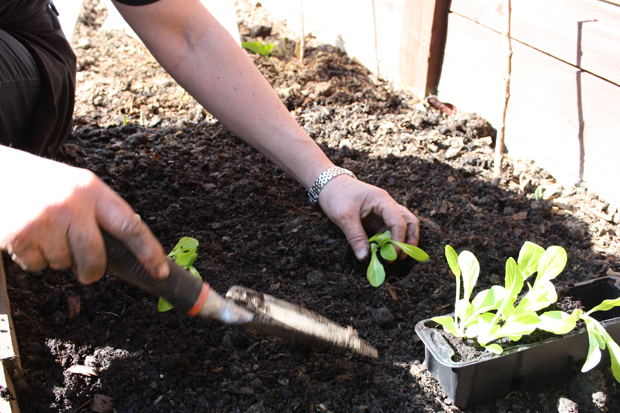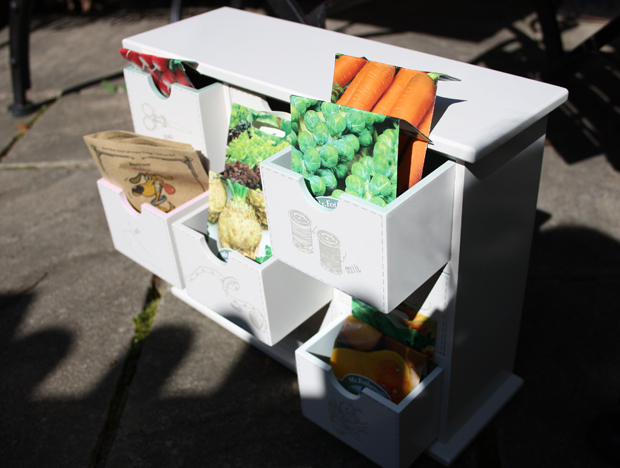 Wooden Needlework Storage Box  full of seed packets
Remember to sow or plant a few of each of your table favourites at a time, to avoid a glut.  Follow the instructions on the seed packets regarding spacing and depth, with taller plants at the centre or the back so they don't cast shade on the lower plants.  Label your rows, otherwise confusion could arise! Ensure any germinating seedlings are kept moist, and remove any weeds and pests (click here to go to the p.s.gardens website for further tips).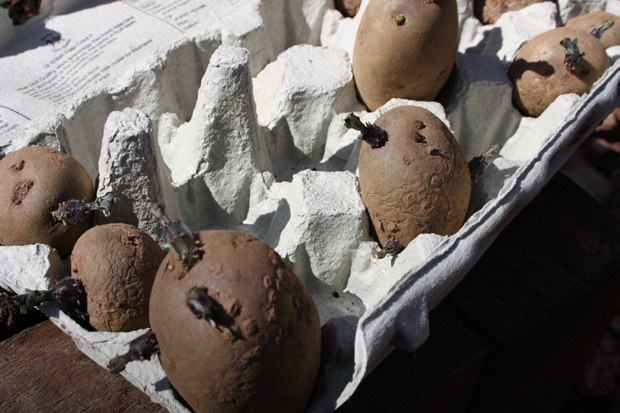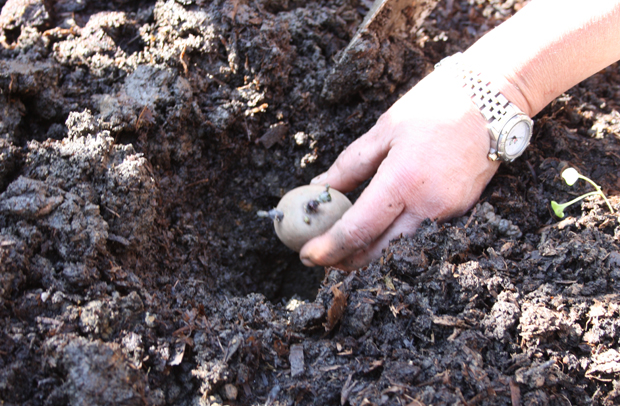 Chitted seedling potatoes, ready for planting.
A wigwam of canes at the centre of your bed for growing runner beans (together with fragrant sweet peas to attract pollinating insects), or the architectural form of a globe artichoke, gives great visual impact.  Rocket, radish and salad leaves can be sown now – they are quick and easy to grow.  When the soil has warmed up and the frosts are finished, plant out courgettes, runner beans, French beans.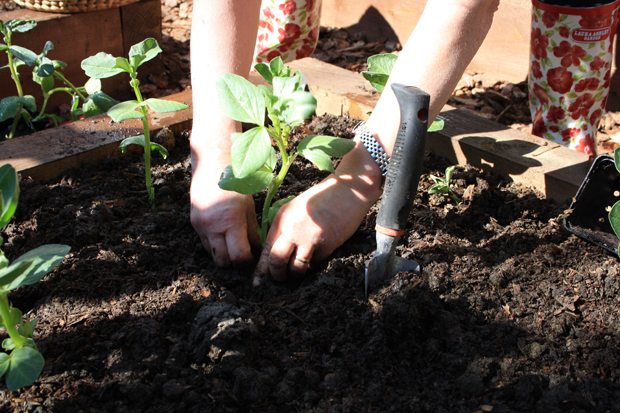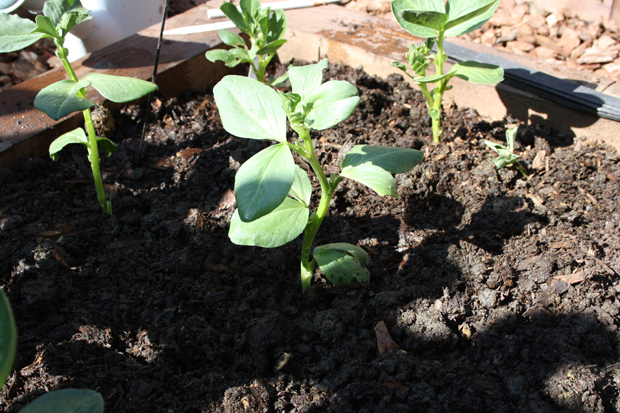 Here, we have broad beans.  This variety, Aquadulce Claudia, has been overwintered, and can be harvested early in May or June.  Some are dwarfing varieties, and require little or no support.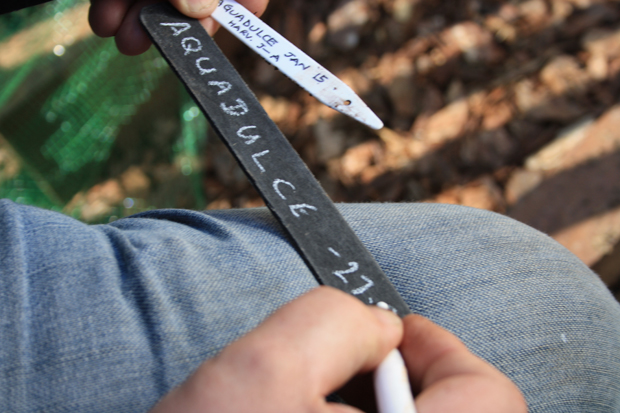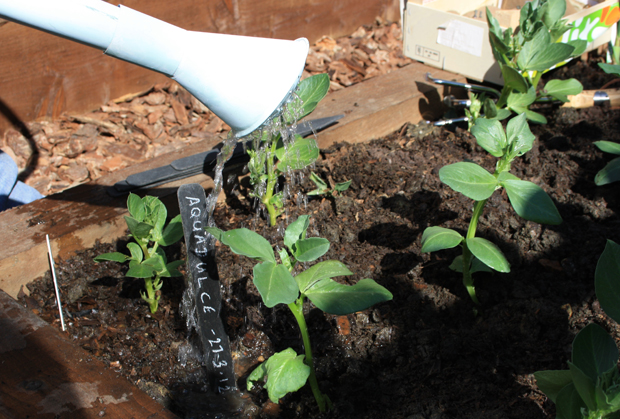 Companion plants enhance the attractiveness of your veg plot; flowers such as Poached Egg plant attract aphid eating hoverflies, and the onion smell of chives deters carrot root fly. Nasturtiums are attractive and edible, brightening up a salad.
Lastly, the fun bit- decorating your garden with playful outdoor accessories, table wear and a slice of Easter inspired cake!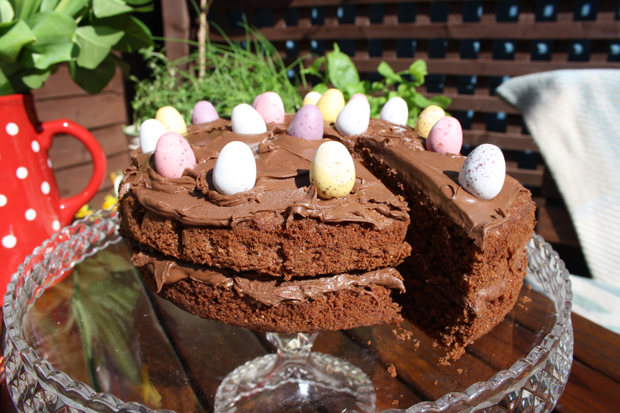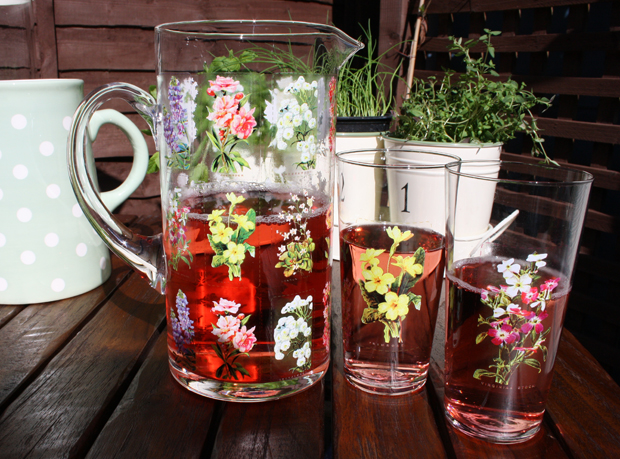 Floral Printed Glass Jug, Floral Printed Glass Tumbler (Set of 4)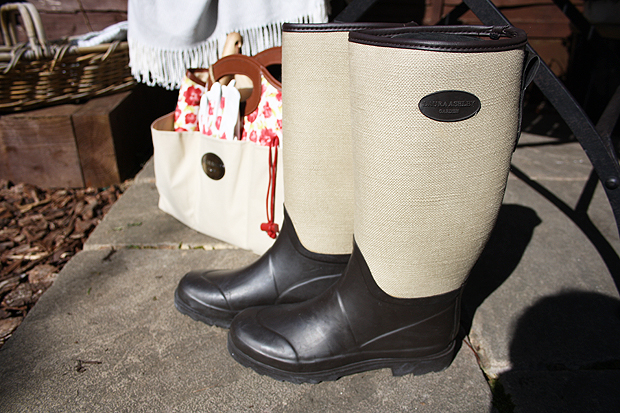 We love these Laura Ashley Canvas Country Wellingtons available from Tenax 
In our next blog: Top tips for your Jubilee and Olympic celebrations in the garden!
Visit p.s.gardens here for more garden ideas and inspiration.
Don't let your garden be an after thought!