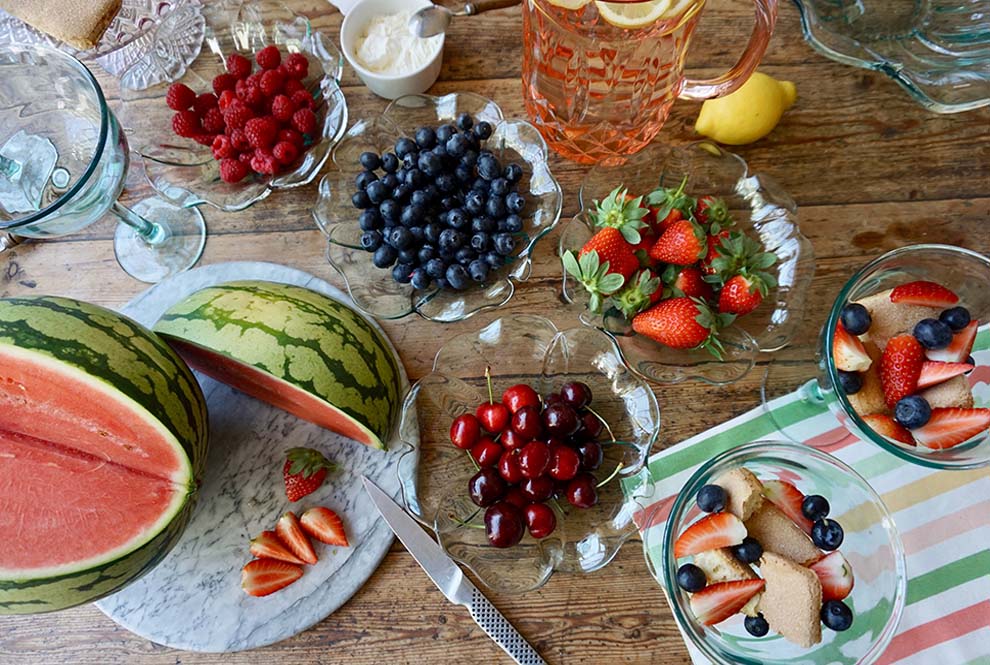 Enjoy your spring in the garden with this delicious 5-minute trifle recipe read more
With the warmer days now here, alfresco dining is something we all look forward to. We have got the lovely Paula from Hill House Diaries here to share with us her delicious trifle recipe.
Is it safe to say that Spring is definitely with us and the good weather is here to stay yet? Well, perhaps I'll just whisper it then. What I do know for sure is that the urge to be eating meals outside now that the temperature is safely reaching double figures is now upon us in a BIG way!
I always see the garden as an extension of the rest of my home as soon as Spring comes along. Similarly to redesigning our spaces and colour schemes inside. It's always fun to have a play around with new colours and accessories outside too.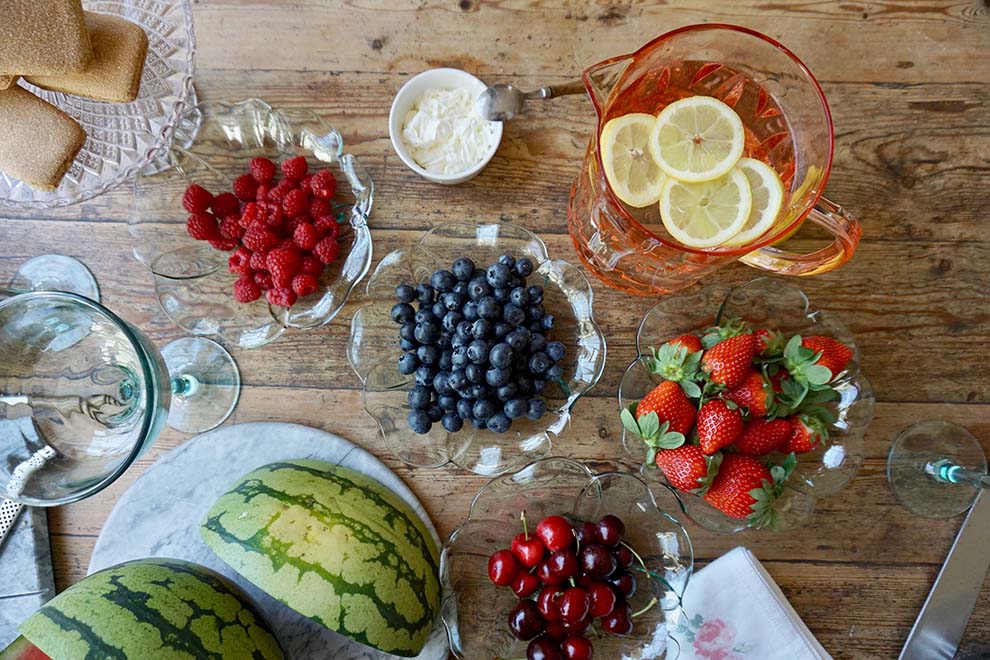 When I saw the beautiful new Laura Ashley Spring Floral fabric range as part of their new outdoor season, it instantly made me think of all things floral and pretty. Always a winner at this time of the year! However, when I then noticed that the reverse side of the cushions and placemats had the most gorgeous pastel retro stripe I was completely smitten with thoughts of all things Summery, fruity and fresh. The pastel stripes have a nostalgic feel that reminds me of my childhood. They are the perfect accompaniment to light meals taken in the Spring sunshine.
I already had the Acrylic Daisy Bowls in aqua from last year, and knowing that they were hard wearing and a practical choice for outdoor use as well as being beautiful, it made choosing to add to the collection with this season's Faceted jug in a gorgeous blush colour a simple decision.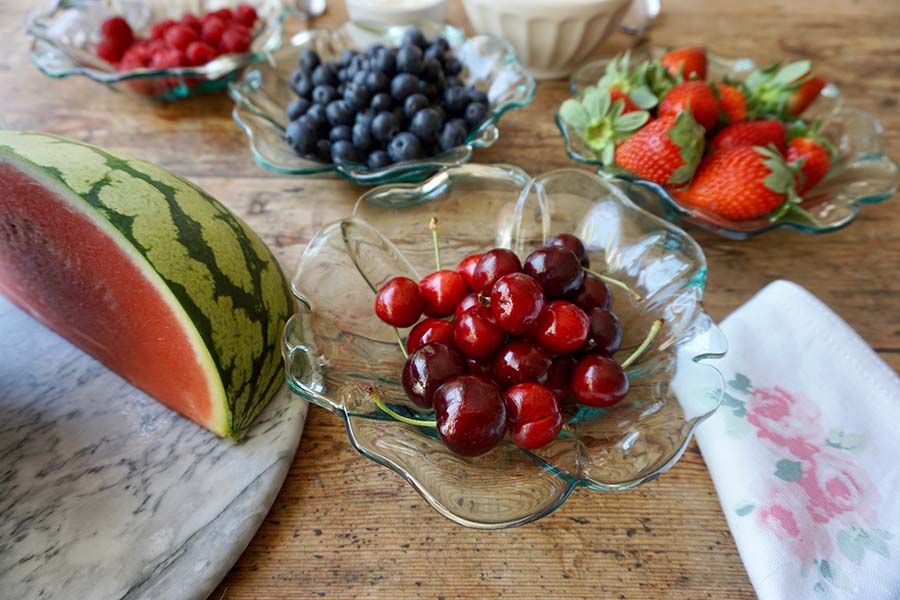 All that was left was to choose something delicious to eat for the perfect Spring garden table.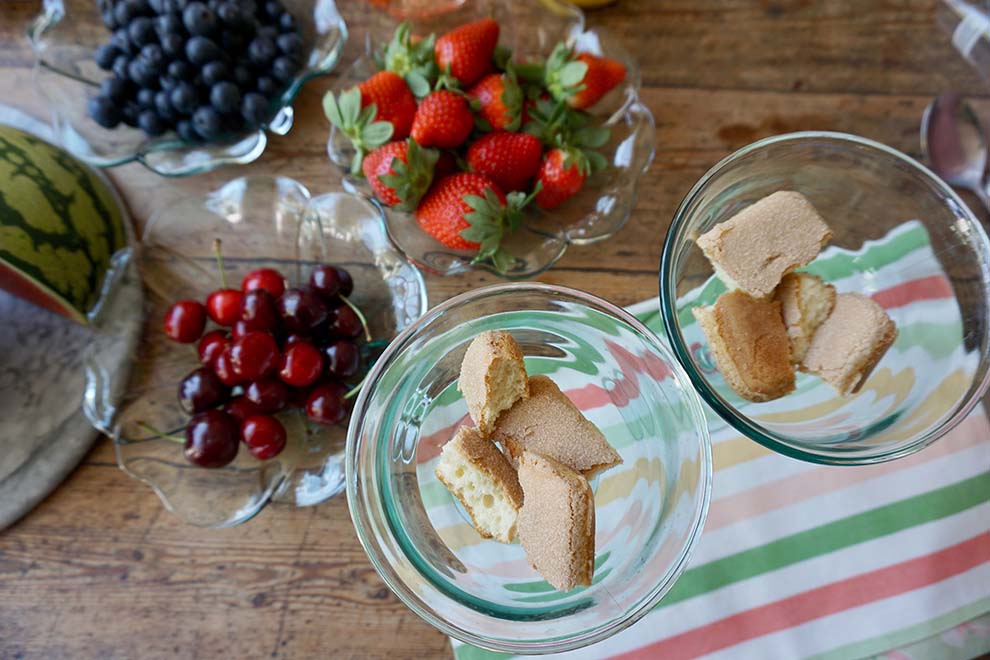 In my household, garden living is a family affair, and the children like to get stuck in with preparing our Summery meals. The barbeque is a regular weekend staple. We wanted to have a bit of fun with the pudding, and allow everyone to have a hand in making it. In keeping with the fruity pastel stripes of my new Spring Floral Fabric cushions, table mats and runner, Individual five-minute trifles were the result! All it takes are simple sponges, whipped cream, custard and lots of fruit and everyone can build their own trifle in minutes. Even the youngest family members!
 INGREDIENTS
A punnel each of fresh raspberries, blueberries and strawberries, cherries
3 Tbsp caster sugar
Fruit Coulis (bought or made with mashed fruit and orange juice and sugar if required)
250 g pack unfilled sponge or trifle sponge fingers (You can also use leftover homemade sponge cake for this part)
600 g carton chilled vanilla custard
½ cup cream, whipped
METHOD
Use a fork to lightly mash fresh raspberries and strawberries with 3 Tbsp caster sugar and orange juice to form a syrupy coulis.
Reserve a few fruits for decoration.
Break up the sponge squares, or use pastry cutters to cut 6 circles of sponge to fit 6 serving glasses.
Sprinkle fruits of choice on top of the sponge.
Drizzle the strawberries and raspberry syrupy coulis mix between 6 glasses.
Pour vanilla custard over the sponge/berries mixes until each glass fully covered.
Decorate each trifle with a swirl of whipped cream and decorate with fruit – SIMPLE!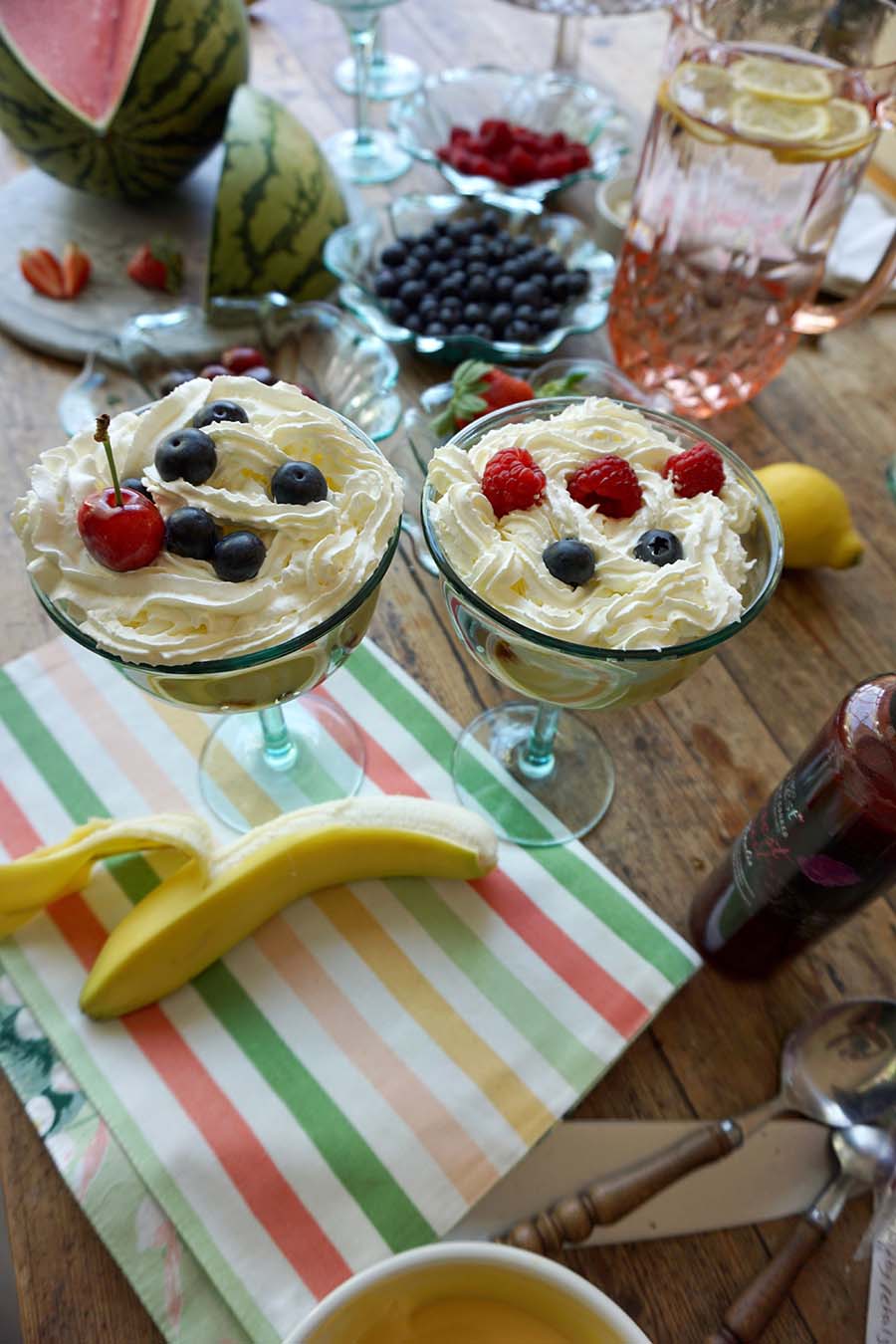 Do you have your own trifle recipe? Let us know below or @LauraAshleyUK.