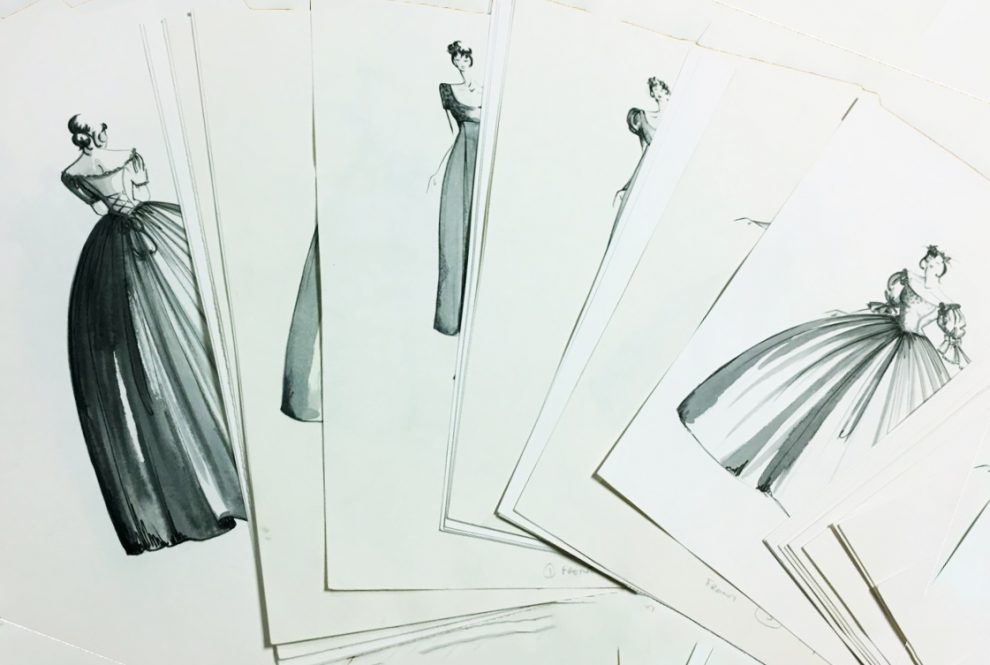 Get an up-close look at one of Laura Ashley's wedding dresses from her 1996 Collection… read more
The quintessential British bride remains a cornerstone to our Laura Ashley heritage. Just look at the extravagant white cotton wedding gown modelled by Kate Moss in 1991 for Brides Magazine, or the elaborately printed gowns featured in our 2015 International Bridal collection. So when we recently unearthed this 1996 bridal look from our archive, we thought it was the perfect excuse to relaunch the Laura Ashley archive online.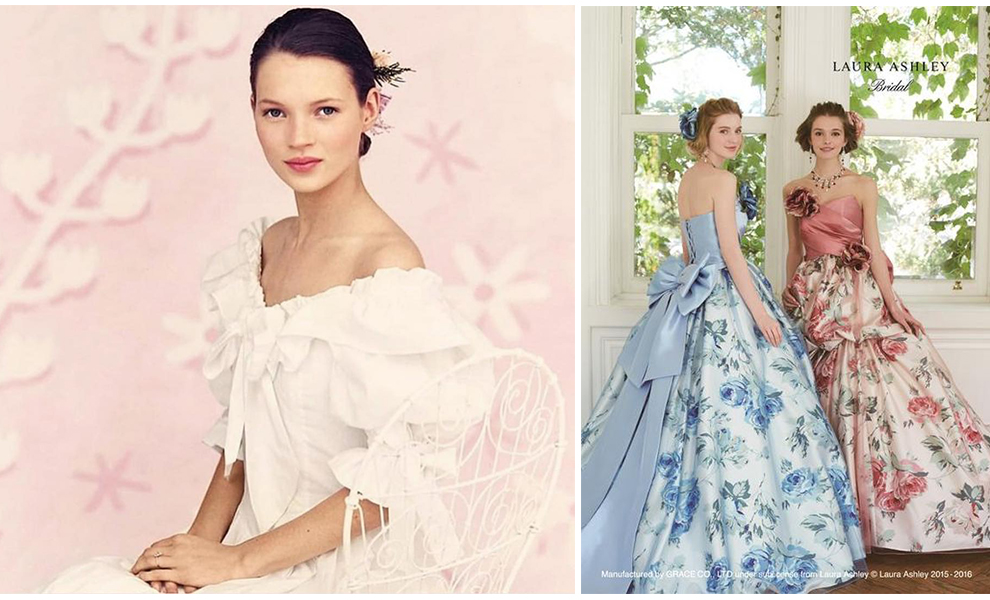 Kate Moss image by @JadeBeerBrides
Sarah
Hidden in a large pile of fashion sketches is this beautiful drawing. Named Sarah and part of the 1996 Laura Ashley bridal collection, the look is made up of a tailored jacket and a double strap three-quarter length dress. A very different kind of drawing to the more technical 70s/80s illustrations we have here in the archive and interestingly the only design with a separate jacket out of all 34 looks.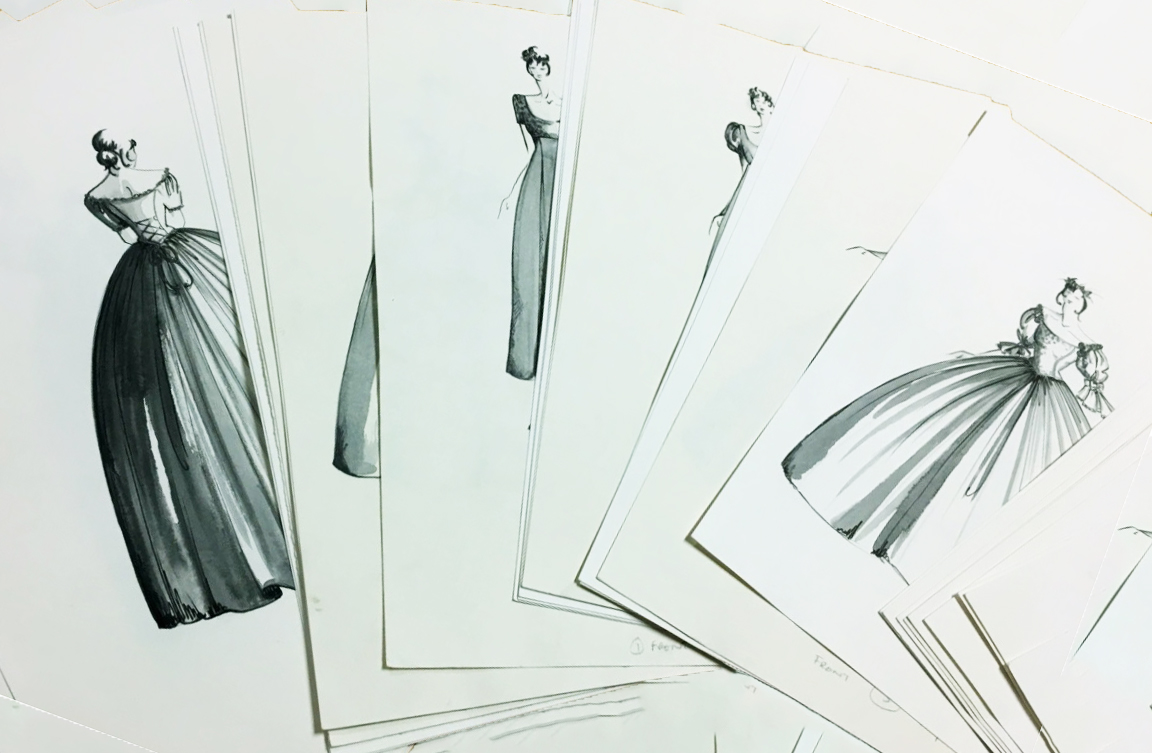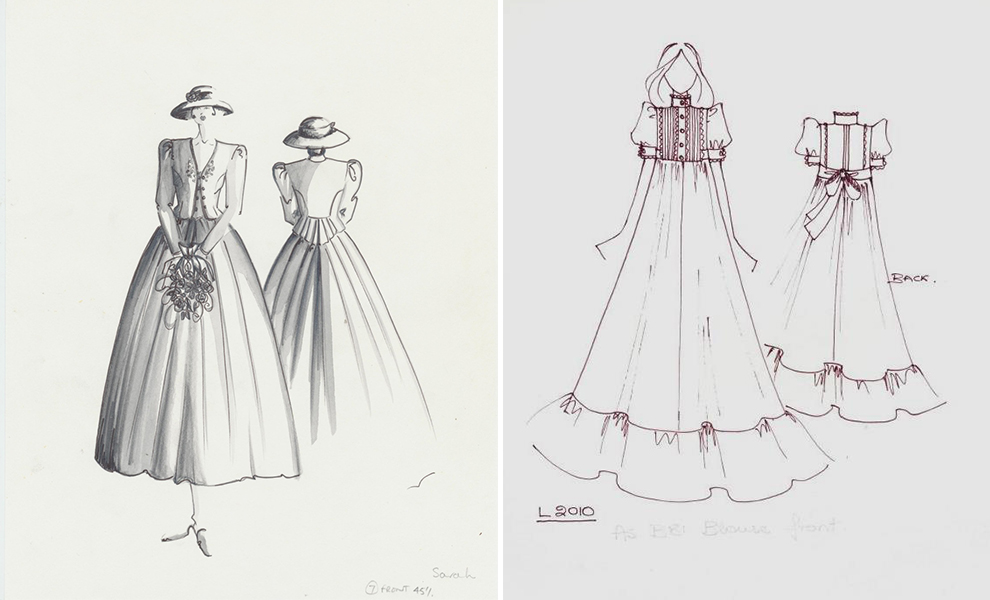 With a name like "Sarah", it was easy to also find the garment itself and accompanying catalogue photography.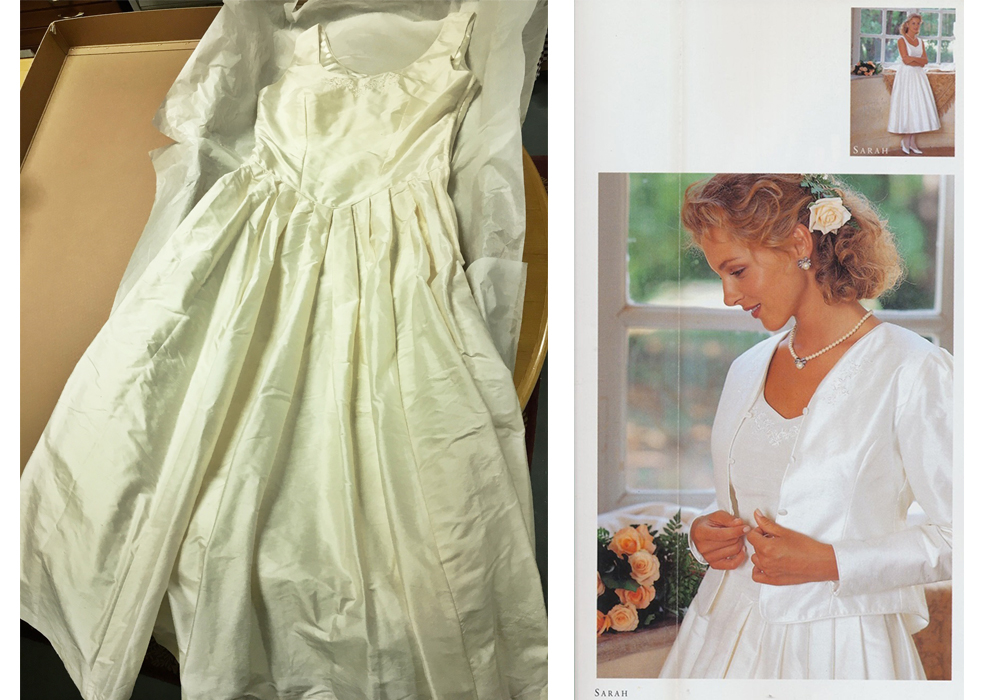 Now that all three pieces are together, it is easy to see some of the finer details behind the collection such as this gorgeous ivory silk dupion. Used in both the jacket and dress, this particular type of silk has an irresistible tactile quality to it and gives off that sense of luxury. What other fabric could match the impressive country house setting and 19th century tapestry (also here in the archive) which frame the catalogue model? Also when viewing the silk jacket up close you can't help but be drawn to the delicate trailing floral embroidery along the neckline, a detail accentuated in the pencil sketch and close photographic shot.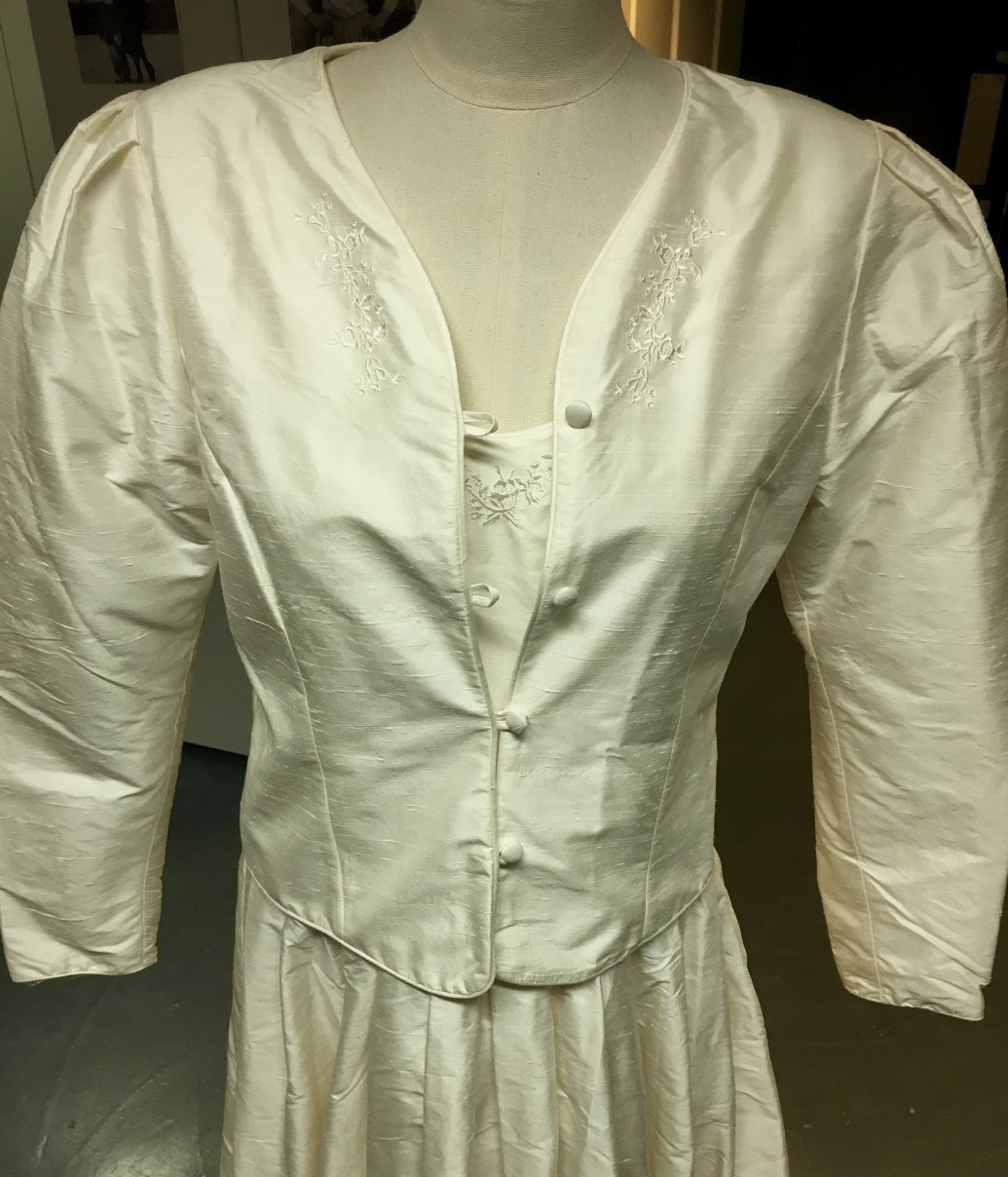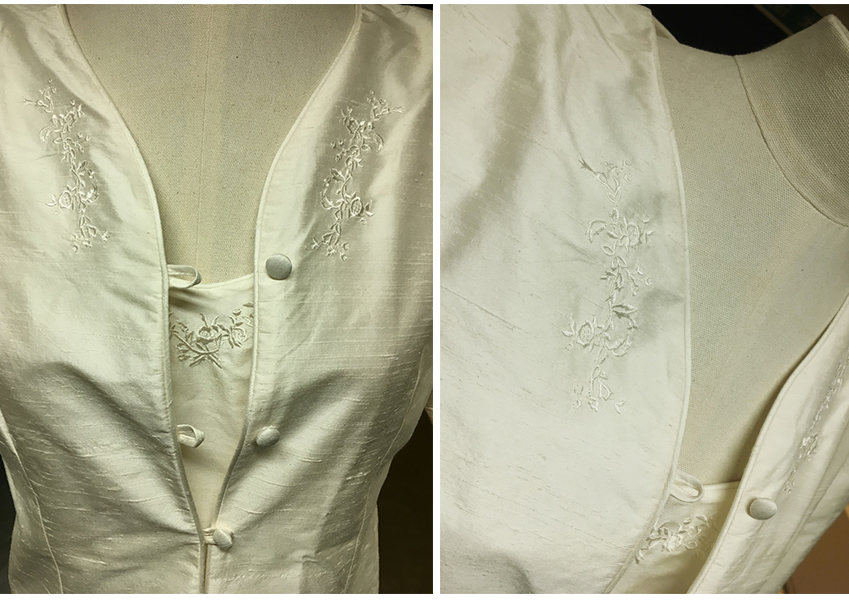 Laura Ashley x Pronuptia
This wedding look is one of many that document our strong partnership with the Parisian bridal brand Pronuptia throughout the 1990s. Founded in 1958 and specialising in ready-to-wear and couture wedding gowns, Pronuptia had collaborated with such designers as Jean Paul Gautier and Christian Lacroix by the mid-1990s. You could say they were a real tour de force in the wedding market by the time of this collection catering for a wide variety of tastes. Look at this Fontana lace bride gown from their 96/97 élégance catalogue for example – a very different style compared to this Sarah jacket and dress. Seen in this way, the look has an inherent Britishness and reserved elegance to it which was such a huge part of the Laura Ashley appeal.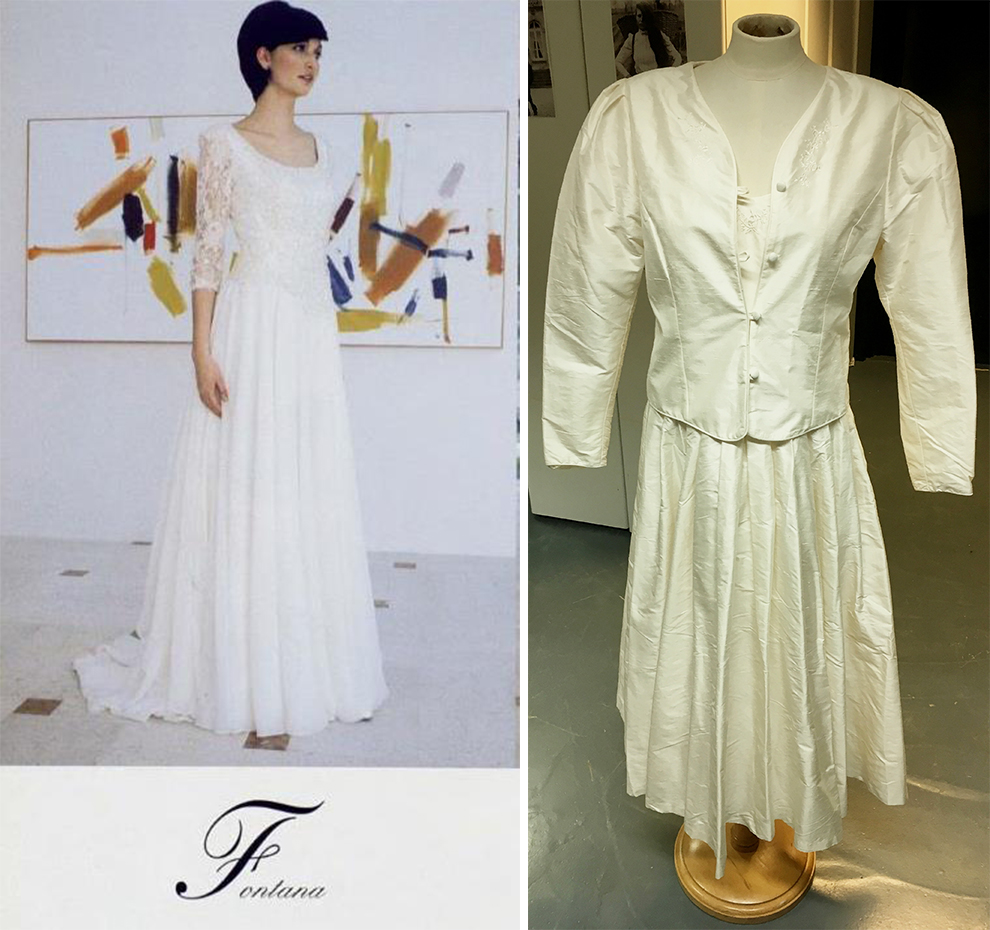 Image by pronuptia.com
Archived away
Being stored away for 23 years deep in our Welsh archive has meant this bridal look remains in pristine condition. However, one difficulty with storing silk dupion is keeping it crease free. As you can see at the waist and padded shoulders a few creases have set into the material and whilst it is recommended to store garments flat, in this instance, it has meant the heavier weight of the silk has collapsed some of its shaping. With that said, the pieces are still just as beautiful as they were in 1996 and ultimately this is all "part of its inherent beauty and character" so aptly put on the swing tag label.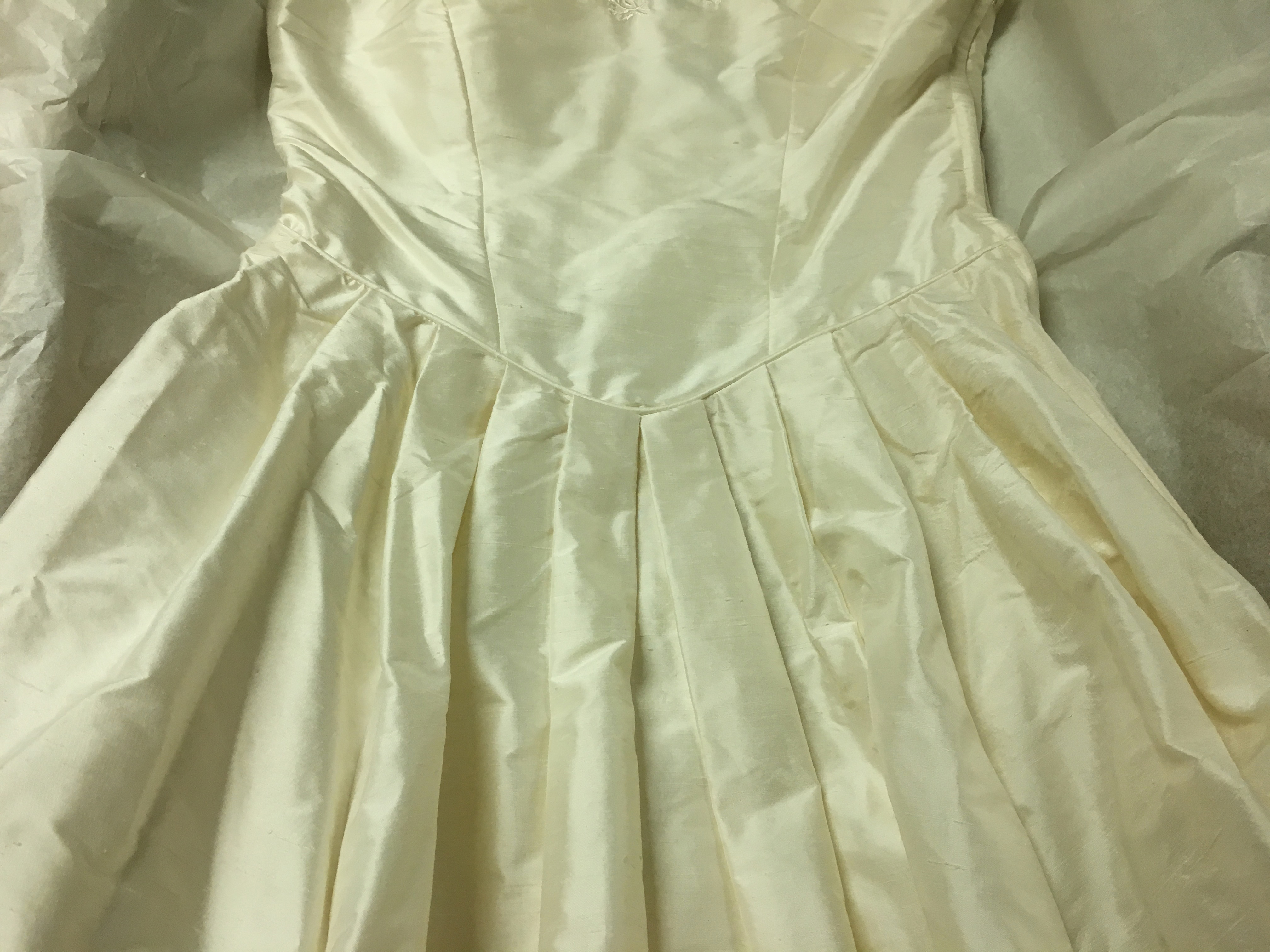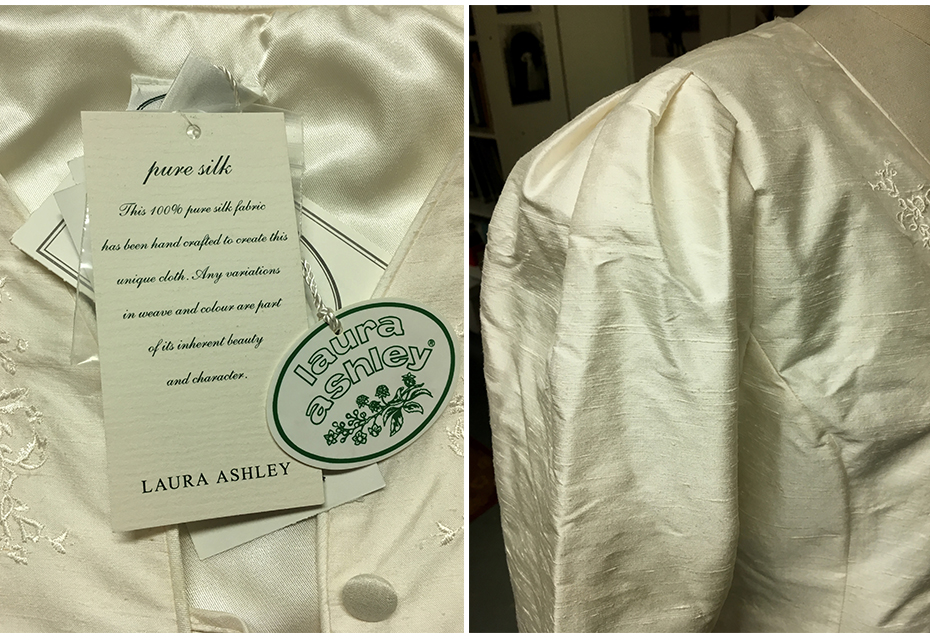 Were you a Laura Ashley Bride on your big day? Share your photos with us on Facebook & Instagram with the hashtag #LauraAshleyMemories for the chance to be featured!