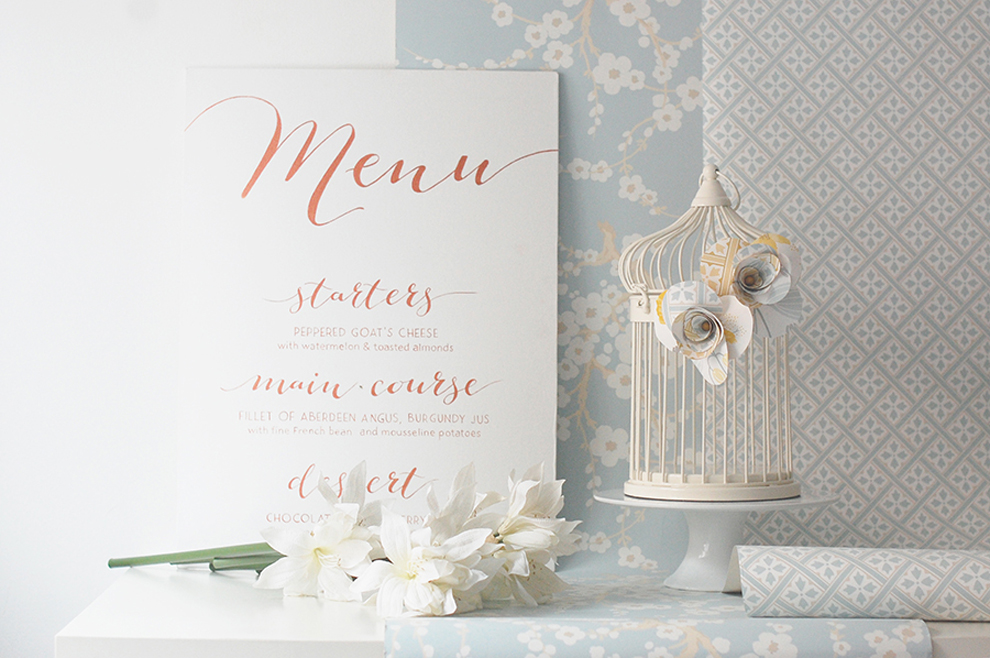 Back with her fourth and final wedding DIY, Soumya shares a simple yet effective make and do... read more
We're nearing the end of the traditional wedding season, and to go out with a bang, we've invited the lovely Soumya of Made by Molu back for her fourth and final wedding DIY installment. Planning a big day but want to save the pennies? You're in luck! Soumya's treated us to some fantastic make and do's, including these place settings, this wedding love sign, and these cute handmade keep sakes. You're well on your way to creating a perfect handmade wedding! Personally, we think we've saved the very best until last. Let's hand over to Soumya who gets creative with wallpaper…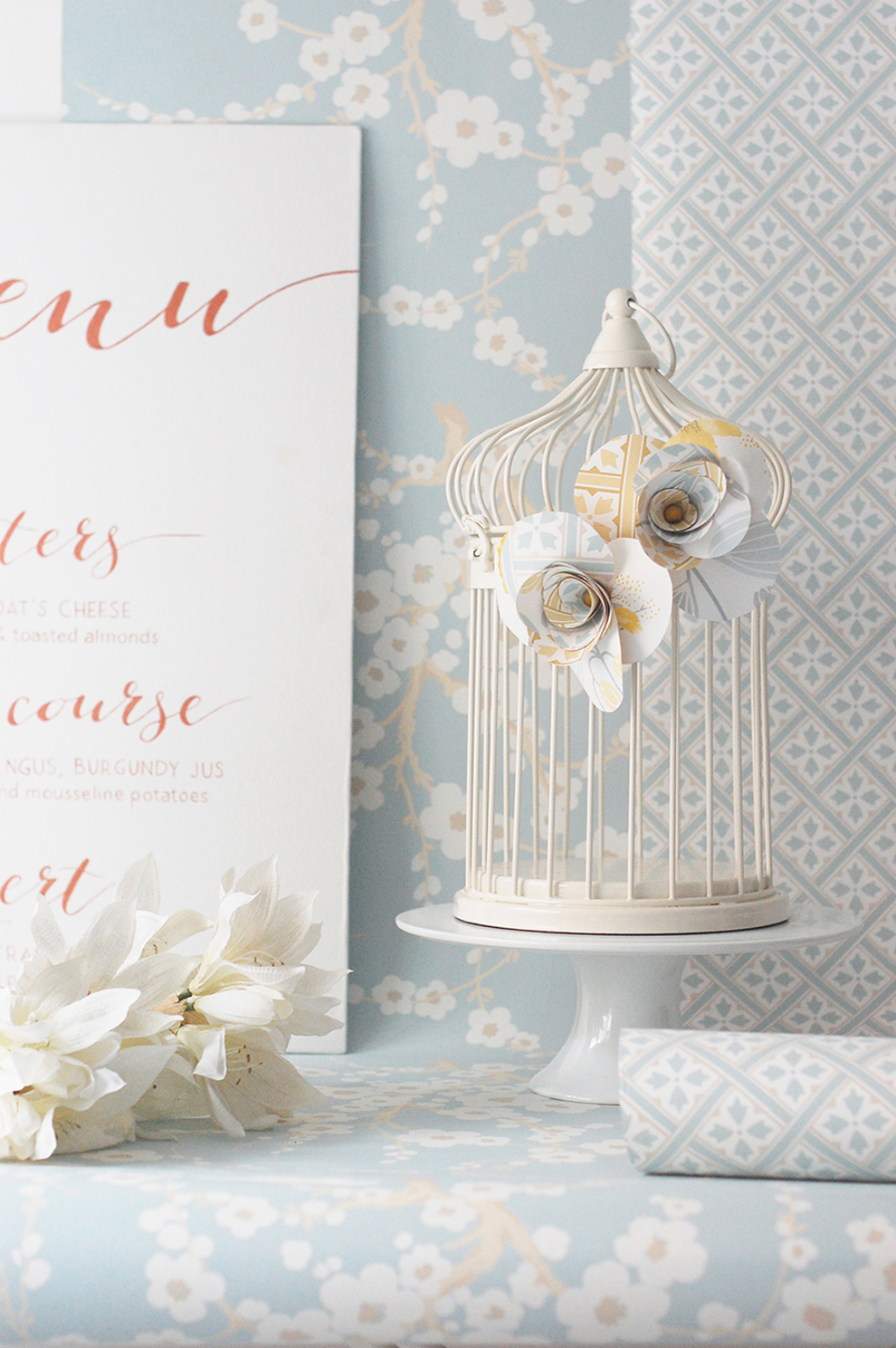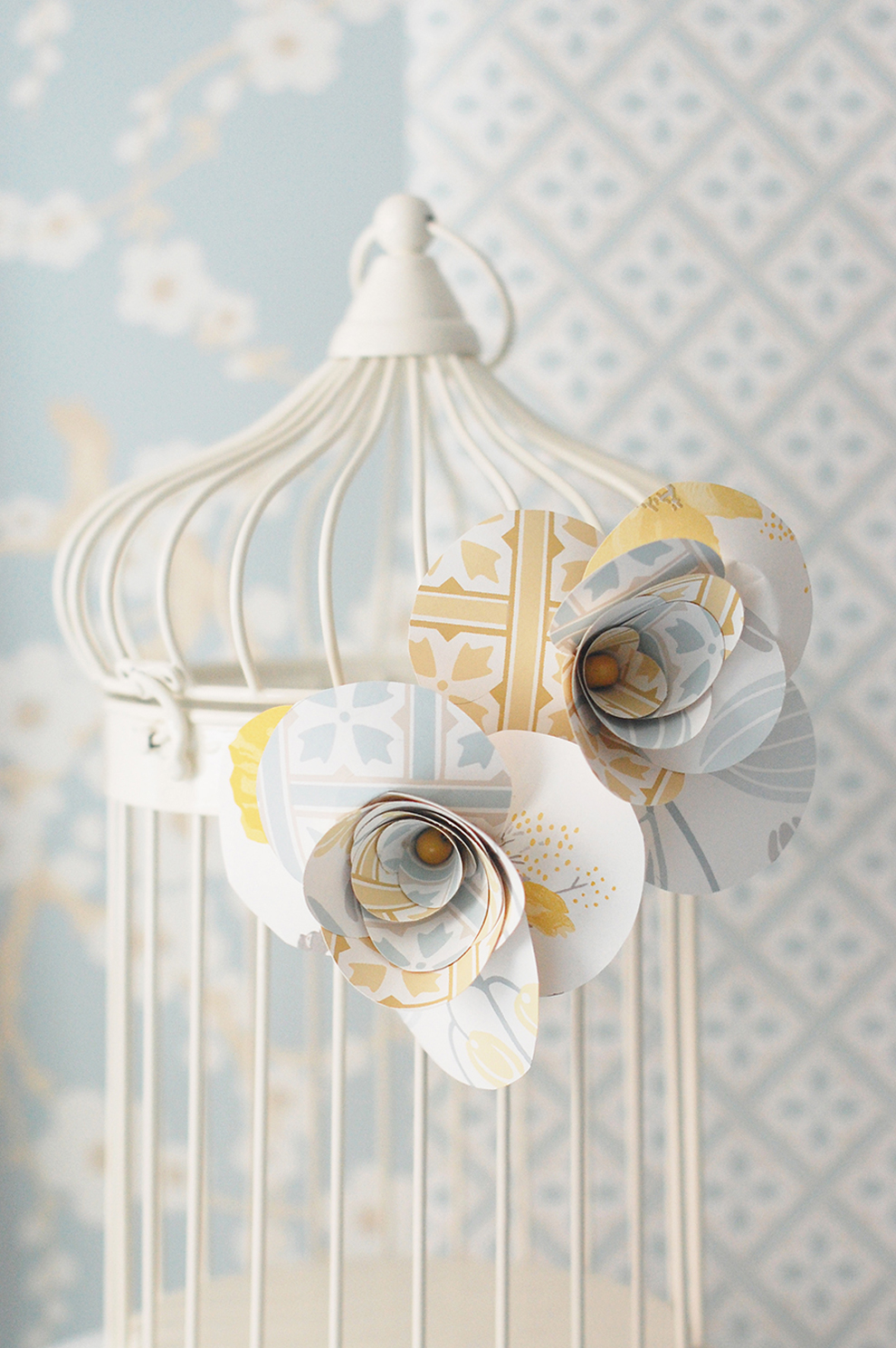 Trying to add personal touches to your wedding and thinking of all the little details can be quite the overwhelming task even for the most creative bride and groom. You either lack the vision or have far too many ideas to choose from that the end result is far removed from what you had envisaged. And of course, this can be a lot trickier with a tighter budget.
Well, the key to achieving the wow factor in a cost-effective way is to keep things relatively simple, especially if you are aiming to do a lot of the planning and styling yourself. That may sound pretty obvious but having been there myself several times (both our wedding and that of others) you soon realise there's only so much you or your family can do. And that so called 'adequate' timescale you think you have, disappears in the blink of an eye.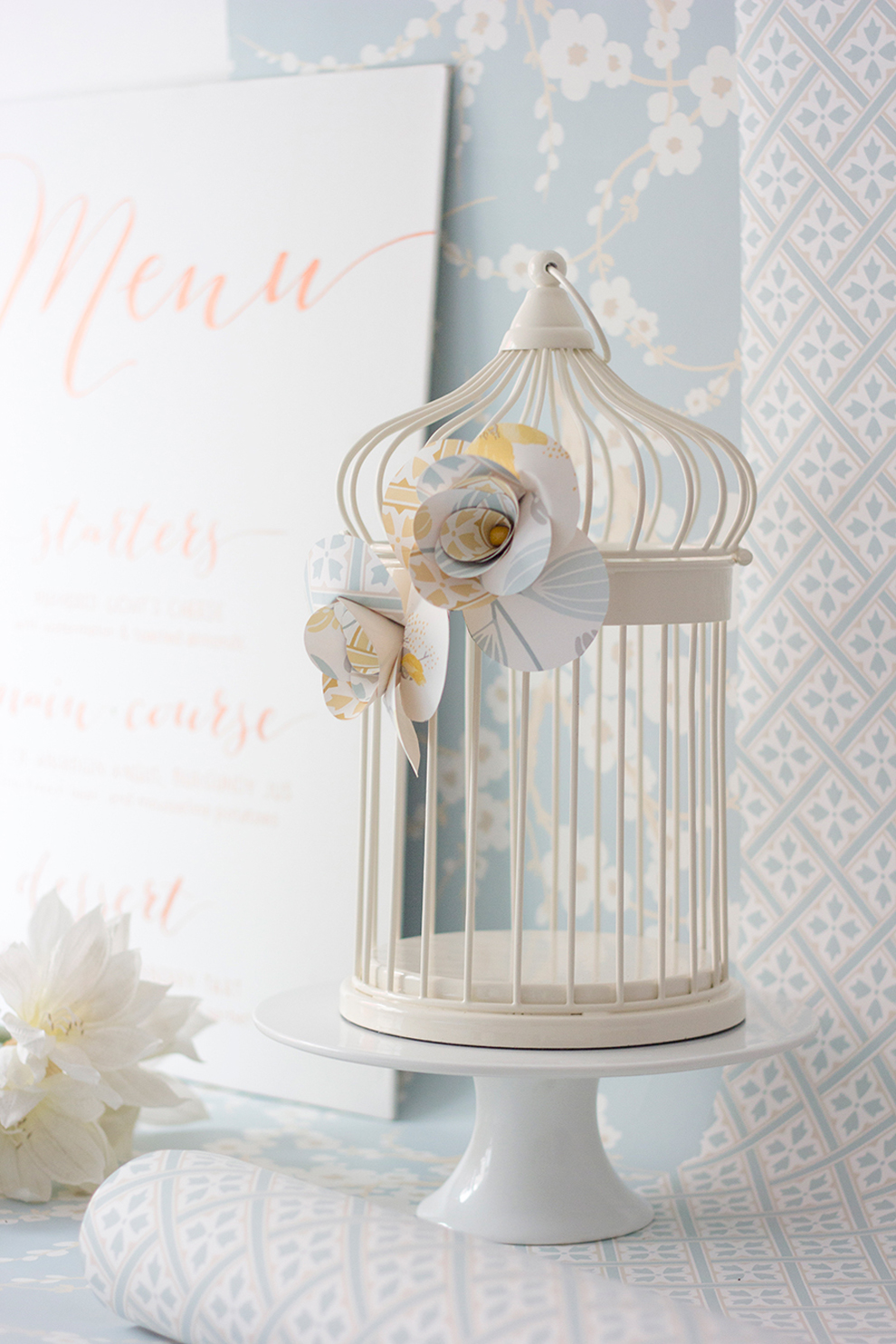 So today, I hope to be able to show you how you can go about creating the most simple yet effective styling by choosing a few key props. With sweets tables, guestbook stations, photo booth, whiskey and cigar bars (to name a few!) becoming increasingly fashionable (almost wedding essentials!) I decided to dress up a plain table using a couple of Laura Ashley's gorgeous wallpaper (including Lori Duck Egg Floral Wallpaper, Mr Jones Duck Egg Wallpaper) and their quaint little bird cage (available in store) to create a pretty backdrop to any one of those main 'stations' at your wedding.
In this setting, I layered the two wallpaper prints on the wall; you can have them cut to a specific size or let them drop to the ground. I decided to let them roll across the table and simply play with the natural curve in the paper. You can use masking tape or washi tape where needed (if you use stronger adhesive tapes please be wary of the wall surfaces you work on to avoid any damage). Position the birdcage in a way that it compliments the composition (centred or offset). And finally, team it up with some flowers (be it fresh seasonal ones or even artificial ones like the paper flowers I made from the first DIY) along with other props and signage you may have, to add further dimension to your overall setting.
Eh voila! It's as simple as that.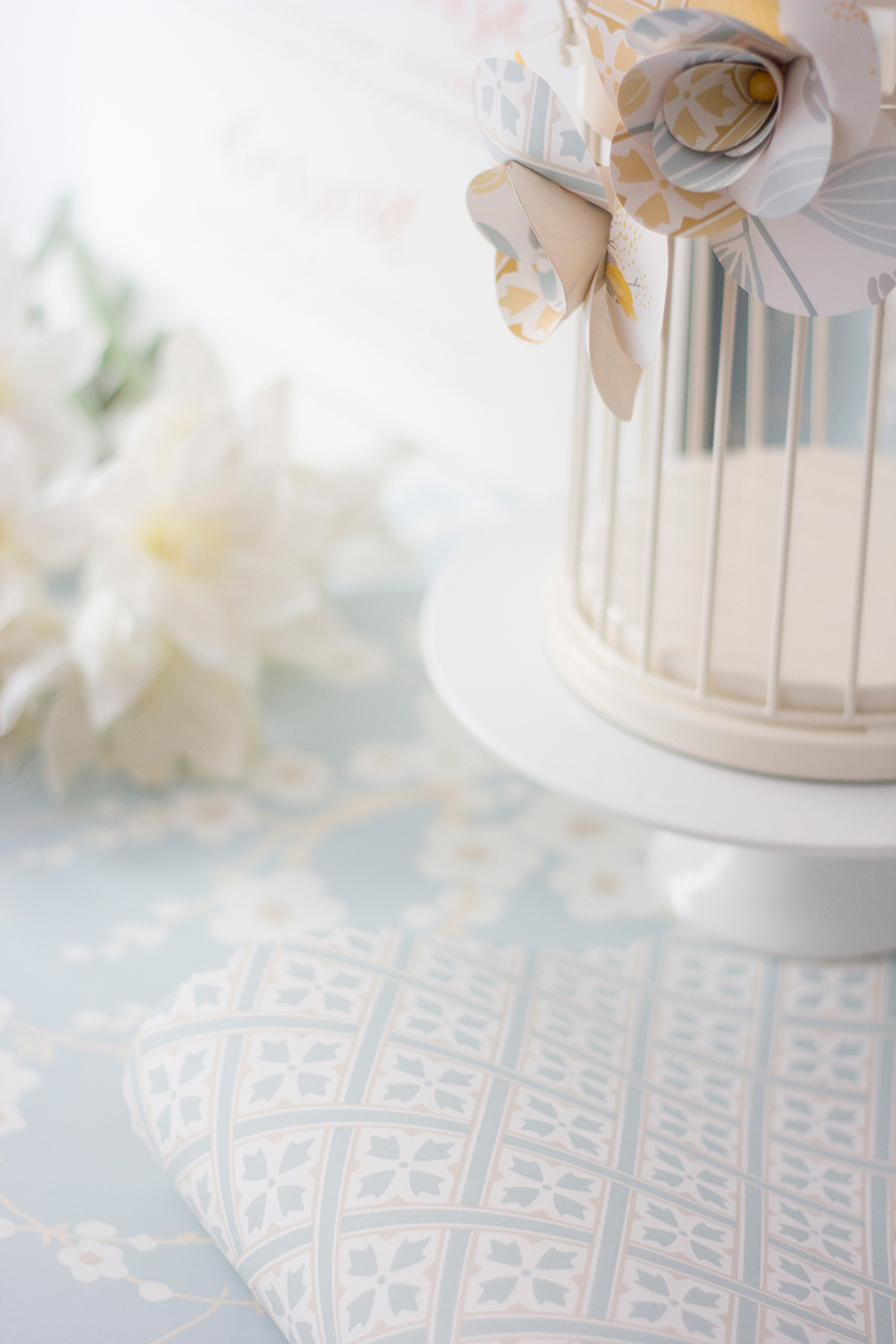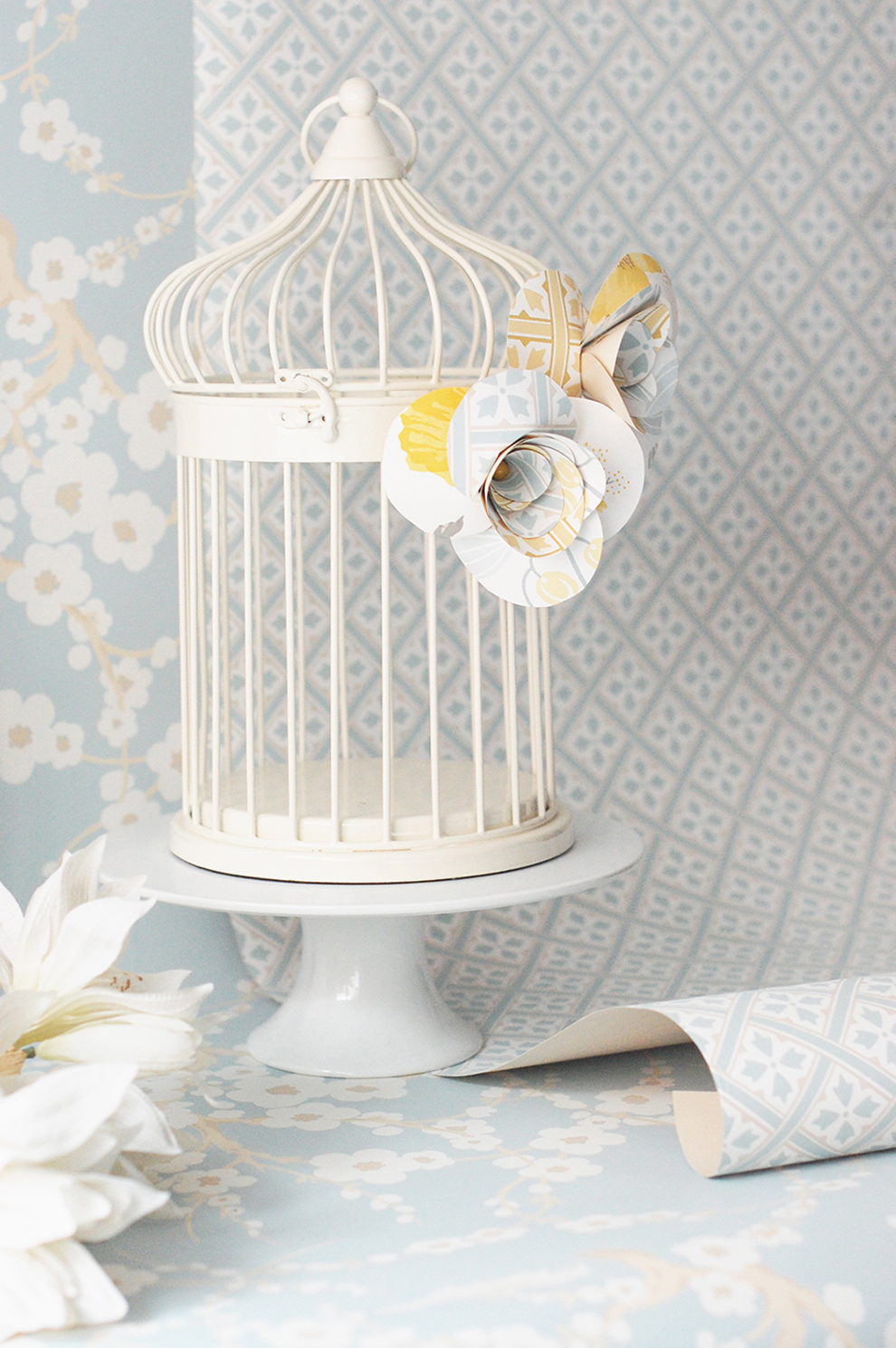 As you probably have guessed by now from a lot of my DIYs, I am truly besotted with wallpapers. They are an absolute godsend in that they can be used in SO many different ways. By investing in a roll or two, you will be surprised how much of your wedding you can transform on a budget; from unique favours and place-settings to simple yet fabulous backdrops. I really hope that this little styling project has inspired you all to be a lot more creative; to explore and play around with everyday items and using them in unique ways.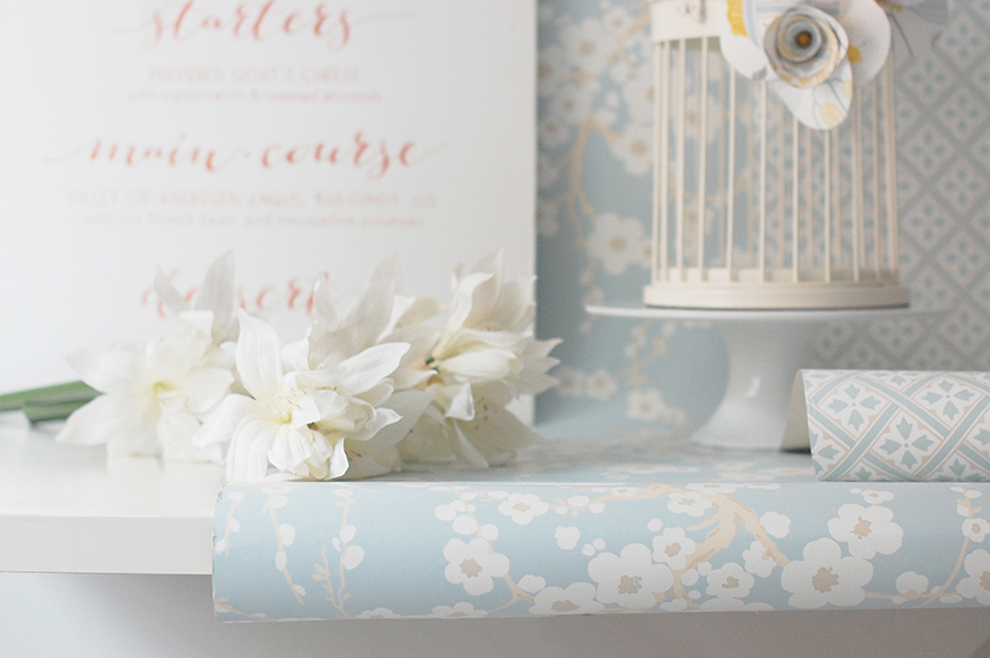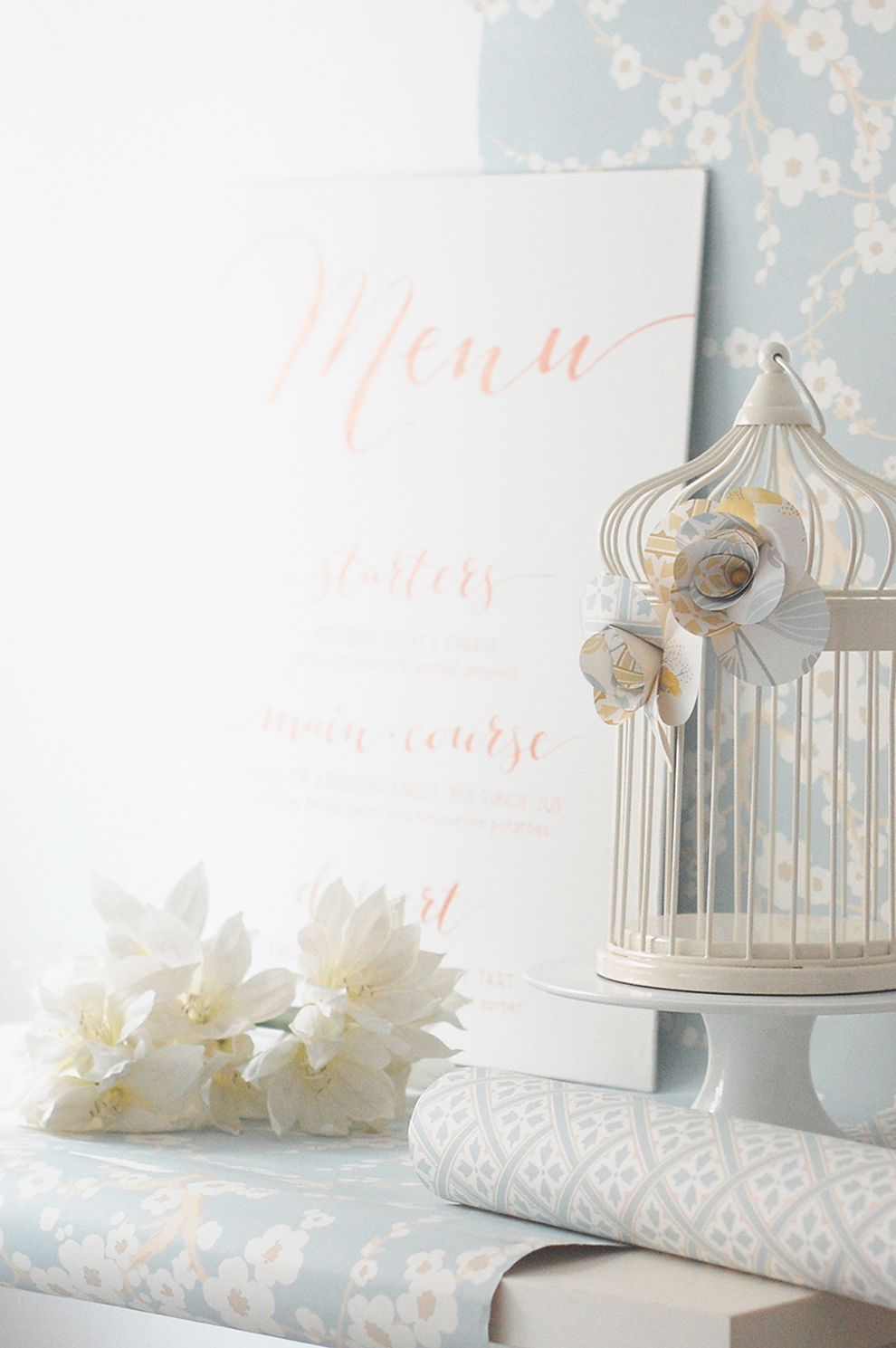 As usual, we absolutely love Soumya's DIY. Have you got any creative ideas to jazz up your big day? We'd love to hear in the comments below. Love Soumya's make and do's? Don't forget to bookmark her wonderful blog Made by Molu.