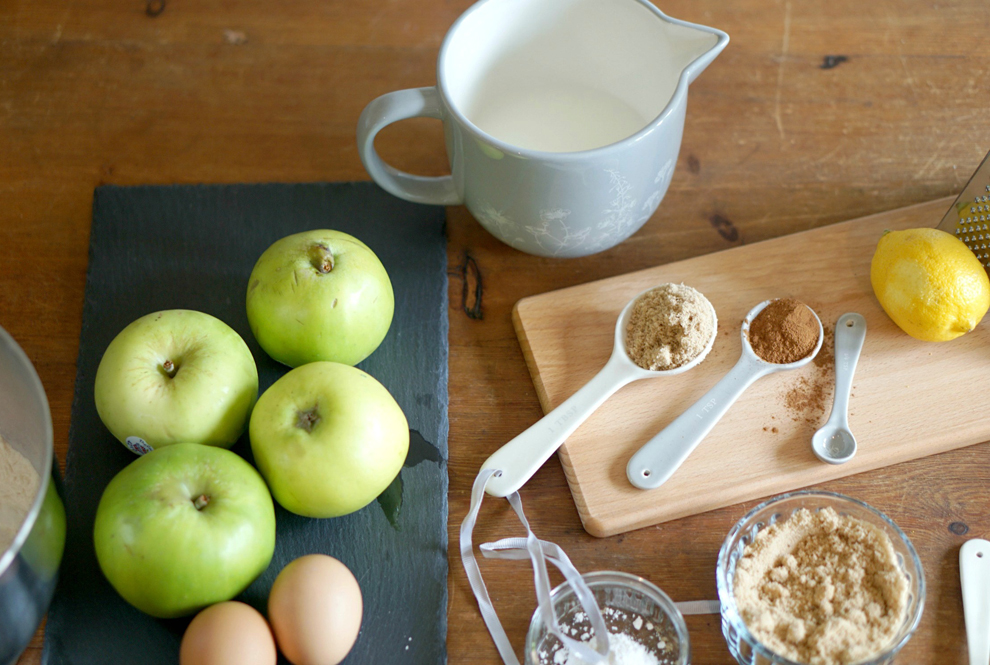 See how Sarah baked this delicious apple cake with the help of Laura Ashley accessories… read more
Our main goal at the moment is to be cosy at all times so we ensure our home, our wardrobe and even our food is warm and comforting during this colder period. The fabulous Sarah from Extraordinary Chaos shares our belief so shows us what she's been baking this Autumn…
The nights are getting darker and colder I am feeling the need to stay home, light the fire, keep cosy and warm and eat delicious comfort food. Gone are the healthy salads and in come hot pots and casseroles. Of course no good winters meal would be complete without a spicy sticky desert.
With Halloween around the corner I thought I would try a spicy apple cake. Ok it may not be the best way to ensure I am getting my 5 a day? But I can tell myself there is a benefit other than the taste to eating this autumn in cake desert, can't I?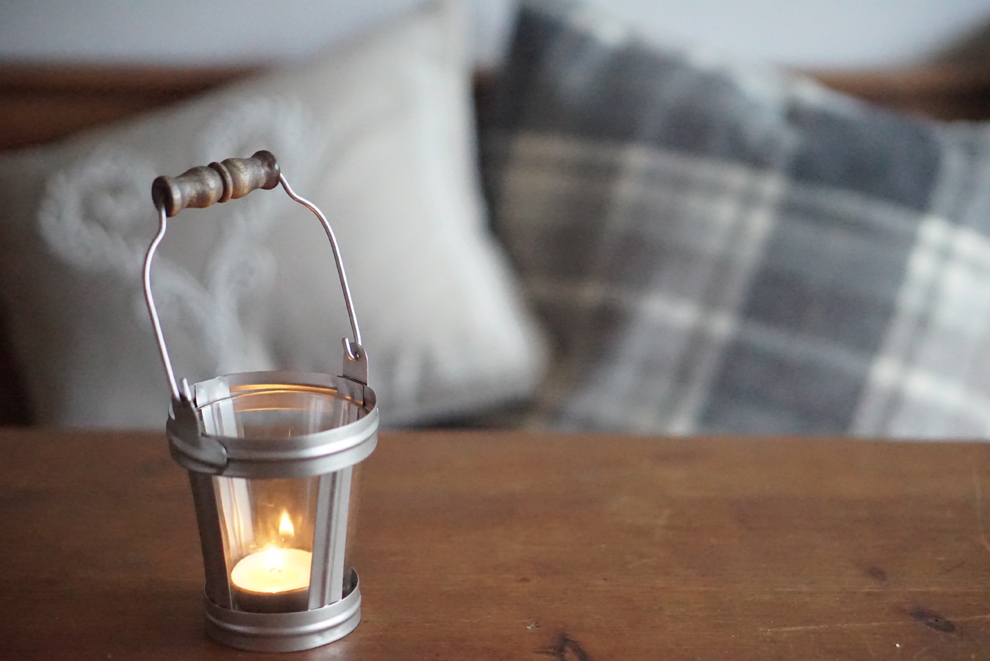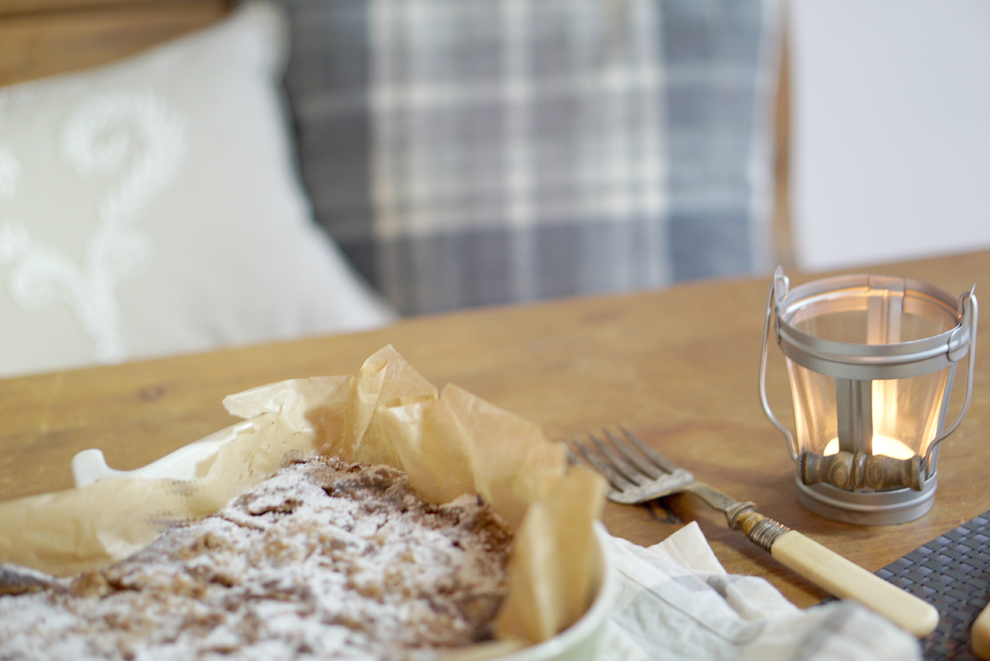 I chose apple cake as I am determined to increase my cake repertoire. Ok, I may never make it to bake off. But being able to whip up a quick cake is a skill I have always wanted to master. I want a choice of recipes, quick and easy cakes I can pop in the oven whilst my Sunday roast is cooking and I am listening to Elaine Paige with a glass of wine in hand. No doubt it will be blowing a gale outside on top of our little hill as it often does on winter months. But what's the old saying; everything is ok if you have cake. Or have I just made that up to ease the cake guilt?
This delicious cake is a Hairy Bikers recipe. I had never tried one of their recipes until now but it is great, so easy to follow.
You will need
Oil, for spraying
750g Bramley cooking apples
1 tbsp fresh lemon juice
Finely grated zest of ½ lemon
250g self-raising flour
1 tsp baking powder
1 tsp ground cinnamon
1 tsp ground mixed spice
2 large eggs
100g demerara sugar, plus 2 tbsp
200ml semi-skimmed milk
100ml sunflower oil
½ tsp sifted icing sugar to dust the cake
1. Preheat the oven to 190°C/Fan 170°C/Gas 5. Line your cake bowl with baking parchment.
2. Peel the apples and cut them into quarters. (I have a great little gadget for this) Remove the cores and cut the apples into thin slices.  Put the apple slices in a bowl and toss with the lemon juice and zest.
3. Mix the flour, baking powder, cinnamon and spice in a large mixing bowl. Whisk the eggs with the 100g of sugar, the milk and sunflower oil in a separate medium bowl using a large metal whisk. Then pour the wet ingredients into the dry ingredients, stirring lightly until combined, use the whisk to break up any lumps.
4. Toss the lemony apples through the cake batter until evenly mixed and pour the mixture into the prepared tin.
5. Sprinkle the 2 tablespoons of demerara sugar evenly over the top and bake the cake in the centre of the oven for 1 hour until it is well risen and golden on top. Test the cake by inserting a knife into the centre, it should slide easily through the apples in the middle and come out clean.
6. Leave the cake to cool for 10 minutes before removing it from the bowl and carefully peeling off the baking parchment. Dust with sifted icing sugar and serve warm with a little vanilla ice cream.
The recipe is easy and exact, definitely one I would use again. And omg it tastes so good. So much better than buying dessert don't you think? I served it at a dinner party last week and it went down a treat. A perfect autumn, winter dessert, the only problem is it tastes a little too good.
To help Sarah with her recipe she used a few Laura Ashley pieces to make her pie taste even better and add a real cosy factor to her home. We think you'll agree it looks so yummy!!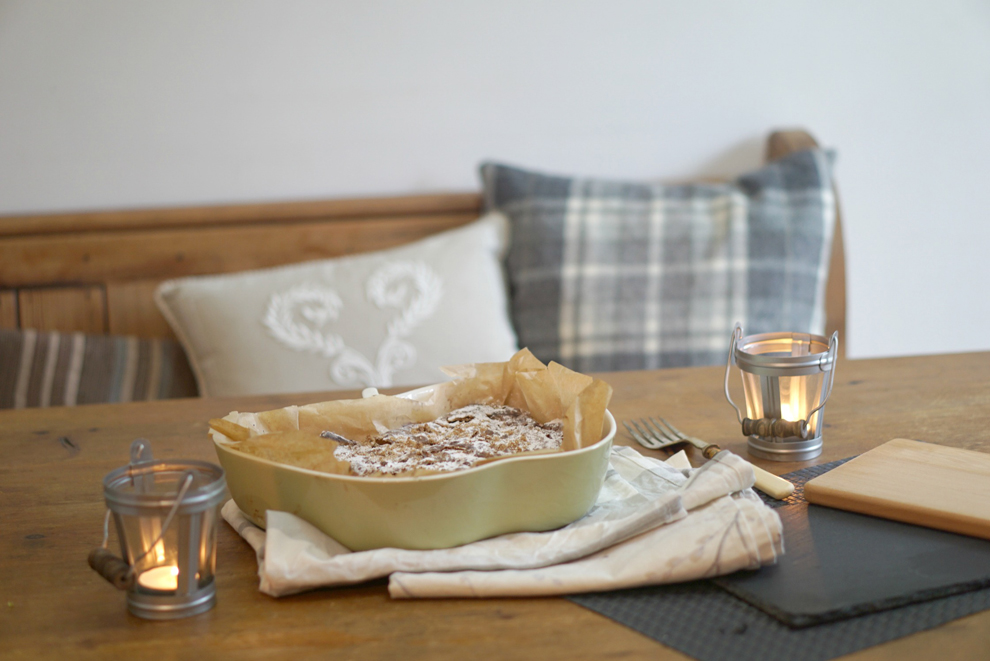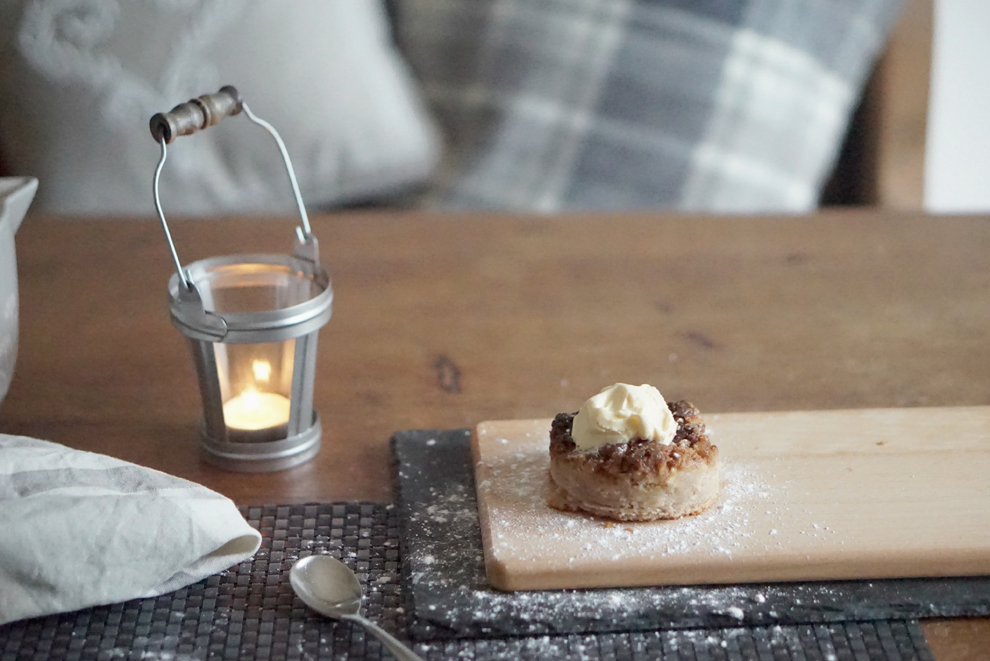 Henrietta cushion | Mulholland steel check cushion | Large apple shaped dish | Lisette floral measuring jug | Lisette set of 4 measuring spoons | Mini bucket tea lights | Pussy Willow set of 3 tea towels
What will you be baking in these colder months? Let us know below or on Twitter @LauraAshleyUK