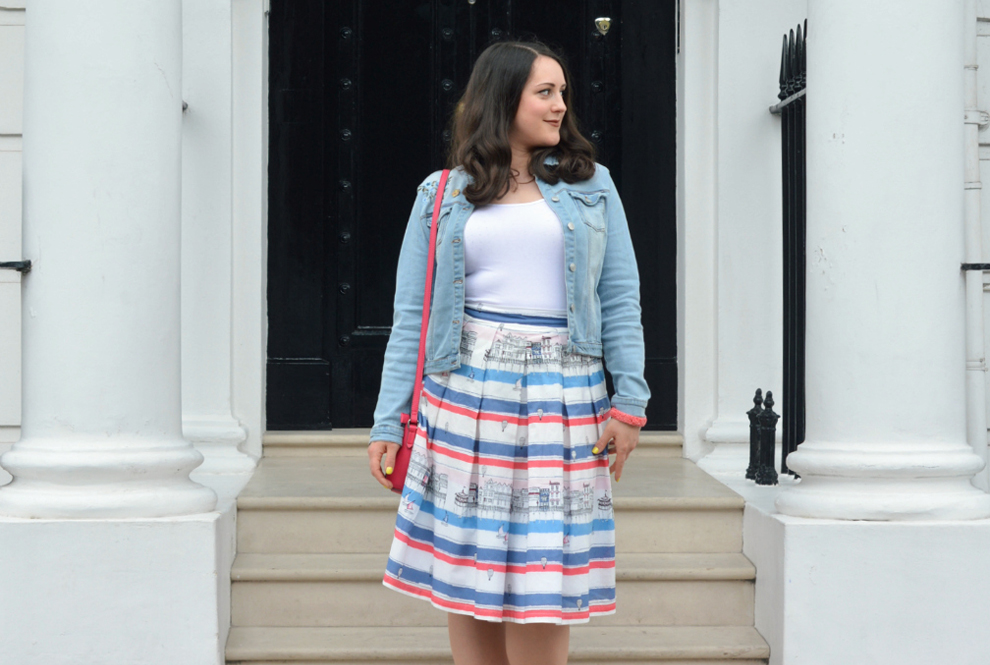 Get style inspiration from our new Margate print read more
Nautical fashion is always our go to for our summer wardrobe so why should this year be any different?! This year we've launched our Margate print with a stunning hand drawn design that captures the best of this seaside town. Always one for a pretty summer skirt, we knew the lovely Catherine from Vintage Frills would be the ideal person to style this staple in her own vintage inspired way…
I love that time of year when spring starts to show and the world bursts into bloom. The days get longer and slowly you start to put away your winter wardrobe. You no longer have to wear 80 denier tights, a warm coat and a woolly hat. Things start to get a bit more interesting and a lot more fun. I am definitely a spring and summer person, I love to be outdoors and I love wearing dresses and skirts.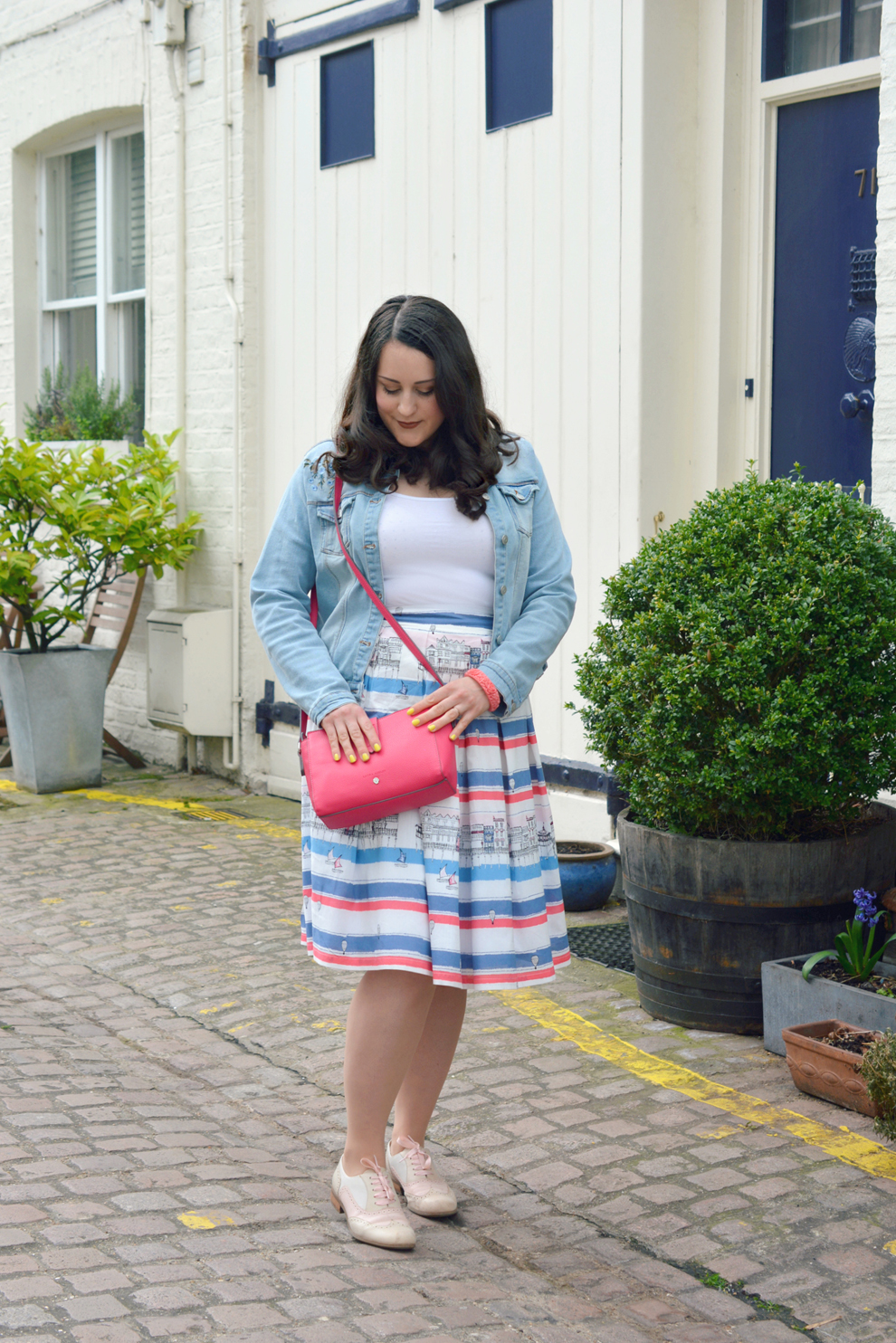 To me the perfect summer skirt is made from light comfortable cotton, sits flatteringly on the knee and features a fun print and pretty colours. I've always had a love for novelty prints and have many in my collection dating all the way back to the 50s, right up to lovely new ones from the high street. I especially love anything with a seaside theme, so the new Margate print from Laura Ashley was right up my street (or should I say beach!)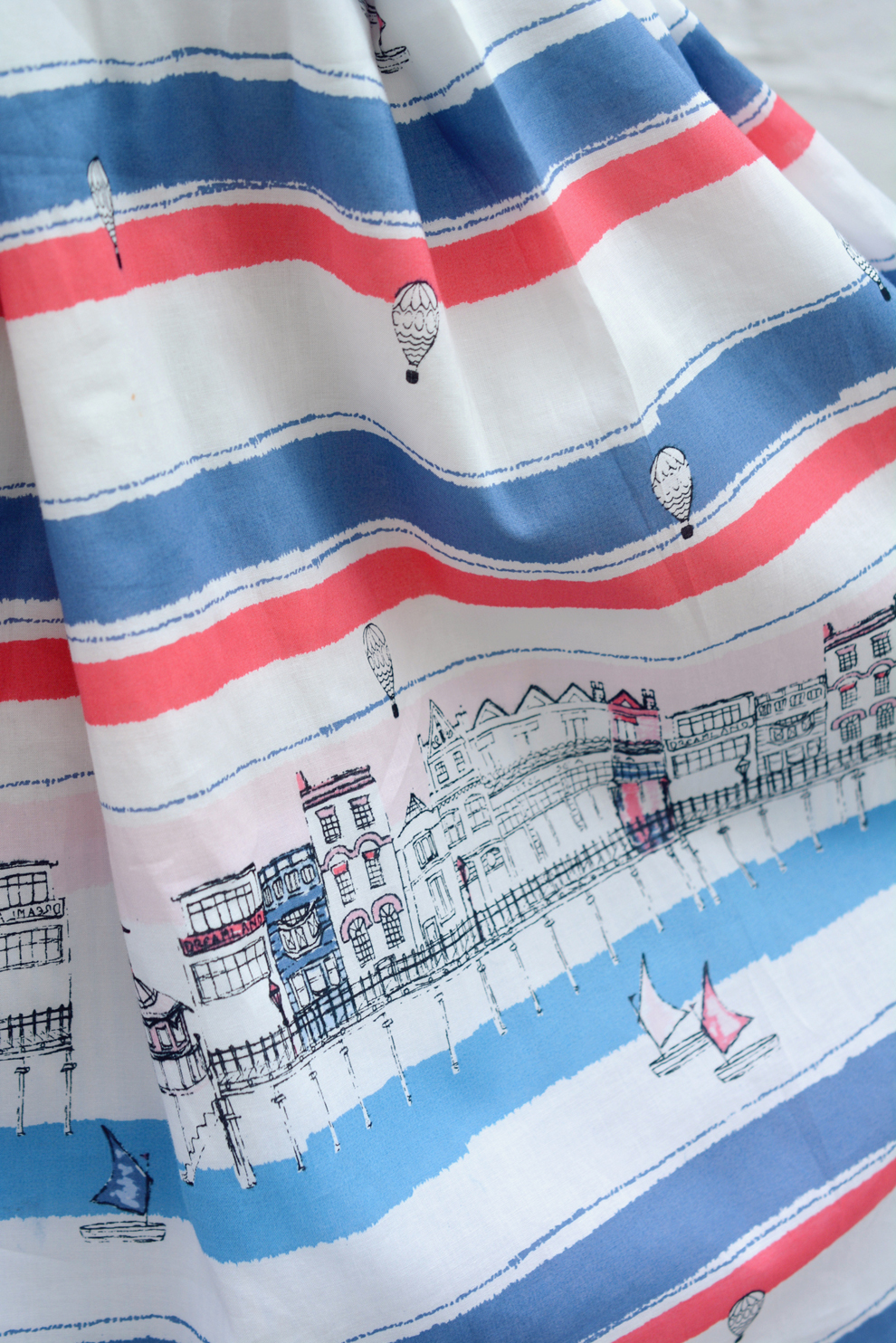 The print features a pretty sketch, which includes some of the pretty buildings in Margate along, with gorgeous blue and coral coloured stripes on a fresh white background. It has a light cotton lining and fastens with a concealed side zip. I love the cut of the skirt, which is quite full but gathered by large pleats the whole way round. The skirt is really flattering and very versatile. I went for my usual size 14 and found the sizing to be spot on.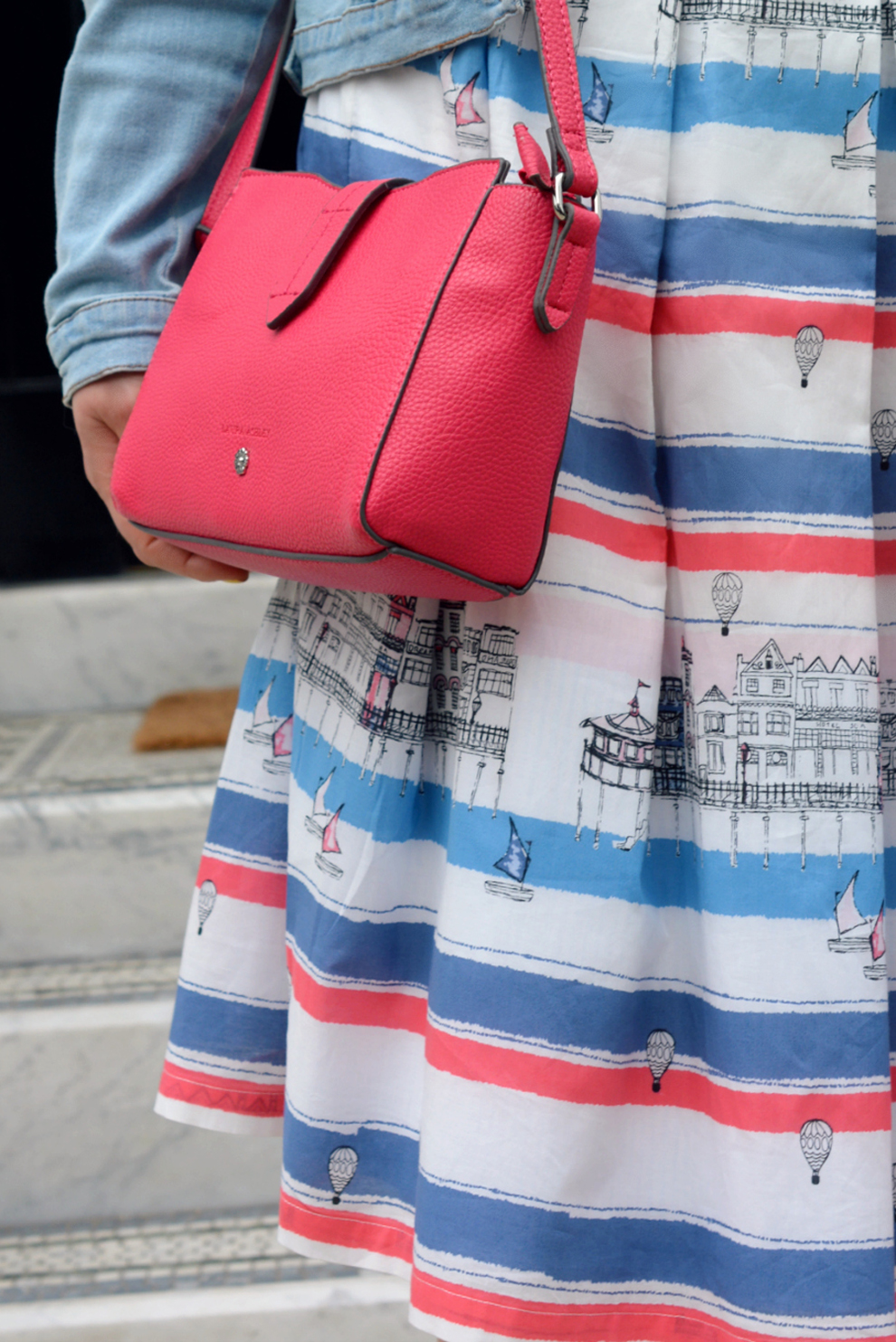 I wore my skirt for a walk with my two children and a trip to some museums. The skirt is perfect for dressing up and down and on this occasion, I went for a more casual every day look. I really enjoyed wearing it with a simple white t-shirt and a denim jacket, smartened up a little with my most comfortable brogues. To add a flash of colour I used the magenta cross body bag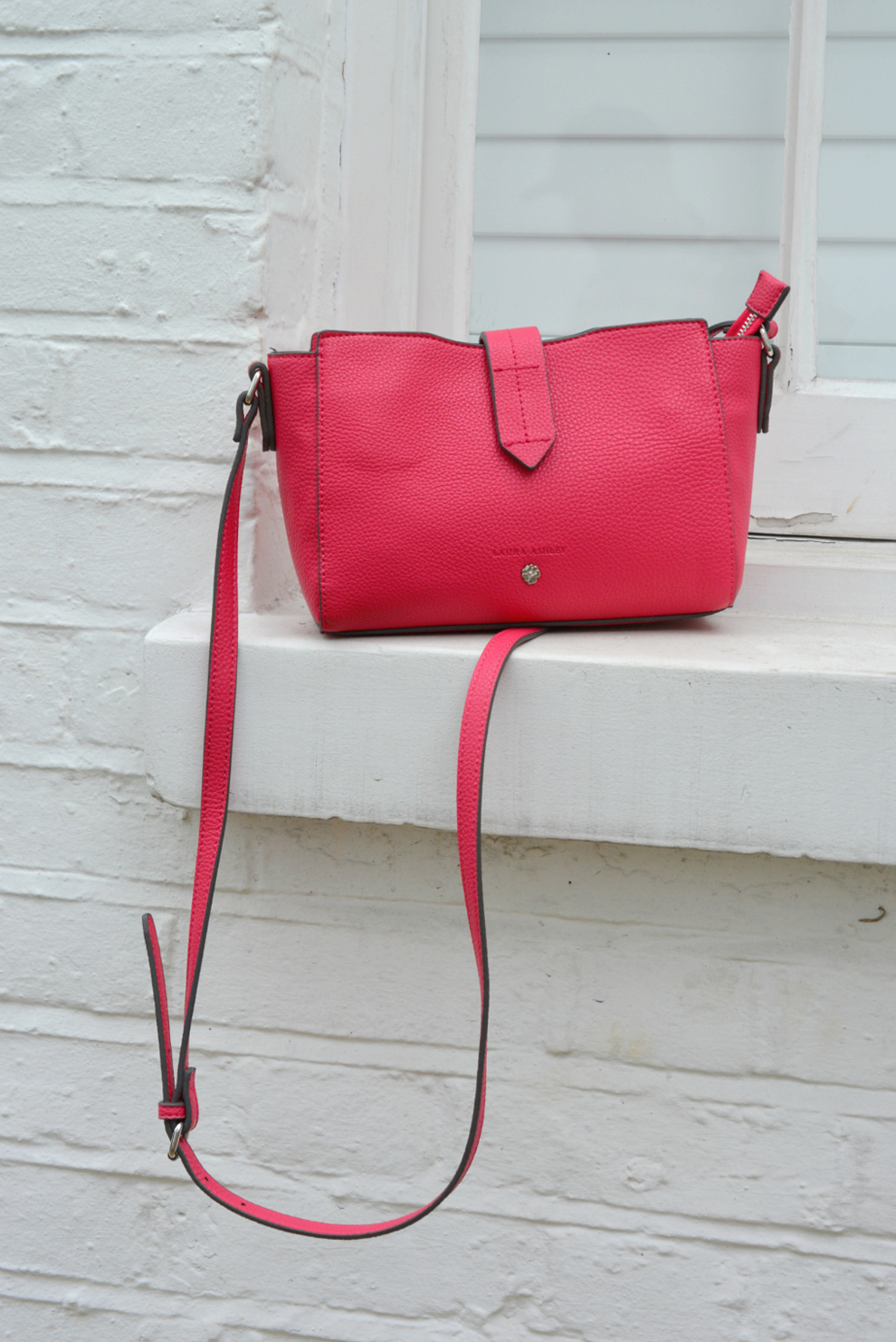 The whole outfit was perfect for a day out with the kids. I was comfortable, but still dressed in something I loved and I felt fabulous. I'm looking forward to mixing and matching the skirt with other items from my wardrobe throughout the summer. It will definitely be making a few trips to the seaside with me! I'd recommend the skirt if you want a wardrobe staple for the summer that's easy to dress up and own. This would be a great one to take on holiday for a day to night look.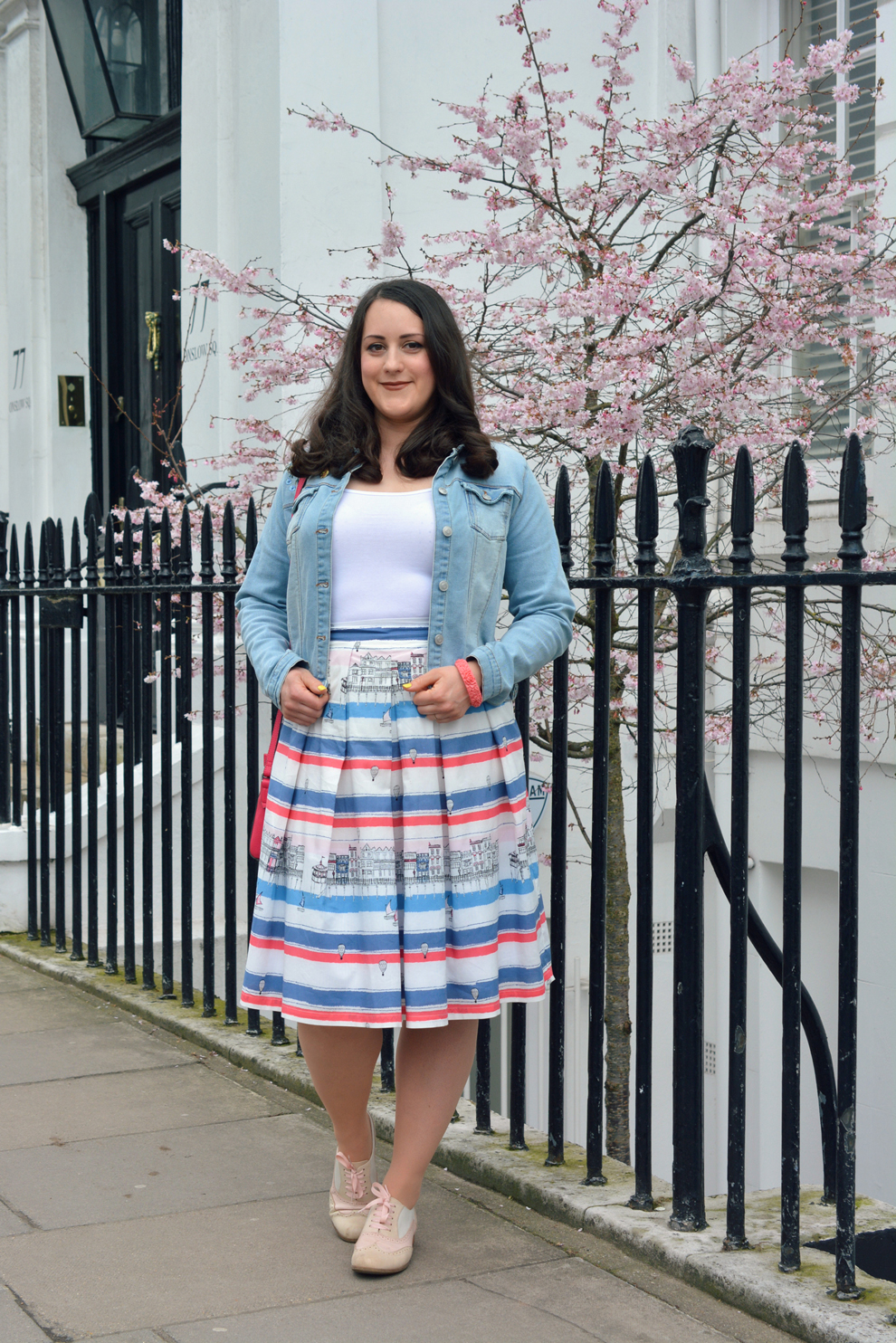 The gorgeous Margate print not only comes in this lovely skirt, but also in a lovely top and dress. If you love the fun seaside theme, I also have my eye on the adorable harbourside t-shirt and yacht slash neck jumper.
How nice does this skirt look on Catherine?! Will you be adding nautical touches to your summer wardrobe? Let us know below or on Twitter @LauraAshleyUK