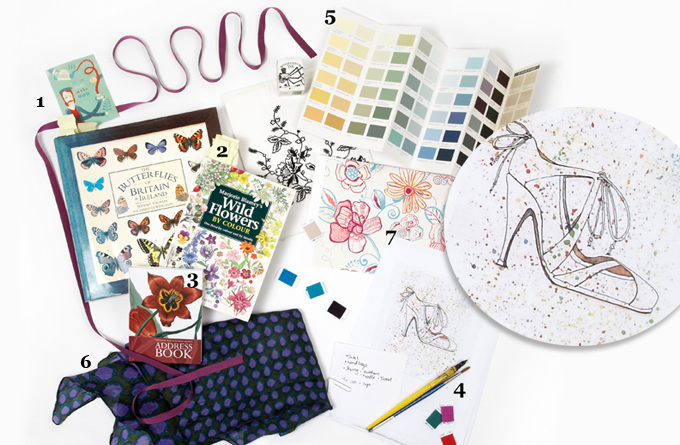 An HQ 'show and tell' of our desk finds. Starting with our Print Design Assistant...
Welcome to our first 'Desk Tales' blog post. Every month we will be snapping the collectables, trinkets, essentials and finds that Laura Ashley head office members have neatly displayed, sprawled or lying on the busy surfaces of their desk. Call it an insider 'show and tell' of all the bits and pieces that represent us, our interests and the work we do. We start with our Print Design Assistant…
1. 'If In Doubt Make Tea' Illustration
This little illustration caught my eye and is pinned on my desk, we love a good cuppa here on the design team!
2. Butterflies & Wild Flowers Books
These books are really inspirational to draw and paint from when we are creating botanical prints and placements.
3. Address Book
It is great to keep all my contacts organised and up to date, I love this 'Royal Horticultural Society' address book.
4. Paintbrushes & Inks
We do a lot of our own print design in house, so I often paint and draw from scratch. I love working with pen and ink, it creates a great illustrative look.
5. Ribbon, Threads & Colour Charts
We work hard to source the best on trend colours for each season, so we look at ribbons, threads and even paint.
6. Printed Scarf
This scarf is vintage and was bought from one of our trips abroad.
7. Hand Drawn Prints, Images & Embroideries
I love designing hand drawn illustrative prints, we use these a lot in our girlswear range, we also use embroideries and embellishments in our womenswear range.