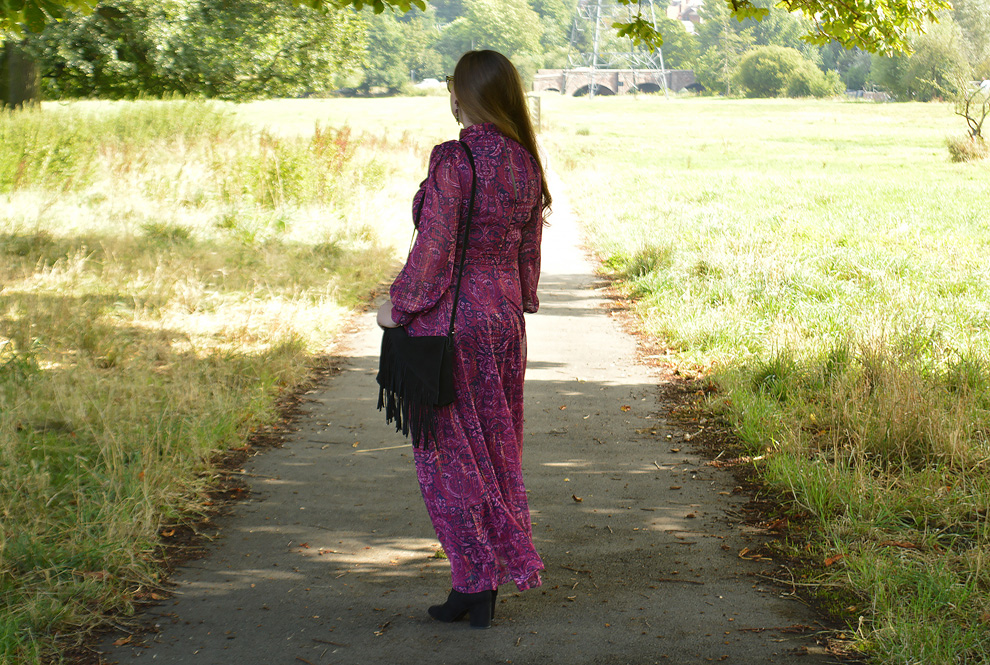 Gemma shows us that maxi dresses can be worn all year round… read more
Now that we've finally come to terms with the fact that summer is almost over, we're thinking about our Autumn wardrobe and how we can look stylish during these cooler months. It doesn't always need to involve trousers and knitwear. Have you thought about wearing maxi dresses instead? The fabulous Gemma from Jacquard Flower gives us her top tips for styling maxi dresses this season and pulls off the Heraldic Print Maxi Dress from our new Portrait of Laura collection with ease…
Hi, I'm Gemma and I'm so pleased to be here today at Laura Ashley blogging about how I wear maxi dresses in the autumn.
I am a huge fan of maxi dresses all year long and although they are really easy to wear in the summer, it's a little different in the cooler seasons.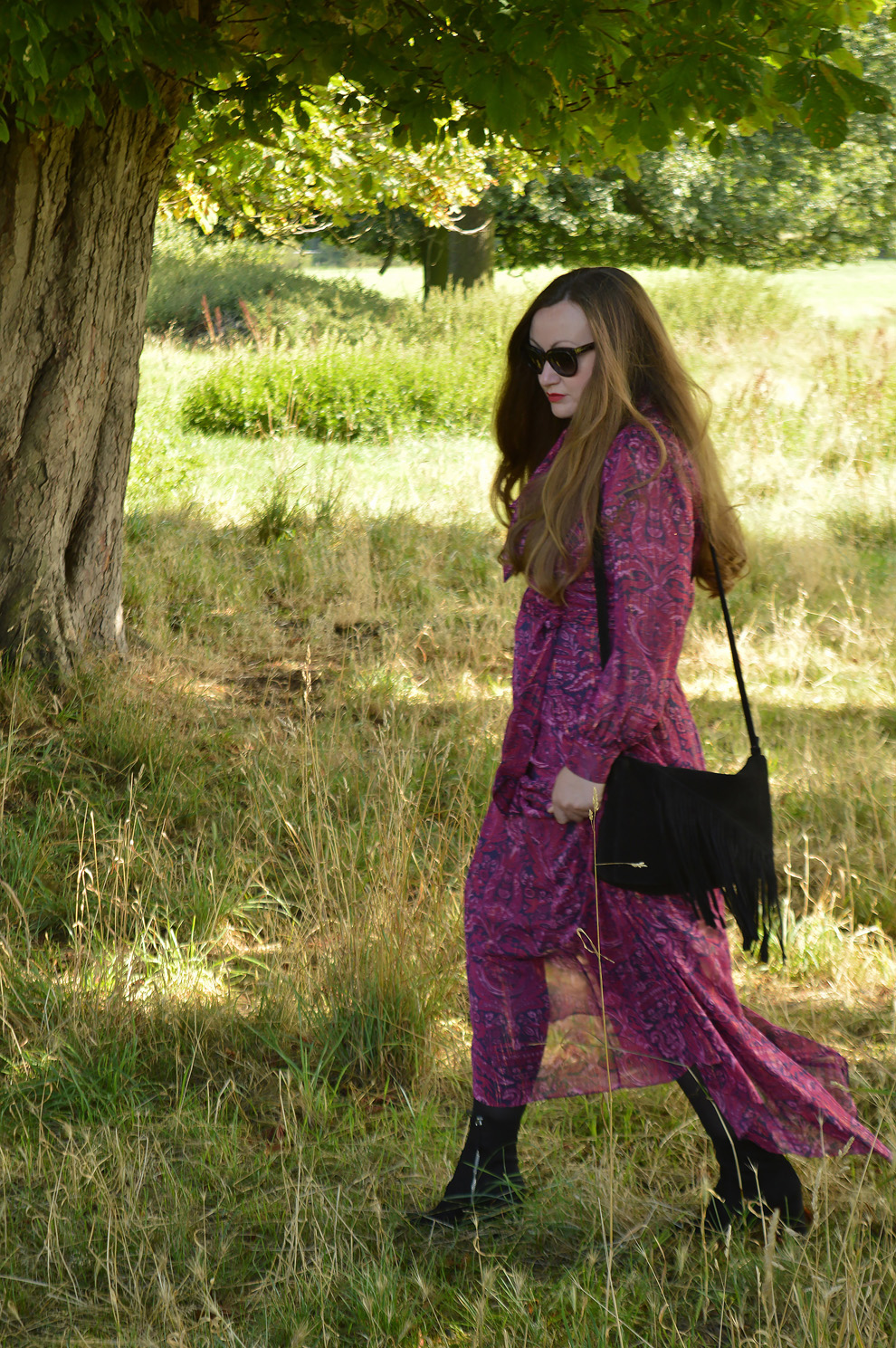 Today I am styling a vintage look that is really on trend this autumn. The dress is the heraldic print tie neck maxi dress. It's the must have dress of the season from the Portrait of Laura collection. I loved this collection at first sight being a huge fan of Laura Ashley for many years and this collection really stands out being a signature vintage Laura Ashley style. The heraldic print is so special as it's actually a vintage print from the Laura Ashley archive. The detailing in this dress is just beautiful. I am also wearing the Suede Cross Body Fringe Bag, which completes the outfit's 70's vibe. This bag will be a staple in my autumn wardrobe as it will go with many different looks so I can't wait to wear it in some more of my outfits.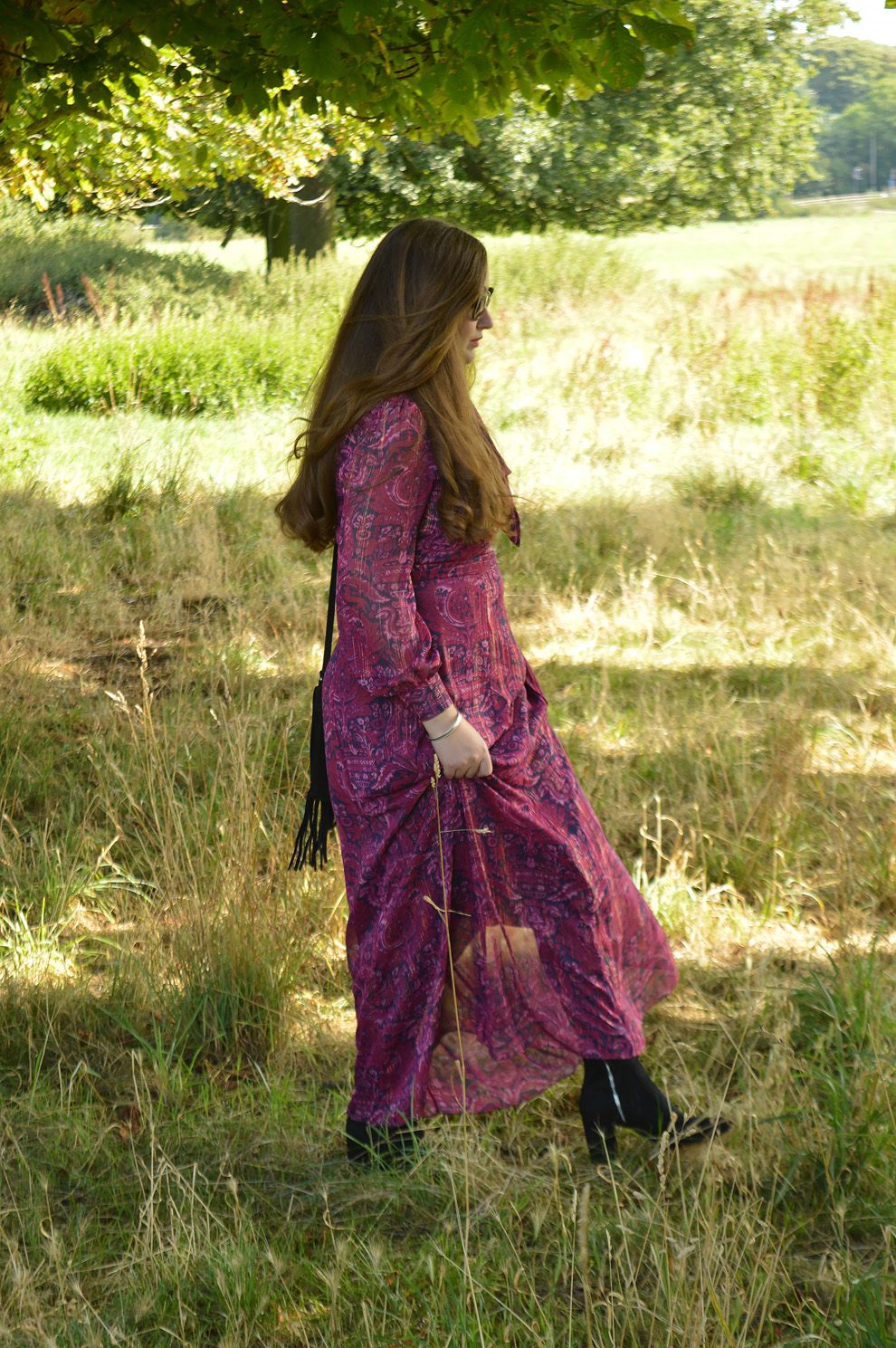 The Heraldic Print Tie Neck Maxi Dress is a key style for this autumn as the Pussy Bow style is very much on trend. I have already been embracing this trend myself as it's a favourite of mine. I also love the colour of the dress in the must have berry colour of the season. It's rich and opulent hues are perfect for creating an autumnal look.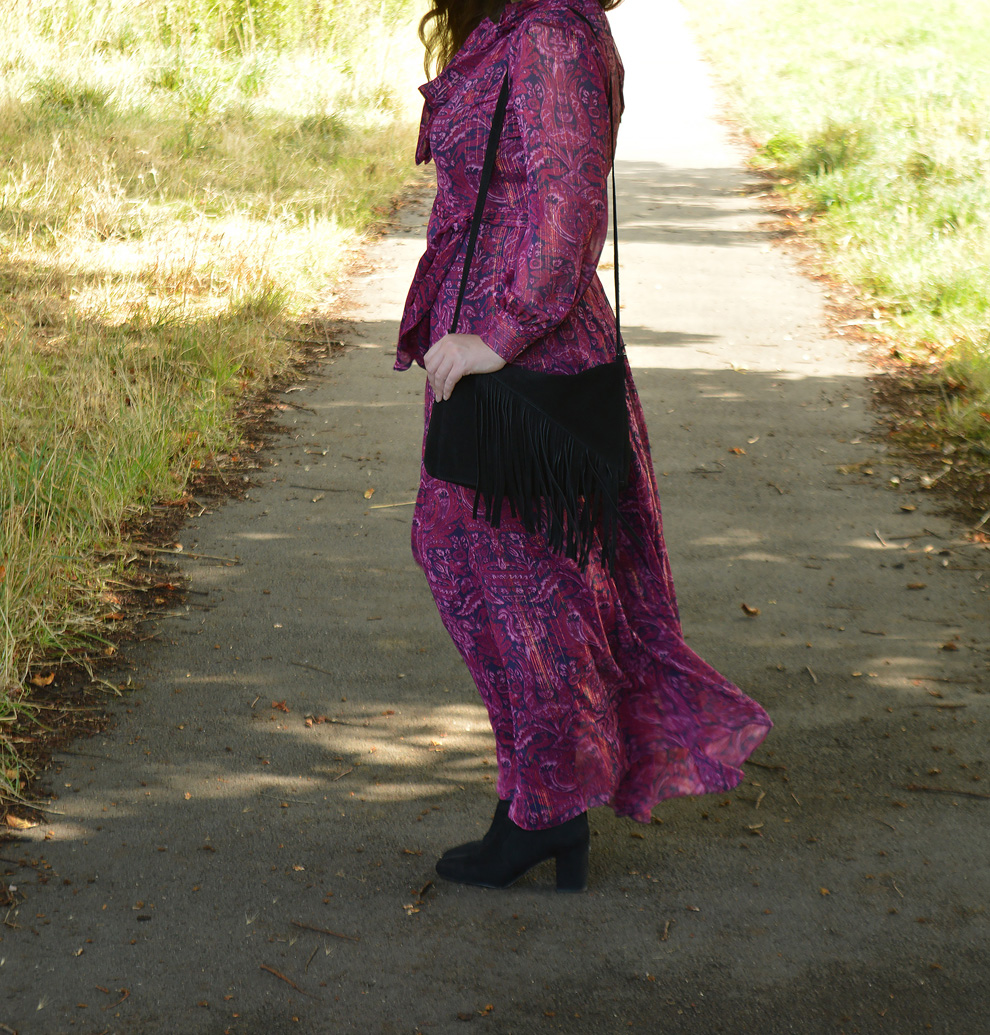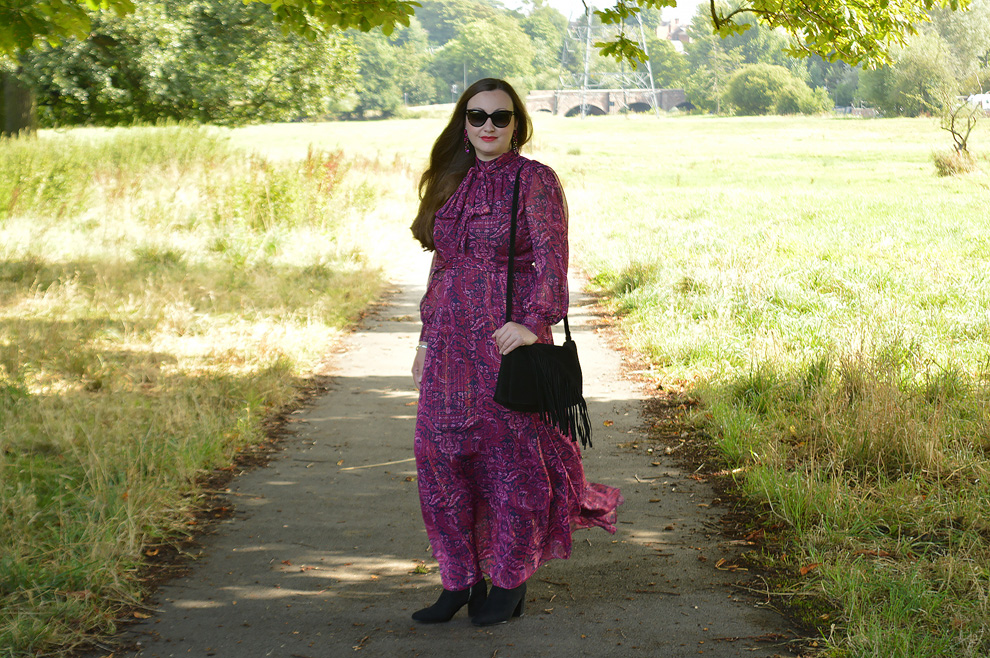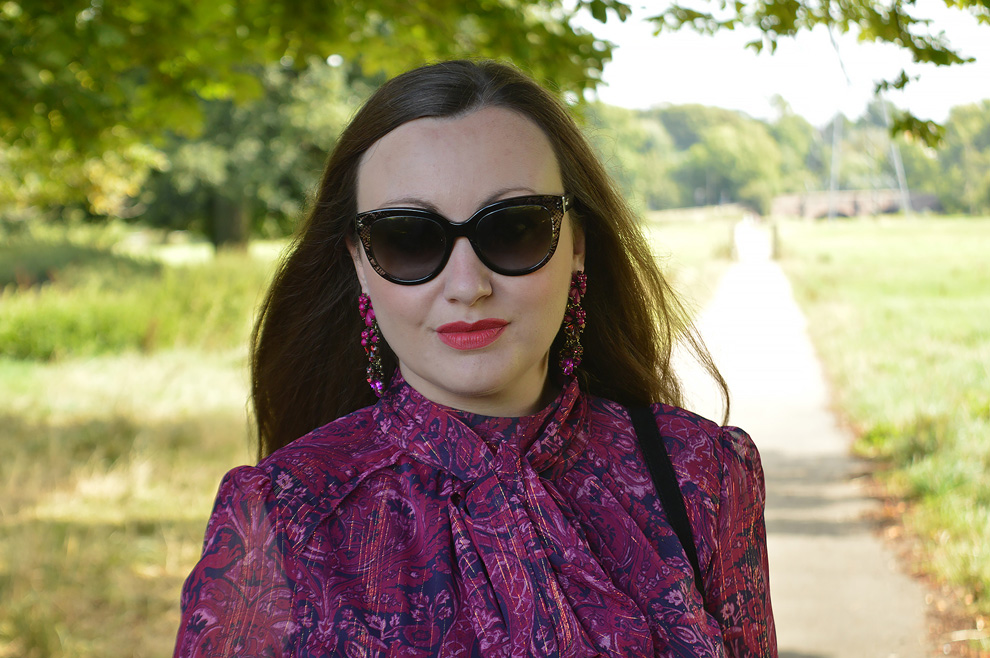 When styling the Heraldic Print Tie Neck Maxi Dress I paired it with black tights and some black ankle boots which co-ordinate really well with the Suede Cross Body Fringe bag creating that beautiful vintage look.
Here are some things to consider when wearing maxi dresses in the autumn winter season.
Choose rich seasonal colours that would look great with your darker shoes and accessories.
Black tights and ankle boots add a dress down autumn feel to a maxi dress.
Maxi dresses look great when layered under cardigans or shorter jackets. You can also layer the maxi dress over a fine knit sweater if it has a lower cut neckline.
Play with textures to create a more formal look. For example, a velvet or fur jacket for evening party looks and pair with some velvet ballerina flats or heels and a clutch.
Although I have styled the dress in a daytime look today I plan on dressing it up later on in the year for my festive events and think it would be great for winter parties and events.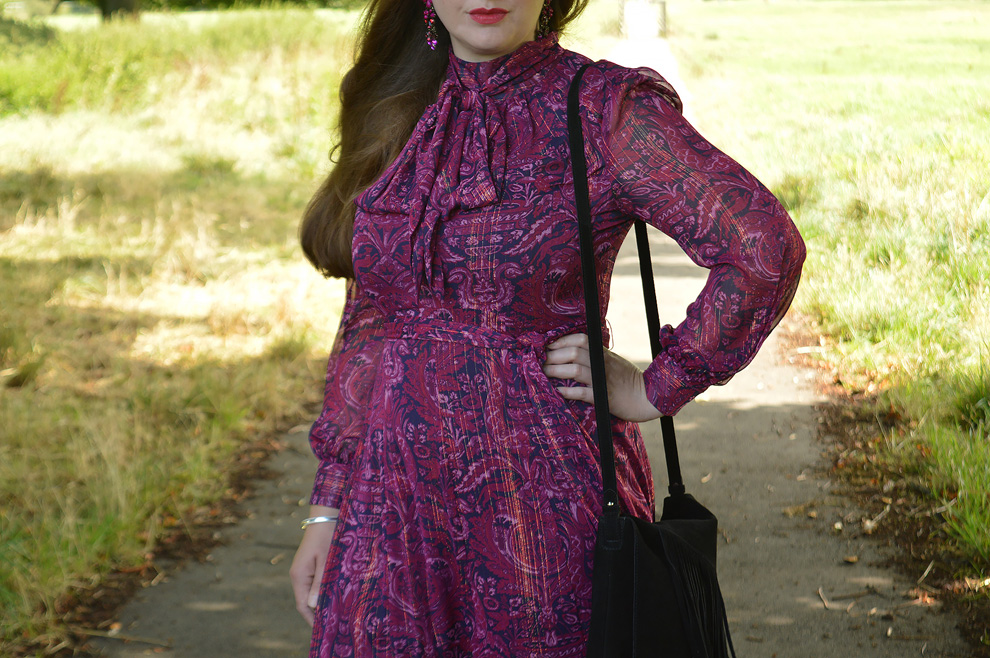 I hope that you have enjoyed this post and that you feel inspired to create some looks with your own maxi dresses this autumn.
Thank you Gemma for giving us your top tips and for looking so effortlessly stylish in the maxi dress. Will you be braving maxi dresses this season? Let us know below or on Twitter @LauraAshleyUK