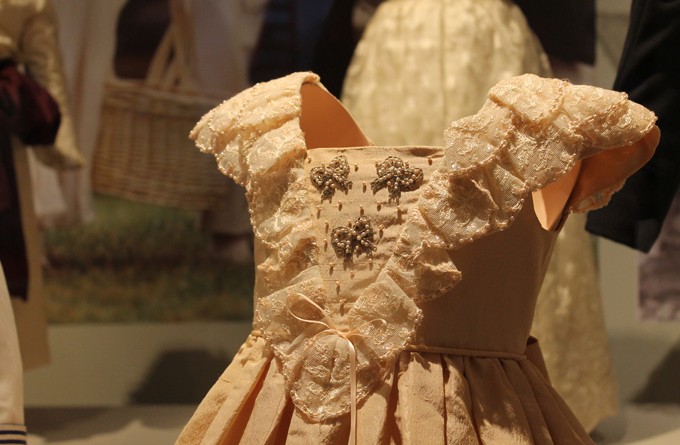 From George IV to Prince George of Cambridge, the new exhibition at Buckingham Palace brings together nine generations of royal children…
As Buckingham Palace prepares to reopen it's doors for its annual opening of the state rooms, this year guests are invited to take a trip down memory lane and explore the historical palace in a new light as part of their new special Royal Childhood exhibition.
Home to Her Majesty The Queen, the grand setting of Buckingham Palace attracts thousands of tourists every year, each hoping to catch a glimpse of the changing of the guard or the Royal Standard flag waving high; however to many generations of the royal family it has been a family home.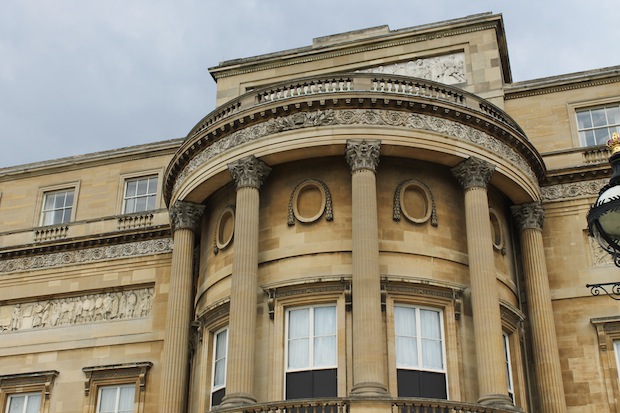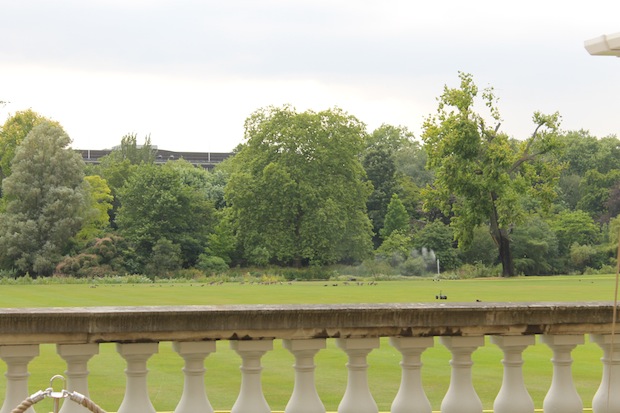 From well loved toys to treasured family gifts, the Royal Childhood exhibition provides a rare insight into life as a young member of the royal family. Spanning over 250 tears, Royal Childhood brings together an array of objects from the royal collection that have meaning to 25 children, dating back to a young George IV. With previously unseen film footage and family photos plucked straight from the family album, we made our way to a sneak preview of the exhibition to take a glimpse into what live was like for a young royal…
Buckingham Palace has been a royal family home ever since George III purchased Buckingham House for Queen Charlotte in 1762. It wasn't until Queen Victoria commissioned the Palace to be extended to house her growing family of nine children, that the fourth wing was built. In 1936 our present-day monarch, a 10 year old Princess Elizabeth moved into the palace with her parents George VI and Queen Elizabeth with her younger sister Princess Margret. Then returning as Queen in 1952, she went on to raise her own family with princes Andrew and Edward being born within the palace.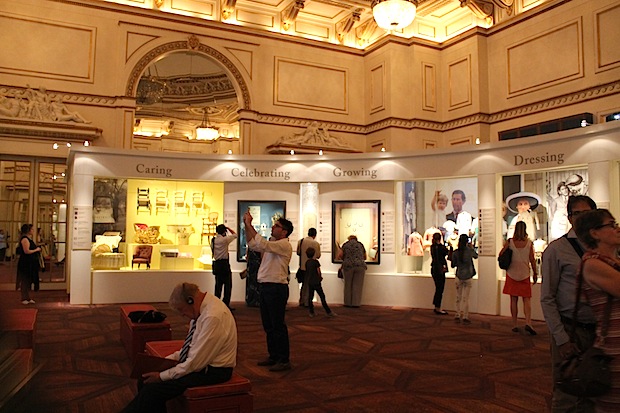 As we stepped into the ballroom, we gazed upon the tiny childhood outfits to the large collection of toys that have been lovingly cherished and enjoyed by the many generations of the royal family.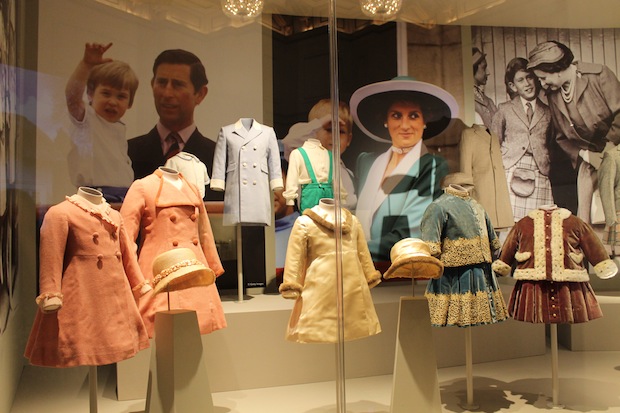 Well preserved, the outfits worn by the young prices and princesses include the velvet 'walking' suits of King George V, a pink coat belonging to the nine year old Princess Elizabeth and Prince William's page-boy 'sailor suit' from the wedding of The Duke of York in 1986.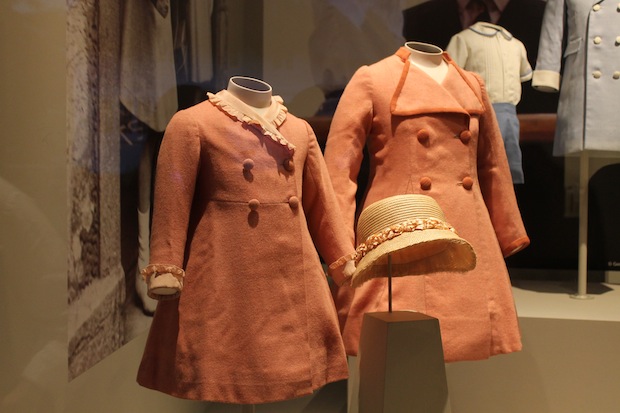 Pink wool coats worn by Princess Elizabeth and Princess Margaret in 1934.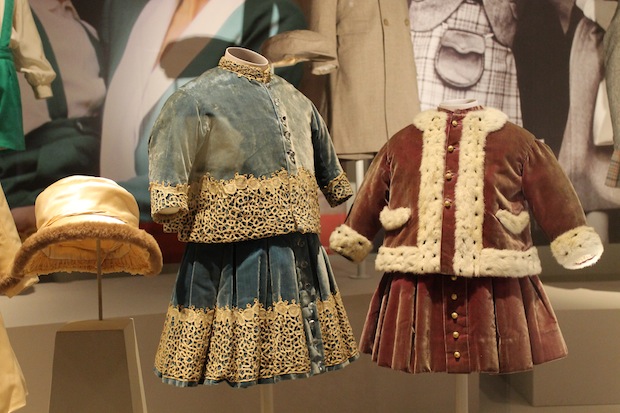 Blue and red silk velvet walking suits for the young King George V in 1868.
Blue silk plaid dress worn by a young King Edward VII in 1844 stands next to a cotton tartan dress worn by Lady Louise Windsor in 2004.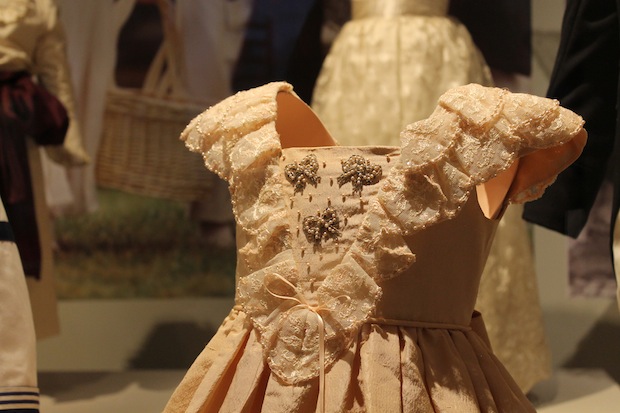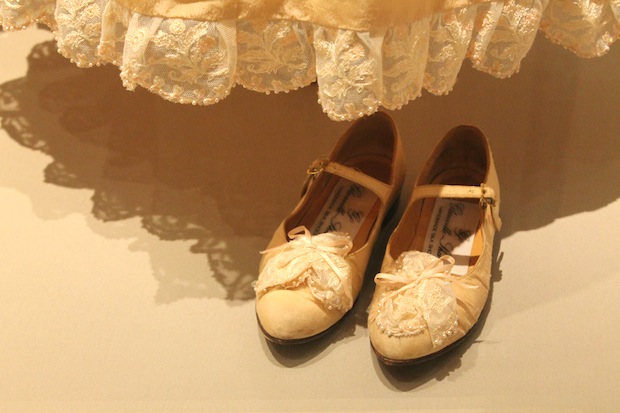 Bridesmaids dress and shoes worn by Zara Phillips at the wedding of the Duke and Duchess of York in 1986.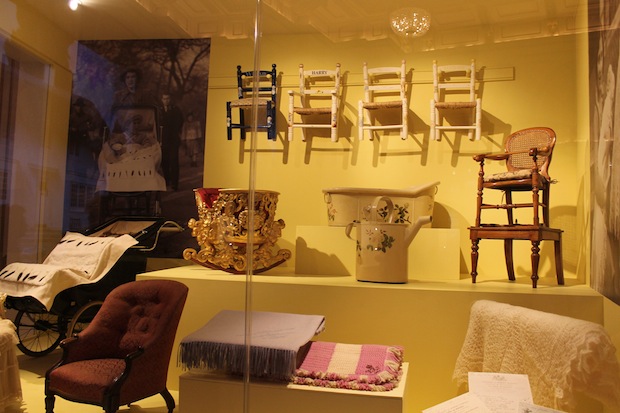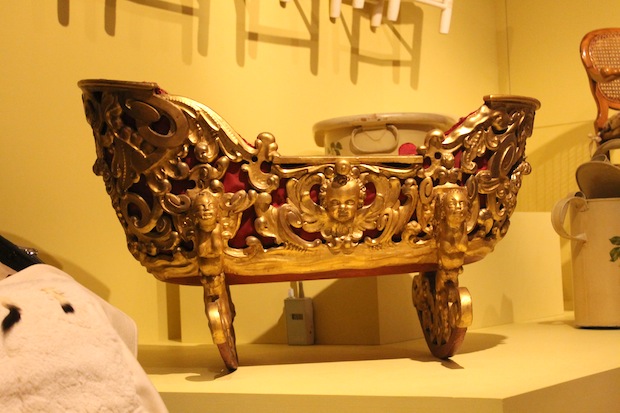 Prince Alice's carved and gilt wood cradle from 1843.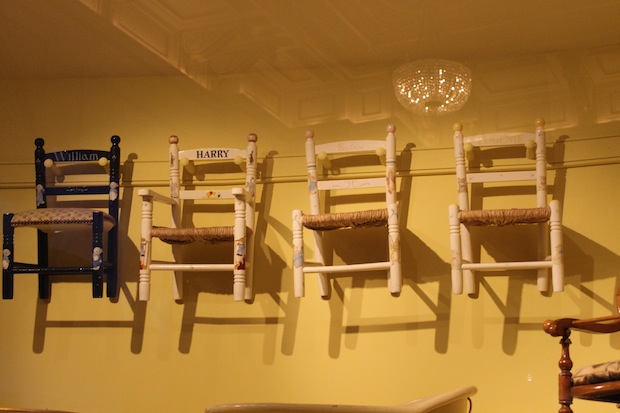 Nursery chairs belonging to Princes William and Harry and Princesses Beatrice and Eugenie.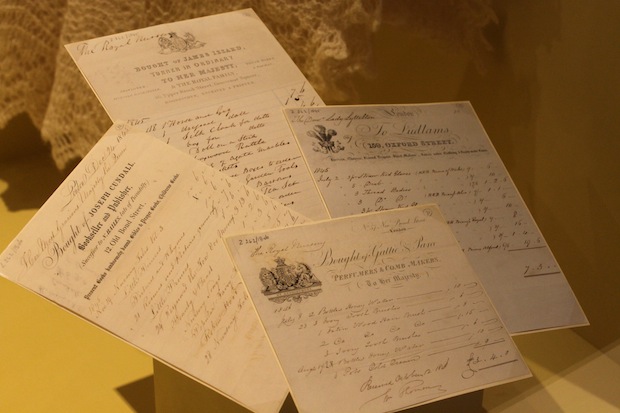 Various invoices listing items for the children of Queen Victoria.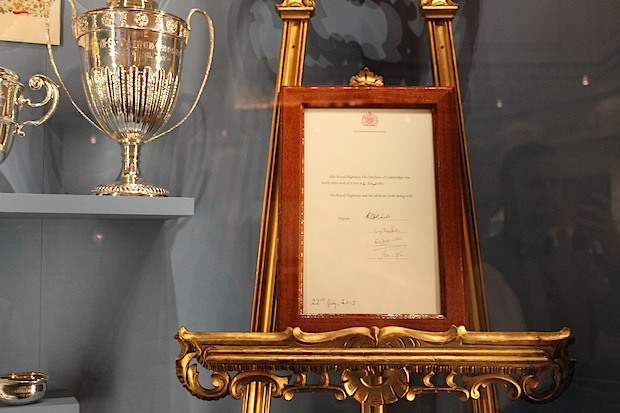 Buckingham Palace has been the setting for many royal births and christenings over the centuries. With many royal baptisms taking place in the Palace Music Room, it is now home to the spectacular silver-gilt Lily font commissioned by Queen Victoria for the christening of her first daughter Princess Victoria in 1841. It has since been used at almost all major royal baptisms, most recently for the christening of Prince George last year.
Probably the world's most famous easel (as shown above), one will recognise the official announcement of the birth of Prince George displayed on the Palace forecourt last year.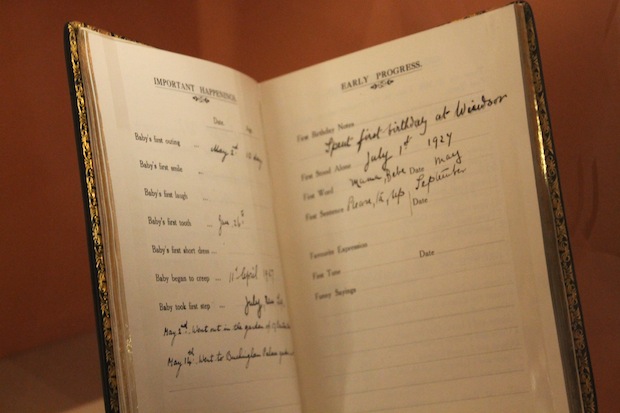 Like any proud parent, members of the royal family kept records of their children's milestones and developments. Precious keepsakes such as locks of hair to baby teeth, Queen Victoria even commissioned marble carvings of her children's arms, legs and feet!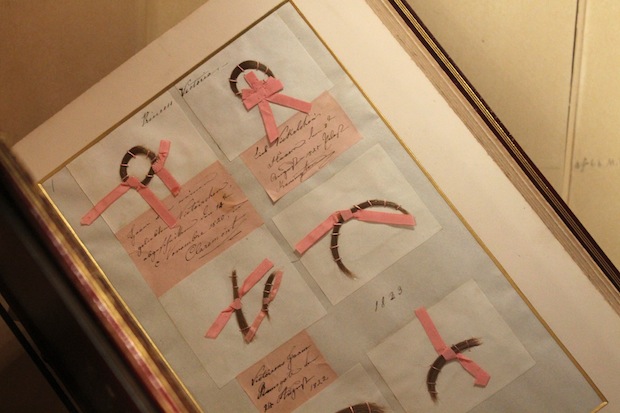 Complied by The Duchess of Kent in 182o, this well persevered album contains samples of Princess Victoria's hair, her daughter.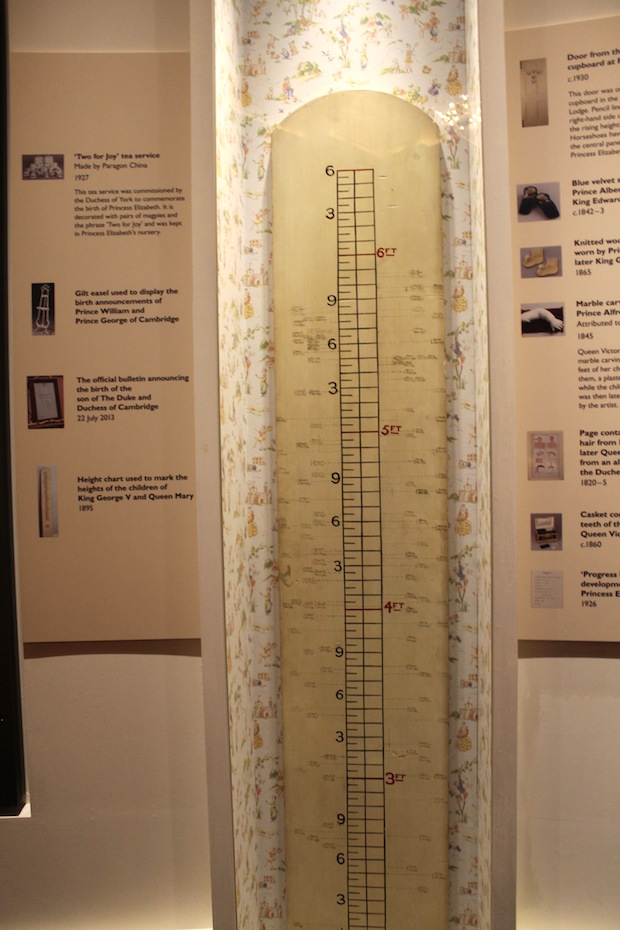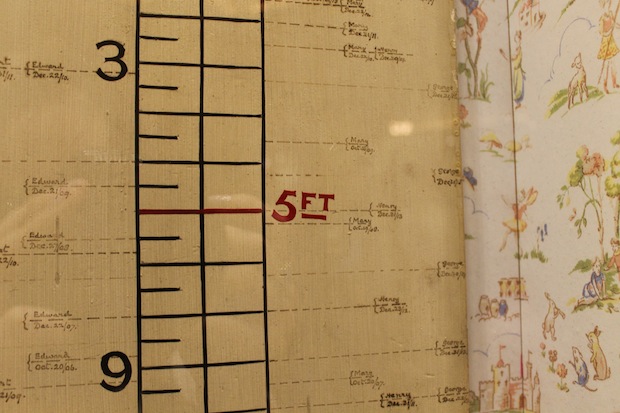 This height chart documents the heights for the children of George V and Queen Mary in 1894 – 1910.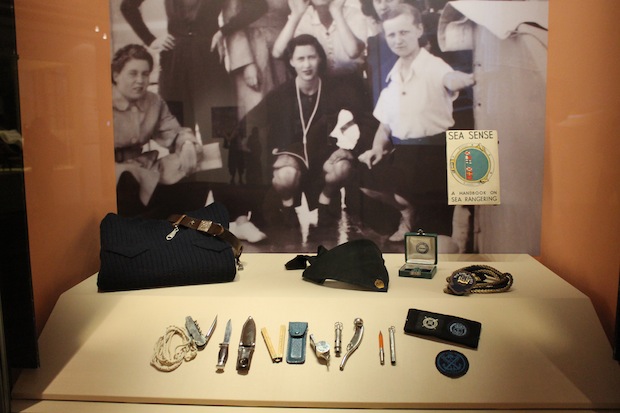 Girl Guide and Sea Ranger belongings owned by Princess Elizabeth in the 1940s.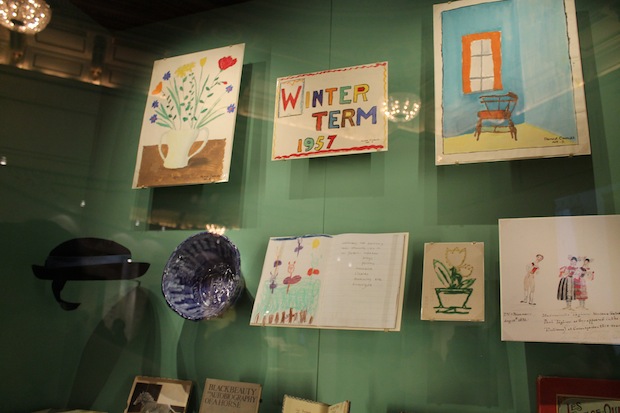 Through the years at school, from Prince Charles school paintings to needlework by Princess Elizabeth aged 6.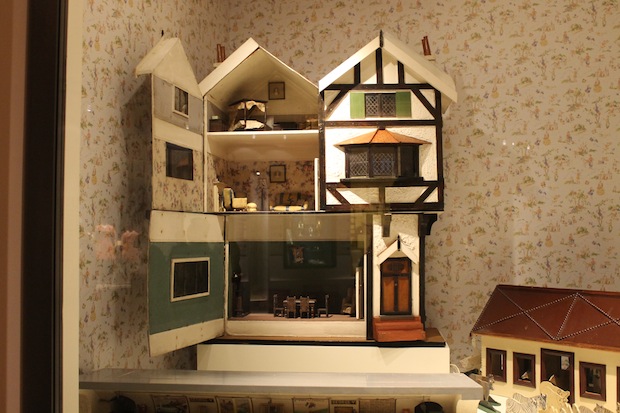 Tudor dolls house purchased by the Duchess of York for Princess Elizabeth and Princess Margaret in 1932.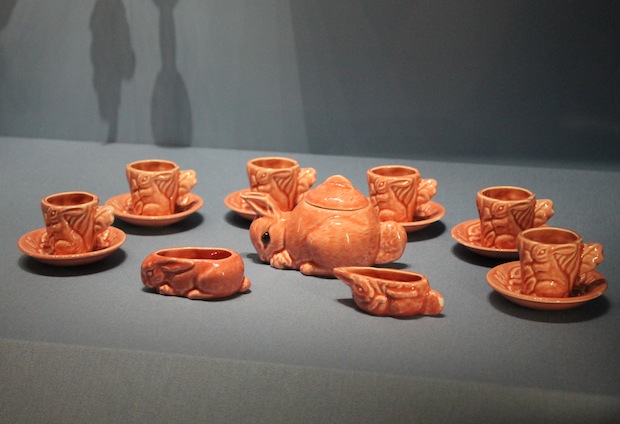 This pink rabbit tea set was one of the Queen's childhood toys.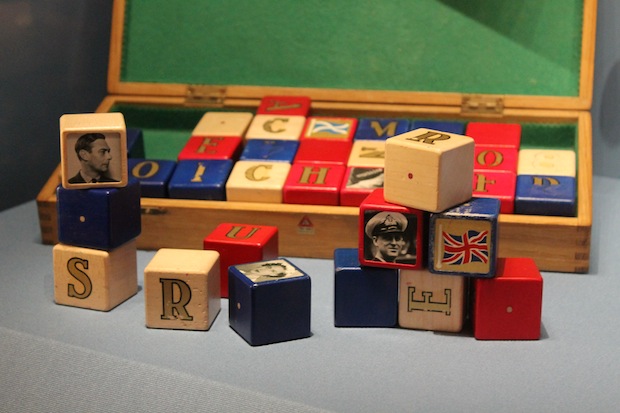 A set of alphanumeric building blocks given to Prince Charles by the Builders of Great Britain in 1949.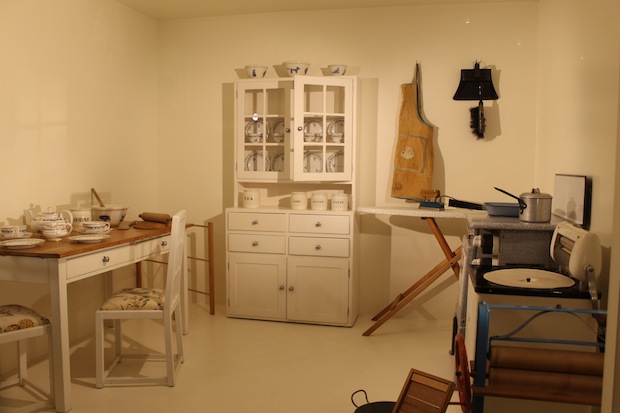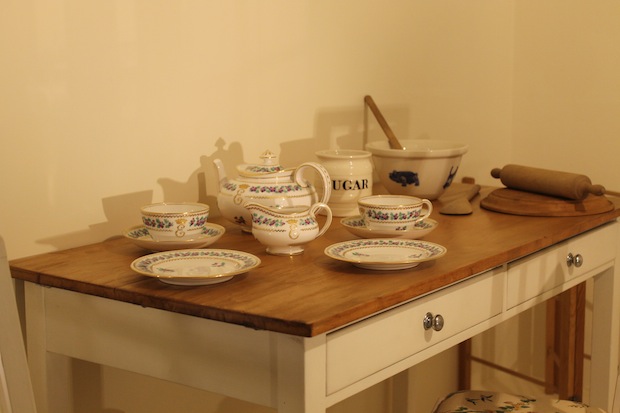 Showcasing both family and official gifts presented to the royal children, in 1932 the people of Wales presented Princess Elizabeth with a charming miniature thatched cottage occasion of her sixth birthday. A favoured toy of the Queen, the original 'Little House' was constructed in the grounds of the Royal Lodge in Winsor and boasted electric lighting and running water!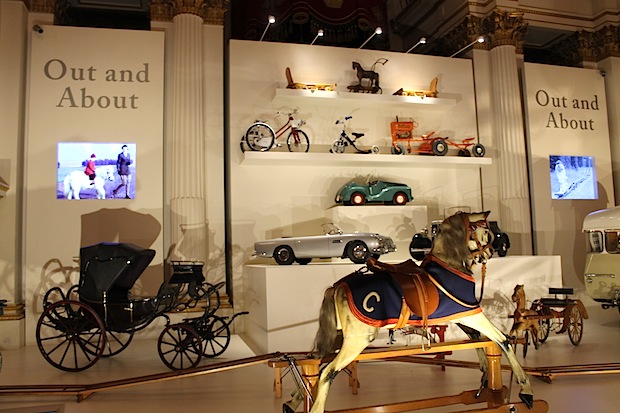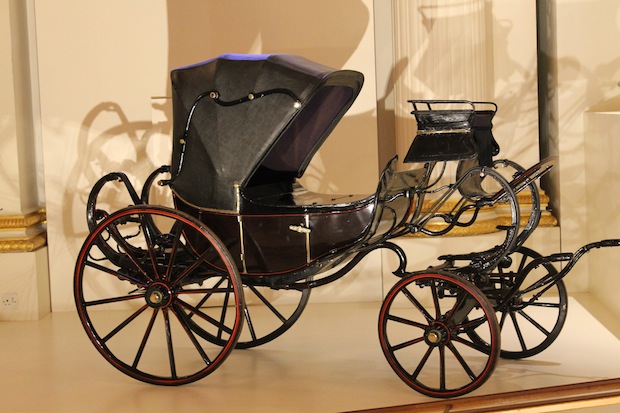 Rounding up our stroll through the stately rooms, we made a beeline for the Buckingham Palace cafe for a sweet treat…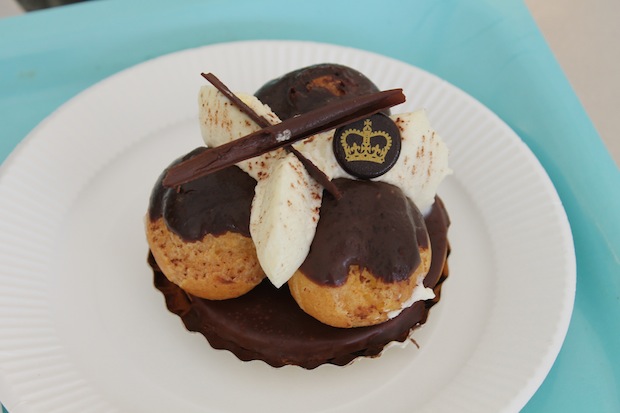 Just as sweet as the exhibition! Royal Childhood is part of a visit to the Summer Opening of the State Rooms at Buckingham Palace, from 26th July – 28th September 2014 (click here for more details). If you're planning a day out with the little ones, don't miss the host of activities taking place in the new Family Pavilion overlooking the garden.
A royally good day out – will you be visiting the Palace this summer?