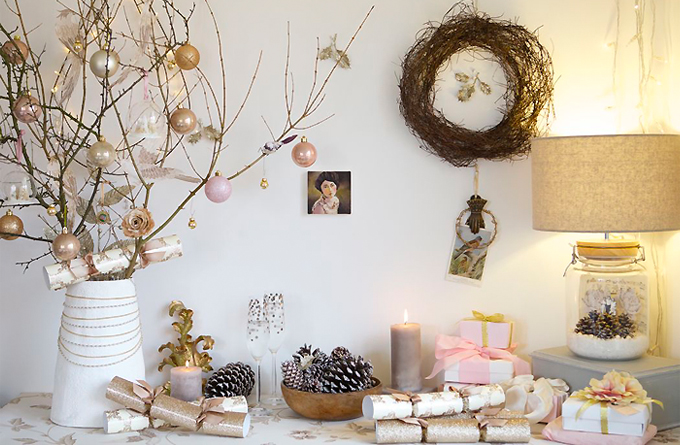 Jeska from Lobster & Swan shows us how to create a magical festive scene with Laura Ashley
Hello! Jeska here from Lobster and Swan, today I am bringing with me some festive decorating tips inspired by a Christmas with Laura Ashley trimmings. The mince pies have been stacked on shop shelves for ages now and although I have remained faithful to my tradition of only eating Christmas foods in December, I admit my hunt for decorations started a while a go, only early November so I haven't been too naughty. With my love for the combination of blush pink and old gold at an all time high, it was with great joy that I had the opportunity to join forces with Laura Ashley to create this Christmas setting ‑ sugary sweet and glittering, like all my favourite things.
For a while now I have been gathering twigs from our garden and pinecones from all around the village, more than a few of the locals have caught me stuffing them in my handbag on my travels to the village shop! But I wanted to use natural browns and nest-like foliage as a backdrop for all the sugar and marshmallow pinks that were about to be un‑boxed. First things first, I poured a couple of glasses of fizz for me and my helper elf, (yes the 5'10″ one that loves to run marathons). Once the bubbles had settled I piled up the Gold Wilton Christmas Crackers, popped my mixture of hawthorn and privet twigs in a vase, lit some candles and plugged in my White Shimmer Bauble String Lights. The lights are filled with iridescent glitter that has a hint of pink when lit, so fit in perfectly.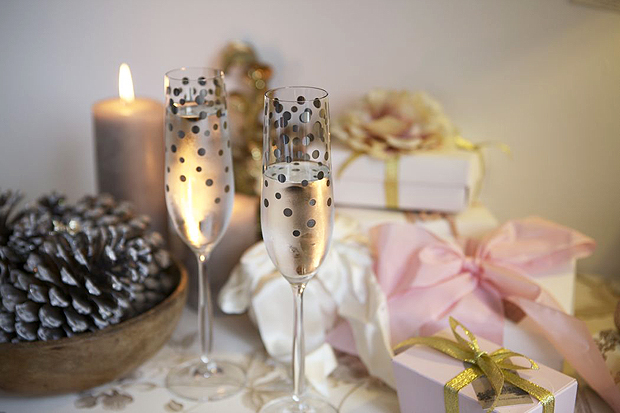 Christmas Let It Snow Champagne Flutes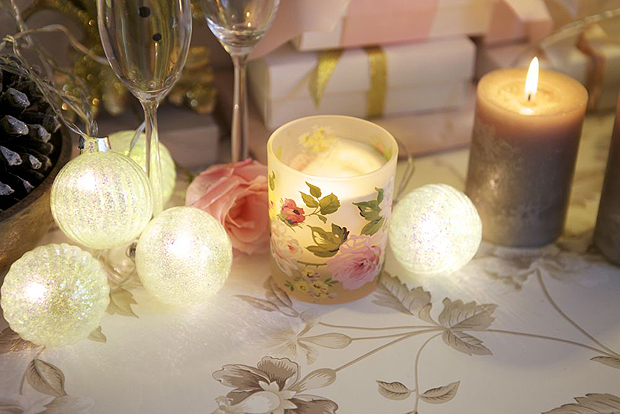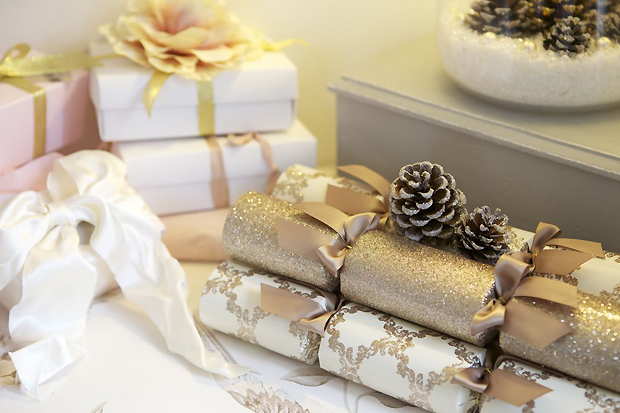 Then I set about building the layers of a vintage pink and gold colour scheme. I have a thing for wandering around our home and gathering collections of similarly coloured objects together to decorate our mantle, shelves and sideboard. My creative process is chaotic and messy until finished, so it's hard to explain and there sometimes seems no rhyme or reason until the unveiling. Let it be known that I will be sweeping glitter and hedge cuttings up off our wooden floors for the foreseeable future! With that in mind I have put together some tips for creating your own Christmas display before I get back to tidying up behind the scenes. I hope you find them useful…
Tip 1. Mix painted and glitter sprinkled found nature objects like pinecones, twigs and seed pods with modern trimmings…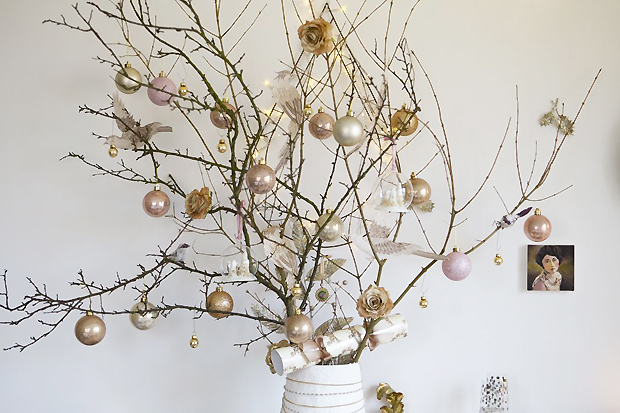 Tip 2. Cut motifs from wallpaper to make hanging decorations. I used birds and blooms from the Elveden Truffle Wallpaper glued to card and then highlighted with glitter…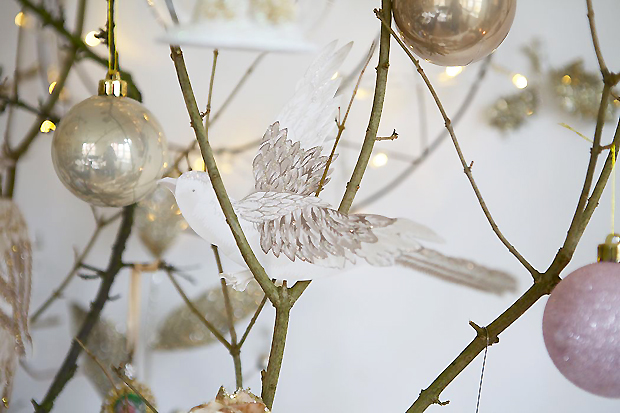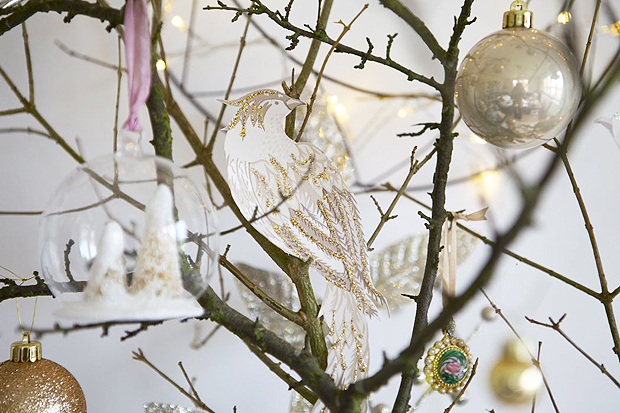 Tip 3. Use cup hooks evenly spaced in the ceiling to hang feature fairy‑light baubles with everyday lights to make fun swags of twinkling light…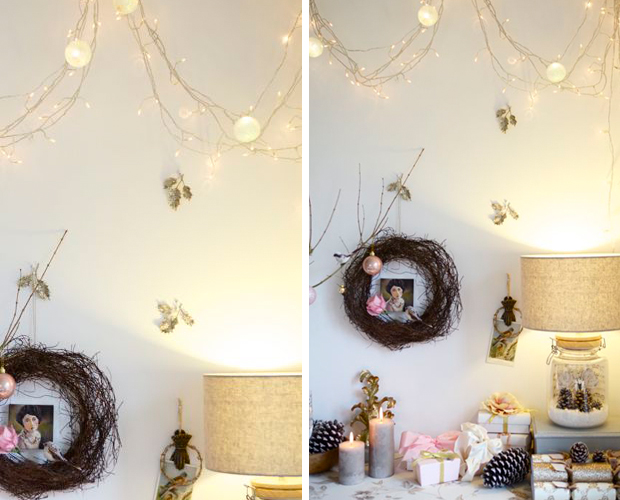 Tip 4. Create your own miniature seasonal scenes inside a lovely Marina Jar Lamp, I will be using this for Valentines, Easter and Halloween too!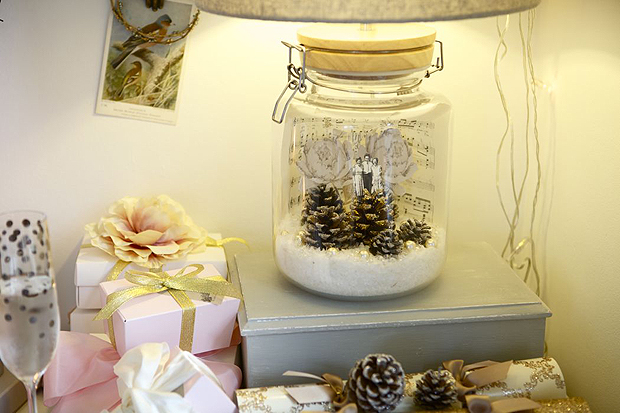 Tip 5. Every year I mingle handmade decorations with a new favourite high street find, this years paper birds will hang alongside these Glass Baubles that feature a bristle tree scene inside, I am also totally head over heels for the Gold Glass Pear Decorations too.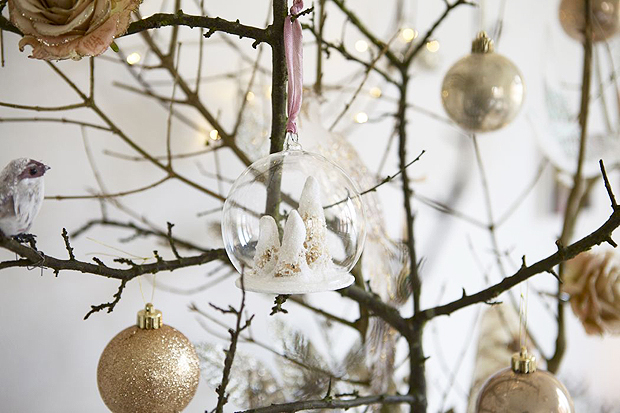 Jeska at Lobster & Swan x

Follow Lobster & Swan on facebook here
Follow Lobster & Swan on twitter here