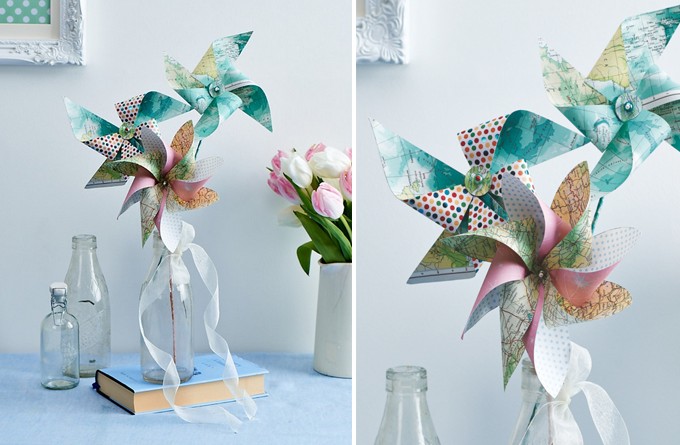 Homemaker magazine celebrates our nation's history by upcycling old maps…
With the invasion of sat‑navs and in‑built tracking devices on our mobile phones, the need for the humble paper map has slowly dwindled. Relegated to the boot with the other odds and ends that accumulate during car journeys, they are quickly forgotten and cast aside as old‑fashioned and unnecessary. However, there can be another use for those old atlases, as demonstrated by our stylish project. Turn the faded pages into chic accessories for your home, and dream of exotic places that you'd like to enjoy someday.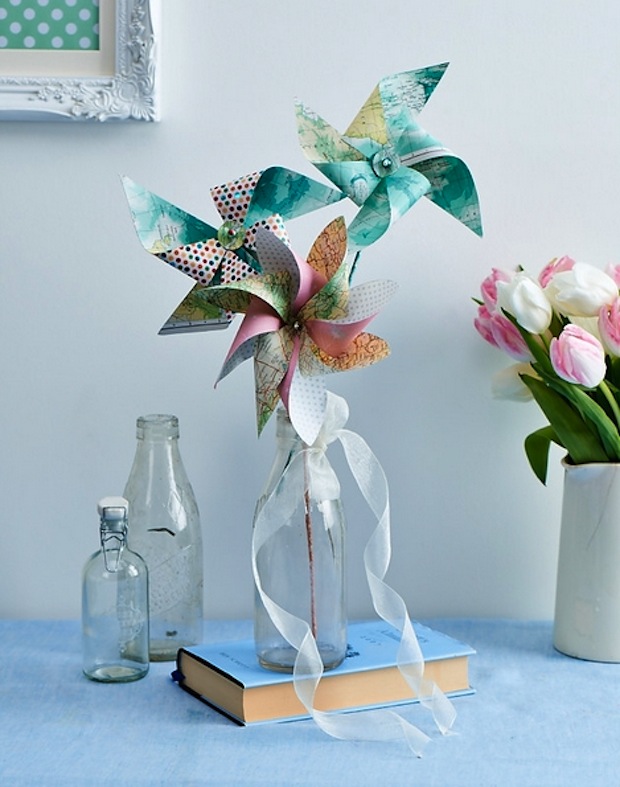 You will need:
- Map and spotted paper
- Pearl-headed pins
- Round beads
- Wooden skewer
- Eyelet and setting tool
- Washi tape
- Snipe-nosed pliers
Instructions:
1. Glue a 10cm square of map paper to one of the spotted so the right sides face out. Mark the centre and draw a 1.5cm diameter circle around it.
2.  Trim diagonal lines from each corner of the square to the edge of the circle. Punch holes in each alternate point and the centre of the square. Use an eyelet to secure the points to the hole in the centre.
3. Thread a bead onto a pearl headed pin and pass through the eyelet. Place a second bead on the back and push through the top of a wooden skewer. Use pliers to bend the end of the pin and fix with washi tape. Cover the rest of the skewer with washi wrap to decorate.
Feeling inspired by the atlas theme? Keen explorers and globe trotters will love our map-inspired homeware pieces – let's take a trip around the world..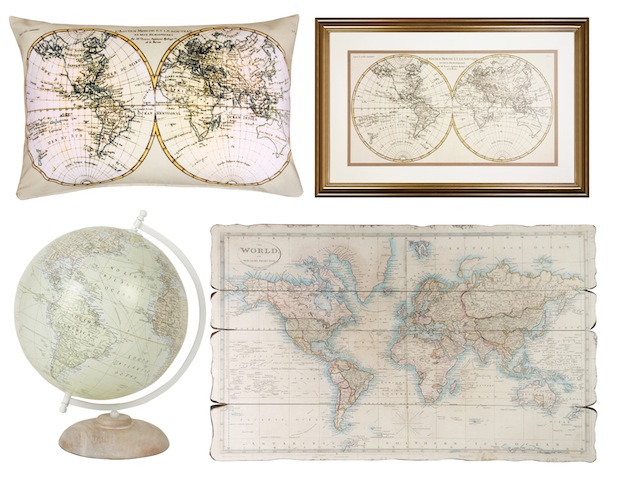 Antique Map Print Cushion / Antique Style World Framed Map / Globe (in-store) / Wood Panel World Map
Don't forget to subscribe to Homemaker magazine, jam-packed full of making, baking and styling – click here to get three issues for only £6!