We uncover the beauty of vintage floristry at the Covent Garden Academy of Flowers…
Neatly tucked away in London's St Martins courtyard is the charming Covent Garden Academy of Flowers. A beautiful sight to behold, chances are if you've stumbled across this hidden nook of Covent Garden you will have spotted the romantic blooms that dot the florist's entrance. Peering in a little closer, we were delighted to spy that they also run a variety of classes, for those who wish to brush up their flower arranging skills or those who fancy stepping into the world of floristry.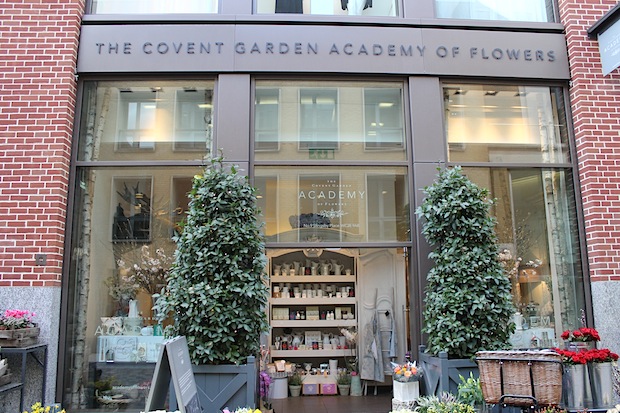 Intrigued by the Vintage Flowers day course, our Social Media Assistant Sarah was excited to don her pinny (floral, of course) and fashion together a charming bouquet of her own..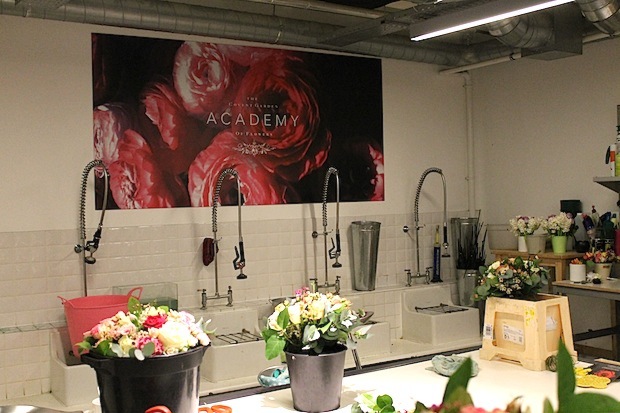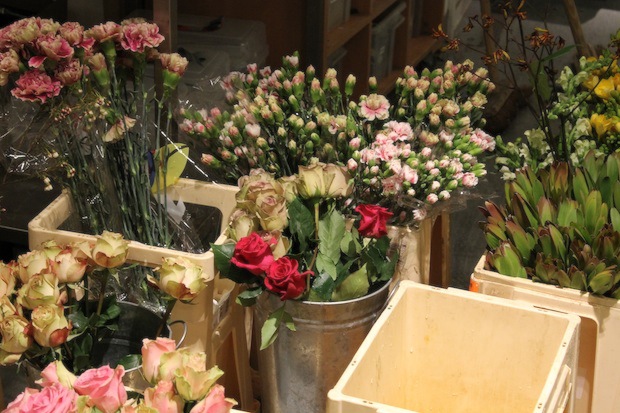 Making our way down the spiraling staircase, we were met by the fragrant aroma of fresh blooms that are flown in especially from Holland. Taking our seat in the main workshop, we were in full admiration of the floristry team, passionately piecing together their next floral masterpiece around us.
As a beginner to floristry and unsure of what to expect, Gillian, the Principal of the academy, put the intimate class at ease as we each introduced ourselves. Talking us through her wealth of experience and what the day would entail, we were captivated by Gillian's passion for all things floral..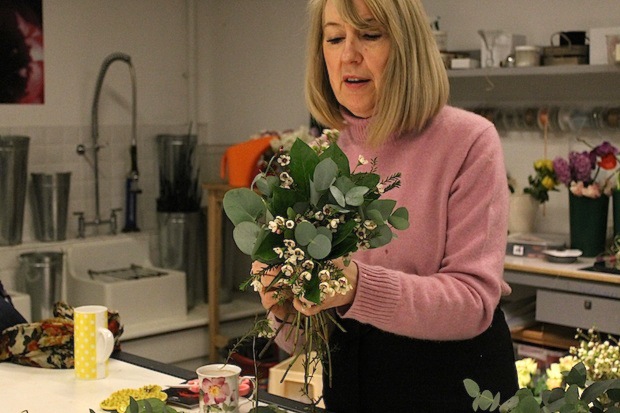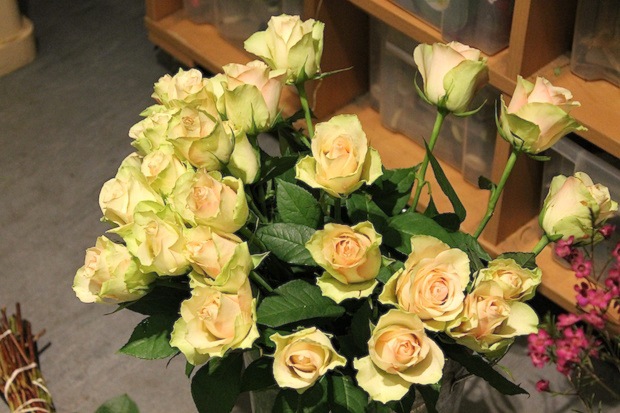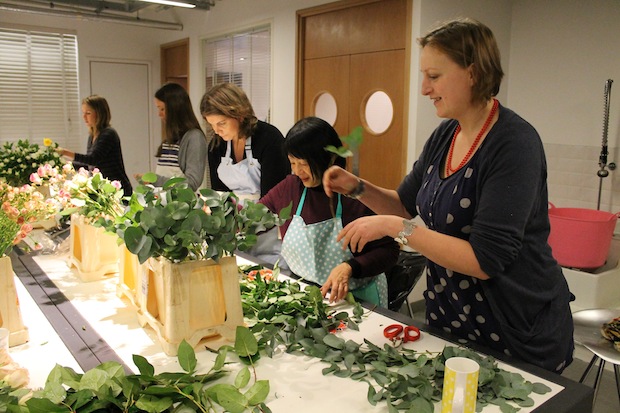 Similar to fashion trends, the floristry world has its own distinct styles that come and go, more recently the charming appeal of vintage floral arrangements. Embracing the meaning behind vintage, we were talked through the elegance, glamour and romance associated with this beautiful style.
Getting started, Gillian talked us through the importance of conditioning the flowers in preparation. From stripping the roses and greenery of excess leaves to trimming stems, we discussed the best way to nurture and preserve your blooms (insider tip: fresh water!).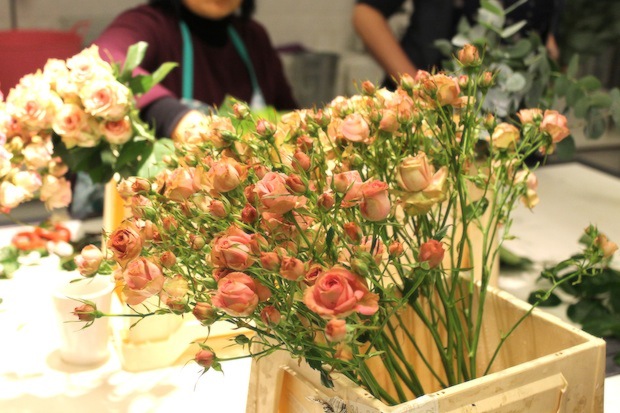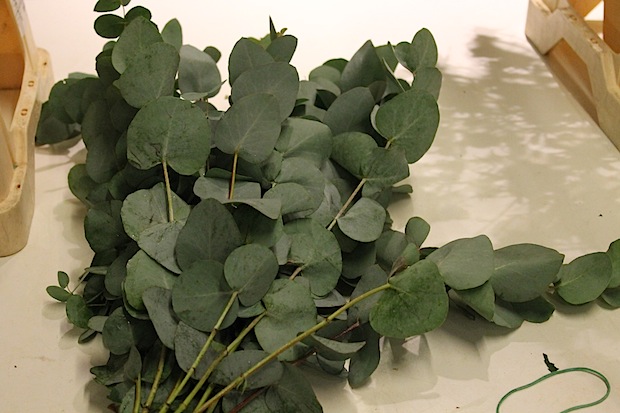 With our flowers and foliage at the ready, we watched in awe as Gillian pieced together her bouquet in a spiraling fashion. With an assortment of antique roses, lemon balm and eucalyptus, Gillian worked together the greenery and foliage before adding in her chosen flowers.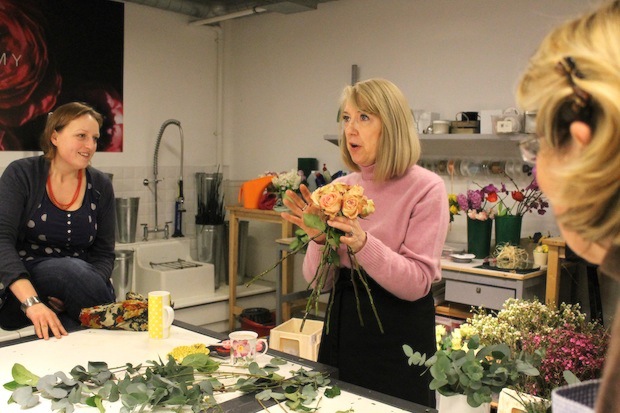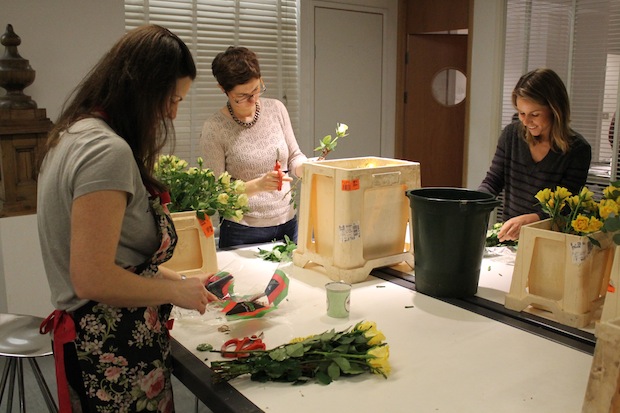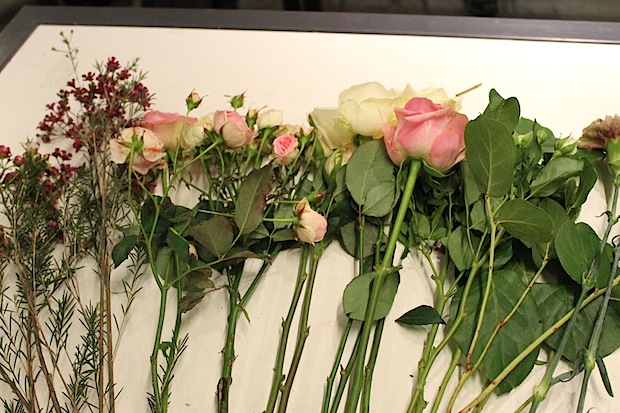 Now it was our turn! Inspired by Gillian's creation and drawing on our ideas of vintage, we were free to choose whichever flowers that took our fancy. Not being able to take our eyes off the large white and pink roses, it was soon decided that these were to be the basis of our Laura Ashley vintage bouquet. Gathering a rich green foliage mixed with spray and wax flowers, it was now time to put our newly learnt skills into practice.
Easier said than done, Gillian and her team were on hand to guide us through. With a desired bouquet taking shape, we then adopted the academy's step-by-step approach to presentation, complete with their signature ribbon!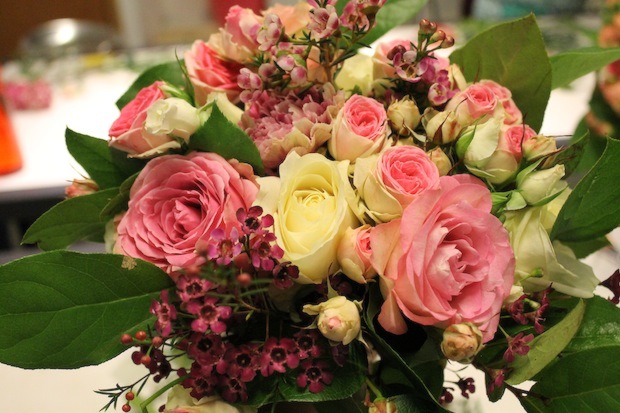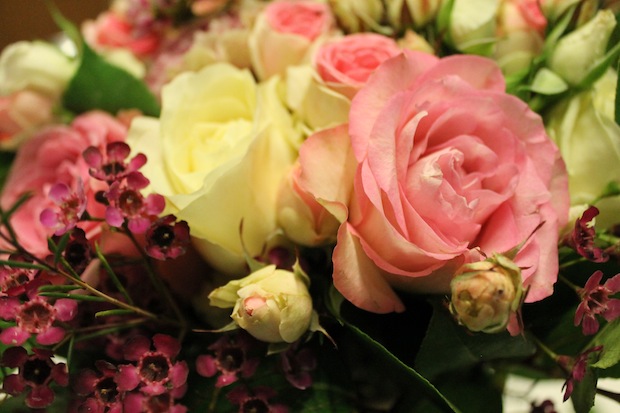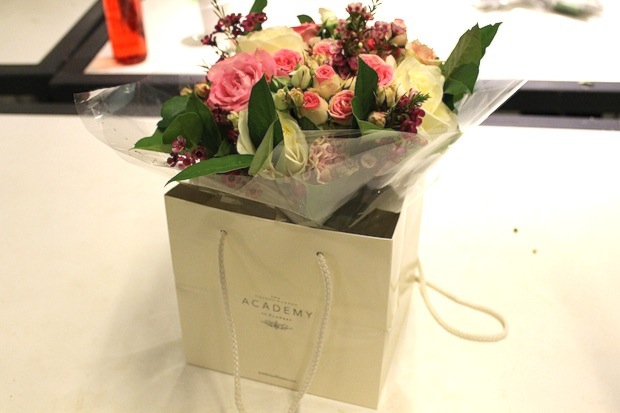 Placing our bouquets to one side, we talked through the various ways to present your vintage floral arrangements. Collectable items such as elegant crockery to period teapots, retro glassware and vintage bottles; we picked the pretty Rose Hill China cup and saucer for the basis of our next floral display.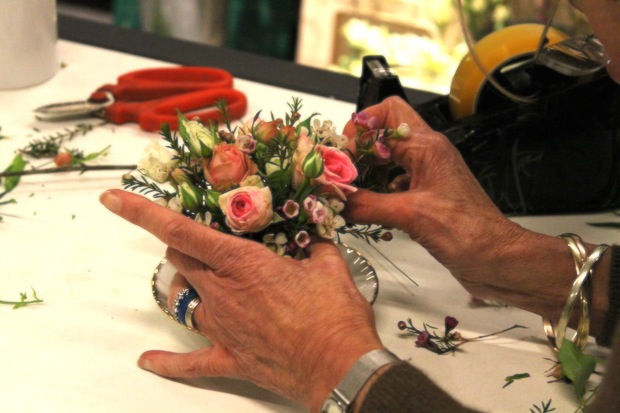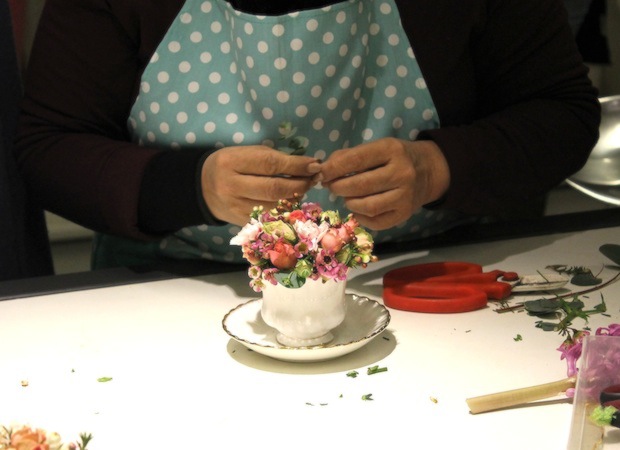 Taking any left over greenery and small buds, we placed a square chunk of oasis in our cup and set about creating a pretty tea-cup posy.  To complement the duck egg blue of the Laura Ashley Rose Hill design, we snipped stems short and slotted in our pink rose buds and foliage cuts.
A beautiful way of arranging any left overs, this unique arrangement would work wonderfully at tea parties or even used as a place setting at a wedding.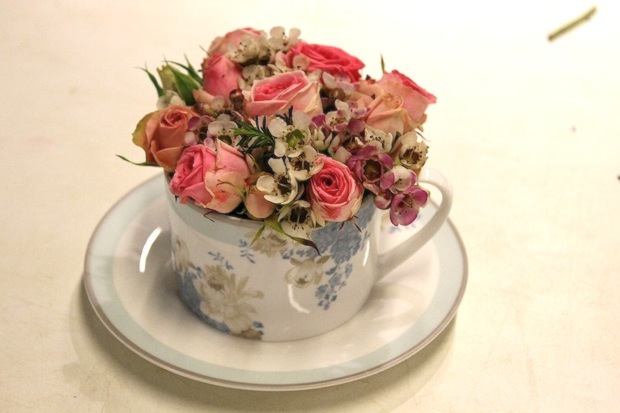 Rose Hill China Cup and Saucer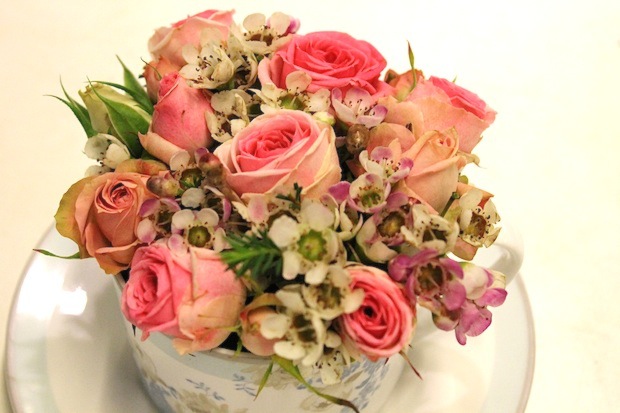 Now it was time for the technical part, creating a floral corsage. Snipping a cream rose, a sprig of spray flowers and dark green leaves, we followed Gillian as she fashioned through a thin piece of wire into the leaves and secured the corsage with stretchy green tape. After trial and error, we eventually created our own button-hole arrangement..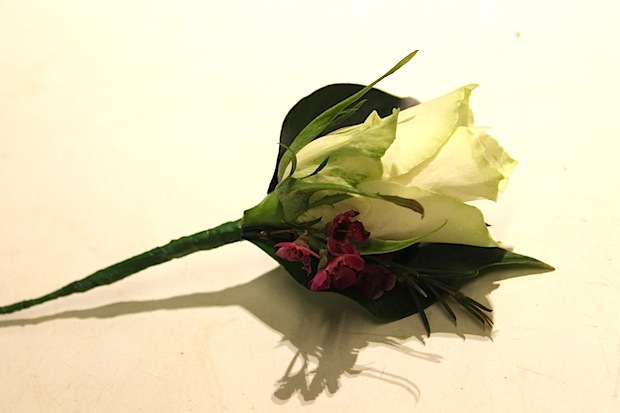 What do you think? Not bad for a first time!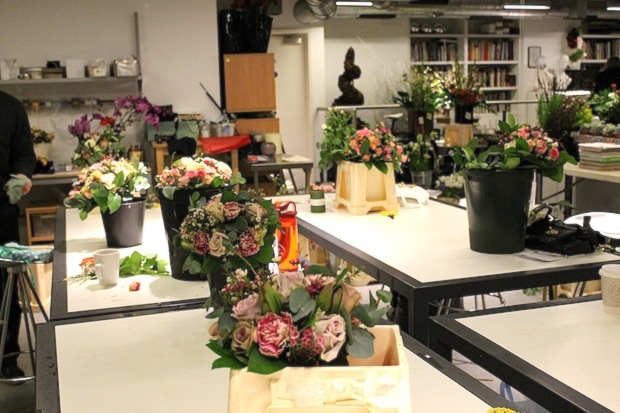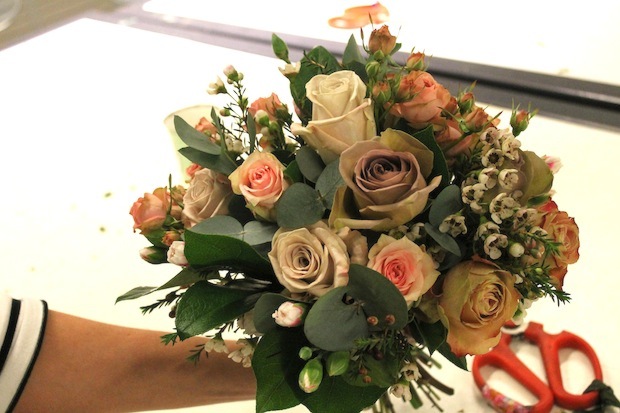 An enchanting day all round, the Vintage Floristry course was truly inspiring and provided us with the need-to-know tips on rustling up our own bouquet. With the vintage style being the trend of the moment, it was interesting to understand the specifics of which flowers embody this look. Working step-by-step under Gillian's guidance, each of us in the class worked at our own leisurely pace, joining together to share our ideas and understanding of vintage floristry.
With our beautiful bouquets in hand, we left fully inspired with our minds whirring with what our next floral arrangement might be…
For more information on the range of courses at the Covent Garden Academy of Flowers click here.
To browse our china Rose Hill range click here.