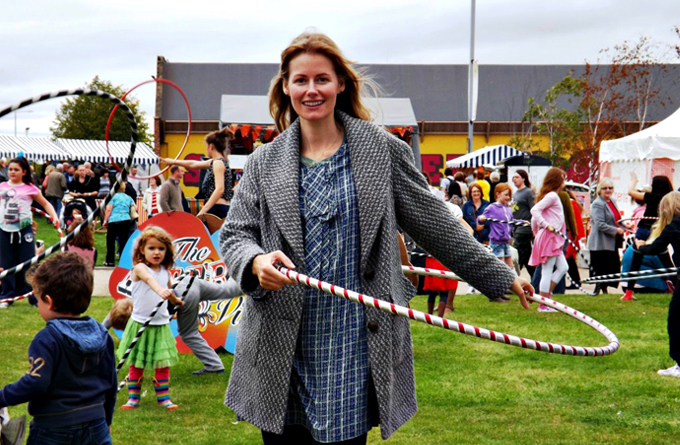 Blog Kat Got The Cream gives her Mother's Day pointers…
We invited Kathryn Sharman from lifestyle blog 'Kat got the Cream' to pick out her favourite Mother's Day gift ideas.
Mums are brilliant; new ones, older ones and especially grand ones! I've only really appreciated what my mum did for me now I'm one myself and it can often feel like a thankless job. So, Mother's Day is a great opportunity to do just that – say thank you to one of those special ladies in your life and treat her to something nice. But it's not just about buying a token gift (though I'm sure she'd be touched). It's about the thought behind it too. Show your mama some love with these Mother's Day gift ideas. And (if all else fails) a card, a kiss and a cup of tea will also do the trick!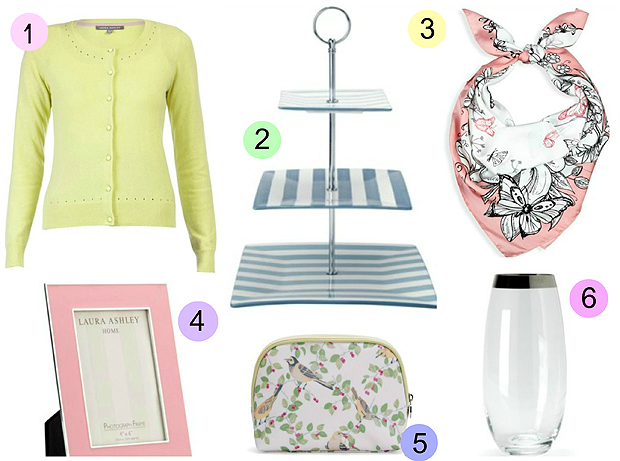 1)     Soft Touch Pointelle Neck Cardigan
This pretty cardigan (also available in pink) would suit any age and taps into the current pastels trend nicely. Take her out for lunch somewhere nice so she can show it off.
2)     Southsea Stripe 3-tier Cake Stand 
A square cake-stand makes a nice change and the stripes are really fresh. Why not bake or buy some cakes to go with it and invite friends/siblings over for a surprise tea party?
3)     Silk Butterfly Print Large Square Scarf 
This will brighten up any outfit and look even better as a head scarf worn on an open-top bus ride around one of her favourite cities.
Mums can never have too many photos. Dig out a funny family snap or even better get everyone together for a secret group portrait and present it to her in a nice new frame.
5)   Aviary Garden Small Make-up Bag 
This cute make-up bag is one for bird-lovers of all ages. Pop in a bottle of her favourite perfume or a new lipstick as an extra treat.
Yes, she's probably got a few vases already but this one is for the bunch of flowers you're going to pledge to buy her every month. And if you don't live near enough, you could set up a floral subscription service like this one from Bloom & Wild.
Kat got the Cream is a UK lifestyle blog written by Kathryn Sharman featuring fashion, design, vintage and home. http://www.katgotthecream.com