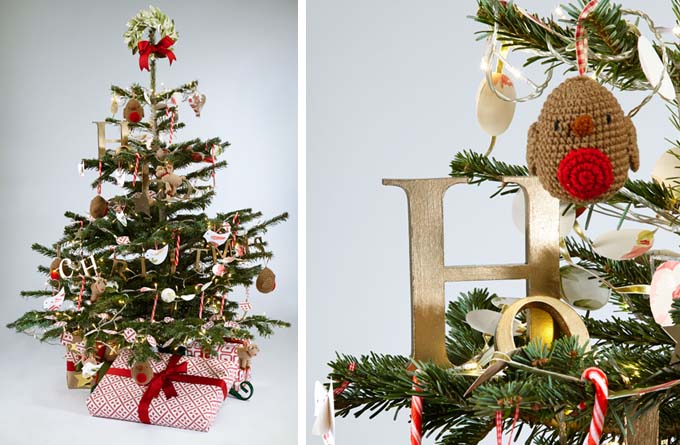 Take cue from our Creative Team. 1 Christmas tree styled 3 ways…
Christmas trees are a hot topic of conversation here at Laura Ashley this past few weeks. Are we getting a real tree or investing in a faux tree? What kind of decorations are we going for? Are the days of tinsel gone? To help you decide what kind of tree look to go for this year our creative team have taken to the studio and styled up a mini tree 3 different ways…
THE TRADITIONALIST TREE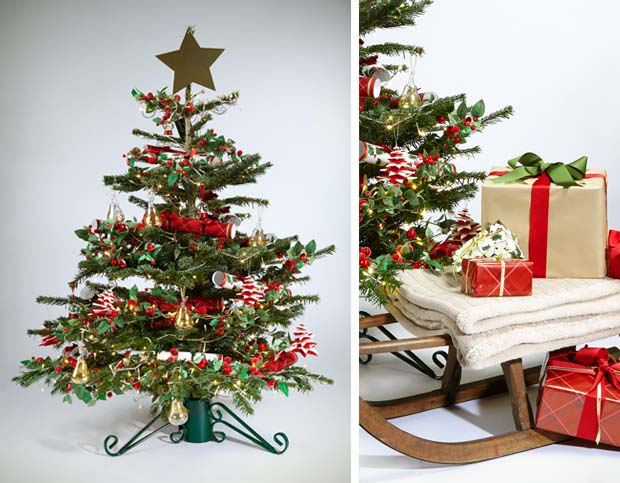 Decorations: Christmas Layered Felt Tree Decoration / Deck The Halls Christmas Crackers / Christmas Glass Gold Pear Decoration / Christmas Heart Green and Red Lit Garland 
Go for all out Christmas cheer with traditional red, green and gold. We love the green and red list garland with frosted berries and cranberry glazed hearts for a more natural outdoorsy look. Add some theatre to the tree with some Christmas crackers (they don't have to just be for the table setting).
THE 'MAKE & DO' TREE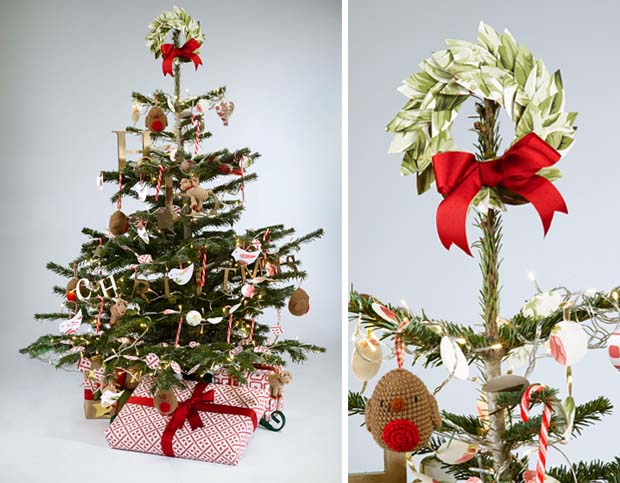 Decorations: Christmas Knitted Robin Decoration / Christmas Knitted Deer Decoration
Splashing out on decorations isn't always necessary. We love the idea of a 'make & do' tree. Here our creative team made paper bunting by cutting discs from wallpaper and ribbon, to drape around the tree. Wallpaper samples were also used resourcefully to create sweet little robin hangings (you can find some super easy silhouttes online) and a leafed paper wreath as the star tree topper. We then layered in our knitted Robin and Deer Decorations, as well as gold guilded letters and candy canes.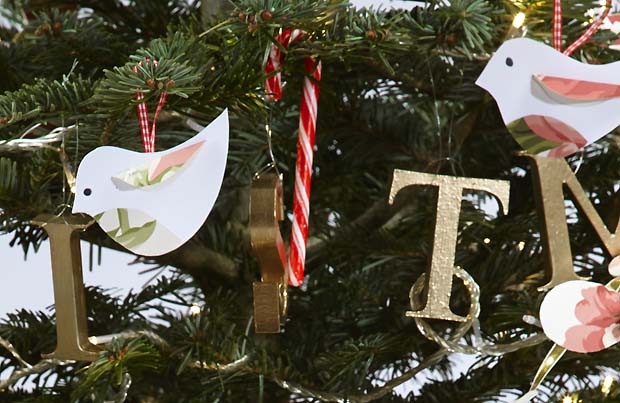 Handmade birdie paper decorations- simply create a bird template to cut round, add patterned wallpaper to the breast and wings, and then tie with festive gingham ribbon!
THE SOPHISTICATED SPARKLY TREE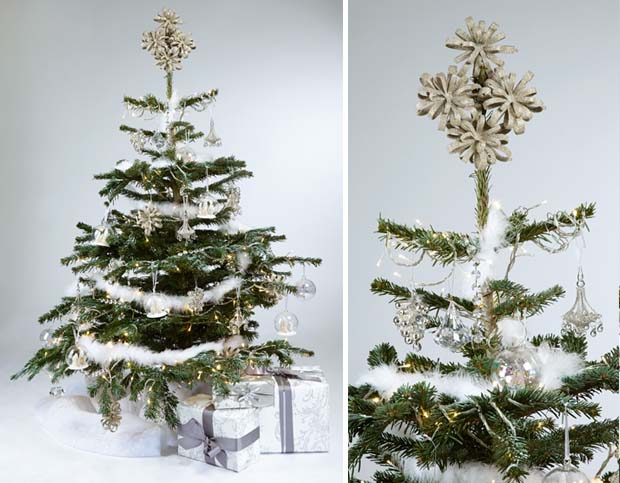 Decorations: Christmas Glitter Chandelier Decoration / Christmas Faceted Gem Decoration / Christmas Bunch of Grapes Decoration / Christmas Bristle Tree Bauble / Christmas Glass Angel Bauble
If you shy away from bright Christmas hues such as bright reds and green, exude sophistication with a sparkly palette of silver, white and glass. Here we've used a fine white feather bower instead of tinsel to create that frosty 'winter wonderland' feel. Our new glass Christmas tree decorations have then been used like hanging icicles, reflecting the light of the surrounding twinkly fairy lights.
Which tree best reflects your taste?
Browse our full Christmas decorations here