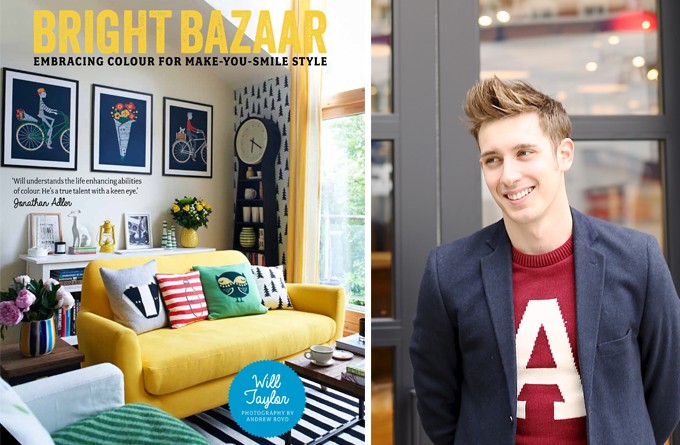 Our go-to blogger for all things colourful, we talk to Will from Bright Bazaar about his new exciting book…
When man of the moment Will, at Bright Bazaar revealed his exciting plans to write his first interiors book, Laura Ashley H.Q was overcome with excitement. With a keen eye for detail, a love of colour and all round creative flair, Will is a man after our very own interior hearts. Taking over the Laura Ashley blog on many occasion with his expert knowledge, we have watched in awe as Bright Bazaar became the UK's leading interior blog. We instantly knew his first venture (of many, we hope) in the book world would not disappoint..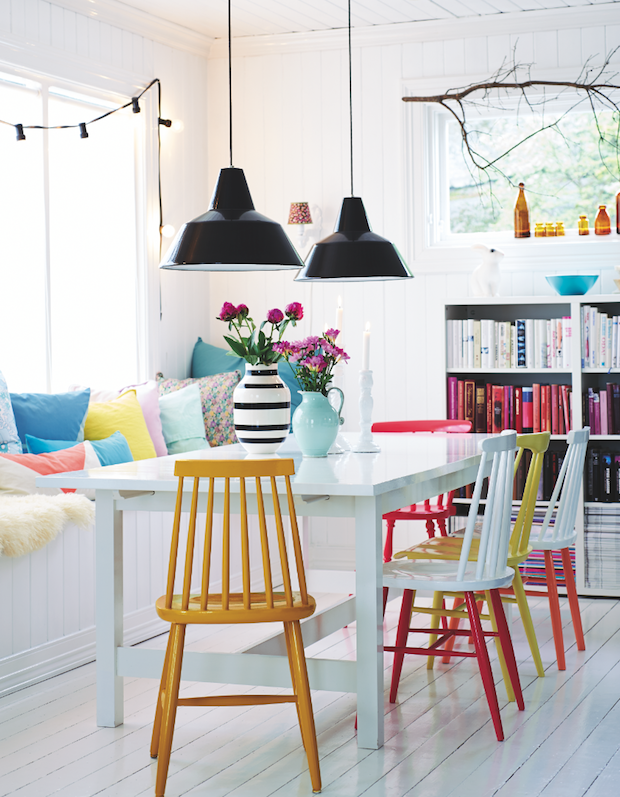 Scandi brights in a Norwegian dining room. 
Taking us on a vibrant tour of homes across the world, Will's book aptly titled 'Embracing colour to make-you-smile style' focuses on his passion for all things bright and colourful. Sharing his love of decor, Will's book is the ultimate guide for introducing colour into your home, dishing out an array of expert tips – all whilst taking a peek at some of the most beautifully decorated houses we've clapped eyes on. From soft and delicate pastel hues to the bold and bright, Will takes us on a journey of ten key colour palettes, talking us through the inspiration behind each look and discussing how to add these colourful accents to your space.
Having been lucky enough to natter to Will on a number occasions, we were delighted when we had the chance to sit down with the man himself and talk all about this new exciting chapter in his life…
Tell us Will, how did the book come about?
I have always wanted to write a book, however working full time and writing my blog I just didn't have the time. Around three years ago when I went freelance, an editor from Jacqui Small publishing got in touch with me and asked if I was interested in writing a Bright Bazaar book. I had been thinking about it for a while and already had a few ideas, so I sent them my proposal and within twenty minutes, they came back saying they wanted to do it!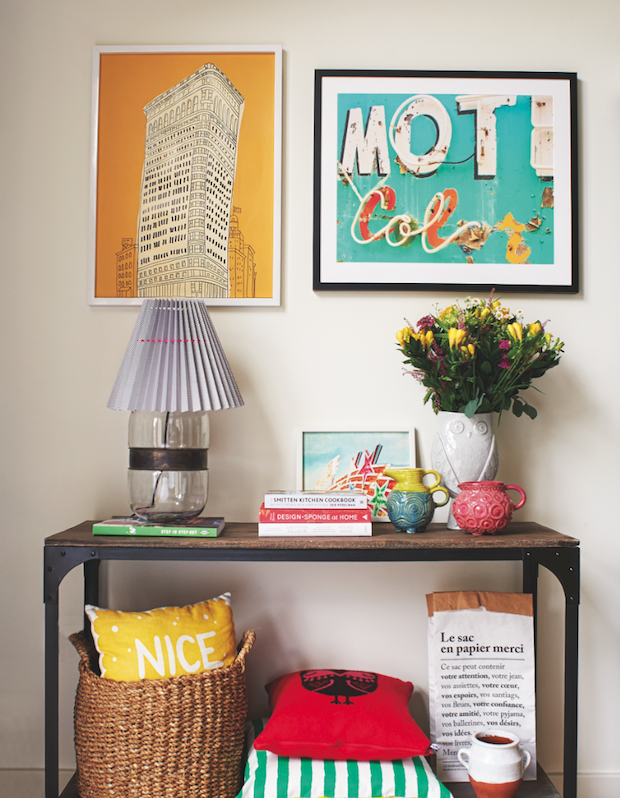 Using artwork and bold coloured cushions in Will's living room in his home in London. 
Looking at your blog, it's clear that colour is a big influence. Was this something you knew you wanted to write about?
Definitely. My blog has always focused on my love for colour and I felt that no one had approached it in the way I wanted to. Many of the existing books on colour are very scientific, which is great if you want to know the history of colour, but decorating should be fun! I tried to create a manual for decorating that was a bit more exciting and for the every-day decorator.
There are some amazing locations included in the book, which was your favourite to shoot?
Oh gosh, it's so difficult to choose! I loved Jonathon Adlers amazing Shelter Island home in the Hamptons, which features in the book's Outside Living section. Taking a peek at his outdoor pool area, it was really interesting to see how he made the most of his outside space and essentially made it an extension of his home. We also shot in an amazing farmhouse in the middle of Northern Spain. It was a crazy set-up as there were horses everywhere and none of the locals spoke English!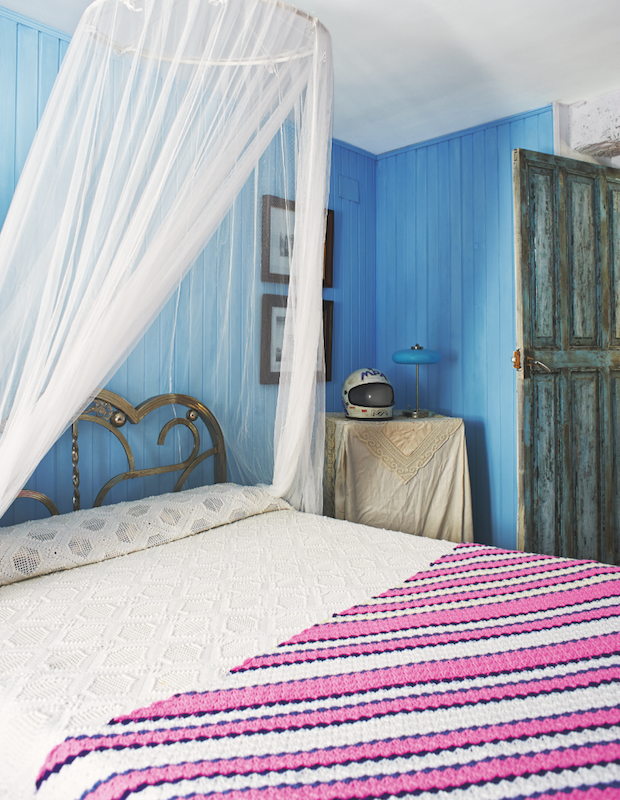 A farmhouse bedroom in Spain.
Where do you find the inspiration for your own decor?
Like the book, I take a lot of inspiration from my travels. I'm very lucky that my work takes me all over the world and I've always got my camera on hand to snap a colourful building or anything that catches my eye. When I return home I always look back through my photos to see if a colour scheme carries through or whether I was drawn to a particular shade. In-fact my pink and yellow office was inspired by the candy coloured houses in Spain I spotted whilst I was on holiday a few years back.
If you could only give one tip for someone who was looking to introduce colour into their home, what would it be?
First and foremost, take it slowly. There's this idea that you need to choose your colours straight away. You wouldn't go on holiday without planning where you are going to stay or where you might eat. It's the same principle as decorating, you can't just click your fingers and have a completed scheme overnight, it's about letting that phase evolve.
It's all about building up a palette from other parts of your life rather than just focusing on interiors. Try to think about what colours you are naturally drawn to. Bright Bazaar encourages you to think about other times or events in your life where you capture colour well, perhaps in an amazing outfit or the flowers you chose for your wedding day, then draw your inspiration from there.
Finally, what's next for Bright Bazaar?
Next on the Bright Bazaar adventure is an American book tour. I'm really excited to meet all the people that have been reading Bright Bazaar for years! With dates lined up in a number of different cities, I'll be blogging all about my experiences along the way…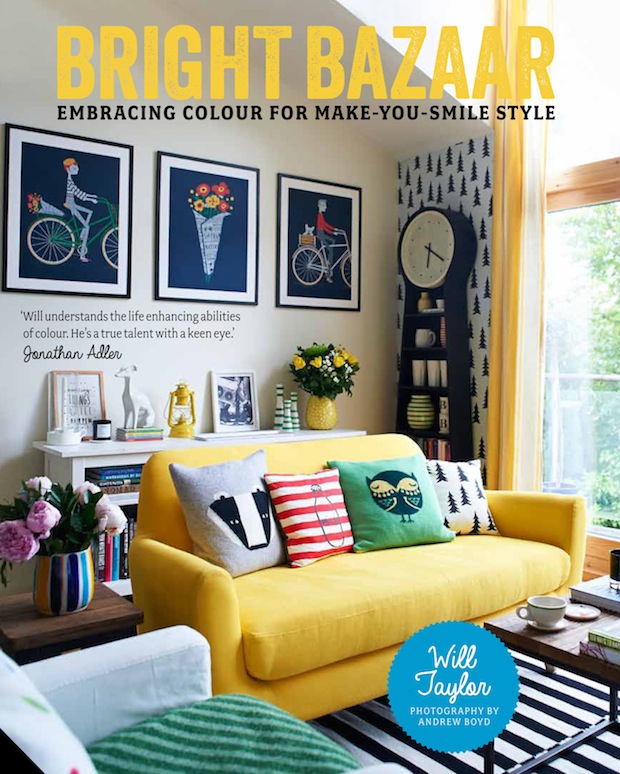 Will's living room in his home in London. 
We think you'll join us when we say a big congratulations to Will! With such a passion for all interiors and creative flair, we wish him all the best for his new venture.
Don't forget to bookmark Will's blog Bright Bazaar here, take a peek at his book here and for more details on his US book tour click here.