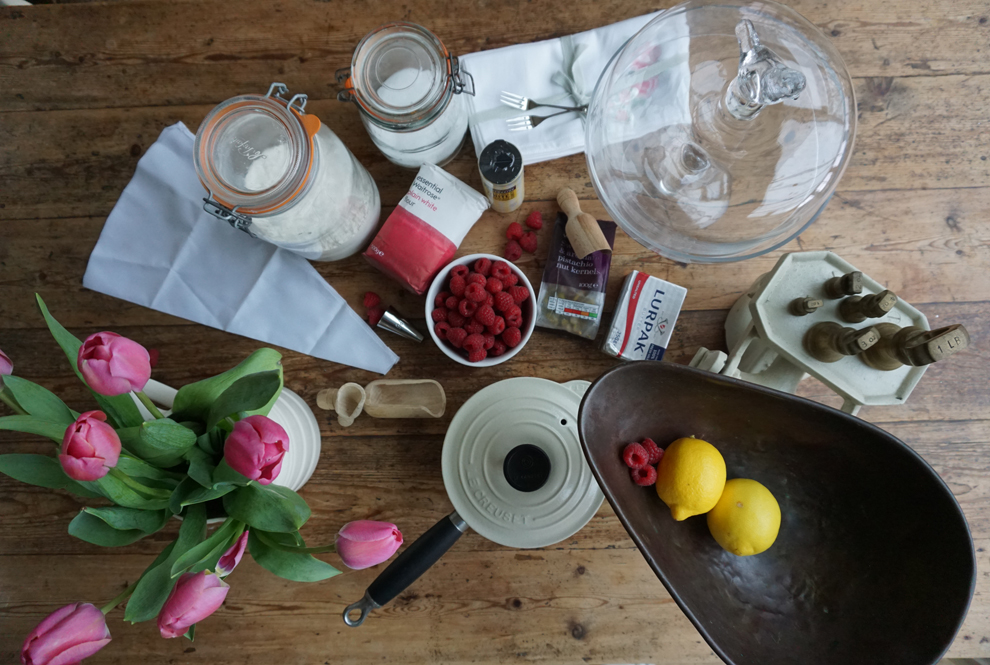 Get yourself in the romantic mood with these delicious madeleines read more
As it's Valentines Day this week what better way to get yourself in a romantic mood than with a mouth-watering madeleine that you can make for a loved one! The fabulous Paula from The Hillhouse Diaries shows us how simple these tasty treats are to make so show the love and bake away…
I have to admit that the way to my heart has more often than not been via my stomach and the wonderful excuse that Valentines Day brings to indulge in the most delicious of edible delights! If you want to win me over, don't bother with simply buying me roses – although they are very nice and definitely welcome – but bring me a combination of flowers, pastries and something pretty for my home and I'm yours forever – whether you want me or not!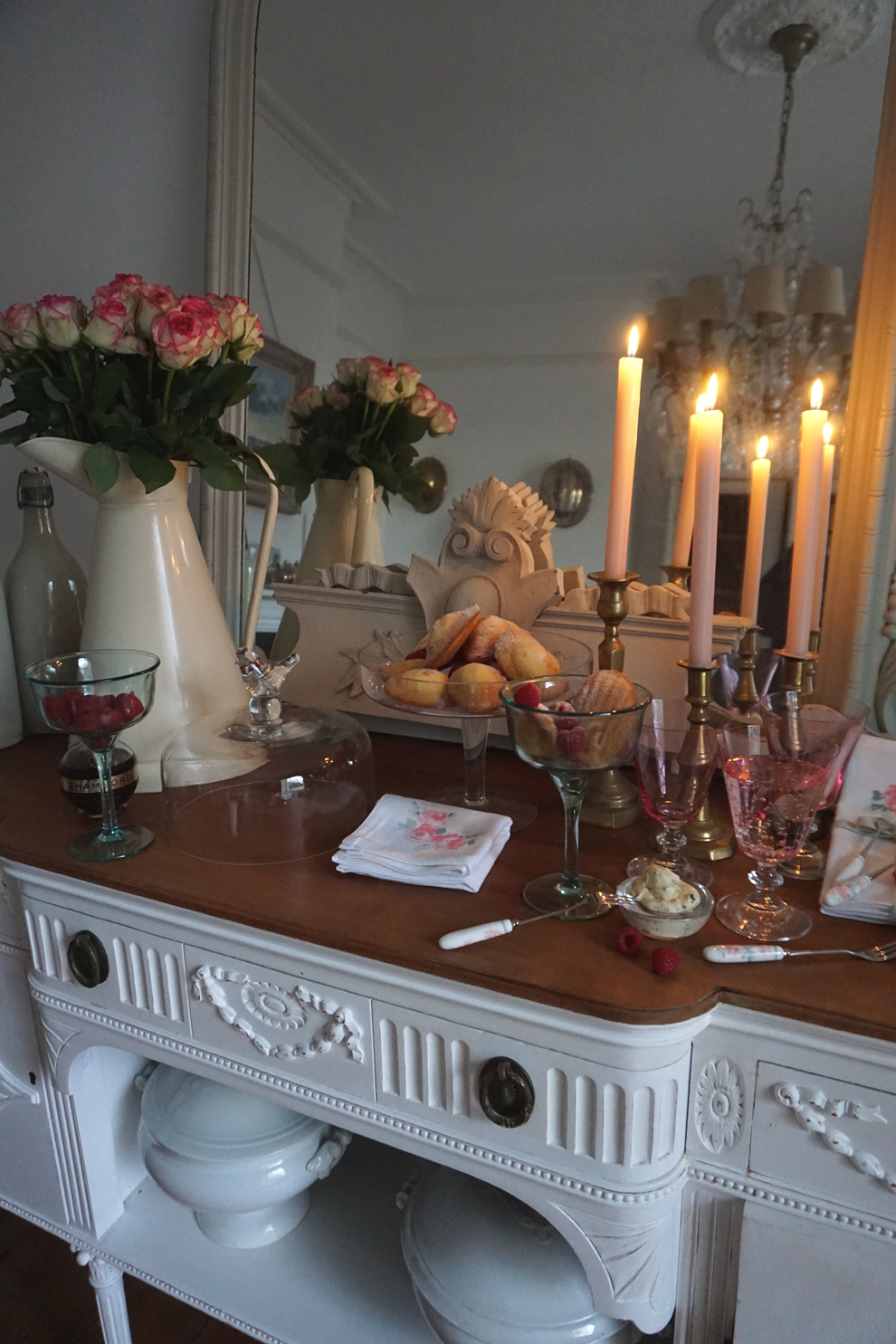 As a mother of three teenagers with increasingly large appetites, Valentines Day these days tends to incorporate something delicious that can be made in abundance that we can all share to mark the occasion.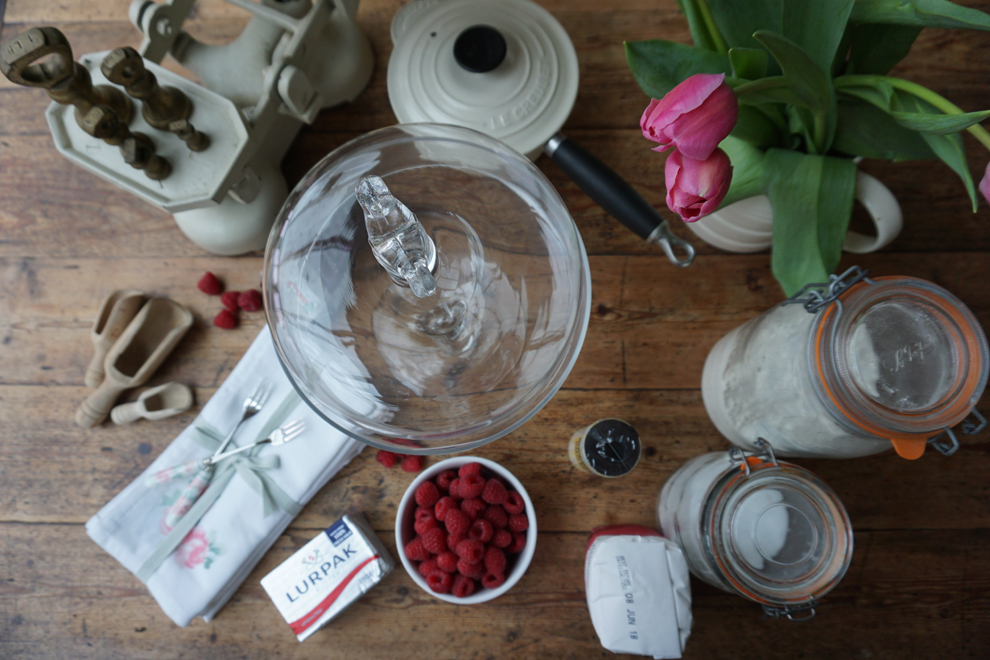 This year, I decided that an old French favourite of madeleines were the ideal treat, as they can be made in large batches, and, with the addition of a white chocolate and pistachio dip or a raspberry sauce, they become a romantic feast that is perfect for a tea time treat or (if we're lucky!) as a pudding a deux!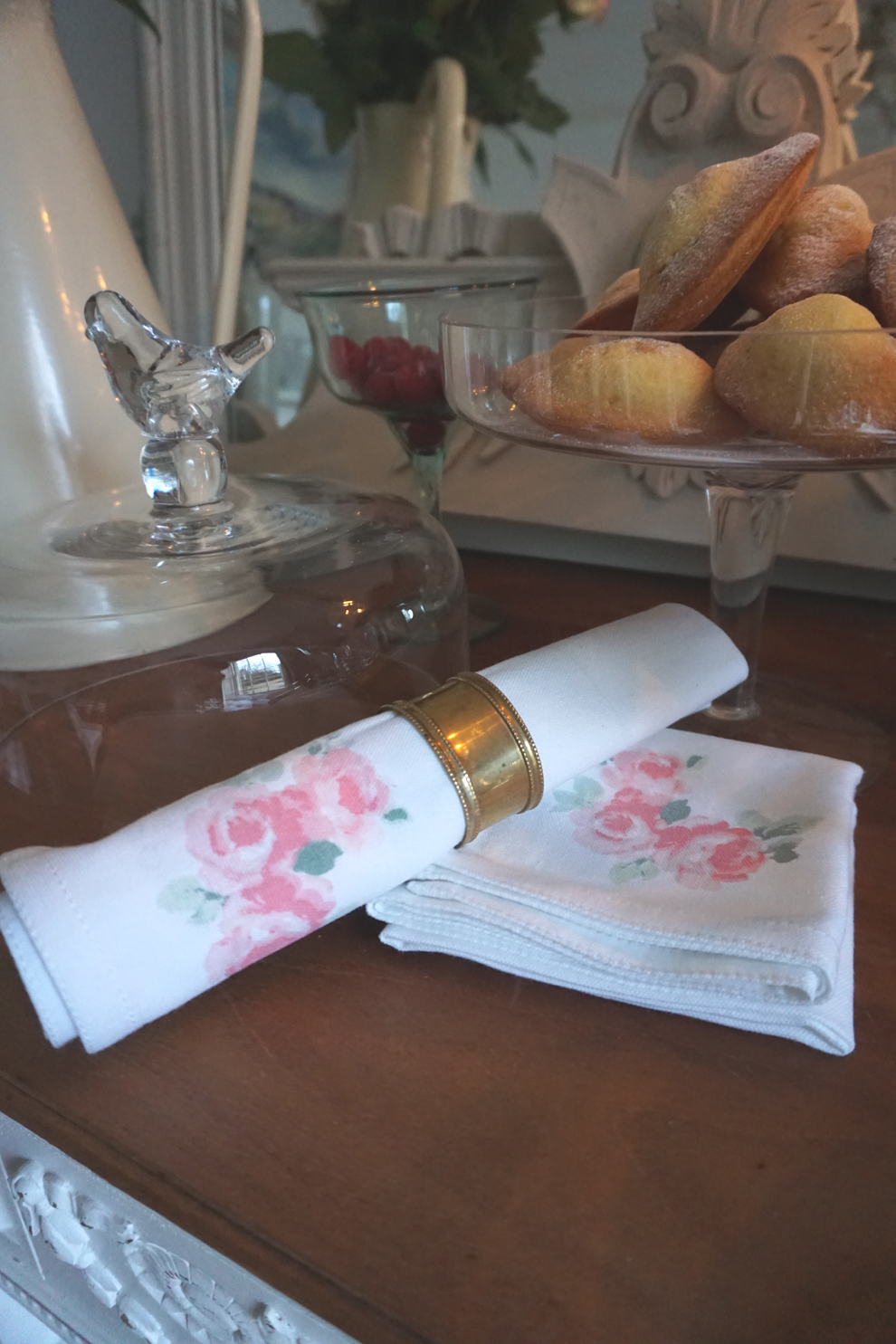 Of course, even the most simple of feasts can be made extra special with the addition of pretty accessories, and so with the help of the Laura Ashley Albertine cake forks and napkins, our simple patisserie treats were elevated to Parisian style high tea status.
I always like to incorporate a mix of vintage and new throughout my home, and anything new with a hint of nostalgia or vintage chic will always be a winner in my book. My old and wonky brass candlesticks may be vintage and quirkily battered, but the addition of Laura Ashley dinner candles in their stunning shade of blush pink, create a touch of glamour and sparkle.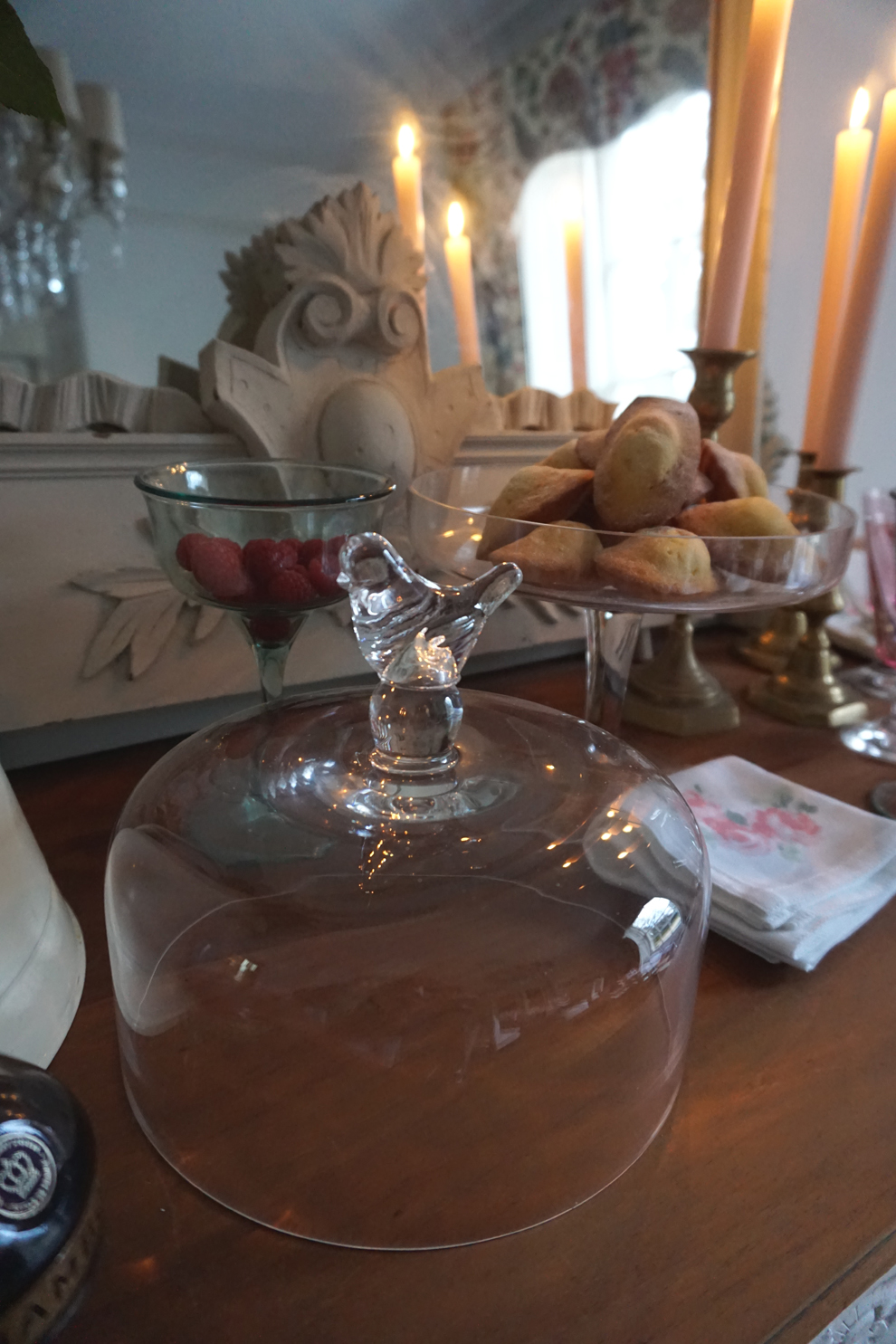 Luckily Laura Ashley are experts at this particular style of modern interpretation of classic design and the Glass Cake Stand with its elegantly moulded Bird handle certainly wouldn't look out of place in the salon of Marie Antoinette at Versailles.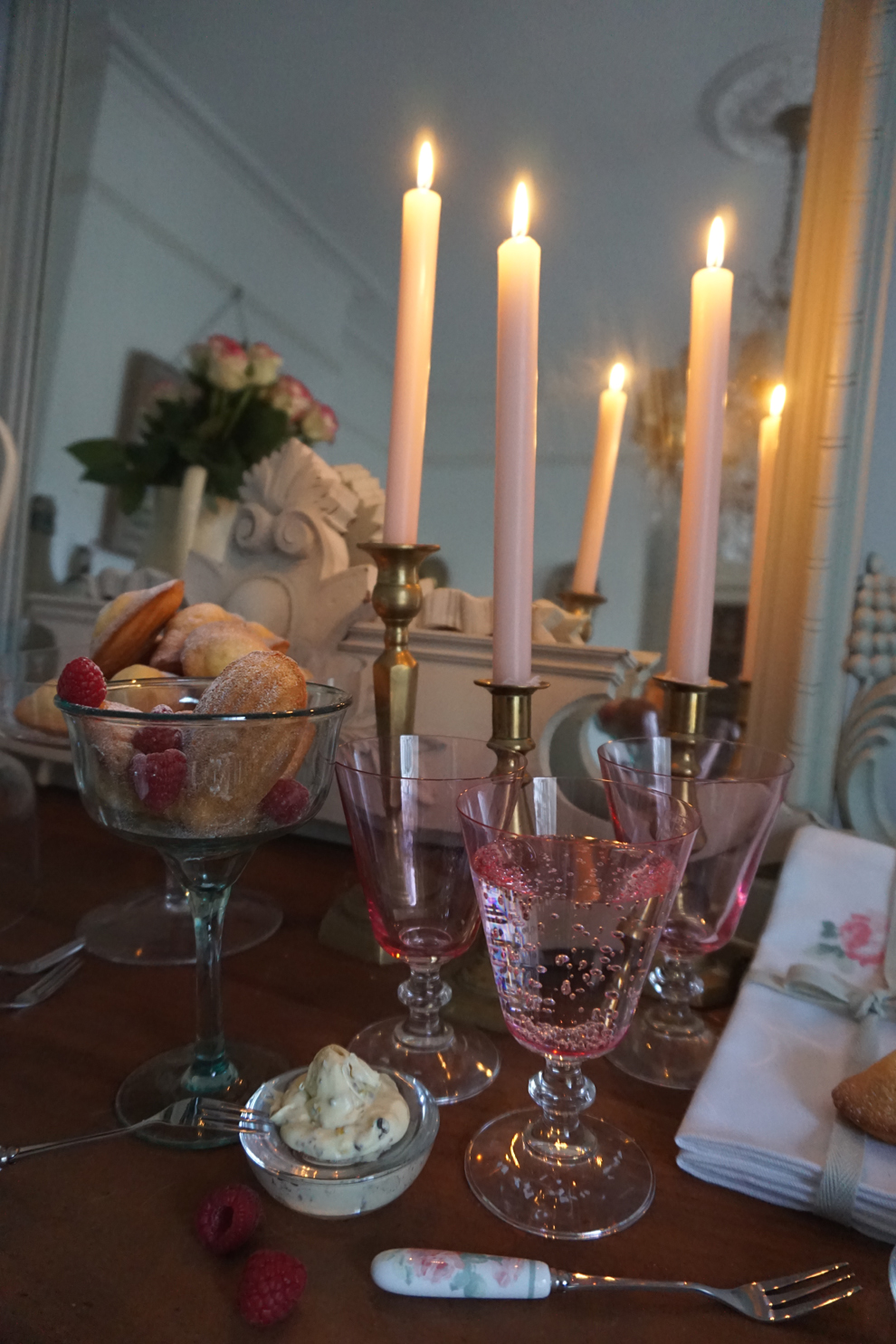 And if you're quick and are able to squirrel away a few Madeleines for your own romantic meal later on in the day, then the addition of the Blush Pink Wine/Water Glass will add an extra glamorous and romantic touch for the tipple of your choice.
Enjoy and Long Live Romance!
BASIC MADELEINES
225g/8oz unsalted butter, melted, plus extra for greasing
250g/9oz plain flour, plus extra for dusting
360g/12½oz caster sugar
1 tsp vanilla extract OR 1 vanilla bean split lengthwise and seeds scraped from pod
3 free-range eggs at room temperature
2 tbsp runny honey
½ tsp Salt
1 tsp baking powder
RASPBERRY COMPôTE
200g fresh raspberries (or frozen)
3 tbsp icing sugar
2 tbsp lemon juice
WHITE CHOCOLATE DIPPING SAUCE
150g White Chocolate
50g shelled pistachio, rough to finely chopped
Method
1. Preheat the oven to 170C/325F/Gas 3. Butter and flour a madeleine tin.
2. For the madeleines, place the flour and 250g/9oz of the caster sugar into a bowl and add the vanilla extract, eggs, honey and melted butter and fold until combined.
3. For best results refrigerate the batter for at least 2 hours or up to 24 hours.
4. Stir well and pipe or with spoons add a heaped tablespoon of the batter into a greased then flour dusted madeleine tin.
5. Bake for 15-20 minutes until golden-brown and springy to the touch then immediately turn out onto wire rack to cool. Dust with the icing sugar.
6. For the raspberry compôte, place the raspberries, lemon juice and icing sugar into a blender and mix until smooth. Drizzle over or dunk your madeleines in to suit.
7. For White chocolate dip, melt 150g white chocolate in microwave or in a heatproof bowl over boiling water on hob. Add chopped pistachios and stir then dip away.
How amazing do these look! Will you be baking for that special someone this Valentines Day? Let us know below or on Twitter @LauraAshleyUK