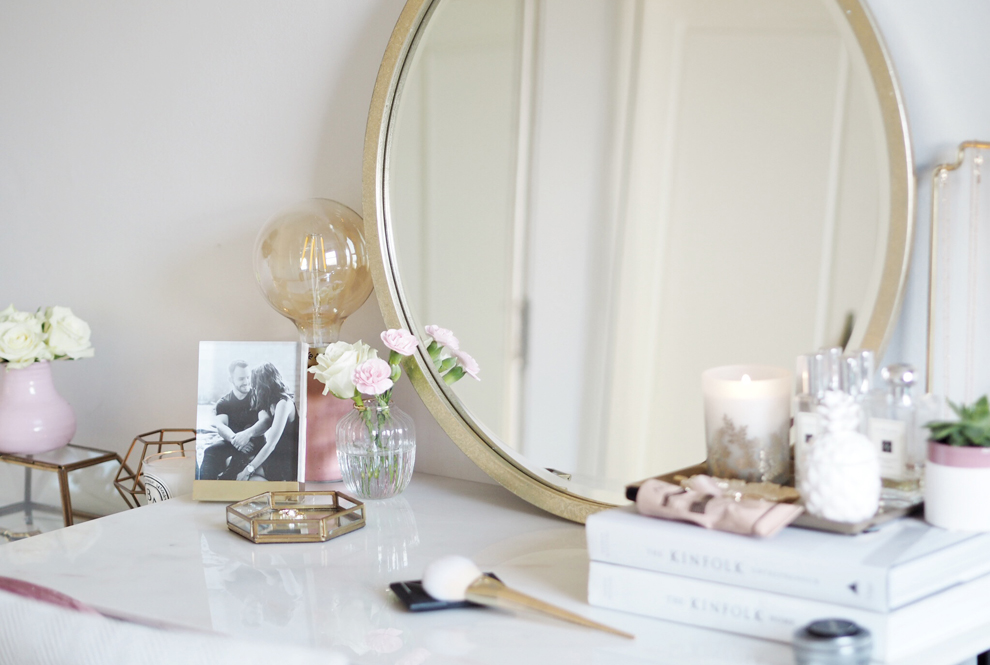 Get ready in style with a dreamy dressing room read more
Wherever you get ready in the morning it's important that you find a space where you can make yourself feel beautiful. Anna from Blossoming Birds found the perfect corner in her home to turn into a dressing room where she can enjoy a little time to make herself feel prepared for the day ahead!
'You're never fully dressed without a smile' – Annie
And as Marilyn Monroe said 'A smile is the best make up a girl can wear'
I wanted to create a pretty area, somewhere that whether it be 6am in the morning as I get ready for work, or 6pm at night as I get ready for a night out as I take my makeup off and get ready for bed, I enjoy sitting there.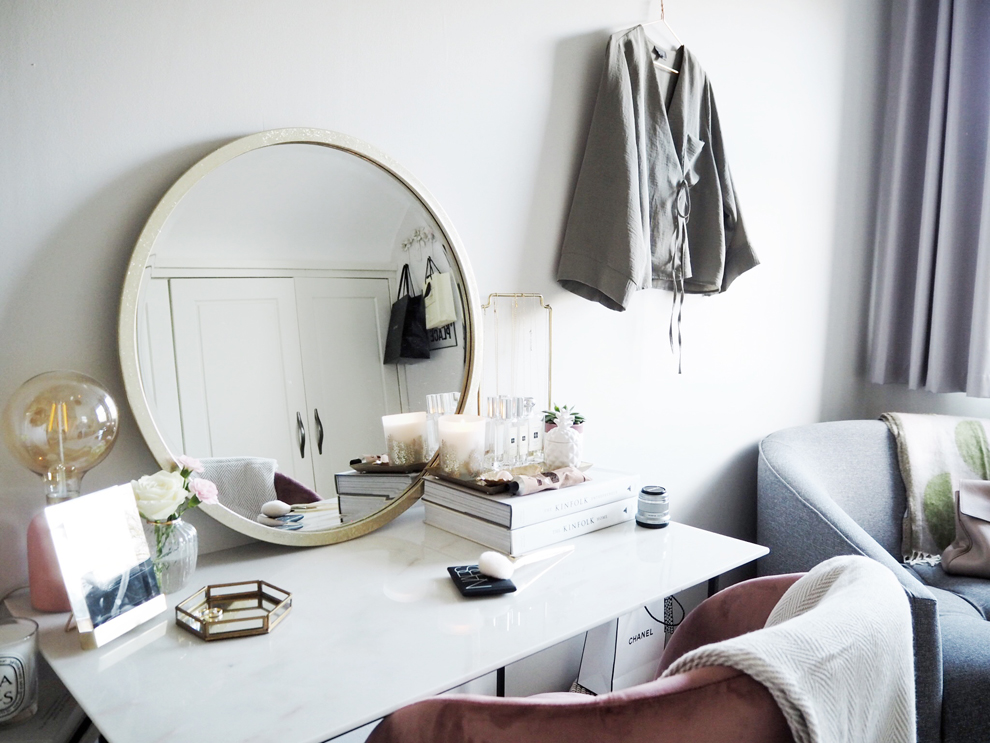 For many of us ladies the time we spend getting ready is perhaps the only time throughout the day we spend on ourselves, so may that be 5 minutes or 50 minutes it should be enjoyable and feel like a little bit of pampering.
With a soft grey palette of colour on the walls, I wanted to add pinks and gold to give the space a really light and feminine feel.
An essential in any dressing room is the mirror. Oval and circular mirrors are very on trend for 2018. This one has a crushed gold textured frame at the side. It's a great size for a dressing table but also for a hall or above a fireplace.
To accessorise I used other mirrored items, after all, there's nothing more appropriate for a place to get ready and I think glass and mirrors is a simple way to add a touch of luxury.
Some of these items I've had for a while so it's great that they fit so well into the chic, feminine style of the room.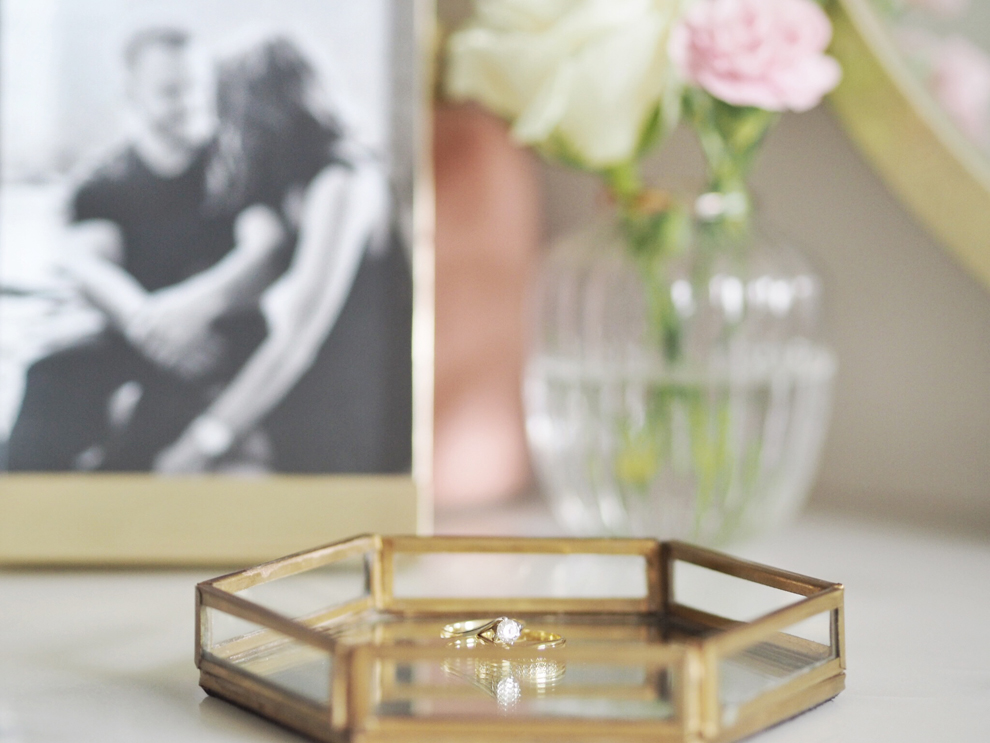 The brass mirrored jewellery box and mirrored trinket dishes are perfect for adding interest and shape to a small area.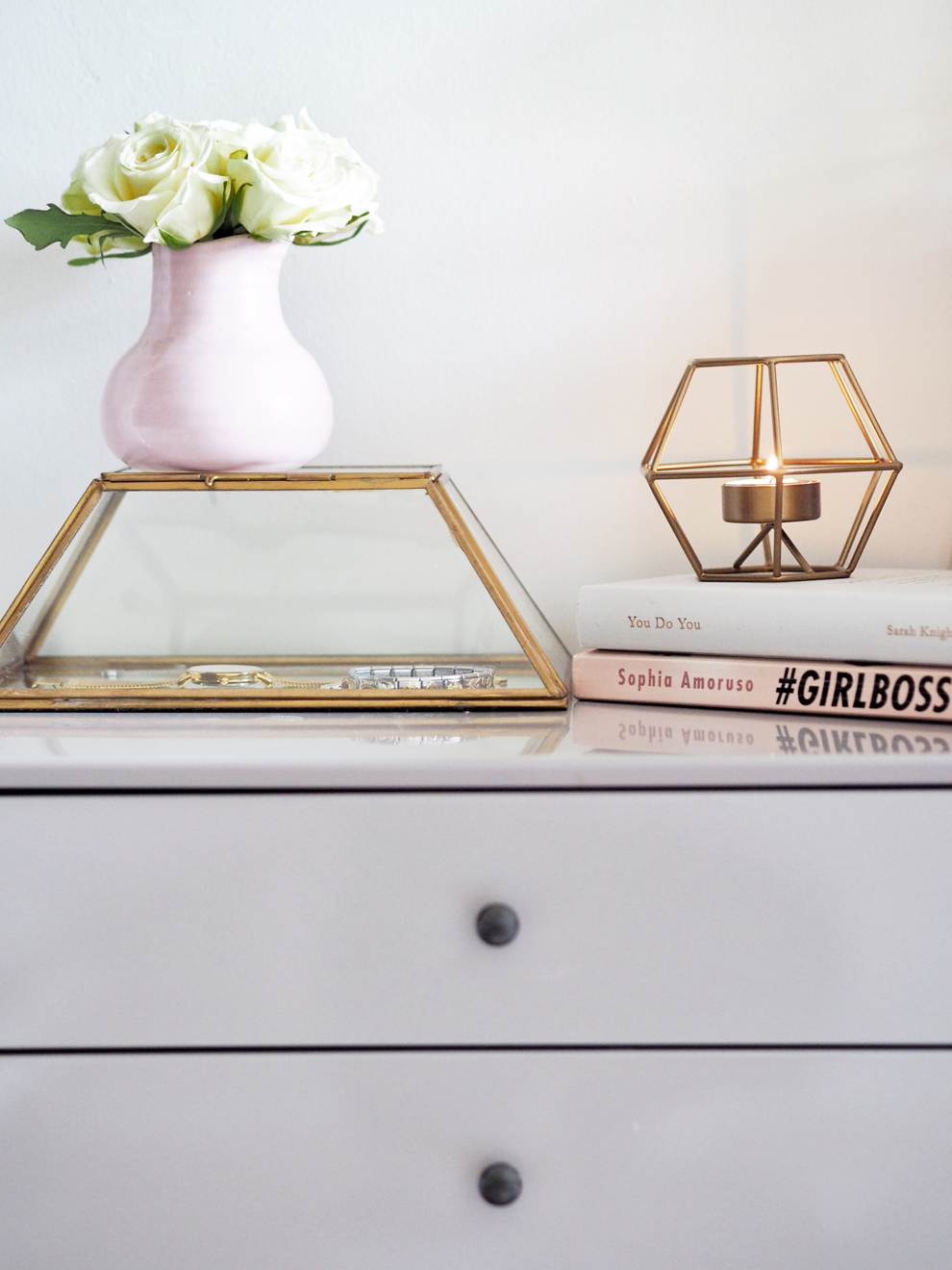 I also added some items to give a feeling of comfort and contrast with the deep metals. I think candles and throws are perfect for this no matter what room you are dressing and the same applies in a dressing room (see what I did there, completely unintentional!)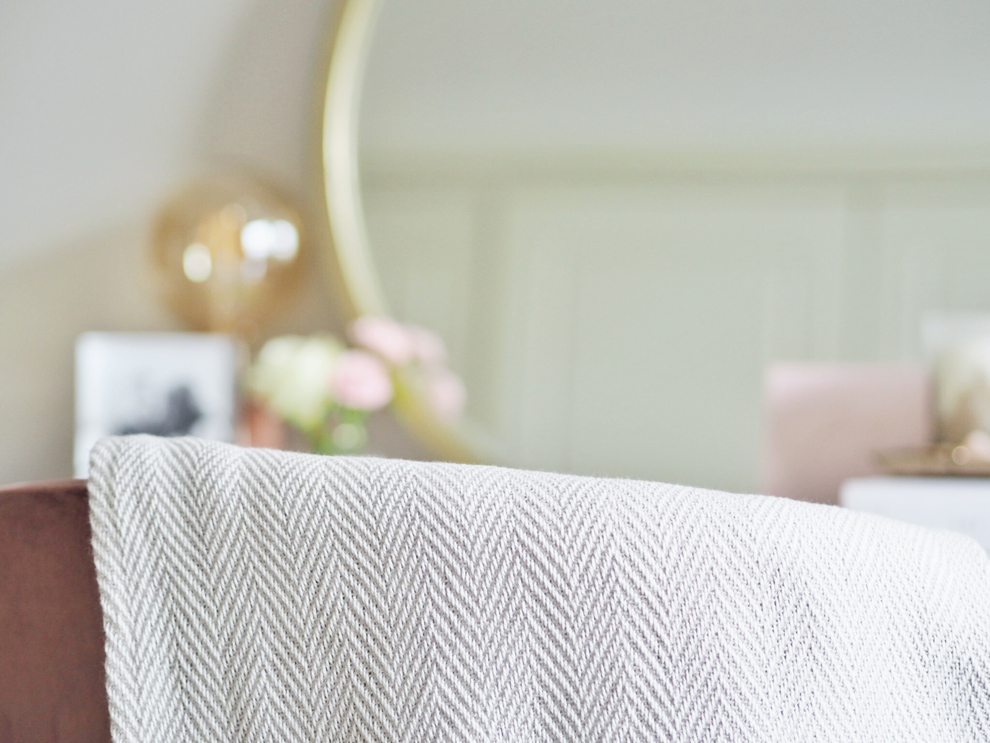 I added a throw over the back of the chair to break up the colour and give a little more detail. This also will be used if I ever bring my laptop up and use this as an office space as I feel it will make an inspiring and creative little area. Sometimes in the chillier evenings throwing a blanket over your shoulders or over your lap is all you need.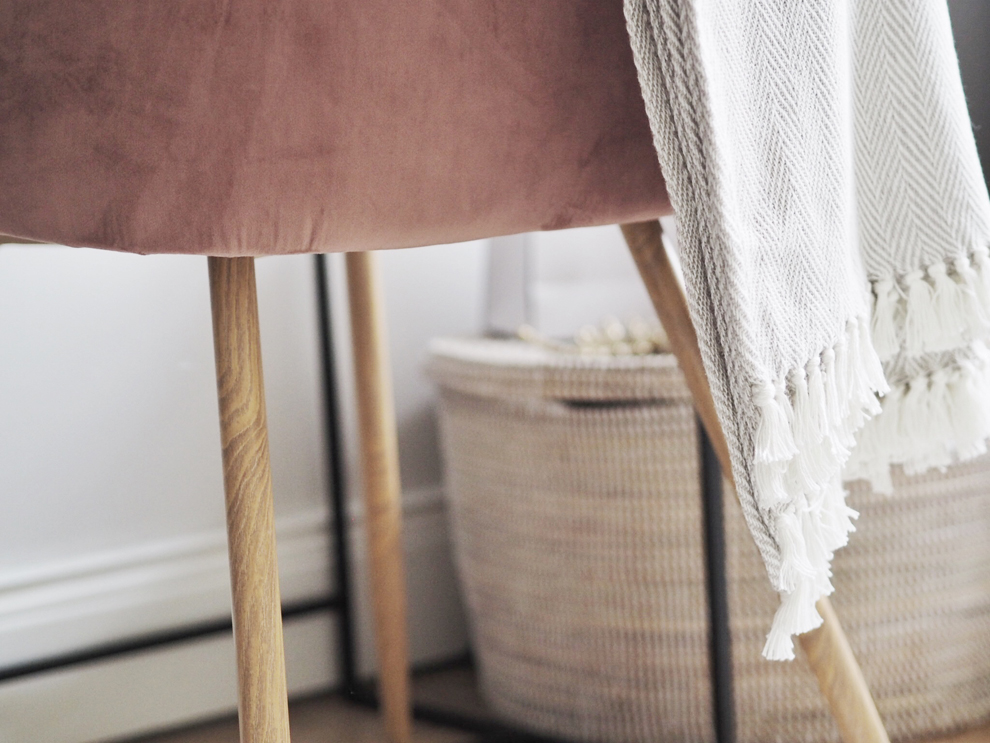 With spring just around the corner, I added a soft, floral candle. Sweet Pea and Freesia is a beautiful combination of floral and fresh tones that remind me of a light perfume, perfect for keeping in with that relaxing, feminine feel. The gold leaf is a delicate little trinket dish and ideal for leaving jewellery on.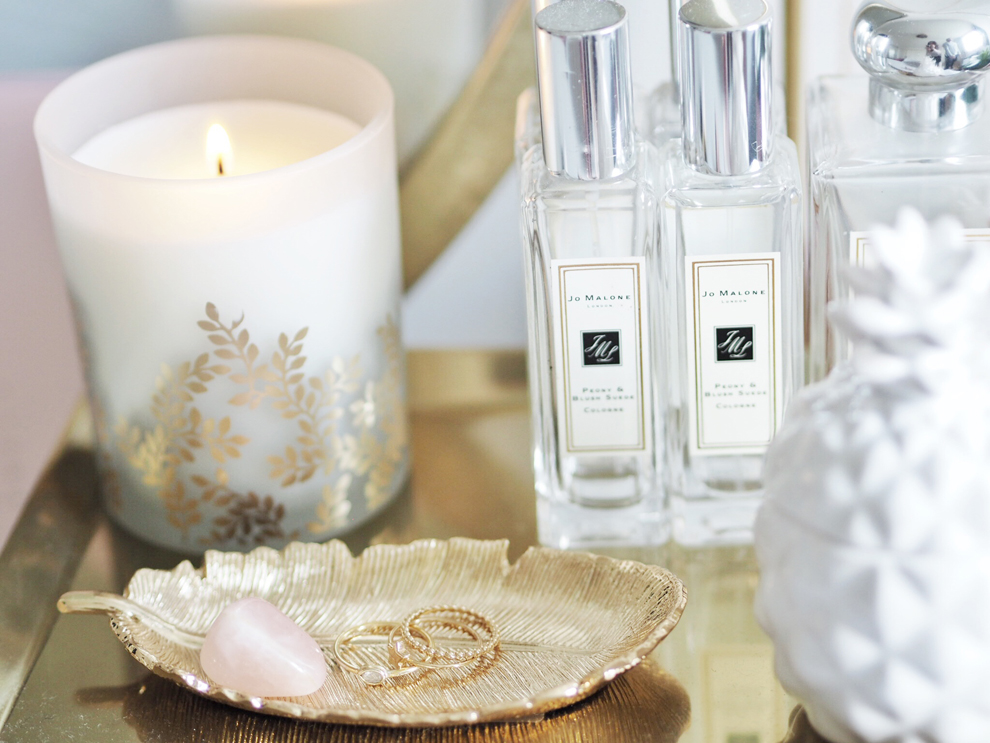 All over my house I have mixed metals and unintentionally this is the same in this room. I fell in love with these copper hooks and thought they would be perfect for hanging up what I am wearing the night before work. I have to be pretty organised and always try and leave out what the girls and I are wearing as the snooze button can be all too tempting in the morning.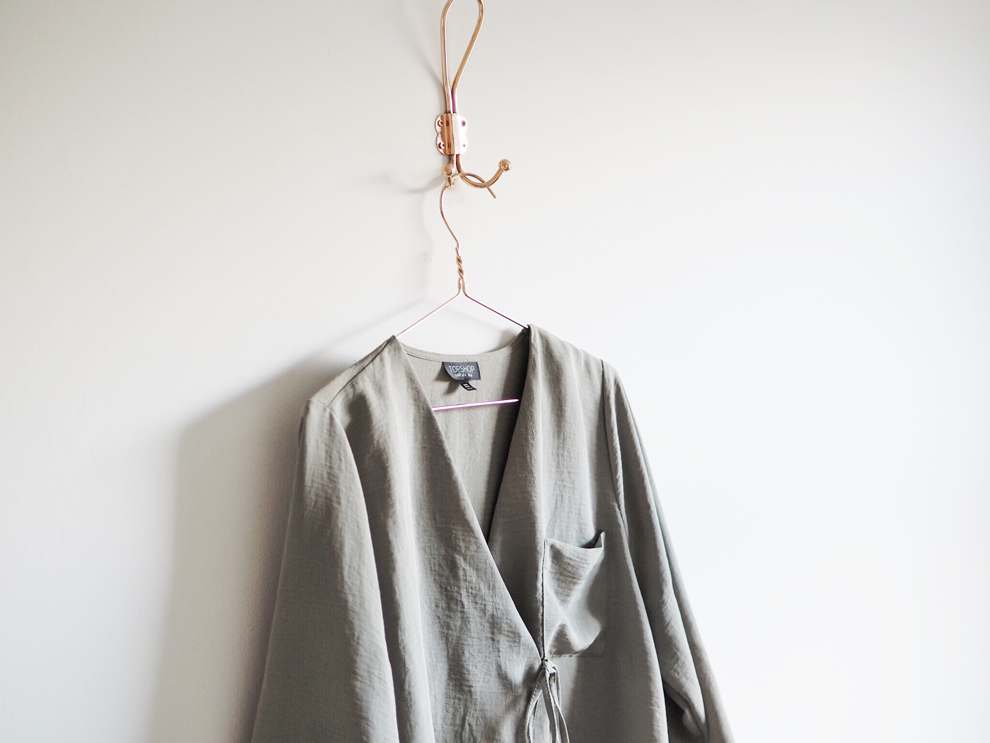 Sure if all else fails, a strong lippy will take the focus off the eyebags.
'Simplicity is the keynote of all elegance' –Coco Chanel
I hope you enjoyed my little dressing room update!
Anna xx
Where do you get dressed in the morning? Let us know below or on Twitter @LauraAshleyUK