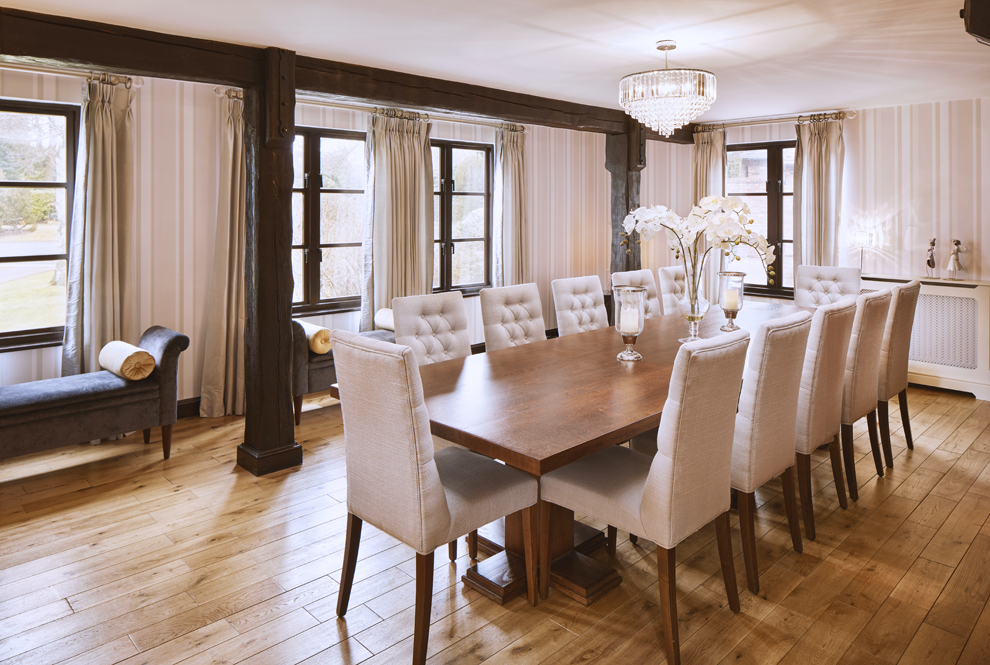 Learn more about this cottage style project from the Laura Ashley design service read more
We know you love looking into people's homes as much as we do so we thought we'd share the latest project from James our incredibly talented interior designer who works as part of the Laura Ashley Design Service.
James's clients Mr and Mrs Bond talk us through what amazing work James did to their home and why they love the cosy cottage style charm he brought to their home. Shot beautifully by Daniel Du Cros.
We had two interconnecting rooms that needed a complete refurbishment, a lounge and a dining room. We had used James Stuart to design other rooms within our home with fantastic results, so we knew he'd be able to transform these rooms too. We arranged a visit with James knowing he would inspire us along with ensuring the finished spaces would function and he would be able to coordinate different colours and textures. The spaces required him to look at soft furnishings, cabinet furniture, lighting, mirrors, wall coverings and accessories.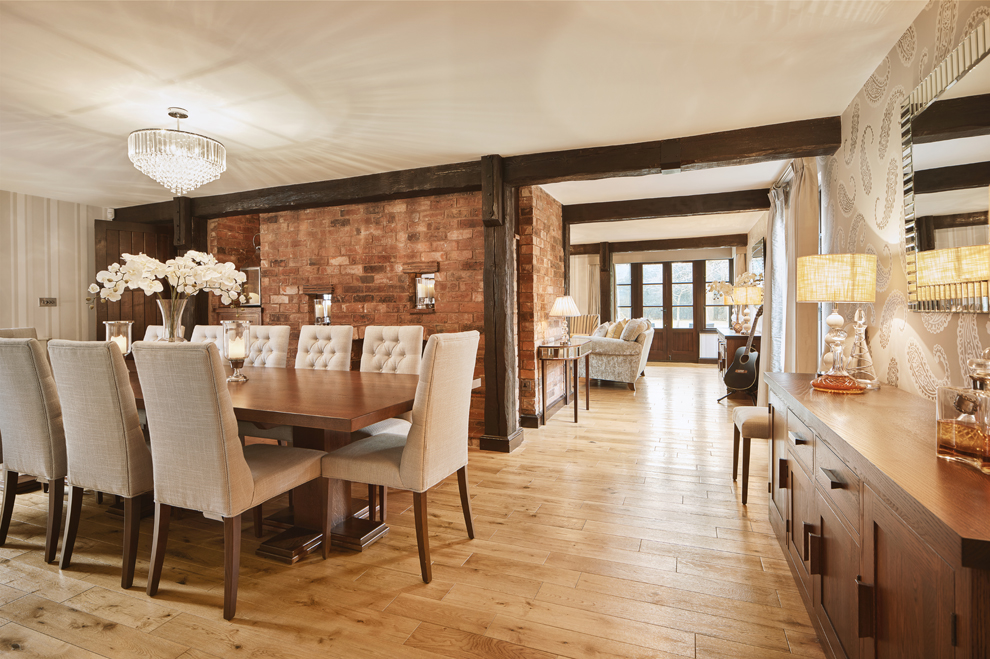 We required a modern contemporary feel, which would work within a cottage style property with Inglenook fireplaces and dark beams.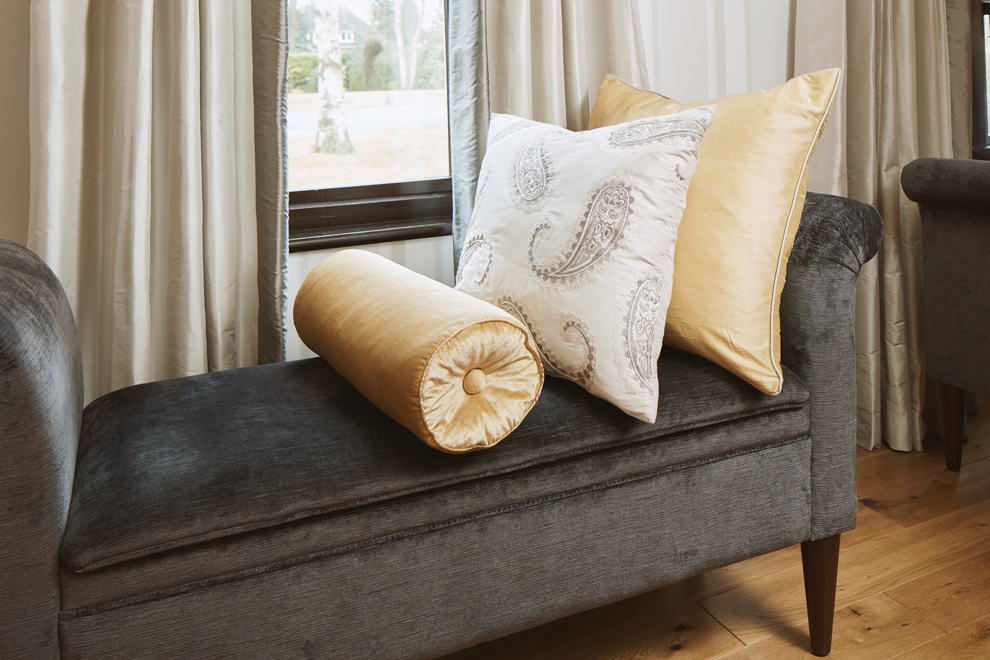 We were delighted with James's recommendations, not only did he have a vision of the finished look, but he came up with ideas that we would never have considered. We are particularly pleased with his use of space, creating zones that we would never have thought of, yet work so well. He also prioritised the flow between the rooms, so that the colours worked in both rooms. He even made suggestions for the hall, so the whole section on this side of the house came together.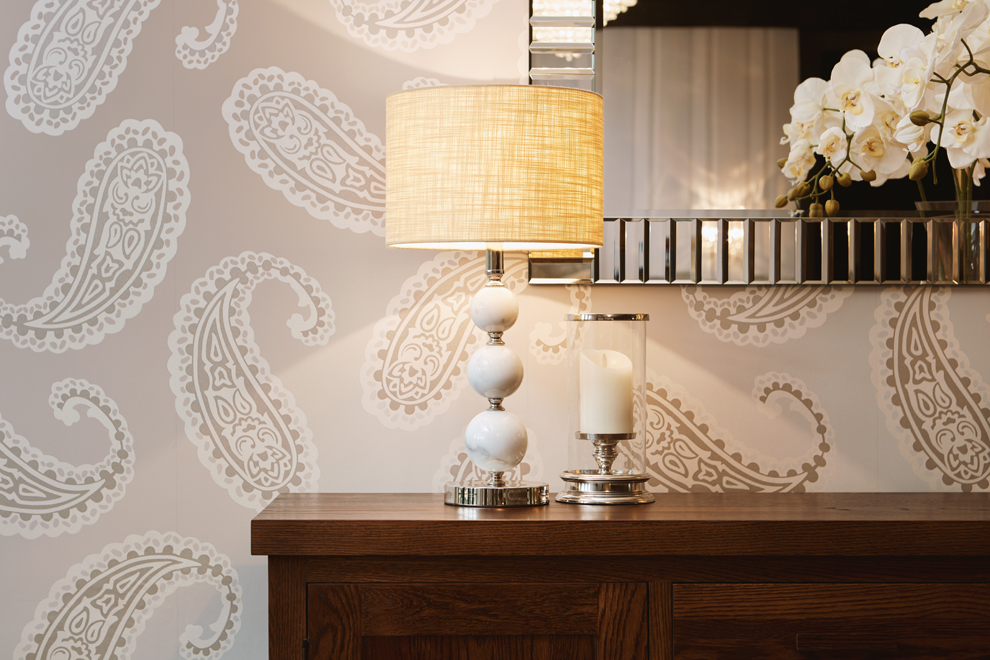 Apart from the main elements within the rooms, James was able to recommend, custom-made lampshades, lanterns, mirrors and accessories to give a very chic finish.
Our favourite part of working with Laura Ashley Design Service is how simple it is. James listens carefully to our vision, is honest in his advice and says if we suggest something that wouldn't work. By using an interior designer we have my rooms designed without having to visit numerous shops and having to come up with inspiration ourselves.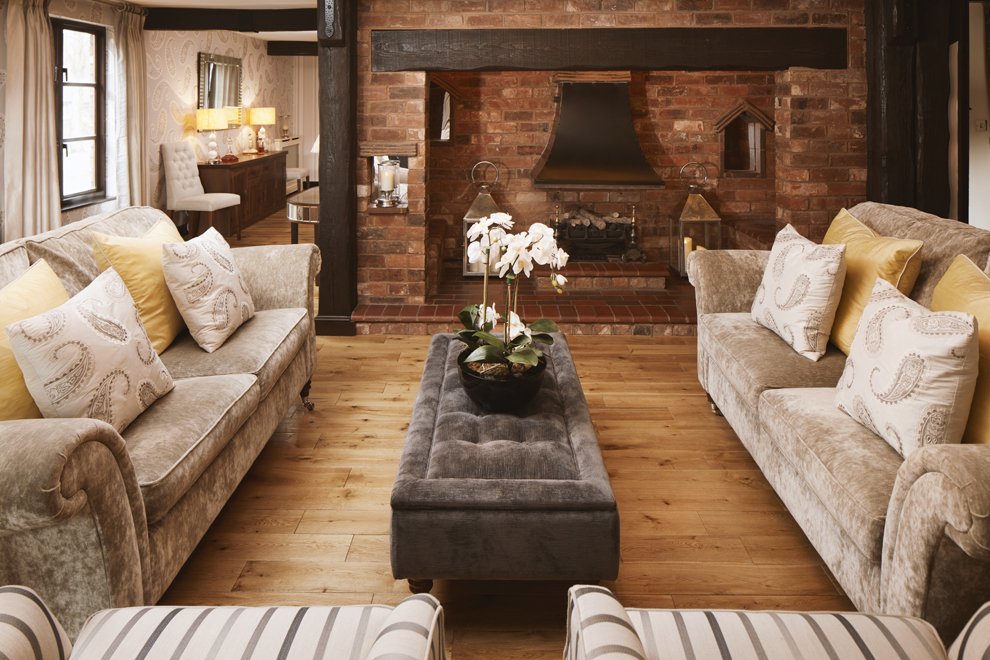 Our tip for other homeowners would be to get James and the Laura Ashley Design Service to visit as soon as you intend to revamp a room. On his initial visit, he was able to advise on small building work that was crucial for the overall design such as moving radiators, putting in new electric sockets ready for lighting etc and was able to specify where ceiling lights would need to be positioned to work with the furniture layout.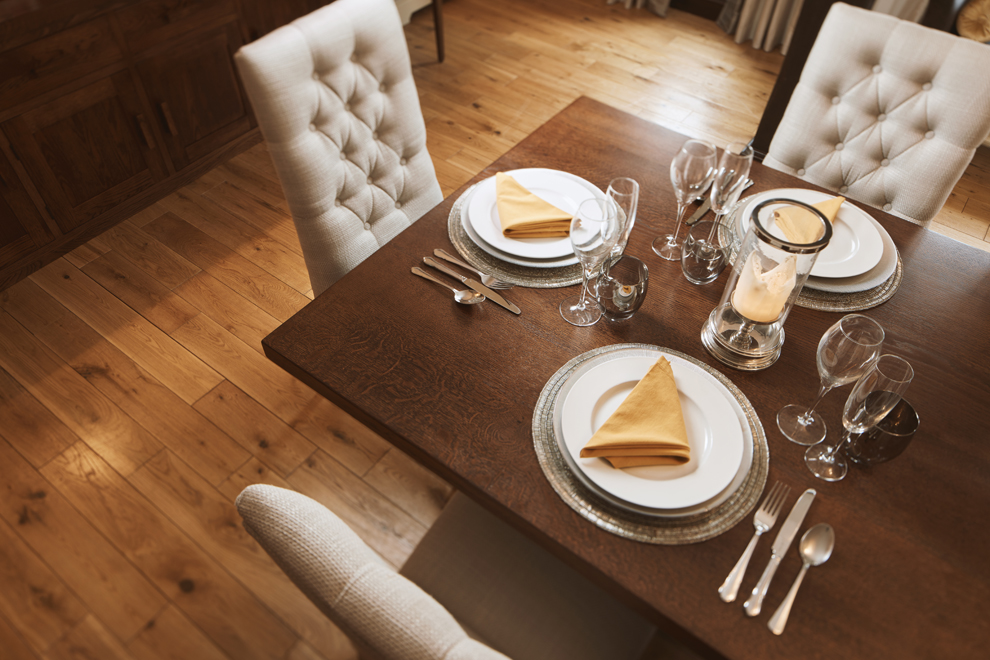 Designer James chats us through this project…
When Mr and Mrs Bond asked me to design their formal lounge and dining room I knew from working on the house previously that the spaces had several large features that I would need to factor into the design.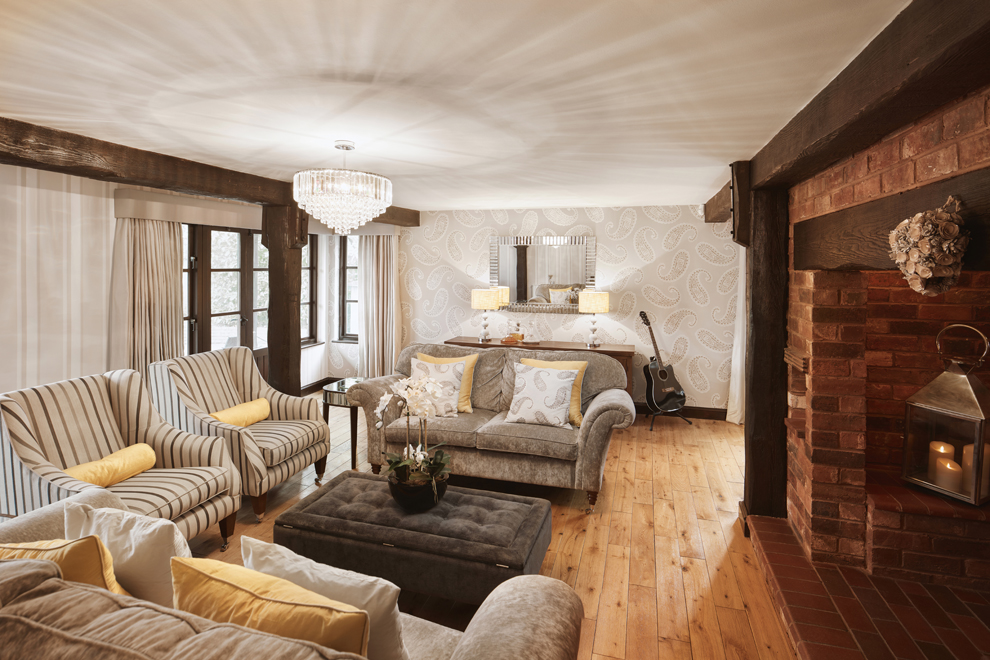 The rooms are divided by a large brick inglenook fireplace and have several windows of different sizes and large dark beams. We decided on a scheme, which featured the Emperor Paisley Dove Grey Wallpaper to go on the main wall to link the two areas with Eaton Stripe Dove Grey on the other walls. Curtains in the beautiful Dupion Silk Dove Grey fabric with borders in Paramount Marble were selected for all windows to create a smart cohesive look across both areas.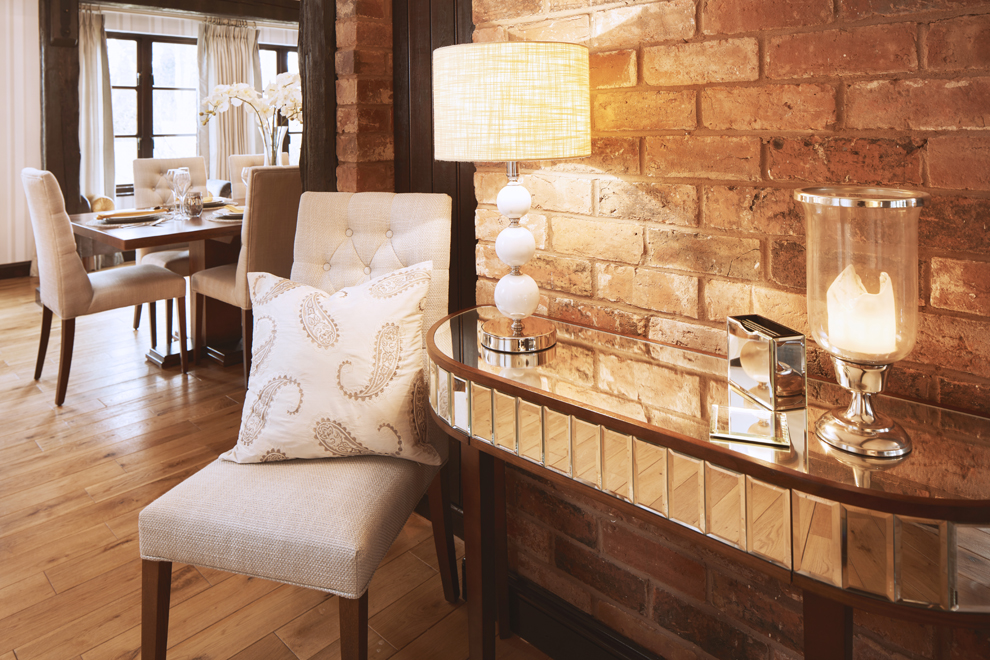 Mr and Mrs Bond love to entertain so a large dining table was a must. I specified the Darlington Dining Chairs for the dining area providing the family and their guests with stylish but comfortable chairs for long leisurely feasts. Around the fireplace, I created a seating area with our Mortimer sofas and Addison chairs which enables the family and their friends to relax and have another drink or two once they have left the dining table. Large Capri mirrors with large Vienna chandeliers were specified to bring decadence and further drama to the spaces but also further emphasising the layout.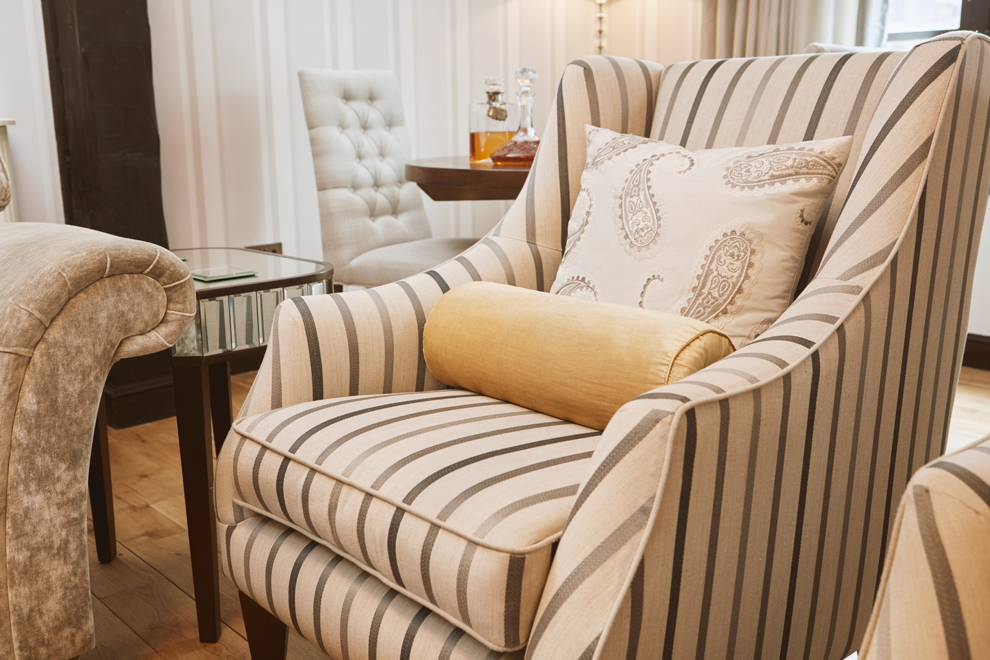 The finishing touches were beautiful Nigella camomile cushions, lamps with camomile shades and lots of hurricane lamps. The lamps and the cushions provide a lovely fresh pop of colour against the dove grey and rich dark wood whilst the hurricane lamps create a lovely ambient atmosphere when the candles which they house are lit.
How cosy does this cottage look? We think James has done such an amazing job. Have you used the Laura Ashley Design Service before? Let us know below or on Twitter @LauraAshleyUK