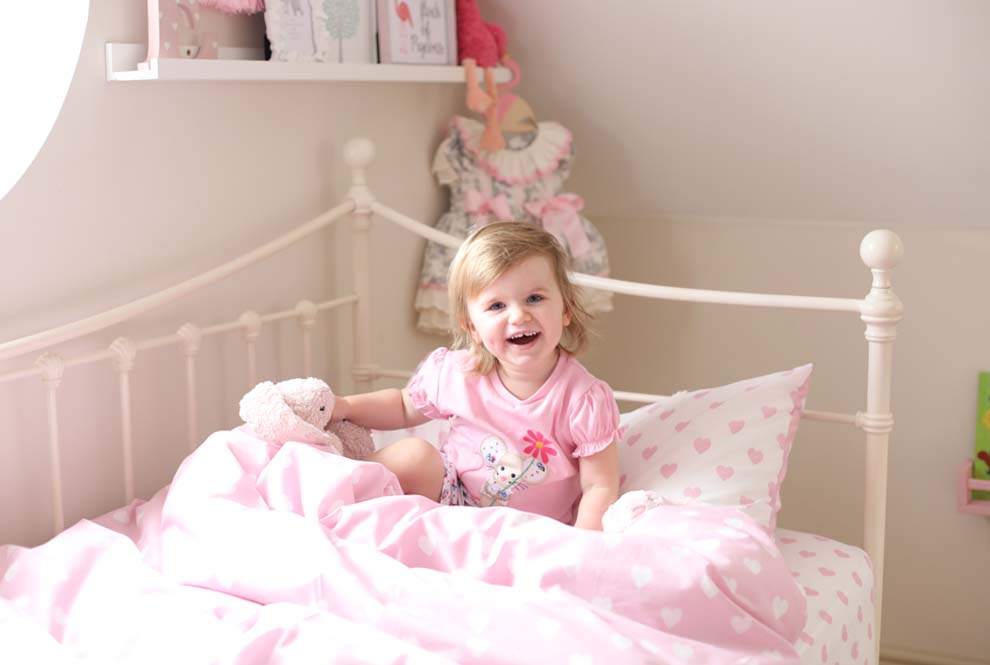 Take a look at how a few accessories can make a bedroom fit for a princess in no time at all... read more
Who would have thought that giving your children's bedroom a makeover could be so fun? With our range of children's accessories and bedding, you will be able to achieve almost anything they want. So let's take a look at how Rhian from Our Growing Story has created a room fit for a princess with these simple accessories.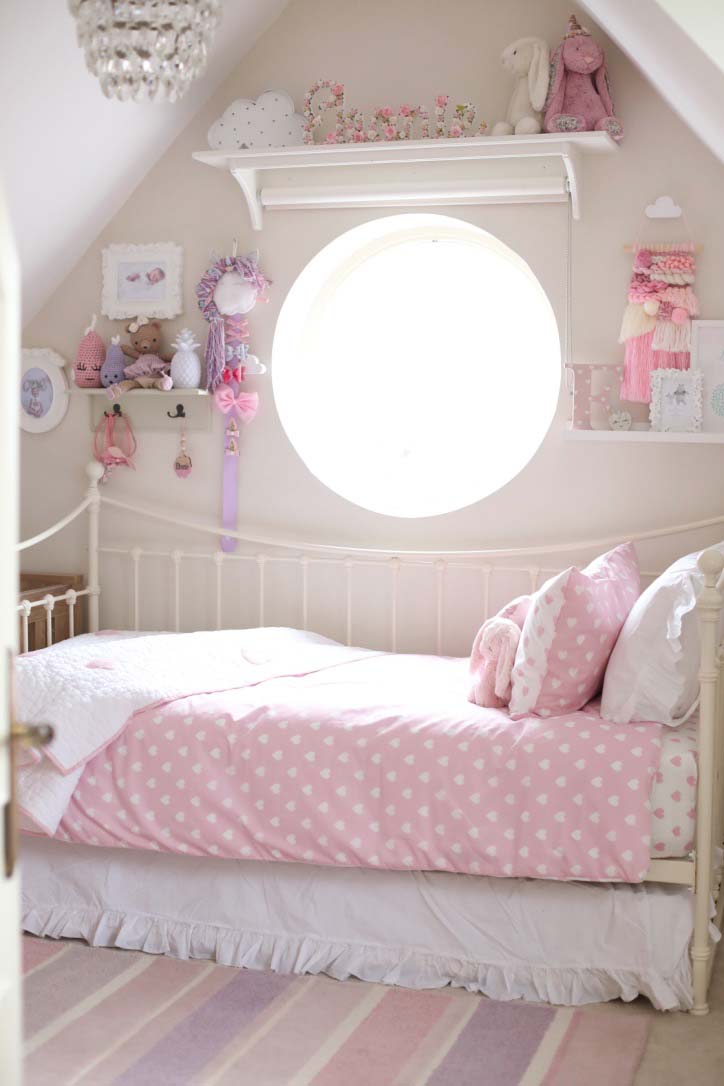 My not so little baby is growing before my eyes. Although I'm very much in denial about this, her nursery was in need of an uplift. She's just turned two, so my main objective was to edge away from "nursery", yet not make the room look too old either. I love ALL of the Laura Ashley girls room ranges. I was really torn between the new hearts range and the flamingo range. Eventually, after much toing and froing, I decided that the flamingo range was just a little too old for my "baby" (yep, still in denial), so went for the hearts range and I'm over the moon with the finished decor.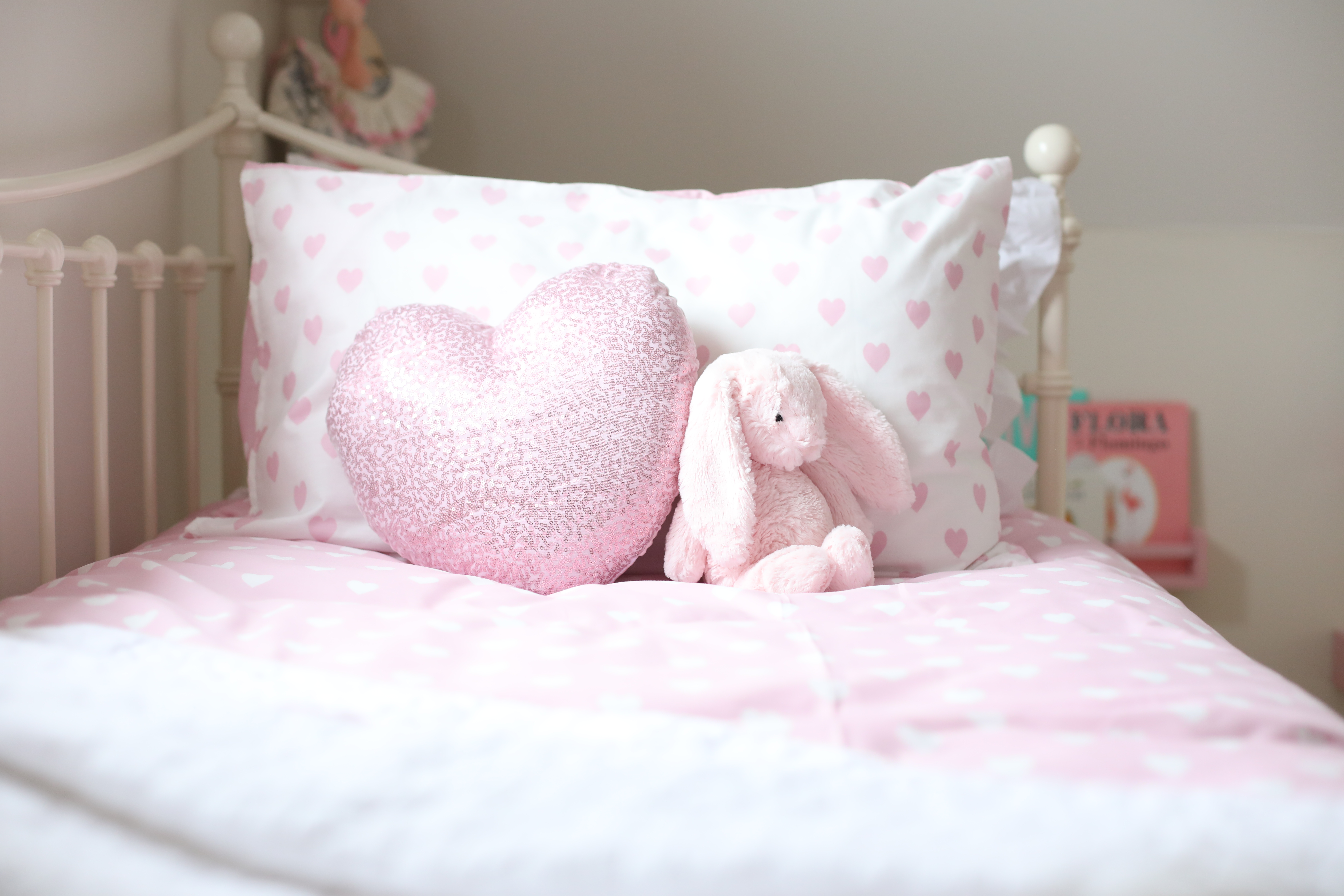 The Hastings Ivory Day Bed really is the feature of the room. It's pretty, girlie, and most of all versatile. I can already envisage girlie sleepovers in the future that will make use of the trundle bed below. I've always been a big fan of Laura Ashley bedding, and the Hearts Bed in a Bag bedding is super cosy and soft. The coordinating throw and heart cushion add the finishing touch. The Bexley Pink Stripe Wool Rug fits in perfectly, adding contrast to the otherwise plain, cream carpet. It's also the perfect size to place alongside the bed.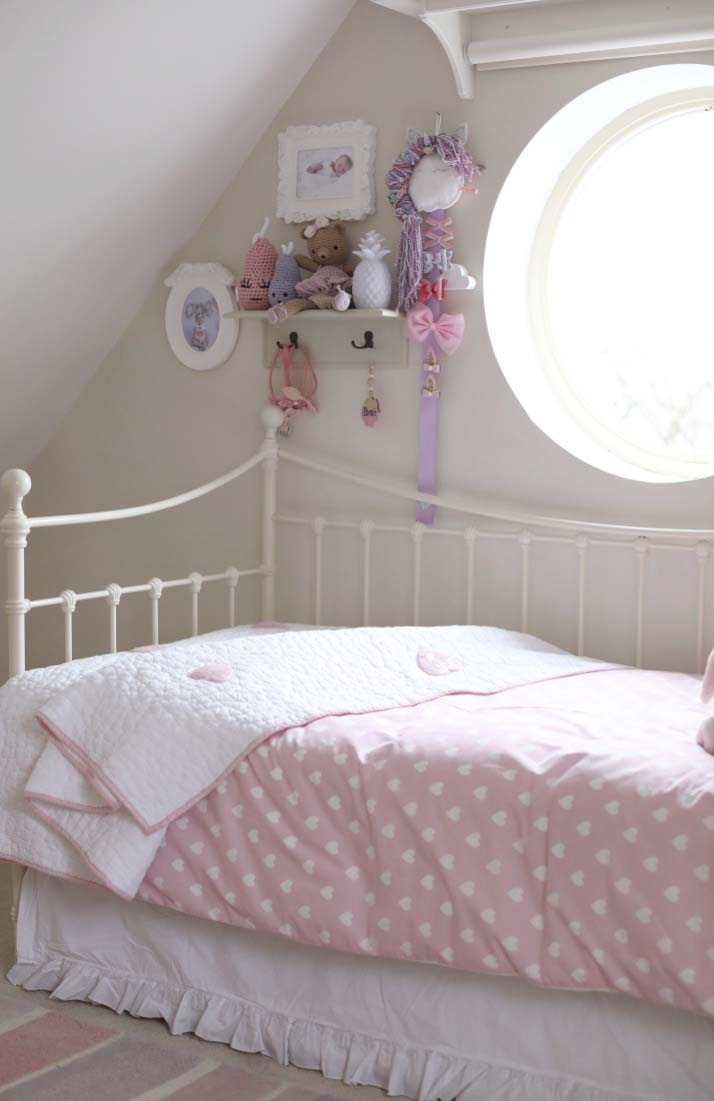 The soft, simple pink and white tones allow for lots of accessorising without looking too busy. The room has sloping ceilings, which leaves only the one wall suitable for hanging shelves, frames and decorative features. Adding shelves surrounding the round window, allows me to easily accessorise and make the room look "finished". A shelf can be the home to many a teddy, frame or pineapple mood light.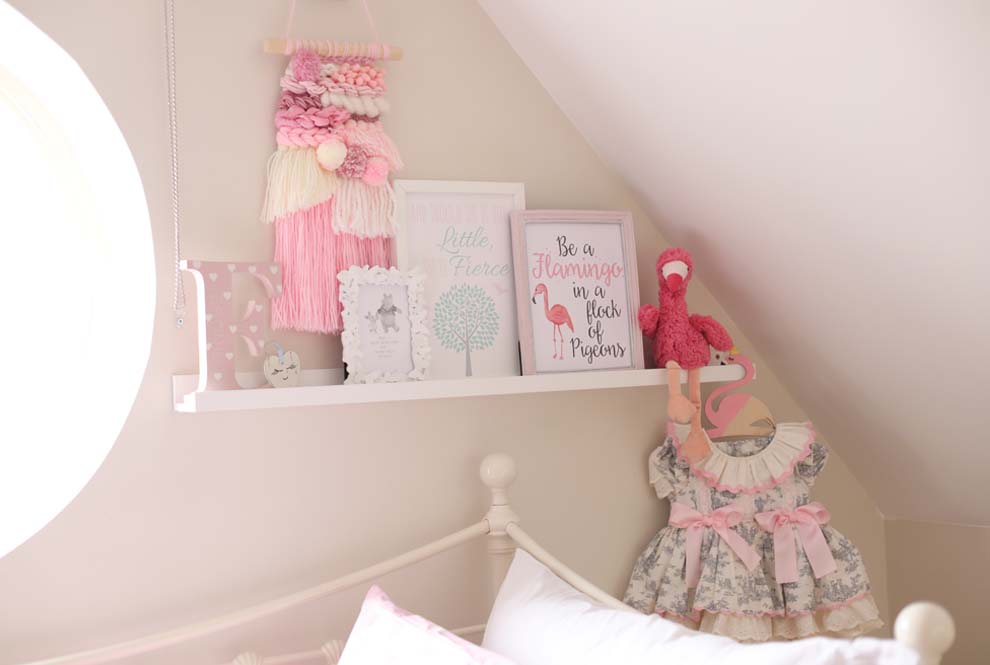 I styled the flamingo soft toy next to a similar flamingo themed print. Also, I added a sweet Winnie the Pooh print into the pretty butterfly frame. I had a beautiful wool wall hanging made to coordinate with the hearts range and it looks so pretty hung above the shelf and frames.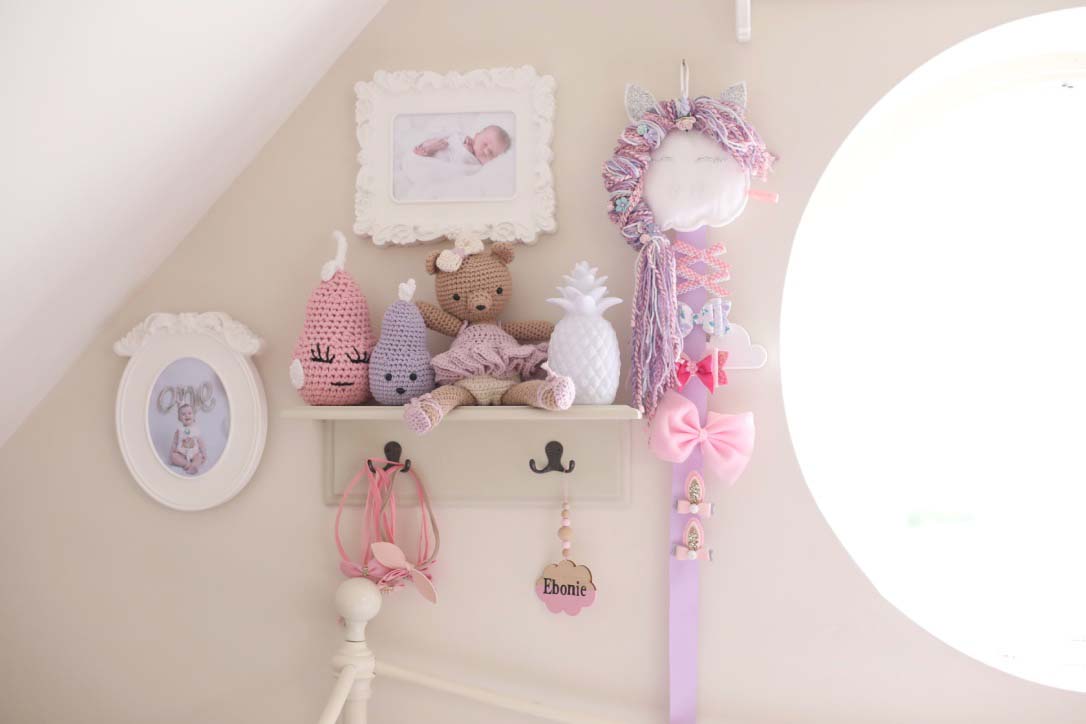 It's all in the detail! Little girls' rooms are so easy to accessorise, and I revel in the details. They love to cosy up on the soft, delicate Mila Pink Faux Fur Rug, and get comfy amongst the cushions to tell stories to their teddies.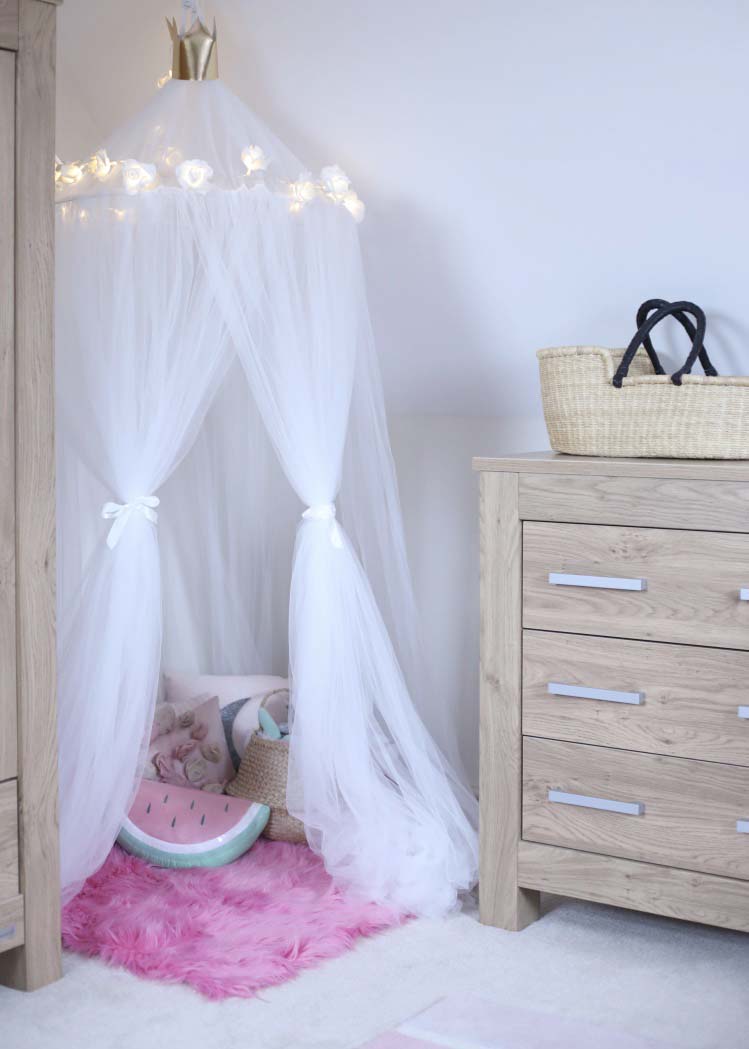 I've really loved refreshing Ebonie's nursery into her now "grown up" toddler bedroom. It's very much a girlie girl bedroom of dreams and a space that will grow with her over the next few years.
Do you have a particular theme for your kid's bedrooms? Let us know below or @LauraAshleyUK.