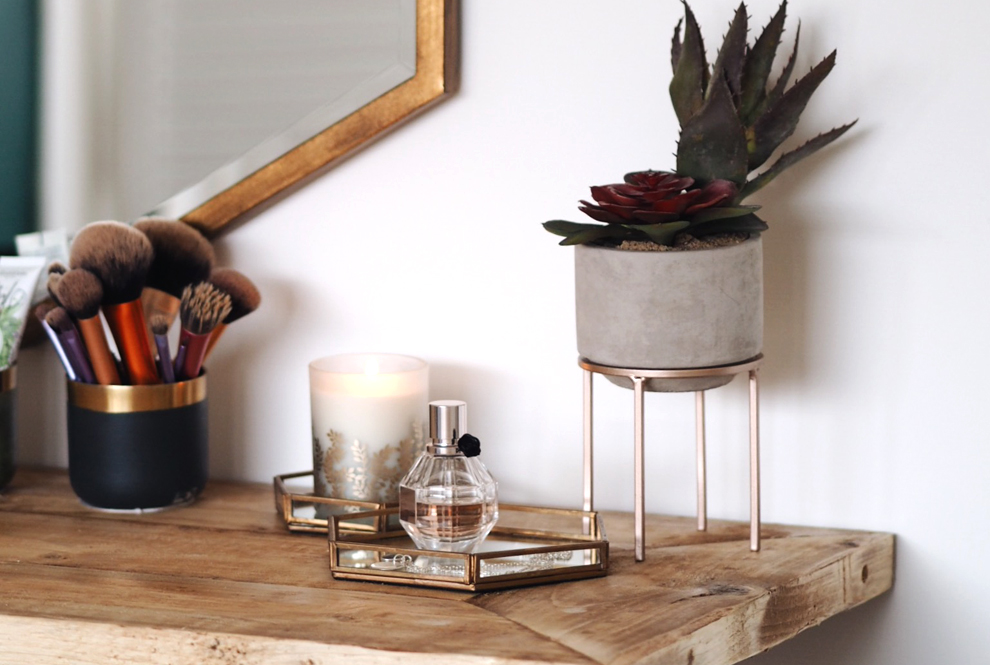 Update your bedroom in 60 minutes with these easy steps... read more
The lovely Ainsley from Life With Oaks And Olive is here to show us how she has made a few changes to her bedroom for the ultimate transformation.
Last year I went over to the dark side, by that I mean I broke my 'all white & grey everything' theme and added some much-needed colour into our home. Having just left the 2 under two years old stage when all breakables or fancy decor had to temporarily evicted. I was ready to inject a little more life into our rooms. I wanted to feel inspired each day and get that house feeling proud. Back too the one that was so prominent before my time was taken up mostly by being a mum. I soon realised I was lacking accessories that didn't resemble plastic cars and baby dolls. I needed to give it a little character but making sure it still felt homely.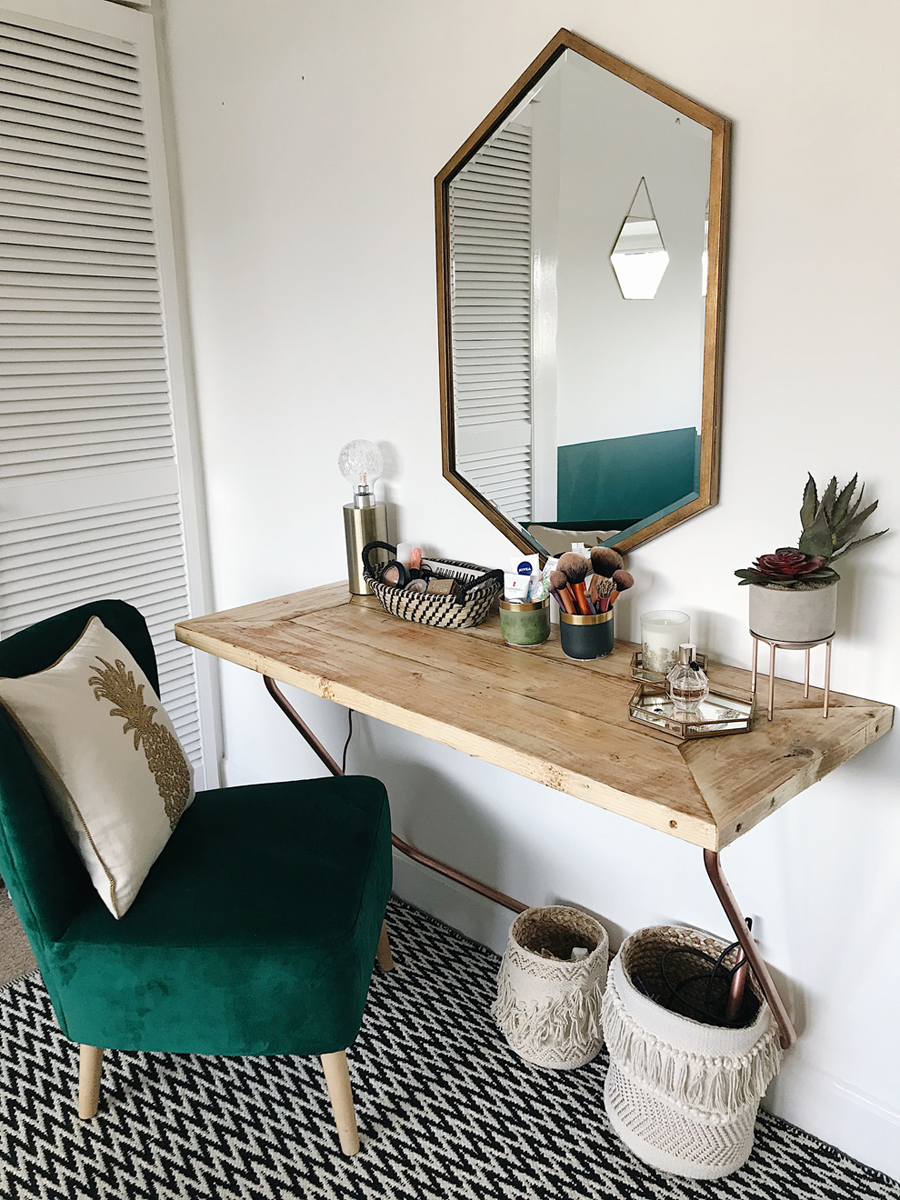 Next on the list was our bedroom, it needed a much-needed makeover. It was full of white furniture, white walls and all white accessories. Interiors on Instagram/Pinterest really gave me some inspiration. I had been lusting over bedrooms with a 'Tropical' feel to them, greens, golds and boldness. My vision was to have lots of metallic accessories, with a statement chair and a little print thrown in too. I would have loved some new furniture but realistically the budget couldn't stretch. My husband decided to get creative, he is a joiner by trade (a very good one at that) and he built me a bespoke desk and bed.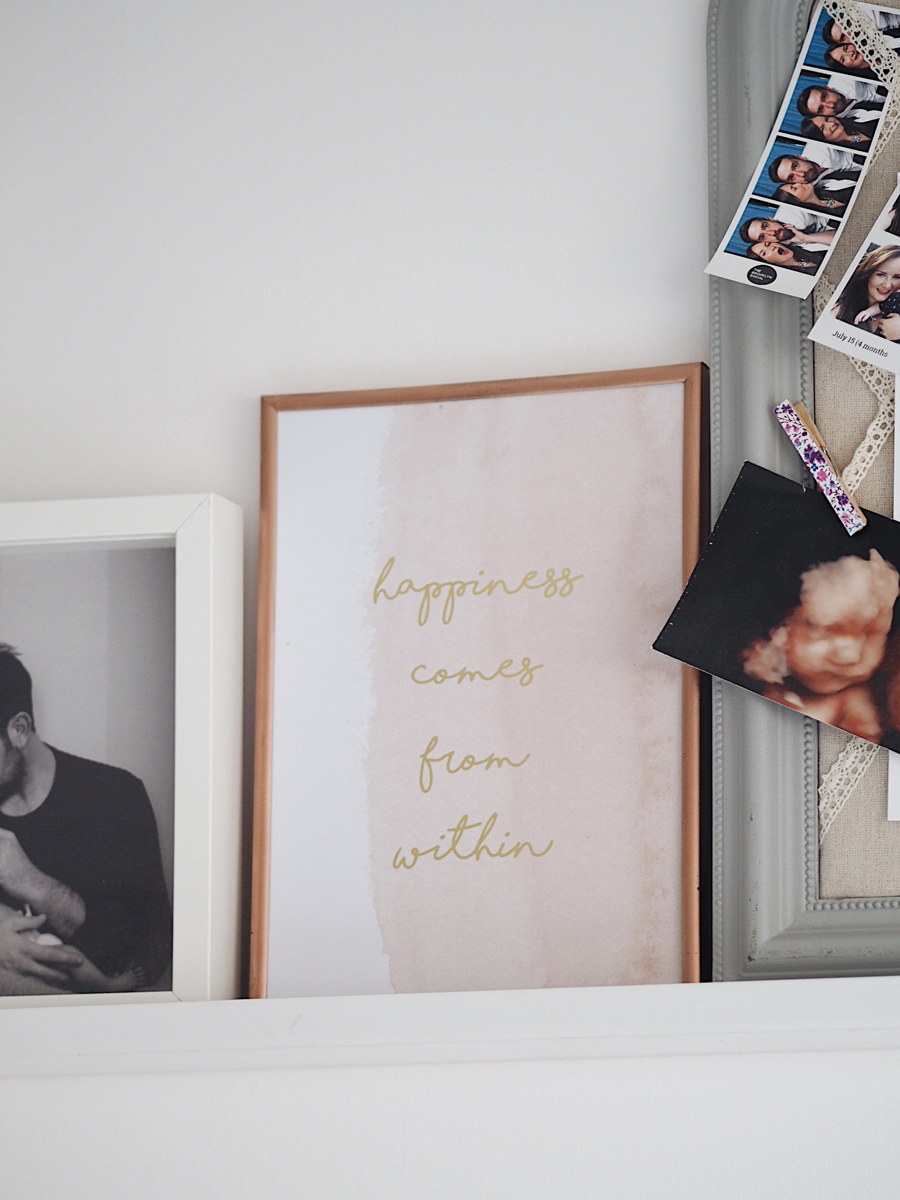 Adding repetition throughout the room in some way was also something I wanted to do to create similarities. After finding a hexagonal mirror for my desk, I loved adding that same shape with the beautiful bits from Laura Ashley. Adjacent to the bed I arranged 2 beautiful gold and glass hanging frames, I love how they look. I think I'm going to extend the arrangement with a few more frames too.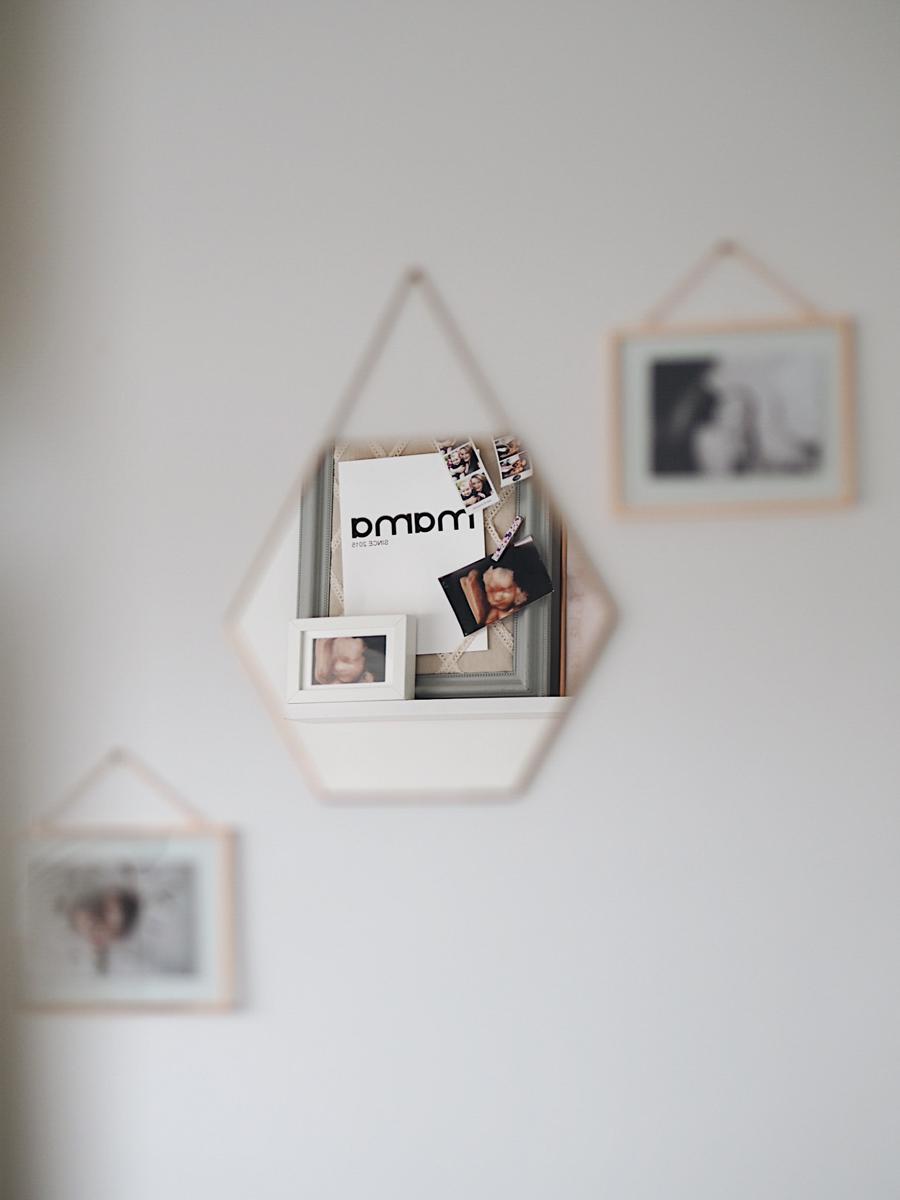 I love how the shiny gold adds a touch of sunshine into our bedroom as well as a glam factor too. When adding metallic to a room it's easy to get a little worried about overdoing it. However, that fear was put to bed this time. I had so many of what I thought were clashing shades when in fact once they were spread throughout the room they were really well balanced. So don't be scared to mix things up.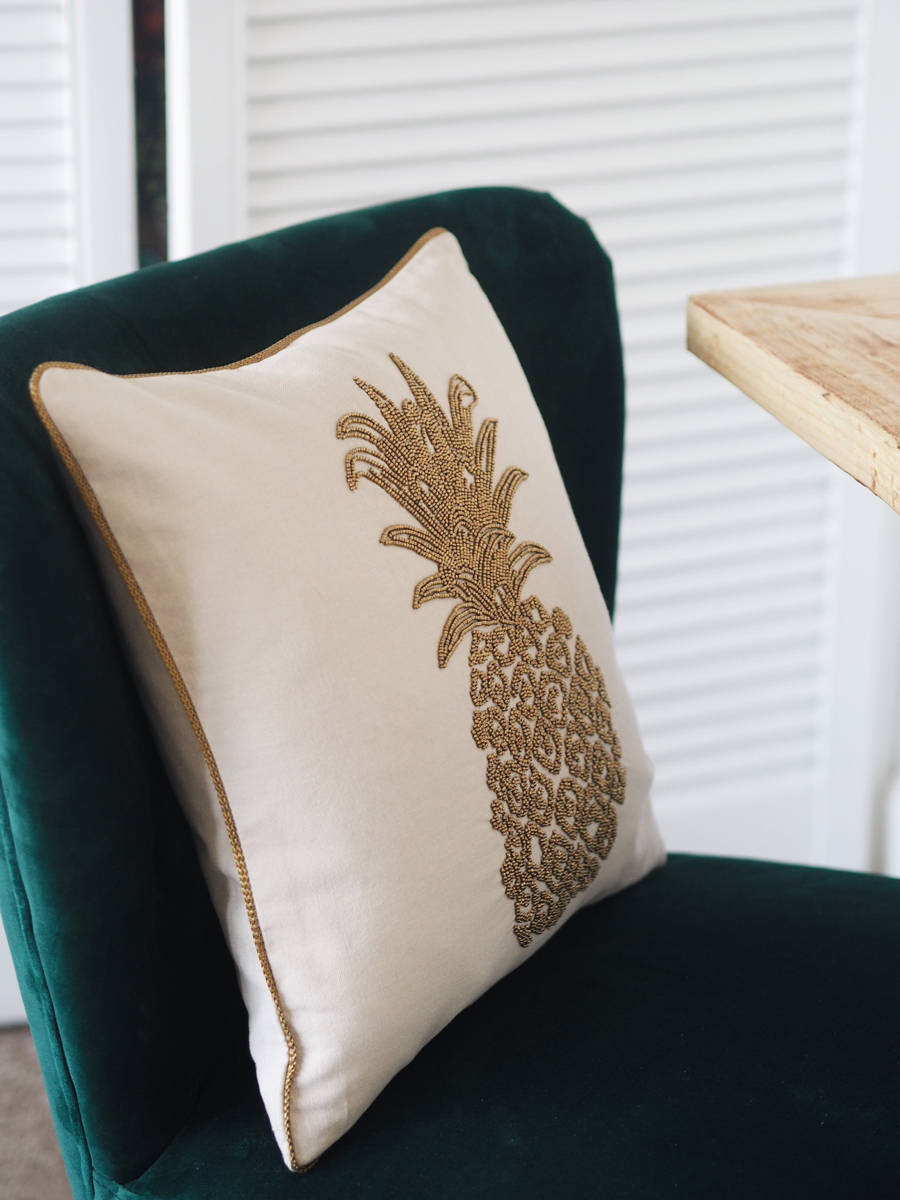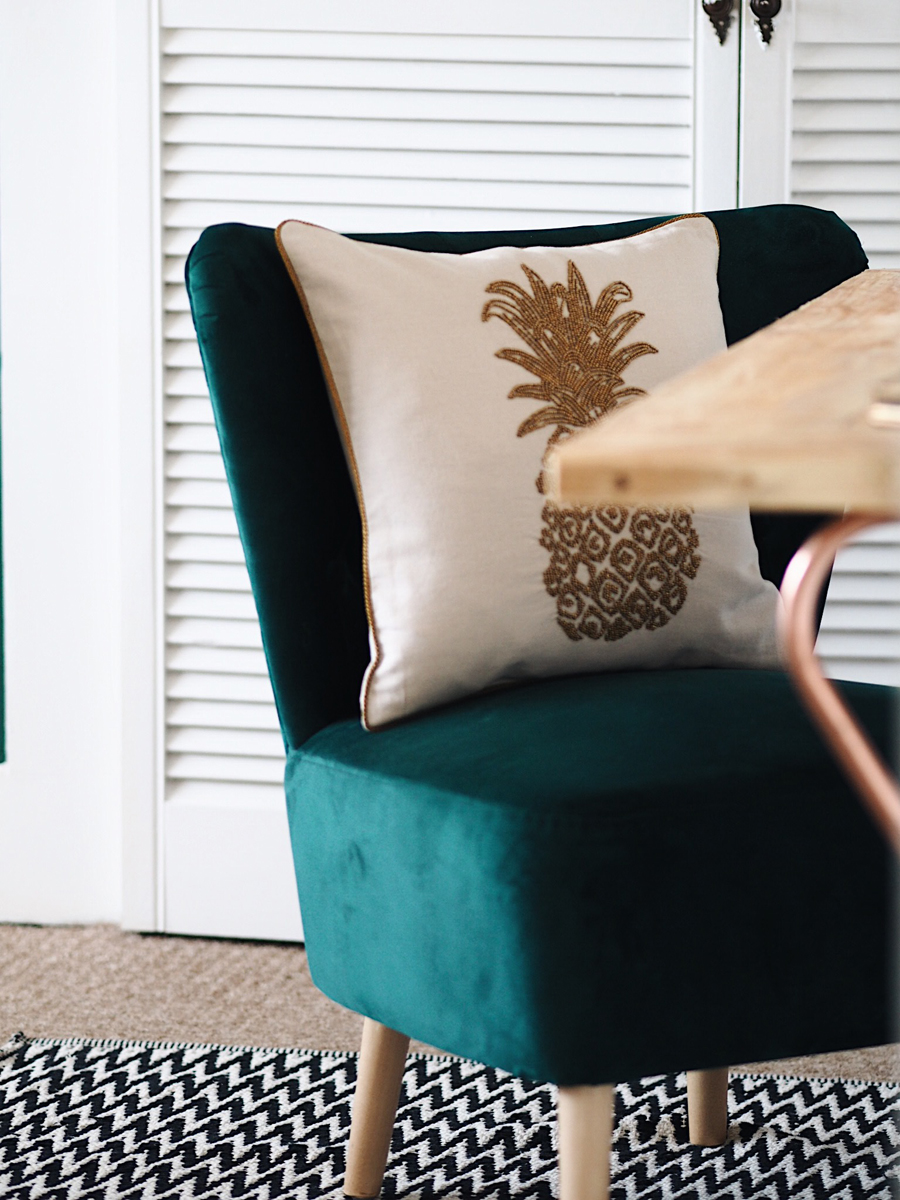 For styling my desk I wanted a touch of glamour due to the fact that this space would also be where I got ready each day. As the design of the desk was industrial looking my blog the area needed to be practical but inspiring and fun. Accessories were important in ticking all those boxes. My statement chair needed to be adorned with a unique cushion. This Gold beaded Pineapple number was exactly what it needed. I added some glam with the Hexagonal trinket trays, which could be used for jewellery or make up etc. I am using one of them to display my stunning gold detailed candle in Rhubarb & Vanilla which is delicious and gets me feeling super cosy on my late evenings off. To match the pineapple cushion I also added the pineapple candlestick holder.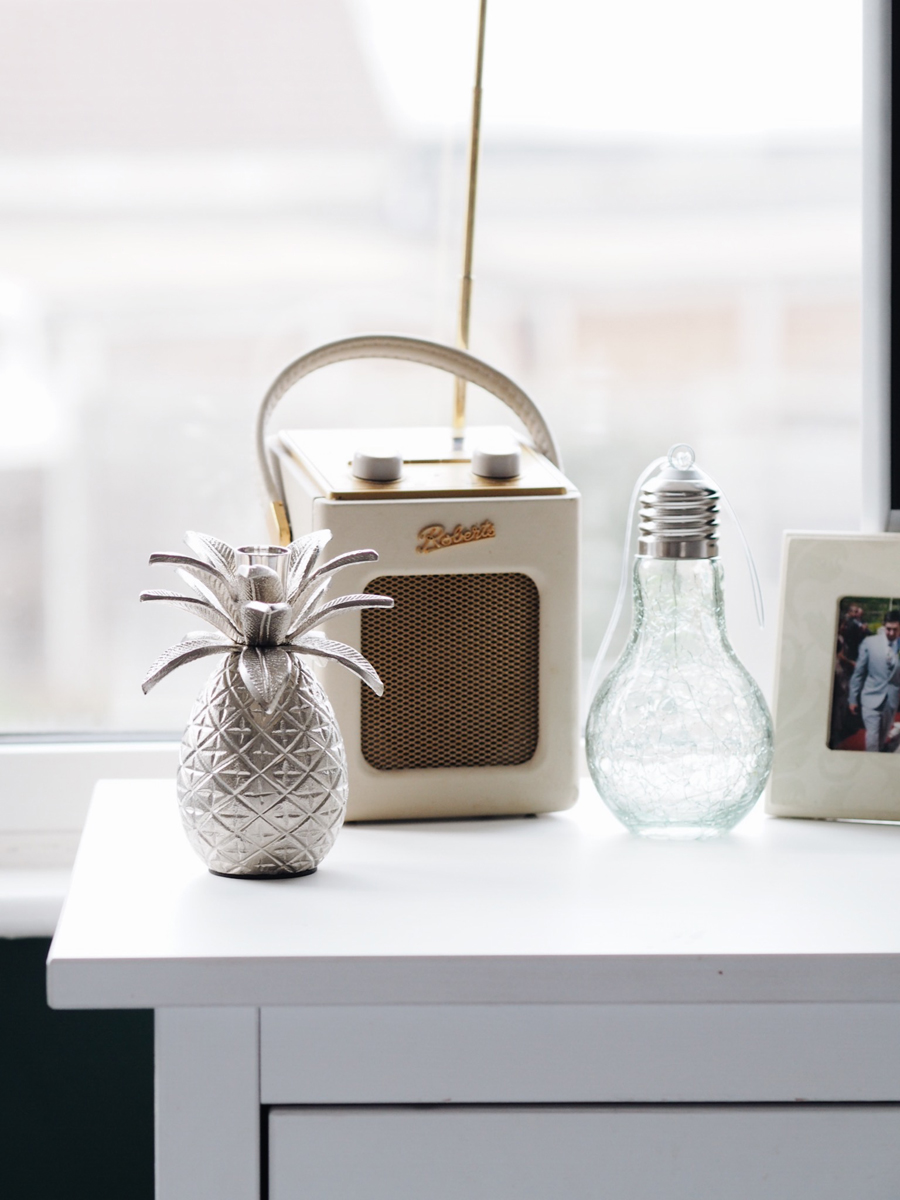 It's amazing what a selection of accessories can do to transform a space. They have truly set the tone that I had envisioned for my bedroom. They have taken a simple room and given it some edge that it needed! Giving me and my husband an adult space to enjoy!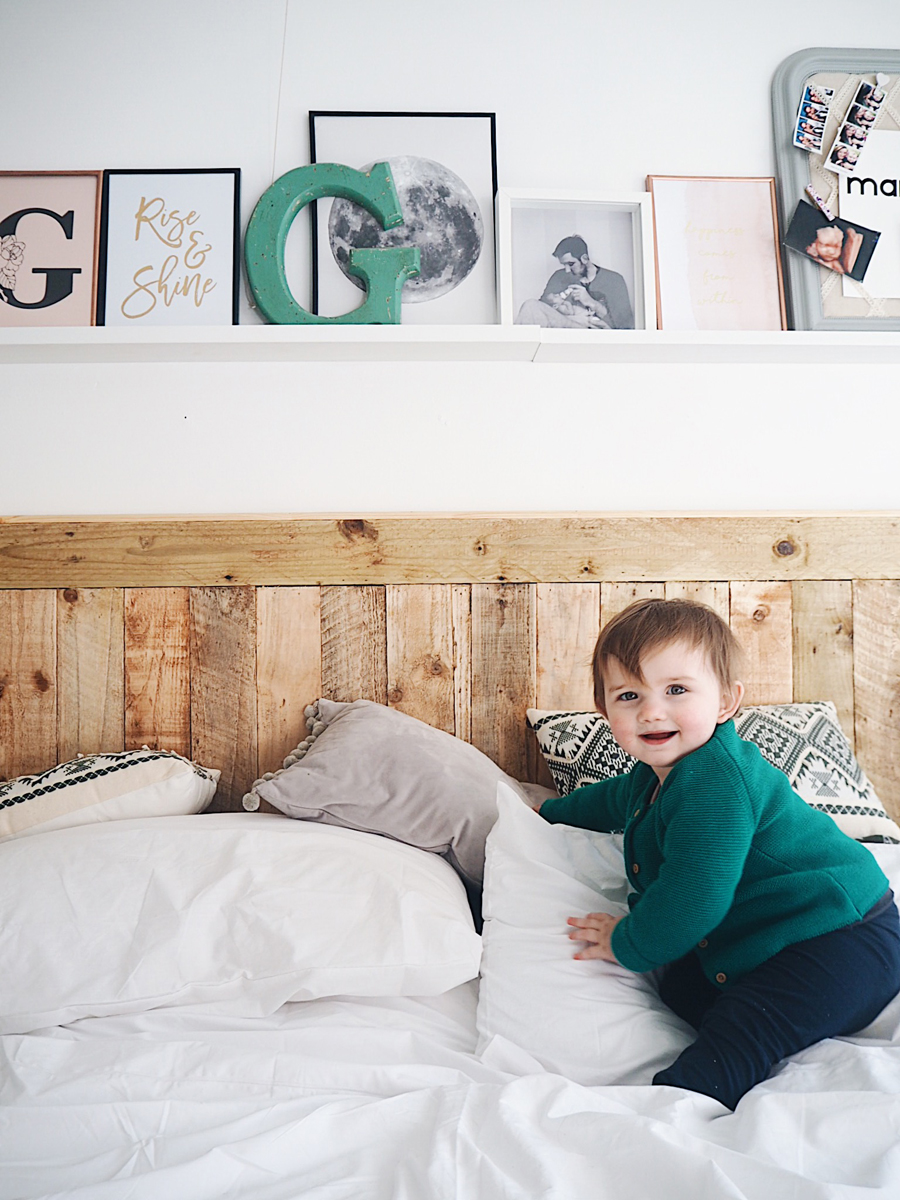 Are you thinking of giving your bedroom a quick makeover? Let us know below or @LauraAshleyUK.